This is Naked Capitalism fundraising week. 355 donors have already invested in our efforts to combat corruption and predatory conduct, particularly in financial realm. Please join us and participate via our Tip Jar, which shows how to give via check, credit card, debit card, or PayPal. Read about why we're doing this fundraiser, what we've accomplished in the last year, and our third target, funding our guest bloggers.
* * *
By Lambert Strether of Corrente
TPP/TTIP/TiSA
"If you back up your DVDs, or analyze your software to make sure it is secure, you may soon face a surprising penalty: the physical destruction of your computer, phone, or other device" [Slate] "Hyperbole? Not so much, based on the latest leak [of TPP's Intellectual Property Chapter] from a budding international "trade" deal largely concocted and managed by the Obama administration." And that's before we get to the the Internet of Things, eh?
Timeline: "Don't Hold Your Breath for Cheap Steaks: Here's the TPP Timeline" [Bloomberg]. "Michael Froman, the U.S. Trade Representative, has said that the text would be made public in early November, starting the process leading to a congressional vote on legislation to implement the accord. But with trade expected to be an issue in the 2016 U.S. presidential campaign, the Obama administration may wait until late March or April to submit it to Congress."
Timeline: "There are rumors that TPP's consideration by Congress might be delayed until after the 2016 election, in the "lame duck" session" [Dave Johnson, CAF]. Good roundup.
United States: "Weekly Address: Writing the Rules for a Global Economy" [White House].
TTIP, Cecilia Malmström: "Letter: In defence of TTIP, and my role as EU Trade Commissioner" [Independent]. Plucking a quote at random:
TTIP will not undermine the NHS. The NHS itself has said: "Providing that the wording… is sufficiently watertight, nothing envisaged in TTIP should change the current situation in the NHS regarding commissioning of publicly-funded health services."
"Provided that the wording…." Notice how Malmström's evidence completely undermines her claim; and the claim and the evidence are only one sentence apart! Do these people think we can't read?
ISDS in TPP: "Research by the OECD indicates that the average legal and arbitration costs for a claimant are around $8 million" [TechDirt]. "Trade" deals are for big business only, in case you didn't know. 
2016
Policy
Fox commentator and ZOMG!!!! Benghazi expert fabricated 27-year CIA career [The Hill]. That's so meta. He was clearly qualified to become a CIA operative,  based on performance, so why didn't he just do it?
Money
"Democratic socialist Sanders outraises Bush, other Republicans in third quarter" [Market Watch].
The Debates
Maybe "Slate" should rename themselves as "Tank"?

UPDATE: I actually missed three. Here's Slate's Clinton coverage over the past 48 hours pic.twitter.com/d6djTA67L6

— Adam Johnson (@adamjohnsonNYC) October 16, 2015
The Trail
After a chance meeting in Union Station with #SandraBland's mother, Geneva Reed-Veal, Sanders told Reed-Veal that the death of her daughter was inexcusable and promised he would continue to "say her name." At the debate on Oct. 13 in Las Vegas, Sanders stayed true to his word when answering a question submitted by a law student through Facebook: "Do black lives matter, or do all lives matter?" [Yahoo News]. But without turning the Union Station meeting into a tweetable moment, or turning it into a "When I met…." story. Classy.

The odious Debbie Wasserman-Schultz "commandeered the party's debate schedule in a manner that left her own deputies and several campaigns seething" [HuffPo]. "Rybak and another DNC vice chair, Rep. Tulsi Gabbard (D-Hawaii), went public with their grievances, saying they were not consulted on the process and did not support having only six debates." And lots of other detail; insiders seem quite willing to talk… 

"Of two dozen Democratic insiders with whom I spoke this week, including several DNC vice chairs, not one defended Wasserman Schultz's treatment of Gabbard. Most called it ridiculous, outrageous, or worse. Many argued, further, that the debate plan enacted by the chairwoman is badly flawed—an assessment shared by many party activists, left-bent supporters of Bernie Sanders and Martin O'Malley, and those candidates themselves, all of whom see it as a naked effort to aid and comfort Hillary Clinton" [Bloomberg]. Reading the detail on this post and the previous, there seems to be a bit more going on than a vanilla "Dems in disarray" story.

"Politics won't stop Chelsea Clinton's friendship with Ivanka Trump" [The Hill]. It's like Murder on the Orient Express: They're all in it together…. 
The Hill
"Paul Ryan vs. House Freedom Caucus: Who will blink first in speaker's race?" [Los Angeles Times]. Jeebus, we've got to force people to run for Speaker? If the "Freedom Caucus" is so great, why don't they just nominate one of their own?
Stats Watch
Industrial Production, September 2015: "Industrial production continues to sink, down 0.2 percent in September which is slightly better than the Econoday consensus for minus 0.3 percent" [Econoday]. "Overall capacity utilization slipped 3 tenths to 77.5 percent with manufacturing utilization down 2 tenths to 75.9 percent. Note that excess capacity in the manufacturing sector is a factor that is holding down the costs of goods." And: "onsider this a soft data point that was expected. It is beginning to look like industrial production is in a recession" [Econintersect].
Atlanta Fed Business Inflation Expectations, October 2015: "Edged back." [Econoday]. "These are all very tame readings and underscore, as do so many other reports, the difficulty the Fed is facing in raising inflation expectations."
Consumer Sentiment, October(p), 2015: "The weekly consumer comfort index, which is on its best run in six years, correctly signaled what is a big uptick for the twice monthly consumer sentiment index, which is up nearly 5 points to 92.1 for the best reading since mid-August when troubles in China first upset the financial markets" [Econoday]. Current conditions and expectations both up. "Inflation aside, this report is very good news, pointing to rising consumer spirits going into the all important holiday shopping season"?
JOLTS, August 2015: "Job openings fell back in August, to 5.370 million from 5.668 million in July" [Econoday]. "However, the quit rate, which is watched as an indication of worker confidence, does remain stubbornly low, unchanged for a fifth month at 1.9 percent." Everybody's hunkered down? And: "The BLS Job Openings and Labor Turnover Survey (JOLTS) can be used as a predictor of future jobs growth, and the predictive elements show that the year-over-year unadjusted private non-farm job openings declined significantly" [Econintersect].
"So – why has US labour force participation fallen so far? It's not only that the population is ageing, it's not only the impact of the longer time spent studying, or of the rise of discouraged workers. All of these trends are true also in countries where labour participation rates are expanding. And the fall in participation rates is larger among non-mothers and skilled people, making the lack of family' friendly policies or a 'skills gap' unconvincing explanations." [Financial Times, "US statisticians are in the dark over the 20 million working-age Americans who don't want a job"]. As I've been saying, for years. "It's something else that we can't quite grasp yet." As I've been saying for years. Of course, if the human beings thrown on the scrap heap through  the vicious and unconscionable neo-liberal technique of throwing people out of work to regulate the economy mattered, as humans, we would have known the answer to this question long ago. "We" were "grasping" other stuff, I guess.
Ag: "The agriculture downturn has dragged US farmland prices lower for a 23rd successive month, and taken sales at farm equipment dealers to historically low levels – and with little hope of improvement for now" [Agrimoney]. "The comments followed the release on Thursday by irrigators maker Lindsay Corp of results showing a surprise fall into a quarterly loss, while earlier this week, the Association of Equipment Manufacturers reported an 12.7% drop in US tractor sales last month."
Europe: "Update ECB Coeure: Stress Urgency of Completing Banking Union" [Market News]. " Departing from the text of his prepared remarks to a conference in Berlin, [European Central Bank Executive Board member Benoit Coeure] said, 'I would like to stress the urgency of completing the banking union.' …  Coeure's impromptu comment came after the EU leaders dropped references to completing banking union in the concluding statement of Thursday's summit in Brussels."
Honey for the Bears: "Rail Week Ending 10 October 2015: Recession In Rail Continues" [Econintersect]. Since I'm a Maine bear, this confirms my priors.
Honey for the Bears: "September 2015 Sea Container Counts Show Trade Recession Continues" [Econintersect]. Note the divergence between loaded in and loaded out in the handy charts [Mosler Economics].
Honey for the Bears: "Deflation is highly problematic for banks… Even with conservative loan to value ratios of the collateral, a drop in collateral values nonetheless reduces a banks reported capital. In theory, that means if the banking system needs an 8% capital ratio, and is comfortably ahead at 10%, with conservative loan to value ratios, a 10% across the board drop in assets prices introduces the next 'financial crisis'. It's only a crisis because the regulators make it one, of course, but that's today's reality. … And the reduction in 'borrowing to spend' on energy and related capital goods and services is also a strong contractionary bias" [Mosler Economics].
Honey for the Bears: Nobody understands the market for treasuries [Across the Curve]. Some damned thing in the algos:
A year later, the Treasury Department still doesn't fully understand what happened during those 12 minutes. In a report released in July and produced in coordination with four other agencies, Treasury laid out a reconstruction that included enough analysis to impress even some high-frequency traders who had spent months on their own trying to piece together the events of the day. But the government couldn't come up with a full explanation of who or what triggered the price swings. More troubling, the report laid bare just how little regulators understand about the daily workings of the Treasury market, which has changed drastically over the past decade through technological innovation and the rise of electronic speed traders.
Belated National Poetry Week entry:
I have eaten
the returns
that were in
the hedge fund

and which
you were probably
saving.

Forgive me
they were delicious
so 2 and so 20.

— Lady FOHF (@LadyFOHF) October 8, 2015
Fear & Greed Index, October 16, 2015: 46 (-5); Neutral [CNN]. Last week: 44 (Fear). (0 is Extreme Fear; 100 is Extreme Greed).
Imperial Collapse Watch
"The Pentagon's 'Concurrency Myth' Is Now Available In Supercarrier Size" [Foxtrot Alpha]. "In effect, what you end up getting is not only a major unknown for the Gerald R. Ford when in combat situations, but also a major issue when designing sensitive sub-systems into other carriers in the class." Will Lieutenant-General Van Riper please pick up the courtesy phone?
"McCain: Aircraft carrier program wasted $4.7 billion" [The Hill]. Well, it's not a waste if the money goes to the right people. More McCain: "Finally, the department must study alternatives to the aircraft carrier to ensure we are getting the best capability while most effectively allocating our scarce resources." A bit late for that, eh? Reminds me of one of my favorite bits of humorous dialog:
INTERVIEWER: Admiral, how will we know that the aircraft carrier is obsolete?

ADMIRAL: When it fails in war.
One of these days we're going to lose one of those things, and that will be that. 
The first comprehensive portrayal of the CIA rendition program's inner dynamics from beginning to end [Revealed]. Maybe. I still think the numbers are higher, and all are not accounted for in any case.
"Obama To Continue Airstrikes On Hospitals In Afghanistan Beyond 2016" [Duffel Blog].
Gaia
"Human teeth discovered in southern China provide evidence that our species left the African continent up to 70,000 years earlier than prevailing theories suggest, a study published on Wednesday said" [Agence France Presse].
Prussia's Greatest Human: Alexander von Humboldt [New York Review of Books].
Class Warfare
"5 Shocking Ways The World Is About To Change" [Cracked]. Despite or because of the source, very interesting! And then there's this:
US median household income (2013 $)
1999 57k
2008 54k
2013 52k

http://t.co/OOzHTUdc5s pic.twitter.com/sWqKfRtt3p

— Conrad Hackett (@conradhackett) October 14, 2015
"How Harvard Fights Unions: By Conceding the Union's Most Basic Claims" [Corey Robin].
News of the Wired
William Gibson interview: "It seemed to me that midcentury mainstream American science fiction had often been triumphalist and militaristic, a sort of folk propaganda for American exceptionalism. I was tired of America-as-the-future, the world as a white monoculture, the protagonist as a good guy from the middle class or above. I wanted there to be more elbow room. I wanted to make room for antiheroes" [Paris Review]. Classic from 2011.
"Researchers find neural switch that turns dreams on and off in mice" [Berkeley News]. Well, REM sleep as a proxy for dreams. I'm very leery of using the word "switch" in an organic system.
"When people talk about 'disruptive technologies,' they're usually thinking of the latest thing out of Silicon Valley" [WaPo]. "Arguably, one of the most disruptive technologies of the last century is the refrigerator." And appliances build on the grid, and indoor plumbing, nineteenth century achievements…. 
Internet of things: "The first thing I discovered is that these devices are not as simple to use as advertised" [New York Times]. "Maybe all these connected-home gadgets aren't ready for the home. And maybe this is a job that should be left to the professionals, like painting your house or rewiring your outlets." All so I can unlock the house from my cellphone when I have the key in my pocket?
"The Web Authentication Arms Race – A Tale of Two Security Experts" [SLaks.blog]. In Socratic dialog form. Really fun!
* * *
Readers, feel free to contact me with (a) links, and even better (b) sources I should curate regularly, and (c) to find out how to send me images of plants. Vegetables are fine! Fungi are deemed to be honorary plants! See the previous Water Cooler (with plant) here. And here's today's plant (OregonCharles):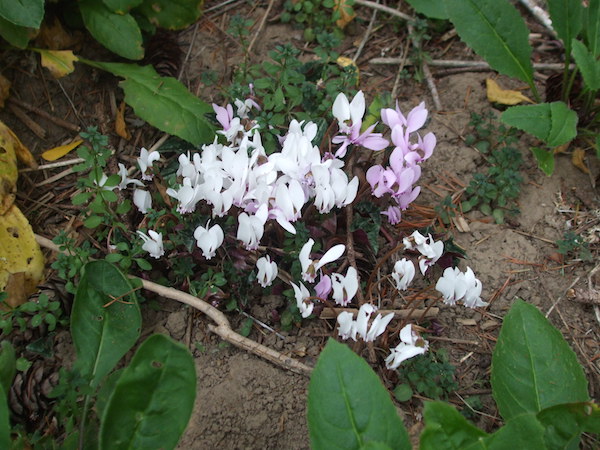 Another lovely photo from OregonCharles; this is a cyclamen.
Readers, Water Cooler is funded solely by you, through the Tip Jar below; that is, the Naked Capitalism fundraiser going on now covers my regular posts, Links, and everything else Yves kindly mentions here, but not Water Cooler. And so far, your contributions have been generous enough to allow me to keep Water Cooler going. (I'm pretty fast, as readers see when I correct things on the fly, but it does take several hours of foraging and writing!)
If you can, and without detracting from Naked Capitalism fundraising week as a whole, what would remove a lot of stress from me and really take the edge off would be more subscriptions from you, in any amount, over the course of the year. 30 subscriptions and I'd be happy; 40, and I'd be ecstatic. Just click the hat below. Thank you!