Yves here. Straus-Kahn demonstrates that even tarnished brand names can still be monetized. His Sudanese bank looks like an awful lot like the sort of financial institution that Richard Smith stalks.
By John Helmer, the longest continuously serving foreign correspondent in Russia, and the only western journalist to direct his own bureau independent of single national or commercial ties. Helmer has also been a professor of political science, and an advisor to government heads in Greece, the United States, and Asia. He is the first and only member of a US presidential administration (Jimmy Carter) to establish himself in Russia. Originally published at Dances with Bears
Victor Pinchuk is to pay Dominique Strauss-Kahn to sit on the board of his Ukrainian bank, Credit Dnepr. The Kiev Post reports the appointment, announced by the bank this week, as having " the aim of boosting corporate governance."
Strauss-Kahn has been losing large amounts of money in the courts of the US, France, and Luxembourg, as well as in his French businesses. He has been recouping by taking retainers as an arranger for the French investment firm Arjil-Atrium Capital; a promoter for the National Credit Bank of South Sudan; and board director for two Russian state-controlled entities, the Rosneft-owned Russian Regional Development Bank, and the Russian Direct Investment Fund.
For the past three months, Strauss-Kahn has been under investigation by prosecutors in Paris for alleged fraud and misuse of company funds involving a Luxembourg investment company he had bought into and directed between 2013 and 2014. The firm, Leyne Strauss-Kahn and Partners (LSK), is suspected of money-laundering, and is now bankrupt. "When it comes to name recognition," said a Luxembourg finance market source, "Strauss-Kahn does not appear to bring luck to the institutions that recruit him."

Pinchuk's Interpipe, a Ukrainian steel and pipe maker and his principal source of income, has been in default on more than $1.3 billion in bank and bond debt for more than a year. Credit Dnepr, Pinchuk's pocket bank in the Dniepropetrovsk region of eastern Ukraine, has been in trouble since 2012 when it recorded a loss of UAH240 million ($30 million). Auditors Ernst & Young reported at the time that they were unable to determine whether the bank's internal controls were effective in detecting fraud, or whether the bank was in compliance with Ukrainian law requiring supervision of large and related-party transactions. The accountants also warned they could not say if the bank had effective governance.
Credit Dnepr's financial condition has deteriorated significantly since 2012. Its last published international rating was issued by Moody's in September 2013, and can be read here. In May 2014, it lost its international rating. The bank has changed its auditor; the losses have continued. In 2014, the last year for which the bank has issued an audited report, the loss was UAH 1.2 billion ($62 million). Reported assets had shrunk by 68% in dollar, 20% in hryvnia terms between 2012 and the start of 2015 — from UAH 7.9 billion ($988 million) to UAH 6.3 Billion ($315 million).
In March 2015, the National Bank of Ukraine said it was giving Credit Dnepr a bailout loan of UAH 357 million "to shore up liquidity of this bank and enable it to meet its obligations to individual depositors." Since then it has been revealed that Pinchuk has been paying freebies for the Kiev representative of the International Monetary Fund (IMF), Jerome Vacher, while the IMF, along with the World Bank, have been providing the cash to the National Bank to refinance the insolvent Ukrainian banks. Vacher and the World Bank have also relaxed their conditions for recapitalizing the banks by shareholders like Pinchuk.
If Pinchuk believes Strauss-Kahn will now lobby the IMF to benefit Credit Dnepr, they face reluctance from IMF management in Washington and from many country directors on the IMF board. On January 14, the IMF said it was continuing to suspend loan disbursements to Kiev. No new deadline, the Fund spokesman revealed, has been set for either the staff review or the board meeting to agree on "resolving some outstanding issues [which] revolve around structural fiscal measure needed to ensure medium term sustainability."
Strauss-Kahn himself and his other clients are not in a better condition. The US Government's prosecution of Strauss-Kahn in 2011 for sex crimes failed in circumstances which can be followed here. The only head of state in the world to defend Strauss-Kahn publicly from the US charges was President Vladimir Putin. Not counting his legal fees, a civil settlement with Strauss-Kahn's accuser in the case in 2012 cost him between $1.5 million and $6 million.
Subsequently, Strauss-Kahn has successfully defended himself against an attempt by French prosecutors to convict him of pimping; the charges were dropped in February 2015.
His testimony was that he didn't have reason to know that the persons he's had sex with were prostitutes. Strauss-Kahn's advocate in that case, Henri LeClerc, said the case had "cost [Strauss-Kahn] a fortune."
Between sex prosecutions Strauss-Kahn has been paid by Pinchuk to give public lectures in Kiev; participate in a yearly anti-Russian convention Pinchuk calls his Yalta European Strategy (YES); and speak at a mealtime session at the annual Davos financial conference. When the Davos lunch turned into a breakfast in 2015, Strauss-Kahn stopped attending. Click to open the full Pinchuk funding record for Strauss-Kahn here.
There have been other paying clients to cover his costs. In September 2013 it was reported that Strauss-Kahn had been engaged as an advisor to the Serbian government. Strauss-Kahn claimed he was giving Belgrade his advice for free. The Serbian first deputy prime minister, Alexander Vucic, said: "Mr. Strauss-Kahn is a great economist, and we think he might help us with his knowledge and experience. We need to revive our economy. We don't speak of moral competences. He is not going to be the minister of culture."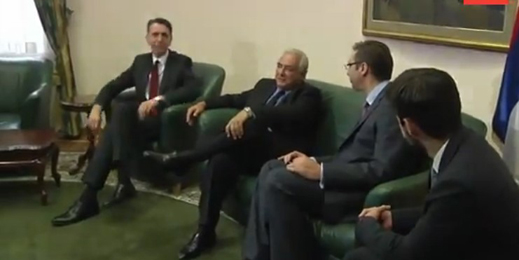 Serbian First Deputy Prime Minister Vucic (2nd from right) introduces Strauss-Kahn to his government ministers and to the press in Belgrade on September 17, 2013
In fact, Strauss-Kahn was introduced to the Serbians by a French investment bank, Arjil-Altium Capital, which had already retained Strauss-Kahn, and been retained itself by the government in Belgrade. Arjil-Atrium told French reporters it hadn't installed Strauss-Kahn at its office premises in Paris. Arjil is owned Wladimir Mollof, a Frenchman of Bulgarian origin.
From Mollof (below left), Strauss-Kahn moved on to another sponsor, Thierry Leyne (right), who held both French and Israeli citizenship.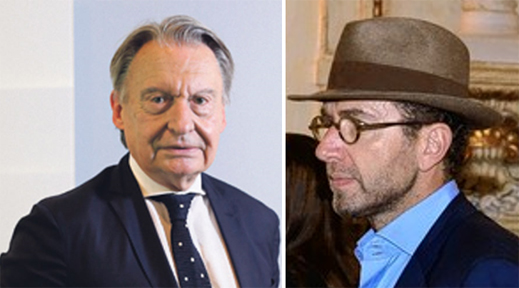 In September 2013 Strauss-Kahn's Luxembourg investment firm Leyne, Strauss-Kahn & Partners (LSK), was created with a change of name from a Paris-listed entity already operated by Leyne. It called its line of businesses share-broking, insurance, banking, "fortune management", and fronting ("tak[ing] care of shares") for listed and unlisted companies. Strauss-Kahn commenced as executive chairman of LSK in September 2013; he resigned in October 2014, a few days before Leyne jumped out of a window in Tel Aviv. At that point LSK was bankrupt.
French reports indicate that in 2013 Strauss-Kahn's personal consulting company in Paris, Parnasse, made €766,334 in profits. In 2014 Parnasse reported losses of €39,255. He was obliged to put the company into liquidation and leave Paris. Parnasse is listed as Strauss-Kahn's affiliation as a director on the board of the Russian Direct Investment Fund (RDIF). That retainer commenced in July of 2013. At the same time, Igor Sechin, Rosneft's chief executive, put Strauss-Kahn on the board of the Russian Regional Development Bank (RRDB). The two retainers — as much as $500,000 per annum, according to informed sources — were Strauss-Kahn's bailout from the Russian state.
Strauss-Kahn said Leyne was to blame for LSK's financial collapse at the end of 2014. Asked whether LSK had been money-laundering, Strauss-Kahn said "not to my knowledge". He also told the Financial Times he had lost money in the LSK crash. "I probably lost my investment and have never received any compensation. At my level, it's a lot of money." Strauss-Kahn's 20% stake in Leyne's business may have been priced at €10 million when he bought in, according to a calculation by Bloomberg.
The Luxembourg operation owed at least €100 million. The Luxembourg tax authority then sued Strauss-Kahn for €74,792 in tax withholding the government claimed Strauss-Kahn should have paid on salaries awarded by LSK.
Six months later, in April 2015, Strauss-Kahn closed down Parnasse in Paris. He moved the firm to Casablanca and his home to Marrakech in Morocco, where Strauss-Kahn himself lived as a child. The consultancy is now called Parnasse International.
This week, according to Elena Malinskaya, the chief executive of Credit Dnepr , Pinchuk's appointment of Strauss-Kahn to the bank board provides "an excellent opportunity to build the development strategy of the bank relying on their unique experience and expertise."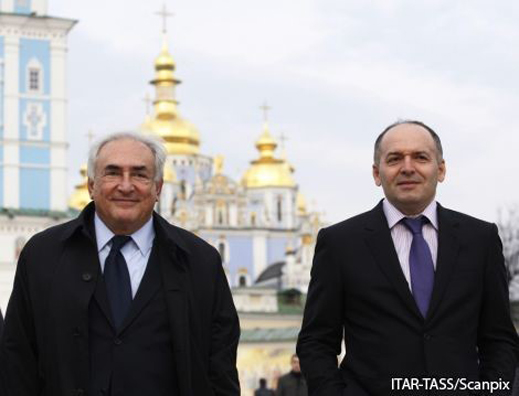 Either Malinskaya and Pinchuk (above, right) have not been reading the French press investigations of exactly what it is that Strauss-Kahn has been doing at Arjil-Atrium Capital, at LSK in Luxembourg, and at the National Credit Bank of South Sudan. Alternatively, that's exactly what they have been reading for the expertise they want from Strauss-Kahn in his new seat at Credit Dnepr. *
In the first place, National Credit Bank of South Sudan has been identified in France as an entity created by Strauss-Kahn's partner at LSK, Leyne. In another French report, the idea for creating National Credit in South Sudan came to Leyne from Strauss-Kahn.
Leyne is (was) the Israeli shareholder the South Sudanese have mentioned when the new bank was opened in 2013. Two other business names Leyne owned and operated, Anatevka and Assya, were also the stakeholders for Leyne in National Credit through Romania and Switzerland. The French investigations suggest that National Credit was operated by Leyne (below left, with Strauss-Kahn) and his associates as a money laundry. There has been no criminal indictment, and no proof of wrongdoing.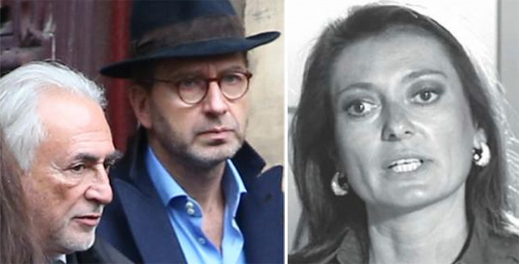 Miruna Klaus (aka Miruna Ana Klaus, Miruna Klaus-Popescu — above right), the director of the Leyne group's Swiss businesses, was also in Juba, the South Sudan's capital, with Strauss-Kahn to inaugurate National Credit, and take a seat on the bank board. She has been reported in Romanian press investigations as a money laundering agent for Dinu Patriciu, an indicted Romanian oligarch and several politicians. In Switzerland, Romania, and South Sudan Klaus has not been charged with any wrongdoing.
From Romania to South Sudan, and on to Dniepropetrovsk – this is the fund of experience on which Pinchuk's bank said this week it aims to draw. A US State Department's assessment of the South Sudan banking sector points out that the financial system of the country is small, but the black market in currency and money-laundering is large, so it's unclear which transactions Strauss-Kahn has been advising. According to the State Department, "there are reportedly 26 banks and approximately 79 foreign exchange bureaus in South Sudan, but 10 of the banks are banks in name only. The Bank of South Sudan is reported to distribute $1.3 million to each bank each week. One million dollars is allocated for withdrawal by private businesses and $300,000 for withdrawal by citizens with children living and studying abroad. However, allegedly only $400,000 of the allocated one million dollars actually reaches businesses, while the remaining $600,000 is channeled into the parallel market. Similarly, only $50,000 of the $300,000 allocated for families with children abroad is allegedly actually disbursed; the remainder goes to the parallel market. Several of the 79 foreign exchange bureaus, which benefit from this illegal structure, are allegedly owned by South Sudanese government officials or their relatives."
"In response to IMF encouragement, the Bank of South Sudan harmonized the official and parallel exchange rates of the South Sudanese Pound on November 11, 2013, but repealed the decree on November 13 under pressure from the National Legislative Assembly, many of whose members reportedly benefit directly from the existence of parallel rates."
The collapse of the oil price has been catastrophic for almost everyone in the 8-million population of South Sudan. But not for the bankers Strauss-Kahn is advising. "South Sudan's financial sector," reports The Sentry "while in its infancy, has expanded significantly in recent years. Financial institutions have proliferated, and by November 2013 there were at least 28 licensed commercial banks which the IMF estimated hold 97% of capital. These 28 banks include many foreign banks. The availability of banking services has reportedly reduced the difficulties of servicing illicit financial transfers as it grants facilitators greater access to the larger financial system outside South Sudan. Bulk cash couriers are giving way to faster and safer wire transfers, available to some without the required disclosures or paperwork. In addition, some banks, as seen in board of directors lists, may be influenced by elite interests."
This was published last June. The Sentry is an international think-tank focused on Africa, directed by Americans. It is backed, in part, by the Dutch Postcode Lottery; US National Security Council staffer Mary Beth Goodman; US Senator John McCain; the actor George Clooney; a Scots billionaire; and by Ruben Vardanyan, a well-known Russian banker.
Illegal banking is rife in South Sudan, says The Sentry. "Currency speculation in South Sudan is one of the most lucrative illicit schemes available to well-connected individuals. Officially, the exchange rate has not changed since independence, and in 2015 it still officially stands at 3.16 SSP to the dollar. The black market rate has worsened dramatically, especially in recent months. During a visit to Juba in November 2014, the black market rate was approaching 5 SSP to the dollar, but in March 2015 it was reported to be 9 SSP to the dollar, and in June 2015, it hovered between 12 and 15 SSP to the dollar. Those who are able to take advantage of this opportunity for arbitrage can profit tremendously. Currently, taking one dollar and exchanging it at the black market rate for 15 SSP, and then exchanging it back into dollars at the official 3.16 rate, one would receive five U.S. dollars, or a 400% profit."
"Private forex bureaus have become a lucrative business, and the IMF reports that with minimal oversight, these institutions present a high risk for money laundering and servicing illicit transactions. … Various elites are alleged to own or have stakes in private FOREX bureaus, which, if true, could constitute a significant conflict of interest. In a nod to the attraction of the sector, a 2014 report by the International Monetary Fund indicates that there were 79 licensed foreign exchange houses in South Sudan in mid-2013, an unusually high number given the small size of the South Sudanese financial sector. For comparison, Kenya has 86 licensed foreign exchange bureaus, despite an economy almost five times as large."
Strauss-Kahn's Sudanese bank has a Swift code (CNABAAJB), and one office; that's opposite the traffic police headquarters in Juba. There is no website, and few details.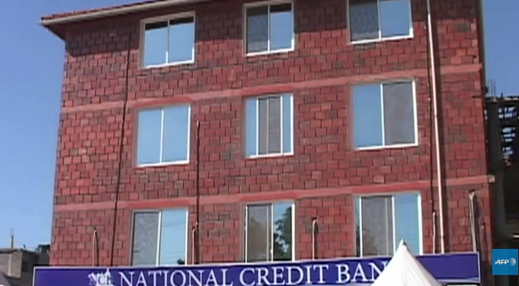 Source: https://www.youtube.com/watch?v=H2tbW9NPorc
The latest Transparency International measurement of "corruption perception" in 2015 put South Sudan at rank 163, with a 15% score. At the Pinchuk bank in Ukraine, Strauss-Kahn is bound to find the getting and the going easier. The Ukraine rank on the Transparency International corruption index is 130, with a 27% score. If Strauss-Kahn's two Russian directorships – at Russian Direct Investment Fund and Russian Regional Development Bank — are intended to advise on raising finance despite sanctions, he starts with a corruption rank for Russia of 119, and a score of 29%.
At Rosneft, the company itself and Sechin the chief executive, are under US sanctions, and insiders say both company and bank are facing great difficulty raising finance. The bank is not under formal sanctions.RRDB was asked this week to say whether Strauss-Kahn's new employment by Pinchuk at Credit Dnepr bank represents a conflict, and whether Sechin and the bank continue to have confidence in Strauss-Kahn. The bank refused to reply.
The Russian Direct Investment Fund was asked the same questions. It also refused to reply.
[*] In this week's announcement by Credit Dnepr of its new board of directors, the bank claims four of the six — Strauss-Kahn and three others — are "independent directors". The three are Anders Aslund, Jean-Pierre Saltiel, and Alex Muntyanu. Aslund's think-tank employer in Washington has been funded by Pinchuk for several years; read the details. Aslund has also been a regular guest at Pinchuk's YES conferences. Saltiel has been on Pinchuk's retainer since 2004, when he was seated on Pinchuk's YES board. He has been on the board of Interpipe since 2008, and has guided Interpipe through the 2011 and the current defaults.
The independence of Muntyanu from Pinchuk is difficult to assess because the entities he is associated with, according to Credit Dnepr, appear to be controlled by the Kiev investment firm, Dragon Capital. That is in turn controlled by Thomas Fiala, who directs Muntyanu. Fiala's relationships with Pinchuk as creditor or debtor aren't known.