By Lambert Strether of Corrente.
TPP/TTiP/TISA
"The reality is that there is a very good chance that what would be the biggest bilateral trade deal in history — and one among two of the world's biggest economies — has missed its political moment" [Financial Times, "The TTIP has missed its political moment"]. "[T]he most likely looming scenario is of the talks entering a deep freeze, or becoming something akin to a relationship that — despite both sides' vivid dreams — is stuck on a perpetually awkward first date." Awesome, and we have European activism to thank for this.
"TTIP: Jeremy Corbyn says the best way to fight the controversial trade deal is to stay in Europe" [Independent]. Corbyn: "I want to see a Europe that is a unity of people of the left of people in TUs and progressive organisations and social organisations actually collectively working for a better standard of living and not accepting this idea that big business can run Europe, or accepting this idea of the Transatlantic Trade and Investment Partnership which essentially franchises corporations at the expense of national governments."
"Both while the agreement is being ratified and once it kicks in, Europeans are likely to blame Americans for any lowering of consumer, health, and environmental standards, particularly in sensitive areas such as food safety. Americans, in turn, are likely to blame Europeans if they experience job losses in the automotive sector" [Bilaterals].
"For example, the TPP will essentially cancel out the flexibility the governments of Mexico and Peru have to limit patent evergreening by not granting additional patents on modifications of existing medicines. It will also require member countries to grant patent term extensions beyond the already required 20 years, which will further delay affordable generic medicines from reaching patients" [Doctors without Borders]. "In Peru, specifically, the TPP will put an end to existing public health safeguards included in the 2007 May 10/New Trade deal, which gives Peru the flexibility not to grant patent term extensions beyond the already required 20 years"
"The AFL-CIO and four Colombian unions said in the complaint [to the US Department of Labor] that since the U.S.-Colombian trade deal took effect in 2011, some 99 Colombian workers and worker advocates were killed as they tried to exercise their rights. Six workers were kidnapped, and 955 death threats were received, the complaint said" [Reuters].
"TPP: A Strategic Imperative – A Conversation with Admiral Michael Mullen" [The Atlantic Counci].
2016
Policy
"The unified message coming from both the Clinton and Obama camps is that incrementalism is the only possible path forward and [insert one here: BernieBros, The Kids Today, The Left, Naderites, Silly People Who Never Vote] just don't understand this iron law of politics and should be laughed at. The other message is we would have had the progressive Nirvana if only The Left turned out for midterms" [Eschaton]. "As for the first bit, well, incrementalism towards what? … As for the second part, I've never seen any evidence that The Left (either as an organized (hah) group or just people on that part of the political spectrum) fails to turn out for midterms and that's why Dems lose. … What I see every midterm election cycle, and comment on every time, is that the Democrats are determined to run elections about nothing."

"When Bernie Sanders called for "Medicare for All" to replace Obamacare, he was met with objections that it would be too expensive. But that is because of a confusion between government expenditures for health care, and total expenditures, which include employer and individual out-of-pocket costs" [Marcia Angella, Boston Globe, "How to provide Medicare for all"]. Good editorial. I pulled that one quote out because the serious damage career "progressives" inflicted on the heatlh care debate — and by extension on every citizen who can't get decent heatlh care today — was two-fold: First, sucking away all the oxygen from single payer with the so-called "public option," as we've often discussed, and second the focus on governnment spending only, as expressed by CBO estimates. And more on the "public option":

Hillary Clinton recently called for a public option in Obamacare (an idea scuttled in 2009) that would permit people in their 50s and early 60s to choose either Medicare or private insurance. The problem with that proposal is that private insurance companies would woo the healthiest people in that age group, and leave the sickest to Medicare. Medicare would then be subsidizing the for-profit insurance industry, and there would be little or no savings. It is much more efficient for everyone in an age group to be enrolled in Medicare, so there couldn't be that kind of "cherry picking."

So given that the "public option" could send Medicare into a death spiral, that makes the name pretty Orwellian, no? Just another neoliberal privatization scam from Clinton! Angell really nails that one.

"On a range of issues, Mr. Trump seems to be taking a page from the Sanders playbook, expressing a willingness to increase the minimum wage, suggesting that the wealthy may pay higher taxes than under his original proposal, attacking Mrs. Clinton from the left on national security and Wall Street, and making clear that his opposition to free trade will be a centerpiece of his general election campaign" [New York Times]. "As Mr. Trump lays the groundwork for his likely showdown with Mrs. Clinton, he is staking out a series of populist positions that could help him woo working-class Democrats in November. But in doing so, he is exacerbating the trepidation some Republicans already feel about his candidacy at a moment when the party typically rallies to its nominee."

"The Donald vs. the Blob" [Foreign Policy]. "The Clinton campaign has already assembled a "massive brain trust" of policy wonks and former government officials, including Michèle Flournoy, Nicholas Burns, Madeleine Albright, Jake Sullivan, Derek Chollet, Tamara Wittes, Phil Gordon, Michael McFaul, and many, many more. As befits a former secretary of state, former senator, and former first lady, her foreign-policy machine is the living embodiment of the mainstream Foreign-Policy Establishment." In words, everybody responsible for the mire we and the rest of the world are up to our necks in. then again…

UPDATE "Donald Trump to meet with Henry Kissinger, GOP's foreign-policy eminence" [WaPo]. Like Clinton. Unlike Sanders.
Money
"Years of financial distress have left the A.F.L.-C.I.O. desperate for cash" [New York Times].
Corruption
" 'Clinton Cash' doc set to stir up controversy as it debuts at Cannes" [MSNBC]. Breitbart, ugh, since they're known video fakers. That said:

But what complicates matters for Hillary Clinton's campaign is that the book resulted in a series of investigations last year into [conservative author Peter Schweizer]'s allegations by mainstream media organizations from The New York Times and CNN to The Washington Post and The Wall Street Journal, many of which did not dispute his findings — and in some cases gathered more material that the producers used in the film. More recently, some information uncovered in the Panama Papers has echoed some of Schweitzer's allegations in the movie and book.

And if that's what MSNBC says…

"Clinton Does Best Where Voting Machines Flunk Hacking Tests: Hillary Clinton vs. Bernie Sanders Election Fraud Allegations" [Counterpunch]. Where's the smoking gun, though?
Nevada Debacle
"At the state convention this weekend, the final step in the process, Sanders supporters hoped to secure the lion's share of the remaining 12 delegates. Instead, the delegate allocation rules were abruptly changed and Clinton was awarded 7 of the 12 delegates. State party chair, Roberta Lange, told caucus-goers that the "ruling by the Chair is not debatable; we cannot be challenged and I move that…and I announce that the rules have been passed by the body" [Salon]. And so to the "violence" question: As readers know, I'm an advocate of strategic non-violence. From a tactical standpoint, I think throwing chairs — if chairs were indeed thrown; is there video? — isn't well-thought out. However, if we ask "who threw the first punch?" it's the Nevada Dems re-allocating the votes. And if the ensuing chaos — and it's hard to imagine that wily old bird, former boxer and master of the deke Harry Reid, who owns the Nevada Dems, didn't forsee the outcome — means that establishment Dems don't have impunity to switch votes around so their preferred candidate gets the numbers they want, I find it hard to regret that outcome. Remember when the DNC Rules and Bylaws Committee gave Clinton votes to Obama in 2008? They got away with it then. Why now?

"160516 Letter DNC RBC NVDemsConvention" [Scribd]. If you're looking for signs that establisment Dems want Sanders and his supporters out of the party, it's hard to find a clearer indication than this. And I have to assume Reid signed off on it.

Nina Turner:

"Michael Briggs, a Sanders campaign spokesman, said, 'We do not condone violence or encourage violence or even threats of violence." He added that the campaign 'had no role in encouraging the activity that the party is complaining about. We have a First Amendment and respect the rights of the people to make their voices heard'" [AP]. So far as I know, there's no evidence of who actually made the phone calls the Nevada Dems are complaining about.

UPDATE "'I hope Senator Sanders would understand that he is not only damaging his own reputation and standing, but also doing harm to the Democratic Party, unless he encourages his supporters to be more genteel in their protest,' said Don Fowler, the Democratic National Committee chairman from 1995 to 1997" [Politico].

UPDATE 4:00PM EST "Sanders Statement on Nevada" [Bernie 2016]. Sanders not backing down:

"Within the last few days there have been a number of criticisms made against my campaign organization. Party leaders in Nevada, for example, claim that the Sanders campaign has a 'penchant for violence.' That is nonsense. Our campaign has held giant rallies all across this country, including in high-crime areas, and there have been zero reports of violence. Our campaign of course believes in non-violent change and it goes without saying that I condemn any and all forms of violence, including the personal harassment of individuals. But, when we speak of violence, I should add here that months ago, during the Nevada campaign, shots were fired into my campaign office in Nevada and apartment housing complex my campaign staff lived in was broken into and ransacked.

"If the Democratic Party is to be successful in November, it is imperative that all state parties treat our campaign supporters with fairness and the respect that they have earned. I am happy to say that has been the case at state conventions in Maine, Alaska, Colorado and Hawaii where good discussions were held and democratic decisions were reached. Unfortunately, that was not the case at the Nevada convention. At that convention the Democratic leadership used its power to prevent a fair and transparent process from taking place. Among other things:

The chair of the convention announced that the convention rules passed on voice vote, when the vote was a clear no-vote. At the very least, the Chair should have allowed for a headcount.
The chair allowed its Credentials Committee to en mass rule that 64 delegates were ineligible without offering an opportunity for 58 of them to be heard. That decision enabled the Clinton campaign to end up with a 30-vote majority.
The chair refused to acknowledge any motions made from the floor or allow votes on them.
The chair refused to accept any petitions for amendments to the rules that were properly submitted.

"These are on top of failures at the precinct and county conventions including trying to depose and then threaten with arrest the Clark County convention credentials chair because she was operating too fairly."
The Voters
UPDATE "Yet to dismiss vulgarity as a tool for fighting the powerful, to say that being mean is 'ridiculous,' is to deny history, and to obscure a long and noble tradition of malicious political japery. In fact, 'being mean' not only affords unique pleasures to the speaker or writer, but is a crucial rhetorical weapon of the politically excluded" [Current Affairs]. See above at "genteel."
Oregon, Kentucky
"Clinton leans on Democratic loyalists to gain upper hand in Kentucky primary" [WaPo]. Kentucky is a closed primary.

"Still, the only recent survey in Oregon shows Clinton leading Sanders by a wide margin. The DHM Research poll, conducted for Oregon Public Broadcasting and Portland's Fox affiliate, shows Clinton ahead 48 percent to 33 percent. Like Kentucky, Oregon holds a closed primary" [Fortune].

"Sanders trailing Clinton heading into Kentucky and Oregon primaries" [Raw Story].
California
Clinton taps Christina Aguilera, John Legend, Ricky Martin, and Stevie Wonder for fundraising concert, with some tickets priced at only $45 to appeal to youth [Daily Mail]. Not sure the lineup appeals to youth, however. Did the campaign really think it would?
The Trail
"[Sanders] is not Hillary Clinton circa 2008. He is not going to be made secretary of state. At 74, he can't expect to launch another campaign in four or eight years. And so what incentive does he have to do what Clinton did — drop out and endorse the winner four days after the last contest? What pressure will he feel to go to the convention, move to suspend the roll call, and nominate his rival by acclamation?" [Yahoo Poltiics]. And does Sanders even want to go back to Senate? Not sure where the solution spaces of the two factions overlap here.

"Is Sanders 2016 Becoming Nader 2000?" [Poltiico]. Betteridge's law applies, given that Nader didn't 45% of the vote, including future youthful voters. Anyhow, that's up to Clinton, isn't it? She can either decide Sanders has leverage and find a solution space, or (in my view the likelier outcome) throw Sanders and his voters under the bus and go for moderate Republicans.

"The Clinton campaign seems to be subtly tapping into her conservative past in the hopes of appealing to anti-Trump Republicans in the general election" [Emma Roller, New York Times]. I don't think it's subtle at all; I documented three Sister Souljah moments yesterday, directed at gay activists, #BlackLivesMatter activists, and left Democrats. (Remember that the DNC line is that Trump is the source of all evil, so it's pretty remarkable, or not, to hear Blue Dogs saying they can work with the guy.)

UPDATE Speaking of electability:

New Poll confirms trend: Clinton's lead over trump is within margin of error. pic.twitter.com/kXoli3AHFZ

— Salam Morcos (@SalamMorcos) May 17, 2016

"[T]here are now more than enough uncommitted superdelegates sitting on the sidelines to push Clinton over the nomination finish line. If they all supported Clinton today, the Democratic primary race would effectively be over" [Bloomberg]. And they haven't.

"The Romney-Kristol cabal is Hillary Clinton's fifth column inside the Republican Party" [Pat Buchanan, Real Clear Politics].
Stats Watch
Consumer Price Index, April 2016: "A nearly 10 percent monthly jump in gasoline costs drove the consumer price index 0.4 percent higher in April but outside of this, pressure is not building" [Econoday]. "The key right now for the inflation picture is wages, where gains have been limited and are not pressuring selling prices. The headline aside, this report will not revive whatever chances there are for a June FOMC rate hike. …. Apparel prices, which continue to decline despite the lower dollar and higher costs of imports, have been a major factor all year behind the lack of pressure." Give those Bangladeshis and Cambodians a goddamned raise! Have J-Yel lean on the ILO…
Industrial Production, April 2016: "An upward swing in utility output pulled industrial production 0.7 percent higher in April in a report that on balance, however, shows only modest strength at most" [Econoday]. Vehicles up, business equipment weak, consumer goods up, mining ugly, with "no lift whatsoever yet from the rebound underway in oil prices." (Do any readers know whether frack sand is stockpiled?)
Housing Starts, April 2016: "Housing starts and permits picked up in April but the pace is moderate" [Econoday]. But: "Be careful in analyzing this data set with a microscope as the potential error ranges and backward revisions are significant. Also the nature of this industry variations from month to month so the rolling averages are the best way to view this series – and the data remains in the range we have seen over the last 3 years (although permits is at the low end of the range). The slowing of building permits continues to be to softness in multiple family dwellings" [Econintersect].
The Fed: "The hawks and the doves at the Federal Reserve often fail to see eye-to-eye, but either the consensus is shifting at the Fed or the hawks are gearing up to challenge the ruler of the roost, Chair Yellen. Feathers are definitely ruffled, as the hawkish rhetoric over the last week or so has been extraordinary in my view and seems to be ratcheting up in intensity with each successive wave of speakers" [Amherst Pierpont Securities, Across the Curve]. "while it is tempting for a hawk like me to surmise that the thinking of the entire Committee is evolving in a significant way, it may just be that there is a silent dovish majority and the policymakers who we are hearing from are speaking out because their views are not being validated at the FOMC table." Why don't we just crowd-source the decision on the Twitter? Would that really be worse?
Shipping: "Tonnage ordered at South Korean shipyards falls by 94% during Q1" [Splash247].
"Billionaire Soros Cuts U.S. Stocks by 37%, Buys Gold Miner" [Bloomberg]. "Soros, who built a $24 billion fortune through savvy market wagers, has warned of risks stemming from China, arguing its debt-fueled economy resembles the U.S. in 2007-08 at the onset of the global financial crisis…. Soros's former chief strategist, billionaire investor Stan Druckenmiller, is also bullish on gold." But not, apparently, on platinum…
Today's Fear & Greed Index: 57, Greed (previous close: 60, Greed) [CNN]. One week ago: 65 (Greed). (0 is Extreme Fear; 100 is Extreme Greed). Last updated May 17 at 12:06pm. Jimmy Carter speed limits, style of thing.
Our Famously Free Press
"While some observers are still concerned that the Murdochs will drag the National Geographic brand down-market, the TV network is undergoing a radical makeover in the opposite direction. Fox is investing hundreds of millions of dollars to reinvent it as a more highbrow destination—a kind of HBO for science and adventure programming" [Bloomberg]. Readers, can this be true?
Big Brother is Watching You Watch
"Telephone metadata is densely interconnected, easily reidentifiable, and trivially gives rise to location, relationship, and sensitive inferences. In combination with independent reviews that have found bulk metadata surveillance to be an ineffective intelligence strategy, our findings should give policymakers pause when authorizing such programs." [Stanford News].
Black Injustice Tipping Point
"Morgan State University assistant professor Lawrence Brown pointed out that the federal policy of redlining—that is, the drawing of maps by the Federal Housing Administration and its predecessor, the Home Owners Loan Corporation, to identify areas where loans should not be made by coloring them in red—explicitly drew on the pseudo-science of eugenics" [Nonprofit Quarterly]. "Studies of several cities' redlining policies and color-coded maps, including Asheville, North Carolina's and Baltimore's, point to the explicit eugenics-based thinking behind the redlining theories that deemed some neighborhoods, or rather the inhabitants of some neighborhoods, as undesirables." Which is so damn discouraging, since Home Owners Loan Corporation was a New Deal program (and was what HAMP should have been, modulo the racist component).
"This guidebook helped African Americans find a hotel along segregation-era Route 66" [Los Angeles Times]. The Green Book. In living memory, let us remember!!
Unsettlement
"Today, more than 1,000 residents and 70 partner organizations from around the Midwest region protested at BP Whiting Refinery, demanding that hazardous fossil fuels stay in the ground and that the Midwest Region accelerate a just transition to 100% renewable energy" [Futures].
Class Warfare
"A Pew study found that the size of the middle class fell in virtually all parts of the country between 2000 and 2014. Nine out of ten metropolitan areas showed a decline in middle-class households…. In a related study, Pew also found that the median income for middle-class households fell by nearly 5 percent between 2000 and 2014. Their median wealth (assets minus debt) declined by 28 percent after the housing market crisis and subsequent Great Recession" [Robert Eskew, Campaign for America's Future]. "Battleground electoral states like Indiana and Michigan saw the greatest decline in middle-class incomes, a finding that may help explain this year's widespread dissatisfaction with the status quo among some voters." 28% is a big number, and after a screw job like that, I might be inclined to burn it all down, no matter what bad names I got called in the process. Conceptual sloppiness of "middle class" aside.
"Economic Models Must Account for 'Who Has the Power'" [Mark Thoma, The Fiscal Times]. "If we want students to come away from these courses fully equipped to understand issues such as those that have fueled the rise of Donald Trump and Bernie Sanders, and to be able to evaluate the merits of the solutions they have proposed, discussions of the power relationships that come with departures from pure competition must be a central part of the education they receive."
"The economic source of the current anger" [Jared Bernstein, WaPo]. "There's nothing wrong with America that a lot more, good jobs couldn't at least partially solve." Bernstein posts this chart, which is worth a periodic look: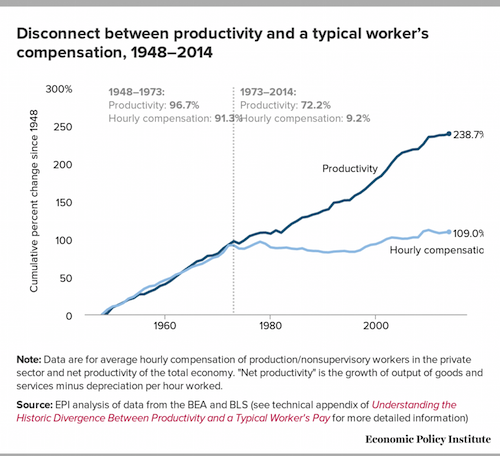 So who creamed off those gains?
"How certain liberals permanently erase the working class" [Matt Bruenig]. The class predicament of Gramsci's organic intellectuals.
"[S]omething happens in this discussion of working-class anger. Sullivan, like others tackling the subject, moves from an analysis of the 'working class' to an analysis of the "white working class," gliding between the two as if they're synonymous." [Jamelle Bouie, Slate]. Yep. And not just Sullivan. The entire political class.
TSA whistleblower Drew Rhoades on security delays: We had enough resources. We just mismanaged them" [KARE]. "And one of the factors, he claims, is trouble in TSA's highly-publicized 'PreCheck' program. But when the new North Checkpoints opened at MSP, Rhoades says TSA foolishly set aside four of the 10 lanes for PreCheck. 'We don't have the demand. We don't' have the numbers to justify four PreCheck lanes,' Rhoades said." Whoever would have imagined that a program where citizens could pay for better treatment from "their" government would backfire?
News of the Wired
"Twitter to Stop Counting Photos and Links in 140-Character Limit" [Bloomberg]. @jack finally does something right.
"The blockchain is a threat to the distributed future of the Internet" [Las Indias in English]. Key paragraph:
The concrete use of the blockchain to register all the movements of a market—rather than each company doing their own, independently—and having a sort of autonomous notary is a easy game for big banks and centralizers.

An easy game because the viability of the system depends on "mining," an industrial activity based on infrastructure. This is easy to verify when you look at the way that two Chinese "mines," Antpool and DiscusFish/F2Pool, hoard more than half of the blocks created by the bitcoin blockchain. This basic design reveals the big lie of Bitcoin. But it also puts any blockchain product in the custody of whoever has big infrastructure and manages to attract large-scale capital. A concrete case is the Ethereum project.
So that's the answer I was looking for on Ethereum.
* * *
Readers, feel free to contact me with (a) links, and even better (b) sources I should curate regularly, and (c) to find out how to send me images of plants. Vegetables are fine! Fungi are deemed to be honorary plants! See the previous Water Cooler (with plant) here. And here's today's plant (Portia):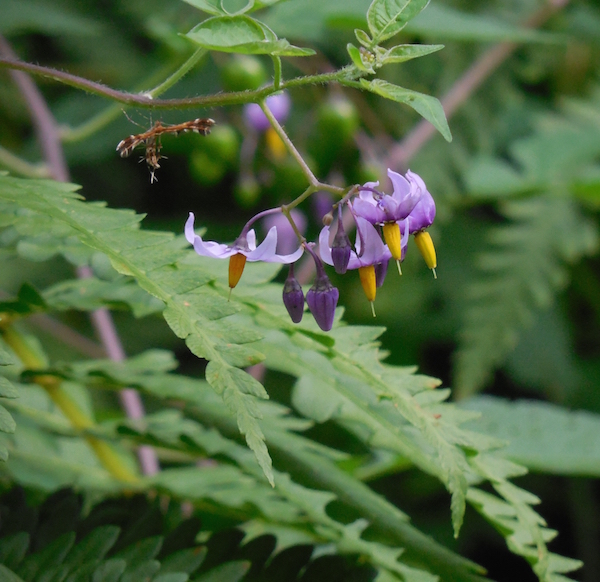 * * *
Readers, Water Cooler will not exist without your regular support. Your tip will be welcome today, and indeed any day. If you enjoy what you're reading, please click the hat!