By Lambert Strether of Corrente.
2016
Nevada Debacle
On the famous chair incident (the physical chair, not Roberta Lange, the Democrat Party chair). Hat tip Martha R:

HEY @maddow! Here's video proof that NO chair was thrown at #nvdemconvention. Are U gonna correct your statement?https://t.co/06J2QOqVBz

— #ForThePeople (@BernieVolunteer) May 18, 2016

This is the only clip I've seen on the Nevada chair incident. The implication is that every major media outlet in the country is smearing Sanders supporters as violent by repeating the Big Lie that a chair was tossed or brandished. Shocking, I know. At the same time, the only documented incident of violence comes from Wendell Pierce, a Clinton supporter, who was arrested for "battery" after assaulting a Sanders supporter. A woman, in fact, so there's a special place in hell for all the soi disant feminists who are silent on this episode. The immediate moral of the story is: Stream everything; streams are your receipts. The institutional moral: Independent media (a lesson that should been learned 2003-2006, except the Democrat Party did what it does, and decapitated the blogosphere).

"If Hillary Clinton doesn't stop being such a sore winner, she may well end up a sore loser. A candidate with 524 superdelegates in her pocket—and a lead of 291 in pledged delegates—can afford to be gracious. Even if it means that lead shrinking by two or three delegates" [The Nation]. "Being less dismissive—and less heavy-handed—now can only help Clinton to enlist Sanders and his supporters after the convention." But surely Clinton (and Reid, who owns Nevada) have already made this calculation, and that's why they're using the scorched earth tactics they are; neither politician is dumb or inexperienced; I'm betting they're chasing the Beltway Centrist wet dream of splitting the Republican Party and picking up Republican "moderates." No better way to do that than kicking the left! Greg Sargent in 2010, quoting Susie Madrak:

Top Obama adviser David Axelrod got an earful of the liberal blogosphere's anger at the White House moments ago, when a blogger on a conference call directly called out Axelrod over White House criticism of the left, accusing the administration of "hippie punching."

That tension burst out into the open when Madrak directly asked Axelrod: "Have you ever heard of hippie punching?" That prompted a long silence from Axelrod.

"You want us to help you, the first thing I would suggest is enough of the hippie punching," Madrak added.

Still true in 2016! "More that unites us than divides us" is at least an open question; the issue is whether the left is to have institutional power in the Democrat Party. Considering culture (see Madrak), personal networks, and policy, there's nothing about the words, or the behavior, of the Clinton campaign that indicates that they will or even can give the left a place "at the table"; look how the convention committees are already stacked, for example. (And words, even on policy, are wind, since even a child of six knows that the Democrat establishment tacks to the center in the general). So, and sadly, the Nation is really concern trolling here. The decisions have already been taken. There is no overlapping solution space.

"Sanders has a particular credibility with white working-class voters and young, mostly white collegians. Sanders' particular resonance with the white working-class,a group that has bedeviled Democrats over the last 50 years, and whose skepticism of free trade makes them a prime target for Donald Trump, could prove to be his most valuable asset to his newfound party. Sanders has proven to be an effective attacker when he sets his mind to it" [Joy-Ann Reid, Daily Beast]. Leaving aside that Sanders also appeals to young women of all incomes and also young blacks (a demographic he captured in South Carolina, amazingly enough), Reid doesn't seem to have a sense of realpolitik. "The people who can destroy a thing, they control it"; Frank Herbert, Dune. Sanders has leverage; he has something Reid says that she wants. So what does Reid offer in exchange? Nothing. Where's the deal? Nowhere. That strongly suggests that figures higher than Reid — the Inner Party, you might say — have decided that there is no deal to be had, since otherwise Reid would have been offered a trial balloon to float.

"I feel sorry for all the genuinely idealistic, well-meaning people who got caught up in this terrible mess" [Paul Krugman, New York Times]. Krugman is a lot higher up in the Democrat food chain than Joy-Ann Reid, and here again we see no trial balloon. So I'd conclude that no substantive offer to Sanders will be forthcoming. The remaining issue would then be the form of public relations that the Clinton campaign will adopt as a humiliatingly inadequate substitute, and which emissary will be delegated present it. Wasserman Schultz? (Kudos, however, to Operative K for masterful concern trolling; he was always a technically brilliant blogger in his post-economist career, and this year he's been excelling himself.)
Oregon, Kentucky
"Sanders is considering seeking a recount in Kentucky, where Clinton was clinging to a lead of a half percentage point" [Bloomberg]. Probably wise.
The Voters
"The basic justification for liberal identitarian discourse is that it prioritizes and empowers the voices of the voiceless. In practice, however, what we see is that it routinely misrepresents the voices of the voiceless, floating claims about 'the LGBT community', 'the black voters', and so on that are demonstrably untrue. In the case of the Democratic primaries, for example, majorities in every oppressed identity group have had their voices thoroughly and relentlessly misrepresented by people making liberal identitarian arguments" [Carl Beijer]. "It's not difficult to see how this works to the advantage of the powerful. On one hand, the power of the elite can be threatened and undermined when oppressed people have a voice. On the other hand, elites can also foment resentment and opposition if they try to silence the oppressed. What is needed, then, is an ideology that appears to give the oppressed a voice while it in fact silences or misrepresents them."

"Trump's appeal stretches to suburbs that had been trending blue" [WaPo]. "At the party meeting in Doylestown, Jean Mollock, 61, passed the plate of mozzarella and tomatoes that was going around the table and asked, 'Why don't we try to understand why Trump is so popular?' Others said that there was nothing to understand. 'You think there's some logic behind it?" asked Durey. 'I'm saying there's not'" [head, desk].
The Trail
"After Burlington College's Collapse, More Questions Than Answers" [Seven Days]. One such question is the role of People's Bank in pulling Burlington College's line of credit.
Stats Watch
Atlanta Fed Business Inflation Expectations, May 2016: "Inflation expectations on the consumer side appear to be falling but there's good news from the Atlanta Fed on the business side. Business inflation expectations rose 2 tenths to 1.9 percent for the best reading since January and one of the best readings over the last year" [Econoday]. I'm so old I remember when inflation was a bad thing. Then again:
"April 2016 Adobe Digital Price Index [DPI ] Shows Widespread Deflation" [Econintersect]. Important:
The DPI analyzes billions of digital transactions involving 15 billion website visits and 2.2 million products sold online, tracking digital transactions more accurately than any other current source. The CPI on the other hand, relies on consumer surveys to approximate the actual sales in each product category. The DPI uses transactional data on the actual quantities purchased for millions of products and captures the data in real-time. Seven dollars and fifty cents out of every ten dollars spent online with the top 500 U.S. retailers go through Adobe Marketing Cloud.*

Adobe's April report for consumer goods prices shows month-over-month (MoM) deflation between 0.2 and 2.4 percent for all categories Adobe is currently tracking with the exception of hotel prices, which increased by 1.6 percent. Between March 2015 and March 2016 prices for TVs, computers, flights, appliances, toys, furniture, bedding and sporting goods dropped between 2.2 and 19.8 percent. In comparison, the U.S. Bureau of Labor Statistics' Consumer Price Index (CPI) reported between 1.1 and 16.6 percent price deflation for the same categories and time period.
MBA Mortgage Applications, week of May 13, 2016: "The housing market is losing momentum, with purchase applications for home mortgages falling 6.0 percent in the May 13 week to the lowest level since February, and the year-on-year gain, though still very high at 12 percent, continuing to narrow" [Econoday].
Employment Situation: "The share of young men who are jobless or incarcerated has been rising. In 1980, 11 percent of young men were jobless or incarcerated; in 2014, 16 percent were (see figure below). Specifically, 10 percent of young men were jobless in 1980, and 1 percent were incarcerated; those shares rose to 13 percent and 3 percent in 2014" [Econintersect].
Shipping: "Shipbuilding as a demographic weather vane" [Splash247]. "With all of the largest yards – HHI is joined by Daewoo Shipbuilding & Marine Engineering, Samsung Heavy Industries, STX Offshore & Shipbuilding and Hanjin Heavy Industries & Construction – now going through painful restructuring with thousands of layoffs and many smaller yards folding, Koreans are wondering if the time has come for that generational industrial shift…. The same questions are being raised in Singapore where shipyards – long viewed as a sunset industry, but that enjoyed an incredible Indian summer from 2010 to 2014 – are now in trouble." Query: I like these real economy sites. Can NC readers in the aircraft industry suggest an industry source like Splash247? I mean a source that includes material aircraft as physical plant: Building, repairing, maintaining, flying, and not sales or financing. Thank you!
Shipping: "Moody's Investors Service has downgraded its outlook for the North American rail industry to 'negative' from 'stable,' as railroads face deep and long-lasting declines in freight volumes, the firm announced yesterday" [Progressive Railroading].
Shipping: "To transport wine and olive oil from Madrid to Yiwu, China, via the ambitious "One Belt, One Road" project, Spanish producers need to wrap bottles in thermal blankets to protect them from the cold of the Russian tundra—or else their products will freeze and explode." [Quartz]. "The problem is, there's really no need to use trains to increase commerce between Europe and China. Sea cargo transportation is much cheaper, and companies already rely on it. More than 19,000 containers can be placed on a single cargo ship, and they only take 30 days from Europe to reach China."
The Bezzle: "Haynes and Boone reported that it has tracked 77 North American oil and gas producers that have filed for bankruptcy since the beginning of 2015. These bankruptcies, including Chapter 7, Chapter 11, Chapter 15, and Canadian cases, involve approximately $51.9 billion in cumulative secured and unsecured debt. As of May 16, 2016, 35 producers have filed bankruptcy so far this year, representing approximately $34.7 billion in cumulative secured and unsecured debt. Despite the modest recovery in energy prices, all indications suggest many more producer bankruptcy filings will occur during 2016" [Futures]. "During the month of May, Texas bankruptcy courts surged to the top of the venue leaderboard, surpassing Delaware in terms of cumulative debt administered. Texas bankruptcy courts now lead the way both in terms of the number of E&P filings and cumulative debt."
The Fed: "Incoming data continues to support the narrative that the US economy is not, I repeat, not, slipping into recession. Instead, the US economy is most likely continuing to chug along around 2 percent year over year. Not exciting, but not a disaster by any means. Indeed, for Fed officials thinking the rate of potential growth is hovering around 1.75 percent, it is enough to keep upward pressure on labor markets, pushing to economy further toward full employment" [Tim Duy's Fed Watch]. "And if you think you want to hit the inflation target from below, then you need to hit the employment target from above. Which means a non-trivial contingent of the Fed does not want to leave June off the table. That is a message that came thorough loud and clear today."
The Banks: "Our current regulatory system enables megabanks, their executives, and Wall Street creditors to reap massive benefits from the TBTF subsidy while imposing the costs of that subsidy on ordinary citizens. We must reject this intolerable situation, and we must shrink the TBTF subsidy by forcing SIFIs, their insiders, and Wall Street creditors to internalize the costs of the enormous risks created by megabanks" [Arthur E. Wilmarth, The Harvard Law School Forum on Corporate Governance and Financial Regulation]. When did Harvard become an arm of the Communist Party?
"The U.S. economy is stabilizing after another rough winter, shrugging off worries about a recession or prolonged slowdown" [Wall Street Journal, "Rite of Spring: U.S. Economy Warms Up After Winter's Chill"]. "Since the recession ended [ha ha], first-quarter GDP growth has frequently come in weak, followed by a stronger second quarter. This year may have been no exception, and Tuesday's reports reinforced the picture of resumed modest growth in the overall economy."
Today's Fear & Greed Index: 54, Neutral (previous close: 54, Neutral) [CNN]. One week ago: 62 (Greed). (0 is Extreme Fear; 100 is Extreme Greed). Last updated May 18 at 11:50am. And now taking 'er out of gear…
Corruption
"Bridgegate's 10 Stunning Plot Turns, From Christie To Trump" [WYNC]. Trump's older sister, a Federal judge, has Christie's nuts in a jar.
"Lawmakers could do this to fight corruption. But they won't." [Dana Milbank, WaPo].
"After a year that saw the arrest and conviction of Albany's two top legislative leaders on federal corruption charges, New York's state government has been rocked again by news of another deepening federal probe, the targets of which reportedly include Governor Andrew Cuomo's former right-hand man and another close longtime associate" [CIty Journal]. "The 'significant funding' behind Cuomo's economic-development programs now runs into the billions, and the governor's secretive and centrally controlling approach breeds more opportunity for political favoritism."
Health Care
"Nonprofit hospitals can't sell stock, but they frequently issue bonds to pay for capital expenditures like new facilities. Larger health systems require significant investment to build and equip these facilities, and minor changes in interest rates and finance terms can make a big difference in borrowing costs. This has led some nonprofit healthcare systems to establish investor relations positions similar to those found in large for-profit corporations, holding investor briefing calls and "roadshows" to meet with investors and bond analysts" [Nonprofit Quarterly]. What could go wrong?
"Majority in U.S. Support Idea of Fed-Funded Healthcare System" [Gallup]. Again.
Black Injustice Tipping Point
"Video reveals Baltimore cops were looting during Freddie Gray protests" [Raw Story].
Gaia
"How Is Your Soil Like A Cow?" [Advancing Eco Agriculture]. "The production of high quality crops is dependent on the complete biological system of soil, air, and water. Healthy soil acts as the plant's digestive system to metabolize the minerals needed for optimal plant growth. Each farm is different and it is important to consider the diversity of soil type, nutrient availability, water quality and availability, and climate. Healthy soils are the foundation of a healthy crop. Truly healthy soils have the following common characteristics…"
"Magic mushroom ingredient may ease severe depression, study suggests" [Reuters].
Class Warfare
"An argument about whether powerful people behave better or worse than others is shaking the world of experimental psychology" [1843 Magazine]. Good round-up, even if in Economist-speak.
"Amazon Proves Infertile Soil for Unions, So Far" [New York Times].
"When the oil boom went bust, Oklahoma protected drillers and squeezed schools" [Reuters].
"A guy just transcribed 30 years of for-rent ads. Here's what it taught us about housing prices" [Medium] (original post from Experimental Geography). "The way to make San Francisco as affordable as (say) Portland would be to either cut everybody's salary in half, or fire half of them, or allow the city's population to rapidly grow about 50 percent, to about 1.2 million, while the number of housing units increased even faster."
Payroll cards at the Olive Garden [Wonkette]. "Payroll cards are great for banks: they get to charge exorbitant ATM fees to people whom they would otherwise have never been able to gouge. They're just as great for the companies themselves, especially in Darden's case: all told, the practice of using payroll cards saves the company $5 million per year, according to the report. The only people they're not great for are actual workers, who (as per usual) get hosed in a big way."
"Click here if this position is not prestigious enough for you" [University TItle Generator]. This is awesome. Please distribute widely.
"If you're living abroad, earning a living from a foreign company, not paying US taxes, and not collecting social security, then loan companies can't touch you, nor will the government chase you after you move abroad" [Vice].
"Hope is being privatized. Throughout the world, but especially in the United States and the United Kingdom, a seismic shift is underway, displacing aspirations and responsibilities from the larger society to our own individual universes. The detaching of personal expectations from the wider world transforms both" [Boston Review]. "Not only does this privatization weaken collective capacities to solve collective problems, but it also deadens the very sense that collectivity can or should exist, as the commons dissolves and social sources of problems become hidden. This leads to pathologies that, according to a sociologist Edsall cites, "undermine solidarity as the glue of social life.""
News of the Wired
"SSRN sold to Elsevier: From open access to the worst legacy publisher" [Professor Bainbridge].
"SSRN has been captured by the enemy of open knowledge." [Medium].
* * *
Readers, feel free to contact me with (a) links, and even better (b) sources I should curate regularly, and (c) to find out how to send me images of plants. Vegetables are fine! Fungi are deemed to be honorary plants! See the previous Water Cooler (with plant) here. And here's today's plant (Portia):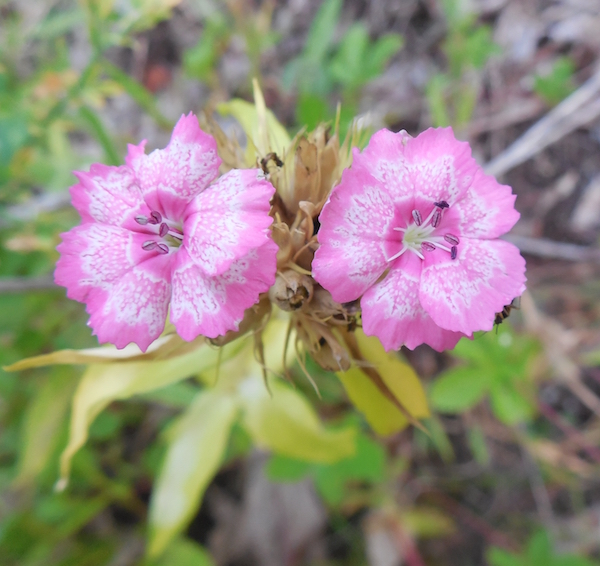 * * *
Readers, Water Cooler will not exist without your regular support. Your tip will be welcome today, and indeed any day. If you enjoy what you're reading, please click the hat!