Arctic Sea Ice Getting Terribly Thin Arctic News (guurst). :-(
LHC's new particle discovery fades away BBC
Incredible discovery reveals the truth behind an ancient Chinese legend ars technica (Chuck L)
Security Force of 85,000 Fills Rio, Unsettling Rights Activists New York Times
Tired of Waiting for Corporate High-Speed Internet, Minnesota Farm Towns Build Their Own TruthOut (resilc)
Bitcoin's Latest Economic Problem – Market Ouvert Or Squatters' Rights Forbes. As we've said, Bitcoin = prosecution futures.
U.S. lags in road safety Science News (Donald ). WTF with this data? Cars are a very unsafe means of transportation but Americans drive a ton. Needs to be adjusted for average miles driven per year per adult, or better yet, per licensed driver
US politicians are failing in the fight against the Zika virus in the United States Quartz (resilc)
What if PTSD Is More Physical Than Psychological? New York Times (guurst) While this may be true in many cases, this point of view also fits with the recent predisposition to view mental health problems as physical. Just adjust the brain chemistry and you'll be fine! But some therapists have had success treating PTSD patients with EMDR (eye movement desensitization and reprocessing) which would not fit this pattern. I must confess to having read only the first part of the article, but the research they present is extraordinary thin, and it seems remarkable The Lancet would publish it. Only three brains studied, and only one of them was of a guy who had PTSD? The other two died days after a blast exposure and had apparently not developed psychological symptoms. In other words, this looks like a major case of confirmation bias.
Japanese emperor to make rare address BBC
Old Blighty
High Court ruling due on whether new Labour members can vote in leadership contest Telegraph

Corbyn: I would put up taxes to fund public sector pay rises Guardian
Merkel's Popularity Plunges After July Attacks Wall Street Journal
Tsipras vainly continues to seek alliances – this time in Europe failed evolution
Is Germany trying to set Migration "Plan B" Agenda using Greece? Keep Talking Greece
China?
Chinese regulator acts to curb bogus banks Financial Times
Thitinan Pongsudhirak — The conundrum of Thailand's resounding referendum result Nikkei Asian Review
Ukraine/Russia
Stalling Obama's Overtures to Russia Consortium News (guurst)
Syraqistan
UN delivers aid to Syrians on Jordan border for first time since June Middle East Eye (guurst)

Libya, not Syria, is now the frontline in the war against Isis Independent (resilc)
Turkey
Austria threatens to block acceleration of Turkish EU talks Reuters (resilc)

Post Coup: Gazprom Still Eager To Complete Turkish Stream OilPrice
Big Brother is Watching You Watch
This Company Has Built a Profile on Every American Adult Bloomberg

Pentagon Tapping In to Social Science to Target Activist Movements Truthdig (Judy B). I would have assumed they've always been doing this…so maybe the difference is scale?
Imperial Collapse Watch
What Americans want from the world Reuters (resilc)

America's great mistakes: Has everyone forgotten that the Vietnam and Iraq wars were unnecessary, stupid and destructive? Salon (resilc)
2016
Bernie Sanders' Delegates Speak Out About Convention: "They Painted Us As Crazy" In These Times. A companion piece to our guest post today from a Sanders delegate.

#HillaryCoverageIsCrap. Phil U points out this was trending…

The Elective Affinities of Hillary Clinton Counterpunch (Judy B)

Is Hillary Clinton Corrupt? An Archive of Financial Improprieties Medium (Chuck L)

Voter Discord Isn't Over Wages Wall Street Journal. This is elite cluelessness. Jobs are less stable, there is a huge army of underemployed, hardly anyone has a pension, health insurance is getting worse and more costly for people who have jobs and Obamacare sucks for those who don't get insurance for their employer (save for some people in some areas and income brackets where they do get decent subsidies and decent networks, but anecdotally this is not the norm). More than half of American live paycheck to paycheck. Wages are too low for most people to have any sort of reserves, and social safety nets suck. So people are supposed to be happy that income is up…..almost exclusively for the top 10%?

Donald Trump turns to economy to reboot campaign Financial Times

Donald Trump's Campaign Website Won't Let Some Cancel Recurring Donations MoneyMic (Dr. Kevin). Funny, I'd always go to the card provider to cancel a recurring payment precisely because I'm skeptical that the vendor end works even when they say it does. But it is really inconsiderate not to have this feature working properly.

Trump to Propose Moratorium on New Financial Regulations Bloomberg. The estate tax ban should not go over well with the working class voters who are paying attention. This makes Trump look like a bog standard Republican. But it does fit with Lambert's thesis that Trump is trying to appeal to local oligarchs, while Clinton is targeting national/multinational ones. The reckless Trump was much more entertaining than the Manafort-scrubbed product.

After DNC hack, Minnesota braces for digital threat to election Star Tribune (steve h)
Researchers or Corporate Allies? Think Tanks Blur the Line New York Times
How America Rising Ties the GOP Establishment to the Stalkers Harassing Bill McKibben and Tom Steyer DeSmogblog (Glenn F)
How a Top GOP Lawyer Guided a Chinese-Owned Company Into U.S.Presidential Politics Intercept
Black Injustice Tipping Point
Chicago Police Officers Allegedly Caught High-Fiving After 'Execution' of Paul O'Neal The Root (Judy B)
Localities Opt for Less Debt Over New Infrastructure Wall Street Journal
We're in a Low-Growth World. How Did We Get Here? New York Times (resilc). Hard to understand only if you don't want to understand it. 40 years of not sharing productivity gains with workers leads to more income in the hands of those with less propensity to spend, which means less demand, which means less growth. As a result, those with the $ don't invest in the real economy enough out of a combination of having overly high return targets and growth being below potential. Add to that a huge cutback in basic R&D, both gov't supported and paid by quasi or actual monopolies that took pride in that sort of thing (Bell Labs, Xerox Parc), as well as underinvestment in infrastructure.
Class Warfare
Laura Bush keynote speaker for the default and servicing industry conference Five Star Conference (Steve)

An inconvenient iota of truth: The third in our series looks at the Stolper-Samuelson theorem Economist (Nikki)

Two guys in a Connecticut jail cell helped change the way America does drugs Business Insider. Dan K: "I think people need to understand crime better. Crime is not a byproduct or aberration, it's as intrinsic to process (systems) as mutation and decay. One can't remedy dysfunction if one can't recognize its origins and its patterns. And moralizing is not at all helpful, shows a lack of intellectual rigor and of emotional depth."

Parenting In An Age Of Economic Anxiety New Yorker. Ugly but important. Dan K:

Ostensibly a review of "The Game Theorist's Guide to Parenting: How the Science of Strategic Thinking Can Help You Deal with the Toughest Negotiators You Know—Your Kids"… read at least to the 4th or 5th para to get to a deeper review of the state of (mainly mid-upper class) parenting in contemporary/recent context. Relevant because that's an influential sector.

They put their trust in webs of internships and institutional affiliations—crony capitalism as the new meritocracy. Even childhood can seem rigged.
Antidote du jour. Tam: "Here's a picture of my cat P'ing (he's a rescue cat who was originally called Pudding) cunningly disguised as a Panda!"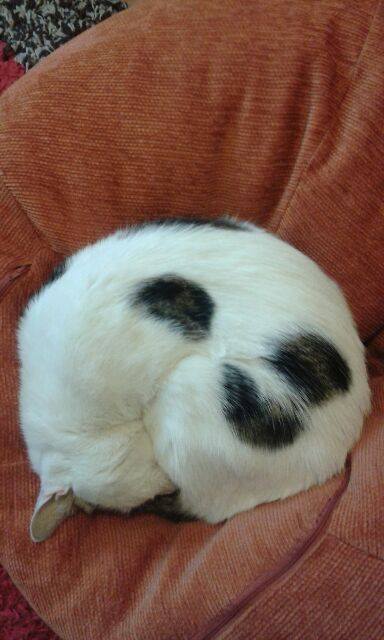 See yesterday's Links and Antidote du Jour here.