By Lambert Strether of Corrente.
TPP/TTIP/TISA
"'Hillary Clinton wants to approve the Trans-Pacific Partnership; that deal will be a disaster for North Carolina, for every state. Your state,' Trump said the same day at a rally in High Point, N.C. CNN tracked 45 instances in which Clinton supported the TPP, including in 2012 when she called it the 'gold standard' of trade deals, POLITICO's fact checkers found. But facing a challenge to her left from Bernie Sanders, Clinton this year said she opposed it and would continue to as president" [Morning Trade]. Showing the vacuity not only of "fact-checking," but the latest Clinton talking point on Trump "lying." The fact set we have here is Clinton's carefully engineered statements today, her past behavior, the behavior of her supporters, the lack of an anti-TPP plank in the Democratic platform, the body language of the administration (and lobbyists), and a near-universal belief in TPP by the political class. Facts, schmacts. Who you gonna believe? Me, or your lying eyes?
Information Technology and Innovation Foundation issues a TPP report: "[P]olicymakers must not lose sight of the bigger picture and ultimate goal: a truly integrated global economy" [Politico]. Yes, that's the problem.
"Negotiations over a far-reaching trade pact between the U.S. and the European Union will almost certainly not be finished during President Barack Obama's presidency, European trade ministers concluded during a meeting Friday" [Wall Street Journal].
"TISA specifically prevents remunicipalization, or any reversals of previous privatizations of public services. The Transnational Institute has noted, 'TISA will make it impossible for governments to reverse privatization or decrease the influence of the private sector. Governments will only be able to choose to maintain privatized services as they are or to extend liberalization'" [Counterpunch].
2016
Days until: 42.
Debates
Preparing for the evening's festivities:

"Hillary Clinton and Donald Trump will debate for 90 minutes on Monday. But the winner likely will be determined in the first half-hour. That's when Al Gore first sighed, Mitt Romney knocked President Obama on his heels, and Marco Rubio, earlier this year, glitched in repeating the same talking point — over and over and over. It's when Gore tried, unsuccessfully, to invade George W. Bush's space, Richard Nixon was first caught wiping away sweat with a handkerchief (during the moderators' introductions!) and Gerald Ford in 1976 made the ill-advised declaration that, 'There is no Soviet domination of Eastern Europe'" [Politico]. Don't tune in late!

"The most important moment of the debate is your opening because, frankly, no one knows what you are going to say. As a dealmaker, you know that the next most important moment will be your close" [Frank Luntz, Time]. Recommends Trump take the high road.

Clinton and Trump's strength's and weaknesses compared [CNN]. The writer seems to have put a lot more thought into Trump's flaws than Clinton's. Surely hubris ("50 points ahead") is one of Clinton's flaws as well?

"Where Trump ultimately triumphed in the primaries was in taking up residence in his opponent's heads" [USA Today]. Recommends Clinton take the high road.

Clinton should focus on her agenda, which "does have a unifying theme. It's the same one that Democrats have been running on for twenty-five years, a period in which they have won the popular vote in five out of six Presidential elections, and it involves using the power of the government to tilt the economy in favor of working people" [The New Yorker]. Oh, I think that message is a little shopworn at this point.

"[Two advisors to Trump's primary opponents noted that] Trump has an unusually good ear for sound bites and confrontations that will capture the media's attention, often to his advantage. Meanwhile, they noted his uncanny ability to dodge details, or even his own past statements, without consequence" [RealClearPolitics].
Policy
"Last week, an analysis from the Peterson Institute for International Economics concluded Trump's trade policies 'could unleash a trade war that would plunge the U.S. economy into recession and cost more than 4 million private sector American jobs.' Another recent study by Oxford Economics estimated Trump's trade plans would shrink the U.S. economy by $1 trillion dollars by 2021″ [Politico].
The Voters
"Election Fraud, Intimidation Allegations: Dan Rolle Explains Accusations" [Inquistr].

UPDATE To me, there are two images that define this campaign. One has been round for awhile:

https://t.co/IfoKFxnLve
Do these people look like opponents? Do you really believe it makes a difference who wins? We still lose as citizns

— Alan Duffy (@AlanDuffy17) September 24, 2016

This image reminds us that when we look at Clinton v. Trump, we're looking at factional conflict among the elites, not that there's anything wrong with that. I mean, you thought "there is much more than unites us than divides us" really applied to you?

The second is new. From the opening of the National Museum of African American History and Culture:

A powerful image of Michelle Obama and George W. Bush for the ages https://t.co/ga1GRLeHew

— Quartz (@qz) September 26, 2016

Several thoughts:

1) The Democrat's embrace of the Republican establishment is not merely metaphorical; it's literal! Those votes are the votes the Clinton campaign wants; they affirmatively do not want Sanders voters, and the [so-called] Millenials are not that important to them either.

2) For Democrats, virtue signaling on racism (Bush, bless his heart, did give a good speech) is far more important than a military debacle that caused tens of thousands of people to lose their lives — most of them faraway brown people, and the soldiers mostly from the "bitter"/"cling to" and "basket of deplorables" demographic, so f*ck 'em — and p*ssed away trillions of dollars, besides initiating a cycle of Mideast wars that cost many thousands more lives and destabilized the European Union. Of course, considering Clinton's record on war, you can see why that would be so.
Realignment
"[Obama's] still nursing amusement at Republicans for being hapless enough to get railroaded by Trump, but it's mixed with frustration that there are so many Americans he failed to reach. People who've spoken to him say the president wonders what he might have done differently to break through in a way that would make people who've benefited from his policies—like those enjoying added health benefits courtesy of Obamacare—support Democrats" [Politico]. So Obama still believes public relations are the answer! Clue stick: Put the cuffs on Stumpf! One simple move, and the Democrats win going away. And it will never happen.

"Why a President Trump will probably be okay, in one simple sentence …" [New Zealand Herald]. Clever hook and an excellent takedown, but a riposte would not be hard to write.

A response to Chris Arnade's concept of the "volatility voter": "[Arnade] uses the comparison to a financial instrument known as an option, argues many people are 'out of the money,' in which case volatility is good for you. [Adam Ozimek, Forbes]. "Being out of the money on an option means you have gone to zero and cannot fall further. There are very few people in this country who are actually at zero and cannot end up worse off. And I would conjecture that most people who are truly at zero, for example the long-term homeless, generally aren't going to be voting." I think that's a tediously literal interpretation of Arnade's position. "At zero," to me, means something more like flat wages, no prospects, crapified and yet constantly pricier services (health care), and a context of disintegrating social capital. It doesn't mean "homeless"; that's perilously close to straw-manning.
Stats Watch
Dallas Fed Manufacturing Survey, September 2016: [Econoday]. "New orders are at minus 2.9 this month with backlog orders at minus 1.1. Hiring is flat and the Dallas sample continues to draw down inventories, in part reflecting the month's strength in production but also tight management given what are only modestly positive expectations in future business strength." Weak but still mixed. But and: "Both unfilled orders and new orders are in contraction. But shipments (which is the basis of the Fed's Industrial Production Index) is up massively. I would consider this a mixed report which could be spum any way you desired" [Econoday].
New Home Sales, August 2016: Down by 7.6 percent but above consensus, and with a surprise upward revision from July [Econoday]. "Prices are coming down which points to builder discounting. The median, at $284,000, is down 3.1 percent on the month and down 5.4 percent on the year. Prices aren't getting much lift from stubbornly low supply which is at 4.6 months. Total new homes for sale, at 235,000, did rise in the month but only slightly. Year-on-year, supply is up 8.3 percent which, however, is far under the 20.6 percent gain in year-on-year sales." And: "Overall, year-over-year rate sales growth moderated from supersonic rates to subsonsic (you see little growth today at 22% year-over-year)" [Econoday]. And: "very solid year-over-year growth" [Calculated Risk]. " Overall I expected lower growth this year, in the 4% to 8% range. Slower growth seemed likely this year because Houston (and other oil producing areas) will have a problem this year. It looks like I was too pessimistic on new home sales this year." But: "Settling back down. Without permit growth this isn't going anywhere" [Mosler Economics]. Grr!
Housing: "Redfin put together some data showing that only 17 percent of homes in California are affordable to an average teacher with an annual salary of $73,536. When looking at the data you will see that the coast is becoming an even more expensive enclave and many homes are being bought by investors, foreigner buyers, and dual income households. The last group is the one that is in the position for a large shock since they are buying in many cases to pop out a brood and largely don't factor in the cost of childcare once the little ones come into the world. But like most things in California, people live on the absolute financial edge and that edge just got much closer" [Dr. Housing Bubble].
Shipping: "The Port Authority of New York and New Jersey saw import containers grow 6.5% in August, part of a string of strong reports from Eastern seaports… Luxury goods from Europe were a big factor in the growth in New York-New Jersey, according to trade analysts at Panjiva, and that may say a lot about trade trends at the height of the peak shipping season. The growth suggests a surge in trans-Atlantic trade, whether because of the strengthening dollar or reviving U.S. consumer taste in Italian wine and French perfume. The numbers may raise confidence in the consumer economy, but it will take a stronger flow of goods from factories in Asia to really show that retailers have turned the corner" [Wall Street Journal].
Shipping: "UPS would like nothing more than to use drones to reach the remote corners of the U.S. that it now reaches with unionized drivers in package vans" [Wall Street Journal]. Oh, "remote areas" only, huh?
Shipping: "U.K.-based freight forwarder Marine Transport International Ltd. says it has started using blockchain to create real-time digital ledgers of shipping data for use by port officials, cargo owners and others along global supply chains, the WSJ's Angus Loten reports. That makes MTI one of only a handful of companies outside the financial sector to deploy blockchain in its core operations, and the decision along with a similar action by Toyota Motor Corp. , provides a real-world test of the technology in supply chains. The idea is to replace the cumbersome and costly legacy systems. Instead, MTI will use blockchain to create an online record of transactions that can be shared securely across a network of users. That could fill a key gap in global supply chains by making data flow more efficiently and operations move more nimbly—if it works" [Wall Street Journal].
Honey for the Bears: "Lenders speaking at the Hotel News Now Lender Roundtable said they now baking expectations of a downturn into their underwriting" [Hotel News]. Full article is a little less definitive…
Political Risk: "The first US Presidential debate is a wild card, in the sense that the outcome is unknown" [Brown Brothers Harriman, Across the Curve]. No shit, Sherlock!
Externalities: "[T]he economics of mitigating large-scale DDoS attacks do not bode well for protecting the individual user, to say nothing of independent journalists" [Krebs on Security]. And on his DDoS attack: "There is every indication that [the] attack [on my site] was launched with the help of a botnet that has enslaved a large number of hacked so-called "Internet of Things," (IoT) devices — mainly routers, IP cameras and digital video recorders (DVRs) that are exposed to the Internet and protected with weak or hard-coded passwords. Most of these devices are available for sale on retail store shelves for less than $100, or — in the case of routers — are shipped by ISPs to their customers." Jaw-dropping. Of course, what happened with the IoT will never happen with autonomous vehicles, even if they are crammed to the gunwales with softwae.
The Fed: "As of Friday, traders were pricing in a 54.2% chance of a 2016 rate increase, according to the 30-day Fed Fund futures prices. Heavy engagement from Federal Reserve members this week could alter the market's perception about a December rate adjustment. This could impact the performance of the US dollar and demand for commodities that are priced in the American currency" [EconomicCalendar.com].
Today's Fear & Greed Index: 43 Greed Fear (previous close: 55, Neutral) [CNN]. One week ago: 44 (Fear). (0 is Extreme Fear; 100 is Extreme Greed). Last updated Sep 26 at 12:18pm. Big swing back to fear from greed!
Gaia
"Warming Oceans May Kill Off Baby Lobsters" [AP]. The study was done in Maine, but maybe all that cold water coming out from under the Greenland ice sheet will save us? For awhile?
Imperial Collapse Watch
"F-35 May Never Be Ready for Combat" [Project on Government Oversight]. There are so many good bits I almost don't know where to begin, but this stands out:
Test pilots have reported their F-35s are creating false multiple tracks when all of their sensors are turned on. For example, when a radar and an infrared sensor detects the same enemy plane, the two sensors display it on the helmet-mounted sight as two enemy planes. The same thing happens when two or more sensors detect the same ground target.

Test pilots have worked around this problem by turning off all but one of their sensors to eliminate the multiple tracks.
Via Billmon:
@Chicago_Todd Took me awhile to find it, but here:https://t.co/rqIQ9PWPaY pic.twitter.com/kHXFG192ak

— Billmon (@billmon1) September 26, 2016
Class Warfare
"The Intellectual Yet Idiot" [Nassim Nicholas Taleb, Medium]. This is a good rant:
these self-described members of the "intelligentsia" can't find a coconut in Coconut Island, meaning they aren't intelligent enough to define intelligence hence fall into circularities — but their main skill is capacity to pass exams written by people like them. With psychology papers replicating less than 40%, dietary advice reversing after 30 years of fatphobia, macroeconomic analysis working worse than astrology, the appointment of Bernanke who was less than clueless of the risks, and pharmaceutical trials replicating at best only 1/3 of the time, people are perfectly entitled to rely on their own ancestral instinct and listen to their grandmothers (or Montaigne and such filtered classical knowledge) with a better track record than these policymaking goons.
And then of course there's Iraq, Afghanistan, and Libya. An empire is supposed to win its wars, not lose them.
News of the Wired
"[Snapchat]The Venice Beach-based company, founded as an app for disappearing photos, is prepping the launch of a pair of smart sunglasses called Spectacles. The product will record as much as 10 seconds of video shot by a 115-degree-angle lens. Spectacles will be connected wirelessly to a smart phone to make the videos accessible for posting to Snapchat" [Billboard].
"Avoid FBI Demands – Make Your Product Easily Crackable" [Another Word For It]. iOS 10 has a severe security flaw.
Social psychology and the replication crisis [Andrew Gelman]. The standard joke is that academic wars are so vicious because the stakes are so small, but I'm not sure that's correct, given the key role of academics in bezzle manufacturing.
* * *
Readers, feel free to contact me with (a) links, and even better (b) sources I should curate regularly, and (c) to find out how to send me images of plants. Vegetables are fine! Fungi are deemed to be honorary plants! See the previous Water Cooler (with plant) here. And here's today's plant (AM):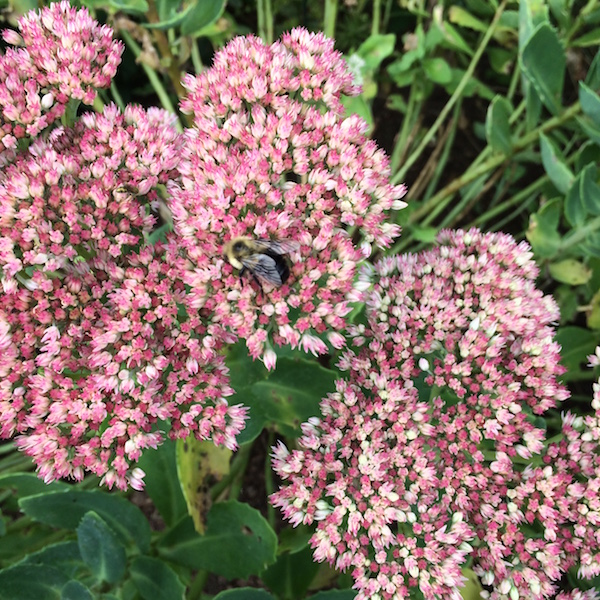 AM writes: From my mother-in-law's garden in Rehobeth, MA.
Readers, I am behind in answering contact form mail. I will catch up soon, beginning now!
Readers, if you can, please use the dropdown to choose your contribution, and then click the hat! Your tip will be welcome today, and indeed any day. Water Cooler will not exist without your continued help.