By Lambert Strether of Corrente
Trade
"Brown likes what he hears from Ross: Commerce Secretary Wilbur Ross emerged from a "productive" meeting Tuesday evening with Sen. Sherrod Brown, who was able to get Ross to commit to visiting a U.S. Steel Corp. plant in Lorain, Ohio, where significant production has been halted" [Politico].
Politics
New Cold War
"Devin Nunes is a conservative Republican from the San Joaquin Valley who advised Donald Trump through his transition to the presidency. Adam Schiff is a Los Angeles Democrat who campaigned for Hillary Clinton and isn't shy in his criticisms of the man who defeated her" [RealClearPolitics]. Now the two California congressmen find themselves at the center of the political universe, leading a House probe into Russian meddling in American politics…. The two have no qualms about expressing disagreements with what they deduce from the same pot of information, but their joint appearances are a vestige of the kind of bipartisanship that has all but disappeared from Washington. And yet, Monday's hearing showed the partisan divide on the issue, with Republican members focused on plugging government leaks of sensitive information and Democrats interested in possible collusion." "Meddling," "collusion." Pretty squishy words…

"Ukrainian efforts to sabotage Trump backfire" [Politico]. (Furzy Mouse). ZOMG!!!! The Ukrainians were hacking tampering with meddling in seeking to influence our election! Where's that declaration of war I had lying around…

"From Russia, with Panic" [Yasha Levine, The Baffler (DG)]. This is an important post. Key point: "But in private conversations, as well as little-noticed public discussions, security professionals take a dimmer view of the cybersecurity complex. And the more I've looked at the hysteria surrounding Russia's supposed hacking of our elections, the more I've come to see it as a case study of everything wrong and dangerous about the cyber-attribution business." For example: "Matt Tait, a former GCHQ analyst and founder of Capital Alpha Security who blogs under the influential Twitter handle @pwnallthethings, found a Word document pilfered from the DNC and leaked by Guccifer 2.0. As he examined its data signatures, he discovered that it had been edited by Felix Edmundovich—a.k.a. Felix Dzerzhinsky, founder of the Cheka. To him, it was proof that Guccifer 2.0 was part of the same Russian intelligence operation. He really believed that the super sophisticated spy group trying to hide its Russian ties would register its Microsoft Word processor in the name of the leader of the infamously brutal Soviet security service."

"Could the President Spy on His Political Opponents?" [The American Conservative]. "But regardless of whether [Trump's "wiretapping"] claims turn out to be completely false, which is all but certain now, they do raise a question that shouldn't be casually dismissed: Could President Obama's administration have surveiled his political opponents under its interpretation of the law? Could President Trump's administration now do the same? The answer, unfortunately, is yes."

"Report: Paul Manafort Drafted a Plan in 2005 to Influence American Politics for Putin's Benefit" [Slate]. I used Slate because "2005" somehow didn't get into the headlines in the other stories. Here's a blow-by-blow from NPR.

I can well believe that the Democrats are so feckless that they ginned up a Trump scandal with the wrong foreign power:

One claim in piss-Trump dossier that rang true—Trump happy media focus on his Russia ties rather than his China biz https://t.co/UCUMj2aX59 pic.twitter.com/o3KfcJAiHp

— Mark Ames (@MarkAmesExiled) March 20, 2017
Heatlh Care
"A White House in full-court press mode deployed President Donald Trump and Vice President Mike Pence to Capitol Hill on Tuesday to call out and fire up Republican members about the party's health care overhaul bill, but there was scant evidence it worked" [Roll Call]. "Trump and House leaders appear to be trying to cobble together Republican votes by picking off small groups of larger conservative factions, like the Freedom Caucus and much-larger Republican Study Committee. But just how many votes that will yield is a key remaining question. [Freedom Caucus Chairman Mark Meadows] told reporters Tuesday he has concluded that the White House and House leaders still did not have enough votes locked in. One high-level source said leadership sees "a path" to 216, and expressed confidence the bill will pass… Providing cover for those conservatives opposed is a bevy of interest groups vehemently opposed to the bill. Americans for Prosperity, FreedomWorks, Freedom Partners Chamber of Commerce, Heritage Action for America and the Club for Growth have all urged conservatives to oppose the measure, and some are backing that up with ad campaigns thanking Meadows and his band."

"At least 22 Republicans in the U.S. House oppose or remain undecided on the American Health Care Act, enough to jeopardize the fate of the sweeping bill when it is slated to come for a vote on Thursday evening, according to an ABC News count" [ABC].

"We still don't know how Poliquin will vote on GOP health bill" [Bangor Daily News]. District 2's representative (my district). "[M]oderates are still spooked by the plan's high costs for people shy of Medicare age. In Maine's rural 2nd Congressional District, cost figures attached to the plan aren't pretty." We don't build destroyers where I am, so that's out.
Trump Transition
"President Donald Trump's nominee to lead the Labor Department said Wednesday he won't allow potential political pressure from the administration to influence his hiring decisions and regrets he let that happen on his watch at the Justice Department" [AP]. Oh.

"New poll: only 3% of Trump voters regret their vote" [WaPo]. And if I were a Trump voter and regretted my vote, you can be sure I wouldn't tell the effing Post about it.

"Though Trump has been president for more than two months, he has begun campaigning for the 2020 election in a way. His rallies are funded by his 2020 campaign, which collects donations and sells merchandise at them" [Business Insider].

"Why Steve Bannon Wants You to Believe in the Deep State" [Politico]. "Like the Death Star, the American Deep State does not, of course, exist. An appropriation from countries such as Egypt, Turkey, Pakistan and Algeria, where real networks of intelligence, defense and interior ministry officials exercise real power to drive policy, sideline elected officials and eliminate opponents, the American Deep State is nothing more than an invention of President Donald Trump and his allies." Oh, my. That will certainly be news to Peter Dale Scott!
Realignment and Legitimacy
"Unknown Write-In Candidate Wins Special Election in North Philadelphia" [NBC Philadelphia]. They've got to count the write-ins. Maybe the winner will be Cheri Honkala?

"Science march on Washington, billed as historic, plagued by organizational turmoil" [Stat]. "At the heart of the disagreements are conflicting philosophies over the march's purpose. In one corner are those who assert that the event should solely promote science itself: funding, evidence-based policies, and international partnerships. In another are those who argue that the march should also bring attention to broader challenges scientists face, including issues of racial diversity in science, women's equality, and immigration policy… The event's official diversity policy, posted just days after the march was announced in January, has undergone repeated revisions, and is now in its fourth version."

"A New Yorker cartoonist is creating a new book that illustrates President Trump's tweets" [WaPo]. That should change a few minds.
Stats Watch
Existing Home Sales, February 2017: "Existing home sales are on the soft side of expectations" [Econoday]."The pending home sales index, which tracks initial contract signings for resales, accurately anticipated weakness in today's report, one that underscores the still hesitant activity in the housing sector." And: "Also weak" [Mosler Economics]. And: "This was a poor month for home sales. I believe last month's strong showing was an anomoly as there is no dynamic in play which suggests home sales should be improving" [Econintersect]. And: "Inventory decreased 6.4% year-over-year in February compared to February 2016. … This was below consensus expectations. For existing home sales, a key number is inventory – and inventory is still low" [Calculated Risk]. And: "Unless there is a surge in real incomes growth, it will be difficult to see a more than a limited near-term increase in home sales at prevailing prices" [Economic Calendar].
MBA Mortgage Applications, week of March 17, 2017: "Purchase applications for home mortgages fell a seasonally adjusted 2 percent" [Econoday].
Federal Housing Finance Agency House Price Index, January 2017: "an unusually weak showing" [Econoday]. "[G]iven how thin available housing supply is, the lack of significant price traction is surprising and ultimately points to limited strength in demand." And: "This was a surprise" [Mosler Economics].
Shipping: "Headline data for truck shipments were mixed in February – but our analysis believes trucking growth rate is improving" [Econintersect]. "I tend to put heavier weight on the CASS index which again showed a moderate improvement year-over-year. The ATA data continues to wander all over the map – and is likely a result of seasonal adjustment issues. It is also interesting that the current trucking employment pattern is now showing a short term improvement trend which supports the CASS index."
Retail: "A Listing by State of 1,430 Sears and Kmart Stores" [247 Wall Street]. So we know where to send the black crepe….
Shipping: "Organizing the supply chain: interview with Jeff Farmer" [DC Velocity]. (Farmer is the The Teamster's director of organizing.) "The supply chain is a big and small place. Big in that it touches virtually every part of the planet and affects each one of us. But small in that the people who make it go are often one- or two-person bands that don't get much notice yet are vital cogs in an enormous wheel. For the Teamsters union, this collection of port drivers, warehousemen and women, and loaders and unloaders, among others, offers tremendous opportunity to bulk up its membership rolls. It is uncharted territory, however, and one that's difficult to crack because of labor laws that bar independent contractors, which many of these workers happen to be, from forming a union."
Shipping: "A day in the life of a Freight Forwarder" [Shipping and Freight Resource]. "For those seeking a thrill, beating the odds, racing the clock, feeling the lure of the unknown and that adrenaline pump while still at work, Freight Forwarding is where the action is!" And it doesn't sound like it's going to be automated any time soon…
Shipping: "Concerns over price-fixing in shipping are spreading just as global container lines are preparing to line up in powerful new alliances. The U.S. Justice Department effectively disclosed an investigation into the liner companies… by crashing a meeting of top industry executives and issued subpoenas to companies including Maersk Line, a unit of Danish conglomerate A.P. Moller Maersk A/S and Germany's Hapag-Lloyd AG. The probe comes as carriers are undertaking big changes following a crushing downturn, consolidating businesses while exerting new discipline on operations and pricing" [Wall Street Journal]. Hardly surprising. I mean, price-fixing is one reason to consolidate in the first place, no? Too bad Holder never crashed a meeting of bank CEOs. That would have been fun.
Shipping: "Volume growth at the world's largest container ports was fairly moderate in 2016, but throughput levels did rise at a faster rate than the previous year.Sluggish trade growth in 2015 continued into the early stages of the year. Trade sentiment, however, improved significantly in the second" [Lloyd's List].
Supply Chain: "These fibres were shipped to Egypt, where they were spun into yarn. This yarn was then sent to China where it was woven into a fabric. This fabric was then sent to Spain where it was dyed, in this case pink. The fabric was then shipped to Morocco to be cut into the various parts of the dress and then sewn together" [BBC]. I've been reading Empire of Cotton; this is is not new.
The Bezzle: "Of an estimated ad spend totaling $66 billion last year, some $12.5 billion (20%) was wasted as a result of fraud or invalid traffic. The total lost to fraud was larger than all the advertising revenue booked by 80 premium publishers, including the AP, NBC, NPR, PBS and many more represented on Digital Content Next rolls" [247 Wall Street]. "According to a study by m/SIX, a U.K. media agency, $27 billion was spent last year on programmatic advertising (ads sold through an automated process) 29%, or $7.8 billion, was invalid and advertisers received no benefit from the ads. Another $4.65 billion was lost on fraudulent direct sales." Yes, but which 20%?
The Bezzle: "SEC sets marketwide risks, money market funds and cybersecurity as top examination priorities" [Pensions and Investments]. "To address marketwide risks, the 'OCIE will focus on compliance with the SEC's Regulation Systems Compliance and Integrity, which establishes uniform requirements relating to the automated systems of market participants and utilities, and anti-money laundering rules, and how well money market funds are complying with amended rules that went into effect in October."
The Bezzle: "On February 14, 2017, President Trump signed into law a joint resolution of Congress to repeal a critical anti-corruption rule [the 'Cardin-Lugar regulations'] for oil, gas and mining companies. The law was introduced by the House on January 30, 2017. It quickly moved to the Senate, where it was passed with the support of the Republicans and opposition of the Democrats" [Mining.com]. "A concern for Canadian and foreign companies who will maintain their reporting regimes is whether the repeal of the Cardin-Lugar regulations will place U.S.-listed companies operating in mining extraction areas at an advantage compared to companies subject to rigorous transparency requirements. Particularly for projects in developing countries such as Africa, where there is a problem with corruption and where succumbing to bribery could lead to the award of mining rights and subsequent contracts."
Today's Fear & Greed Index: 33 Fear (previous close: 36, Fear) [CNN]. One week ago: 53 (Greed). (0 is Extreme Fear; 100 is Extreme Greed). Last updated Mar 22 at 12:00pm. No stats of note, so perhaps a Trump hangover. Like this:
"Dixon was alive again. Consciousness was upon him before he could get out of the way; not for him the slow, gracious wandering from the halls of sleep, but a summary, forcible ejection. He lay sprawled, too wicked to move, spewed up like a broken spider-crab on the tarry shingle of morning. The light did him harm, but not as much as looking at things did; he resolved, having done it once, never to move his eyeballs again. A dusty thudding in his head made the scene before him beat like a pulse. His mouth had been used as a latrine by some small creature of the night, and then as its mausoleum. During the night, too, he'd somehow been on a cross-country run and then been expertly beaten up by secret police. He felt bad."
(Kingley Amis, Lucky Jim.)
Water
"Five Lessons from the Oroville Dam Crisis" [American Rivers].
Health
"One change in the bill gives states the option to convert their Medicaid programs (except for their elderly and disabled beneficiaries) into a block grant, under which states would get a fixed amount of Medicaid funding for the year that wouldn't change if a recession hit, a plant closed, more people became poor, an epidemic struck, or anything else happened that raised health costs. Because a state's block-grant allocation would rise each year only at the general inflation rate, which is well below the rate at which U.S. health care costs rise, the block grant would necessitate increasingly deep Medicaid cuts over time. Nor would the block grant funding level adjust for population growth, either" [Center for Budget and Policy Priorities]. It's the Medicaid cap that's the worst part of the bill, IMNSHO.
"These are difficult days for those of us who have advocated for pay-for-performance (P4P) as a policy tool to improve health care quality. The idea behind P4P has always been simple: physicians and hospitals should be financially rewarded for providing high-quality care and financially penalized for providing low-quality care" [Journal of the American Medical Association]. "The early studies on P4P found that these programs had little effect on quality but provided bonuses primarily to those who were already doing well. A key study found that the largest hospital-based P4P program known as the Premier Hospital Quality Incentive Demonstration, had no effect on patient outcomes. This program provided bonuses and penalties of up to 2% of total Medicare payments to hospitals based on their performance on a series of quality metrics. However, there has been the mounting evidence—even in multiple meta-analyses—that P4P programs were having little effect across a range of clinical services, from quality of ambulatory care to rates of breast cancer screening. Despite this, Congress created multiple P4P programs within the ACA to incentivize better care. Although some, like the Hospital Readmission Reduction Program appear to have had modest effects, the national VBP effort is not." Oopsie.
Class Warfare
"All 51 startups that debuted at Y Combinator W17 Demo Day 2" [TechCrunch] (day one). This is a good one:
Collectly helps doctors collect 2x's more debt than they have before. It's a business with $280 billion sent to debt but the debt collectors only collect on average up to 20%. The founder is a former CEO of a debt collection agency and collected over $100 million before
The acerbic Pinboard comments:
YC so far: surreptitious recording of phone calls, bus tickets for the starving, debt collection, go live in a box, cow collars, chatbots

— Pinboard (@Pinboard) March 22, 2017
He's not wrong. (And any time you encounter an online company with a cute name that's also an adverb, like collectly, run a mile, because it's a startup that wants to harm you. Kidding! I think….)
"[S]tarting in April, Portland [Maine] plans to try a new tactic. The city will hire a few panhandlers a day, pay them $10.68 an hour, the city's minimum wage, and assign them to clean parks and public spaces. The Portland city manager, Jon Jennings, said it was time to think of another solution and believes this one will help everyone. He hopes to eventually be able to convert some of the jobs into full-time work with the city, he said, and Portland's parks will be more beautiful [New York Times (Jerry)]. So why not a jobs guarantee for everyone?
YCombinator is adapting to the death of Obamacare by funding a medical debt collection startup: https://t.co/eXkIFQzmp4

— Pinboard (@Pinboard) March 22, 2017
"The New Rules Hurting Retirement Security" [Democracy Journal]. "Fewer than one third of Americans aged 65 to 74 have any savings in a retirement account and the accounts that exist are inadequate to provide a secure retirement—the median balance is just $49,000. The situation for younger workers is even more dire." So, in the face of this crisis, liberals have a complicated "nudge theory" Rube Goldberg device, which sucks, and conservatives have a simple machine (in this case, the screw). The unasked question: Why should people have to "save for retirement" at all?
News of the Wired
More Chuck Berry:
RH comments: "Chuck Berry stole the show. Johnny cancelled both other guests after this performance of Roll Over Beethoven at 15:05."
"The Death of Transit and Beyond'" [Geoff Huston]. Not public transit (well, sorta public transit). Important thoughts on changes to Internet architecture.
"Is the dark really making me sad?" [Ars Technica].
* * *
Readers, feel free to contact me with (a) links, and even better (b) sources I should curate regularly, and (c) to find out how to send me images of plants. Vegetables are fine! Fungi are deemed to be honorary plants! See the previous Water Cooler (with plant) here. And here's today's plant (CB):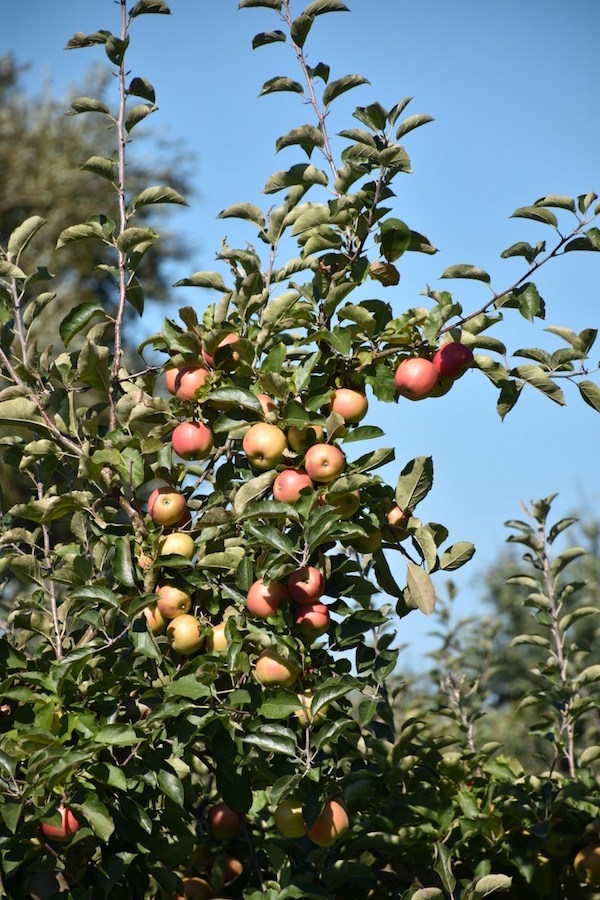 Another apple photo from CB, giving me an excuse to quote from Michael Pollan's wonderful Botany of Desire: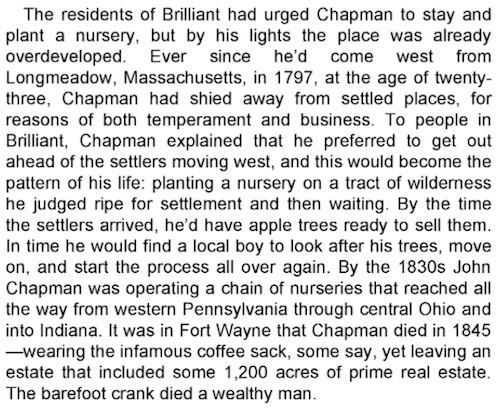 John Chapman is better known as "Johnny Appleseed," a very successful businessman in the Ohio Valley!
Readers, Water Cooler is a standalone entity, not supported by the very successful Naked Capitalism fundraiser just past. Now, I understand you may feel tapped out, but when and if you are able, please use the dropdown to choose your contribution, and then click the hat! Your tip will be welcome today, and indeed any day. Water Cooler will not exist without your continued help.