By Lambert Strether of Corrente
Meetup reminder: Burlington, VT Thursday, August 17 at 8:00PM; Montreal, Quebec Friday, August 18, at 6:00PM. Hope to see you there!
Readers, I created some conceptual buckets to put Charlotttesville Material in, but the buckets are currently almost empty. Check back, please –lambert. 3:25PM, done!
* * *
Trade
"As negotiators prepare for the start of round one of [NAFTA] negotiations on Wednesday, Trump administration officials are taking a careful stance on the task of modernizing the 23-year-old pact. 'NAFTA needs to be reformed to help protect American workers and create more jobs at home,' White House chief economic adviser Gary Cohn said in a statement on Saturday that was short on specific details. "We should keep the parts that work, especially for much of American agriculture, but fix the parts that don't'" [Politico]. "His remarks hinted that there would be limited renegotiation of NAFTA." More–
"Now that he is president, Trump is about to find out how hard it is to get an agreement that satisfies not only those workers who feel 'shafted by NAFTA' but also the powerful business interests currently benefiting from billions of dollars in cross-border sales" [Politico]. "Even if negotiators from all three nations are able to come to consensus quickly on a new deal in the coming months, Trump still has to get the agreement through Congress, which past votes on trade issues have shown is no easy task. 'This whole business of renegotiating NAFTA was a campaign pledge in search of a constituency," said Scott Miller, a former lobbyist for Procter & Gamble now at the Center for Strategic and International Studies. "No business community member, no enterprise, no farm group ever asked for this.'" MAGA is deflating even faster than "Hope and change" did, and I don't see a chorus of Trump supporters in the media chanting "He's only been President __ months!" either. So we have a lot of people reaching for the brass ring, including classes — the intelligence community, generals, Congressional staffers, white supremacists, socialists — that haven't normally been playing. Volatility creates opportunity, especially when the major political parties seem to be good only at extorting the donor class and writing themselves checks.
"Early signs have been largely reassuring to those who worry that the president's demands could uproot the continent's commercial ecosystem. Nafta over its 23 years has helped transform a region covering one-fourth of the global economy. The question now is whether U.S. negotiators can extract enough concessions from Mexico and Canada so that Mr. Trump can declare victory to his factory-worker base without upsetting his business backers. Many businesses across the continent hope for a quick resolution, complaining that uncertainty has already disrupted the flow of commerce" [Wall Street Journal]. ("Ecosystem" is a bullshit tell. Commercial relationships are not an ecoystem.) Interestingly, though WSH reads more crisply on the politics than Politico, I think they're wrong: Factory workers are not Trump's base voters; wealthy suburbs are. Factory voters are Trump's marginal voters; essential for his victory, but ready — at least in key districts and states — to flip once more.
Politics
2018
"Robert Ritchie may end up challenging Democratic Sen. Debbie Stabenow next year, but his stage name, Kid Rock, may not be allowed to appear on the ballot in Michigan" [Roll Call].
Realignment and Legitimacy
Charlottesville:

In NC's coverage of the Greek crisis, Yves put forward the idea that the crisis was taking place on different time "tracks," and that financial time moved faster than political time. (Shorter: Syriza was always reacting to the banksters, who always had the initiative.) Because I'm finding the Charlottesville coverage frustrating — in particular, implicit demands that people react this or that way to events — I thought I'd develop similar time track-based buckets to throw the coverage into. (People and parties may react to events differently depending on which bucket they value. For example, a "concrete material benefits" strategy from the left hardly affects the tactical level at all, since the ground has not been prepared for it. The "identity politics" strategy from liberals and conservatives does, since the ground has been prepared.) As you can see, I used a military paradigm to create the buckets, and gave examples from the Civil War and current domestic politics. There's no association between the examples; that is, I'm not saying that the battle of Shiloh is in any way like Charlottesville, except htat both take place at the tactical level. I'd be interested to see what readers think of the buckets. I have no ego investment in this framework at all, and if readers can come up with a better one, have at it!

The buckets:

1. Tactical (hours and days) ("Shiloh"/"Charlottesville").
2. Campaign (weeks and months) ("The Overland Campaign"/"The 2016 Clinton Campaign")
3. Theatre (months and years) ("The Western Theatre"/"Wealthy Suburbs")
4. Strategy (years and decades) ("The Anaconda Plan"/"Identity Politics")
5. Grand Strategy (decades) ("Abolition"/"Neoliberalism")

1. Tactical (hours and days) ("Shiloh"/"Charlottesville").

"Here's What Really Happened In Charlottesville" [Blake Montgomery, Buzzfeed]. Excellent reporting, worth reading in full:

The right-wingers were more prepared for violence. Most white supremacist and Nazi groups arrived armed like a paramilitary force — carrying shields, protective gear, rods, and yes, lots of guns, utilizing Virginia's loose firearm laws. They used militarized defensive maneuvers, shouting commands at one another to "move forward" or "retreat," and would form a line of shields or a phalanx — it's like they watched 300 a few times — to gain ground or shepherd someone through projectiles. It seemed that they had practiced for this. Virginia's governor said that the right's weaponry was better than that of the state police. The opposition was largely winging it, preferring to establish bases in other parks with water, coffee, food, first aid, and comfort. Conflict would start much the same as it has at other alt-right rallies: two people, one from each side, screaming, goading each other into throwing the first punch.

UPDATE In Montgomery's article, look for Redneck Revolt (Water Cooler here) and see also on the Three Percenters (search the page on "McNabb" and "Ross"). One of my takeaways from 2016 is how enormous this country is, and how much more complex and dynamic (indeed hopeful) it is, when you stop using the Acela window as your framing device.

"I went to counterprotest neo-Nazis in Charlottesville. I witnessed carnage" [WaPo]. The Op-Ed author is chair of the Richmond DSA. "Various activists had formed a strong impromptu coalition with many other groups at Justice Park. We had received a tip that the far right was heading to a public housing neighborhood to terrorize the community. But en route to the neighborhood, we were asked to go back: The community had defended itself." Not a lot of planning, supporting Montgomery's reporting above.

Hot takes:

"'Racism Is Evil' and Bigotry Has No Place in U.S., Trump Says" [Bloomberg].

"This Is the Bleakest Moment for America in My Lifetime" [Charles Pierce, Esquire].

"Police, protesters clash in dueling rallies in Seattle" [K5]. Copycats?

"'Unite the Right' rally organizer flees after confrontation at media event" [CNN].

"KKK leader seeking Charlottesville rally has history as FBI informant" [Daily Progress]. So Kessler, the event organizer, rejected him. Respectability politics!

2. Campaign (weeks and months) ("The Overland Campaign"/"The 2016 Clinton Campaign")

"A Hate Crime? How the Charlottesville Car Attack May Become a Federal Case" [Charles Savage, New York Times]. "The Justice Department's announcement that it is opening a civil rights investigation into a deadly car crash into a crowd of people protesting white nationalists in Charlottesville, Va., has put a spotlight on what the department's role may be under Attorney General Jeff Sessions."

On the role of the police:

Arrests
-Brooklyn Bridge Occupy Wall Street 700+ people
-Ferguson 321 (144 on 1st day)
–#Charlottesville White Supremacists demonstration: 4

— Pavlina R Tcherneva (@ptcherneva) August 14, 2017

More on the role of the police: "Just imagine all the same facts – the guns, the torches, the mob mentality, the murder – if 5,000 black guys took the place of the people who showed up. Tell me how many would have gotten out of there alive, and tell me that the police would have lightly armed themselves and then used that as an excuse to stand around with thumbs in *sses" [Gin and Tacos].

3. Theatre (months and years) ("The Western Theatre"/"Wealthy Suburbs")

Frank Rich blames white trash:

Hillbilly elegies have now officially reached their expiration date.

— Frank Rich (@frankrichny) August 13, 2017

Frank Rich is a fool (as NC readers know). He's also wrong: On James Alex Fields Jr., the driver accused of killing Heather Heyer: "Fields's father was killed by a drunk driver a few months before the boy's birth, according to an uncle who spoke on the condition of anonymity. His father left him money that the uncle kept in a trust until Fields reached adulthood." That's sad — note how a death of respair reverberates intergenerationally — but I would urge that few "hillbillies" have trust funds, no matter how small.

"By the time both groups converged on the park, a line of camouflage-clad militia members toting assault rifles were standing outside the park, looking very much like an invading army. ',' Mr. McAuliffe said" [New York Times]. I have my priors here, but expensive weaponry coupled with the ability to travel argues wealthy suburbanite — Fields hailed from Maumee, a suburb of Toledo, in Lucas County — to me. I'd like to see an inventory of the weapons, clothing, and vehicles to get a reading on class and cultural markers, and a better perspective than Rich's.

"The Elite Roots of Richard Spencer's Racism" [Jacobin]. "Spencer was born in Boston, but spent much of his childhood in Texas. He grew up in the 1980s and '90s in the tiny Preston Hollow neighborhood of Dallas, which is significantly whiter than the city as a whole and boasts a median household income of more than $120,000. Today, George W. Bush and billionaires like Mark Cuban, Ross Perot, and T. Boone Pickens all call Spencer's old neighborhood home. Spencer attended a pricey boys' prep school in the city, St Mark's School of Texas….."

4. Strategy (years and decades) ("The Anaconda Plan"/"Identity Politics")

The Charlottesville rally was designed to achieve a strategic goal: "Unite the right." Did it? Not this time. JJ MacNabb tracks militias (and did great work with the Bundy/sovereign citizen episode). Naturally MacNabb covered Charlottesvile:

Three Percenters (a very large, loose-knit militia org) has finally decided to distance themselves from the white supremacy crowd. pic.twitter.com/Vab3EZr1Hn

— JJ MacNab (@jjmacnab) August 14, 2017

Business as usual. I'm filing this under "Strategic" because one Indivisible's goals, based on its practice, is to erase and suppress the left (at least at the national leadership level):

you seem to be missing a few https://t.co/lZWa4bsyHb

— Jules N. Binoculars (@surfbordt) August 14, 2017

More business as usual ("Love trumps hate"):

Idk where this 'fight hate with love' shit comes from, love can't even conquer infidelity and abuse. It's not some transformative miracle

— DarkSkintDostoyevsky (@daniecal) August 13, 2017

5. Grand Strategy (decades) ("Abolition"/"Neoliberalism")

"The Supermanagerial Reich" [Los Angeles Review of Books]. Must read. Read it all, but the conclusion is directly relevant to framing and understanding Charlottesville, even though the article was written in 2016:

While their economic nationalisms are doomed and their ethno-nationalisms are abhorrent, the Trumps, Le Pens, and Farages are correct that the "established order" is not delivering for the vast majority of people. Furthermore, . Trump would probably bring an erratic, unpredictable foreign policy. And yet, all that the neoliberal state has delivered in this arena are unending wars of aggression, intervention, and destabilization for political and economic gain. Many call Trump a fascist. Yet it is the crime of wars of aggression that is considered the principle or greatest charge in the Nuremberg Charter, the crime which sets the stage for"war crimes" and "crimes against humanity." By focusing only on the threat of our homegrown Hitler caricature we have failed to notice the facts right in front of our faces: the uniquely parallel structures, the same winners, the similar losers, the crimes, the human degradation. We are already living in our very own, cruel 21st-century Supermanagerial Reich.

That's the stuff to give the troops!

Point: The inventor of "Godwin's Law":

By all means, compare these shitheads to Nazis. Again and again. I'm with you.

— Mike Godwin (@sfmnemonic) August 14, 2017

Counterpoint: Historians are making the argument — this is the best link I can find at the moment — that Nazi policies were informed by slave power ideologies from the United States; see the 1856 quote:

OED entry for "master race": in an important sense, the most evil ideology in modern world history was born in the 19th century USA pic.twitter.com/KsCw3K0nxN

— Matt Karp ???? (@karpmj) August 13, 2017

Counterpoint: "Are the Charlottesville White Supremacists Really "Nazis"?" [Interview with Jelani Cobb, Slate]. "If you look at the circumstances that facilitated the emergence of the KKK as a really formidable organization, it was everything we are seeing now: anti-immigrant fervor, economic concerns, ideas about maintaining white supremacy, that white men were being displaced. And it culminated in the Immigration Restriction Act, which sounds very similar to what the Trump administration wants to make, to get more of the people you say are like you and being outnumbered. At that point, they also received sanction from Woodrow Wilson, when he screened The Birth of a Nation in the White House and allegedly said that it was like history written with lightning."

"What happened in Charlottesville is all too American" [Politico]. "'These people are not from here,' Representative Thomas Garrett affirmed in the wake of an American Nazi and Klan rally that descended into smoke and violence in his Virginia congressional district on Saturday. 'It blows my mind that this many racist bigots actually exist in this country.' White supremacists, he continued, do not reflect 'who we are as Americans.'… Garrett might not perceive the tight spectrum that runs between between racialist policies and white supremacist violence. He may also genuinely believe that aggrieved white men marching in lock step by torchlight do not reflect 'who we are as Americans.' Indeed, many public figures on both the left and right—people like Sally Yates, Tim Kaine and Ana Navarro, whose anti-racist and anti-fascist credentials are unimpeachable—echoed this well-meaning sentiment." However, on "impeccable," see "The Supermanagerial Reich," supra.

* * *

"'This is [A] not politics as usual but rather political warfare at an unprecedented level that is openly engaged in the direct targeting of a seated president through manipulation of the news cycle,' [the now-defenestated NSC director strategic planning] Rich Higgins wrote in the memo, a copy of which was obtained by Foreign Policy and published on Thursday. 'Recognizing in candidate Trump an existential threat to [B] cultural Marxist memes that dominate the prevailing cultural narrative, those that benefit recognize the threat he poses and seek his destruction.'" I'd say Higgins goes off the rails at [B] — from what sort of fever swamp does "cultural Marxists" bubble up, and get confused with liberal centrists? — but [A] looks pretty good to me, even if — see the Carter administration — what's happening to Trump isn't all that "unprecedented."

"Trump and Obama have one surprising thing in common – the words they use" [The Conversation]. "The differences between Trump's and Obama's rhetorical styles seem stark. Yet, when we set aside the presidents' speaking styles and looked more carefully at the specific words Trump employed in his first months in office, we were surprised to discover that, in certain ways, these two presidents are remarkably like each other and unlike their predecessors…. First, their rhetoric is much more self-referential, meaning it uses more first-person pronouns. Obama's rhetoric is 69 percent more self-referential than the presidential average, and Trump exceeds Obama by another 20 percent…. Second, both Trump and Obama rank very high on measures of "tenacity." This dictionary includes a series of words such as "must" and "need" that call for action and that "connote confidence and totality." Obama's rhetoric is around 45 percent more tenacious than the presidential average. Trump's rhetoric is a bit more tenacious than even Obama's. They are the only two presidents who substantially exceed the average." We're not exactly at fuhrerprinzip, but our decay path surely includes it.

* * *

"Coös County [is the] the poorest, least populated, and least healthy county in New Hampshire. It suffers from rampant opioid abuse and a high suicide rate, not to mention the less visible hardships, both psychological and economic, that followed the loss of several major factories in the region. Residents overwhelmingly voted for Donald Trump in 2016, four years after voting for Barack Obama" [The New Republic]. "For seven years, a network of residents has vociferously opposed the [Northern Pass powerline] project. They've staged protests, while the Society for the Protection of New Hampshire Forests filed a failed lawsuit to halt part of the line. Now their time is nearly up. Eversource has pieced together a final route for the line despite local holdouts. It now awaits word from the federal government—the Department of Energy is set to approve or reject the permit in August, according to Eversource—and New Hampshire's Site Evaluation Committee (SEC), which is scheduled to weigh in in September. To sway the SEC, Coös residents have constructed an unlikely alliance that crosses political, racial, and socioeconomic lines, joining hands with lefty activists from Yale and members of the Pessamit Innu First Nations in Quebec." Please read the whole article. This is exactly what activists up here in the great state of Maine did, both fighting landfills (partial success) and the East-West corridor (success). And the guys with guns and beards in the woods were essential to the process, in Maine as well as in the New Hampshire. Politics are a bit more scrambled in the colonies than they are in the burbs.

UPDATE And this at the end of the Buzzfeed story: "'I had a great conversation with them. I'd never met anyone in a [#BlackLivesMatter] group before. These particular people said they were all about freedom and liberty as well,' [said Virginia Three Percenter leader CJ Ross]. 'Something awful happened, and, for me at least, it turned into a small positive thing, which, I think, is what we all want.'" Interesting if true, on both sides.
2020
"2 years before the caucuses, Democratic upstarts are trying to make a name in Iowa" [Des Moines Register]. "Who is Eric Swalwell? Who is Jason Kander? Who is Tim Ryan? And what the heck are they all doing in Iowa? Those questions have been echoing through Democratic conversations in the state for the better part of a year now, and they rang out again here in northern Iowa on Friday night, when Swalwell and Kander headlined the Iowa Democratic Wing Ding fundraiser." "Wing Ding fundraiser." I love America. I really do!
Stats Watch
No official statistics today. –Lambert
Consumer Price Index (Friday): "So the Fed is failing to meet its inflation target, wage growth remains weak, and all measures of credit expansion have been decelerating for more than 6 months" [Econoday]. Prepare for "stall speed" metaphors.. Anyhow, all the excitement lately is happening during the best economy EVAH!!! What happens when the recession inevitably hits?
Commodities: "The Baltic Dry Index, bulk shipping's key pricing measure, reached its highest point last week in more than three months, with steel production in China and high demand for grain transport feeding a rebound" [Wall Street Journal].
Supply Chain: "The number of full-range groceries with at least $2 million in annual sales fell 6% last year and will decline by roughly a quarter in the next four years…., a shift being felt across supply chains and distribution channels. It's the result of increasingly fragmented food spending, with the consumer push toward discount grocers, club chains and e-commerce sites hitting middle-market grocers. That's roiling a U.S. perishables transport business that's been a strong performer in recent years and now is coping with increased volatility" [Wall Street Journal].
Shipping: "The Port of Long Beach set a new record for container handling in July, offering further evidence that US box imports are surging as the ocean shipping peak season builds momentum" [Lloyd's List]. "The port of Los Angeles also saw set a new record for box handling last month with volumes up 16% year-on-year and loaded container imports increasing 13% to 417,090 TEU." It's beginning to look a lot like Xmas… [whistles].
Shipping: "The world's largest international [air] freight hub by volume in 2016 handled 422,000 tonnes of cargo last month, up 11% compared to a year earlier" [Lloyd's Loading List]. "Coinciding with an improvement in global trade, exports continued to lead the strong growth in cargo throughput," said Airport Authority Hong Kong in a statement released earlier today."
The Bezzle: "Legal or Not, States Forge Ahead With 401(k)-for-Everyone Plans" [Governing]. "When the nine state plans are up and running, they will serve roughly one-quarter of private-sector workers across the country. In California alone, the plans will cover nearly 7 million people." (The nine states are Oregon, California, Connecticut, Illinois, Maryland, Massachusetts, New Jersey, Vermont and Washington.) That's unfortunate, since 401(k) is a scam — it's all about the fee fees — and certainly compared to the universal benefit of Social Security. I wonder how many steak dinners it took to insert 401(k)'s sucking mandibles into "one-quarter of private-sector workers across the country"?
The Bezzle: "Six weeks after bringing Blue Apron Holdings Inc. to market, disappointing earnings have spurred lead underwriter Goldman Sachs Group Inc. to offer up a mea culpa" [Bloomberg]. "'We were clearly wrong in our estimate of the logistical challenges of this transition and its ability to reaccelerate customer growth and engagement,' Goldman Sachs analyst Heath Terry said in a note to clients Thursday that downgraded his rating on Blue Apron stock to the equivalent of a hold." For whatever reason, Wall Street analysts seem to have problems (assuming good faith) with Silicon Valley + stuff combos; same deal with Uber, where nobody (until Hubert Horan at NC) looked seriously at Uber as the taxi business it was and is. Nobody could have predicted that a food shipping company would have logistical challenges. And nobody could have predicted a food preparation company would have customer retention issues, when their product costs the same as going out to a restaurant! Nobody looked at the loading dock. Nobody thought about the kitchen. Look! They've got an app!
The Bezzle: "Police: Florida man dies after punch from Uber driver" [ABC]. "According to the police statement, Kimball and the 38-year-old male driver was taking Thursday evening." Same "stuff"-related issue where analysts didn't understand the workplace. Uber deskills drivers, so they don't know where they're going. GPS comes to the rescue, expect when it doesn't; hence the "dispute over the route."
The Bezzle: "Uber failing to report sex attacks by drivers, says Met police" [Guardian]. "[Insp Neil Billany of the Metropolitan police] speculated that Uber was deciding which matters to pass on to police based on what was 'less damaging to reputation [valuation –lambert] over serious offences.' He said Uber's policy of logging the criminal complaints with TfL [Transport for London] instead had prompted delays of up to seven months before they were investigated by officers. TfL said delays in reporting crimes to the police were 'totally unacceptable,' adding: 'We have been in contact with the operator to ask them to respond to these concerns.' ." Yes, Billany wrote "a strongly worded letter," but maybe that's less frivolous in the British context than the American?
The Bezzle: "Social Finance, a hot financial start-up, is the latest prominent Silicon Valley company to face accusations that it turned a blind eye to sexual harassment" [New York Times]. Notice again, however, that "sexual politics" (let us say) seems to be the only licit critique of Silicon Valley startups. So I suppose it would be OK if [insert appropriate identity here] were writing the algos that defraud customers, or writing the business plans that defraud investors. Corruption is OK. As long as it's diverse. Which is, I suppose, a page ripped from George Washington Plunkitt's playbook. But can't we be honest about it?
The Bezzle: "Google is paying Apple billions per year to remain on the iPhone, Bernstein says" [CNBC]. "[Bernstein] believes that Google will pay Apple about $3 billion this year, up from $1 billion just three years ago, and that Google's licensing fees make up a large bulk of Apple's services business." So, not Five Horsemen but Four-and-a-Half?
The Bezzle: "I invested early in Google and Facebook. Now they terrify me" [USA Today]. "The fault here is not with search and social networking, per se. Those services have enormous value. The fault lies with advertising business models that drive companies to maximize attention at all costs, leading to ever more aggressive brain hacking."
The Bezzle: "Monsanto Was Its Own Ghostwriter for Some Safety Reviews" [Bloomberg]. Seems legit.
Concentration: "The Justice Department asked the U.S. Supreme Court not take up a case evaluating the legality of American Express Co.'s contracts with merchants, arguing that the key legal question needs to be vetted more by lower courts" [Bloomberg]. "The government still believes the Second Circuit got it wrong by ruling that the DOJ should have examined how AmEx's rules impact each side of a two-sided market consisting of merchants and customers. But, the brief said, neither the Supreme Court nor circuit courts have 'squarely considered' the application of antitrust laws to two-sided markets. For that reason, the high court shouldn't accept a petition for writ of certiorari. 'The court of appeals seriously departed from sound antitrust principles, and its decision leaves in place restraints that thwart price competition in an important sector of the economy and inflate the retail prices paid by all consumers,' the brief said."
Honey for the Bears: "If we stop counting zombies, we're already in recession" [Of Two Minds]. "Anyone with even a passing acquaintance with the statistical pulse of the real-world economy knows the numbers are softening… In essence, the "recovery" economy is a zombie economy living on great gulps of new debt that it can't service. … The "recovery" game will shift to massaging GDP so it ekes out .1% "growth" every quarter until Doomsday. The Zombie Economy can be kept alive indefinitely–look at Japan–but it not a healthy or vibrant or equality-opportunity economy; it is a sick-unto-death economy of fake narratives (growth is permanent) and fake statistics (we've revised previous numbers so that, surprise, GDP is still positive.)"
Fodder for the Bulls: "The Housing Bottom and Comparing Housing Recoveries" (charts) [Calculated Risk]. In essence, McBride urges (correctly) that he called housing's long flat bottom for 2009-2011, and (correctly) that he called a sluggish recovery. Conclusion: "The current recovery (red [on a chart]) started slowly, but is still ongoing!"
Political Risk: "Why the Federal Reserve's job will get harder" [Larry Summers, Financial Times]. "If history is any guide, it is more likely than not that the economy will go into recession during the next Fed chair's four-year term. Recovery is now in its ninth year with relatively slow underlying growth for demographic and technological reasons, very low unemployment and high asset prices. Even without these factors, by the Fed or the professional consensus forecast, but there is at least a 20 per cent or so chance that if the economy is not in recession, it will be so within a year. So …. In reporting on the last round of bank stress tests the Fed has asserted that even if the stock market loses half its value, the unemployment rate reaches 10 per cent and house and real estate prices fall only as much as they did in the last crisis, the big institutions will all be fine without capital increases. Market evidence suggests otherwise, based on past patterns their equity values would collapse… . There must be more risk now of presidential interference with the Fed than at any time since Richard Nixon. In dealing with international matters, the Fed is partnered with an understaffed and amateurish Treasury and a president who is dissipating US credibility. Most fundamentally, the temper of the times has turned against technical expertise in favour of populist passion and the Fed is the quintessential enduring apolitical institution." I love the idea that the Fed is "apolitical" (for some definition of "apolitical," I grant).
Rapture Index: The Rapture index closed the week unchanged [Rapture Ready]. Record high, October 10, 2016: 189. Current: 181.
Today's Fear & Greed Index: 39 Fear (previous close: 28, Fear) [CNN]. One week ago: 63 (Greed). (0 is Extreme Fear; 100 is Extreme Greed. Last updated Aug 14 at 11:46am. Whoever is running the gaslighting could be making a bundle.
Health Care
"Distribution Of Lifetime Medicare Taxes And Spending By Sex And By Lifetime Household Earnings" [Econintersect]. Study based on "men born in the 1950s." "lifetime Medicare spending net of taxes makes up a smaller share of lifetime individual earnings for beneficiaries with higher lifetime household earnings. That pattern also holds for women of the 1950s cohort. For younger cohorts, between the lowest and highest quintiles of lifetime household earnings, I expect the difference in net lifetime spending as a share of lifetime earnings to be larger." Assumes Federal taxes fund Federal spending, of course.
Class Warfare
"The American workplace is physically and emotionally demanding, with workers facing unstable work schedules, unpleasant and possibly hazardous working conditions, and an often hostile social environment, according to a new study" [247 Wall Street]. "Employees also say the intensity of work frequently carries over into their personal lives, with about in order to meet workplace demands, the study found." They don't call them "wage slaves" for nothing. More:
In an alarming finding, more than half of Americans report exposure to unpleasant and potentially hazardous working conditions. Nearly 20% of workers say they face a hostile or threatening social environment at work. Younger and women are the workers most likely to experience unwanted sexual attention, while younger men are more likely to experience verbal abuse.
I hate that locution, "prime." Like "prime beef." It's like working people are just animals, bred for the slaughter. And this deathless quote:
"I was surprised how taxing the workplace appears to be, both for less-educated and for more-educated workers," said lead author Nicole Maestas, an associate professor at Harvard Medical School and an adjunct economist at RAND.
"Surprised." Better late than never, I suppose…
News of the Wired
"What is Hinternet, in simple terms?" [Stack Exchange]. Do we have an ham radio operators in the commentariat who know about this?
"Introducing (n+1)sec — a protocol for distributed multiparty chat encryption" [eQualit.ie].
"There are only four types of Facebook users, researchers have found" [Quartz] (original study). "Facebook has a Rashomon effect: various user groups interpret the experience of using it very differently. Surprisingly, however, the researchers also found they could easily categorize users into four broad types: 'relationship builders,' 'window shoppers,' 'town criers,' and 'selfies.'" Study uses Q-methodology, FWIW….
"Recap / Game Of Thrones S 7 E 5 Eastwatch" [TV Tropes]. Awesome recap, but best of all the author lists the tropes! For example:
Fandom Nod: Davos mentions he thought Gendry was still rowing, in reference to the fandom's consensus that he's been rowing since his last appearance in Season 3.
And:
Ragtag Bunch of Misfits: The team going on the mission beyond the Wall consists of a Wildling, a red priest, a disgraced knight, a former Kingsguard, an undead outlaw, and a bastard son of a king, all led by a bastard son who is a king
I wish we had the a source with the same wit and level of detail for dometic politics…
* * *
Readers, feel free to contact me at lambert [UNDERSCORE] strether [DOT] corrente [AT] yahoo [DOT] com, with (a) links, and even better (b) sources I should curate regularly, (c) how to send me a check if you are allegic to PayPal, and (d) to find out how to send me images of plants. Vegetables are fine! Fungi are deemed to be honorary plants! If you want your handle to appear as a credit, please put it in the subject line. Otherwise, I will anonymize by using your initials. See the previous Water Cooler (with plant) here. Today's plant (Peter):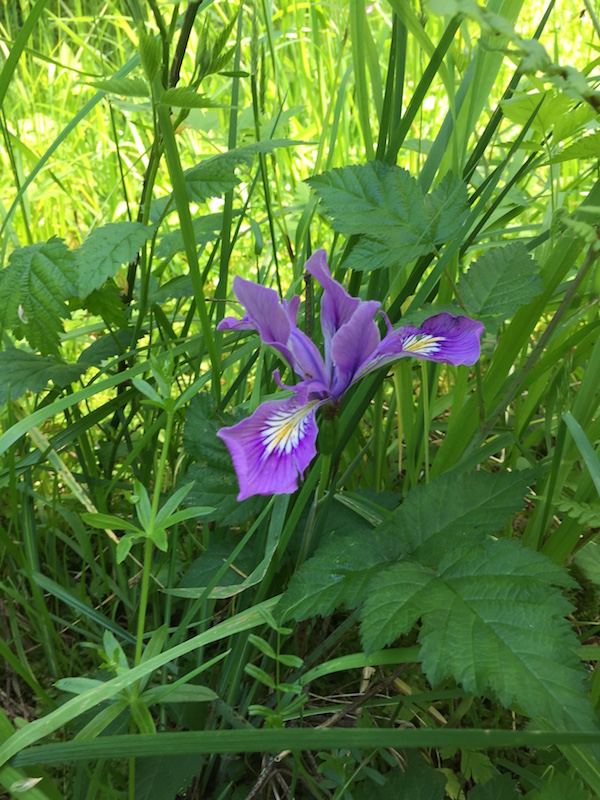 Peter writes: "Wildflower in park, Redmond, WA." As readers know, I think taking regular walks, and regular photos (of plants) on your walks, is a good idea. This is not for everyone, of course, but I've adopted this habit, and it's very de-stressing.
* * *
Readers, Water Cooler is a standalone entity, not supported by the Naked Capitalism fundraisers. Please use the dropdown to choose your contribution, and then click the hat! Your tip will be welcome today, and indeed any day. Water Cooler will not exist without your continued help.