By Lambert Strether of Corrente
Trade
"USTR CONSIDERS NON-BINDING DISPUTE SETTLEMENT MECHANISM IN NAFTA: The United States is considering dropping a binding mechanism in NAFTA for resolving government-to-government trade disputes in favor of a softer advisory system, sources following the talks told Morning Trade" [Politico]. "The dispute settlement shift would also include a change to Chapter 11 of NAFTA, which allows private investors to sue member governments over actions that they believe unfairly discriminate against their investment. The proposal would allow countries to opt into the system, essentially making it voluntary."
Politics
2016 Post Mortem
Shot:

"In June, at a rally in Cedar Rapids, Iowa, President Trump brought 6,000 supporters to their feet, roaring their approval. 'I believe the time has come for new immigration rules,' Trump bellowed. 'Those seeking admission into our country must be able to support themselves financially and should not use welfare for a period of at least five years.' A bill to shred the safety net for legal immigrants would be moving through Congress 'very shortly,' Trump promised' [The New Republic].

Chaser:

The legislation never materialized, for a simple reason: What Trump proposed is already the law of the land. Thanks to the massive "welfare reform" bill that President Bill Clinton signed two decades ago, new immigrants are ineligible for public assistance during their first five years in America. It's a mean-spirited policy. But it was the creation not of nationalist demagogues like Trump but of Democrats like Clinton, who pledged in his 1992 campaign to "end welfare as we know it."
Health Care
"Behind the Senate GOP's high-stakes health-care gamble: Unrelenting criticism back home" [WaPo]. "[A]ccording to GOP senators and aides, Republicans faced an unrelenting barrage of confrontations with some of their closest supporters, donors and friends. The moments occurred in small gatherings that proved even more meaningful than a caustic town hall — at meetings with local business executives, at church, at parks…. It didn't matter if those friends and allies were big-time supporters of President Trump or part of the "Never Trump" crowd of purist conservatives opposed to his hostile takeover of the GOP. By August, those two wings came together in their sheer, utter contempt toward a Republican-controlled Congress that could not back up its most basic promise, to repeal Obamacare. Trump's hectoring via social media egged them all on."

"New data from an Avalere Health analysis suggests that Graham-Cassidy — if passed in its current form — would cut federal money to states by $215 billion over the next decade. All told, 34 states would see cuts to the amount of federal dollars they are getting for health care under the Affordable Care Act, while 16 would see an increase" [CNN]. With handy map:


"Republicans aren't voting for Graham-Cassidy. They're just voting for Obamacare repeal." [Vox]. "How have they found themselves here again, after their previous repeal bills failed in July? The underlying truth, the beating heart of Obamacare repeal that refuses to let it die, is: Republicans just want to pass a bill, any bill, to say they repealed Obamacare. Whatever standards they've set for their health care plan, whatever promises they made before, don't matter." More:

"Apparently no one cares what the bill actually does. That's a tough thing to say, but it is more true than not," one Republican lobbyist told me. "There are so many senators whose public positions in June leave them absolutely no conceivable way of voting for this."

"Yet," this person added, "here we are."

I dunno. Look at the map above. The standards seem pretty clear.

"Republicans Peddle Nonsense to Sell Health-Care Plan" [Albert R. Hunt, Bloomberg]. With a picture of Mickey Mouse leading a parade. Cheeky!

Headline: " on 'full war footing' to stop Obamacare repeal" [Politico]. Deck: "Liberal activists have quickly mobilized ahead of a Senate vote next week." Politico conflates "liberal" and "left" yet again. Check the picture of Schumer: See any #MedicareForAll signs? No? It's liberals, who wouldn't know recognize a "war footing" if a shoe salesperson was in front of them trying to measure it.

"Graham-Cassidy needs to pass this final test before it can come to a vote" [Vox]. The Byrd rule…

"According to financial projections produced by the office of Sen. Bill Cassidy, one of the bill's authors, Alaska would be the only state to receive additional money from the legislation's $182 billion stability fund. The money would be delivered through a provision in the bill that, in 2026, would award each state $4,400 in federal subsidies to each "eligible beneficiary." Alaska, however, would be awarded $6,500, or 48 percent more than other states" [News Miner]. How convenient!

"The Political Genius of Bernie's 'Medicare for All' Bill" [The Nation]. "The bill's pragmatism lies in how it gets there. Medicare expansion would spool out over several years, first by enrolling children under 18 and dropping the eligibility age to 55, a step that even non-backers like Senator Tim Kaine support. By its fourth year, incremental expansions would finally create a true Medicare for All program. During that transition, many people who are uncovered would be able to buy into the system through provisions championed by Senator Kirsten Gillibrand, who supports the bill, and Senator Debbie Stabenow, who doesn't—yet. Canvassing his fellow senators, including those who have taken a wait-and-see approach, was key to Sanders's ability to build a surprisingly broad base of support, as was the backing of dozens of outside groups, from MoveOn.org to the Working Families Party to the United Mine Workers. That Sanders was one of the most vocal defenders of Obamacare—even as he consistently criticized it as insufficient—helped build credibility, too."
Realignment and Legitimacy
"As Protests Escalate Under Trump, States Seek New Ways to Deter Them" [Governing]. "On Tuesday, Lynne DiSanto, the GOP whip in the South Dakota House, apologized after sharing a meme on Facebook that said, 'All lives splatter. Nobody cares about your protests. Keep your ass out of the road.'" Genius! Of a sort…

"picking up the 24 seats required to retake the House, and the three states needed for control of the Senate, will mean luring back blue collar workers in places like Ryan's Mahoning Valley district, where the steel plants are shells of their former selves, small businesses are boarded up and payday lenders seem to be on every corner. This used to be a Democratic stronghold, but Trump won three of the five counties in Ryan's district. If Democrats don't refine their pitch to alienated white voters, Trump could win re-election with ease. "The resistance can only be part of it," Ryan says. "We have to be on the offense too.'" [Time]. How about just "alienated white voters"?
Stats Watch
Leading Indicators, August 2017: "The index of leading economic indicators rose a solid 0.4 percent in August in results that, however, do not fully reflect the impact of Hurricane Harvey" [Econoday]. "Hurricanes aside, the report notes that underlying trends in the economy point to an extension of the current pace of solid growth." But: "The rate of growth appears steady on this index. Because of the significant backward revisions, I do not trust this index" [Econintersect].
Philadelphia Fed Business Outlook Survey, September 20, 2017: "There are few hints of indirect hurricane dislocations in the Philly Fed report where strength is simply enormous" [Econoday]. "New orders are pouring in this month, up more than 9 points to 29.5 for among the very strongest readings of the 8-year economic expansion. Unfilled orders are at 17.0, up 3.5 points to indicate one of the very strongest monthly builds in the 50 year history of this report. Shipments are moving out the gates at a frenzy, at 37.8 which again is one of the best on record… This report, among all the regional reports, has consistently showed the most strength this year, strength however that . This is a reminder that the Philly Fed's results are based on voluntary responses from what is often a small sample numbering no more than a couple of hundred companies." And: "Consider this a stronger report than last month. The New York Fed's manufacturing survey (released last week) insignificantly declined and remained in expansion" [Econintersect].
Bloomberg Consumer Comfort Index, week of September 17, 2017: "The consumer comfort index fell back for a third straight week, down 1.3 points in the September 17 week to what is still a very strong 50.6 that reflects unusual confidence in the economic outlook" [Econoday].
FHFA House Price Index. July 2017: "Indications on home prices have been cooling including July's FHFA house price index which managed only a 0.2 percent gain with the year-on-year rate down 2 tenths to 6.3 percent" [Econoday]. "Though slowing, price growth of roughly 6 percent is still very strong especially in a low interest rate, low inflation economy. And slowing appreciation will help improve affordability and perhaps give a boost to sales as well. Today's report will likely limit expectations for strength in next week's Case-Shiller data which likewise have been slowing."
Jobless Claims, week of September 16, 2017: "Initial jobless claims fell sharply and unexpectedly in the September 16 week but may reflect the inability of displaced workers in hurricane hit states to file claims" [Econoday].
Retail: "The holiday hiring season is starting earlier than ever, and the biggest jobs focus is in the warehouse. Retailers including Macy's Inc. and Target Corp. are joining Amazon.com Inc. as well as United Parcel Service Inc. and FedEx Corp. and other logistics specialists in scaling up their hiring…, with a tight labor market adding pressure to bring new workers on board and primed for the seasonal rush. Companies are bumping up pay, loosening disciplinary policies and even operating bus routes to get workers to the fulfillment centers they expect to be busier than ever this year" [Wall Street Journal].
Shipping: "[Maersk, in selling its tanker unit,] aims to reshape itself into a global supply chain player more deeply involved with its customers, but Maersk also is looking for more flexibility to respond to changes in the global container shipping market. Maritime operators are consolidating since the industry's steep downturn, with Chinese operators on the ocean and at ports growing more powerful, and big competitors CMA CGM and Mediterranean Shipping Co. are buying bigger ships. Those trends challenge the scale that Maersk has always seen as a strategic advantage, one the carrier will look to maintain" [Wall Street Journal].
Shipping: "Stiff competition from niche carriers on trades to and from Asia is preventing the three leading container shipping alliances from establishing dominant positions in the region, according to one of Asia's leading forwarders" [Lloyd's Loading List]. ""The five niche container lines – Zim, PIL, Wan Hai, Matson and SM Lines – moving Asian imports increased their total share 1% point to 6.4% in the April-to-June period," [Kimber Lee, Corporate Ocean Freight Vice President at Dimerco Express Group] added."
Tech: "Some electronics manufacturers are trying to shore up their chip supplies by buying a major producer. Toshiba Corp. plans to sell its memory-chip business to a group that includes Apple Inc. and Dell Technologies Inc. for $18 billion…, bringing a tumultuous period at the semiconductor provider closer to a conclusion. Members of the bidding group, led by private-equity firm Bain Capital, hope the sale also brings some calm to a volatile chip market that's been marked by tight supplies and high demand" [Wall Street Journal]. Hmm.
The Bezzle: "Apple can patch bugs, but its biggest Apple Watch problem can't be fixed" [Business Insider]. "[T]he watch's LTE cellular connectivity – which is supposed to let users make phone calls directly from their wrists, and which Apple has touted as a selling point – doesn't always work very well. (Actually, it's a bug with the watch's WiFi, but the end result is the same.)" Seems like a subset of a general problem; if you want to watch a real human tragedy, check Apple's Discussions threads on internet connectivity; you'll see thousands of messages stretching back years. Sure, I lost a tooth from the grinding, but my laptop sure is thin!
The Bezzle: "Grocery chain Albertsons Cos. thinks the supply chains that feed its supermarkets are just what meal-kit services need. Albertsons is buying New York-based Plated, the first acquisition of a prepared-meals company by a national chain as grocers scramble to keep shoppers coming to their stores. The acquisition looks to turn the meal-kit competition on its head, with Albertsons effectively giving in to the idea that some consumers are going to look for meals outside the traditional scope of supermarkets. Albertsons Chief Executive Bob Miller tells the WSJ's Heather Haddon the chain will bring Plated, which does business as DineInFresh Inc., a cost advantage with the scale of its food purchasing and a network of 18 manufacturing plants. That won't solve the "last-mile" delivery questions that companies face. But Albertsons will be able to market Plated to millions of customers and that scale could help the companies cook up a financially healthy combination" [Wall Street Journal]. Who knows. Maybe to a grocery company, the margins in meal-kits look attractive.
The Bezzle: "Sheryl Sandberg Leans In To Take Public Beating On Mark Zuckerberg's Behalf" [DealBreaker]. "Last week, ProPublica reported that there was a tiny little problem with Facebook's ad-targeting algorithm insofar as that advertisers could target users interested in such far-ranging subjects as 'Hungarian sausages' to 'Jew Haters."… Complicating things even further is the burgeoning public woke-ness of Facebook CEO Mark Zuckerberg. He's been out there hosting Facebook Live events with Dreamers, touring all 50 states and even meeting actual human beings IRL. It has been a heavy lift for a Millennial billionaire with absolutely no interest in a political career [implied enormous wink emoji]…. Instead of letting the woman who works for him step out in front of this, Zuckerberg should have doubled-down on his new politically viable public image and taken all the blame for what happened. It not only would have given him the glow of a true leader of The Valley, it could have sent a message that he has even accumulated through maturity the rarest of tech billionaire traits; courage and contrition."
The Bezzle: "Google is linking secret, court-protected names – including victim IDs – to online coverage" [Ottawa Citizen]. "In six high-profile cases documented by the Citizen, searching the name of a young offender or victim online pointed to media coverage of their court cases, even though their names do not appear anywhere in the news articles themselves. It's a curious anomaly that appears to apply primarily to results produced by Google's search engine. Similar searches in Bing and Yahoo! do not link the protected names to news coverage with the same consistency."
The Bezzle: "Get Rid of Equifax" [New York Time]. "Why should we continue to allow private companies to make money from us while ignoring our needs? Let's nationalize Equifax and the other two major credit reporting companies, Experian and TransUnion. We could follow other countries' example and hand the duty of tracking our financial histories over to a public registry instead of a private profiteer."
The Fed: "The Federal Reserve announced today [September 20] that it will begin reducing the size of its balance sheet next month in very modest and deliberate steps. One reason the Fed is moving so slowly is that they don't want a repeat of the May 2013 taper tantrum, in which a surprise hint that the Fed might slow the rate at which it would be growing its balance sheet led to a spike up in long-term interest rates. But there may also be another reason why the Fed is contracting its balance sheet so cautiously." [Econbrowser]. "The reason the Fed may go back to growing its balance sheet within three years comes from thinking about the liability side of its balance sheet. The big bulge in assets has mainly been financed by extra Federal Reserve deposits held by financial institutions, shown in purple on the graph below. But several other liabilities are also significant– deposits held by the U.S. Treasury's account with the Fed (yellow), deposits that get returned temporarily to the Fed through reverse repos (orange), and currency held by the public (green). A key feature of those last three is that under current Fed operating procedures these quantities are basically chosen outside the Fed."
The Fed: "Janet Yellen Officially Done Stimulating Your Economy" [DealBreaker]. "Fed officials finally collectively took a deep breath and announced they will begin to cut the size of their balance sheet, which has provided a liquidity safety net for the U.S. economy since the financial crisis. The decision fully commits the Fed to a path of policy tightening, even with growth numbers remaining 'eh' and Fed officials now openly puzzled about why they can't drive inflation levels higher…. Now the question for the Fed, then, is how it handles interest rates when half of its mandate is a black box and it is engaging in balance sheet policy experiments on the fly." Wheeeeeee!
Climate Risk: "Puerto Rico's bondholders worried after Hurricane Maria turns out lights" [MarketWatch]. "If Puerto Rico is without power for months after Hurricane Maria, as authorities now warn, many investors in the $9 billion of Puerto Rico's outstanding electric utility bonds risk never seeing their money."
Honey for the Bears (?): "Basically Mike Bloomberg would like to ask the financial markets 'Are you f*cking high?'" [Dealbreaker]. "[Bloomberg] is part of that growing chorus of money-smart old dudes wondering aloud if this market is tethered at all to reality and if Trump has finally become the ultimate example of looking at an uncertainty and trying to price it as a risk."
Five Horsemen: "Apple checks its stopped watch, as Facebook gazes down serenely from its permanently high plateau" [Hat tip, Jim Haygood].
Today's Fear & Greed Index: 74 Greed (previous close: 79, Extreme Greed) [CNN]. One week ago: 68 (Greed). (0 is Extreme Fear; 100 is Extreme Greed). Last updated Sep 21 at 12:16pm.
Class Warfare
"Colleges as class reproduction machines" [Brookings Institute]. "The returns to a post-secondary education are variable, but on average remain high. The main problem is not unfair competition in the labor market, it is unequal preparation for it. As I write in Dream Hoarders, "the labor market is where inequality is expressed, not where it is created.'"
"Why Workers Are Losing to Capitalists" [Bloomberg]. "[T]he two most conventional explanations for rising inequality and falling wages might both be correct. A perfect storm of robots and free trade — and some monopoly power to boot — could be shifting power from the proletariat to the capitalists. With all these factors at work, maybe the real puzzle is why workers aren't doing even worse than they are." Always room for improvement!
"Basic Income Research Proposal" [Y Combinator Research]. From the people who brought you the term "Founder"…
News of the Wired
"Distrustful U.S. allies force spy agency to back down in encryption fight" [Reuters]. "An international group of cryptography experts has forced the U.S. National Security Agency to back down over two data encryption techniques it wanted set as global industry standards, reflecting deep mistrust among close U.S. allies. In interviews and emails seen by Reuters, academic and industry experts from countries including Germany, Japan and Israel worried that the U.S. electronic spy agency was pushing the new techniques not because they were good encryption tools, but because it knew how to break them."
"I Have Nothing to Hide – Really? Here's why privacy matters to all of us" [Privacy News Online]. More recommendations for applications. Email: Tutanota. Search: Qwant. Readers, thoughts?
* * *
Readers, feel free to contact me at lambert [UNDERSCORE] strether [DOT] corrente [AT] yahoo [DOT] com, with (a) links, and even better (b) sources I should curate regularly, (c) how to send me a check if you are allergic to PayPal, and (d) to find out how to send me images of plants. Vegetables are fine! Fungi are deemed to be honorary plants! If you want your handle to appear as a credit, please put it in the subject line. Otherwise, I will anonymize by using your initials. See the previous Water Cooler (with plant) here. Today's plant (DD):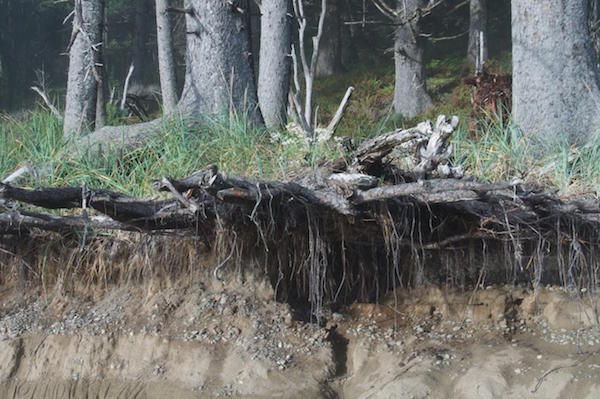 DD writes: "Olympic National Park, Washington, where the forest comes right up to the beach in places. Some unfortunate trees have their soil eroded out from under them. But even the one whose roots are seen waving in the breeze here is not dead, it has green needles on its upper branches (not visible in the picture)."
* * *
Readers: Do feel free to use the dropdown and click the hat to make a contribution today or any day. Here is why: Regular positive feedback both makes me feel good and lets me know I'm on the right track with coverage. When I get no donations for five or ten days I get worried. More tangibly, a constant trickle of small donations helps me with expenses, and I factor that trickle in when setting fundraising goals. So if you see something you especially appreciate, please click the hat!