By Jerri-Lynn Scofield, who has worked as a securities lawyer and a derivatives trader. She now spends much of her time in Asia and is currently working on a book about textile artisans.
After 69 years in business, retailer Toys R Us filed for Chapter 11 bankruptcy this week– the second largest US retail bankruptcy ever.
Private equity's role in causing the company's demise is evident– as has been the case for a slew of retailer bankruptcies this year. Posts such as this one earlier in the summer by Yves mean the overall trend isn't news to regular readers, see Private Equity Firms Sued Over Retailer Bankruptcies (and the earlier links included therein).
Nonetheless, many, including yesterday's Financial Times are now also piling on the private equity culprit with respect to Toys R Us:
But the blame is perhaps to be placed most squarely on its private equity ownership. Toys R Us has spent more than $250m a year servicing $5bn in long term debt, which was "not a sustainable situation," one investor said, as the company faced increasingly crushing competition from Amazon and Walmart.

After years of rearranging its debt burden, like other big leveraged buyouts of the pre-financial crisis era, it is presenting a restructuring under bankruptcy protection as a bid for freedom. Toys R Us says it now has a chance to bring its "vision to fruition", announcing plans to invest in marketing and technology and even promising to raise store employees' wages.
Private Equity Greed: A Plague on Retail Businesses
Likewise, Pam and Russ Martens don't mince words when they describe the underlying cause for this year's wave of retail bankruptcies in their Wall Street on Parade post, How Many of 2017's Retail Bankruptcies Were Caused by Private-Equity's Greed?
According to S&P Global Market Intelligence, there have been 35 retail bankruptcies this year, almost double the 18 retail bankruptcies of last year. The filing by Toys 'R' Us this week was the latest.

What many of these retailers have in common is that they were taken private in leveraged buyouts (LBOs) by private equity (PE) firms. Toys 'R' Us, Payless ShoeSource, The Limited, Wet Seal, Gymboree Corp., rue21, and True Religion Apparel were all LBOs. Gander Mountain can also be included in this list if you reach back to its 1984 LBO. Far too many LBOs are simply asset stripping operations by Wall Street vultures who load the company with enormous debt, then asset strip the cash from the company by paying themselves obscene special dividends and management fees.
Please permit me to reproduce their list of the largest retail names that have sought bankruptcy protection thus far in 2017:
Toys "R" Us
The Limited
Wet Seal (Second bankruptcy filing)
Eastern Outfitters
BCBG Max Azria
Vanity
Hhgregg
RadioShack (Second bankruptcy filing)
Gordmans
Gander Mountain
Payless ShoeSource
rue21
Gymboree
Cornerstone Apparel
True Religion Apparel
Perfumania
Vitamin World
Aerosoles
Michigan Sporting Goods Distributors and
Marbles Holdings LLC.
Private Equity Firms Lose Remaining Stakes: But Obscene Profits Already Booked
The FT article points out that in 2005, Toys R Us hired Credit Suisse, who arranged for a consortium of Bain Capital Partners, Kohlberg Kravis Roberts, and Vornado Realty Trust to do a leveraged buyout (LBO). The deal was valued at $6.6. billion dollars, with just over 20%–  in cash, split equally– with the remainder financed by debt. (For those interested in delving into the details further, I include a link to the company's  April 2006 10-K.)
And, cry me a river, again according to the FT:
The three buyers who leveraged it are now expected to have their equity stakes wiped out in the restructuring. KKR and Vornado have written off their investment over time, while Bain has been carrying it near zero.

However, the losses to the firms and their investors are mitigated by the fact the buyout firms have paid themselves over $200m in expenses, advisory and management fees, according to SEC filings over 12 years of ownership.
Wolf Richter spells out in his post from earlier this month, Brick & Mortar Meltdown: Toys R Us Hires Bankruptcy Law Firm, in terms familiar to those who know how these stories go, some further details:
So here's what the three PE firms did to Toys R Us: they stripped out cash and loaded the company up with debt. And these are the results: At the end of its fiscal year 2004, the last full year before the buyout, Toys R Us had $2.2 billion in cash, cash equivalents, and short-term investments. By Q1 2017, this had collapsed to just $301 million. Over the same period, long-term debt has surged 126%, from $2.3 billion to $5.2 billion.

This table shows the astounding results of asset stripping and overleveraging. It takes a lot of expertise and Wall Street connivance to pull this off. So whatever happens to Toys R Us, the PE firms already extracted their wild profits:
Table 1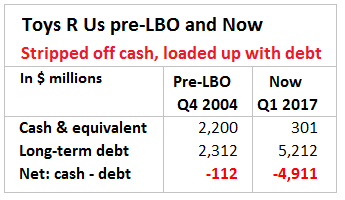 Source: Brick & Mortar Meltdown: Toys R Us Hires Bankruptcy Law Firm.
Unfortunately for the company, over the same period– 2004 through 2016–  when its debt has ballooned, its annual revenues have remained essentially flat at just over $11 billion.
Permit me to quote at length from Wolf again:
After extracting enough cash from Toys R Us and loading it up with a debilitating pile of debt, the three PE firms tried to unload it to the unsuspecting public in an IPO in 2010. They were hoping for an additional payday, the icing on the cake, so to speak. But they had to scuttle their efforts due to "challenging market conditions."

Yet toy industry sales have been "robust," growing by 5% in 2016, and by a compound annual rate of 5% since 2013.

Incapably managed by the PE firms, Toys R Us has been losing market share in its struggle with online retailers, particularly Amazon, and with Walmart at every level, and with other toy stores. Nevertheless, if the company weren't overleveraged and didn't have PE firms leeching off it, its slowly declining revenues and thinning profits turning to losses wouldn't be the end of the world.
In poking around and looking at some of the financial filings, I was a bit surprised to see how the company's post-LBO difficulties were astutely anticipated in its April 2006 10-K (p. 20), in which the potential serious, negative consequences of the leveraging it had assumed were spelled out, including:
making it more difficult for us to make payments on the debt, as our business may not be able to generate sufficient cash flows from operating activities to meet our debt service obligations;
increasing our vulnerability to general economic and industry conditions;
requiring a substantial portion of cash flow from operating activities to be dedicated to the payment of principal and interest on our indebtedness, and as a result reducing our ability to use our cash flow to fund our operations and capital expenditures, capitalize on future business opportunities and expand our business and execute our strategy;
exposing us to the risk of increased interest rates as certain of our borrowings are at variable rates of interest;
causing us to make non-strategic divestitures;
limiting our ability to obtain additional financing for working capital, capital expenditures, debt service requirements and general corporate or other purposes; and
limiting our ability to adjust to changing market conditions and to react to competitive pressure and placing us at a competitive disadvantage compared to our competitors who are less highly leveraged.
Let's Look at the Numbers That Sealed the Company's Fate
For those more numerically inclined, let's take a closer look at some of the numbers, which  make the size of the debt albatross with which Toys R Us was burdened especially clear.
I'm going to draw heavily on this post in Seeking Alpha, Private Equity, Not Amazon, Killed Toys 'R' Us, from which the exhibits are drawn (which were in turn generated from relevant company filings, e.g., 10-Ks and 10-Qs).
Seeking Alpha also squarely blames private equity for the company's demise.
Exhibit A – Top-line sales are down $2 billion over the past five years.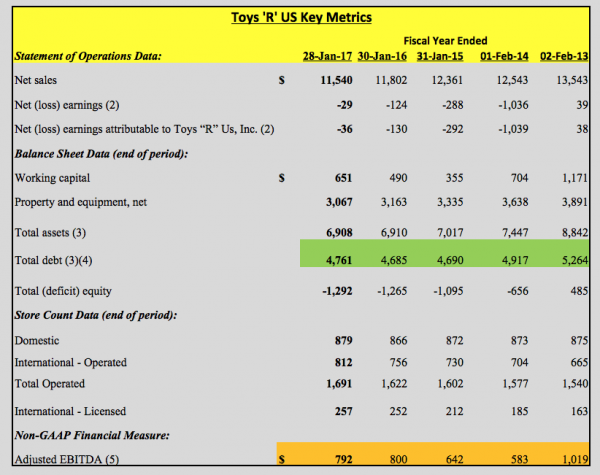 Source: Toys 'R' Us 10-K for year ending January 2017 (p. 24).
Exhibit B Long Term Debt
Again, relying on Seeking Alpha's analysis:
$5.2 billion in debt as of April 2017 is insurmountable, given the weak operating performance. As you can see, there is $400 million in debt maturing in 2018. 7.375% coupon debt isn't exactly low interest debt, but that is what happens when the greedy private equity firms lever up companies with "Other People's Money" (OPM).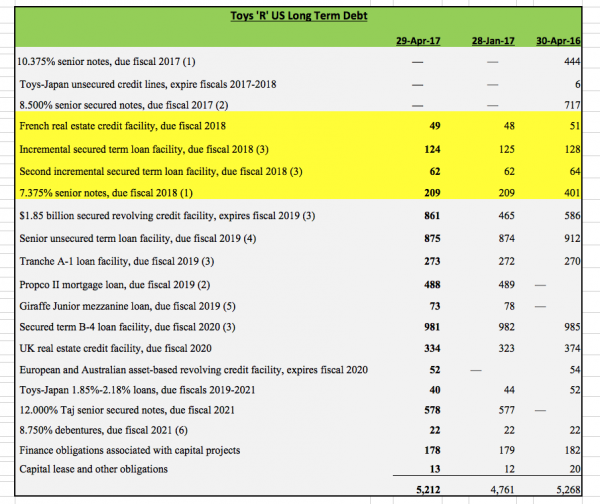 Source: Toys 'R' Us April 2017 10-Q (p.7)
Seeking Alpha notes the company has been burdened with interest expense in the range of  $425-517 million per year since 2013, making it very difficult to operate competitively (Exhibit C).
Jerri-Lynn here: Allow me to repeat the last item in that list of important consequences that flow from extreme leveraging as outlined in the company's 2006 10-K:
limiting our ability to adjust to changing market conditions and to react to competitive pressure and placing us at a competitive disadvantage compared to our competitors who are less highly leveraged.
Exhibit C Interest Expense

Source: Toys 'R' Us 10-K for year ending January 2017 (pg. 25)
Bottom Line
There's probably very little in this post that will strike anyone following this story closely as new or novel. Nonetheless, the blame for this latest round of retail companycide is clear, so that I thought when I saw the venerable pink paper's account, it was worth a short post.