Nobel Prize winner Angus Deaton and his wife Anne Case put the spotlight on a health care crisis that had managed to go almost entirely unnoticed: that of what they called an "AIDS-level" rise in deaths among whites with high school educations or less, aged 45-54. The top causes were a rise in substance abuse, most of all opioids and alcohol, and suicides.
As we'll discuss shortly, a new story in the Washington Post today discusses another symptom of distress in rural communities: a sharp rise in hepatitis C and B cases. These are second-order effects of the sharp increase in opioid use. What is particularly distressing about this development is that the rise in hepatitis C cases is high among the young, those in their 20s and 30s.
As a reminder, from our of the original Case Deaton study, released in 2015:
One of the long standing patterns in economies showing economic growth is longer life spans, and falls are see the result of severe distress and dislocation, as took place in the period right after the fall of the Soviet Union, when the expectancies of adult men fell by over seven years.

The US has just become the first country to approach this appalling record. A stark warning about the level of distress in America comes from an important study by Angus Deaton, the 2015 Nobel prize winner in economics, and his wife Anne Case. We've embedded their short and readable article at the end of this post. The authors found that from 1999 to 2013, the death rate among non-Hispanic whites aged 45 to 54 with a high school education or less rose, while it fell in other age and ethnic groups. This is an HIV-level silent epidemic: AIDS killed an estimated 650,000 from the mid-1980s to present, while an estimated close to half-million died in half that time period who would have lived had their mortality rates fallen in line with the rest of the population. It is hard to overstate the significance of these findings.
And here are the key charts. This cross-country comparison shows how extreme an outlier these middle aged whites are: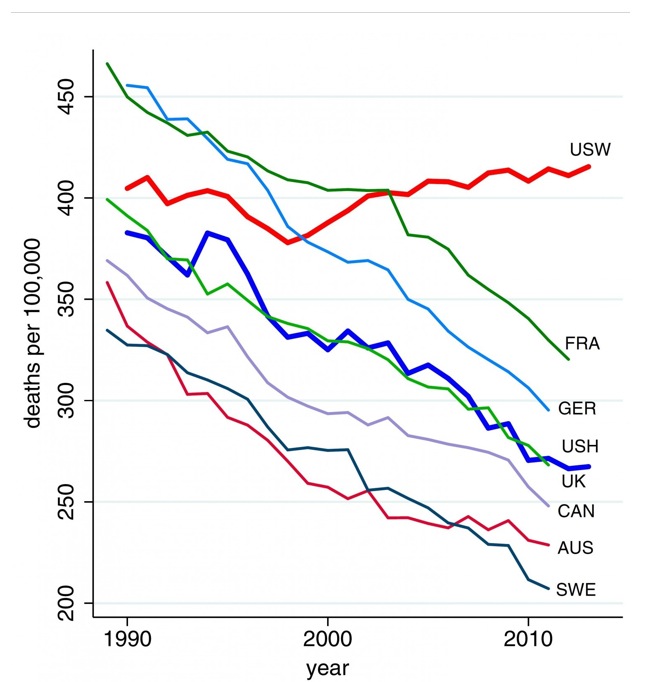 The authors linked the big culprits to despair, namely "poisoning" which is opioid abuse first and alcoholism second, and suicides.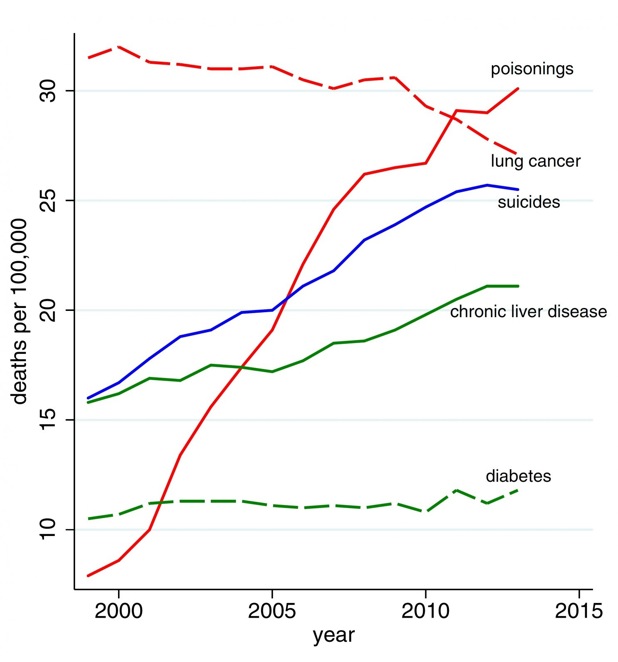 Case and Deaton published a new study earlier this year, with two more years of data. It showed that the patterns they found earlier were persisting. Their thesis (emphasis original):
We propose a preliminary but plausible story in which cumulative disadvantage from one birth cohort to the next—in the labor market, in marriage and child outcomes, and in health—is triggered by progressively worsening labor market opportunities at the time of entry for whites with low levels of education. This account, which fits much of the data, has the profoundly negative implication that policies—even ones that successfully improve earnings and jobs, or redistribute income—will take many years to reverse the increase in mortality and morbidity, and that those in midlife now are likely to do worse in old age than the current elderly.
The Washington Post story discusses the predictable and deadly knock-on effect of the sharp rise in opioid abuse in rural communities: that of a spike in level of hepatitis C. 80% to 85% of those who are infected with hepatitis C wind up with chronic hepatitis. The main vectors of transmission are sharing needles, unprotected sex, kidney dialysis, and handling blood in your line of work. In Australia, tattooing was a major hepatitis C transmission mechanism; I'm not sure if that is still true. Similarly, in the US, blood transfusions once accounted for a significant portion of hepatitis C infections; more stringent screening has cut that way down.
Because hepatitis C is, famously, a "silent killer," where victims are often symptom-free for many years or experience only mild and intermittent loss of appetite and fatigue. From Epidemic.org:
A mild inflammatory response in which the infected individual is virtually asymptomatic but with potentially a high level of virus in the blood, may continue for years, even decades, before progressing significantly. More than 50-85% of infected individuals develop chronicity. In some 20-30% of patients, this may eventually result in cirrhosis (scarring of the liver tissue), and clinically in end-stage symptomatic liver disease. This appears to take, on average, about 20-30 years to develop. However, up to 1/3 may not develop significant liver damage at all, even after years..

Some patients with cirrhosis (scarring and nodule formation) may clinically do well for years, while others may deteriorate. The risk of liver cell cancer (hepatocellular carcinoma, HCC) increases over time.
Because alcohol is processed in the liver, excessive alcohol consumption can hasten liver damage. Damage progresses faster in people who are also HIV-positive.

In people who also have hepatitis B, the risk of developing liver cancer is increased. When it comes to cirrhosis, men tend to progress faster than women. Additionally, people over 40 with cirrhosis progress at a faster rate than younger people.
Epidemic.org lists some additional factors that often increase the speed of progression:
Importantly, the disease outcome is strongly influenced by co-morbid problems such as alcohol abuse, poorly controlled diabetes, iron accumulation in the liver and severe obesity.
Now to the Washington Post story:
The nation's opioid epidemic has unleashed a secondary outbreak: the rampant spread of hepatitis C.

New cases of the liver disease have nearly tripled nationwide in just a few years, driven largely by the use of needles among drug users in their 20s and 30s, spawning a new generation of hepatitis C patients. Because a treatment that cures the disease costs tens of thousands of dollars, is limited by insurance and Medicaid, and is mostly unavailable to people who are still using illicit drugs, there probably will be financial and public health ramifications for decades to come….

"If we don't cure a significant number of the people who are injecting, in 20 years from now, the hospitals in this part of the world will be flooded with these people with end-stage liver disease, which has no cure," said Judith Feinberg, a professor of behavioral medicine and psychiatry at the West Virginia University School of Medicine. "I can see it coming at me like the headlights of a train. Just coming, coming, coming, and I'm thinking, 'Doesn't anybody want to jump out of the way?'"
The article later states that a six-month course of medication can run to over $100,000.
Not only is the treatment costly, but it is also debilitating. A friend of mine got hepatitis C, and has no idea how, since he was not an IV drug user, but since he was also HIV positive, I would assume his cause was unprotected sex. His course of treatment lasted six months and the side effects were comparable to chemotherapy. He was unable to work during this time. So even working class people who can manage to get treated face a second cost: loss of income and probable loss of employment.
Again from the Post:
According to the CDC, 34,000 people were estimated to have contracted hepatitis C in 2015, a number public health officials believe is low. In Massachusetts, officials estimate 300,000 people have the disease — and just half have received a formal diagnosis. Testing for the disease is not widespread, and because it's possible to not display any symptoms, hepatitis C often goes undetected for decades until manifesting in severe, life-threatening liver disease.

"It's the unidentified that scare me," said Rahul Gupta, West Virginia's health commissioner. "What I'm afraid of is that there are people out there not in the medical health care system and they're spreading the disease."
This data point explains why Feinberg and Gupta are so worried:
Thousands of people each year stream into West Virginia Health Right's free clinic for clean needles, medication and, staffers hope, a hepatitis C test.

About half of the clinic's clients have hepatitis C, chief executive Angie Settle said, discovered through a rapid-results test the clinic offers. The clinic, which sends mobile dental units around the state to offer free dental care, has started sending staff along to test people for hepatitis C.
West Virginia offers free treatments for those who are at an advanced stage of the drug and are sober. And here we see a how notions of fairness and morality can be at odds with public health goals. From a fairness perspective, those most deserving of help are the ones who are sickest and most deserving in the eyes of society. But from a public health perspective, you'd want to identify people most likely to be disease vectors, which would include young people, particularly ones who are very sexually active, since those early in the disease progression could conceivably be infecting others for decades.
As this slide show by Robert Greenwald, professor at Harvard Law School, and Ryan Clary, Executive Director of the National Viral Hepatitis Roundtable shows, sobriety requirements for Medicaid treatment vary by state as well as to how stringently they define "sobriety" and that, generally speaking, those restrictions are easing, but not all that much.
So here we see yet another cost of neoliberalism and the refusal of its adherents to see creating an adequate level of decently paid work and social safety nets as a requirement for a functioning society. America is on its way to being a country with more and more chronic illnesses. And the folks who have produced this result tout national competitiveness as a major goal. Instead, save for the medical industrial complex, America is becoming a less attractiveness on multiple fronts.