By Lambert Strether of Corrente.
Trade
"Today's November trade data release shows the U.S. trade deficit with Canada and Mexico is 7.9 percent higher and with China is 5.1 percent higher during the first 11 months of the Trump administration compared to the same period in 2016, spotlighting the gap between President Donald Trump's campaign pledges to speedily reduce the U.S. trade deficit and the lack of trade policy reforms achieved in his first year" (PDF) [Public Citizen]. "Trump launched the promised NAFTA renegotiation in August, but U.S. corporate interests have persuaded Canada and Mexico to not engage on U.S. proposals to transform NAFTA in ways that U.S. unions, small businesses and consumer groups have long argued would slow job outsourcing and downward pressure on U.S. wages. As a result, the January 23-28 Montreal round of NAFTA talks has become a pivot point. If Mexico and Canada do not engage, the prospect is heightened that Trump may give notice to withdraw from NAFTA. NAFTA entered its 24th year on Jan. 1, 2018."
"President Donald Trump and top administration officials are preparing to unleash an aggressive trade crackdown in the coming weeks, three administration officials [said]" [Politico]. "The moves are expected to include new tariffs aimed at countering China's and other economic competitors' unfair trade practices. Trump is scheduled to begin finalizing decisions as soon as this week on trade actions involving imports of steel and solar panels as well as on China's intellectual property practices." One official: "[T]he president is 'undecided and could come out any number of ways.'" Big if true, whatever it ends up being….
"Boeing's Embraer Bid Is Anything But Highflying" [Bloomberg]. "Shareholders had every right to be more optimistic. Embraer is a crown jewel for Brazil. While Boeing is still negotiating with the government over what would happen with Embraer's defense business and how much say politicians would have going forward, a hefty offer was assumed to be part of its argument. The regional-jet hole in Boeing's lineup has been laid bare by its trade dispute with Bombardier over claims the Canadian company used low prices to unfairly compete for a Delta Air Lines Inc. order for which Boeing wasn't even a contender. If Boeing is serious about catching up to the new Airbus-Bombardier union, it doesn't have many other options that match the scale of Embraer. And yet Boeing's offer values Embraer's ADRs at a discount to the median multiple paid in major aerospace and defense deals over the past decade."
Politics
Oprah Boomlet
"Oprah Winfrey is "actively thinking" about running for president, two of her close friends told CNN Monday" [CNN].

"Oprah 2020: Winfrey's Golden Globes speech kicks off speculation about a White House run" [Vox]. A good round-up.

"Oprah's powerful Golden Globes speech (transcript, video)" [Atlanta Journal-Constitution].

"Democrats' best hope for 2020: Oprah" [New York Post]. From September 27, 2017: "If any figure in the United States bears watching over the next couple of years as our political culture continues the radical transformation that led to the election of Donald Trump, it's Oprah. I believe she's uniquely positioned, should she wish to commit herself, to seek the Democratic nomination for president and challenge Trump in 2020."

This:

May I suggest respectfully to any billionaires considering a 2020 run–whether as an R, a D or otherwise–that you do some soul searching to make sure you are willing to divest your financial interests and make that commitment in advance? Otherwise, you'll be part of the problem.

— Walter Shaub (@waltshaub) January 8, 2018

And this:

I really like Bootsy Collin's bass playing. We should elect him president.

— Gen JC Christian, Expert (@JC_Christian) January 8, 2018

I'm with the General here.
2018
"Democrats have an 11-point advantage in the national generic ballot (according to the RealClearPolitics average) and President Donald Trump's job approval rating remains low. Those are usually signs of a political wave" [Inside Elections].

But Republican strategists continue to find solace in the Senate map of competitive races that is more conservative than the country as a whole, including the 10 Democratic senators running for re-election in Trump states compared to just one Republican in a Hillary Clinton state. They believe the tax bill will be a net positive…

Wisconsin House: "How Wisconsin's Progressive Revival Could Help Randy Bryce Unseat Paul Ryan" [In These Times]. "So who is Randy Bryce ["IronStache"], the man trying to unseat Ryan after the GOP leader's nearly two decades representing the 1st District? For one, he's no political novice. For nine years, Bryce served as the political coordinator for the Ironworkers Local 8. In the lead-up to Scott Walker's election to the governor's mansion, Bryce campaigned vigorously against him. As Walker moved to gut the state's public sector unions with Act 10—a "right to work" bill—Bryce led one of the first protests against it in 2010, and became deeply involved in the historic occupation of the state capitol in Madison that followed." This is a profile piece, so it might be churlish to ask for details on numbers, organization, and ground operations. But. I'd love it if the Capitol Occupations — which, let us remember, preceded Occupy proper — finally bore electoral fruit; too much, perhaps. Can Wisconsin readers comment?

Wisconsin Senate: "Gov. Scott Walker and the Republican machine he's built in the state are formidable, as Democrats have seen from past elections and legislative fights. [Senator Tammy] Baldwin is one of the last standing Democrats serving statewide in Wisconsin, and the GOP desperately wants to topple her" [HuffPo]. "Walker is up for re-election in 2018, meaning he'll help bring out Republican voters to the polls. A slew of Democrats seek their party's nomination to defeat him, but there's still no clear frontrunner and no one doubts that Walker is formidable."

"Trump Takes McConnell's Side in Republican Primaries" [Roll Call]. At Camp David: "I will be actually working for incumbents and ,' Trump said. When a reporter followed up to ask the president if he might engage in challenges to incumbent GOP senators, Trump turned and looked toward McConnell as he said that he did not envision such a move. 'I don't see that happening. I don't see that happening ,' he said." I've helpfully underlined the outs that Trump left himself.
Trump Transition
Thread on Trump's tweet storm in reaction to Wolff's book:

As a former theater critic, could I just cut in here and suggest that there's something wrong with those tweets this morning, something fishy and theatrical? I mean something wronger and fishier than we're accustomed to seeing from Trump. And theatrical in a different way.

— Mimi Kramer (@nhmeems) January 6, 2018

(Kramer is a film critic at the New Yorker.) Stylistic clues indicate what should really be obvious: We can't be sure that Trump personally wrote the Tweet. Hence, one might as well trash the reams of excited speculation.

"Trump delays 'fake news' awards" [Politico]. Dragging it out with the sure hand of a showman….
Realignment and Legitimacy
"The decline and fall of neoliberalism in the Democratic Party" [Ryan Cooper, The Week]. This is a good potted history. I'm dubious about Cooper's claim that the Democrat neoliberal faction is the weakest of the Democrat factions — after all, five (5) of their strategists managed to take the donor class for a cool $700 million in 2016 — but we'll see how the rest of the series plays out (this is the first of three).

"Did Trump Ever Have a Chance?" [Josh Marshall, Talking Points Memo]. I rarely link to Marshall, but this is an interesting piece. This is the key point: " By this I mean not simply someone who has broken the law. I mean someone who has no inherent respect for the law or great fear of its enforcement and breaks the law more or less casually when it is convenient and relatively safe to do so. Typically, such people see the trappings of the law as little more than a mask for the exercise of power. This is clearly Trump's view of the world." Josh, Josh, Josh. Only Trump?!

"I begin from the indisputable premise that anyone who wants to be President is insane or too close to insane to countenance" [Power of Narrative]. "I've discussed this issue here, and I will have more to say about it soon. For the moment, I merely emphasize that I don't mean this fancifully, and I don't express the point in these terms simply to be colorful. I mean it literally and clinically: anyone who wants this degree of power is extraordinarily dangerous, primarily because he/she is fundamentally disconnected from the realities of life, suffering and death on the ground." I'm sorry Silber has the flu, but it's always good to see him posting.
Stats Watch
No stats worthy of the name today. –lambert
Employment Situation: "The Conference Board's Employment Trends Index – which forecasts employment for the next 6 months improved with the author's saying "The rapid improvement in the Employment Trends Index in recent months suggests that job growth is unlikely to slow down in the months ahead" [Econintersect].
GDP: "Q4 GDP Forecasts" [Calculated Risk]. From Merrill Lynch, the Altanta Fed's GDPNow model, and the NY Fed Nowcasting Report. "This is a wide range of forecasts (from 2.3% to 4.0%)."
Commodities: "Peru's environmental deregulation to spur more mining-related protests: analysts" [Mining.com]. "According to [Verisk Maplecrof], if 2017 saw several projects slowing down or stopping due to the 171 formally registered conflicts that took place throughout the country, the approval of the supreme decree 042-2017 in December, which relaxes the environmental permitting process for medium and large-scale mining schemes, will only exacerbate the problem." Intererestingly, there is an Observatory of Mining Conflicts, a GIS site (in Spanish).
Debt: "Bank lending began to decelerate after oil related capital spending collapsed late in 2014, and then collapsed further about the time of the presidential election" (charts) [Mosler Economics]. "Real disposable personal income flattened and consumer spending slowed but not as much as income, and was instead supported by consumers 'dipping into savings'…. With income and employment decelerating I can't see the upside?"
Consumer Spending: "Housing and Consumer Spending Are Powering the Economy like Never Before" [Federal Reserve Bank of St Louis]. "The combination of weak overall GDP growth and strong contributions by both residential investment and consumer spending mark the defining characteristic of the current business cycle: Household-related spending is driving the economy like never before. Fully five-sixths, or 83 percent, of total growth since the economy began to recover in 2009 has been fueled by household spending. Hence, the continuation of the current expansion may depend largely on the strength of U.S. households."
Retail: "Retail workers feel disruption from shifting shopper habits" [AP]. "Best Buy, meanwhile, has begun a free service in key markets where salespeople will sit with customers in their own homes and make recommendations on setting up a home office to designing a home theater system. Best Buy said shoppers spend more with a home visit than they do at the stores. The project follows Amazon, which reportedly has been testing a program that sends employees to shoppers' houses for free "smart home" recommendations." "A-B-C. A-always, B-be, C-closing. Always be closing! Always be closing!! A-I-D-A. Attention, interest, decision, action. Attention — do I have your attention?…"
Shipping: "Although the broader U.S. job market added a relatively weak 148,000 jobs, hiring in the construction and manufacturing sectors is surging, potentially promising more shipping in 2018" [Wall Street Journal]. "Trucking companies are showing more confidence in future freight demand than ever. North American fleets added 37,500 orders for new heavy-duty trucks in December, finishing off a robust year for truck manufacturers that saw order books for the full year grow 59% after a steep slump in sales in 2016…. Most of the new orders are from big operators looking to replace existing trucks rather than add capacity. But many older vehicles will move to the secondary used market, providing new rigs as long as companies can find drivers to take the wheel."
Supply Chain: "Apple Inc.'s famously efficient world-wide supply chain is showing signs of fraying. The electronics giant has been missing delivery dates for new products in recent years, and the time between new product announcements and shipments has more than doubled in the six years since Tim Cook became chief executive, from 11 days to 23 days" [Wall Street Journal]. "That's a surprise for a business held as something of an icon in supply-chain circles for its close management of operations, from handling high-value components from multiple suppliers to distribution to consumers. Competition is raising stresses in the market, however, and Apple and its rivals are straining to match their design and marketing with the physical demands of supply chains."
Concentration: "How to Curb Silicon Valley Power—Even With Weak Antitrust Laws" [Wired]. "[Silicon Valley] were allowed to grow unfettered in part because of a nearly-40-year-old interpretation of US antitrust law that views anticompetitive behavior primarily through the prism of the effect on consumers. In that light, the tech industry's cheap products and free services fell somewhere between benign and benevolent."
Concentration: "Maven CEO James Heckman knows the internet ad and content market, having previously served as the chief media strategist at Yahoo and chief strategy officer at Fox Interactive Media. He said that Maven's goal is to build a publishing business that's not beholden to the Google-Facebook duopoly. That requires acquiring premium content sites with a technology platform that allows advertisers to promote across the network" [CNBC].
The Bezzle: "Lawsuit says Eastside realtor and developer conspired to inflate home prices for foreign buyers" [Seattle Times]. "A local developer and prominent real estate agency conspired to prey on Chinese nationals and inflate luxury home prices on the Eastside for their own profit, according to a lawsuit filed in Seattle on Thursday. Two plaintiffs who bought adjacent newly built homes in Kirkland allege that their broker at Realogics Sotheby's International Realty was actually working on behalf of the builder selling the homes."
The Bezzle: "The cryptocurrency bubble is strangling innovation" [TechCrunch]. "Cryptocurrencies have now ascended to speculative values that actually preclude any non-speculative uses. They have become so expensive that they are preventing innovation… And as the price of ether has skyrocketed — to more than $1,000 as I write this — transaction fees have done so as well… So if you're trying to build anything even remotely high-volume atop an Ethereum token — forget it. Your entire business model is catastrophically doomed at today's prices. As a result, entire categories of cryptocurrency experimentation and innovation are on hold until the bubble bursts, or until / unless Ethereum finds a way to scale such that transaction fees plummet." So, the author means "innovation" in cryptocurrency, not the way that cryptocurrency speculation sucks up stupid money that would (to be fair, no doubt stupidly) invested elsewhere.
The Bezzle: "[S]mall firms [have rebranded or reoriented] their businesses toward cryptocurrencies, marijuana or fintech in an effort to cash in on the torrid investor love affair with the new businesses. Microcaps previously involved in sports bras, fruit juices and teas have made the move and been rewarded with spikes in their share prices" [Bloomberg].
The Bezzle: "Tesla Model 3: The First Serious Review" [The Drive]. "I love this car, but Tesla cannot solve the Autopilot UI problem fast enough."
Tech: "It gets worse: Microsoft's Spectre-fixer bricks some AMD PCs" [The Register]. "Users report Athlon-powered machines in perfect working order before the patch just don't work after it. The patch doesn't create a recovery point, so rollback is little use and the machines emerge from a patch in a state from which rollback is sometimes not accessible. Some say that even re-installing Windows 10 doesn't help matters. Others have been able to do so, only to have their machines quickly download and install the problematic patch all over again …" I love it when Windows randomly decides to update itself and takes over your machine for twenty or thirty minutes to do it….
Tech: "Intel was aware of the chip vulnerability when its CEO sold off $24 million in company stock" [Business Insider]. "Intel says the sale was preplanned — but that plan was put in place months after it learned of the chip vulnerability."
Tech: "The Great Attention Heist" [Los Angeles Review of Books]. "The consequences of this vast gambit for our attention is that we have been drawn into a kind of mental slavery. Masters of profits and propaganda are farming our minds, doing cumulative damage that may go to the very core of our humanity. As a result, our attention is becoming locked into a low level of living and functioning…. As we would not throw a precious jewel into the trash, so we should not surrender our priceless and finite capacity for attention to the merchants for resale."
Tech: "Google's true origin partly lies in CIA and NSA research grants for mass surveillance" [Quartz]. Google's origin story revised for historical accuracy…..
Tech: "Yes, Your Amazon Echo Is an Ad Machine" [Slashdot]. "Proctor & Gamble as well as Clorox are reportedly in talks for major advertising deals that would allow Alexa to suggest products for you to buy. CNBC uses the example of asking Alexa how to remove a stain, with Alexa in turn recommending a Clorox product. So far it's unclear how Amazon would identify promoted responses from Alexa, if at all. Here's the really wacky thing: Amazon has already been doing this sort of thing to some degree. Currently, paid promotions are built into Alexa responses, but maybe you just haven't noticed it. CNBC uses this example: 'There are already some sponsorships on Alexa that aren't tied to a user's history. If a shopper asks Alexa to buy toothpaste, one response is, 'Okay, I can look for a brand, like Colgate. What would you like?'"
Tech: "[Amazon has] created a new division called Alexa Voice Services, which builds hardware and software with the aim of making it stupendously easy to add Alexa into whatever ceiling fan, lightbulb, refrigerator, or car someone might be working on. 'You should be able to talk to Alexa no matter where you're located or what device you're talking to,' says Priya Abani, Amazon's director of AVS enablement. 'We basically envision a [dystopian corporate hellscape] world where Alexa is everywhere'" [Wired]. And listening precedes talking, right?
Tech: "You Will No Longer Lease a Car. You Will Subscribe to It" [Slate]. "The biggest difference [between a lease and a subscription] is the time frame: Rather than being tied to a years' long lease, subscriptions give you the ability to "own" a car on a month-to-month basis. You could theoretically not have a car for 10 months of the year when you're working and using public transit and then get a car subscription for two months when you'll be traveling more often…. Car subscriptions" appear to be a clear bid to garner favor with tech-savvy millennials in busy metropolitan areas…."
Mr. Market: "After Dow 25,000, the Party Has to End. But When?" [New York Times]. "There wasn't a single day last year when the S.&P. 500 fluctuated more than 2 percent, a level of low volatility unseen since the mid-1960s, according to James Stack, a market historian and president of InvesTech Research…. 'Most bull markets die by the sword of the Fed,' Mr. Stack said."
Honey for the Bears: "This is where we are." [The Reformed Broker]. On Ripple: "To recap, someone wrote a piece of software code, called it a currency, and people invested hundreds of billions of dollars into it, making him one of the richest people on earth virtually overnight. The 'currency' is not currently in use as anything other than a tradable asset on unregulated exchanges, nor is it decentralized in the way that Bitcoin is – it is centrally owned and controlled by the software company that created it. So basically, it's an American Express gift card with none of the reliability or utility and 10,000% the volatility…. You can shut your eyes and pretend that your fellow investors aren't losing their minds, or you can be situationally aware and remember how periods like these have ended throughout market history."
Honey for the Bears: "How a Secretive Conclave Decides When U.S. Recessions Happen" [Bloomberg]. Why do I need to know this?
Five Horseman: "Amazon blew the top off last week's chart, as Microsoft, Facebook and Alphabet chase it higher" [Hat tip, Jim Haygood].
Rapture Index: Closes unchanged [Rapture Ready]. Record High, October 10, 2016: 189. Current: 188.
Today's Fear & Greed Index: 74 Greed (previous close: 75, Greed) [CNN]. One week ago: 53 (Neutral). (0 is Extreme Fear; 100 is Extreme Greed. Last updated Jan 8 at 11:37am.
Imperial Collapse Watch
"Why Did New York's JFK Airport Struggle to Cope With Its Flight Backlog After the Bomb Cyclone?" [Points Guy]. "JFK is a bit of an oddity in terms of terminal operations — the six passenger terminals all operate independently, with absolutely no cooperation of any sort. Essentially, each terminal at JFK is its own little fiefdom with separate operations, management and employees…. An airport cannot function properly when divided into six mini airports without even a modicum of cooperation. When it became clear that terminals were becoming overwhelmed, the Port Authority should have quickly stepped in to manage its airport, forcing terminal operators to work together and providing options for stranded passengers to get off aircraft in a reasonable time span. Unfortunately, it waited an entire day to take any action."
Class Warfare
"How the Sausage Gets Made: The Hidden Work of Content" [A List Apart]. "I won an Emmy for keeping a website free of dick pics." Moving data is hard. Surprise!
"All Worked Up and Nowhere to Go" [Amber A'Lee Frost, The Baffler]. Frost was involved in a Twitter dust-up, so I thought I'd l'd look at some of her work; this in analysis of the women's "General Strike."
"Wobblies of the World, Unite" [Jacobin]. "The IWW inspired activists in the Ghadr movement, which sought Indian independence from the British Empire. Its members interacted with Chinese republican revolutionaries led by Sun Yat-sen and the anarchists of the Partido Liberal Mexicano as well as its hero, Emiliano Zapata. Its ranks included everyone from socialist tribune Eugene Debs to Ghadr movement leader Pandurang Khankhoje to border-hopping migrant laborers in the American Southwest."
"The Sioux City free speech fight, 1915" [libcom.org]. "[T]he immediate problem in Sioux City was unemployment relief. While the citizens of Sioux City debated the merits and disadvantages of various relief plans, the unemployed went hungry–especially after timid citizens withdrew their contributions to the IWW soup line. The IWW preached direct action, and it was time to practice what it preached. On January 5, a delegation of 150 of Sioux City's hungry invaded the posh Commercial Club, much to the astonishment of the town's businessmen, and demanded work."
News of the Wired
"A Neuroscientist Explores the 'Sanskrit Effect'" [Scientific American]. "India's Vedic Sanskrit pandits train for years to orally memorize and exactly recite 3,000-year old oral texts ranging from 40,000 to over 100,000 words. We wanted to find out how such intense verbal memory training affects the physical structure of their brains."
"Fifty psychological and psychiatric terms to avoid: a list of inaccurate, misleading, misused, ambiguous, and logically confused words and phrases" [National Library of Medicine]. "Our list of 50 terms, grouped into the five aforementioned categories and presented in alphabetical order within each category, follows…. (1) A gene for… (2) Antidepressant medication…. (3) Autism epidemic…. (50) Neurocognition…." Plenty of food for thought here!
"Albert Hofmann discovers the effects of LSD" [Lapham's Quarterly]. The famous bicycle ride….
"Is everything you think you know about depression wrong?" [Guardian]. "The grief exception seemed to have blasted a hole in the claim that the causes of depression are sealed away in your skull. It suggested that there are causes out here, in the world, and they needed to be investigated and solved there. This was a debate that mainstream psychiatry (with some exceptions) did not want to have. So, they responded in a simple way – by whittling away the grief exception. With each new edition of the manual they reduced the period of grief that you were allowed before being labelled mentally ill – down to a few months and then, finally, to nothing at all. Now, if your baby dies at 10am, your doctor can diagnose you with a mental illness at 10.01am and start drugging you straight away."
"Woman's moving final letter goes viral after her death at age 27" [New.com (KW)]. Carpe diem…
"Kevin Short, a towering figure in West Hollywood known as WeHo Jesus, dies at 57" [Los Angeles Times]. Just a sweet story….
"[VIDEO/PHOTOS] It's International Silly Walk Day" [Punch]. "Over 250 people joined the march in Brno, Czech Republic, organised by Adam Jandora, Deputy of the Left Leg Department of the Ministry of Silly Walk; and Dan Masek, Secretary of the Government Committee for the National Silly Walk Integration."
* * *
Readers, feel free to contact me at lambert [UNDERSCORE] strether [DOT] corrente [AT] yahoo [DOT] com, with (a) links, and even better (b) sources I should curate regularly, (c) how to send me a check if you are allergic to PayPal, and (d) to find out how to send me images of plants. Vegetables are fine! Fungi are deemed to be honorary plants! If you want your handle to appear as a credit, pleas s e place it at the start of your mail in parentheses: (thus). Otherwise, I will anonymize by using your initials. See the previous Water Cooler (with plant) here. Today's plant: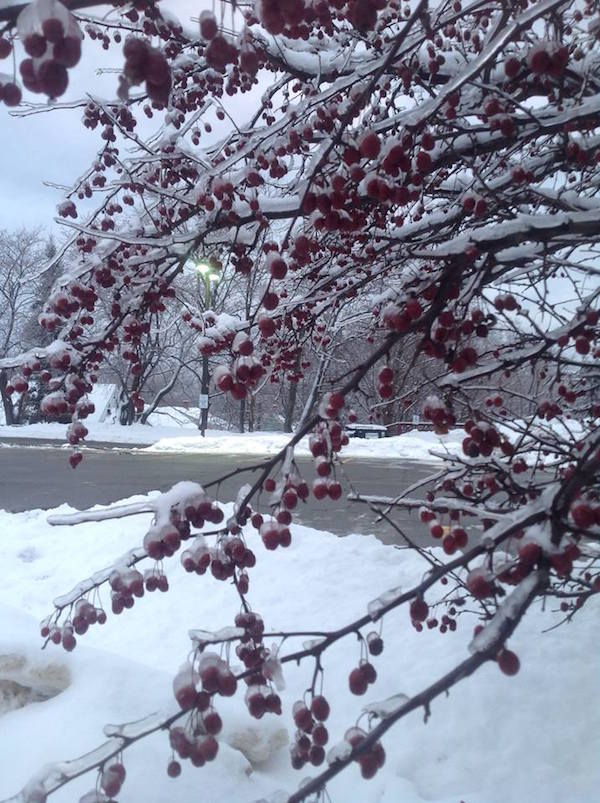 Winterberries from an ice storm, some years ago….
* * *
Readers: Water Cooler is a standalone entity not covered by the NC fundraiser. So do feel free to use the dropdown and click the hat to make a contribution today or any day. Here is why: Regular positive feedback both makes me feel good and lets me know I'm on the right track with coverage. When I get no donations for five or ten days I get worried. More tangibly, a constant trickle of small donations helps me with expenses, and I factor that trickle in when setting fundraising goals. So if you see something you especially appreciate, do feel free to click the hat!