By Lambert Strether of Corrente.
Our mini-fundraiser for Water Cooler is on! As of this hour, 67 donors — our goal is 275 –have already invested to support Water Cooler, which provides both economic and political coverage, to help us all keep our footing in today's torrent of propaganda and sheer bullsh*t. Independent funding is key to having an independent editorial point of view. Please join us and participate via Lambert's Water Cooler Tip Jar, which shows how to give via check, credit card, debit card, PayPal, or even the US mail. To give more, click on the arrow heads to the right of the amount. Thank you all so much!
Trade
"Huge Break for Auto Companies as China Removes Ownership Caps" [Industry Week]. "China will let foreign automakers from Volkswagen AG to Ford Motor Co. own more than 50% of local ventures, removing a two-decade restriction and giving a boost to global companies seeking to capture a greater share of the world's largest car market. The move may help diffuse tensions between China and the U.S. after President Donald Trump's intensified rhetoric risked an all-out trade war… China's announcement comes on the heels of a similar move for the financial industry last week."
"'While Japan and South Korea would like us to go back into TPP, I don't like the deal for the United States. Too many contingencies and no way to get out if it doesn't work. Bilateral deals are far more efficient, profitable and better for OUR workers. Look how bad WTO is to U.S.,' Trump wrote" [Politico]. "It's unclear why Trump mentioned South Korea since the country was not a participant in TPP negotiations and is not a member of the agreement among the 11 remaining participating countries. It's also unclear what Trump meant when he said there was no way to get out of the deal as Article 30.6 of the final agreement established a withdrawal process similar to what is in NAFTA." By "wrote" we mean "tweeted"….
"The souring U.S.-China trade relations are reaching deeper into technology supply chains. New orders from the U.S. and the U.K. barring companies in those countries from dealing with ZTE Corp. will affect a wide range of buyers and suppliers…, while escalating a broader battle about trade and economic policy playing out on the international stage" [Wall Street Journal].
Politics
2020
"Bernie Sanders introduces bill to impose jail time for execs behind opioid crisis" [STAT]. "The legislation would impose a 10-year minimum prison sentence and fines equal to an executive's compensation package if the individual's company is found to have illegally contributed to the opioid crisis. It would also impose an additional fine on those companies of $7.8 billion — one-tenth the annual cost of the crisis, per a 2016 estimate…. The bill outlined a number of mechanisms by which the Department of Health and Human Services could demonstrate such liability, including by mandating written justifications for pill orders that seem medically unreasonable."

Cardi B:

Cardi B is right. If we are really going to make America great we need to strengthen Social Security so that seniors are able to retire with the dignity they deserve. https://t.co/B8cOkoOdLc

— Bernie Sanders (@SenSanders) April 18, 2018
2018 Midterms
MN-08: "Former ICE agent Leah Phifer fought former state Rep. Joe Radinovich, a former campaign manager for outgoing Rep. Rick Nolan, to a draw for the DFL endorsement after a 10-hour battle at the party convention on Saturday, even though Radinovich had Nolan's support and is the favored candidate of Democrats in Washington" [Inside Elections]. How the handicappers summarized it; see alert reader UserFriendly here. NOTE: If readers will stick to e.g,, "MN-08", and not "MN-8," it will be easier for me find their comments. I used two digits for all the district numbers to get them to align nicely, hence the leading zero. Thank you!

"The newest FEC filings spell danger for Republicans. In the most recent fundraising period, Democrats outraised Republicans in at least 60 GOP-held seats, more than twice the 23 seats Democrats need for a majority. Meanwhile, the reverse is true in just five Democratic-held seats. That's going to force the NRCC and Congressional Leadership Fund to bail out a lot of cash-strapped GOP candidates come the fall" [Charles Cook, Cook Political Report]. Somehow, I don't think money will be a problem for the Republicans…
2016 Post Morterm
"Clinton allies seethe with rage at Comey" [The Hill]. Why? Because he's going on a book tour?
New Cold War
"Q&A: Lawyer behind Hannity revelation at Cohen hearing speaks" (interview) [Columbia Journalism Review]. This is quite dramatic: "Rob Balin, a media lawyer at Davis Wright Tremaine, is the reason we know that Sean Hannity was Trump lawyer Michael Cohen's secret client. Balin attended the Monday hearing in Southern District Court in Manhattan… When it seemed the judge would keep the client's identity under seal, Then, with the court's permission, he approached the podium and argued that the client's identity should be disclosed publicly… Cohen's attorneys failed to offer a persuasive counterargument, and ultimately Judge Kimba Wood ordered them to disclose publicly the secret client's identity. And when they did, Hannity's name drew a chorus of gasps from the gallery." Hmm.
Realignment and Legitimacy
"Automatic Voter Registration Goes Beyond the DMV" [Governing]. "Automatic voter registration typically happens when people apply for or renew a driver's license. But four of the last five laws of this kind either require or open the door for people to be automatically registered to vote when they interact with government in other ways…. While the expansion of automatic voter registration to reach disenfranchised groups is new, federal law already required a broad range of agencies to help register people to vote for much the same reason. In 1993, Congress passed the National Voter Registration Act, commonly referred to as the "Motor Voter" law because it requires motor vehicle offices to offer voter registration services. Congress also included a provision to ensure that low-income people who were less likely to get driver's licenses still had voter registration opportunities. In recent years, voting rights groups have sometimes sued states on the grounds that public assistance agencies were not informing citizens about their voter registration rights. The other states that have either implemented or are in the process of implementing automatic voter registration are: Alaska, California, Colorado, Georgia, Vermont, Washington and West Virginia."

"#MeToo, Social Media, and Keeping an Eye on the Big Picture" [Charles Cook, Cook Political Report]. "[Republican consultant Bruce Mehlman's] use of the #MeToo movement as an example of technology increasing the velocity and power of a timely message brought to mind a question: Why did the #MeToo movement occur in 2017, with Donald Trump part of the story, and not, say, in 1997 with President Clinton? No question the Bill Cosby allegations played a large role in driving this story, and Harvey Weinstein built it up as well; the field was fertile for this outgrowth of anger over a major societal problem. But it is hard to deny that there is a bit of selective outrage taking place. Inappropriate behavior is inappropriate behavior no matter which political party or ideology the offender belongs to; technology just spreads the outrage much faster than it used to. Women's groups, Democrats, and liberals who have been so outraged by some of the behavior that Trump has been accused of (pre-presidency, it should be noted), were mostly silent when Bill Clinton's alleged actions—and I am not just talking about Monica Lewinsky—were called into question…. But it isn't fair to chalk this up entirely to hypocrisy, even though that's part of it. It's been suggested that 20 years ago, mass communications were far more controlled by the mainstream media, Hollywood, and political parties than today—all institutions that turned out to have long had real #MeToo issues. Now, as Mehlman points out, anyone can be a witness, a publisher, and an activist, so things are far more small-'d' democratic than they were then. Lids don't stay clamped down and victims don't remain as silent as they used to." Cook seems to be assuming that hashtag activism is opposed to the mainstream media, as opposed to being part of it. That seems odd.

Wowsers:

I love catching an insanely bad, tone-deaf tweet before the inevitable deletion pic.twitter.com/7ccXcj2gqi

— The Discourse Lover (@Trillburne) April 18, 2018

"Rest in power" tends to be used on Black Twitter for black activists or leaders who have died, or young black men who have been shot. So appropriating it is pretty crass. And I'm already tired of the Barbara Bush hagiography.
Stats Watch
Architectural Billings: "The American Institute of Architects (AIA) today reported that architecture firm billings rose for the sixth consecutive month in March, although the pace of growth slowed modestly from February" [American Institute of Architects]. "Overall, the AIA's Architecture Billings Index (ABI) score for March was 51.0 (any score over 50 indicates billings growth), which still reflects a healthy business environment. While business conditions softened somewhat at firms located in the Northeast region, billings remained strong at firms located in the South and West regions…. The Architecture Billings Index (ABI), produced by the AIA Economics & Market Research Group, is a leading economic indicator that provides an approximately nine to twelve month glimpse into the future of nonresidential construction spending activity.
Housing Starts: "Must be some tax thing driving multifamily last month" [Mosler Economics]. "Must be." Nobody knows anything…
Shipping: "Russia agrees to extend rights of US carriers to use its airspace" [The Loadstar]. "Russia's ministry of transport has agreed on an extension to overflight rights for US carriers, after cancelling a meeting last week with the US State Department. The approval was given just hours before US carriers would have had to re-route flights."
The Bezzle: "Supreme Court Not Sold on Ending Online Sales Tax Ban" [Governing]. "South Dakota Attorney General Marty Jackley came to the U.S. Supreme Court Tuesday, backed by the attorneys general in 42 other states, on a mission to overturn a 26-year-old decision that prevents states from collecting taxes on online sales. But the court's nine justices quickly made clear that it would not be an easy sell. Jackley had barely begun explaining that states were losing massive amounts of money and small businesses were being harmed by the 1992 case Quill Corp. v. North Dakota before Justice Sonia Sotomayor interrupted. 'I'm concerned about the many unanswered questions that overturning precedents will create a massive amount of lawsuits about,' she said."
The Bezzle: "Sweeping aside more than two decades of sales tax law may not be so easy. Several U.S. Supreme Court justices appeared reluctant to overturn pre-internet precedent exempting many online merchants from collecting sales taxes… despite broad agreement the explosive growth of e-commerce has made the rule 'obsolete'" [Wall Street Journal]. "Chief Justice John Roberts says the problem is fading as more online retailers set up physical shops, suggesting the court may not have to take any action at all." Which the online retailers are doing, of course, with the capital they accumulated by evading state sales taxes! Balzac wrote: "The secret of a great success for which you are at a loss to account is a crime that has never been found out, because it was properly executed" (paraphrased as "behind every fortune there is a great crime." But it looks Roberts wants to update the paraphrased Balzac: "Behind every great fortune is regulatory arbitrage, retroactively legalized."
The Bezzle: "Tesla Switching To 24/7 Shifts To Push For 6,000 Model 3s Per Week By June, Elon Musk Says" [Jalopnik]. From Musk's email: "A major source of issues is poor communication between depts. The way to solve this is allow free flow of information between all levels. If, in order to get something done between depts, an individual contributor has to talk to their manager, who talks to a director, who talks to a VP, who talks to another VP, who talks to a director, who talks to a manager, who talks to someone doing the actual work, then super dumb things will happen. It must be ok for people to talk directly and just make the right thing happen." Worth reading in full. I guess we'll see on the numbers.
Infrastructure: "Trump's highly touted infrastructure dream nixed for this year" [Logistics Management]. "If promises were concrete and asphalt, this country would have the world class infrastructure that President Donald Trump keeps talking about. Unfortunately, it takes careful planning, political will and, most importantly, billions of dollars. All those characteristics are in short supply in the Trump administration. Infrastructure is an early casualty of Washington's fixation on the November mid-term elections. Retiring House Speaker Paul Ryan, R-Wis., Senate Majority Leader Mitch McConnell, R-Ky., and others are signaling that Trump's $200 billion federal infrastructure plan is all but dead for this year. Even Trump admits infrastructure is dead until 2019—or maybe forever. He has been talking about infrastructure improvements for at least three years since the early days of his candidacy, often calling U.S. roads and bridges akin to 'a Third World country.' 'I don't think you're going to get Democrat support very much,' Trump said in Ohio recently, before adding: 'And you'll probably have to wait until after the election, which isn't so long down the road. But we're going to get this infrastructure going.'" Well… U.S. infrastructure is Third World. That's a problem. But Trump's Public-Private Partnership solution is horrid. Fortunately, liberal Democrats have stepped up and…. Oh, why do I even bother?
Fodder for the Bulls: "Freight demand remains strong as manufacturing and construction activity picks up" [Freight Waves]. "Overall, the results from this month fall in line with much of what we've been seeing in the 1st throughout the 1st quarter. Quarterly industrial production growth was slower in the 1st quarter compared to the 4th quarter, but still healthy in a broader sense. The past couple of quarters yielded the strongest consecutive quarters of growth since the early stages of the recovery from recession even with the slowing in the 1st quarter, and most of the fundamentals for strong manufacturing are in place for strong growth going forward. Similarly for housing starts, growth in the 1st quarter wasn't as strong as the 4th quarter of 2017, but was still above average compared to post-recession history. After factoring in the odd weather patterns, there doesn't seem to be too much cause for alarm in terms of the outlook for construction."
Fodder for the Bulls: "World Economic Outlook, April 2018: Cyclical Upswing, Structural Change" [International Monetary Fund] (full report). Via 247 Wall Street: "In the United States, financial conditions could tighten faster than expected …. Tighter financial conditions in the United States would have spillovers to other economies, including through a reduction in capital flows to emerging markets. Very expansionary fiscal policy in the United States, at a time when the current account deficit is already larger than justified by fundamentals, combined with persistent excess current account surpluses in other countries, is projected to widen global imbalances. … Similarly, changes in US tax policies are expected to exacerbate income polarization, which could affect the political climate for policy choices in the future."
Fodder for the Bulls: "Supporting Strong, Steady, and Sustainable Growth" [John C. Williams, Federal Reserve Bank of San Francisco]. "Recessions don't happen because a timer goes off. Research shows that the odds of going into a recession are the same whether you're in the seventh, eighth, or ninth year of the expansion (Rudebusch 2016). Instead, recessions generally happen because of some big event: the housing crash of a decade ago or the bursting of the dot-com bubble in the early 2000s. These kinds of events are notoriously hard to predict, and the recessions that often follow don't happen because the business cycle has a time limit on it. Given that the current pace of growth is above trend, my view is that we need to continue on the path of raising interest rates. This will keep things on an even footing and reduce the risk of us getting to a point where the economy could overheat, and create problems that could end badly." And then there's this:
despite the rampant innovations we're seeing around us, especially in the Bay Area—robots delivering take-out, driverless cars, and Alexa in every living room—these aren't yet translating into rapid gains in productivity growth. To give some context, in the 1990s and early 2000s, annual productivity gains in the United States averaged 2 to 3 percent. By contrast, productivity gains over the past decade have averaged only about 1 percent per year.
Federal Reserve Bank of San Francisco, remember. Williams just throws out this observation, and says nothing more about it. Why?
Five Horsemen: "Facebook remains the runt of the Fab Five litter, unable to catch up with the S&P 500 index" [Hat Tip, Jim Haygood].
NakedCap Mania-Panic Index: "The mania-panic index advances to 53 (complacency) after yesterday's stock market gain" [Hat Tip, Jim Haygood]. (The NakedCap mania-panic index is an equally-weighted average of seven technical indicators derived from stock indexes, volatility (VIX), Treasuries, junk bonds, equity options, and internal measures of new highs vs new lows and up volume vs down volume … each converted to a scale of 0 to 100 before averaging, using thirty years of history for five of the seven series.)
Facebook Fracas
Lambert here: Why is there no Google Mishegoss? I don't see a dime's worth of difference between the two companies in terms of behavior. Just spitballilng here, but It's almost like Google is politically wired in a way that Facebook is not.
Gaia
"Flying insects tell tales of long-distance migrations" [Science Daily (DG)] "Insects rule the migratory world by virtue of their sheer numbers. Compared with birds, mammals and other migratory animals, insects are by far the most numerous. Roughly 3.5 trillion migrate each year over just the southern United Kingdom, a 2016 radar study suggested (SN: 2/4/17, p. 12). That means that the majority of land migrations are made by insects." Fascinating article. How little we know! Another example, also on insects–
"In Conversation: Isabella Rossellini" [Vulture]. Rossellini: "[Menno Schilthuizen,] who I'll be with in discussion tonight at the New York Public Library, he talks about mosquitoes in the subways of London. The ones that live underground are their own species, and they have created different populations from station to station. They don't travel on the trains; they remain at their own stations. And the ones that live in stations that are outside reproduce during the spring like most animals, but because they are in the dark, the ones that live in the underground stations reproduce all the time. They've lost their reproductive cycles. This evolution is interesting, isn't it?" (That link to Schilthuizen is interesting, too, especially if you're a New Yorker.)
Class Warfare
"Contracted Hospital Workers Win Job Security" [Labor Notes]. "For the first time in 15 years, 4,000 subcontracted hospital housekeepers and dietary workers in British Columbia have job security. They won that peace of mind by pulling off a series of escalating actions on the job…. Five hundred members participated in these marches, at the 25 largest hospital worksites. For many, it was their first time participating in a collective action on the job. 'I spent the week before talking to my co-workers one on one,' said Clarissa Hicap, a housekeeper at Vancouver General Hospital and a bargainer with Compass. Still, she was nervous on the march to the Compass office. "I beat the hand drum I'd brought from home with every step we took," she recalled. 'When I looked behind me, I saw at least 70 of my co-workers had joined in the march!' Workers say these marches changed the dynamics on the job." Funny how marches in [genuflects] "the streets" are well-known and don't work, but marches in the workplace are unheard of, and do work. I also heard of drums being used with success when I was at our London Meetup last year, amazingly enough.
"We Know How Poverty Hurts Children. It's Time to Intervene." [The Incidental Economist]. "Though the impact of tax credits and parenting programs for disadvantaged moms are well known, there is a major gap in understanding the short and long-term impacts of interventions that fuse financial support with parenting supports. This is why I find a program like Room to Grow so compelling. Mothers in the Room to Grow program form a relationship with a clinician—a social worker who meets with them every three months and stays in contact over the course of three years. During in-person visits, mothers like Cara work with their clinician to set goals, work through obstacles, and learn about their child's needs and developmental milestones. At each visit, mothers also receive that help meet their needs for the particular phase of their baby's development—over the course of 3 years, she receives $10,000 worth of in-kind support." "Concrete material." Ha.
"The Decline in Manufacturing Jobs: Not Necessarily a Cause for Concern" [IMF Blog]. "The decline in manufacturing jobs is often met with anxiety. People are concerned that a smaller manufacturing sector implies slower economic growth and a scarcity of well-paying jobs for low- and middle-skilled workers—contributing to worsening inequality. In Chapter 3 of the April 2018 World Economic Outlook, we revisit the evidence supporting those beliefs and find that the declining share of manufacturing jobs need not hurt growth or raise inequality, provided the right policies are in place." Assume a right policy… More: "Barriers to international trade in services—which are much higher than for goods—should be reduced so that the expansion of highly-productive service sectors is not constrained by the growth of domestic demand." Wait, what? From the article, it seems like protectionism is working! More: " Policies should also ensure that workers' skills are aligned with those needed in the more tradable service subsectors—such as financial and business services. And in many emerging market and developing countries where productivity remains anemic in all sectors, a comprehensive approach is needed to unlock productivity growth across the board, including by strengthening human capital and physical infrastructure, as well as improving the business and investment climate." "A comprehensive approach…" I know! Austerity!
"Socioeconomic group classification based on user features" (PDF) [Pub No: US 2018/0032881 A1, USPTO]. A three-tier classification: "Upper", "Middle," 'Working."
News of The Wired
"Decades-Old Graph Problem Yields to Amateur Mathematician" [Quanta]. "It is unusual, but not unheard of, for an amateur mathematician to make significant progress on a long-standing open problem. In the 1970s, Marjorie Rice, a homemaker with no mathematical background, ran across a Scientific American column about pentagons that tile the plane. She eventually added four new pentagons to the list." Personally, I think human creativity is vast and untapped. I can't find the link, but I seem to recall somebody who discovered a new species of amphibian (??) while living in a trailer.
* * *
Readers, feel free to contact me at lambert [UNDERSCORE] strether [DOT] corrente [AT] yahoo [DOT] com, with (a) links, and even better (b) sources I should curate regularly, (c) how to send me a check if you are allergic to PayPal, and (d) to find out how to send me images of plants. Vegetables are fine! Fungi are deemed to be honorary plants! If you want your handle to appear as a credit, please place it at the start of your mail in parentheses: (thus). Otherwise, I will anonymize by using your initials. See the previous Water Cooler (with plant) here. Today's plant (AM):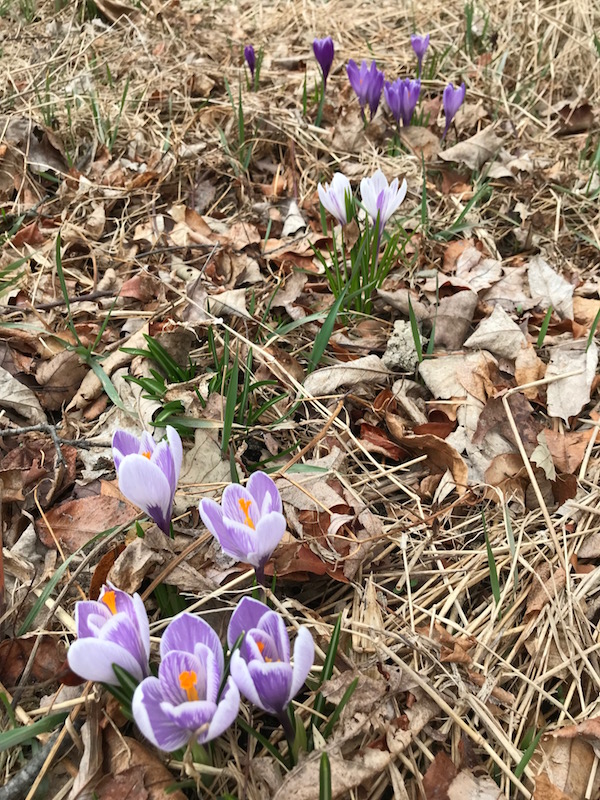 AM writes: "Spring is springing in Rehoboth, Massachusetts!" It's nice to realize that a reader has gone through the seasonal cycle in photographs.
* * *
Readers: Water Cooler is a standalone entity not covered by the NC fundraiser. So do feel free to use the dropdown and click the hat to make a contribution today or any day. Here is why: Regular positive feedback both makes me feel good and lets me know I'm on the right track with coverage. When I get no donations for five or ten days I get worried. More tangibly, a constant trickle of small donations helps me with expenses, and I factor that trickle in when setting fundraising goals. So if you see something you especially appreciate, do feel free to click the hat!

To give more, click on the arrow heads to the right of the amount.
If you hate PayPal — even though you can use a credit card or debit card on PayPal — you can email me at lambert [UNDERSCORE] strether [DOT] corrente [AT] yahoo [DOT] com, and I will give you directions on how to send a check.