By Lambert Strether of Corrente.
Trade
"Trump announces tariffs on $50 billion worth of Chinese goods" [CNN]. "The United States will impose a 25% tariff on $50 billion of Chinese exports, the president said early Friday. China vowed to retaliate immediately and said the United States had 'launched a trade war.' The US penalty is designed to punish China for stealing American technology and trade secrets. It will apply to roughly 1,100 exports and will target the Chinese aerospace, robotics, manufacturing and auto industries…. US customs agents will begin collecting the duties on July 6, the administration said… China also said it would scrap promises to purchase more US goods. Those pledges came during negotiations with US trade officials last month…. American companies will be allowed to apply for an exemption from the tariff. The administration will outline the exemption process in coming weeks, a senior administration official told reporters…. The president gave the green light after a meeting Thursday with top economic officials, including Treasury Secretary Steven Mnuchin, Commerce Secretary Wilbur Ross and US Trade Representative Robert Lighthizer."
"China MOC spokesperson's remarks on U.S. tariff announcement" [Xinhua]. Statement from China's Ministry of Commerce (MOC): "We will immediately take tariff measures of the same scale and intensity. All economic and trade outcomes of previous talks will now lose effect."
"On Eve of China Tariff List Release, Does Trump Administration Have a Coherent Strategy to Deal With China Trade Deficit?" (PDF) [Lori Wallach, Public Citizen]. "What the American public needs to know is whether this administration has a coherent strategy to address our long-term and massive structural trade deficits with China that have wiped out 3.4 million American jobs since 2001 and how these tariffs fit into that strategy" [***cough*** industrial policy ***cough***]…. It remains to be seen if the administration even will follow through on this enforcement action, given that the administration already caved in once, and Treasury Secretary Steve Mnuchin and Commerce Secretary Wilbur Ross are pursuing a tactic – which has failed repeatedly in the past – of seeking promises of short-term deals for China to buy more U.S. goods instead of addressing the underlying unfair Chinese trade policies…. President Trump's endless and outrageous insults and histrionics cannot distract from the reality that to date he has miserably failed to deliver on his China trade promises. Our trade deficit with China has grown considerably since Trump was elected, and American job outsourcing continues and will intensify given that his tax scam was packed with incentives to relocate U.S. production offshore. It would be great if Trump had lined up the rest of the world to take on Beijing for its litany of unfair trade practices and suppression of democracy and independent unions*, but that's the stuff of wishful thinking. Now the question is whether the tariffs being announced will even be enacted and, after 3.4 million American jobs have been lost to unfair China trade since 2001, the tariffs are part of a coherent strategy to address the underlying Chinese policies causing the massive structural trade deficit." NOTE * If, when the neoliberals moved our industrial base to China, they had simultaneously boosted China's unions, we might be looking at a different and better world.
"Tariffs present different global supply chain situations for shippers" [Logistics Management]. "For more than a while now, there has been a general consensus of 'we will see what happens' among global supply chain, logistics and freight transportation stakeholders, when it comes to what actually happens, or what the eventual fall out will or would be as a result of the tariffs the United States planned to place on Chinese imports to the United States. Well, that time is now officially here… And Panjiva research director Chris Rogers noted that despite the back and forth between the U.S. and China regarding tariffs and related protectionist measures, things overall are in a pretty decent place, as it relates to global trade. 'One could argue that the mixture of nervousness, coupled with sensible supply chain strategies, could lead to less growth,' he said. 'But things are a long ways from not growing as much as in the past, as opposed to [shipment levels] actually falling. It is possibly a sign of more to come, with signs of a summer slowdown, much like what has occurred over the past two years.' It's a brave new trade world now, and it looks like it will be quite the ride."
"Stock market sees China tariffs as a 'buzzkill' and falling as if a genuine trade war just erupted" [MarketWatch]. Mr. Market has a sad. "[T]he threat of tariffs has been a major bugaboo for investors because it introduces an element of uncertainty that typically rattles investors. It also can dent economic expansion, even if Friday's levies were relatively tiny in the scheme of the economic powers at loggerheads."
Politics
2020
"Swarens: Here's why Donald Trump may win a second term" [Indianapolis Star]. "The factors that drove middle of America voters to back an unpredictable, often erratic billionaire from Manhattan are explored in a new book by journalist Salena Zito and Republican advertising executive [!!] Brad Todd…. Zito was a Pittsburgh-based political reporter in July 2016 when she set out to visit every county in Pennsylvania…. 'People are still scratching their heads about why people voted for Donald Trump,' Jonathan Kochie, in Freeland, Pa., said in the book. 'Well, here is the thing: we voted for ourselves, and that is the thing they missed. That is the thing they still miss. I turn on the television and they talk about how he brags, or this or that about him, and they still don't talk to us. They still don't hear us. They still don't get us. We are a part of America too, and we are a part of America that wants to be part of something that takes everyone forward. Takes us all together.'" That word "we" is always so tricky, isn't it?

"How Bernie Sanders Evolved on Criminal Justice Reform" [The Intercept]. This is well worth a read, especially for how Sanders interacted with the activists.
2018
"Dems' Fate in November May Ride on Female Turnout" [RealClearPolitics]. "Party strategists are convinced, once again, that female voters will turn out to the polls because of the record number of women running for office. More than 300 Democratic women have thrown their hats in the ring to run for Congress. In a recent NBC/WSJ poll conducted by Democratic pollster Peter Hart, voters were asked how a woman on the ballot might influence their vote. About one-fourth of the respondents said it made them more enthusiastic to vote for that person if the candidate is a woman, while 44 percent stated it made no difference. This suggests that it's simply not enough to put a woman on the ticket to win. "Party always beats gender," said Karlyn Bowman, a senior fellow at the American Enterprise Institute."

Senate: "Big Stakes and Small Margins in Battle for the Senate" [Charles Cook, Cook Political Report]. "But looking at the assortment of lightly populated states with very competitive Senate races—like Montana, Nevada, North Dakota, and West Virginia—we could easily see control of the Senate turn on fewer than 100,000 votes…. The bottom line is that elections are complicated. How much governing responsibility will Democrats have in 2020, and whom do they nominate? How is the economy doing? What will come of these Trump investigations? No single one of these questions, but all of them combined, will dictate the results." The future lies ahead!

WV Senate: "Manchin Touts Border Wall Vote in Bid for Trump Fans" [Bloomberg]. Attaboy.

VA Senate: "Koch-backed Americans for Prosperity to sit out Virginia Senate race" [Daily Progress]. "But [Americans for Prosperity's] decision to withhold that support is the latest sign that the powerful network of wealthy donors and well-connected conservative activists is seeking to strike a more independent tone this election, after years of being closely intertwined with Republican campaigns and causes." Well, the Kochs did fund the DLC. So maybe they're going to flip!

TX-32: "TX-32: Sessions Moves from Lean Republican to Toss Up" [Cook Political Report] (TX-32 is on our worksheet.) "Multiple Republican operatives familiar with Texas polling data are convinced GOP Rep. Pete Sessions (TX-32) is, at the moment, the most vulnerable incumbent in the Lone Star State. The powerful House Rules Committee chair's rapidly moderating Dallas district voted for Hillary Clinton 48 percent to 47 percent in 2016. … Moreover, Democrats' nominee offers a stark contrast to Sessions. In late May, civil rights attorney Colin Allred won the Democratic runoff with 70 percent of the vote. Allred was a star linebacker at Dallas's Hillcrest High School and went on to play for Baylor University and four seasons on special teams for the Tennessee Titans. Allred, a 35 year old African-American, is 28 years younger than the 11-term incumbent. Allred raised $1 million for the primary phase and will highlight his life story… Democrats view Allred's profile as symbolic of this that is almost 50 percent non-white…. Sessions had $1.5 million on hand at the end of March and as a former NRCC chair, he won't lack for money." Allred is DCCC-backed, supports Medicare buy-in, worked for Perkins Coie.

ME: "Waiting game drags on as Maine adjusts to ranked-choice voting" [Bangor Daily News]. "Drip. Drip. Drip. That's the sound of election results trickling in from far-off corners in Maine. This was one of the toughest elections in recent memory to get election results from cities and towns, some of which were delayed by ranked-choice voting." Didn't I say the political class would start whinging about this? So Ranked Choice Voting makes it harder to file "first past the post" horserace stories. I'm playing the world's smallest violin.
2016 Post Mortem
Forgotten nothing, learned nothing:

But my emails. https://t.co/G7TIWDEG0p

— Hillary Clinton (@HillaryClinton) June 14, 2018

But your server, half of which you erased before turning it over to the FBI.

UPDATE "Did Comey Cost Clinton the Election? Why We'll Never Know" [New York Times]. "Mr. Comey's letter came about one week after the third presidential debate and less than two weeks before Election Day. At that time, most polling averages showed Mrs. Clinton ahead by around six percentage points in national polls. A week later, her lead had declined to three points… It's a plausible case, but there's a problem: Mrs. Clinton's support was probably already in decline before the Comey letter. This decline makes it harder to claim definitively that Mr. Comey's letter was responsible for any subsequent decline. The trends leading to Mrs. Clinton's defeat — in particular, Mr. Trump's consolidation of hesitant Republican support — may have already been underway. The ABC/Washington Post tracking poll, for instance, showed Mrs. Clinton's lead dwindling to just two points in its last poll before the letter, down from a double-digit lead after the third debate. One of our own polls — a collaboration with Siena College — showed Mr. Trump leading in Florida in the days before the letter. No live interview poll had shown Mr. Trump with such a large lead in Florida since early July. Some polling analysis has treated these two surveys as evidence of a Comey effect, because they showed Mrs. Clinton's lead slipping, and they were released after the letter. But all of the survey interviews were completed before the letter was public, even if the results were released after. The letter could not have affected either result." Absent some form of political quantum entanglement — and granted, in the 2016 election, anything was possible — cause precedes effect. So perhaps ClintonWorld needs a collective look in the mirror before they attain "psychic relief."
Realignment and Legitimacy
"Seizing Children From Parents at the Border Is Immoral. Here's What We Can Do About It." [Editorial Board, New York Times]. "The proposed Fair Day in Court for Kids Act would require the government to appoint counsel to unaccompanied children, and it's important to ask Congress to support its passage. Until then, there are several nonprofits providing vital free legal aid that need financial support." So that is the policy proposal and not, say, abolishing ICE. Alrighty then.

Meanwhile, far away from "the border," in the interior:

Here is a clip from and the full report if you would like to look through it. There are a lot more points brought up. (70 of them to be exact). https://t.co/xQ1A6ZO7iv pic.twitter.com/rQqYHq5N1h

— Lumpy Louise, Squasher of Donuts ?? (@LumpyLouish) June 14, 2018

UPDATE Who kidnapped Peter Daou?!

— Matt Read (@Matt_Read_NZ) June 14, 2018

What a strange year…

UPDATE "Is Durham a union town? Labor groups hope so." [Herald-Sun]. "Union and labor groups in Durham are calling for a Worker's Rights Commission, and think they have a city council who supports it. 'Durham probably has the most progressive city council in North Carolina," said Aiden Graham, campaign manager for the North Carolina State AFL-CIO. He thinks the city can be a leader in the state and the South. But he also said Durham has a low union density.'" And a tweet on this topic:

Supporting organizations joining us tonight for the #ncneedsunions town hall include @RaiseUpfor15 @ueunion @ncstateaflcio @dukegradunion @teachdukeunion @domesticworkers @afgenational @safistas @durhamcan @durhamaction @nc_ppc @DurhamEducators #1u #fightfor15 #werise

— Durham Workers Assembly (@DurhamWorkers) June 14, 2018


Interesting that there is a thing called the "Durham Worker's Assembly," which is why I'm filing this here.

UPDATE Interesting:


I have never heard a better articulation of what's going on with "Identity Politics" from a politician than @Ocasio2018's riff at around the 22 min mark. Excellent. https://t.co/V6PJxvYORe

— Briahna "Intersectionality Includes Class" Gray (@briebriejoy) June 14, 2018

OCASIO-CORTEZ: It's not vote for me I'm xyz. To use that as the sole basis for voting for someone is incorrect and is flawed. There are a lot of Trojan horses…. It's not the fact that I"m a Hispanic woman that allows me to better represent this district. It is the fact that it a lens that I have to help me better organize and communicate with the people who live here…. Our identities…are a lens. We can never take that lens off. And the whole point of congress is that when we have multiple lenses together we can achieve effective legislation that champions all of us…. It's not just because of the color of my skin or my gender, but its the lenses through which we [see] things that I think are an important factor. It's not THE factor. "At the end of the day I'm a candidate that doesn't take corporate money, that champions medicare for all, a federal jobs guarantee, the abolishment of ice, and a green New Deal. But I approach those issues with the lenses of the community I live in.

I see this as what intersectionality should be: Treating identities as both/and, and as a way to reach out and communicate; the lens metaphor works for me. Needless to say, the either/or "identity politics" approach favored by liberal Democrat apparatchiks does not do this.

UPDATE "Why Aren't Top Democrats Acknowledging the Black Women Running for Office?" [The Atlantic]. "Democratic leaders have repeatedly declared that African American women are "the backbone" of the party. But when some of those same women run and win their primary bids for Congress, they haven't had so much as a phone call from establishment leaders. In interviews with The Atlantic, five black women candidates who won their primaries said they still haven't heard from the Democratic Congressional Campaign Committee, the body that works to elect Democrats to the House." Oh? They want to spend four hours a day on the phone servicing donors? Miss me with that.
Stats Watch
Industrial Production, May 2018: "A big drop in autos skewed industrial production lower in May, slipping 0.1 percent and missing what was an already soft consensus by 2 tenths" [Econoday]. "Yet readings outside autos are also soft with hi-tech production up only 0.2 percent and production of business equipment down 1.1 percent. Excluding autos, manufacturing production fell 0.2 percent in the month. The manufacturing component of this report never really has shown the kind of strength being posted by factory shipments or factory orders." And: "The pullback in factory output largely reflects a disruption in truck assemblies due to a major fire at a parts supplier, the Fed said in the report. Excluding motor vehicles and parts, manufacturing production fell just 0.2% following a 0.8% gain the prior month" [Industry Week]. And: "There was significant upward revision to the existing data over the last 6 months. So industrial production is pretty much at the same level as we thought it was last month. The best way to view this is the 3 month rolling averages which insignificantly declined. Industrial production is in a long term upward trend" [Econoday]. "Manufacturing employment rate of growth is accelerating year-over-year." And: "This is 23% above the recession low, and 2% above the pre-recession peak" [Calculated Risk].
Empire State Manufacturing Survey, June 2018: "Enormous strength is Empire State's indication for the June factory sector" [Econoday]. "The factory sector, where orders are rising at a roughly double-digit pace, is the economy's hottest sector." And: I am not a fan of surveys – and this survey jumps around erratically – but has been relatively steady for the last year. Key internals in the report improved" [Econintersect]. "This survey has a lot extra bells and whistles which take attention away from the core questions: (1) are orders and (2) are unfilled orders (backlog) improving? – and the answer is yes for this month." And: "This was above the consensus forecast and a strong reading" [Calculated Risk]. Once again the surveys and the data diverge. And so, "The Empire State reading was at odds with the data released Friday showing a downturn in industrial production. Besides the Empire State survey referencing June instead of May, the New York region doesn't produce many automobiles, which was the main source of the national downturn" [MarketWatch].
Consumer Sentiment, June 2018 (Preliminary): "Tariffs and talk of trade wars may be pulling down expectations but they aren't affecting the consumer's immediate view" [Econoday]. And: "The general trend in the Michigan Sentiment Index since the Financial Crisis lows was one of slow improvement. The survey findings saw a jump in late 2016 with improvements that have continued through the present" [Econintersect].
ECRI's WLI Growth Index: "Even with the general downward trend in this index over the last 6 months, the forecast is for modest growth six months from today" [Econintersect].
Jobless Claims: "Just a reminder (from 2015) as to why claims are this low:" [quoting the Sun-Sentinel]: "Fewer than one in eight unemployed workers in Florida receives jobless benefits, the result of a burdensome system that is 'virtually inaccessible' for the average person out of work, a new report concludes" [Mosler Economics]. "We haven't yet to recover from the last recession, in my opinion due to an ongoing lack of demand." Chart:

This is Mosler's story and he's sticking to it, but my anecdotal data says he's right, and I think the readership would agree.
Employment Situation: "130,000 US Teens Found Summer Jobs in May" [247 Wall Street]. "The summer hiring season for teenage workers got off to a much better start this year than last. Outplacement firm Challenger, Gray & Christmas Inc. reported Friday morning that 130,000 teens found a job in May, an increase of 73% compared to the 75,000 who found jobs in May of last year."
Real Estate: "America's New Factory Building Frenzy" [Industry Week]. "[V]acancy rates for U.S. manufacturing have dropped to 3.8%, 'well below the 10-year average of 7.3%,' wrote Jason Tolliver in a recent column for Area Development. Tolliver, who is vice president and head of industrial research, Americas, for real estate services firm Cushman & Wakefield, also pointed out that manufacturing construction has rebounded. 'The current average of 12.5 million square feet of new manufacturing product added per year is close to the pre-recession average of 12.6 million square feet,' he wrote. 'Since 2010, 62.5 million square feet of manufacturing space has come online in the United States.' That's a lot of new manufacturing space in play, with a significant number of "expectant" manufacturers likely to add to U.S. square footage soon." Good for rentiers. And if the plants are filled with robots?
Fodder for the Bulls: "Is the cycle about to be over, or is it just getting started?" [FreightWaves]. "The financial world seems to be fixated on "How far into this economic cycle are we? Our outlook on the economic cycle is relatively straightforward. We are still early in the economic cycle. In order to properly dissect and understand the U.S. economy, it has to be first divided into the industrial and consumer economies, without ignoring the technology economy (of which the U.S. is the undisputed world leader). The Industrial Economy – The 2009 through 2014 period was the first industrial-led economic recovery in the U.S. since 1961. The advent of fracking technology as advanced by the U.S. oil and gas exploration companies drove a massive buildup in domestic industrial activity… The Consumer Economy – The 2009 through 2016 period was a period of extremely slow growth to no growth for the U.S. consumer… There are more Millennials than Baby Boomers and as they have finally begun to marry in sizable numbers there has been a steady increase in new household formation. Nothing spurs household formation and the acquisition of household goods like getting a spouse, and Millennials have started that process in earnest in the last 18 months…. Low unemployment is driving steady growth in consumer income and nothing drives consumer spending stronger than growth in consumer income and growth in new household formation. Bottom line: we are still in the first 18 months of the consumer recovery and the size of the Millennial demographic could drive the consumer economy for several years without interruption." Big if true!
UPDATE The Fed: "Fed sets limits on biggest banks' loans to each other" [Associated Press]. "At a meeting Thursday, the Fed governors adopted a new rule that caps a big bank's credit exposure to another bank. The rule is close to a proposal the central bank floated two years ago, but it makes revisions for the credit limits to be tailored to the size of the bank. That's in line with the Fed's current approach to regulation under new leaders appointed by President Donald Trump. The aim of the rule, applied to banks with assets of $250 billion or more, is to help bolster the stability of the financial system. The hope is to prevent a repeat of the crisis that engulfed the financial system in September 2008 when the collapse of Wall Street powerhouse Lehman Brothers raised fears over the stability of banks that had made loans to Lehman."
Five Horsemen: "The Fab Five are wilting in late morning action as trade war with China sizzles on the front burner" [Hat Tip, Jim Haygood].
NakedCap Mania-Panic Index: "Despite yesterday's mild market gain, the mania-panic index eased a tick to 67 (complacency) as the put-call ratio spiked higher and the margin of new highs over new lows deteriorated" [Hat Tip, Jim Haygood]. (The NakedCap mania-panic index is an equally-weighted average of seven technical indicators derived from stock indexes, volatility (VIX), Treasuries, junk bonds, equity options, and internal measures of new highs vs new lows and up volume vs down volume … each converted to a scale of 0 to 100 before averaging, using thirty years of history for five of the seven series.)
Health Care
"CMS star rating system has been wrong for two years, health system finds" [Modern Healthcare]. "The CMS has miscalculated hospitals star ratings since they were first released in 2016, according to leaders at Rush University Medical Center in Chicago. Rush's quality leaders found that instead of evenly weighting the eight measures in the safety of care group, the CMS' star ratings formula relied heavily on one measure—PSI-90—for the first four releases of the ratings and then complication rates from hip and knee replacements for the latest release. The single measure accounted for about 98% of a hospital's performance in the safety group, according to Rush's analysis. Star ratings are used by payers to negotiate contracts and help consumers decide where to go for care."
"Court: Federal government doesn't owe insurers Obamacare payments" [Politico]. "A divided three-judge panel rejected claims from two Obamacare insurers that the federal government was required to make good on payments from a program meant to protect insurers who attracted customers who were sicker and more expensive than anticipated. The two insurers were seeking hundreds of millions of dollars in payments from Obamacare's risk corridor program, and at least three dozen other insurers have filed similar lawsuits. In all, insurers say they're owed more than $12 billion from the risk corridor program… The court, siding with the Trump administration, said the federal government didn't have to make the payments because Congress had taken action — after Obamacare's passage — requiring the program to be budget neutral year after year."
Class Warfare
"Nashville Painters Aim To Build Immigrant Base" [Labor Notes]. "How can building trades unions organize workers in an area where they don't have much of a foothold? You've got to become a fixture in the community, and be in it for the long haul. That's the commitment the Painters are making in Nashville, Tennessee, where they just launched the Alianza Laboral (Spanish for "labor alliance") Worker Resource Center…. The Marriott aside, most construction work in Nashville is being done nonunion, overwhelmingly by Latino immigrants. To raise standards in the industry, the union will have to organize these workers…. 'Right now, we don't have the power to initiate a fight against anyone," she said. "What's most important to us is the way we establish ourselves within the Latino community, to one day be ready to take on those fights.'"
"CFPB Enforcement Paralyzed" [Credit Slips]. "Only two new enforcement orders have been entered under Mr. Mulvaney to date. In contrast, from the CFPB's inception through November 2017 (when Mr. Mulvaney took office), the Bureau brought a total of 200 public enforcement actions… CFPB leadership has floated proposals to make the agency reveal sensitive details about ongoing investigations to targets, curtail the length or scope of CFPB investigations, limit the documents CFPB enforcement can seek, and restrict cooperation between CFPB enforcement and state attorneys general. In the recent Wells Fargo enforcement order, …. Surely everyone can agree–Democrat or Republican, consumer or industry–that dishonest business practices must not be tolerated."
"Former Google Exec Announces $1 Billion Wage Gain Challenge" [IndustryWeek]. "According to the Pew Research Center, the share of national income held by middle-class households has decreased to 43%—its lowest level since the center began publishing income-share data in 1967—while middle-class wages have grown just 6% and low-wage workers' wages have decreased by 5% 1979. In an effort to close this gap, on June 13, Jobs for the Future (JFF) and Schmidt Futures – led by former Google Executive Chairman Eric Schmidt – announced a new innovative competition called the $1 Billion Wage Gain Challenge to raise the wages of at least 100,000 workers by $10,000 or more by 2021…. JFFLabs is now accepting applications for a cohort of tech-enabled startups looking to create and scale career advancement opportunities for retail and adjacent sector workers through work-based learning strategies."
"Ask HN: How to survive as a homeless engineer?" [Hacker News]. "TL;DR I'm about to get evicted because I ran out of money and can't seem to land a job. I'm also in a bit of a rush, so i apologize for any grammatical errors. I have been a web developer / software engineer for 15 years (fullstack, 5 languages)…. The questions I have for HN are: what are my best options for survival? any pro tips on how to live on the streets and still land an engineering job?" See, STEM is the answer….
"Counties Where the American Dream Is Dead" [247 Wall Street]. "While opportunities and upward income mobility exist in some areas, they are close to zero in others and have been falling sharply in recent decades…. The [Equality of Opportunity Project] researchers found that neighborhood environments have substantial effects on children's long-term economic outcomes. The probability of earning in adulthood more than $26,090 — the average annual income for the bottom quartile nationally — goes down every year of childhood spent in nearly 1,000 counties. To highlight the substantial geographic variation of this pattern, 24/7 Wall St. reviewed the 50 counties where the average income losses are greatest. Children growing up in counties with less concentrated poverty, less income inequality, better schools, a larger share of two-parent families, and lower crime rates are significantly more likely to surpass their parents later in life." Class, as an analytical tool, has a hard time giving an account of these intergenerational effects. I'm reading up on caste — "deplorable" does have the same sort of tone that "untouchable" does, no? — not as a theoretical construct, since obviously America does not have caste in the same way that India does, but to get into the mindset where intergenerational inequality is not only made explicit as ascriptive identity but celebrated (and contested). One can imagine meritocracy congealing into caste over several generations, with legacy admission after legacy admission after legacy admission. Just a random thought and a summer reading project.
"How to Use Minimum Wage Laws to Improve Local Schools" [Benjamin Studebaker]. "What kills American towns are low income residents. Low income residents lower the amount of tax revenue local schools have per student, damaging school performance. As the schools decline, the affluent residents dry up, and that hits land values and median income, eroding tax revenue and further damaging the schools. Towns get into death spirals, where declining schools and collapsing prosperity feed off each other…. If minimum wage jobs pay better, then the people who move to the town won't hurt the tax base and the school budget so much. Stronger incomes means stronger families, which means more domestic stability for the children of low income people, better test scores, and stronger schools. When a town has a higher minimum wage than surrounding areas, employers get their pick of the best workers in the region, which means better job performance and better customer service. Well-run businesses make towns even more attractive to affluent residents. Low-wage workers will spend a lot of their enlarged paychecks locally at the very businesses that pay them."
News of The Wired
"The khipu code: the knotty mystery of the Inkas' 3D records [Aeon (DK)]. Fascinating, culturally and as a data structure. "[T]he Inkas' 3D records are intimidating because they are so radically outside the comfort zone of modern society and communications technologies. The Inkas managed to centralise and collapse mathematics, language, accounting and history into a durable and portable recording device. Their khipus are a perfect example of why it is dangerous to judge the past through the lens of the present. If ancient peoples were 'primitive', then we must be as well – the Inkas and the narrative khipus have, after all, managed to baffle us so far."
"Better Genderless Pronouns in English" [Richard Stallman (PM)]. Stallman is a fan of Marge Piercy's wonderful Woman on the Edge of Time, and advocates her solution on pronouns. (I try to use "they." Stallman: "Some chose 'they' as the least bad, but that doesn't make it a good solution."
* * *
Readers, feel free to contact me at lambert [UNDERSCORE] strether [DOT] corrente [AT] yahoo [DOT] com, with (a) links, and even better (b) sources I should curate regularly, (c) how to send me a check if you are allergic to PayPal, and (d) to find out how to send me images of plants. Vegetables are fine! Fungi are deemed to be honorary plants! If you want your handle to appear as a credit, please place it at the start of your mail in parentheses: (thus). Otherwise, I will anonymize by using your initials. See the previous Water Cooler (with plant) here. Today's plant: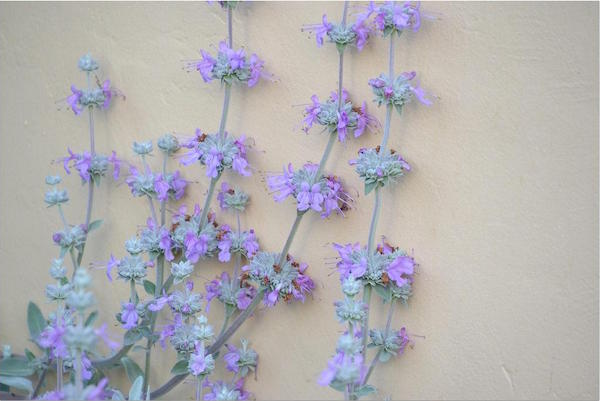 Purple sage.
My garden is sadly disheveled but at least has shade: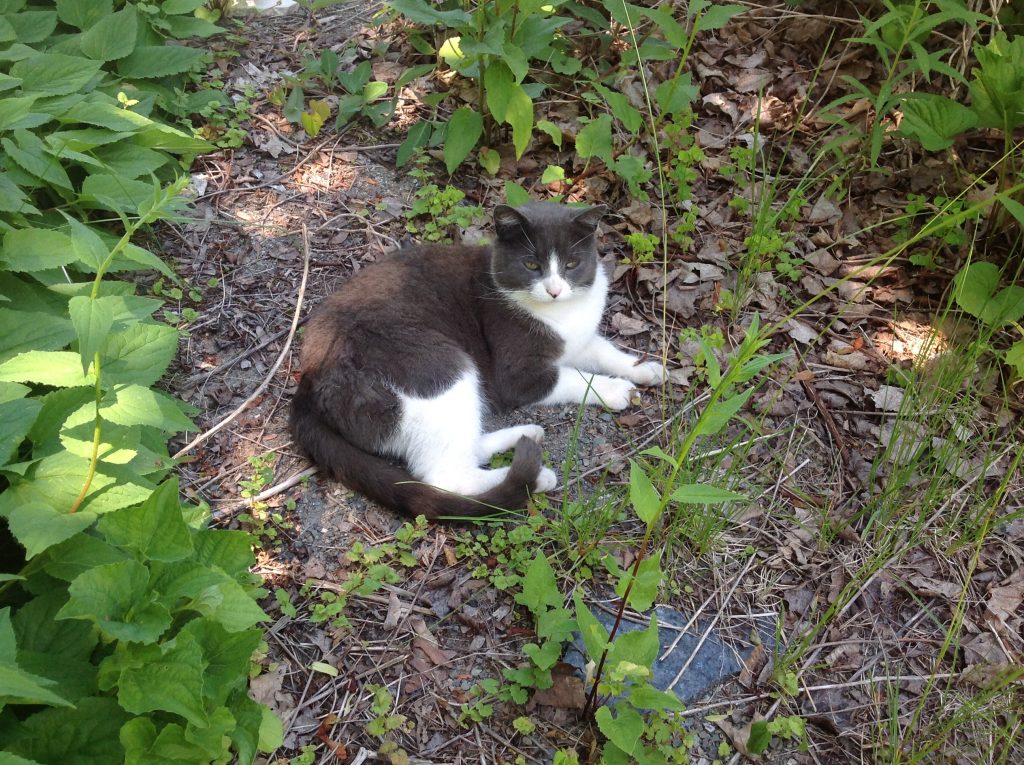 * * *
Readers: Water Cooler is a standalone entity not covered by the annual NC fundraiser. So do feel free to make a contribution today or any day. Here is why: Regular positive feedback both makes me feel good and lets me know I'm on the right track with coverage. When I get no donations for five or ten days I get worried. More tangibly, a constant trickle of small donations helps me with expenses, and I factor that trickle in when setting fundraising goals. So if you see something you especially appreciate, do feel free to click the hat!

To give more, click on the arrow heads to the right of the amount.
If you hate PayPal — even though you can use a credit card or debit card on PayPal — you can email me at lambert [UNDERSCORE] strether [DOT] corrente [AT] yahoo [DOT] com, and I will give you directions on how to send a check.