By Lambert Strether of Corrente.
Trade
"China Races to Get Toys and Car Parts to US Before Tariffs Hit" [Industry Week]. "At sea and in the sky, the U.S. president's trade war with China has ignited a freight frenzy. Hyundai Merchant Marine Co.'s vessels leaving China for the U.S. are full, deliveries to California ports are surging, and cargo rates for journeys across the Pacific are at a four-year high. The levies that kick in Monday have amplified the busy pre-holiday season as Chinese manufacturers rush everything from toys to bikes to car parts into American stores before tariffs hit. At Air China Ltd., freight to the U.S. is booming…. Starting Monday, a 10% duty applies to $200 billion of Chinese imports — Trump's biggest salvo yet in a trade war between the world's largest economies that now directly hits U.S. consumers. After that, American importers have until the end of the year to stockpile Chinese products before the tariff leaps to 25%."
"Canadian Foreign Minister Chrystia Freeland will meet again with U.S. Trade Representative Robert Lighthizer today as negotiators work around the clock to reach a three-way NAFTA 2.0 by the end of the month. But Canada says it will not be pressured into a deal by the Trump administration or GOP lawmakers" [Politico].
"The Trump administration's latest round of tariffs is throwing into sharp relief the dominance of Chinese suppliers in automotive supply chains. Among the $200 million in imports subject to 10% tariffs beginning next week are a $10 billion in auto components from more than 1,000 Chinese companies, including crankshafts, spark plugs and windshield-wiper blades" [Wall Street Journal]. "There are few immediate and affordable alternatives for many of those parts for U.S. manufacturers, and the levies—which rise to 25% next year—will reverberate through the supply chain, affecting prices of new and used cars. Chinese suppliers are beginning to see the impact, with some receiving fewer orders from U.S. customers. U.S. suppliers, facing higher costs and customers that won't take nicely to price increases, are caught in the middle."
Politics
2018
46 days until Election Day. 46 days is a long time in politics.

"Kavanaugh accuser's lawyer: 'Rush to a hearing is unnecessary'" [CNN]. "After coming forward on Sunday against Kavanaugh, Ford indicated through her attorney on Monday that she would be willing to testify before Congress. Grassley announced later that he would convene a hearing with both Ford and Kavanaugh, who has denied her allegations, on the coming Monday. Ford's attorneys said Tuesday that she did not want to testify without an FBI investigation into the matter first, a call that Grassley rebuffed."

"GOP pushing forward for Kavanaugh, accuser wants 'fairness'" [Associated Press]. "'If you have been assaulted or harassed by a powerful Republican man [***cough*** Bill Clinton ***cough***], you better not talk about it or you're going to pay a price," [Sen. Patty Murrays] said." • The virtue signaling! It b-u-u-u-r-r-n-s-ssss! Anyhow, a good wrap-up of the state of play.

"What Kavanaugh deserves — and what we deserve from him" [Matt Bai, Yahoo News]. "[N]one of us ought to be defined by the ugliest moments of our lives — and especially not our teenage lives. As I was once told by Bob Kerrey, the former senator who went through his own painful public reckoning over his actions as a Navy SEAL in Vietnam, we are not the worst things we've ever done. Kerrey's fellow Democrats must believe this, too, by the way, because they stood by Bill Clinton through all the odious disclosures of his private behavior, and they still lionize the late Ted Kennedy, who was responsible for a woman's death in Chappaquiddick. Neither was 17 years old at the time…. A Supreme Court justice doesn't need to be a perfect person, or to have led an unfailingly exemplary life. None of us can say that. But, especially on a divided court in a divided nation, we deserve a justice who demonstrates a capacity for nuance, reflection and humility. Whatever else is true about him, Brett Kavanaugh doesn't seem to be that guy." • I'm not sure that guy — or, I suppose, gal — is on offer. The Beltway doesn't seem to optimize for that sort of character.

"The Kavanaugh Charade" [Charles Blow, New York Times]. "If Trump was truly interested in finding out the truth of these allegations, he could have ordered the Federal Bureau of Investigation to look into their veracity as soon as he heard about them. That is precisely what George H.W. Bush did when he learned of Anita Hill's accusation against Clarence Thomas in 1991."

"Dems plot massive campaign if Kavanaugh falls" [Axios]. "If Brett Kavanaugh's nomination sinks, Democrats would turn the midterms into a referendum not just on President Trump but also women's rights, abortion and the future of the Supreme Court, sources tell Axios." • In other words, Kavanaugh's failure would create a gravy train for Democrat consultants, strategists, media types, etc. So those are the incentives. Ka-ching.

UPDATE "A survivor's truth, hiding in plain sight" [Elizabeth Bruenig, WaPo]. • The survivor's name is Amber Wyatt. If we as a society, assuming there is such a thing, wish to think about Kavanaugh (and #MeToo) seriously, we will have to begin with writing like Bruenig's here, a long-form piece worth two cups of coffee. (As the URL — "/graphics/" — shows, it's all crapped up with cell-phone friendly graphics, but never mind that.) Key paragraph for me:

Making sense of her ordeal meant tracing a web of failures, lies, abdications and predations, at the center of which was that, though anonymous and dispersed, was nonetheless tilted firmly against a young, vulnerable girl. Journalists, activists and advocates began to uncover that very same imbalance of power from Hollywood to Capitol Hill in the final year of this reporting, in an explosion of reporting and analysis we've come to call the #MeToo Movement. But the rot was always there — even in smaller and less remarkable places, where power takes mundane, suburban shapes.

(Rod Dreher at The American Conservative reacts, interestingly.) Also see here for the Kavanaugh milieu, where the "partying" seems similar to that in Wyatt's Texas town. Now, I have a lot of priors about drinking, especially in school environments, and especially in all-male milieux like frats — or Kavanaugh's Georgetown Preparatory. And because of my priors, I was taken in by Rolling Stone's "A Rape on Campus" debacle. I'd prefer not to have the same thing happen on Kavanaugh; that's not a service to readers, and it makes the blog look bad.

* * *

"How Democratic Socialists Performed in State and Local Primaries" [Governing]. "DSA chapters endorsed 93 state and local candidates in 2018, according to the national group. Of those, 43 lost their primaries, but 50 are advancing to the general election after either winning or facing no competition in the primary season. They could win seats for school boards, city councils and legislatures in 20 states. (Of the 25 state and local candidates who also earned DSA's national endorsement, eight lost their primaries.)" • This is, in fact , a very small number. But when Christian conservatives (so-called) started their long march to power, I'm sure their numbers were similarly small, and they two began at the local level. That said, it's a little amazing to see a headline like that in a mainstream publication.

"Ratings Changes: House and Governors" [Larry Sabato's Crystal Ball]. "A slew of new House polling, mostly from the New York Times and Siena College, contains bright spots for both parties but also suggests a Democratic edge in the race for the House…. By now, those who watch the House of Representatives are aware of the New York Times' massive House polling project in conjunction with Siena College. They are in the field daily and will release dozens of House polls from now through the November election. They are providing House analysts (and the general public) with a treasure trove of nonpartisan data about the most competitive House races, many of which might not even have received a single nonpartisan survey were it not for this project. So this House analyst is grateful for the data they are providing. And while operatives on both sides complain about certain aspects of the polling — particularly that NYT/Siena is continually updating the progress of the polling, providing partial results that can be misleading even though the site features an admirable array of cautions and caveats — we have heard from several pros who are hitting "refresh" on their web browsers every night to keep track." • So I guess I was right to focus on districts in the House in my Worksheets, lo these many moons ago. (Since my focus has been institutional, rather than the horserace, and the worksheets take a lot of time I have not had lately, I haven't produced a new one in some time. But I haven't forgottten the project, and now that the primaries have shaken out and the field is reduced, I can return to that project. Just remember that my goal — which is not the Times' goal at all — is to produce an adequare account of the "Democrat" "Party" as an institution, which I'm still thinking about. My current trope is that the best way to think of the Democrats is as a criminal syndicate that controls access to the ballot, whether by candidates or voters (much as a street gang controls a territory). I don't know anything about the sociology of criminal enterprises, however, so I may not be getting this right. This is not a easy problem; I know, because I've asked genuine experts. Reader thoughts welcome.)

"DNC chairman Tom Perez: 'We're fighting for our democracy'" [WaPo]. And when a liberal Democrat apparatchik says "our democracy," they really do mean their democracy; see above on ballot access.

"New data: Democrats crushing Republicans in 2018 elections" [Axios]. "Riding a surge of enthusiasm in opposition to President Trump, more Democrats turned out in the primaries for House elections than Republicans this year — the first time that has happened since 2008…. David Brady, electoral politics expert and senior fellow at the Hoover Institution, predicts around a 7% Democratic turnout advantage in November driven by women, and particularly Independent women." • The Kavanaugh nomination might be seen as a sort of "test match" on these voters. If Kavanaugh goes down, and the Admiinstration nominates a reactionary woman, will everything be jake?
New Cold War
"The Plot to Subvert an Election" [New York Times]. I hate to cherry-pick, but eight paragraphs in: "[T]here is a plausible case that Mr. Putin succeeded in delivering the presidency to his admirer, Mr. Trump, though it cannot be proved or disproved." • So after two solid years of RussiaRussiaRussia, this is where we are? I mean in terms to advancing the story, not in terms of clicks, network ratings, newspaper columns, and TV appearances, an effort so massive there's a plausible case it's made for the excellent GDP numbers we've been seeing. So what's not to like?

"Trump's declassification order is an obvious abuse of presidential power" [Editorial Board, WaPo]. "President Trump has demanded the immediate declassification of portions of an order allowing the surveillance of former Trump campaign adviser Carter Page, text-message records from several of Mr. Trump's chief whipping boys at the FBI and interview records with Bruce G. Ohr, a senior Justice Department official." • Perhaps I'm too cynical about the intelligence community [***cough*** Bezos CIA AWS cloud contracts ***cough***], but I don't see why its a bad thing to see tthe reality, if that's the word I want, behind what all of WaPo's anonymous sources were leaking. More like this, please.
Realignment and Legitimacy
Strange bedfellows:

i guess the "bernie sanders isn't a real democrat" people are right pic.twitter.com/lvzsg0lBl0

— Matt Binder (@MattBinder) September 19, 2018
Stats Watch
Leading Indicators, August 2018: "Led by a surge in ISM manufacturing orders, the index of leading economic indicators posted a solid…. advance in August" [Econoday]. "[H]ousing aside, the LEI is pointing to a healthy finish for the 2018 economy."
Philadelphia Fed Business Outlook Survey, September 2018: "Accelerating pressure on nearly everything but prices headliines a very strong Philly Fed report for September where the general business conditions index surged" [Econoday]. "The price data suggest that capacity and tariff issues are not, at least right now, creating significant dislocations. Six-month price data also moderated in the month. Today's report is unusually favorable, belying the Federal Reserve's assessment that growth in the nation's manufacturing sector is no more than moderate." And: "Consider this a much stronger report than last month as key elements significantly improved" [Econintersect].
Existing Home Sales, August 2018: "[T]he zero change marks an end to four prior months of slowing" [Econoday]. "However strong the economy and stock market are, the nation's housing sector is not participating which is a negative for household wealth." And but: "1) This is a reasonable level for existing home sales, and doesn't suggest any significant weakness in housing or the economy. The key for the housing – and the overall economy – is new home sales, single family housing starts and overall residential investment" [Calculated Risk]. "2) Inventory is still very low."
Jobless Claims, week of September 15, 2016: "In a milestone jobless claims report, all four key readings are at historic lows" [Econoday]. "These results will build expectations for strong payroll growth and downward pressure on the unemployment rate for September."
Shipping: "Fears over future container terminal capacity as investors get cold feet" [The Loadstar]. "According to Neil Davidson, director of ports at analyst Drewry, while ebitda levels and margins for terminal operators have remained relatively resilient over the past decade, "average ROIC has declined from 8.3% in 2008 to 5.5% last year"… Mr Davidson told The Loadstar that it is the higher capital costs of building ports today, due to the need for larger cranes, deeper water and more land for yard and terminal space to cater for the larger ships that was causing the most pain."
Shipping: "Diesel to power smaller share of U.S. truck orders by 2040, study says" [DC Velocity]. "About two-thirds of commercial motor vehicles sold in the U.S. in 2040 will be powered by diesel fuel, down from 80 percent today, as growth in shorter-haul transportation increases demand for alternative powertrains for medium-duty and heavy-duty trucks, according to a study released today by IHS Markit, a consultancy."
Supply Chain: "Amazon reportedly plans 4-story warehouses" [Supply Chain Dive]. "Bisnow reports Amazon is planning four-story, 2.5 million-square-foot warehouses in Minnesota, California, Wisconsin and North Carolina. The e-commerce giant recently announced plans to open a second fulfillment center in Stockton, California, located about 70 miles east of San Francisco. … [U]rban and suburban areas often have limited real estate available, and the space that is available tends to be pricier….. Another solution to the lack of space: build vertically, not horizontally." • I hope they put bathrooms on every floor.
Transportation: "Union Pacific will phase in precision scheduled railroading" [Supply Chain Dive]. "[By 2020,] the strategy will shift the company's focus from moving trains to moving cars, minimize car dwell and improve utilization of crews and assets…. Union Pacific's embrace of the precision scheduled railroading model may mark the first time such a model has been enacted at a railroad not led by the late Hunter Harrison… ving cars, not trains, was a hallmark of Harrison's financial turnarounds of CSX, Canadian National and Canadian Pacific. The three railroads, under his leadership, decreased their operating ratio significantly."
The Bezzle: "" [The New Food Economy]. "Renée McGhee didn't realize she was embarking on a life of crime when she started selling homemade food to friends and neighbors through an Oakland, California-based web platform called Josephine. The food-sharing startup, which had raised more than $3 million in seed and angel funding, connected home cooks who wanted to sell their food to hungry neighbors who wanted to buy it…. Now, California's Health and Safety Code will be amended to allow "Microenterprise Home Kitchen Operations," starting January 1, 2019….. The legislation limits home kitchens to $50,000 in sales a year, and 60 individual meals a week. Food must be prepared, cooked, and served on the same day and picked up by the customer or delivered within a safe time period, and home kitchen operators will be required to obtain food manager training and certification. No indirect sales are allowed—customers must pick up the food from the cook, or the cook must deliver it directly to the customers. Home cooks will bear the cost of required written applications and annual inspections, to the tune of about $300 a year. The total cost to legally launch a Microenterprise Home Kitchen Operation is estimated at $800 a year, which would cover training and permitting, as well as liability insurance, which is recommended but not required." • I'm not sure whether this is an example of relatively benign "permissionless innovcation" or not. I vehemently support local food sovereignty. On the other hand, the presence of a Silicon Valley middleperson, whose business model necessarily depends on scale, gives me pause.
Tech: "Connecting the Apple Dots" [Above Avalon]. "Apple's product strategy is based not on coming up with replacements for existing products, but on using personal technology to come up with alternatives to more powerful computers. By relying on new form factors in addition to new user inputs and outputs, Apple has seen much success in coming up with products that contain less in the way of barriers between the user and technology. Intuitiveness is used to harness technology's potential. Apple's goal with iPhone has been to give the product enough functionality to serve as a Mac and iPad alternative." • That may work with consumers. It does not work for producers/creators, which is why the ongoing crapification of the Mac is a real concern. More: "Based on the most recent iPhone and Apple Watch updates, Apple's longer-term ambition has become crystal clear. This is a company that believes Apple Watch will serve as a viable alternative to iPhone." • If the iPhone turns into a dumb phone, maybe. I mean, I'm not gonna do a phone conversation with my wrist held up to my mouth.
Tech: "Google Says It Continues to Allow Apps to Scan Data From Gmail Accounts" [Wall Street Journal]. "In a letter to senators, a top Google official said the company allows app developers to scan Gmail accounts, even though Google itself stopped the practice for the purpose of ad targeting last year. The company also disclosed that app developers generally are free to share the data with others, as long as Google determines that their privacy policies adequately disclose potential uses…. Using software tools provided by Gmail and other email services, outside app developers can access information about what products people buy, where they travel and which friends and colleagues they interact with the most. In some cases, employees at these app companies have read people's actual emails in order to improve their software algorithms." • Oh.
Class Warfare
"This Labor Day, A Clean Slate for Reform" [Law and Political Economy]. Lots of suggestions. One such: "The number of significant strikes in the U.S. has fallen to almost none. That's because the law puts up so many hurdles and obstacles – it severely limits where, when, and how workers can act together. Instead of maximizing power, the law diminishes it. We need to rewrite the law to allow workers to analyze power relationships and exercise collective power strategically. For example, when companies fissure their functions into separate firms connected by subcontracts, we could allow workers to treat those connected firms as one for the purpose of strikes, pickets and boycotts." • I've gotta say, watching Hoffa trying to put two-tier in place at UPS, I'm starting to throw union national leadership into the same bucket as college administrators (that is, as rent-seeking parasites who should be extracted to restore the health of the host and restore it to its original function). A part of the problem that this article, which is well worth a read, does not address.
"The Craw Eternal" [Penny Arcade (Tertium Squid/Deschain)]. On YouTube content creation and "burnout videos": "I feel like a sweatshop that the worker willingly enters constitutes a kind of labor market endgame… It's true that these are choices people are making, ostensibly with the knowledge that this type of "employment" has none of the strictures commonly understood in a job, but after I saw my fifth or sixth burnout video – videos which slot ever-so-neatly into the same machine that caused the breakdowns in the first place… The beast, rendered here as a perpetually salivating squid crab, must be fed constantly. It is in desperate need of your youth and your authenticity because even in its green-black Authenticity Glands it cannot approximate who you and your friends are, just on your own." • Do click through to the squid crab, which reminds me of a vampire squid. I can't think why.
"Payday Loans Are Coming For Everyone" [Welcome to Hell World (DC Blogger)]. "After setting up an account on WorkMarket, the payment portal the Huffington Post uses — freelancing in 2018 means navigating dozens of such byzantine portals and handing over all of your sensitive banking information to systems of dubious security — I was notified a month later that my payment was finally ready to go through. There was just one catch: If I wanted any money right away I would have to pay them $52.50 for the privilege of getting paid…. WorkMarket, the third party service that the Huffington Post and all of the Oath properties — Yahoo!, AOL, TechCrunch and others — uses to manage its accounts payable, was providing me the option to get paid earlier than I would normally, through something called FastFunds. That would be after forfeiting an ~8% cut, or around 195% APR to be clear. While that's not quite the typical 400% a payday lender might charge — where the cost of borrowing $100 is between $15-30 if you manage to pay it back on time — it's not that far off." • Note the two UPDATEs at the top.
"Wages Are Low and Workers Are Scarce. Wait, What?" [Annie Lowry, The Atlantic]. "The central paradox of the Trump economy is that widespread concerns about labor shortages coexist with widespread complaints about low wages. But economists do not see it as much of a paradox—instead seeing it as a sign of dimming business dynamism and diminished worker power…. Still, the tighter labor market should lead to widespread and stronger wage gains at some point, economists think, and hopefully soon. That is already true in communities and industries with very low unemployment rates. When companies cannot fill positions even after raising wages significantly—that will indicate real labor shortages. And for workers? It will feel like a very good thing." • Until the Fed takes the punch bowl away, of course.
News of The Wired
"Legendary Punk John Lydon on Public Image Ltd, David Bowie and Being Called a Trump Supporter: 'I'm Not Insane!'" [Newsweek]. • I don't know about you, but I thought Metal Box was superb!
"The Meal-Based Artist Residency Program" [Half-Letter Press]. "If you've been following Public Collectors' work for the last couple years, you've probably heard about the Joong Boo Residency Program. For that project Marc Fischer from Public Collectors invited out of town artists to apply for a residency that consisted of Fischer taking the artist resident to eat Korean food at Joong Boo Market in Chicago's Avondale neighborhood, at no cost to the resident. After 38 of these residencies, the project has ended, but not before inspiring several similar residencies in other cities." • I think this is a neat idea!
"American Weirdness: Observations From an Expat" [The Atlantic]. • I wish this article were more interesting and insightful than it is. Would expat readers care to comment?
Makes microdosing look staid:
19th century doctor: What you want.

Patient: Just f**k me up fam.

19th century doctor: Say no more. pic.twitter.com/d6K7nM5ICv

— You Had One Job (@_youhadonejob1) September 20, 2018
* * *
Readers, feel free to contact me at lambert [UNDERSCORE] strether [DOT] corrente [AT] yahoo [DOT] com, with (a) links, and even better (b) sources I should curate regularly, (c) how to send me a check if you are allergic to PayPal, and (d) to find out how to send me images of plants. Vegetables are fine! Fungi are deemed to be honorary plants! If you want your handle to appear as a credit, please place it at the start of your mail in parentheses: (thus). Otherwise, I will anonymize by using your initials. See the previous Water Cooler (with plant) here. Today's plant (CC in CO):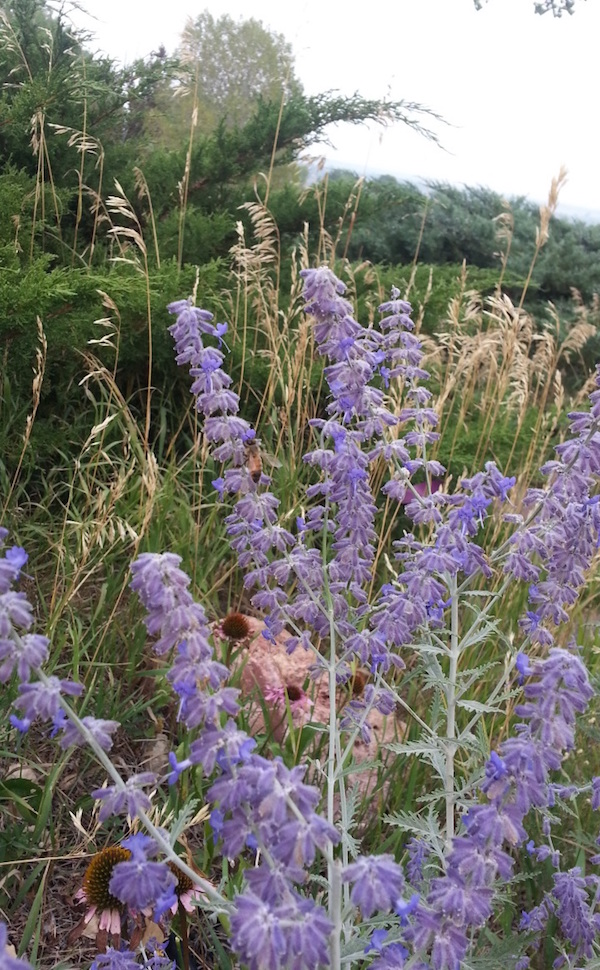 CC in CO writes: "This is a shot of some Russian (!) Sage with a honey bee, some wilting Echinacea purpurea behind it."Everybody can take pictures of flowers with bees but me! Just a few more would greatly relieve my angst. Thank you!
* * *
Readers, I'm still running a bit short on plants. Probably a little soon for fall foliage, or wrapping up the garden, but I'm sure you can find something! How about a project you completed over the summer?
* * *
Readers: Water Cooler is a standalone entity not covered by the annual NC fundraiser. So do feel free to make a contribution today or any day. Here is why: Regular positive feedback both makes me feel good and lets me know I'm on the right track with coverage. When I get no donations for five or ten days I get worried. More tangibly, a constant trickle of small donations helps me with expenses, and I factor that trickle in when setting fundraising goals. So if you see something you especially appreciate, do feel free to click the hat!

To give more, click on the arrow heads to the right of the amount.
If you hate PayPal — even though you can use a credit card or debit card on PayPal — you can email me at lambert [UNDERSCORE] strether [DOT] corrente [AT] yahoo [DOT] com, and I will give you directions on how to send a check.