Dear patient readers,
Sorry for the lack of original posts. A lot of administrativa hit at once.
Reimagining of Schrödinger's cat breaks quantum mechanics — and stumps physicists Nature
Microplastics can spread via flying insects, research shows Guardian (Kevin W)
Cane toad DNA breakthrough 'may help stop' toxic pest BBC (furzy)
Our Richard Smith, a glider himself, was impressed. But the pilot here is shaking from the cold! Gah!
It's been one remarkable season for @Airbus Perlan Mission II. Why do we do this? Here's why … pic.twitter.com/fAjYb93naL

— Perlan Project (@PerlanProject) September 14, 2018
Zaif cryptocurrency exchange loses $60 million in recent hack ZDNet
Public urged to let Bert and Ernie come out in their own time Daily Mash
The Epidemic of Gay Loneliness Huffington Post (UserFriendly)
Humans Simply 'Hardwired' For Laziness, Study Says Study Finds.
deeds before words Fredrik deBoer (UserFriendly). This is very well reasoned but…stigmatization for appearance starts WAY before adulthood and becomes internalized. I work very
China?
At EU summit, upbeat mood music on tough issues Politico
European antitrust authorities probe Amazon Axios
Fucksake. https://t.co/PYh7VWFUdg

— Richard Smith (@ncsmiff) September 19, 2018
Philippa Hetherington · Short Cuts: Canberra's Coups London Review of Books
Brexit
Today there is perhaps more hope but there is surely less and less time. On the Irish question and the framework for economic cooperation the UK's proposal needs to be reworked. #Brexit

— Donald Tusk (@eucopresident) September 19, 2018

Theresa May tells EU27 she won't delay Brexit despite lack of a deal Guardian

Brexit deadlock: Theresa May urges EU to compromise DW

EU Leaders Still Hoping Brexit Won't Happen: Summit Update Bloomberg. Vlade flags:

"There is a unanimous — almost unanimous — view around the table that we would like the almost impossible to happen, that the U.K. has another referendum," Malta Prime Minister Joseph Muscat told BBC Radio on Thursday. "I don't know what the result would be."

Even though as vlade points out that sounds like if someone in the UK came in with the referendum, EU would (at least very seriously consider) accommodating the A50 schedule for it to be run. Problem is May had ruled it out and the Tories are not voting themselves out of office.

Breaking: Irish source says Theresa May indicated during this morning's bilateral meeting with Leo Varadkar that she does not believe it is possible that a deal on the Irish backstop can be reached in time for the October European Council. [thread]

— Tony Connelly (@tconnellyRTE) September 20, 2018

Pushing the BoE to the limit: what a no-deal Brexit will mean for UK exchange and interest rates LSE

Just say no to a 'blindfold Brexit' Politico
Is the "deep state" trying to undermine Corbyn? New Statesman (UserFriendly)
New Cold War
'The Apprentice' book excerpt: At CIA's 'Russia House,' growing alarm about 2016 election interference Washington Post (furzy)
Syraqistan
Syria – Israel's Provocation Kills Russian Soldiers – Moscow Will Take Political Revenge Moon of Alabama
Turkey unveils plan to fight currency crisis Financial Times
Big Brother is Watching You Watch
John Hancock will include fitness tracking in all life insurance policies VentureBeat. Predicted by Matt Stoller here in 2012. I hope this business suffers a speedy and costly death.
Tariff Tantrum
Trump's latest tariffs are about to hit you where it really hurts Business Insider

Rivals seek to profit from US-China trade war Financial Times
Trump Transition
Justice Dept Likely to Slow-Walk Declassification Consortium News
Kavanaugh
With Supreme Court Decision on Dark Money "We're About to Know a Lot More About Who Is Funding Our Elections Common Dreams. UserFriendly: "HUGE!!!"
Opioid Crisis Emerges as a Big Campaign Theme Wall Street Journal
data demystified #3: A Deep Dive Into the Distribution of Progressive Ideology Data For Progress (UserFriendly)
Morning Edition's Think Tank Sources Lean to the Right FAIR. Quelle surprise!
The Racism v. Economics Debate Again Current Affairs (UserFriendly). Political scientist Tom Ferguson is well along on a granular analysis of voters who flipped from Obama in 2012 to Trump. The data overwhelmingly show it was economic issues that led to the change.
In case you missed it, the GoFundMe account in question was for $50,000 to treat his cancer. Much derision over HRC not writing a check:
Tyrone Gayle, the man from the GoFundMe account that HRC tweeted, is CURRENTLY @KamalaHarris PRESS SECRETARY. pic.twitter.com/QER68OFFLm

— Baartman's Revenge (@honey_of_life) September 19, 2018
New York inmate's golf drawings lead to exoneration in murder BBC. Appalling story.
New York Review of Books editor Ian Buruma departs amid outrage over essay Guardian
Death count debates overshadow the real story: Hurricane Maria was partly a human-made disaster Salon
Trump to Nominate Former Fed Economist Nellie Liang for Board Seat Wall Street Journal
Housing: a big miss in permits with important ramifications Angry Bear
SEC: Citigroup Ran a Secret, Unregistered Stock Exchange for More than Three Years Wall Street on Parade (UserFriendly)
Class Warfare
Antidote du jour. Tracie H: "This pup loves sitting with it's owner while riders in training are advised at the Seahorse Riding Club in Rolling Hills Estates, California. The dog, Bella, a 'petite Pibble,' is alert but calm as horses trot within a couple of feet of her—note the nearby hoof.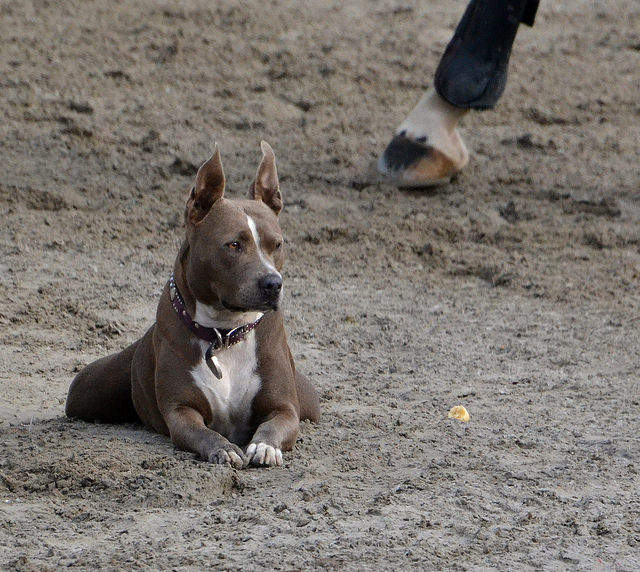 See yesterday's Links and Antidote du Jour here.