By Lambert Strether of Corrente.
Readers, I've gotta say it seems weird not to sit down at the computer and figure out what to say about the Kavanaugh hearings. –lambert
Trade
"Benefits of the US-China Trade War" [Valdai Discussion Club]. "[T]he 'benefits' of the trade war are manifold. First, it enables us to see that during the unprecedented era of international transition, the United States, as the No. 1 hegemony [sic], still has the capacity to exert maximum pressure and deterrence on catch-up countries. Immanuel Wallerstein once said that the decline of international hegemony is far from a straight downward trend. Often the country will maintain its hegemony for quite a long time and still retain dominance over other countries in many ways. Wallerstein's judgment, at least in the US-China trade war, has been verified. This tells those radicals, who could hardly wait to change dynasties, that various predictions such as, so-called 'No. 2' to replace the 'No. 1' is far from the reality in the near future. The 'benefits' of this trade war, in particular, lie in rendering the Chinese better aware of their country's development status quo and its role on the world stage. On the one hand, please don't have any illusions that China will recoil in this trade war. 'Fighting to the end" is probably most Chinese unswerving attitude. Objectively speaking, China's total economic volume is 82 trillion RMB and the foreign trade just accounts for about one-tenth. For the 8 trillion foreign trade, Sino-US trade only accounts for about one-third. The impact of this war for China's overall national economic growth rate is about 0.2% to 0.5%. The Chinese are able to manage this zheteng, which means 'much ado about nothing.' On the other hand, the Chinese are better aware that first, China's economy is still "developing", leaving a big gap with the international cutting-edge technology. For the core industry, there is still much to do as well. In addition, there are many tasks, including poverty alleviation, to accomplish. To tell the truth, China cannot have the slightest sense of complacency.
"European and Asian automotive manufacturers are considering moving more manufacturing to North America following the recent U.S. trade deal with Canada and Mexico" [Wall Street Journal] "[T]he companies are weighing shifts in their supply chains as they grow increasingly nervous that more restrictions could emerge as the Trump administration turns to trade talks with Japan and the European Union. BMA AG, Daimler AG and Mazda Motor Corp. are among those that say they may struggle to meet the higher North American content requirements on cars."
Politics
Please Kill Me Now
"Join President Bill Clinton and former Secretary of State Hillary Rodham Clinton as they participate in live events with audiences across North America" [An Evening with the Clintons]. "Experience a one-of-a-kind conversation with two individuals who have helped shape our world and had a front seat to some of the most important moments in modern history. From the American presidency to the halls of the Senate and State Department to one of the United States' most controversial and unpredictable presidential elections, they provide a unique perspective on the past, and remarkable insight into where we go from here." CNN: "While the events were billed as a chance for an "intimate conversation" with the former first lady, Live Nation booked arenas — including the United Center in Chicago — for the tour… Ticket prices run the gamut based on each location, but top tickets at the couple's events in Texas cost $699. The least expensive tickets at some of the events were around $70." • Grifters gotta grift.
2020
"Trump's Secret Weapon in 2020" [Bloomberg]. "Tax reform has provided a needed boost to the economy, and the oil and gas boom has increased the demand for manufacturing and construction workers. It's just that rising oil prices mean that majority of Americans have seen little improvement in their daily finances, which is what matters most when they go to the polls next month. Look more long-term, however, and the outlook for workers is more positive. Industry investment in infrastructure is projected to allow for strong increases in oil production growth in late 2019. Those increases will bring not only more jobs but also lower prices. Which brings us to 2020. Today's cost-of-living increases in inflation will probably reverse themselves in 2020, giving an extra boost to most working families. That boost could redound to Trump's benefit as he seeks re-election." • I dunno. Sounds like a Rube Goldberg device, to me.

UPDATE "$15 and a union" isn't a bad sound-byte:

McDonald's made $5.1 billion in profits last year and rewarded wealthy shareholders with over $7.7 billion.

Meanwhile, many McDonald's workers need food stamps, Medicaid and public housing to survive.

That is unacceptable. McDonald's workers need $15 and a union. pic.twitter.com/oPj3nO3UPr

— Bernie Sanders (@SenSanders) October 4, 2018

UPDATE The Attorney General who wants to be President:


The WH didn't permit the FBI to investigate the dishonest testimony of Kavanaugh. They didn't interview:
—Former FBI agent who administered the polygraph
—Dr. Ford's husband & friends she told
—Kavanaugh's Yale roommate
—Dr. Ford
—Kavanaugh

This wasn't a search for the truth.

— Kamala Harris (@KamalaHarris) October 6, 2018

This is Schneiderman-level flaccidity. Pounding the table after the deal goes down! The Democrat Senators, instead of interrogating Kavanaugh, focused on demanding an FBI investigation. The Republicans gave them one and — as a child of six could have predicted — rigged it. Where were the Democrats when the the investigation was organized? Silent, of course!
2018
28 days until Election Day. 28 days is a long time in politics. And remember that October is the month of surprises!

For Monday, another horse race analysis, besides Inside Elections and the Cook Report, except that RealClearPolitics has a chart:

Sure, just one poll, but one narrative leaps out: The Kavanaugh nomination moved toss-ups into the Republican column. It will be interesting to see if we get confirmation for that elsewhere.

"How Kavanaugh Could Boost Turnout" [Cook Political Report]. "The only real change from the Kavanaugh saga could be in voter turnout, but it's not clear what difference it will make. Democrats, liberals, and certain segments of women were already pretty energized, and I'm not sure they could get much more so….. Still, one can make a case that this blue Democratic wave is actually a pink wave, as we are seeing surging numbers of women voters, donors, and candidates this year….. Since there was, at least up until the past few weeks, a pronounced energy and intensity gap between the two parties, with Democrats and liberals considerably more torqued up than Republicans and conservatives, Kavanaugh might narrow that gap a little bit. There are some indications in polling that such a narrowing has happened. There had been considerable complacency among many Republican voters, particularly those in the Trump base. Now many view Kavanaugh as being treated unfairly, and they may be lured off the sidelines and onto the field."

"Gender, Supreme Court, and the midterms" [YouGov]. "A rise in enthusiasm, however, is clear among Republicans, although the increase is limited to GOP men. Last week, 60% of Republican men said they were more enthusiastic than usual in voting in this year's congressional elections. This week the percentage has risen 11 points. There was little change among Republican women." • The Democrats, of course, are trying to appeal to Republican women…..

UPDATE "Anger vs. elation: Parties scrap for Kavanaugh edge in midterms" [Politico]. "'Anger always lasts longer than happiness,' said Celinda Lake, a veteran Democratic pollster. 'Our side is going to be angry. We know anger lasts. What we don't know is, does winning lead to energy or does it lead to complacency? That's going to be the challenge they're going to face.'" • Interesting explanation of the liberal Democrat preference for "fighting" (anger) over winning (happiness). But I think the Republicans are angry, too.

UPDATE "Survey of battleground House districts shows Democrats with narrow edge" [WaPo]. "The survey of 2,672 likely voters by The Post and the Schar School at George Mason University shows that likely voters in [69 battleground House districts] favor Democrats by a slight margin: 50 percent prefer the Democratic nominee and 46 percent prefer the Republican. By way of comparison, in 2016 these same districts favored Republican candidates over Democratic ones by 15 percentage points, 56 percent to 41 percent."

"After flap, Trump says he has no plans to fire Rosenstein" [Associated Press]. "Trump told reporters at the White House that he had 'a very good relationship' with Rosenstein and was eager to speak with him aboard Air Force One on a flight to Florida for the International Association of Chiefs of Police conference…. Besides the meeting with Trump, Rosenstein has also agreed to a private meeting with House Republicans who want to question him about his reported statements on the president." • No October surprise there, then?
2016 Post Mortem
UPDATE "Did the Fed accidentally help Trump win in 2016?" [The Week]. "[T]he central bank's decision to finally start raising interest rates in late 2015 likely hit American sectors like energy, agriculture, and manufacturing hard. The result was a 'mini-recession,' as Neil Irwin termed it in The New York Times. 'Severe in certain places, but concentrated enough that it did not throw the overall United States economy into contraction.'… That mini-recession dragged down key industries in rural areas that ultimately swung for Trump, just in time the for the 2016 election." • I'd like to see this worked out at the district level. For example, Mosler consistently pointed to low capex in the oil patch as a recessionary indicator throughout that period. But I don't think the districts that flipped to Trump were in the oil patch.
Realignment and Legitimacy
UPDATE Take out any idea. Compare ideas, with the one idea left we are left you have no doubt and without a doubt we have enthusiasm:

GOP to its base: We are burning every single thing to the ground, delivering even more conservative wins than we ever promised.

Dems to their base: We passed a moderate version of the Heritage Foundation's insurance reform proposal when we last controlled the federal government.

— David Sirota (@davidsirota) October 7, 2018

UPDATE "Could America's Democrats be 'Corbynised'?" [Ruy Teixeira, Unherd]. "Nor is it the case that incumbents and moderates are being thrown out wholesale and replaced with candidates much farther to their Left. Across the country, only two Democratic incumbents in the House lost primaries, and none in the Senate did. A Brookings study found that self-described "progressive Democrats" did well in primaries this election season but establishment Democrats actually did somewhat better. Thus, the change in the party is less a Leftward surge featuring new politicians (though this is happening to some extent) and more a steady party-wide movement to the Left… If there is a wild card here, it is less likely Sanders than an increasing Leftism on 'identity politics' issues around race, gender, LGBT issues and so on. It is possible that the Democrats could embrace these issues so thoroughly that it would come to define the party to the exclusion of economic and policy issues, however big. My sense is that Democratic politicians are aware of this possibility and will strenuously seek to avoid it out of sheer electoral self-interest. But we shall see." • Holy moley, what an incoherent piece. Teixeira's "coalition of the ascendant" is built on identity politics! Note also the utter lack of class analysis in the piece — not even weak tea like "working families" — along with the general sense of passivity. The party just… moves left ("One thing that did happen is time"). Rather like demographic change… brings victory.

"data for politics #27: Same Day Registration Can Increase Voter Turnout" [Data for Progress]. "Our analysis of census data is clear: relative to two other popular voting reforms—early voting and absentee voting—same-day registration (SDR) is great at boosting voter turnout. SDR has been adopted in 17 states, plus the District of Columbia…. Why is SDR so effective at boosting turnout? For starters, it makes a complicated process much simpler…. SDR also has the nice side-benefit of improving the effect of early voting laws, which, on their own, can actually decrease turnout…. Supplementing early-voting laws with SDR gives us the best of both worlds. Existing voters get more flexibility, which makes them more likely to keep voting each election. New voters benefit from being able to register and vote at the same time—either before Election Day, or on Election Day itself. Yet of the 37 states with early voting laws on the books, only 15 states also have same-day registration. The takeaway is clear: voting reform advocates should make implementing SDR in the remaining 22 early-voting states a top priority."

"Are wireless voting machines vulnerable? Florida, other states say they're safe enough" [Miami Herald]. "Barely a month before midterm elections, voting integrity advocates and electronic voting experts want the federal government to issue an official warning to states that use voting machines with integrated cellular modems that the machines are [of course] vulnerable to hacks, potentially interfering with the ballot counting…. Such machines are certified for use in Florida, Illinois, Michigan and Wisconsin. How many cellular-enabled voting machines will be in use for Nov. 6 midterm elections is not known. There is no national registry for the 10,000 or so election jurisdictions in the United States, so an exact number could not be determined readily." • A national registry of voting jurisdictions sounds like an interesting idea — who knows what little oddities would crop up? — but there shouldn't be any registry of voting machines, because they shouldn't exist in the first place.

"Dueling GoFundMe pages raise more than $500K each for Brett Kavanaugh and Christine Blasey Ford" [MarketWatch]. • So now everybody gets to cash in on their testimony. Me too! Me too!
Stats Watch
There are no official statistics of note today.
Employment: "September 2018 Conference Board Employment Index Marginally Declined" [Econintersect]. "Econintersect evaluates year-over-year change of this index (which is different than the headline view) – as we do with our own employment index. The year-over-year index growth rate accelerated 1.7 % month-over-month and 6.9 % year-over-year."
Shipping: "Online fulfillment needs are driving logistics hiring for the holiday season" [Wall Street Journal]. "Warehousing has added more than 50,000 jobs in the past year and truckers have hired 33,000 workers in 12 months even as the industry speaks of recruiting difficulties. The latest logistics expansion came as retail businesses overall cut payrolls by 20,000 workers. Retailers are projecting holiday sales won't grow as fast this year as last year, and the focus on distribution centers signals they expect the biggest share of the growth will come online, not in physical stores."
Shipping: Alexandria, VA (Washington D.C.) is the least efficient market for truck drivers in America" [Freight Waves]. "Truck drivers have long suspected that the city of Washington D.C. is stealing their hours and keeping them off the road. They now have proof: Washington D.C. and the metropolitan section of the city around Alexandria, Virginia is the least efficient area in the country in terms of efficiency on driver's hours of service (HOS)…. A driver in the Washington D.C. market should only expect to get about 4.9 hours a day towards driving, less than half of the permitted 11…. Washington D.C. [is one] of the most secure cities in the world." • Hmm. Well, presumably the new Amazon HQ won't need to do any actual shipping….
Shipping: "Study: operational costs of trucking climbed 6 percent in 2017" [DC Velocity]. " increasing operating costs are caused by a broad range of factors, including: fuel prices that have rebounded from decade-lows, the growing cost and sophistication of newer truck models has driven up costs for both purchasing and repair & maintenance, and driver wages have increased for the fifth consecutive year, pushing the combined cost of driver wages and benefits up to 43 percent of the overall cost per mile."
Tech: "Google Exposed User Data, Feared Repercussions of Disclosing to Public" [Wall Street Journal]. "Google exposed the private data of hundreds of thousands of users of the Google+ social network and then opted not to disclose the issue this past spring, in part because of fears that doing so would draw regulatory scrutiny and cause reputational damage." • Well, hundreds of thousands [sigh] is not that many. But Google needs to spend some time in the barrel. When is that going to happen?
Payments System: "China Wants to Challenge the U.S. Dominance of Global Payments" [Barrons]. "[A]n actual financial contest between the U.S. and China—with the European Union in the middle—is shaping up…. The EU is moving forward with its emerging plan to help Iran and non-American companies avoid the Trump administration's sanctions. Everyone's motives are fairly clear: The EU doesn't want to be forced to follow Washington's change of direction on Iran, Iran very much wants to continue to sell oil to anyone it can, and China wants to pull the global financial center of gravity toward the yuan and yuan-denominated assets. And so China, Russia, Britain, France, and Germany have agreed to set up a payment system that can do an end-run around U.S. sanctions."
Payments System: "The Chinese threat to U.S. financial dominance" [Felix Salmon, Axios]. (I've always had a soft spot for Salmon, because he got Cooper Union very right.) "'The ultimate goal,' writes Andrew Capon in an excellent guide to the Chinese government bond market in the latest issue of Euromoney, is for [Chinese government bonds (CGBs)' 'to supplant U.S. treasuries as the global benchmark.'"
Payments System: "Europe Plans a Way to Evade Sanctions on Iran. Will It Work?" [New York Times]. "Perhaps the biggest challenge to the European effort is that large Western companies won't need the payment entity because they simply won't be doing any business with Iran. Scores of multinational companies pulled away from Iran after the United States withdrew from the nuclear deal and won't want to risk penalties…. Even if the European Union could set up the system, it would have to convince companies that it was reliable — and ." • Hmm.
Rapture Index: Closes unchanged [Rapture Ready]. Record High, October 10, 2016: 189. Current: 184. Seems indeed that 180 is a floor.
MMT
"The government isn't a business or household. Democrats should reject 'pay-go'" [Kansas CIty Star]. • [Hums] Everything's up-to-date in Kansas CIty… (The author is a member of the 501(c)(4) nonprofit Patriotic Millionaires and a founder and principal of Tradewind Energy, Inc.)
Class Warfare
"Teamsters ratify UPS contract despite more 'no' votes than 'yes'" [Supply Chain Dive] (October 8). "The International Brotherhood of Teamsters ratified a master agreement with UPS, despite more of the union's members voting 'no' than 'yes.' Only 44% of union members participated in the ratification referendum, and among those, 45.8% voted for the contract and 54.2% voted against. In a case where fewer than half of members vote, two-thirds must vote "no" to reject the contract….. 'As we saw in the 2016 U.S. Presidential election, winning the popular vote does not necessarily win the election when the Constitution requires you to win the Electoral College vote. As Teamsters, we too must abide by the rules in our Constitution. Thus, the National Master UPS Agreement has been ratified,' the union said."
"Updated: UPS Contracts Rejected, Union and Company to Return to the Table" [Labor Notes] (October 5). "However, when the results were read out, [Teamsters Package Division Director Denis Taylor] said that the union would return to the table with the company to seek improvements…. Out of 92,604 eligible votes cast at UPS, the final tally was 46 percent yes, 54 percent no. That's a turnout of 44 percent, and a big jump up from the 64,000 on the 2013 UPS contract….. Going into bargaining, the biggest demand from the overwhelmingly part-time inside workers who sort, load, and unload parcels was for a $15 starting wage, with catch-up raises for people who've been underpaid for years. What they got instead was a $13 minimum, with no catch-up raises. UPS is forecasting $6 billion in profit this year…. For the drivers who deliver packages, the biggest sticking point is that this deal would create a second tier of "hybrid drivers" who could deliver packages at a much lower wage. The tentative agreement also does nothing substantial to address drivers' other big concerns: excessive forced overtime, technological surveillance, and harassment by supervisors." • Two-tier is corrosive to solidarity and should be opposed where encountered, whether in unions, Social Security, or academia.
News of the Wired
"The Joy of Kimmy's childish dialogue" [RockPaperShotgun]. "Though for these kids, the complex, mind-boggling debacles of day-to-day life get boiled down into terse sentences devoid of the adjectives and adverbs adults have built up over time to make our speech more palatable. Their limited vernacular often gets to the truth of things better than any adult could, but it also curtails any attempt at expressing themselves fully."
"It's Ham Vs.Ham As Radio Amateurs Are In Conflict At ARRL" [SlashDot]. "The open letter at that link — signed by several AARL life members (including Perens), argues that 'The members are not currently represented as they should be, due to the continued application of a policy meant for a for-profit corporate board,' adding that 'The only whistle-blower on the board was publicly castigated for informing us.'" Everything Is Like CalPERS.
"How to delete Facebook and not lose your friends (and photos)" [Ronald Langeveld]. • For those of you who haven't done this already.
Caligula's Nemi ships. Thread:
Some of the most remarkable lost artefacts from the ancient world were the titanic wrecks of the Nemi ships.

In their 1st century heyday they held gardens, palaces & baths in a floating wonderland. But barely a decade after their recovery, they were lost forever. pic.twitter.com/MQjcSz20Zl

— Paul ?? Cooper (@PaulMMCooper) October 8, 2018
Look on my works, ye mighty…. And on the squillionaires' rocket ships to Mars, if it comes to that.
Post-Banksy shredded meme:
We the People… pic.twitter.com/42uSoyPWXZ

— Panh Rithy (@RPanh) October 6, 2018
First meme I saw…..
* * *
Readers, feel free to contact me at lambert [UNDERSCORE] strether [DOT] corrente [AT] yahoo [DOT] com, with (a) links, and even better (b) sources I should curate regularly, (c) how to send me a check if you are allergic to PayPal, and (d) to find out how to send me images of plants. Vegetables are fine! Fungi are deemed to be honorary plants! If you want your handle to appear as a credit, please place it at the start of your mail in parentheses: (thus). Otherwise, I will anonymize by using your initials. See the previous Water Cooler (with plant) here. Today's plant (MG):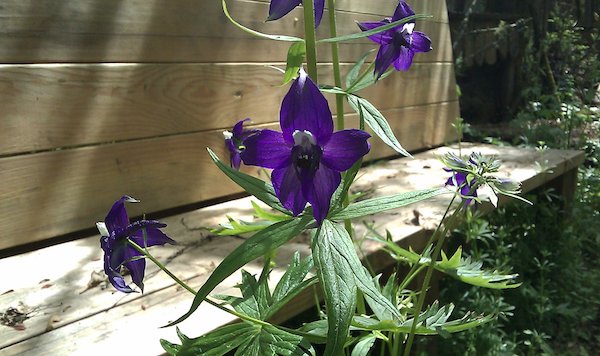 MG writes: "Columbia Larkspur on the land of the Oregon Country Fair."
* * *
Readers: Water Cooler is a standalone entity not covered by the annual NC fundraiser. So do feel free to make a contribution today or any day. Here is why: Regular positive feedback both makes me feel good and lets me know I'm on the right track with coverage. When I get no donations for five or ten days I get worried. More tangibly, a constant trickle of small donations helps me with expenses, and I factor that trickle in when setting fundraising goals. So if you see something you especially appreciate, do feel free to click the hat!

To give more, click on the arrow heads to the right of the amount.
If you hate PayPal — even though you can use a credit card or debit card on PayPal — you can email me at lambert [UNDERSCORE] strether [DOT] corrente [AT] yahoo [DOT] com, and I will give you directions on how to send a check.