By Lambert Strether of Corrente.
Patient readers, I'll have more in a bit; I got caught up in what turned out to be a mini-essay on Ilhan Omar. –lambert UPDATE 2:40PM All done!
Politics
"But what is government itself, but the greatest of all reflections on human nature?" –James Madison, Federalist 51
2020
UPDATEs on the great pageant of Democrat candidates trying to differentiate themselves:

Klobuchar (1): "Amy Klobuchar, latest presidential candidate, faces questions about temperament, treatment of staff" [Yahoo News]. "[C]onversations with more than a dozen current and former staffers lead to a more complex portrait, one that is significantly at odds with the image of 'Midwestern nice' that has coalesced around Klobuchar in recent months… . [Klobuchar] has been known to grow irate at staffers who find work elsewhere, calling their new employers to have the offers rescinded. The practice, which three former staffers for Klobuchar described and one other Capitol Hill veteran confirmed, was seen as vindictive, mystifying and counterproductive. It was also a sign of how far Klobuchar would go to punish those who she thought betrayed her." • Hmm. Does Klobuchar wear Prada?

Klobuchar (2):

This Klobuchar stuff really brings into view how much managerial class liberals feel about working people.

If they think it's ok to treat political professionals – privileged, white collar – like this, imagine how they think it's ok to treat service workers.

— Goy Division/Jew Order (@ben_geier) February 9, 2019

This is where I am on the issue.

Harris (1):

Kamala Harris talks legalizing marijuana: "Half my family is from Jamaica, are you kidding me?" pic.twitter.com/bSn1PhgRlZ

— philip lewis (@Phil_Lewis_) February 11, 2019

Booker's bill, which offers decriminalization and expungement of records, is better. (To be fair, if California did that, Harris might not be able to run on her arrest numbers.)

Harris (2): "Harris unveils California endorsements in home state show of force" [Politico]. "Harris now has the support of 21 of the state Senate's 28 Democrats, 75 percent of the caucus." And of course, it's all about the benjamins: "Harris has also been crisscrossing her home state this month, picking up campaign cash at high-end fundraisers in Hollywood and San Francisco — two of the nation's biggest and most reliable campaign ATMs for Democratic office-seekers. Last week, Harris starred at two fundraisers — one at the home of Universal's Jeff Shell, the other at the home of David Cooley, the founder of West Hollywood bistr, The Abbey. This weekend, she'll be hosted by Susie Tompkins Buell, the San Francisco-based powerhouse Democratic donor who backed Hillary Cllinton and recently publicly endorsed Harris."

Booker: "Cory Booker Woos Iowans With 'Love'-Heavy Brand Of Progressive Patriotism" [HuffPo]. One detail: "After the speech, Sue Blaisdell, 69, a homemaker who has read several of Warren's books, wanted to hear more from Booker about how he planned to help struggling farmers. (Booker had referenced leveraging antitrust policy to help farmers; he supports enacting a moratorium on agribusiness mergers.)" • Interesting. Sounds like Booker's been talking to Austin Frerick. Flexible and opportunistic Booker may be, but he's not dumb.

* * *

"How Trump wins in 2020" [Damon Linker, The Week]. "This is what Dreher means by 'socialism' — the attempt by the left to seize total control and use every power at its disposal (political, economic, cultural, technological) to smash its moral opponents, once and for all…. Imagine a general election campaign in which the Republican Party and the Trump campaign supplemented the president's Twitter-based rabble-rousing and inevitable personal attacks on the Democratic nominee with a resolutely anti-socialist message — with socialism understood in this broad, comprehensive sense. The point wouldn't be just to raise fears of higher taxes and bigger government but to fold that anxiety into the culture war, where Trump's political skills are most formidable." • As usual, conservative thinkers confuse liberal Democrats with the left. I'd recast Linker's scenario to something like Trump combining (conservative) culture war with an anti-socialist message, while the [urk] Biden/Harris* ticket responds with identity politics, and weak tea policy proposals that are strong enough for the "socialist" label to stick, but weak enough not to deliver universal concrete material benefits (like CAP's "Medicare for America," for example). And you can't beat something with nothing. NOTE * Not a prediction, just a placeholder.

UPDATE "Trump Finds the Formula to Defeat Democrats in 2020" [Patrick Buchanan, The American Conservative]. "If the pollsters at CNN and CBS are correct, Donald Trump may have found the formula for winning a second term in 2020. His State of the Union address, say the two networks, was met with the approval of 76 percent of all viewers—97 percent of Republicans, 82 percent of independents, and 30 percent of Democrats. Seventy-two percent agreed with the president's plans for securing the border with Mexico. Trump was not only unapologetic in defense of his wall. He seemed to relish savaging the rising radicalism of Democrats on two critical issues many of them have seized upon since their 2018 triumph: abortion on demand, right up to the day of birth, and soak-the-rich socialism." • The irony, of course, is that liberal Democrats are resisting "soak-the-rich socialism" with all the powers at their command…
2019
"The controversy over Ilhan Omar and AIPAC money, explained" [Matt Yglesias, Vox]. "House Republicans don't have a policy agenda that they're planning to wield to win back the House from Nancy Pelosi and the Democrats, but they do have a new favored wedge issue: Israel. Republicans, led by Rep. Kevin McCarthy, are accusing two new Muslim members of Congress, who've made strident criticisms of Israel, of anti-Semitism…. Omar followed up on Greenwald by saying that McCarthy's approach to this issue was "all about the Benjamins baby"* (i.e., motivated by money)….. Offered an opportunity to clarify by Batya Ungar-Sargon, the opinion editor for the Forward, Omar instead upped the ante to say clearly that she believes the American Israel Public Affairs Committee is paying American politicians to be pro-Israel" • And shortly afterwards, a howling mob of representatives, led by Nancy Pelosi, forced Omar to apologize and make a hostage-style video doing so. That's what you get from liberal Democrats for speaking the truth! NOTE * Yglesias misquotes. Omar tweeted "It's all about the Benjamins baby ?"; I'm guessing the jaunty little "?" emoji infuriated Omar's detractors as much as anything.

"Trump calls on Omar to resign over remarks condemned as anti-Semitic" [The Hill]. • So throwing Omar under the bus didn't buy Pelosi a thing, did it? (Except continued access to teh AIPAC money teat, of course. So there's that.)

Here is Puff Daddy's All About the Benjamins (1998; #18 on the Billboard Hot 100), a cultural reference certainly available to a large part of Omar's constituency, although not to the liberal Democrat's withered gerontocracy:

Not my favorite genre, but clearly not ant-semitic (Benjamin Franklin *** checks notes *** was not Jewish). In any case, "it's all about the benjamins" is, well true; this is the Beltway, after all. If Omar had said, with California's Jesse Unruh, that "Money is the mother's milk of politics," would she have been beset by a howling mob of Third Wave Feminsts? Anything's possible these days, but I'm guessing no. And I'm so old I remember "Listen to black women," not to mention how the Blue Wave brought in a wonderfully "diverse" class of new representatives, and Omar was a "rising star." Which I hope she becomes, in fact; the Somalis have done good things for Lewiston, Maine.

UPDATE "Ilhan Omar Was Right" [Jacobin]. "The Israel lobby, especially AIPAC, has long greased the wheels of American politics by bundling millions of dollars for campaign contributions and spending further millions on sending politicians and journalists on junkets to Israel, where they meet with government officials and absorb pro-Israel talking points under the thin pretense of a fact-finding mission. However earnest these groups may be about their support for Israel, they are explicitly in the business of trading influence for money." • No duh.

UPDATE "'It was definitely about the Benjamins' — former campaign staffer details AIPAC's far-reaching financial power" [MondoWeiss]. "A month after winning the Dem primary, we were struggling to gain attention or money….. A local Dem volunteer leader of the Cincinnati AIPAC group came over and said they would like to donate the PAC max (I believe $5000) and would also like to see Vic take a public stance on two issues that, I thought, were relatively obscure: an Iran sanctions bill and something else I can't recall, perhaps about continuing arms sales to Israel. Suffice to say, these were not hot button issues in the race… It was definitely about the Benjamins. Never would have done it otherwise. AIPAC's power is also about great organizing (they sent a local Dem volunteer emissary) and about diligence (they paid attention to us before anyone else and were happy to donate to both us and the pro-Likud incumbent). But money is the lubricant that makes the whole machine run. @IlhanMN is right to point this out." • And no good deed goes unpunished!

UPDATE "Ilhan Omar's Dilemma: AIPAC, Zionism and the Politics of Weaponized Identity" [Ghion Journal]. "Had Representative Omar replied back that Jews were paying American politicians to be pro-Israel, you would not be reading this article today–you would instead be reading a rightful condemnation. However, Representative Omar said that AIPAC was essentially bribing politicians and by extension coercing them to enact policies and legislation that favor Israel. In DC, lying is custom but telling truth is blasphemy." • It's occurred to me that, from the perspective of a liberal Democrat apparatchik, AIPAC might not be an outlier but a model. After all, AIPAC is identity-driven, and, well, delivers the Benjamins. Why shoudn't there be two, three, many AIPACs? When there are enough identity1, identity2… identitynSaban and Adelson equivalents, of course.

* * *

UPDATE "New York Democrats Could Eliminate Ocasio-Cortez's District in 2020" [The Intercept]. "The 29-year-old congressperson noted (accurately) that it's generally expected that New York will likely lose a seat, despite the city itself growing at a consistent pace. 'I don't know if that means that all of our districts are going to be redrawn dramatically, because they have been historically gerrymandered, or what will happen, but there's certainly a possibility, if not a guarantee, that my district in the coming years will not look like my district today,' Ocasio-Cortez said. 'So I think it's entirely possible, and New York politics being what it is, we have no idea where things are going to go.'" • The Democrats would never…. Oh, who am I kidding? So I'm looking forward to AOC beating Chelsea Clinton like a gong in the 2020 Senate race.

UPDATE "AOC: Can you be a democratic socialist and a capitalist? 'It's possible'" [MSNBC]. • Engels was a mill-owner in Manchester…
Realignment and Legitimacy
UPDATE "A Virginia politician's novel approach to personal scandal: Tell all before opponents do" [WaPo]. "Lee J. Carter, a Virginia state lawmaker with enough proverbial skeletons to crowd a graveyard, has taken it upon himself to beat any potential rival to the punch. In a whiplash-inducing confessional on Twitter, Carter, a Democratic delegate from Prince William County [and the General Assembly's only self-proclaimed socialist[, recently told his 18,000 followers he needed to share details of his past before unidentified foes 'try personal smears.'" • And it worked!

UPDATE "So you are a Democratic precinct captain in Virginia, now what?" [Alice Marshall, Medium]. • A vivid portrait of electoral politics at ground level, well worth a read.

UPDATE From 2016, still germane:

Frank Luntz: kids are using socialism to get sex pic.twitter.com/J8K47aNBr0

— John Whitehouse (@existentialfish) February 14, 2016

Seems legit.
Stats Watch
JOLTS, December 2018: "Job openings continue to accelerate much faster than hiring" [Econoday]. "The gap between openings and hires is now… a new record. Growth in new jobs has been outmatching growth in the labor market which is a classic formula for a breakout in wage inflation, yet something that has mysteriously yet to appear. There are already lots of red signals in this report and perhaps the most important one will be if and when quits start gaining more significant traction." And but: "Job openings remain at a high level, and quits are still increasing year-over-year. This was a solid report" [Calculated Risk]. And but: "The unadjusted data analysis shows rate of growth is well above the average seen in 2018. With this JOLTS, it is predicting improvement in the employment situation we have seen over the past year" [Econintersect].
NFIB Small Business Optimism Index, January 2019: "Doubts about future economic growth diminished optimism among small business owners to the lowest level in 26 months" [Econoday]. "Despite a less glowing outlook, current small business operations remained quite strong, with strong hiring, hiring plans, and job openings, as well as solid inventory and capital spending… A net 60 percent reported capital outlays, just 1 point less than in December and well above the recovery average."
Retail: "When Amazon Went From Big to Unbelievably Big" [The Atlantic]. "According to its latest annual report, Amazon now has 288 million square feet of warehouses, offices, retail stores, and data centers. In 2017—the biggest growth year for the company's properties—alone, it added more square feet of building (74.6 million) than the company had total in 2012 (73.1 million), when it was already the largest online retailer in the world. Amazon has added more building space from 2016 to 2018 than it did in all the rest of its history. Go back a little further in time, and the growth is even more astounding: Amazon has 48 times the square footage it did in 2004… This is not due to the growth of Amazon Web Services (the company's data-center business), or the acquisition of Whole Foods. All of its retail locations add up to less than 20 million square feet; the whole Amazon Web Services business occupies only 10 million square feet. Amazon's recent growth has been in the service of logistics, the work of getting stuff you order on the internet to your home or business… At a site visit I took with one of Amazon's major warehouse developers—Prologis—one employee pointed at a huge building under construction and noted a crucial change in the American economy: 'People don't realize this is where the future is,' he said. 'No one's going to shopping malls. Shopping malls are going into here, right?'" • 
The Bezzle: "Waymo CTO on the company's past, present and what comes next" [TechCrunch]. After 10 years, this is where we are: "This is what they're doing today as a result of all of that work. Ride hailing is the first commercial application that we're . Beyond that we are long-haul trucking, long range deliveries. We're interested, , deploying the technology in personally owned cars, local deliveries, public transportation, so forth and so on." • Well, let me know how that works out…
Tech: "Saying Goodbye to Louisville" [Google Fiber]. "Over the years, we've said a lot of hellos. (Or, more accurately, "Hey there's.")…. Today, we're saying goodbye to one of our Fiber cities. And it ain't easy. After a lot of analysis, we've made the tough decision to leave Louisville, Kentucky. As we told our customers today, we will be turning off the network on April 15 and their next two months of service are on us. The lessons we've learned in Louisville have already made us better in our other Google Fiber cities. We've refined our micro trenching methods and are seeing good outcomes elsewhere. For that, and many other reasons, we are deeply grateful to Mayor Greg Fischer, the City of Louisville and its residents for their partnership and spirit of innovation over the past two years." • Google's breezy tone is unsufferable. Coverage includes phrases like "humiliating setback," "fiber installation failures left cables exposed in the roads," and "Google Fiber is required to restore city streets to their previous condition." At least "Google Fiber received no financial incentives from Louisville Metro Government." So there's that.
Tech: "The government is using the wrong data to make crucial decisions about the internet" [Recode]. "The Federal Communications Commission, the government body charged with overseeing internet connectivity, among other things, uses data that is self-reported by the internet service providers… ISPs have to report whether a census block — an imprecise geographic area that ranges from a tenth of a mile to 8,500 miles and can contain anywhere from zero to 600 people — has access to "advertised" broadband download speeds of at least 25 megabits per second, the minimum requirement to be considered broadband…. A whole census block is considered "served" if broadband service is available anywhere within it. So even if it's impossible to get internet in your home or business, your area could be marked off as having 100 percent availability because someone hundreds of miles away is connected… In essence, the government data is measuring areas in which an internet connection could exist rather than where it is…. Broadband usage data from Microsoft — which was released late last year and is based on anonymous data the company collected on how fast its products were actually being used and updated — paints a much bleaker picture. It shows that most counties in America are without high levels of broadband usage." • Unlike, say, First World countries like South Korea. Here's a handy map: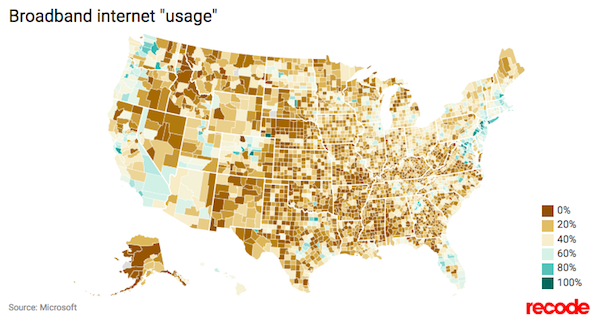 So when you hear the phrase "rural broadband," that means most of America besides the coastal enclaves.
Tech: "The fundamental problem with Silicon Valley's favorite growth strategy" [Tom O'Reilly, Quartz]. "Uber and Lyft have developed powerful services that delight their users and are transforming urban transportation. But if they hadn't been given virtually unlimited capital to offer rides at subsidized prices taxicabs couldn't match in order to grow their user base at blitzscaling speed, would they be offering their service for less than it actually costs to deliver? Would each company be spending 55% of net revenue on driver incentives, passenger discounts, sales, and marketing to acquire passengers and drivers faster than the other? Would these companies now be profitable instead of hemorrhaging billions of dollars a year? Would incumbent transportation companies have had more time to catch up, leading to a more competitive market? Might drivers have gotten a bigger share of the pie? Would a market that grew more organically—like the web, e-commerce, smartphones, or mobile mapping services—have created more value over the long term?" • Funny to think of Uber and Lyft as enormous debacles caused by central planning….
The Biosphere
"The Tiny Swiss Company That Thinks It Can Help Stop Climate Change" [New York Times]. "The technicians had in front of them 12 large devices, stacked in two rows of six, that resembled oversize front-loading clothes dryers. These were 'direct air capture' machines, which soon would begin collecting carbon dioxide from air drawn in through their central ducts. Once trapped, the CO₂ would then be siphoned into large tanks and trucked to a local Coca-Cola bottler, where it would become the fizz in a soft drink." • Cites to the Haber-Bosch method, which is indeed a process that pulls a chemical from the air on an industrial scale. I don't know whether to laugh or cry at the use case, though.
UPDATE Thoughtful thread:
Quick thread on why #GreenNewDeal is what the future of environmental politics has to look like (against skeptics who say it's immature to run together lefty economics concerns like distribution & social provision with environmental policy):

— Jedediah Purdy (@JedediahSPurdy) February 11, 2019
"There are 3K tons of infrastructure for every person. We live by a huge exoskeleton of energy systems, food systems, concrete & cable, etc." Tonnage seems like a strange measure, but it's evocative.
Our Famously Free Press
"The #XRPArmy, Explained" [Trolly McTrollface's Blog]. The context is bitcoin wars and the Ripple app, but here is the conclusion: "One thing that surprised me most, is that I found no evidence of bot activity. The amount of human work, as shoddy as it might be, that the XRP Army is ready to invest in their mission to destroy all Ripple – related criticism, is just mind-boggling. This makes it very hard for Twitter to police their activity: they are genuine accounts, run by real people, who are simply ready to waste incredible amounts of time producing low-quality content." • Algos aren't gonna work. The platforms are gonna have to forget their scale bullshit, too, because moderation doesn't scale.
Class Warfares
"The Military Targets Youth for Recruitment, Especially at Poor School" [Teen Vogue]. "As enrollment drops, recruiters are finding new ways to market the military favorably to teenagers. For example, the Army recently began recruiting through video game tournaments in hopes of connecting with young people, according to Stars and Stripes." • And then, of course, there are the economic incentives. I keep waiting for video games to make their way into electoral politics. If it's happened yet, I haven't seen it.
"Will Growers' Demand for Wage Cuts Get Help From U.S. Government?" [Portside]. "The Department of Labor's National Agricultural Workers Survey, the best analysis of farm worker demographics for over two decades, says there are about 2.5 million farm workers in the U.S., with about three-quarters of them born outside the U.S., and half undocumented. Last year growers were certified to bring in 242,762 H-2A workers – a tenth of the total workforce and a rapidly rising number. Holding down their wages would save growers a lot of money.Farmworker Justice, a Washington, D.C.-based advocacy coalition, says the average annual income for farm worker families is between $17,500 and $19,999. A quarter of all farm worker families earn below the federal poverty line of $19,790, the coalition says."
"Suburb Socialism: Chapter I: Mass Transit" [Medium]. "I want to explain just how desolate the suburbs actually are with a brief but deep dive into a single aspect of suburban living. Bear with me if you would and say a prayer for my soul…. The amount of space we devote to parking in the suburbs is fucking psychotic" (about the size of the state of Maryland on the high end). If I take an aerial view of my town in Google Maps, yes, psychotic is the word. More: "Even if we were to win massive electoral victories up and down the ballot; even if we were to secure federal funding for national free mass transit; we still have to ensure that as the number of buses and trains rise, the number of personal cars on the road falls. And really I think the best way to do this is to reverse the process that made cars convenient; as we expand our van/bus/rail services, with more ecologically/socially friendly installations." • Yep. The dreaded lifestyle changes.
"What Happens When a Metropolitan Area Shares the Wealth" [Washington Monthly]. " The confidence people have in the area's public schools is one effect of a law passed back in the 1970s called the 'Fiscal Disparities Act'… The Minnesota state legislature passed a law requiring all of the region's local governments—in Minneapolis and St. Paul and throughout their ring of suburbs—to contribute almost half of the growth in their commercial tax revenues to a regional pool, from which the money would be distributed to tax-poor areas. Today, business taxes are used to enrich some of the region's poorest communities." • So, no race to the bottom on taxes to attract business which, paradoxically, is better for business.
News of the Wired
"Stonehenge, other ancient rock structures may trace their origins to monuments like this" [Science]. "By about 4300 B.C.E., megaliths had spread [from Northwestern France] to coastal sites in southern France, the Mediterranean, and on the Atlantic coast of the Iberian Peninsula. Over the next few thousand years, the structures continued to pop up around Europe's coasts in three distinct phases. Stonehenge is thought to have been erected around 2400 B.C.E., but other megaliths in the British Isles go back to about 4000 B.C.E. The abrupt emergence of specific megalithic styles like narrow stone-lined tombs at coastal sites, but rarely inland, suggests these ideas were being spread by prehistoric sailors. If so, it would push back the emergence of advanced seafaring in Europe by about 2000 years."
"Drunk Witnesses Remember a Surprising Amount" [Scientific American]. n = 136. "The investigators found that both the inebriated and sober people who were interviewed immediately demonstrated better recollection of the film events than their drunk or sober counterparts who were questioned later. The effect held even for people with blood alcohol concentrations of 0.08 or higher—the legal limit for driving in most of the U.S. (Intoxication levels varied because different people metabolize alcohol at different speeds.) The results suggest that intoxicated witnesses should be interviewed sooner rather than later."
"How the Brain Creates a Timeline of the Past" [Quanta]. "The kind of memory-linked time Tsao wanted to think about is deeply rooted in psychology. For us, time is a sequence of events, a measure of gradually changing content. That explains why we remember recent events better than ones from long ago, and why when a certain memory comes to mind, we tend to recall events that occurred around the same time. But how did that add up to an ordered temporal history, and what neural mechanism enabled it?" • This is fascinating. My problem with Quanta is that it's almost impossible to excerpt…
"Gym Class Is So Bad, Kids Are Skipping School to Avoid It" [The Atlantic]. ". Analyzing data out of the state's Texas Fitness Now program—a $37 million endeavor to improve middle schoolers' fitness, academic achievement, and behavior by requiring them to participate in P.E. every day—the researchers concluded that the daily mandate didn't have any positive impact on kids' health or educational outcome. On the contrary: They found that the program, which ran from 2007 to 2011, actually had detrimental effects, correlating with an uptick in discipline and absence rates. As for why this particular P.E. program was counterproductive, Analisa Packham, an economics professor at Miami University in Ohio who co-authored the study, points to bullying as one potential reason. Students are more likely to be bullied in middle school than at any other point in their academic careers, and P.E. presents a particularly ripe opportunity for abuse, whether because the class forces them to use a locker room, where adult supervision is limited, or because it facilitates the teasing of overweight or unathletic kid." • As an unathletic kid, I identify.
* * *
Readers, feel free to contact me at lambert [UNDERSCORE] strether [DOT] corrente [AT] yahoo [DOT] com, with (a) links, and even better (b) sources I should curate regularly, (c) how to send me a check if you are allergic to PayPal, and (d) to find out how to send me images of plants. Vegetables are fine! Fungi are deemed to be honorary plants! If you want your handle to appear as a credit, please place it at the start of your mail in parentheses: (thus). Otherwise, I will anonymize by using your initials. See the previous Water Cooler (with plant) here. Today's plant (ChiGal):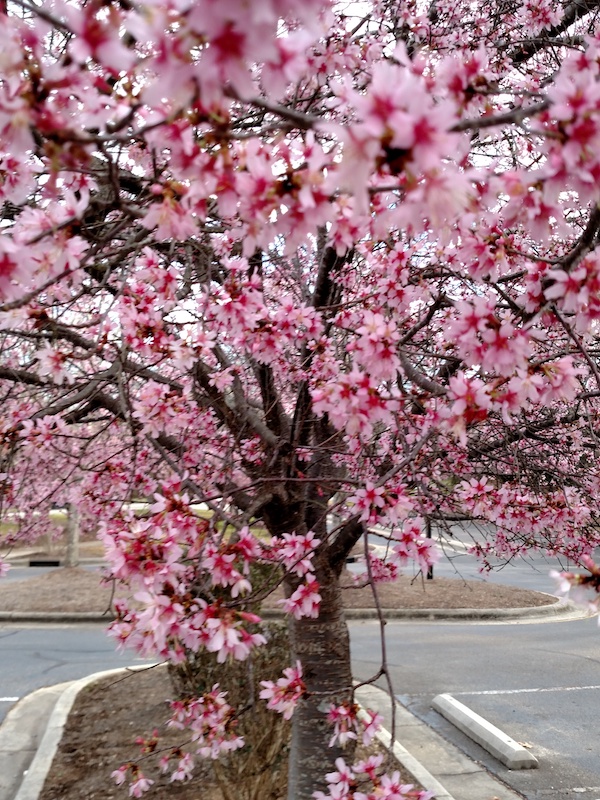 ChiGal writes: "Confusion reigns here in Chapel Hill as trees burst into full bloom the first week of February. It's been in the 70s, but is supposed to drop back down below freezing tomorrow…" Global wierding. My forsythia has been blooming in September for several years.
* * *
Readers: Water Cooler is a standalone entity not covered by the annual NC fundraiser. So do feel free to make a contribution today or any day. Here is why: Regular positive feedback both makes me feel good and lets me know I'm on the right track with coverage. When I get no donations for five or ten days I get worried. More tangibly, a constant trickle of small donations helps me with expenses, and I factor that trickle in when setting fundraising goals. So if you see something you especially appreciate, do feel free to click below! (The hat is temporarily defunct, so I slapped in some old code.)
Or Subscribe to make a monthly payment!