Why turkeys circle dead things—the creepy vigil, explained Popular Science. Resilc: "Very entertaining beast. We do our best to get their numbers up in Vermont." Moi: My father hunted wild turkeys and he said they were smart and wary, but that was before many of them decided hanging out in backyards was OK. I regularly see them on Bailey Island. They might as well be deer.
Number Theorist Fears All Published Math Is Wrong Motherboard
Canadian ISPs Continue Quest To Bankrupt TVAddons, Site That Hosted Tons Of Legal Kodi Addons TechDirt (Chuck L)
Plastic Tea Bags Release Billions of Microplastics Into Every Cup Discover (David L). Eeew.
Salmon Farmers Fight to Protect Your Dinner from Climate Change Bloomberg
Can We Redesign The Modern City With Synthetic Biology? Could We Grow Our Houses Instead Of Building Them? Forbes (David L)
Giving nature human rights could be the best way to protect the planet New Scientist (Dr. Kevin)
Foraging Is Part Of Swedish Identity; Now Its Countryside Is The Wildest Restaurant NPR (David L)
Brexit
Brexit: EU leaders believe new extension is 'likely' BBC. The later part of the story contains a short discussion of what the EU might do if Johnson refuses to comply with the Benn Act.

Supreme court litigant advised to buy stab vest after death threats Guardian (guurst)

THREAD.

So under the Civil Contingencies Act 2004, where there's an emergency, and various other preconditions are satisfied, regulations can be made by Her Majesty by an Order in Council.

— Jo Maugham QC (@JolyonMaugham) September 26, 2019

The current constitutional crisis is neither uniquely British nor uniquely about where sovereignty lies LSE British Politics and Society
Syraqistan
Imperial Collapse Watch
Can anti-drone systems really work? Asia Times

Suicide rate in active duty U.S. service members rises significantly Reuters (resilc). Neverending tours of duty will do that.
Big Brother is Watching You Watch
Trump Transition
Trump administration imposes 18K limit on refugees, the lowest ever The Hill. Functionally equivalent to locking the door.

U.S. announces asylum deal with Honduras, could send migrants to one of world's most violent nations Washington Post (furzy)

Looming Trump auto tariffs threaten blowback for US The Hill

Dependencies: Both Technological And Human, On Display In The Story Of A Developer Who Deleted Code Being Used By ICE TechDirt. Chuck L:

https://www.techdirt.com/articles/20190924/16482343062/dependencies-both-technological-human-display-story-developer-who-deleted-code-being-used-ice.shtml

A bit weedsy on the IT front but then there's this:

Also, it turned out to be incredibly effective. By Monday, Chef had completely reversed its position and said that it would not renew its work with ICE:

As many of you know, we began our work with the U.S. Government in earnest in 2014 and 2015. This included DHS and its various departments under a different set of circumstances than exists today. The overarching goal was to help them modernize their computing infrastructure and create a cooperative community of IT professionals inside the government that could share practices and approaches in a similar way to many open source communities. Policies such as family separation and detention did not yet exist.

While I and others privately opposed this and various other related policies, we did not take a position despite the recommendation of many of our employees. I apologize for this. I had hoped that traditional political checks and balances would provide remedy and that our relationship with our various government customers could avoid getting intermingled with these policies. However, it is clear that checks and balances have not provided relief to the fundamental issues of the policies in question. Chef, as well as other companies, can take stronger positions against these policies that violate basic human rights. Over the past year, many of our employees have constructively advocated for a change in our position, and I want to thank them.
Impeachment Saber Rattling
Trump Is The Deep State American Conservative

Trump Allies Predict an Impeachment Spiral Vanity Fair. Resilc: "That and $5 will get you a latte."

If This Is Trump's Best Case, The Ukraine Scandal Is Looking Really Bad For Him FiveThirtyEight. Resilc: "But look at the approval chart on same page…up."

New York Times faces backlash after revealing details about whistleblower Guardian

Rudy Giuliani on Ukraine Scandal With Trump and Biden Atlantic

First GOP governor comes out in support of Trump impeachment inquiry Axios. Resilc: "I met him this summer. He's not a real republican."

People claiming that Ukrainegate is an easy impeachment case are still high on Russiagate fumes. Worthy of Congressional censure, yes. But I don't think this transcript, w/ all of its incoherence & ambiguity, nor the complaint w/ its hearsay, will rally public around impeachment.

— Aaron Maté (@aaronjmate) September 27, 2019

Up until two weeks ago, Ukraine's novice leader was dazzling investors https://t.co/f1zO5wNvaA

— Bloomberg (@business) September 27, 2019
2020
Use it or Lose it: Efficiency Gains from Wealth Taxation Federal Reserve Bank of Minneapolis. UserFriendly: "How much more proof do you need that the meritocratic 10% are firmly in Camp Warren then a fed working paper coming out to bolster her primary policy idea?"

From JohnnyGL. Not a good look:

She needs to review the plan,wowhttps://t.co/1qtSjiwb00

— J65Ewing (@jffewing) September 26, 2019

A Warren campaign spox on whether, under a Warren administration, her VP's child could serve on the board of a foreign company: "The [ethics] bill doesn't prevent any children of a VP from serving on a company's board."

— Annie Linskey (@AnnieLinskey) September 26, 2019

Trump impeachment inquiry and a brutal 2020 election will further stoke 'toxic' workplaces, HR experts warn MarketWatch
Our Fabulously Free Press
MSNBC Cuts Off Presidential Press Conference Because "The President Isn't Telling The Truth" Jonathan Turley
Not the Nobel Prize in Economics Finalists Mint Magazine. A poll! Winner announced in early Oct. Finalists include economists well known on this site, like Randy Wray, Steve Keen, and Mariana Mazzucato. You do have to register (presumably to prevent stuffing the ballot box) which I held my nose and did, and encourage you to do too.
Lyft Allegedly Let a Driver Give More Than 700 Rides After He Stomped on a Passenger's Head Motherboard. Horrible.
NTSB faults Boeing tests of 737 MAX for not assessing how pilots respond to multiple alerts Seattle Times (Carey). From yesterday, still germane.
Plane Tests Must Use Average Pilots, NTSB Says After 737 MAX Crashes Wall Street Journal
WeWork halts all new lease agreements to stem losses Financial Times
Endeavor Pulls Its IPO Wall Street Journal. After Peleton IPO falls 7% on the first day from its offering price. Investors getting tired of being dumping grounds for over-aged "unicorns". Recall we wrote both here and for New York Magazine that the conventional back of the envelope approach for valuing private shares overvalued unicorns by an average of nearly 50% by not doing the hard work of allowing for the fact that private co's have multiple rounds with distinct economic rights, and the later rounds have better rights than the earlier ones (as in they suck value out of earlier investors). In the stone ages of my youth, equity investors were receptive to IPOs only 3 years out of five, and you have to have 18 months of profits to boot.
Climate change could cause a new mortgage default crisis Financial Times
Class Warfare
There are precious few places in America where the average worker can afford a median-priced home MarketWatch (resilc)

The 25 US cities where renters are becoming homeowners the quickest Business Insider

Student Loan Crisis Driving Racial Wealth Gap Credit Slips
Antidote du jour (skippy). Looks like he thinks he owns that bed: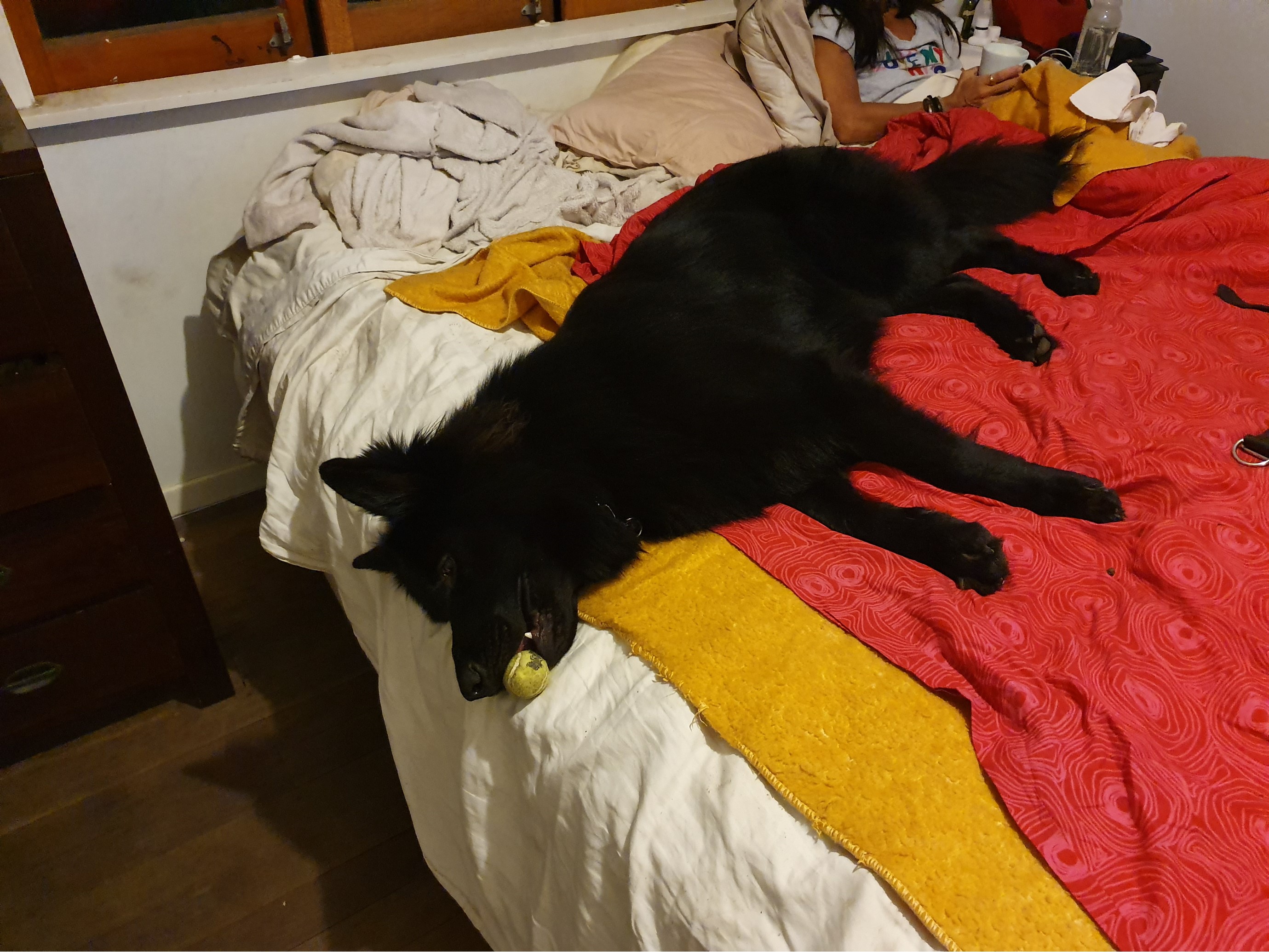 And a bonus (Chuck L):
Group of cyclists save a #deer from drowning pic.twitter.com/pumh8JmvUX

— RT (@RT_com) September 26, 2019
See yesterday's Links and Antidote du Jour here.