This is Naked Capitalism fundraising week. 778 donors have already invested in our efforts to combat corruption and predatory conduct, particularly in the financial realm. Please join us and participate via our donation page, which shows how to give via check, credit card, debit card, or PayPal. Read about why we're doing this fundraiser and what we've accomplished in the last year, and our current goal, funding comments section support.
China
Normally, China material goes in Links, but this breaking news is attested to by a South China Morning Post reporter:
Hong Kong protesters are announcing on social media the establishment of an interim gov, and plans to choose city's leader through universal suffrage. Worth paying attention to whether such calls will gain pace https://t.co/ONovh8W9Eq

— Phila Siu (Bobby) (@phila_siu) October 4, 2019
The link is to a China-language source. Can any readers interpret? Also, "Dual sovereignty and parallel government" is #198 — the last and most heavy-duty — of Gene Sharp's 198 Methods of Nonviolent Action. The protests against the Hong Kong government's ban on masks are dominating the news, but this is potentially much bigger if it gets traction.
Politics
"But what is government itself, but the greatest of all reflections on human nature?" –James Madison, Federalist 51
"They had one weapon left and both knew it: treachery." –Frank Herbert, Dune
* * *
2020
Alert reader dk (not to be confused with DK) is in the process of developing the following interactive chart. Here is (are) the latest Dem Primary Polling as of 10/1/2019, 1:00 PM EDT:

Biden up, Sanders (up) trades votes with Warren (down). All together now: "It's just one poll!" And here are the poll results:

And a C+ poll with a small sample size, as well.

I think dk has started a really neat project, and in the near future we'll seek your feedback (within reason) for the tool "live."

UPDATE 2019-09-24: These screens are from a revised version that now includes Undecided-Refused, which is in grey.

UPDATE 2019-08-30: Now the polls aggregated (all available) are shown at the bottom of the poll. We also give more detail about each poll than RCP, and allow candidates to be selected or deselected. That's three reasons what dk is doing beats RCP, and if we can make the individual polls selectable/highlightable, that will be four reasons. With more to come, grid willing.

* * *

Q3 fundraising:

1. News…

Elizabeth Warren's campaign has released their Q3 fundraising totals

Raised – $24.6 million
Donors – 509,000
Donations – 943,000
Cash on hand – $25.7 million

Sanders: $25.3 M
Warren: $24.6 M
Buttigieg: $19.1 M
Biden: $15.2 M
Harris: $11.6 M
Yang: $10 M
Booker: $6 M

— Yashar Ali ? (@yashar) October 4, 2019

Drop out, Bernie!

Biden (D)(1): "Biden's Most Formidable Opponent Is Not Another Democrat" [Politico]. "[T]here is an entire cohort of Biden supporters for whom his age—actual and perceived—is the very thing that recommends him. After the tumult of the Trump years, these voters crave the experience and order and stability Biden promises. For them, Biden is the beneficiary of shifting social and cultural notions that make it harder to pinpoint what it actually means to be old. Federal law protects workers from age discrimination starting at 40. People can join AARP at 50. They're usually eligible for Medicare at 65 and Social Security at 66. Scientifically, though, a half-dozen aging experts I talked to for this story told me, there's such vast variability in how people age that it's ill-advised and even irresponsible to try to draw conclusions about an individual based on a date of birth. "There are people at 80 who perform better than 20-year-olds," said Christopher Van Dyck of Yale University, "even on these cognitive speed, memory-type tasks." Furthermore, beyond decades of a healthy diet and sufficient exercise, a significant, intangible, practically mysterious part of the nature of anybody's aging, said Tracy Chippendale of New York University, is just … luck. Genes. Joe Biden's father died at 86. His mother died at 92."

Biden (D)(2): "Biden Says Son Hunter May Join Him on the Trail: Campaign Update" [Bloomberg]. "In an interview with the Reno Gazette Journal on Thursday, Biden was asked whether Hunter would campaign with him. 'Yes,' he answered. But when pressed, Biden said that Hunter Biden lives in the West, and that they hadn't worked out any specifics." • Count the spoons!

Harris (D)(1): "Kamala Harris' poll numbers tumble in her home state of California" [CNN]. "In yet another sign of trouble for Sen. Kamala Harris in the 2020 presidential race, the California Democrat has slid from an enviable front-runner position in her home state into the single digits in a new poll of likely voters in the Golden State. As the state's March 5 primary draws closer, Sen. Elizabeth Warren of Massachusetts (23%), former Vice President Joe Biden (22%) and Sen. Bernie Sanders of Vermont (21%) are now tied as the leaders in the field among likely voters who are either registered as Democrats or identify as Democratic-leaning independents in the new Public Policy Institute of California poll." • Still, I wouldn't put it past the California Democrat establishment to orchestrate a comeback for Kamala; look at what they did at CalPERS.

Sanders (D)(1): California cross-tabs, again from the PPIC:

From the crosstabs, wow.

Sanders:
latinos 39%
whites 9%

Warren:
latinos 5%
whites 34% https://t.co/nKwCPrgJ1S pic.twitter.com/crsJYg62lN

— wideofthepost (@wideofthepost) October 3, 2019

Drop out, Bernie! Your supporters are all white!

Sanders (D)(2): Salty:

It's going to be a real pleasure defeating you. https://t.co/L8TGcUYy4G

— Bernie Sanders (@BernieSanders) October 4, 2019

Sanders (D)(3): This won't be so funny of Hong Kong goes pear-shaped:

"P.S. If anyone's looking for a hegemon that looks like it knows what it's doing and with way less drama, hit us up." https://t.co/exsDYw2qq3

— Matt Duss (@mattduss) October 4, 2019

(Duss is Sanders' foreign policy advisor.)

Warren (D)(1): "It Is Time for the United States to Stand Up to China in Hong Kong" [Elizabeth Warren, Foreign Policy]. "The United States must send a clear message that it and its partners expect China to live up to its commitments—and that they will respond when China does not. To send that message over the situation in Hong Kong, the United States should take two steps. First, it must stop exports of police gear to Hong Kong…. Second, it should provide temporary protected status or deferred enforced departure to Hong Kong residents [as] the country did following Beijing's 1989 crackdown on Tiananmen…. The current situation must be resolved peacefully through dialogue. And China needs to know that the United States has options if it resorts to force in Hong Kong." •

Warren (D)(2): "Warren Tries Again With Corporate Legislation: Campaign Update" [Bloomberg]. "Elizabeth Warren reintroduced her Accountable Capitalism Act on Friday, a measure that would require companies to allow employees to select at least 40% of a corporation's board of directors…. Warren accompanied the announcement with letters to the CEOs of multiple companies — including Amazon.com Inc., General Motors Co., Walmart Inc., United Airlines Holdings Inc., JPMorgan Chase & Co., BP PLC, AT&T Inc., Comcast Corp., Cigna Corp., and Union Pacific Corp. — asking what they intend to do to serve their workers." • See NC here and here on the Accountable Capitalism Act

Warren (D)(3): "The Two-Income Trap Stuff Is Clearly Incorrect" [Matt Bruenig, People's Policy Project]. From May, still germane: "The bogus aspect of the analysis is driven by confusions about inflation…. In footnote 9 of chapter 2, she explains that, by "inflation adjusted," what she means is that she took the nominal dollar amounts from the 1970s consumption and income survey she used and adjusted them up by plugging them into the BLS inflation calculator. There are two problems with doing this. First, the BLS online inflation calculator uses the CPI-U index. But she should be using the CPI-U-RS index. Under the CPI-U-RS, the income of the 1970s family is actually about 13 percent lower than she reports it as, and so they clearly have less discretionary income than the early 2000s family even if you accept everything else about Warren's analysis. Second, everything else about Warren's analysis is technically mistaken. She takes each category of expenditure and adjusts it by the overall CPI-U instead of the CPI-U for that particular category of expenditure. So the home mortgage column is adjusted by overall inflation rather than housing inflation. The same is true for health insurance and cars: they are adjusted for overall inflation rather than health care and car inflation." • I'd welcome comments from readers on this; I'm not an inflation maven.
Impeachment
"Trump formally objecting to probe, won't say he'll cooperate" [Associated Press]. "President Donald Trump said Friday the White House is preparing a letter to House Speaker Nancy Pelosi formally objecting to the Democrats conducting their impeachment inquiry without an official vote. The letter is expected to say the administration won't cooperate with the probe without that vote — but Trump also said he believes it will pass…. In announcing that the House was beginning the probe, Pelosi but didn't seek the consent of the full chamber, as was done for impeachment investigations into former Presidents Richard Nixon and Bill Clinton…. Trump allies have suggested that without a formal vote, the House is merely conducting standard oversight… Where courts have generally required congressional oversight requests to demonstrate a legitimate legislative purpose, impeachment requests could be wide-ranging."

"Trump reportedly discussed Biden and Warren in call with China's president – as it happened" [Guardian]. "Though it's unclear whether Trump actually asked Xi to investigate his rivals, it seems he was willing to trade favors — and look the other way while China violently quashes protests in Hong Kong, so long as Xi continued to negotiate on trade. The Guardian has not independently verified CNN's reporting. Given the revelations from CNN, however, it's worth noting that Trump has kept mostly quiet on Hong Kong."

"BREAKING NEWS: Whistle-blower is a registered DEMOCRAT, new leak reveals – and that was why inspector general said CIA agent had 'arguable political bias' against Donald Trump" [Daily Mail]. "The unidentified whistle-blower who filed a complaint against Donald Trump is a registered Democrat – the basis for an inspector general's claim that the person may have had an 'arguable political bias' against the sitting Republican president…. In 31 U.S. states, plus the District of Columbia, Americans identify themselves as members of specific political parties when they register to vote. The other 19 states dont require it. If the whistle-blower is in fact registered to vote as a Democrat, then, he does not live in Virginia – one of the two states that surround D.C." • Virginia voters do not register by party. Otherwise, this could matter, or not!
2016 Post Mortem
2016 Post Mortem
"Did Russian Interference Affect the 2016 Election Results?" [Larry Sabato's Crystal Ball (barrisj)]. " I conducted a multiple regression analysis of the election results at the state level. The dependent variable in this analysis was the Trump margin. My independent variables were the 2012 Mitt Romney margin, to control for traditional state partisanship, state ideology measured by the Gallup Poll (the percentage of conservatives minus the percentage of liberals), the percentage of a state's population made up of whites without college degrees, the estimated turnout of eligible voters in the state, the state unemployment rate in November 2016 (to measure economic conditions), the number of Trump campaign rallies in the state, the number of Clinton campaign rallies in the state, a dummy variable for the state of Utah to control for the large vote share won by an independent conservative Mormon candidate from that state, Evan McMullin, and, finally, a dummy variable for swing states….. The regression equation proved to be extremely successful in predicting the election results, explaining a remarkable 98% of the variance in Trump vote margin in the states… . Instead, the results were almost totally predictable based on the political and demographic characteristics of those states, especially their past voting tendencies, ideological leanings, and demographics." • I missed this at the time, so thanks to barrisj for the link. So, we have interference that didn't interfere. Swell. After three years of hysteria and gaslighting.

Oy:

I'm 'in conversation' with the Clintons, Hillary and Chelsea on November 10th, South Bank. Details and tckets here: https://t.co/SnZVq4smaO

— mary beard (@wmarybeard) October 4, 2019

More gutsy than a working class woman holding down three jobs? I don't think so.
Our Famously Free Press
"Warren Raises $24.6 Million in Third Quarter, Eclipsing Biden" [Bloomberg] v. "Warren's third-quarter haul falls just short of Sanders's" [WaPo]. • TFW WaPo's headline is more honest than yours…
Realignment and Legitimacy
Stats Watch
Employment Situation, September 2019: "Is there slack in the labor market or isn't there? Judging by September's 3.5 percent unemployment rate, a rate that falls below Econoday's consensus range, there may not be much available capacity at all. Yet wage pressures, as measured by average hourly earnings, eased significantly in September" [Econoday]. "Payroll growth itself is running a notch or two below last year…, but it is still very solid as well as steady and would look to further test the labor market's available capacity…. But the other half of this report's theme is strength, that is steady demand approaching limited supply. The pool of available workers fell [to] an eight-year low. Included in the pool are the number of unemployed which fell… Yet the drying up of this pool has yet to trigger sustained wage inflation." • Sounds like nobody understands the labor market either.
International Trade, August 2019: "Global trade is on the edge of contraction, evident in many trade reports across Europe and Asia and that includes the US" [Econoday]. "The steady rate of the US deficit has been masking structural improvement in the petroleum deficit, which used to be of the greatest significance but has become, due to domestic oil production, marginal… A conclusion not hard to draw is that cross-border trade is constricting which poses risks to the US manufacturing base, a risk the Federal Reserve has targeted specifically and has been attempting to offset through rate cuts."
Retail: "Japan firms fight the frugal retail psyche with AI-driven pricing and other tricks" [Japan Times]. "Despite many rounds of stimulus, policymakers have failed to jolt households out of the deflationary mindset that followed the 1990s property crash, which meant businesses refused to raise prices for fear of losing customers. Demand-based dynamic pricing, however, has allowed some Japanese retailers to discretely bump up prices without triggering the kind of customer backlash seen in more blatant attempts at repricing in the past…. Dynamic pricing, or surge pricing, is common among data-driven businesses such as ride-hailing services but is a relatively new concept for most traditional Japanese firms."
Banking: "Credit Suisse Contractor's Suicide Probed by Zurich Prosecutor" [Bloomberg]. "The suicide of a Credit Suisse Group AG contractor amid a spying scandal that has rocked Switzerland's banking scene is being investigated by Zurich prosecutors and police….. The man took his own life last week after the private investigator he'd hired to track star banker Iqbal Khan became front-page news in Swiss tabloids. The bank hired detectives because of fears Khan would poach employees after moving to crosstown rival UBS Group AG. Chief Operating Officer Pierre-Olivier Bouee is stepping down over his decision to order detectives to shadow Khan, the former head of the wealth-management unit, Credit Suisse said." Every star banker is a policy failure.
The Bezzle: "Young People Are Starving for Classes on Finance, Tips on Taxes" [Bloomberg]. • That's not why they're starving…
The Bezzle: I wonder how this would translate to unicorn IPOs:
A brief 10-point beginner's guide to understanding the language of antiquities dealers and auctioneers.

1. Offered with Certificate of Authenticity = Faked. We were unable to get any independent scholar to authenticate this item, so we've printed our own certificate. 1/4

— Incunabula (@incunabula) October 3, 2019
The Bezzle: "There's Unicorn Blood in the Streets" [Bloomberg]. "Much like the so-called bond vigilantes of the 1980s and '90s—they started selling when they saw signs of inflation, pushing up interest rates even before the Federal Reserve could act—analysts, fund managers, and other investors are showing signs of increased vigilance about all the new equity being pushed onto the stock market. They're casting suspicious looks at the unicorns (the nickname used for startups with private valuations of $1 billion or more) that are losing large amounts of money. And at those with convoluted corporate ownership schemes and plans for multiclass share structures that water down the voting power of ordinary investors. And at those that present themselves as tech companies, deserving of Silicon Valley valuations, when in fact their businesses are more mundane." • Now we have unicorn vigilantes. Took long enough.
The Bezzle: "Can the New York State Liquor Authority cap delivery fees at 10%?" [Nation's Restaurant News]. "The New York State Liquor Authority is reviewing Tuesday a proposal that would increase regulation of third-party companies such as Grubhub and DoorDash that take more than a 10% cut of a licensee's profits." • That's quite a cut.
Tech: "Musk broke the law with anti-union tweet, judge rules" [Ars Technica]. "Tesla and its CEO, Elon Musk, violated federal labor laws when it tried to hamper union organizing at its Fremont factory, a federal administrative law judge in California ruled on Friday. Among other things, Tesla security guards repeatedly ordered union organizers to stop leafletting in Tesla's parking lots and fired one union organizer for allegedly lying during a company investigation. Elon Musk was also dinged for a tweet that suggested employees would no longer receive stock options if they voted to form a union."
Tech: "Microsoft's Surface Laptop 3 Signals That 'Right to Repair' Is Working" [OneZero]. "On Wednesday, Microsoft unveiled its Surface Laptop 3, a new device with a detachable keyboard that should allow for easier repairs and adjustments to internal components…. Microsoft was not totally clear about which specific components of the Surface Laptop 3 will be repairable or replaceable, although it did say the device's hard drive, at least, will be removable." • Good for Microsoft, and I don't say that lightly!
Supply Chain: "Target's back rooms are becoming unsafe, overcrowded 'nightmares' as the company cuts shifts and hours, workers say" [Business Insider]. "Target's move to cut overnight and backroom shifts in stores across the US hasn't just inconvenienced workers. In some cases, it's put them in dangerous situations. Business Insider spoke with 28 former and current Target workers, 13 of whom said they felt that the shift changes made their back rooms an unsafe work environment. Without people working those overnight and backroom shifts, the back rooms in many Target stores have become overcrowded and, in some cases, unsafe, some workers said. As a result, the daytime workers, whose responsibilities also include helping customers, have been expected to pick up the slack."
Mr. Market: "Chaos Scientist Finds Hidden Financial Risks That Regulators Miss" [Bloomberg]. "Today, in a more bucolic setting—the Institute for New Economic Thinking at the Oxford Martin School—[Oxford University professor Doyne Farmer] is drawing on decades of complexity research that began with roulette. After winning acclaim as a pioneer of chaos theory, which helps explain the unpredictability of complex systems such as the weather, he jumped into markets, co-founding one of the early quantitative investment firms in the 1990s. Now, Farmer and a band of central bank researchers are focusing on the tangled web of global finance, using a tool of the natural sciences called agent-based models to find dangers lurking in the system and uncover ways to avoid them. Agent-based models, used in fields from biology to sociology, are bottom-up, simulating the messy interactions of hundreds and even millions of agents—human cells or attitudes or financial firms—to explain the behavior of a complex system. The nonlinear interplay can produce unexpected phenomena, such as economic booms and busts, providing insights into the causes of events and the best responses." • With a shout-out to INET. Well worth a read!
Honey for the Bears: "Leading indicators are suggesting recession" [Bill Mitchell]. • Analysis of German, Japan, and the United States (but not China).
Honey for the Bears: "Gauging the extent of contagion" [Financial Times]. "Contagion is a loaded term for investors and markets. But investors are now on notice that the global economy is looking increasingly vulnerable as data for Europe and the US on Thursday appeared to confirm that weakening manufacturing activity had infected their respective service sectors… The US is by no means heading for a recession yet, but the direction of travel is worrying."
Honey for the Bears: "De Beers Diamond Sales Fall 39% in a Year" [Bloomberg]. "The latest sales data from De Beers reinforces why this is one of the worst years for the diamond industry in a long time…. The crisis in the diamond industry stems from an oversupply of polished gems, which has depressed demand for rough stones. Much of the polishing and trading industry is based in India, where companies have been squeezed by tight bank financing and currency fluctuations. However, it's unlikely that shoppers will see much change in jewelry prices at the retail level. Those prices tend not to fluctuate and reflect other costs, like marketing and labor." • And the pricing power of a cartel.
* * *
Today's Fear & Greed Index: 31 Fear (previous close: 29, Fear) [CNN]. One week ago: 52 (Neutral). (0 is Extreme Fear; 100 is Extreme Greed). Last updated Oct 4 at 12:33pm.
The Biosphere
"Lufthansa to use Neste sustainable aviation fuel in Frankfurt" [FlightGlobal]. "Neste says its aviation fuel is produced from renewable waste and residue raw materials, and is fully compatible with existing jet engine technology when blended with fossil fuels. The company adds that sustainable aviation fuel has up to 80% smaller carbon footprint compared to fossil jet fuel. In the US and Europe, the company's renewable jet fuel capacity is currently 100,000 tons annually…. In September, Delta Air Lines said it is investing $2 million to research the feasibility of developing biofuel products from forest floor debris. Partnering with Northwest Advanced Bio-fuels (NWABF) in Washington State, the airline is studying alternative fuels as a means to help reach a goal of reducing carbon emissions 50% by 2050."
"5 people tackling aviation and shipping emissions" [Politico]. "Neither shipping nor aviation were included in the Paris climate agreement, and the U.N. bodies responsible for both sectors are still discussing how to cut emissions. That's a slow process, and the EU plans to move much faster. European Commission President-elect Ursula von der Leyen is promising her European Green Deal will be a policy 'hallmark' that will include shipping and aviation." • With potted bios of the five people.
"'War for survival': Brazil's Amazon tribes despair as land raids surge under Bolsonaro" [Guardian]. "Brazil's indigenous peoples – who numbered upwards of 3.5 million when Portuguese explorers arrived in 1500 – suffered a wretched start to the 20th century. As outsiders pushed deeper into their traditional homes, illness and violence reduced their total population to as little as 70,000. During the 1970s they faced further pain as the dictatorship bulldozed roads through the Amazon and lured migrants with the slogan "a land without men for men without land". But the return of democracy brought hope. Brazil's 1988 constitution gave indigenous communities the exclusive right to vast areas, and protected reservations such as the 1.9m hectare Uru-Eu-Wau-Wau territory were born. By the turn of the century Brazil's indigenous population had rebounded to some 350,000." • Too bad the Obama administration collaborated with the Brazilian right to cripple Lula and bring on Bolsonaro.
"Sprinklers and gadgets won't save your home from a wildfire. What your neighbor does might" [Los Angeles Times]. "Embers should be viewed as a contagion that can spread like an airborne virus…. Safeguarding homes individually is nowhere as effective as what communities can do together, Cohen said. Events in Santa Rosa and Paradise, Calif., show that perceived protections such as freeways or firebreaks are no match for wind-driven conflagrations. The key to avoiding the next catastrophic fire, experts say, is a term used by public health officials: group immunity." • Embers, embers, embers. Stop embers!
The dreaded life-style changes:
"Famous for Quality the World Over" Philco, 1947 https://t.co/KTsNgTKjqj pic.twitter.com/EZi2M47JYR

— Masque of the Red Death (@doctorow) October 3, 2019
Water
"For 30 years, Georgia and Florida have been fighting over water" [Scalawag]. "For 30 years, Georgia and Florida have been entangled in legal battles over water rights in the Apalachicola Chattahoochee Flint (ACF) river basin. The Chattahoochee River winds through Georgia before joining the Flint River near the Florida state line, and Florida argues its seafood industry — a critical part of its economy — has been crippled by the lack of water coming through the river basin to the coast, largely because of Georgia farmers' irrigation practices. Florida sued Georgia in order to get it to cap its water use, but Georgia argues such limits would destroy its agricultural economy."
Our Famously Free Press
"The 'Sports Illustrated' Layoffs Are What Happen When We're Ruled by Vampires" [The Nation (JB)]. "Now Sports Illustrated is being taken from all of us in an ugly and ruthless manner. The organs of the magazine are being harvested by a private equity firm that is out for blood and taking no prisoners. Half the staff has been laid off by the new owners, a consortium of of vampiric thugs called The Maven Group. TheMaven cut a deal to license SI in June after Meredith Corporation, the magazine's previous owner, sold the brand to Authentic Brands Group for about $110 million. According to Jacob Bogage of The Washington Post, 'Close to 40 percent of the publication's editorial staff is set to be replaced by an army of low-wage freelancers. The CEO of the SI's ownership group calls it 'awesome." As Pulitzer Prize–winning writer David Maraniss put it, 'The corporate dismemberment of Sports Illustrated is more than an unfortunate sports story; it's an unforgivable crime against a living legacy of literate writing.' After a chaotic Thursday morning during which the layoffs were expected and then delayed, followed by a plea from three-fourths of the staff to call this deal off, the ax came in the afternoon." • "Authentic Brands Group." Love it.
Class Warfare
"GM Strikers Settle In For The Long Haul" [HuffPo]. "The warehouse in Langhorne is a case study in how union members are holding it together now that GM has dug in and the burst of initial headlines has passed. The facility, which sends parts out to GM dealers along the East Coast, employs about 80 union members ― a tiny fraction of the nearly 50,000 on strike around the country. But they drew hundreds of supporters to a rally at the picket line over the weekend, a show of solidarity that stunned some strikers. Food arrives at the Langhorne picket site every day ― bags of hoagies and boxes of doughnuts ― so much that the strikers can barely get through it all. The pizza came courtesy of some sympathetic steelworkers. Local members of the Democratic Socialists of America dropped off a load of wood to keep the fire burning. As Shoemaker reheated the pizza, a worker from a nearby Boeing plant showed up with another bundle of wood. He's been stopping by ever since the strike started. "
"Antiracism: a neoliberal alternative to a left" [Adolph Reed, Dialectical Anthropology]. "Antiracist activism and scholarship proceed from the view that statistical disparities in the distribution by race of goods and bads in the society in which blacks appear worse off categorically (e.g., less wealth, higher rates of unemployment, greater incidence of hypertensive and cardiovascular disease) amount to evidence that "race" remains fundamentally determinative of black Americans' lives. As Merlin Chowkwanyun and I argue, however, disparity is an outcome, not an explanation, and deducing cause simplistically from outcome (e.g., treating racially disparate outcomes as ipso facto evidence of racially invidious causation) seems sufficient only if one has already stacked the interpretive deck in favor of a particular causal account (Reed and Chowkwanyun 2012, 167–168). We also discuss a garbage in, garbage out effect in studies that rely on large-scale aggregate data analysis; gross categories like race may mask significant micro-level dynamics that could present more complex and nuanced understandings of causality."
"What People Hate About Being Managed by Algorithms, According to a Study of Uber Drivers" [Harvard Business Review]. "However, our research reveals that algorithmic management is also frustrating to workers, and their resentment can lead them to behave subversively with the potential to cause real harm to their companies. … Drivers have responded to their various frustrations with these algorithms by identifying clever ways to work around them… They are also angry enough — and feel disempowered enough — that they are finding creative ways to make their displeasure known; for instance, drivers are gaming the system by artificially causing surge pricing. They are also getting political; especially in the gig economy, drivers of ride-hailing services and couriers seek to compensate for the social isolation they experience in their every-day routine by actively engaging in online communities, but companies themselves aren't involved in those platforms. Instead, more-adversarial union-type organizations have sprung up as drivers or couriers look to support each other."
"iPhone workers today are 25 times more exploited than textile workers in 19th Century England" [Monthly Review]. "[Under globalization,] There are, in fact, more people working, and they are not able to earn enough of the total surplus produced to lift them sufficiently above the established poverty line. Why is this so? The arsenal of Marxist analysis provides us with a simple concept–the rate of exploitation… There are, in fact, more people working, and they are not able to earn enough of the total surplus produced to lift them sufficiently above the established poverty line. Why is this so? The arsenal of Marxist analysis provides us with a simple concept–the rate of exploitation." • Hmm.
News of the Wired
I am not feeling wired today. I am feeling unwired, or perhaps de-wired.
* * *
Readers, feel free to contact me at lambert [UNDERSCORE] strether [DOT] corrente [AT] yahoo [DOT] com, with (a) links, and even better (b) sources I should curate regularly, (c) how to send me a check if you are allergic to PayPal, and (d) to find out how to send me images of plants. Vegetables are fine! Fungi and coral are deemed to be honorary plants! If you want your handle to appear as a credit, please place it at the start of your mail in parentheses: (thus). Otherwise, I will anonymize by using your initials. See the previous Water Cooler (with plant) here. Today's plant (PS):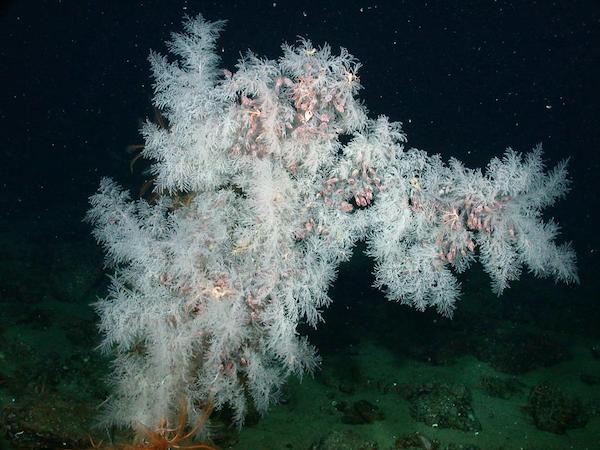 PS writes: "These are deep-sea corals that live below the depth that light can penetrate. Consequently, unlike their shallow-water cousins, they have no photosynthetic algae symbionts and so have to rely exclusively on what they catch to feed themselves."