'They're Not Looking for Us.' Experts Say Sharks Might Mistake Humans for Seals When They Attack Time. Metaphorical sharks, on the other hand….
The parallel universe of private equity returns FT. "If IRRs since-inception could be banked, our pension funds would all be as rich as Croesus. Manifestly, if sadly, that is not the case."
ar
As pandemic rages on, world economic recovery looks ever more shaky: Reuters poll Reuters
The Rot Of The St. Louis Elite Goes Far Deeper Than The "Gun Couple" Current Affairs. Note how the virus got seeded in St Louis: exactly as I suggest here.
Big Tech defies global economic fallout with blockbuster earnings FT. Go long social distancing.
Corporate Insiders Pocket $1 Billion in Rush for Coronavirus Vaccine NYT
US companies cling to share buybacks despite collapse in profits FT
#COVID19
Aerosol and surface contamination of SARS-CoV-2 observed in quarantine and isolation care Nature. We had this a week ago as a preprint. Alert reader Ignacio commented:

RE: Aerosol and Surface Transmission Potential of SARS-CoV-2 (preprint) medRxiv (via). From the body of the study: "Air samples in the rooms and in the hallway spaces (Figure 1B, and Tables S1 and S2) provide information about airborne viral shedding in these facilities. We found 63.2% of in-room air . samples to be positive by RT-PCR… [C]ell culture indicated some evidence for the presence of replication competent virus." See the link at "via" for the Agence France Presse summary for the methodology in human-readable prose. To my knowledge, this is the first study to trace a pathway from the actual breath of individuals to infectiousness ("replication competent").

Thank you, this is really a boost for the airborne transmission hypothesis: if you detect infectious particles in the air and demonstrate that these are infectious in in vitro cultures there is not much to add.

"Now that aerosol transmission of the coronavirus is established" (lambert preens):

2) Indoor air ventilation is needed to clear aerosols & reduce airborne transmission risk. Video demonstrates time needed to clear smoke from room:

?2 opposite doors: 7 min
?1 door: 45 min
?1 door w/ fan: 21 min
?1 door w/ 2 fans circulating: 12 min

➡️ 2 doors/windows best

— Eric Feigl-Ding (@DrEricDing) July 31, 2020

SARS-CoV-2, SARS-CoV-1 and MERS-CoV viral load dynamics, duration of viral shedding and infectiousness: a living systematic review and meta-analysis (preprint) medRvix. From the abstract: "Although SARS-CoV-2 RNA shedding in respiratory and stool can be prolonged, duration of viable virus is relatively short-lived. Thus, detection of viral RNA cannot be used to infer infectiousness. High SARS-CoV-2 titres are detectable in the first week of illness with an early peak observed at symptom onset to day 5 of illness."

List N: Disinfectants for Use Against SARS-CoV-2 (COVID-19) EPA. My thought is that the aerosols have to settle somewhere. So surface disinfecting would play an important role.

* * *

Operation Warp Speed leader says he expects coronavirus vaccine to be highly effective, 'in the 90%' range CNN

Pfizer CEO says it's 'radical' to suggest pharma should forgo profits on COVID-19 vaccine: report Fierce Pharma. Yes, and?

Most in poll say they're willing to wait for COVID-19 vaccine to be fully tested The Hill

* * *

Effect of statins on SARS-CoV-2 infection (preprint; PDF) medRxiv. From the abstract: "We therefore investigated the effect of statins on SARS-CoV-2 infection [via cell culture] and found that selective statins reduced SARS-CoV-2 cell entry and inhibited high and low pathogenic coronavirus infection in human cells. A retrospective study on hospitalized patients with COVID-19 implies that reduced high density lipoprotein levels, which are typically counteracted by statin therapy, are associated with aggravated disease outcome. These results suggest that statin therapy poses no additional risk to individuals exposed to SARSCoV-2 and that some statins may have a mild beneficial effect on COVID-19 outcome."

Statin Usage is Linked to a Lower Death Rate in Hospitalized COVID-19 Patients (press release) UCLA Health. "Hospitalized patients taking statins had a 5.2% mortality rate, compared to a 9.4% mortality rate in patients not taking statins from two groups of COVID-19 patients with matching clinic characteristics except statin usage."

* * *

What Back to School Might Look Like in the Age of Covid-19 NYT. It's an "Illustrated Guide." So why the heck are the school bus windows closed in the illustration?

Tonight's covid thoughts:

Far too much of what we're doing isn't based on what the best available evidence shows *works*

Here? The windows should be down. Why aren't the windows down? At this point the evidence on how SARS-CoV-2 is actually transmitted is ::overwhelming:: pic.twitter.com/Z37RYtyxik

— Matthew Cortland, Esq (@mattbc) July 31, 2020

Careless writing and illustration, sloppy editing. I guess everybody was too occupied in getting the fancy interactive to scroll horizontally and vertically — a first for me, and boy howdy, was that confusing and useless — to actually focus on depicting simple public health measures accurately.

Reopening US Schools in the Era of COVID-19: Practical Guidance From Other Nations JAMA

Age-Related Differences in Nasopharyngeal Severe Acute Respiratory Syndrome Coronavirus 2 (SARS-CoV-2) Levels in Patients With Mild to Moderate Coronavirus Disease 2019 (COVID-19) JAMA. From the discussion: "Our analyses suggest children younger than 5 years with mild to moderate COVID-19 have high amounts of SARS-CoV-2 viral RNA in their nasopharynx compared with older children and adults. Our study is limited to detection of viral nucleic acid, rather than infectious virus, although SARS-CoV-2 pediatric studies reported a correlation between higher nucleic acid levels and the ability to culture infectious virus.5 Thus, young children can potentially be important drivers of SARS-CoV-2 spread in the general population, as has been demonstrated with respiratory syncytial virus, where children with high viral loads are more likely to transmit.6 Behavioral habits of young children and close quarters in school and day care settings raise concern for SARS-CoV-2 amplification in this population as public health restrictions are eased."

After Cruise Ships and Nursing Homes, Will Universities Be the Next COVID-19 Tinderboxes? Time

* * *

Handyfuge-LAMP: low-cost and electricity-free centrifugation for isothermal SARS-CoV-2 detection in saliva (preprint; PDF) Ethan Li*, Adam Larson*, Anesta Kothari, Manu Prakash✝, Department of Bioengineering, Stanford University medRxiv. From the abtract: "We present here an open hardware solution- Handyfuge – that can be assembled with readily available components for the cost of <5 dollars a unit and could be used together with the LAMP assay for point of care detection of COVID-19 RNA from saliva. The device is then validated using the LAMP protocol from Rabe and Cepko. With the use of insulated coolers for reagent supply chain and delivery, the assay presented can be completed without the need for electricity or any laboratory scale infrastructure."
The Trump administration was slow to recognize coronavirus threat from Europe, CDC director admits CNN
China?
Hong Kong elections: mass disqualification of opposition hopefuls sparks political storm South China Morning Post

US, China consulate closures deal losses to both nations AP

For kitchen-less Hong Kongers, new ban on restaurant dining is a bitter pill Reuters

Cover Story: The Losing Game for Chinese Retail Investors Caixin. They're getting the hang of it!
UK/EU
The EU Isn't Letting In American Tourists Anytime Soon Bloomberg. I remember when I got my first passport, and being, well, proud: "The Secretary of State of the United States of America hereby requests all whom it may concern to permit the citizen/national of the United States named herein to pass without delay or hindrance and to give all lawful aid and protection." Oh well.

London's Newest Ghost Town Was Financed by China Bloomberg

UK's answer to Disneyland revealed in plans for major new theme park Metro UK

US to bring 6,400 troops home from Germany, move 5,600 more AP
Trump Transition
Democrats in Disarray
READ: President Barack Obama's eulogy for Rep. John Lewis ABC. Summarizing:

In his eulogy for John Lewis, former Pres. Obama proposed a swath of voting rights expansions, including:

– Automatic registration
– Adding polling places
– Expanding early voting
– Making Election Day a holiday
– Eliminating the filibuster, if necessaryhttps://t.co/h2PWhVOIDd pic.twitter.com/BKoC90ULFI

— ABC News (@ABC) July 31, 2020

All these measures have been desperately needed since at least Florida 2000. That's 2020 – 2000 = 20 years. So Obama — hold onto your hats, folks — is being strictly performative. Obama could also have eliminated the filibuster in 2009, and if he had wanted to be the next FDR, he would have.

Meanwhile, Bill Clinton says the quiet part out loud:

Speaking at John Lewis' funeral, Bill Clinton disses civil rights leader Stokely Carmichael (later Kwame Ture): "There were two or three years there where the movement went a little bit too far towards Stokely. But in the end, John Lewis prevailed." pic.twitter.com/5uc6eZtFUQ

— Aaron Maté (@aaronjmate) July 30, 2020
2020
Republican China Hawks Secretly Approaching Team Biden The Daily Beast
L'Affaire Joffrey Epstein
Newly Released Records in Ghislaine Maxwell Case Reveal Correspondence With Jeffrey Epstein Courthouse News. This is interesting:

So they screwed up bigtime on the redactions for the Ghislaine Maxwell release today. You can literally copy and paste the redacted pages into notepad and read them. Check out document #143 for a great example. #Epstein #Maxwell https://t.co/NMejzsE2SO

— trappedpatriot (@trappedpatriot) July 31, 2020

This is correct; I've tested it. Enjoy!

Bill Clinton Went to Jeffrey Epstein's Island With 2 'Young Girls', Virginia Giuffre Says Newsweek
Big Brother Is Watching You Watch
How DHS Went to War With the American People Slate

Multiple Tor security issues disclosed, more to come ZD Net. Oh.
Imperial Collapse Watch
Why COVID-19 presents a world reordering moment Brookings Institute. "[W]orld order has come to an end and is not coming back any time soon."
Failed State
Why Big Nations Have Been Brought Low by the Pandemic Bloomberg. What a poor headline; there's no nation bigger than China. But this:

In the U.S., the pandemic has made the consequence of decades of misallocation and paralysis tragically clear. The American edifice of government has been hollowed out and its federal structure made unfit for purpose in a partisan and divided age. This ineffectiveness is reflected in data such as the World Governance Indicators, which has seen the U.S. decline steadily over the past two decades.

The world's largest economy should not have a state that struggles to respond effectively to a crisis, even a once-in-a-century crisis. India's state, on the other hand, has always been low on . In fact, it's a standard joke among policy analysts in India that any conversation about what needs to be done ends with the statement, "But we can't do that anyway." The Indian state, at every level, is chronically short of managerial resources, of talent, of resources and of time.
Assange
UK government refuses to release information about Assange judge who has 96% extradition record Declassified UK (dk).
Protests
Anti-Eviction Protesters Just Blocked People From Entering a New Orleans Courthouse Vice (Re Silc).

Portland's Wall of Moms crumbles amid online allegations by former partner, Don't Shoot PDX Oregon Live

Citing impostors, feds urge lifting of court order protecting journalists amid Portland protests Politico. P.G. Wodehouse novels are full of "impostors," but this one appears to have been co-written with Heinrich Himmler.
Class Warfare
What the Sanders universal masking bill would lay (some of) the foundations for:

I can't stop thinking about @ASlavitt's segment on @CNN yesterday. If he's right, then a *national* commitment to freezing ~90% of the economy for JUST 4-5 WEEKS would effectively stamp out the virus and allow us to get where we all want to be.

— Stephanie Kelton (@StephanieKelton) July 30, 2020

Halting the economy for a month would require capital accumulation to come to a halt as well, as the C-M-C' cycle would be interrupted, and workers would be fully provisioned, by government, in order to live, and not merely to work. You — although not Slavitt — can see why this would be problematic for elites; it might get workers asking awkward questions. Republicans (as usual) express ritual fealty to C-M-C' crudely, by saying "We don't want to pay people not to work more than we pay them to work." Democrats (as usual) haze the issue over with means-testing, complex eligibility requirements, demands that existing systems (e.g., unemployment) do what they are not designed to do, refusal to recognize the scope of the problem, and general fecklesness and delay. (For example, the HEROES act — love the name — distinguishes between workers who are essential, and those who are not. Of course, all workers are essential to somebody, even if only themselves, or families.

Consumer groups challenge "deceptive" Tyson ads that brag about worker safety The Counter

You're Only As Free as You Are Wealthy The Nation
Ellen: 'I Never Intended To Make Staff Feel Unsafe By Wearing A Bloodied Ram Skull And Stalking Them With A Hatchet' The Onion
Antidote du jour (via):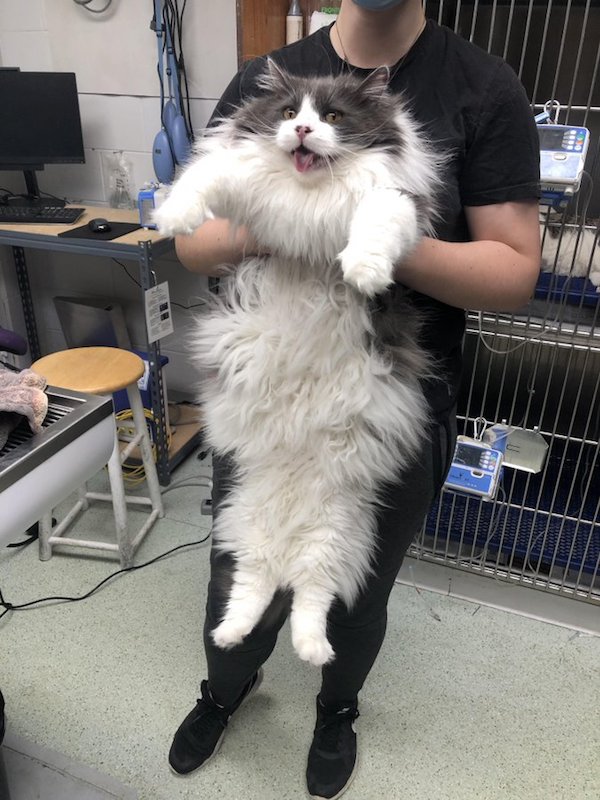 "Wolfgang."
See yesterday's Links and Antidote du Jour here.