By Lambert Strether of Corrente.
Readers, I will put up on Election Post/Open Thread at 7:00PM. –lambert
Bird Song of the Day
Seems appropriate…
#COVID19
At reader request, I've added this daily chart from 91-DIVOC. The data is the Johns Hopkins CSSE data. Here is the site.
Here are the United States regions: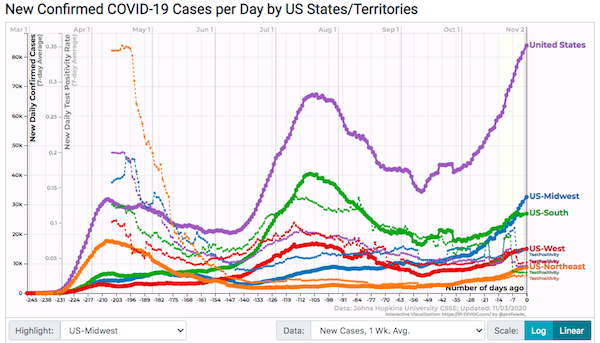 Still going up…
Here are the Swing States as I conceive them (see below):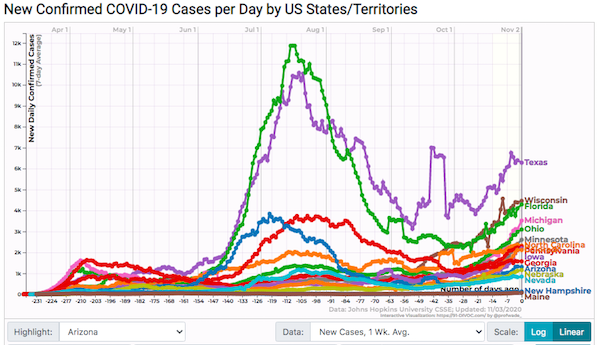 Looks like a little relief for Texas….
Another natural experiment:
The strategies pursued by South Korea, Vietnam & China are paying off. As of Nov. 1, the cumulative death rate per million is:

??U.S.: 696
??U.K.: 685
??France: 563
vs.
??South Korea: 9
??China: 3
??Vietnam: 0.36

[Chart shows data correct as of Oct. 30] https://t.co/bOgOVnOONG pic.twitter.com/jRLdyW0ofK

— Bloomberg Opinion (@bopinion) November 1, 2020
The entire thread is well worth a read. And the companion piece to the thread–
"Don't Ignore the Good News On Covid-19 From Asia" [Bloomberg]. "The perception of an Asian advantage in this pandemic often falls prey to essentialist thinking: That somehow the East is doing things the West could never do, and that it's largely down to profound differences in values, politics and culture…. There are likely far less intangible forces at work. If the key to avoiding more lockdowns is finding a way to 'live with the virus' — through widespread testing, tracing of contacts and isolating positive cases to slow transmission — Western countries have made structural, not cultural, errors…. The differences between Asia and Europe look more rooted in recent, not ancient, history. Over the past 20 years, Asia has been hit with several epidemics, such as SARS in 2003 and MERS in 2015, which forced countries to . This also spurred countries to : Between 2000 and 2016, Vietnam's per-capita health spending increased by an average of 9% per year. By contrast, European countries have been shutting hospitals and beds, with . As Europeans start their winter lockdown, they should remember that improvements are achievable. And the good news is that countries are collaborating more at the EU level, on efforts such as rolling out quicker antigen tests and sharing resources. If Asia managed to learn from past pandemics, the West should be able to as well." • "Should," yes.
Politics
"But what is government itself, but the greatest of all reflections on human nature?" –James Madison, Federalist 51
"They had one weapon left and both knew it: treachery." –Frank Herbert, Dune
"They had learned nothing, and forgotten nothing." –Charles Maurice de Talleyrand-Périgord
The electoral map. July 17: Georgia, Ohio, ME-2 move from Leans Republican to Toss-up. Continued yikes. On July 7, the tossup were 86. Only July 17, they were 56. Now they are 91. This puts Biden at 278, i.e. over 270. August 18: Still no changes. August 31: Indiana moves from Likely to Safe Republican. September 9: No changes. September 14: No changes. September 21: No changes. September 22: Ohio moves from Toss-up to Leans Republican. September 25: Ohio moves from Leans Republican to Toss-up. September 30: Iowa moves from Leans Republican to Toss-up. October 3: Indiana moves from Safe to Likely Republican; Iowa moves from Toss-up to Leans Republican. October 6: Arizona moves from Toss-up to Leans Democratic; Iowa from Leans Republican to Toss-up; Indiana from Likely to Safe Republican; New Mexico from Likely to Safe Democratic. October 8: NE-2 moves from Toss-up to Leans Democratic. October 13: Indiana moves from Likely to Safe Republican. October 16: Indiana moves from Safe to Likely Republican. October 19: No changes. October 21: NE-1 moves from Likely to Safe Republican. October 24: Indiana moves from Likely to Safe Republican. Big move on Minnesota!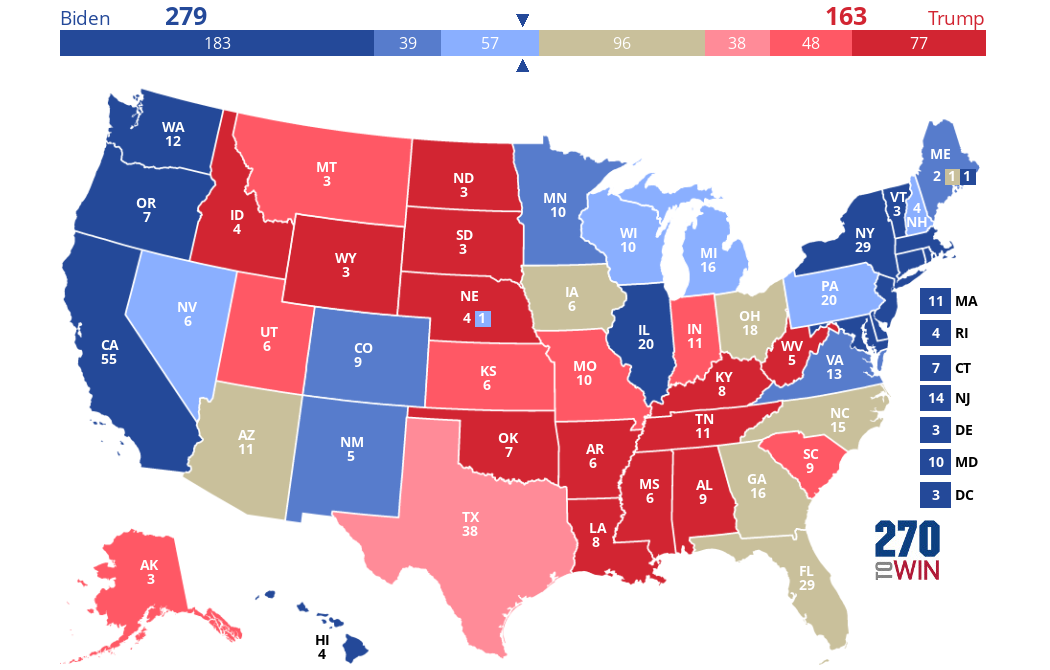 Click the map to create your own at
270toWin.com
The election countdown:
Here is an early voting calendar. Maybe we'll have a whole series of October surprises, since election day is gradually being devalued as an event.
And here are mail-in voting ruies, which naturally differ state by state.
"2020 General Election Early Vote Statistics" [U.S. Elections Project (SlayTheSmaugs)].
"How to Vote in 2020: Everything You Need to Know" [Bloomberg]. "Casting a ballot in the U.S. isn't always easy, with a complex web of varying state rules governing how and when you can vote. The Covid-19 pandemic has introduced even more complexity in 2020, as many states have made significant changes to allow for more early voting or voting by mail. More changes could come as lawsuits in several states wind their way through the courts. That's why Bloomberg News is answering these critical questions so you'll know what you need to do to make sure your vote is counted in the 2020 election."
Here are is an enormous spreadsheet on voting equipment, so you can check your own jurisdiction (hat tip, UserFriendly. I should really aggregate these onto a map…).
"2020 General Election Early Vote Statistics" [U.S. Election Project].
"California Ballots Mailed and Returned Tracker" [Political Data]. • California only, sadly.
"Where's My Ballot?" [Alex Padilla]. "Tracking your vote-by-mail ballot—when it is mailed, received, and counted—has never been easier. The California Secretary of State is now offering Where's My Ballot?—a new way for voters to track and receive notifications on the status of their vote-by-mail ballot. Powered by BallotTrax, Where's My Ballot? lets voters know where their ballot is, and its status, every step of the way." • Ballottrax. Shoulda gone long….
"State Fact Sheets" [Georgetown Universitty]. "[F]act sheets for all 50 states explaining the laws barring unauthorized private militia groups and what to do if groups of armed individuals are near a polling place or voter registration drive."
All the deadlines, rules, and voting hours to know when casting your ballot in the 2020 presidential election" [Business Insider]. "Here are 12 interactive graphics, charts, and maps Insider created to answer your most common questions about voting in 2020."
2020
Swing States

Here is my list of Swing States, with votes in the Electoral College and selected ballot initiatives in parentheticals):

Arizona (11) (marijuana; taxes(=)
Colorado (9) (taxes, lottery, abortion, paid medical leave)
Florida (29) (minimum wage)
Georgia (16) (declaratory relief)
Iowa (6) (Constitional convention)
Maine-02 (1) (vax)
Michigan (16) (oil and gas royalties; privacy)
Minnesota (10)
Nebraska-02 (1) (payday lending; gambling)
Nevada (6) (marriage)
New Hampshire (4)
North Carolina (15)
Ohio (18)
Pennsylvania (20)
Texas (38)
Wisconsin (10)

Inspired by the thread starting with Arizona Slim's comment here, I went to Ballotpedia and added selected, hopefully hot button, ballot initiatives, because sometimes they affect turnout. If you live in a swing state, please comment if I got the hot buttons wrong!

UPDATE PA: "Pennsylvania governor appears in new ad warning election results may take 'a few days'" [The Hill]. "Pennsylvania Gov. Tom Wolf (D) will star in an ad airing tomorrow through the end of the week throughout his state warning voters about the time it will take to accurately count all votes cast in the state for the 2020 elections. CNN reported that the ad, which was funded by nonpartisan voter participation group The Voter Project, is reportedly aimed at dispelling concerns about the accuracy and speed by which votes will be counted amid the COVID-19 pandemic, which has led many Americans to vote by mail. 'These are unprecedented times. Because of the coronavirus, there were millions of votes cast by mail, so it may take longer than usual to count every vote. The folks in our election offices — your neighbors, family and friends, are working hard ensuring every single vote is counted,' says Wolf in the ad, according to CNN. 'So it may take a little longer than we're used to, even a few days, but that's okay,' he reportedly continues, adding: 'because it's critical that your vote is counted — and it will be.'"

TX: "All but one drive-through voting site in Harris County closed amid Texas legal battle" [The Hill]. "A Houston-area county clerk announced late Monday that he would close almost all drive-thru voting sites on Election Day, hours after a federal judge ruled against Republican plaintiffs who sought to throw out 127,000 ballots cast by drive-thru voting in the Democratic-leaning county. In a series of tweets announcing the decision, Harris County Clerk Chris Hollins (D) [!!!!] wrote that he 'cannot in good faith encourage voters to cast their votes in tents if that puts their votes at risk.' 'My job is to protect the right to vote for all Harris County voters, and that includes those who are going to vote on Election Day,' Hollins explained." • Oh.

* * *

Biden (D)(1): "Scoop: Biden's plan to assert control" [Axios]. "Look for Biden to send all-business signals: He won't pack the courts, and is unlikely to push for repeal of the Senate's filibuster rule and its 60-vote requirement anytime soon. Instead, look for Biden to push to pass as much as possible under the banner of budget reconciliation, which requires just a simple majority." • So, Obama Restoration, then?

UPDATE (D)(2): Obama already limiting expectations on Biden's behalf:

Obama's closing message on Biden's behalf — in FLINT, MICHIGAN!

h/t @davidsirota pic.twitter.com/hMCKeR6lbs

— Sam Adler-Bell (@SamAdlerBell) November 2, 2020

Not much hope, very little change….

Biden (D)(3):

Joe Biden: "Can you believe we have a President who acts like Vladimir Putin's puppy?" pic.twitter.com/qmYRs3unDj

— The Hill (@thehill) November 3, 2020

Clinton called Trump Putin's pupp. Mueller shot that down. Four years on, Biden calls Trump Putin's pupp. So I guess we need to reboot the Mueller Investigation to clear this up. Maybe we can have a Truth and Reconciliation Commission.

Biden (D)(4): "Joe Biden, Kamala Harris Got a Big Social Media Boost from Indian Troll Farms" [Newsweek]. "oe Biden's Twitter account got a sizable boost beginning in August from tens of thousands of fake followers purchased on the open market from troll farms in rural India, an investigation has found…. Some of the operators who worked on the campaign spoke at length about how propaganda agencies in New Delhi and Mumbai activated a widely distributed troll network to amplify Biden's campaign impact on Twitter." • They actually spoke to some of the operators; some of whom got their start with Modi (and no, it's not Harris's Indian ancestry).

Biden (D)(5): Making the case to the Sunshine Movement:

Joe Biden makes final speech before #ElectionDay: "Let me be clear — I will not ban fracking in Pennsylvania." pic.twitter.com/vDiNCQeZhm

— The Hill (@thehill) November 3, 2020

Biden (D)(6): "Hunter Biden's Story Could Help Hillary Clinton To Become Vice President" [Moon of Alabama]. "Clinton's recent Foreign Affairs piece, A National Security Reckoning – How Washington Should Think About Power, must be seen as a job application for a high position in a Harris (Biden) administration. Removing Joe Biden soon after he has won may well be in Clinton's interest. Should the somewhat demented Joe Biden leave 'for health reasons' soon after he has been sworn into office Kamala Harris would become President. She then could use the 25th Amendment to select Hillary Clinton as the new Vice President. If, after a Biden win in the election, Hillary Clinton supporters in the liberul media stop censoring the Hunter Biden affair or even start to further expose it we can be sure that such a scheme is on the verge of being implemented." • The famously empathetic Biden visiting the graveyard where Hunter's laptop is buried… Seriously, this is an impressive piece of 11-dimensional chess. I'm not sure, however, that Harris would feel the need to do Clinton any favors. Wouldn't she be more likely to pull the ladder up after her?

Biden (D)(7): "Episode 114: Vote True No Matter Who" (podcast) [TrueAnon]. "In this episode we discuss all relevant election news including: foot jobs, color revolutions, Soviet military technology, Steve Bannon, crack pipes, the lying fake news media, and Brace comes out as a Dengist." • Oddly, the blurb doesn't mention the connecting thread of for the entire episode: Hunter Biden's laptop. I suppose they didn't want to get censored by Apple's app….

UPDATE BIden (D)(8): "Exclusive: How The Bidens Made Off With Millions In Chinese Cash" [The American Conservative]. "Draft legal documents and 2017 bank records obtained by The American Conservative show at least $5 million was transferred to Hunter and Jim Biden from companies associated with the Chinese conglomerate CEFC, with millions coming after the company had come under legal scrutiny both in the United States and China. CEFC official Patrick Ho was arrested in November 2017 and charged by the Southern District of New York with corruption, and was convicted last year. In addition, on or about March 1, 2018, CEFC Chairmen Ye Jianming was arrested in China for economic crimes and hasn't been seen since. CEFC assets in China were seized by Chinese state agencies. In the U.S., major beneficiaries were Hunter and Jim Biden. What the following documents show is that as regulators moved to seize CEFC's assets, Hunter Biden attempted to take control of the company founded in partnership with it. Instead, after striking a deal with two CEFC employees in the U.S., the funds were disbursed over the next six months to his and his uncle's companies until it was all gone, in total at least $5 million." • "Documents…." If only somebody would invent a system where document troves like this could be authenticated, stored centrally, and made searchable and accessible to everyone…

UPDATE Buttigieg (D)(1):

Apropos of, well… I remember candidate Buttigieg declaring victory in Iowa before officials had time to sort out the actual results, which were marred by irregularities. https://t.co/oPlBfxCvbi

— Matt Pearce ? (@mattdpearce) November 2, 2020

Because looking in the mirror is something liberal Democrats are so, so good at.

Trump (R)(1): "Exclusive: Donald Trump Caravan Parades Through Deep-Blue Heart of Hispanic New Jersey" [Breitbart]. "The caravan attracted 47 cars, organizers Frank Torres and Ramón Morejón told Breitbart News, in an area that Democrat Party candidate Hillary Clinton won by more than 50 percentage points in the last presidential election. Both Torres and Morejón, who are Cuban American, say they have no official positions with the Trump campaign or any reason to believe the campaign knew the event was occurring. Torres is a registered independent voter and Morejón a registered Republican who admitted he voted for Trump reluctantly in 2016 but became an enthusiastic supporter in the past four years. Torres is a retired real estate professional, and Morejón runs a flower shop. Trump did not attract any caravans in Hudson County four years ago nor any major public support." • I hate to link to Breitbart, but as readers know, I am always interested in creative tactics, and this is the only coverage I have seen.

* * *

"Here's the final tally of where tech billionaires donated for the 2020 election" [CNBC]. "About 98% of political contributions from internet companies this cycle went to Democrats, according to the Center for Responsive Politics. The CEOs of Asana, Twilio and Netflix were among the biggest contributors, and they all targeted Democratic groups and candidates." • Well, I guess that explains platform censorship.

"Support for Trump is tearing apart Vietnamese American families" [Vox]. "[O]ut of the six ethnic groups in the 2020 Asian American Voter Survey conducted this summer, Vietnamese Americans were the only enclave to express more support for Trump (48 percent) than Biden (36 percent). They were also more likely to vote Republican for House and Senate candidates, while overall support among Asian Americans trends more Democratic. (The phrase "Asian American" is itself a vague descriptor; it cobbles together a wide variety of ethnic groups who happen to hail from the same region but hold .)" • And the same with Hispanics, Blacks… Whites…

UPDATE "US prepares for election turmoil as divisive campaign comes to end" [Financial Times]. "Retailers prepared for possible unrest by boarding up stores ahead of election day." • Maybe I'm just a sunny optimist, but I don't see where the rioters come from. Trump supporters driving in from the burbs in their trucks? Black Lives Matter? Pink Pussy Hats? Who? (Again, the worst I can see happening is a Capital occupation by gun humpers, who will already have been infiltrated by the FBI, which means it will fizzle out, just as Malheur did.) More:

Of course she saw some crazy shit on Facebook, but she's also been watching the news. She's states away, living alone and scared shitless about today. Sincerely, fuck all y'all who install fear for votes. Now I gotta call my bff to go check on her, to make her feel better. ?

— AshleyStevens (@The_Acumen) November 3, 2020

UPDATE "Scoop: Generals privately brief news anchors, promise no military role in election" [Axios]. "Chairman of the Joint Chiefs of Staff Mark Milley held an off-the-record video call with top generals and network anchors this weekend to tamp down speculation about potential military involvement in the presidential election, two people familiar with the call tell Axios. The nation's top military official set up Saturday's highly unusual call to make clear that the military's role is apolitical, one of the sources said — and to dispel any notion of a role for the military in adjudicating a disputed election or making any decision around removing a president from the White House… One official told the anchors not to be alarmed if they see images of uniformed National Guard members on Election Day; currently, they are not federalized but serving at the request of governors."

UPDATE "Mysterious robocalls – but no evidence of US election hacking" [Channel News Asia]. "Speaking alongside Krebs, the acting US Department of Homeland Security secretary, Chad Wolf, said on Tuesday that 'we have no indications that a foreign actor has succeeded in compromising or manipulating any votes in this election.'" • So the intelligence community has done its internal polling? Ha ha, only serious!

* * *

"The voting technology problems that could trigger panic at the polls" [Politico]. "Newly competitive battleground state Georgia is using controversial touch screen voting machines for the first time in a presidential election. In the critical swing state of Pennsylvania, where new voting machines malfunctioned last year, several counties have now also configured those machines to speed up ballot-counting in a way that doesn't give voters a chance to hold the ballots in their hands. And voting machines could turn out to be the least of the technological problems. Across the country, the servers that store voter data and post unofficial results are vulnerable to temporary outages — snafus that could worsen long lines on Election Day, block or discourage voters from casting ballots or fuel claims of election fraud." • I've been worried about the legitimacy of our voting system for some time, long before Covid and Vote-By-Mail. See here, here, here, here, and here. This is interesting too–

UPDATE "Forget Hanging Chads. Copyright Laws Could be the Next Electoral Quagmire" [Politico]. "Most voting technology used throughout the U.S. is covered by intellectual property law. That means the touch-screen you might have tapped on to vote could be patented. The software used to process your vote could be copyrighted. Before you even got to the voting booth, your ballot was likely designed on copyrighted software…. "We're going to wind up with a thousand court cases that cannot just be resolved by just going into the software and checking to see what happened, because it's proprietary," said Ben Ptashnik, the co-founder of the National Election Defense Coalition, a bipartisan advocacy group that pushes Congress to reform election security." • Unsurprisingly, hand-marked paper ballots, hand-counted in public, don't have this problem.

Horrid UI/UX on a California voting machine:

Sooo if you're going to vote in person tomorrow in #California, please be aware that on the ACTUAL ballot, there are numbers next to Measures that do not correspond to the # of the measure, which was v. confusing, TRIPLE CHECK YOUR #VOTE

Also yes you can copy off my homework ? pic.twitter.com/JVLfAmx3PD

— SICK SAD WORLD??️‍? (@AlmostLesbians) November 3, 2020

UPDATE Molly Jong-Fast has a sad:

Oh you're fucking kidding me. https://t.co/R5EzlLgM5i

— Molly Jong-Fast? (@MollyJongFast) November 3, 2020

Meanwhile, hand-marked paper ballots, hand-counted in public, which would solve this enormous self-own, have no traction with liberal Democrats at all. One can only wonder why.
Our Famously Free Press
"Liberal media champing at the bit to publish 'Trump: you're fired' headlines" [Beet Press]. • No doubt!
Realignment and Legitimacy
UPDATE "We Can't Follow Obama Back to Brunch" [David Sirota, The Daily Poster]. • Yes, we can.

"Political sectarianism in America" [Science]. From the abstract: "For decades, scholars have studied polarization as an ideological matter—how strongly Democrats and Republicans diverge vis-à-vis political ideals and policy goals. Such competition among groups in the marketplace of ideas is a hallmark of a healthy democracy. But more recently, researchers have identified a second type of polarization, one focusing less on triumphs of ideas than on dominating the abhorrent supporters of the opposing party (1). This literature has produced a proliferation of insights and constructs but few interdisciplinary efforts to integrate them. We offer such an integration, pinpointing the superordinate construct of political sectarianism and identifying its three core ingredients: ." • Sounds familiar. But the full text is paywalled. Can some kind reader send it to me? Address is above the Plant.

"U.S. faces a potential 'secession crisis' at home and 'open conflict' with China in the coming decade, says author who predicted 2020 unrest" [MarketWatch]. "During the pandemic, young adults have been most​ in favor of a top-down national policy that insists on strict and universal enforcement of mask wearing and testing and tracing. Look around the world, figure out what works, and implement it. This is remarkable, because it is directly contrary to their own self interest: Millennials are the least likely to get sick and die from COVID, and they're the most likely in a government lockdown to lose their jobs. But remarkably they favor a strict policy a lot more than older people, who despite the greater threat to themselves tend to favor a less authoritarian response. Imagine if we'd had a pandemic back in the 1970s. In that case, it would have been the older G.I. generation insisting on mobilizing national agencies — and it would have been the young boomers raising their fists and saying 'hell no.' As for socialism, it's no longer a 'Bernie-bro' fantasy. Government this year has turned both workers and businesses into wards of the state. How are we going to manage that shift? So long as government is restructuring things, we're going to think strategically — how much savings should America have, what should we do about student debt, infrastructure, urban planning, climate change. It's now all on the table. Most Americans now favor universal forgiveness of student loans. There's also a majority consensus that our health-care system needs a total makeover. 'Don't be surprised if, like in the 1930s, young people are attracted to undemocratic alternatives.' What really concerns millennials is whether liberal democracy can actually perform. Around the world today, confidence in democracy is rapidly declining in the generation now coming of age, which is a major reason why it is drawn to populists on both the right and the left. The way millennials see it, democracies are failing to invest in the future. While they brilliantly protect the rights and entitlements of older people, they leave the next generation to fend for itself." • Hmm. Notice the twist into generational analysis…
Stats Watch
At reader request, I added some business stats back in. Please give Econintersect click-throughs; they're a good, old-school blog that covers more than stats. If anybody knows of other aggregators, please contact me at the email address below.
There are no official statistics of note today.
* * *
Retail: "After Going All-In on Amazon, a Merchant Says He Lost Everything" [Bloomberg]. "Amazon can suspend sellers at any time for any reason, cutting off their livelihoods and freezing their money for weeks or months. The merchants must navigate a largely automated, guilty-until-proven-innocent process where Amazon serves as judge and jury. Their emails and calls can go unanswered, or Amazon's replies are incomprehensible, making sellers suspect they're at the mercy of algorithms with little human oversight. Recourse is limited because when merchants set up shop on Amazon, they waive their right to a day in court by agreeing to binding arbitration to resolve any disputes. Amazon doesn't negotiate terms with merchants. The boiler plate agreement is take-it-or-leave-it, a telling reminder of who has the upper hand in the relationship. How Amazon treats third-party sellers is at the heart of a recent House Judiciary Committee report concluding that big technology companies often abuse their power over smaller partners." • Did we get along fine without Amazon? We did. Ditto every other Silicon Valley platform.
Retail: "Luxury brands are circling Amazon's marketplace with a wary eye. The e-commerce giant is off to a slow start in its latest effort to woo luxury goods onto its platform… with just a handful of big brands signing on since Amazon created a special section for high-end fashions on its mobile app" [Wall Street Journal]. "The hesitation suggests brands remain uncertain about working with the online sales leader after many suppliers accused the company of insufficiently policing unauthorized sellers and counterfeit goods. They also complained that Amazon didn't give them enough control over what is sold and at what price. It also shows the brands believe that divisions remain between high-end sales and mass-market goods often sold at discounts." • Why would Chanel or Prada want to enter a marketplace that's full of fakes? (Their entry might also be a good litmus test for Amazon cleaning up its act.)
The Bezzle: "Score one for humans over robots in supply chains. Walmart is dropping efforts to use roving robots in stores to track its inventory… reversing a push to automate the task with the hulking machines after finding people can get similar results" [Wall Street Journal]. "The retail giant ended its contract with Bossa Nova Robotics five years after signing up to bring in the six-foot-tall machines believing the technology could help reduce labor costs and increase sales by making sure products are kept in stock. But Walmart has had more workers walking aisles to fulfill its surging online orders during the pandemic, and is gleaning data on inventory problems with reasonable efficiency." • Grifters gotta grift….
Concentration: "Spotify to offer artists and labels the option to promote their music in your recommendations" [Fader]. "While Spotify notes that the feature won't require any immediate upfront costs, it will only be available in exchange for lowered royalty payments: 'Labels or rights holders agree to be paid a promotional recording royalty rate for streams in personalized listening sessions where we provided this service.' Furthermore, the press release adds that accepting these new terms "won't guarantee placement to labels or artists.'" • Race to the bottom?
Manufacturing: "Airbus to stop burning cash, defends higher output plan" [Reuters]. "Chief Executive Guillaume Faury said Airbus had learned much about how to adapt during the seven-month-old crisis. But he also cautioned that airline traffic was taking longer than expected to recover from the dramatic hit seen at the start of the pandemic when airlines were forced to ground fleets. ',' Faury said." • Oy.
Manufacturing: "Moderna already has $1.1 bn in deposits for Covid-19 vaccine" [Agence France Presse]. "Moderna said Thursday it took in $1.1 billion in deposits in the third quarter for a coronavirus vaccine that it is 'actively preparing' to launch. The biotech company, releasing quarterly results, completed its enrollment earlier this month for the phase-3 trial of 'mRNA-1273,' a vaccine candidate for Covid-19. 'We are actively preparing for the launch of mRNA-1273 and we have signed a number of supply agreements with governments around the world,' said Moderna chief executive Stephane Bancel….. Moderna, among the furthest along in developing a vaccine for Covid-19, has signed supply contracts with the US, Canada, Switzerland, Japan, Israel and Qatar and is in talks with other parties, including the European Union."
Mr. Market: "World's Best-Performing Airline Stock Is Bankrupt Indian Carrier" [Bloomberg]. "All airlines are feeling the coronavirus pinch but one that hasn't flown since April 2019 after collapsing under a pile of debt is the world's best performing — at least from a share price point of view. Stock in Mumbai-listed Jet Airways India Ltd. has surged almost 150% this year versus a 42% plunge in the 27-member Bloomberg World Airlines Index, which comprises the globe's biggest carriers…. Retail investors are the last ones to get anything out of a bankruptcy, yet some are buying in the hope Jet Airways will successfully emerge from a restructuring."
* * *
.
Today's Fear & Greed Index: 31 Fear (previous close: 25 Extreme Fear) [CNN]. One week ago: 47 (Neutral). (0 is Extreme Fear; 100 is Extreme Greed). Last updated Nov 3 at 11:04am. • Greed and Fear on. NOTE For those who wonder if we should keep running it, readers asked for it back after I took it away. Also, I like having a quick insight, however shallow, into Mr. Market's psyche.
The Biosphere
"Can lab-grown brains become conscious?" [Nature]. "In August 2019, Muotri's group published a paper in Cell Stem Cell reporting the creation of human brain organoids that produced coordinated waves of activity, resembling those seen in premature babies1. The waves continued for months before the team shut the experiment down. This type of brain-wide, coordinated electrical activity is one of the properties of a conscious brain. The team's finding led ethicists and scientists to raise a host of moral and philosophical questions about whether organoids should be allowed to reach this level of advanced development, whether 'conscious' organoids might be entitled to special treatment and rights not afforded to other clumps of cells and the possibility that consciousness could be created from scratch."
"Trump strips protections for Tongass forest, opening it to logging" [The Hill]. "The Trump administration on Wednesday lifted protections for Alaska's Tongass National Forest, a move that will expand logging in the nation's largest old-growth forest. A notice posted in the Federal Register exempts the forest from the so-called roadless rule, a Clinton-era prohibition on road construction and timber harvesting on many Forest Service lands. Under the Trump administration's changes, the nearly 9.4 million acres of inventoried roadless land in the Tongass would once again be considered suitable timberlands."
Health Care
"COVID-19: US federal accountability for entry, spread, and inequities—lessons for the future" [European Journal of Epidemiology]. "In this article we assess the impact of missteps by the Federal Government in three specific areas: the introduction of the virus to the US and the establishment of community transmission; the lack of national COVID-19 workplace standards and enforcement, and lack of personal protective equipment (PPE) for workplaces as represented by complaints to the Occupational Safety and Health Administration (OSHA) which we find are correlated with deaths 16 days later (ρ = 0.83); and the total excess deaths in 2020 to date already total more than 230,000, while COVID-19 mortality rates exhibit severe—and rising—inequities in race/ethnicity, including among working age adults." • Well worth a read; it takes a systemic view.
"COVID-19 Diagnosed on CTA Scan in Stroke Patients" [MedScape]. "A routine scan used to evaluate some acute stroke patients can also detect SARS-CoV-2 infection in the upper lungs, a new study shows. 'As part of the stroke evaluation work-up process, we were able to diagnose COVID-19 at the same time at no extra cost or additional workload,' lead author Charles Esenwa, MD, commented to Medscape Medical News. 'This is an objective way to screen for COVID-19 in the acute stroke setting,' he added."
"Test and Trace is struggling because people do not want to pick up their phone to unknown numbers, government adviser says" [Daily Mail]. • How could any government policy maker be so out-of-touch that they'd think anybody sane would pick up an unknown number? Some days I think we're run by the Harkonnens. Other days I think we're run by The Stupids: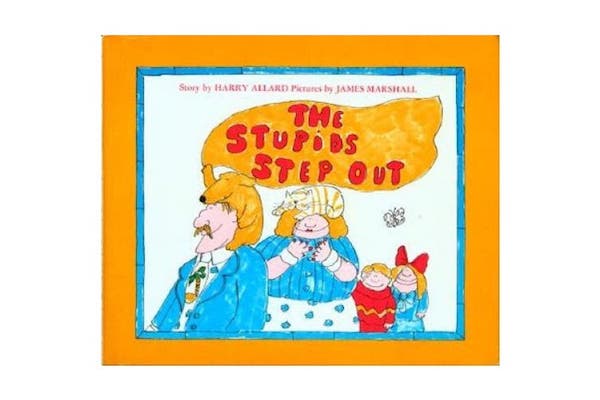 Our Famously Free Press
"Facebook leak reveals policies on restricting New York Post's Biden story" [Guardian]. "Facebook moderators had to manually intervene to suppress a controversial New York Post story about Hunter Biden, according to leaked moderation guidelines seen by the Guardian. The document, which lays out in detail Facebook's policies for dealing with misinformation on Facebook and Instagram, sheds new light on the process that led to the company's decision to reduce the distribution of the story." •  Well, well.
Police State Watch
"How Police Unions Bully Politicians" [The New Republic]. "It may be a new extreme to dox a mayor's daughter for exercising her First Amendment rights, but the act is consistent with an increasingly aggressive strategy undertaken by police associations across the country to secure their political aims. Police unions deploy ominous social media campaigns to vilify and intimidate reform-minded legislators. They exploit racialized law-and-order rhetoric to polarize the public. And they threaten liberal mayors with widespread civic chaos and destruction if their demands aren't met. The goal is to preserve the privileges—chiefly, job security and scarce oversight—they have won during decades of agitating and political accommodation. The question is whether, amid widespread popular demonstrations against racist policing, the strategy will continue to work."
Black Injustice Tipping Point
The Black Belt, a thread:
The US election is tomorrow. If you, like me, are tired of horse-race-style reporting, and need to zoom out, I wanna tell you a story. It's about an ancient force influencing the election. And, as a bonus, it'll give you an Easter egg to watch for as the returns come in. THREAD pic.twitter.com/vfPp0f2s6X

— Latif Nasser (@latifnasser) November 2, 2020
Ruin:
The abandoned offices of the Pittsburgh Post-Gazette, closed in 2015 in favor of moving to the suburbs of the city. The three-story printing machines were still threaded with papers from when the facility closed. https://t.co/jICfx4qbOp pic.twitter.com/aZoWBr5oO7

— Abandoned America Is Always Spooky (@abandonedameric) November 1, 2020
Class Warfare
The coming eviction wave:
15.7% of US tenants face likelihood of eviction by end of 2020. In six states the at risk share is 1/4-1/3! @MoodysAnalytics via @SoberLook pic.twitter.com/lYyoSKiZMW

— Adam Tooze (@adam_tooze) November 3, 2020
Yves wrote up the coming eviction crisis here.
News of the Wired
I didn't know this was Catullus 51 month:
it's november which is translating catullus 51 month so here is catullus 51 but it's only using words cut out of new scientist pic.twitter.com/nstowwPTzr

— brutus is an honourable lesbian (@illalesbia) November 1, 2020
* * *
Readers, feel free to contact me at lambert [UNDERSCORE] strether [DOT] corrente [AT] yahoo [DOT] com, with (a) links, and even better (b) sources I should curate regularly, (c) how to send me a check if you are allergic to PayPal, and (d) to find out how to send me images of plants. Vegetables are fine! Fungi and coral are deemed to be honorary plants! If you want your handle to appear as a credit, please place it at the start of your mail in parentheses: (thus). Otherwise, I will anonymize by using your initials. See the previous Water Cooler (with plant) here. Today's plant (CR):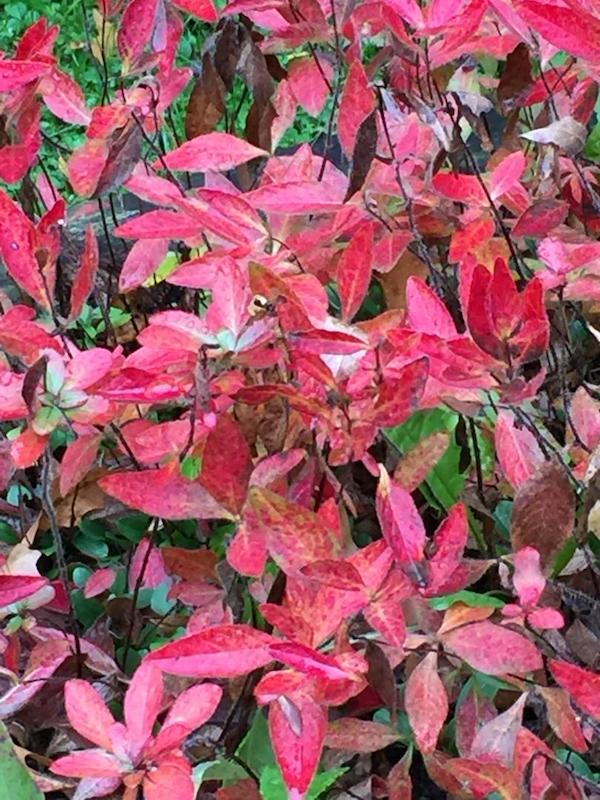 CR writes: Every fall, the foliage of my perennial Sundrops (Oenothera fruticosa) turns this vibrant red. I've never seen reference to this in descriptions of this very common perennial, but it's actually my favorite feature of the plant!"
* * *
Readers: Water Cooler is a standalone entity not covered by the recently concluded and — thank you! — successful annual NC fundraiser. So if you see a link you especially like, or an item you wouldn't see anywhere else, please do not hesitate to express your appreciation in tangible form. Remember, a tip jar is for tipping! Regular positive feedback both makes me feel good and lets me know I'm on the right track with coverage. When I get no donations for five or ten days I get worried. More tangibly, a constant trickle of donations helps me with expenses, and I factor in that trickle when setting fundraising goals:
Here is the screen that will appear, which I have helpfully annotated.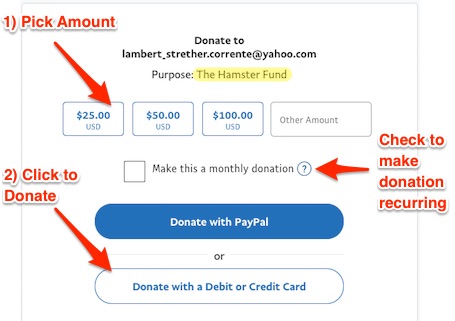 If you hate PayPal, you can email me at lambert [UNDERSCORE] strether [DOT] corrente [AT] yahoo [DOT] com, and I will give you directions on how to send a check. Thank you!