By Lambert Strether of Corrente.
Bird Song of the Day
#COVID19
At reader request, I've added this daily chart from 91-DIVOC. The data is the Johns Hopkins CSSE data. Here is the site.
Case count by United States region: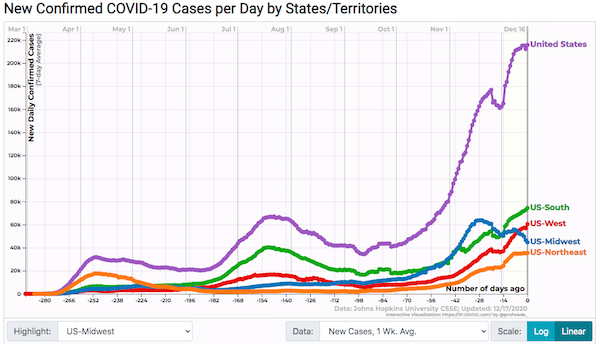 Still flat. Looks like the Midwest did it, from the regional data. I feel I'm engaging in a macabre form of tape-watching, because I don't think the peak is coming in the next days, or even weeks. Is the virus gathering itself for another leap?
Big states (New York, Florida, Texas, California) instead of the Midwest: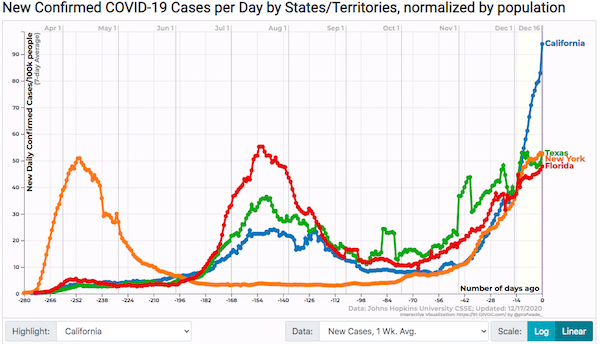 Yikes, California!
Test positivity by region: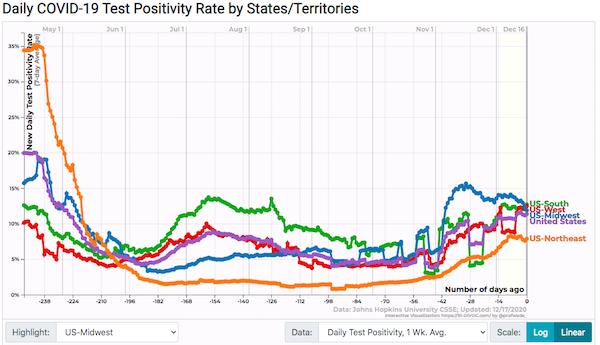 Hospitalization by region: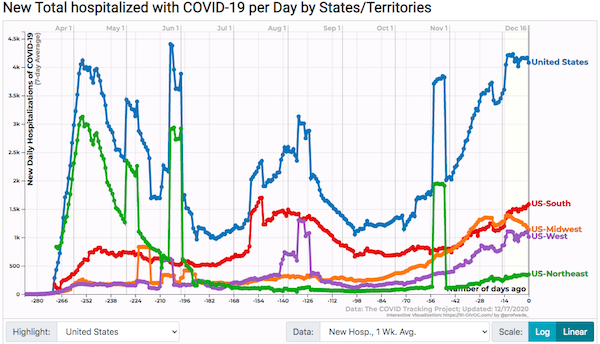 Distinct flattening. Hospitalization is also discretionary; they may also be reducing their admissions rate — relative to cases we cannot see in this data! — to preserve future capacity; or because hospitals have figured out how to send people home.
Case fatality rate by region: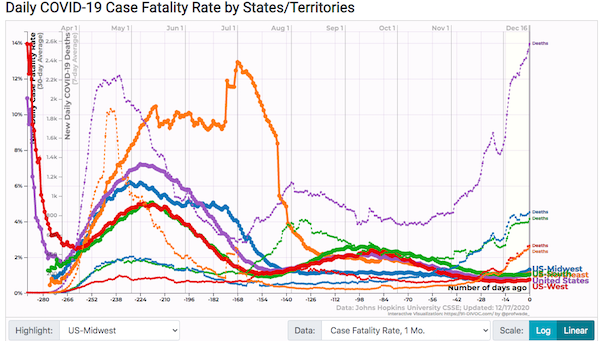 Slight decrease in slope, now driven by the Midwest and the South,
Politics
"But what is government itself, but the greatest of all reflections on human nature?" –James Madison, Federalist 51
"They had one weapon left and both knew it: treachery." –Frank Herbert, Dune
"They had learned nothing, and forgotten nothing." –Charles Maurice de Talleyrand-Périgord
Democrats in Disarray
"Stimulus talks could spill into weekend as lawmakers scramble to complete deal" [WaPo]. "Negotiators have cited significant progress in recent days as talks accelerated. Senior lawmakers aimed to unveil legislation as soon as Thursday. While several difficult sticking points remain, aides are expressing optimism that none of the issues that has emerged appeared likely to prevent final passage of an agreement. Congress must pass a spending bill by midnight on Friday to avoid a government shutdown, and some had hoped to add the stimulus package to that legislation. If the stimulus talks drag on, lawmakers could be forced to pass another short-term spending bill to give them more time, potentially pushing talks into Christmas week. Aides on Thursday began to suggest talks could drag on into the weekend."

"End The Austerity Loop" [David Sirota, The Daily Poster]. "A new administration entering office during an economic crisis that requires deficit spending. A Republican Party that instantly transitions from spending on corporate bailouts to pretending it cares about debt. A Washington-anchored Democratic Party that fetishizes deficit reduction so that cable news pundits will portray them as sober-minded fiscal hawks, rather than New Dealers. Wall Street executives and bondholders celebrate, serfs outside the palace walls starve, a counterrevolutionary backlash follows and the cycle starts anew. This is the Austerity Loop that seems to be starting over again — proving that when we forget our past, history may not exactly repeat itself, but it tends to rhyme. … Democrats' stimulus negotiations tells the larger tale: After eagerly signing on to help Trump pass legislation creating a $500 billion corporate slush fund, the party led by golf-clapping master strategist Nancy Pelosi negotiated a potential $3.4 trillion economic rescue package down first to $1.9 trillion. As poverty and mass starvation skyrocketed, Pelosi's Democrats then rejected Trump's offer of $1.8 trillion and negotiated further down to $348 billion. Now, Congress is down to a mere $188 billion in new proposed spending — cue tweets of Pelosi putting on sunglasses! Vox reported that the bill released Monday did not "include another round of $1,200 stimulus checks — a very popular provision that was left out to reduce the cost of the package." • Now the checks are back in, but not $1200. $600. Reaction:

$600????????????????????????????????????????????????????????????????????????????????????????????????????????????????????????????????????????????????????????????????????????????

While billionaires pocketed a TRILLION dollars?

Are you f*cking kidding, Washington?

— Peter Daou (@peterdaou) December 16, 2020

Disappointing:

$600 might be too little, but $2400 for a family of four is certainly more than they have right now.

We will keep fighting, but I know as mom who lived paycheck to paycheck, I would welcome any money right now.

It sucks to see working class struggle be weaponized and dismissed.

— Ilhan Omar (@IlhanMN) December 17, 2020

Not sure who's doing the weaponizing, here. And if somebody is holding your head underwater, it doesn't matter how deep your head is, because you can't breathe either way. In fact, it's crueler when they let your head up, but not enough.

As usual, Carlos Mucha asks a good question:

Does it bother anyone else that sum of $1 trillion is still the mental event horizon for Senate moderates in current stimulus discussions, just as it was it stimulus & healthcare reform discussions in 2009, even though equivalent sum (adjusted for GDP growth) is $1.5 trillion?

— Carlos Mucha (@mucha_carlos) December 17, 2020
Transition to Biden
"Budding Painter Hunter Biden Has Reportedly Signed With a New York Gallery and Will Have His First Solo Show Next Year" [Artnet News]. "Hunter Biden, son of president-elect Joe Biden, will reportedly have a solo show at New York's Georges Bergès gallery next year." • Maybe he and George Bush can do a show together.

"Smooth-talking Buttigieg to be Biden's infrastructure salesman in chief" [Politico]. "Pete Buttigieg is headed to DOT's top spot, where despite his thin transportation résumé, could help President-elect Joe Biden sell Congress on a massive job-creating investment in infrastructure that would also attempt to blunt the effects of climate change." Example of smooth-talking:

"I also had a personal love of transportation since childhood," @PeteButtigieg says in a very on-brand moment

— Josh Lederman (@JoshNBCNews) December 16, 2020

I had model trains!

Jouissance, with another example of smooth talking:

If anybody can make the post of transportation secretary sexy, it's gotta be Mayor Pete https://t.co/xZN3jWJ5dM

— Laurence Tribe (@tribelaw) December 17, 2020

UPDATE Heading off to brunch (1):

Privileged Liberals are already going into hibernation for the next four years. pic.twitter.com/8KjnWh1zmW

— pokey pup (@Whatapityonyou) December 16, 2020

UPDATE Heading off to brunch (2):

VIDEO – Fallon: You Know It's a Post-Trump World When We're Starting the Monologue Talking About the Weather https://t.co/kixOn7wSap

— Grabien (@GrabienMedia) December 17, 2020

UPDATE "Glennon Doyle and Biden Campaign Manager Jen O'Malley Dillon on Politics, Motherhood, and Doing Hard Things" [Glamour]. Dillon: "The president-elect was able to connect with people over this sense of unity. In the primary, people would mock him, like, 'You think you can work with Republicans?' . But this sense that you couldn't wish for that, you couldn't wish for this bipartisan ideal? He rejected that. From start to finish, he set out with this idea that unity was possible, that together we are stronger, that we, as a country, need healing, and our politics needs that too. Which is not to say it is easy. It is like a relationship. You can't do politics alone. If the other person is not willing to do the work, then that becomes really hard. But I think, more than not, people want to see impact. They want to see us moving in a path forward. They want to do their work, get paid a fair share, have time for themselves and their family, and see each other as neighbors. And this overhang of this negative, polarized electorate that politics has created is the thing that I think we can break down." • There's a lot of frothing and stamping about the underlined part, because Dillon transgressed the unwritten law.
Transition from Trump
"A Very Trumpian Christmas Surprise? Signs Point to a Possible US Attack on Iran" [The Nation]. "In the days following Pompeo's visit to Israel and Gulf kingdoms, a series of subsequent events suggest further planning for US (or US/Israeli) military action against Iran." • It would be like Trump to destroy one of the few positive aspects of his record on the way out the door. No more "Trump became President today!" nonsense, however; a bright spot.

UPDATE "Mr. Trump's unforced personnel errors" [Arnold Kling, askblog]. "Perhaps finding personnel is difficult for any outsider executive. If you hire experienced people, you end up with the establishment. If you hire inexperienced people, many of them won't work out. When I worked at Freddie Mac, at one point senior management hired someone from outside the company to take on a high level position in information systems. A co-worker pointed out to me that if you're an outstanding leader, people from your old organization will want to follow you to your new one. She pointed out that nobody came with this guy, and she viewed this as a bad sign. She was right. I am inclined to believe that a President with Mr. Trump's outsider status could find at least one high-level staffer who could in turn bring in colleagues and former subordinates that are also highly effective. As I have said before, I think that this was Mr. Trump's biggest weakness." • I believe I claimed, early on in the administration, that Trump faced a professional services strike (his lousy lawyers in his fight against 2020's results is an example of this; very differerent from Bush in Florida 2000). Kling's idea that Trump might have been expected to bring his own team in with him is interesting; still, Kling is from Cato, so it looks like Beltway conservative think tanks weren't much inclined to hold their noses and stake a fellow Republican to a staffer or two.
RussiaGate
On the latest intelligence community panic on Crowdstrike FireEye:

I know it doesn't matter. I know it's wrong to ask the question. I know asking the question raises grave doubts about one's loyalties and patriotism.

But has there been *any* evidence publicly presented, let alone dispositive proof, that Russia is responsible for this hack? https://t.co/nAugGeYDMh

— Glenn Greenwald (@ggreenwald) December 17, 2020

No, of course not.
Realignment and Legitimacy
UPDATE "Senate Democrat: Party's message to rural voters is 'really flawed'" [The Hill]. "Tester argued the party could strengthen its performance in rural areas by emphasizing its infrastructure policies, particularly in relation to broadband expansion. 'And then I would say one other policy issue is how some Republicans want to basically privatize public education,' he said. 'That is very dangerous, and I think it's a point that people don't want to see their public schools close down in Montana.'… [The New York Times] noted that former President Obama won some rural areas by more than 20 points in comparison to President-elect Joe Biden this year. Tester responded by pointing to Obama spending the Fourth of July in 2008 in Butte, Mont. 'He showed up. Now, he didn't win much in it, but he did a hell of a lot better than people thought he was going to do because he showed up,' Tester said."
Stats Watch
At reader request, I added some business stats back in. Please give Econintersect click-throughs; they're a good, old-school blog that covers more than stats. If anybody knows of other aggregators, please contact me at the email address below.
"12 December 2020 Initial Unemployment Claims Again Worsen" [Econintersect]. "Market expectations for weekly initial unemployment claims (from Econoday) were 720 K to 915 K (consensus 806 K), and the Department of Labor reported 885,000 new claims. The more important (because of the volatility in the weekly reported claims and seasonality errors in adjusting the data) 4 week moving average moved from 778,250 (reported last week as 776,000) to 812,500."
Manufacturing: "December 2020 Philly Fed Manufacturing Survey Index Again Weakens" [Econintersect]. "The Philly Fed Business Outlook Survey declined but remains in expansion. Overall, this report was much worse than last month as key elements significantly declined."
Housing: "November 2020 Residential Building Growth Mixed" [Econintersect]. "Headline residential building permits improved and construction completions slowed. The rolling averages improved for permits but worsened for construction completions…. We seem to be seeing and bad month, followed by a good month, and then another bad month. The backward revisions this month were small. It is always difficult to understand the trends as the backward revisions sometimes reverse trends month-to-month. The nature of this industry normally has large variations from month-to-month (mostly due to weather) so the rolling averages are the best way to view this series. The rolling averages say this sector is growing but rollercoastering. We consider this report both better and worse than last month."
Coincident Indicators: "12 December 2020 New York Fed Weekly Economic Index (WEI): Index Again Declines" [Econintersect]. "The New York Fed's Weekly Leading Index (WLI) continues to show an economy that is just above the worst seen during the Great Recession. However, this index remains on a recovery trend based on the 13 week rolling average. This data set should be considered a high-frequency coincident indicator on a par with the Aruoba-Diebold-Scotti Business Conditions Index produced by the Philly Fed – and both show conditions caused by the coronavirus pandemic are already worse than the Great Recession. However, the Aruoba-Diebold-Scotti Business Conditions Index is improving whilst the WLI is still declining. Logic would say with the partial reopening of the economy – the Aruoba-Diebold-Scotti Business Conditions Index seems to be correct."
* * *
Concentration: "These Are the U.S. Antitrust Cases Facing Google, Facebook and Others" [Wall Street Journal]. •
Concentration: "THE STATE OF TEXAS, THE STATE OF ARKANSAS, THE STATE OF IDAHO, THE STATE OF INDIANA, COMMONWEALTH OF KENTUCKY, THE STATE OF MISSISSIPPI, STATE OF MISSOURI, STATE OF NORTH DAKOTA, STATE OF SOUTH DAKOTA, and STATE OF UTAH vs. GOOGLE LLC." [Court Listener]. Stoller comments:
This Texas AG complaint against Google (and Facebook) reads like a criminal complaint accidentally filed as a civil one.

— Matt Stoller (@matthewstoller) December 17, 2020
Not a lot of Blue States among the plaintiffs…..
* * *
.
Today's Fear & Greed Index: Day Three of Missing Fear & Greed Index [CNN]. Last updated Dec 17 at 12:22pm.
Health Care
"Are Old Vaccines Helpful Against COVID-19?" [MedPage Today]. The idea that old vaccines might have a role in the fight against COVID-19 has been floated since the early days of the pandemic. Vaccines stimulate the broad, innate immune response, which appears to play a key role in fighting COVID-19. Can the approach bridge the time until entire populations are vaccinated specifically against SARS-CoV-2? Three vaccines dominate the discussion: bacillus Calmette-Guérin (BCG) against tuberculosis; measles, mumps, and rubella (MMR); and oral polio vaccine (OPV)." • Ongoing studies described.
* * *
But people love to shop:
As someone once said. https://t.co/CsptRYJDfg pic.twitter.com/m0iQIINJNm

— corey robin (@CoreyRobin) December 16, 2020
The Biosphere
"London Air Pollution Listed as Cause of Young Girl's Death" [Bloomberg]. "Air pollution was a significant factor in the death of a 9-year-old girl in south London, the first time air quality has been cited by a British coroner as a cause of death. Ella Adoo-Kissi-Debrah died in February 2013 after an asthma attack that led to cardiac arrest. Poor air quality played a significant role in inducing and worsening her condition, coroner Philip Barlow ruled Wednesday. The report blaming air pollution raises questions about the country's commitment to tackling environmental problems, especially in the capital, where about 9 million people live and work. 'While the science has been unequivocal for years that air pollution is significant threat to public health, the coroner's unambiguous finding is a legal first and will certainly send a signal to the U.K. government,' Katie Nield, a lawyer at environmental law charity ClientEarth, said in an email."
"Targeted wetland restoration could greatly reduce nitrogen pollution" [Nature]. "The beneficial effects of wetlands on water quality are well documented, and wetlands are widely used both in urban and rural settings to remove pollution arising from human activities. The biogeochemical conditions in wetlands particularly favour the removal of nitrate, which is often the dominant form of nitrogen pollution in water. However, the global area of wetlands has reduced drastically over the past two centuries5,6, and losses continue despite greater protections being established. The need for wetland restoration is clear, but it is difficult to calculate the potential contributions that restorations could make to nitrate removal for large water catchment areas by scaling up the effects of individual wetlands. This is because water-quality outcomes are highly sensitive to the geographical distribution of wetlands relative to that of nitrogen sources. Cheng et al. tackle this problem by combining an inventory of US wetland distribution with models of nitrogen transport. Their analysis affirms — with much greater precision than was possible in past studies — that remnant and restored wetlands in agricultural areas have a disproportionately large role in mitigating river nitrogen pollution." • See NC on estuaries, sediment, ponds, and peat.
"Why It's So Hard to Stop Amazon Deforestation, Starting With the Beef Industry" [Bloomberg]. "Brazil's Amazon region has suffered more deforestation this year than any in the past decade. The lax environmental policies of President Jair Bolsonaro bear some of the blame; so, too, does climate change. But much can be laid at the feet of cattle farmers. Most cows in Brazil, the world's largest beef exporter, are grass-fed. Ranchers in the precious biome use bulldozers, machetes, and fire to make room for pastureland—a practice that's illegal but so widespread that it's almost impossible for strapped regulatory teams to root out. A study published in Science in July showed at least 17% of beef shipments to the European Union from the Amazon region and Cerrado, Brazil's savanna, may be linked to illegal forest destruction. The sheer size of the country's beef industry—2.5 million ranchers, 2,500 slaughterhouses, and about 215 million heads of cattle spread across 3.3 million square miles (8.5 million square kilometers)—is one reason the big meatpackers say they've struggled to keep tabs on their suppliers." • And the solution? You guessed it… Blockchain.
Water
"River conservation by an Indigenous community" [Nature]. "Rivers are a major source of renewable water, and provide food, jobs and a sense of place and cultural identity for people living in the vicinity. For many Indigenous peoples, rivers are central to how they understand themselves, their origins and their relationships to the rest of nature. As a citizen of the Penobscot Nation in Maine put it, 'The river is us: the river is in our veins.' Writing in Nature, Koning et al. report ecological surveys that demonstrate how local Indigenous people in the Salween River basin on the border between Thailand and Myanmar have successfully managed the river for conservation purposes and to protect livelihoods." • Very nice to see the Penobscots getting a shout-out in Nature!
Sports Desk
"'Where They Belong': MLB Reclassifies Negro Leagues as a Major League, Updating Its Record Books" [Daily Beast]. "The seven segregated 'Negro Leagues' that played baseball from 1920 to 1948 are now considered part of Major League Baseball, and their records will be added to the MLB's record book, the league announced Wednesday. 'All of us who love baseball have long known that the Negro Leagues produced many of our game's best players, innovations and triumphs against a backdrop of injustice,' MLB Commissioner Rob Manfred said in a statement. 'xWe are now grateful to count the players of the Negro Leagues where they belong: as Major Leaguers within the official historical record.'" • A little late, but good!
Black Injustice Tipping Point
Incentives:
2/ She continues: "But capitalism is dependent on inequality, on an underclass. If the model is profit over everything else, you're not going to look at your policies to see what is most racially equitable."https://t.co/phu8bO8hqx +

— Dr. CBS (@blackleftaf) December 17, 2020
PMC fragility….
Guillotine Watch
"Democratic governor encourages people to stay home, gets caught out at wine bar" [FOX]. "The governor of Rhode Island is facing backlash this week after she was photographed at a wine and paint night just days after she had discouraged inessential activities to curb the spread of the coronavirus. Oliveras told the station that backlash over the photo was blown out of proportion because Raimondo had only taken off the mask to drink her wine. Still, others felt that Raimondo's actions were hypocritical, given that four days prior she urged Rhode Islanders in a tweet to 'stay home except for essential activities & wear a mask anytime you're with people you don't live with.'" • Not nearly as bad as Newsome's debacle, but this keeps happening. It's almost as if double standards were at play….
Class Warfare
"How Should We Understand Capital Income Inequality?" [Matt Bruenig, People's Policy Project]. "I think public ownership of capital is one of the most overlooked topics in contemporary discussions of inequality. Unlike labor income, which can only be received by individuals, capital income can be received by anyone or anything. This is because it is completely detached from anything having to do with capital owners. Capital may be productive in some sense, but the people who own it are not, which is precisely why anyone can own it, including everyone collectively through an instrument like a democratically-elected government. For this reason, bringing private capital into public ownership should be considered one of the easiest ways to cut down inequality in society. Building a social wealth fund like the one that Alaska has could quickly trim down wealth inequality in society while also providing new streams of government revenue that could be distributed in a vastly more equal way than capital income is currently distributed. " • A social-wealth fund has a nice ring to it….
Anarcho-capitalism? Anarcho-socialism?
I want everybody to be who the fuck they want to be. Which is why I want everybody to have a material endowment, fuck you money.

— Steve Randy Waldman (@interfluidity) December 16, 2020
"Amazon Has Turned a Middle-Class Warehouse Career Into a McJob" [Bloomberg]. "Many Amazon warehouse employees struggle to pay the bills, and more than 4,000 employees are on food stamps in nine states studied by the U.S. Government Accountability Office. Only Walmart, McDonald's and two dollar-store chains have more workers requiring such assistance, according to the report, which said 70% of recipients work full-time. As Amazon opens U.S. warehouses at the rate of about one a day, it's transforming the logistics industry from a career destination with the promise of middle-class wages into entry-level work that's just a notch above being a burger flipper or convenience store cashier. A Bloomberg analysis of government labor statistics reveals that in community after community where Amazon sets up shop, warehouse wages tend to fall. In 68 counties where Amazon has opened one of its largest facilities, average industry compensation slips by more than 6% during the facility's first two years, according to data from the Bureau of Labor Statistics." • And now comes the good part: "'Bloomberg's conclusion is false—it violates over 50 years of economic thought, and suspends the law of supply and demand,' a company spokesperson said in an emailed statement." • Commentary:
Insane quote 'the facts don't fit the model so they are wrong'. This is late Eastern block level shit.

— Martin Perring (@MartinPerring) December 17, 2020
"A Quiet Workplace Revolution in the Shadow of Silicon Valley" [The New Republic]. From June, still germane: "The news came on a Wednesday morning: Every Dog Has Its Day Care, a luxury daycare for dogs, would be shutting down in June 2019. The staff was in the dark. An email from owner Lauren Westreich, addressed to the clients, offered no clarification. Standard of care would not change. Refunds would be honored. With deep gratitude, Lauren. Six days later, Westreich listed the property for $6.75 million. The daycare had been in the East Bay for 22 years…. When the shock wore off some, clients Kelly Hall and Ra (pronounced "Ray") Criscitiello—owners of a springer spaniel named Lewis and a pit bull mix named Doughy, respectively—approached the managers with an idea: What if there was a way to buy the daycare and hand the keys to the staff? If they could pull this idea off, collective ownership would protect both employees and clients against the whims of the next rich person looking to cash out. As the deputy director of research for a large union chapter, Criscitiello had helped nursing professionals organize into worker cooperatives and thought the daycare seemed like a good candidate. Co-ops can take various shapes, but rather than any legal description, what makes a worker co-op drills down to two central features: employee ownership and democratic control through a board of directors, an elected body composed of at least 50 percent employees. If they could pull this idea off, collective ownership would protect both employees and clients against the whims of the next rich person looking to cash out."
News of the Wired
Monument candidates:
Even beyond the update, the rest isn't true either. 10,000 North Carolinians, most of them white, formed an underground resistance movement, and 24,000 more joined the Union army. https://t.co/PmP4X5qjxB

— Yaz Minsky (@Yaz_Minsky) December 16, 2020
* * *
Readers, feel free to contact me at lambert [UNDERSCORE] strether [DOT] corrente [AT] yahoo [DOT] com, with (a) links, and even better (b) sources I should curate regularly, (c) how to send me a check if you are allergic to PayPal, and (d) to find out how to send me images of plants. Vegetables are fine! Fungi and coral are deemed to be honorary plants! If you want your handle to appear as a credit, please place it at the start of your mail in parentheses: (thus). Otherwise, I will anonymize by using your initials. See the previous Water Cooler (with plant) here. Today's plant (AM):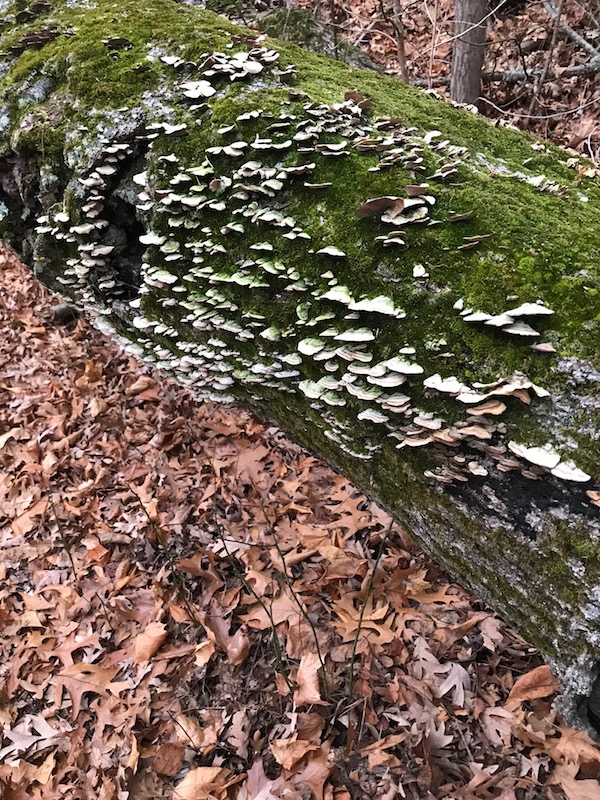 AM writes: "Moss and some sort of fungus on a dead tree in Roger Williams Park, RI on Thanksgiving eve, 2020. Lots of textures going on."
Readers, I'm running a bit low on plants. If you all — and especially readers who have not contributed before! — would kindly send me some more fresh ones, that would be great. Thank you!
* * *
Readers: Water Cooler is a standalone entity not covered by the recently concluded and — thank you! — successful annual NC fundraiser. So if you see a link you especially like, or an item you wouldn't see anywhere else, please do not hesitate to express your appreciation in tangible form. Remember, a tip jar is for tipping! Regular positive feedback both makes me feel good and lets me know I'm on the right track with coverage. When I get no donations for five or ten days I get worried. More tangibly, a constant trickle of donations helps me with expenses, and I factor in that trickle when setting fundraising goals:
Here is the screen that will appear, which I have helpfully annotated.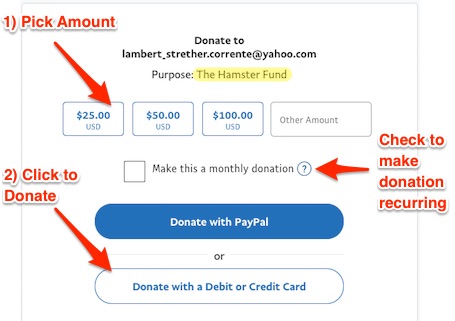 If you hate PayPal, you can email me at lambert [UNDERSCORE] strether [DOT] corrente [AT] yahoo [DOT] com, and I will give you directions on how to send a check. Thank you!