By Lambert Strether of Corrente.
Bird Song of the Day
"Neural representations of space in the hippocampus of a food-caching bird" [Science]. "Spatial memory in vertebrates requires brain regions homologous to the mammalian hippocampus. Between vertebrate clades, however, these regions are anatomically distinct and appear to produce different spatial patterns of neural activity. We asked whether hippocampal activity is fundamentally different even between distant vertebrates that share a strong dependence on spatial memory. We studied tufted titmice, food-caching birds capable of remembering many concealed food locations. We found mammalian-like neural activity in the titmouse hippocampus, including sharp-wave ripples and anatomically organized place cells. In a non–food-caching bird species, spatial firing was less informative and was exhibited by fewer neurons. These findings suggest that hippocampal circuit mechanisms are similar between birds and mammals, but that the resulting patterns of activity may vary quantitatively with species-specific ethological needs." • Maybe birds don't need thumbs….
* * *
#COVID19
At reader request, I've added this daily chart from 91-DIVOC. The data is the Johns Hopkins CSSE data. Here is the site. I feel I'm engaging in a macabre form of tape-watching….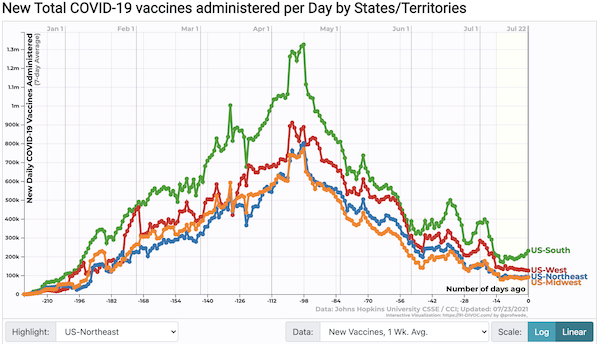 Case count by United States regions: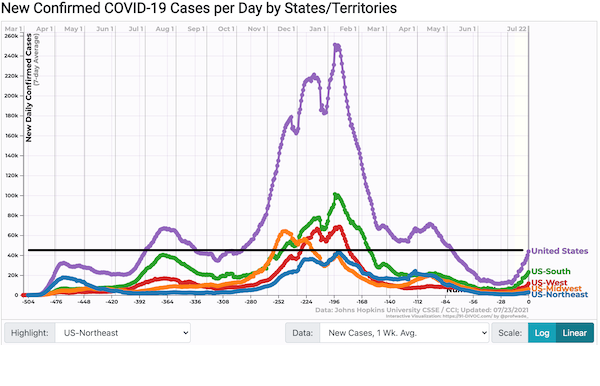 The non-triumphalist black line of today's new normal is now well above the peak of the first wave, back in early 2020. (Note that these numbers are if anything understated, since the CDC does not collect breakthrough infections unless they involve hospitalization, and encourages health administrators in the states and localities not to collect the data either.) We should know the impact of travel and all the family gatherings by July 4 + 14 call it July 21 or so. And of course summer camp, Bible School, etc. NOTE: That was yesterday. I'm perfectly happy to call the beginning of a new wave (the fifth?), even if we don't know how high it will go. So far, the country is dodging a bullet — so far — in terms of hospitalization (up slightly) and death ((no longer going down, but not spiking either). I don't know why that is. (Long Covid is another matter.)'
"The Delta Variant Will Drive A Steep Rise In U.S. COVID Deaths, A New Model Shows" [National Public Radio]. "The current COVID-19 surge in the U.S. — fueled by the highly contagious delta variant — will steadily accelerate through the summer and fall, peaking in mid-October, with daily deaths more than triple what they are now. That's according to new projections released Wednesday from the COVID-19 Scenario Modeling Hub, a consortium of researchers working in consultation with the Centers for Disease Control and Prevention to help the agency track the course of the pandemic…. 'What's going on in the country with the virus is matching our most pessimistic scenarios,' says Justin Lessler, an epidemiologist at the University of North Carolina who helps run the modeling hub. "We might be seeing synergistic effects of people becoming less cautious in addition to the impacts of the delta variant. 'I think it's a big call for caution,' he adds. The group's latest projections combine ten different mathematical models from various academic teams to create an 'ensemble' projection. It offers four scenarios for its projections — varying based on what percent of the population gets vaccinated and how quickly the delta variant spreads. In the most likely scenario, Lessler says, the U.S. reaches only 70% vaccination among eligible Americans, and the delta variant is 60% more transmissible. and around 850 deaths each day, Lessler says." • Well, that's a year before the midterms, so no problem.
Lambert here: That estimate seems very optimistic to me. At day -365, last year, our July peak was 70, 575. We are at 55,058 now, with no sign of decrease, and no reason — given travel, slow vax uptake, demasking, Delta — to think the summer peak is near. So to think the cases would grow only by 5,000 or so between now and mid-October, doesn't seem right. Here is Scenario Modeling Hub pages, and here is a screen shot of the scenarios: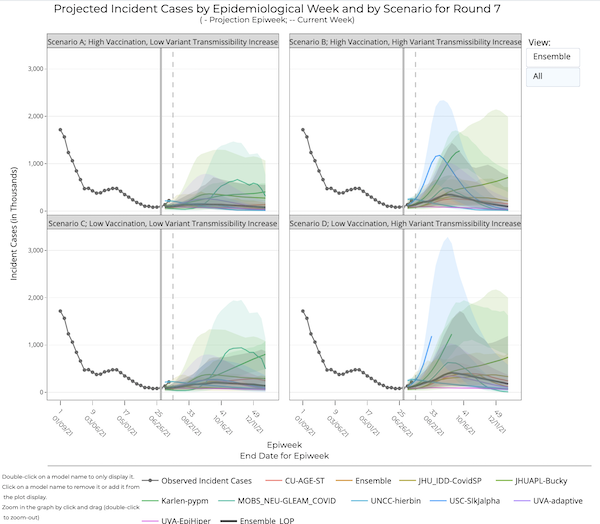 I'm juggling with power tools here (plus I hate models), so perhaps I misunderstand, either Lessler or the scenarios. Reader comments very welcome.
Covid cases top ten states: for the last four weeks (hat tip, alert reader Lou Anton):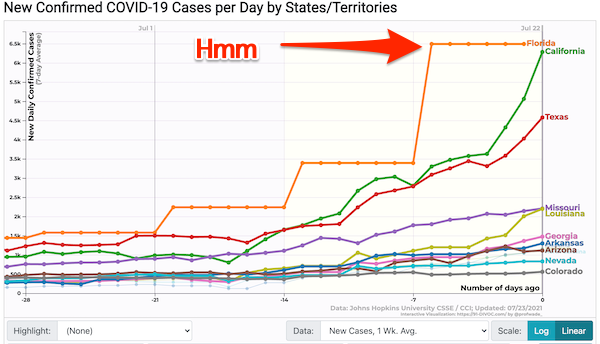 I don't like those flat Florida numbers. I wonder if there's a data problem. Meanwhile, California challenges for the lead.
NEW From CDC: "Community Profile Report July 20 2021" (PDF), "Rapid Riser" counties, this release: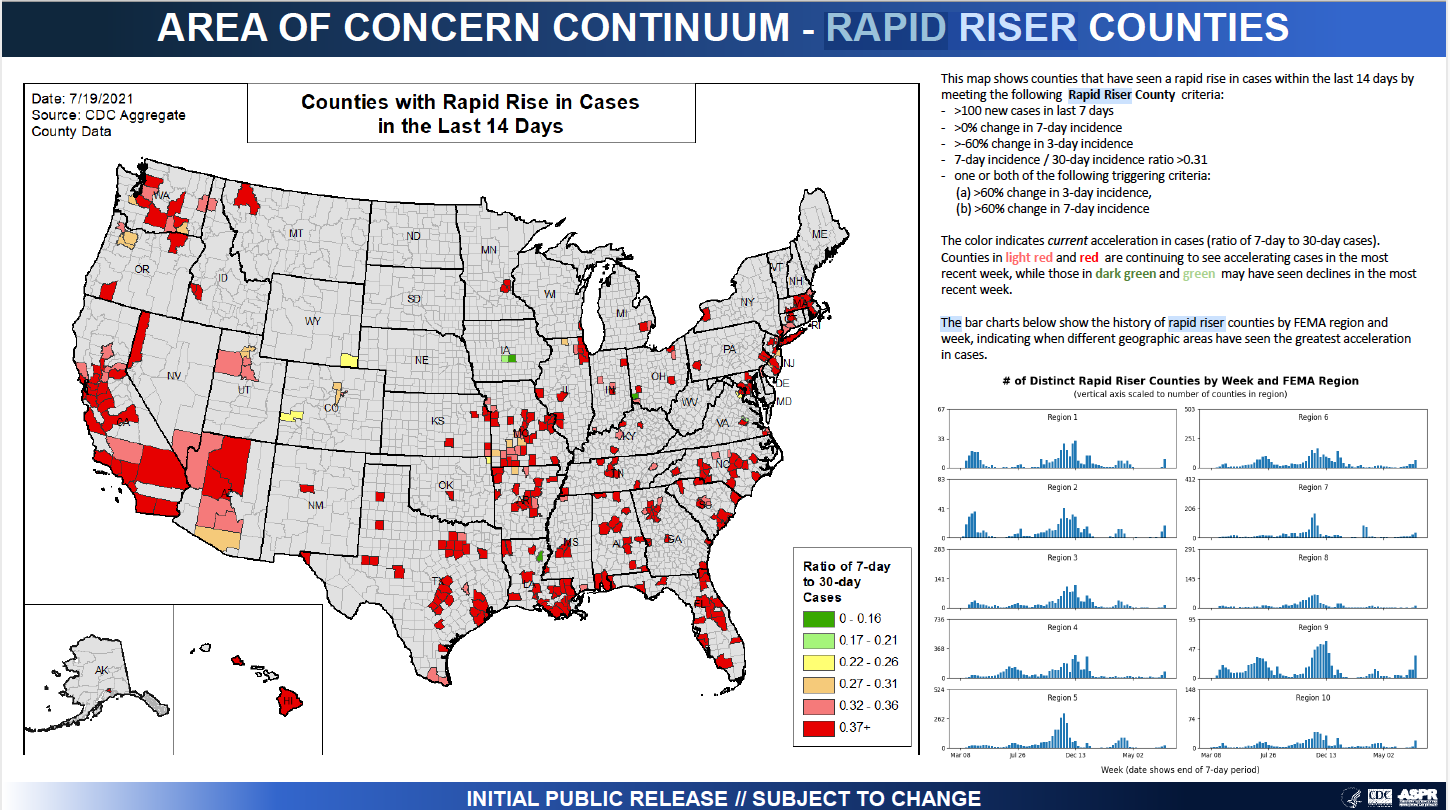 More red. Last release: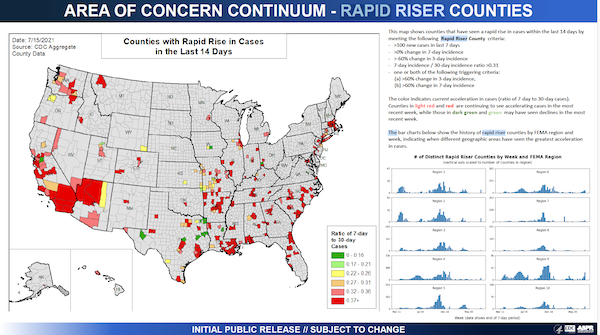 (Red means getting worse, green means bad but getting better. This chart updates Tuesdays and Fridays, presumbly by end-of-day.)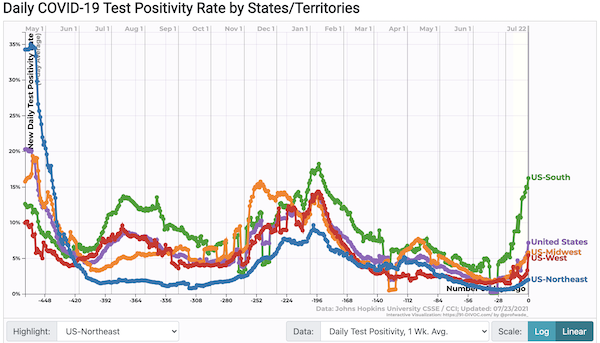 South running away with the field. But other regions now playing catch-up.
Hospitalization (CDC):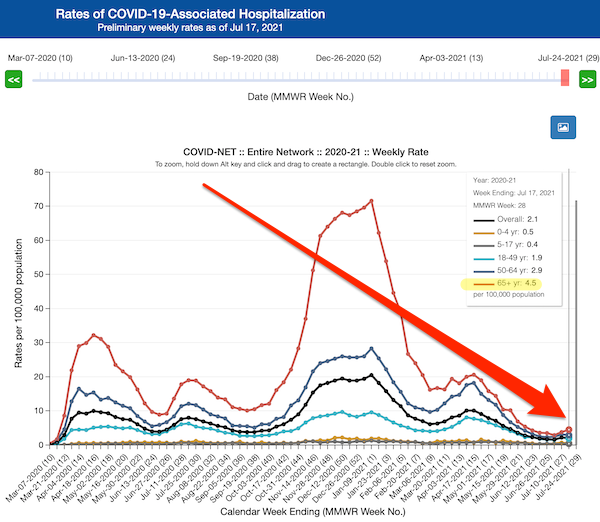 I do not like the increase in 65+ hospitalization.
Deaths (Our World in Data):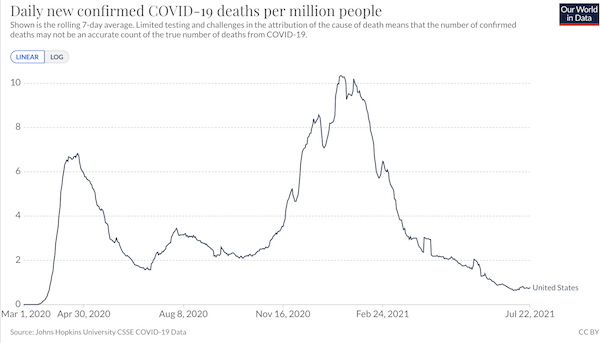 Deaths flatten after increasing.
Covid cases worldwide: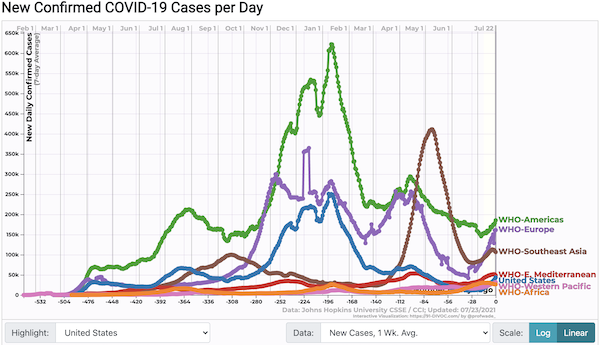 Every region is trending up.
* * *
Politics
"But what is government itself, but the greatest of all reflections on human nature?" –James Madison, Federalist 51
"They had one weapon left and both knew it: treachery." –Frank Herbert, Dune
"They had learned nothing, and forgotten nothing." –Charles Maurice de Talleyrand-Périgord
Capitol Seizure
"'Deadly serious': Pelosi goes to war with GOP over Jan. 6" [Politico]. "And as much as some in her party might want to move on from Trump, the speaker has made overseeing an investigation of the deadliest attack on the Capitol in two centuries into a core mission this year — putting her squarely in the path of the former president who Democrats say played a central role in the insurrection. Her GOP opponents are warning that Pelosi's close involvement in the select committee on Jan. 6 exposes its efforts to politicization and failure. But the California Democrat and her allies insist it's the best way to prevent a repeat of the deadly day when thousands of rioters stormed the Capitol bent on overturning a democratic election and threatened to kill members of Congress. 'They wanted to kill her. They were hunting her,' Rep. Karen Bass (D-Calif.) said. 'I don't think this is a political calculation at all. You're talking about the greatest assault on our democracy in over 100 years.'" • Really? Smedley Butler might have something to say about that.
Biden Administration
"Hunter Biden expected to meet with potential art buyers before anonymous sales" [CBS]. "Hunter Biden's appearance at the shows, where he'll presumably socialize with potential buyers, is seemingly at odds with an agreement struck with the gallery owner that aims to keep buyers' identities secret from Biden, President Biden, the White House, and the public." • Oh, Hunter. You loveble scamp!

"Democrats' Divide on Voting Rights Widens as Biden Faces Pressure" [New York Times]. "Some advocates found this approach — the idea that the vaunted voter registration, education and get-out-the-vote efforts that helped propel Mr. Biden to victory could be used against G.O.P. voting laws — naïve at best, signaling that the White House viewed the issue as simply an election challenge, rather than a moral threat to broad civil rights progress. 'The notion that some new coalition can be formed that would allow for greater efforts at organizing and voter turnout is perhaps a bit unrealistic,' said Wade Henderson, the president of the Leadership Conference on Civil and Human Rights. 'We have already formed one of the most diverse and strongest coalitions in support of voting rights that ever existed. At the end of the day, that is inadequate to the challenge of the moment. We need federal legislation.'"

UPDATE "Does the Biden Administration Really Think It Can 'Out-Organize' Voter Suppression?" [Vanity Fair]. "There is a certain amount of political realism to this tack: The John Lewis Voting Rights Act and the For the People Act can't pass with the filibuster in place, and even if Biden were to come around on abolishing it, Joe Manchin and Kyrsten Sinema say there's no circumstance in which they would. Returning to a talking filibuster or lowering the bar from 60 votes to 55 could be possible, but such changes may not be enough to stop Republicans, whose political prospects depend on the very voter suppression efforts the bills are meant to prevent. "I would talk till I fell over," Lindsey Graham said in March, suggesting that even making the filibuster more difficult to deploy wouldn't keep Republicans from doing so. To the White House, it might make more sense to direct their efforts where they have a better chance of succeeding. Democrats turned out a record number of voters for Biden in 2020, even with the obstacles to access that already existed and a raging pandemic. Surely they could do it again — right?" • Butchering the pandemic over the summer won't help. In the political class, the liberal Democrats have managed to pin the mediocre achievements of Biden's vaccination program on the Republicans, but out in the biomass, people know that's just not true. At a minimum, it won't help turnout. Even in their own terms: Is preserving the filibuster better than allowing Jim Crow 2.0? Apparently, Biden thinks. (Of course, the NGOs behind this current round of whinging will be plentifully funded, so it's not allCNBC]. "In an interview Thursday on CNBC's 'Squawk Box,' Brady, the top GOP member of the House Ways and Means Committee, said Republicans 'want to close the tax gap.' But he said the president's proposal and similar legislation introduced in Congress aimed at beefing up IRS enforcement is flawed. 'This proposal is based on an unfounded issue, which is 'what is the tax gap?'" he said. 'The IRS will admit their data is 7 years old. They're guessing about crypto currencies and foreign transactions. What they're saying is give us a ton of money, let's hire a bunch of auditors and we think this will create revenue. But we've seen already one of the problems is, it's not going to create that revenue.' Instead, Brady proposed a 'thorough analysis' of the tax gap and what's causing it. 'Then together let's direct the solutions to the problem.'"
Democrats en Deshabille
UPDATE "The DCCC's Top Bundler Is an Oil Lobbyist" [Brick House].
Republican Funhouse
The math:

— The Astral Rascal (@TheAstralRascal) July 22, 2021

Of course, at some level, this is how we want democracy to work…
Our Famously Free Press
"How To Handle The Press" [Current Affairs]. "Bernie is a broken record, and the record in question is usually some mix of the Greatest Hits on the list he brought to his meeting with Dowd. But you can see why this actually makes Sanders a very effective communicator. He is always on message, always trying to make sure the press has to talk about what he wants them to talk about. With Maureen Dowd, that's difficult; she has built her brand on 'frivolous' topics and light cruelty. But instead of declining to meet with her, he had lunch and simply wouldn't stop talking about the issues he wanted to talk about. In doing so, he forced her to write a column about his refusal to stray from those issues. It's not the column she would have written if he'd asked her what questions she had and simply answered each one. It is an exercise in manipulating a journalist to successful effect." • Sanders is relentlessly on message. This is something the left could learn from.
Realignment and Legitimacy
Stats Watch
Coincident Indicators: "June 2021 Coincident Indices Generally Show Strong Growth" [Econintersect]. "The year-over-year rate of growth of the majority of coincident indices slowed or was little changed relative to last month…. The reality is that most of the economic indicators have moderate to significant backward revision – and this month they are generally showing strong growth."
Rail: "Rail Week Ending 17 July 2021 – Year-over-Year Growth Slowing As It Is Being Compared To The Improving Conditions One Year Ago" [Econintersect]. "Week 28 of 2021 shows the same week total rail traffic (from the same week one year ago) improved according to the Association of American Railroads (AAR) traffic data."
* * *
Retail: "U.S. agency approves three airport security agreements with Amazon.com Air unit" [Reuters]. "A U.S. agency said on Thursday it is permitting three airports to enter into security agreements with Amazon.com Inc's (AMZN.O) Amazon Air unit that will allow the company to assume some security functions and facilitate Amazon's rapid planned hiring at the airports…. A U.S. agency said on Thursday it is permitting three airports to enter into security agreements with Amazon.com Inc's (AMZN.O) Amazon Air unit that will allow the company to assume some security functions and facilitate Amazon's rapid planned hiring at the airports." • Sounds like Boeing and the FAA, pre-737MAX debacle.
Tech: "Google pushed a one-character typo to production, bricking Chrome OS devices" [Ars Technica]. "Google says it has fixed a major Chrome OS bug that locked users out of their devices. Google's bulletin says that Chrome OS version 91.0.4472.165, which was briefly available this week, renders users unable to log in to their devices, essentially bricking them. Chrome OS automatically downloads updates and switches to the new version after a reboot, so users who reboot their devices are suddenly locked out them. The go-to advice while this broken update is out there is to not reboot. The bulletin says that a new build, version 91.0.4472.167, is rolling out now to fix the issue, but it could take a "few days" to hit everyone. Users affected by the bad update can either wait for the device to update again or "powerwash" their device—meaning wipe all the local data—to get logged in."
Tech: "Google is starting to tell you how it found Search results" [Reuters]. "[P]eople googling queries will now be able to click into details such as how their result matched certain search terms, in order to better decide if the information is relevant. Google has been making changes to give users more context about the results its search engine provides. Earlier this year it introduced panels to tell users about the sources of the information they are seeing. It has also started warning users when a topic is rapidly evolving and search results might not be reliable." • Maybe start by explaining why my first results page is full of ads. And why the rest of the results are full of dupes. In any case, what's interesting is what is not returned. Particularly when I'm 100% certain that what i'm searching for exists.
Tech: "Everyone cites that 'bugs are 100x more expensive to fix in production' research, but the study might not even exist" [The Register]. ""Software research is a train wreck," says Hillel Wayne, a Chicago-based software consultant who specialises in formal methods, instancing the received wisdom that bugs are way more expensive to fix once software is deployed. Wayne did some research, noting that 'if you Google 'cost of a software bug' you will get tons of articles that say 'bugs found in requirements are 100x cheaper than bugs found in implementations.' They all use this chart from the 'IBM Systems Sciences Institute'… There's one tiny problem with the IBM Systems Sciences Institute study: it doesn't exist.' Laurent Bossavit, an Agile methodology expert and technical advisor at software consultancy CodeWorks in Paris, has dedicated some time to this matter, and has a post on GitHub called 'Degrees of intellectual dishonesty'." • All the way down…
Tech: "The lethality of algorithms." [The Scrum]. "Perhaps the "fourth branch of government" now needs to be put in its place. There are growing calls for government regulation of social media companies, if not outright conversion of these companies into public utilities. The problem with this strategy is that much of the censorship we are currently seeing is at the behest of the government as it arm-twists Silicon Valley and then disingenuously claims there is no official censorship in our republic. Perhaps the solution is to address the underlying material causes (such as income inequality and deindustrialization) behind the political polarization inside the U.S. instead of binding the citizenry in algorithmic chains."
Concentration
"Exclusive: ProtonMail wades into U.S. antitrust war" [Axios]. "Proton Technologies, a Swiss company that provides fully encrypted email services, argues that privacy is an antitrust issue in a new post Thursday that throws its support behind the House Judiciary Committee's tech antitrust bills. Proton argues that if it could compete on a level playing field with Google for email services, consumers would be more likely to choose its privacy-focused app over Google's ad-supported offerings. 'Essentially, they control the whole ecosystem,' Proton policy counsel Jurgita Miseviciute told Axios. 'For startups, especially privacy-focused companies, it's very, very difficult to compete when there are conditions like that.' At the top of Proton's list of grievances is the 30% commission Apple collects on subscriptions sold through its App Store, with Google planning to enforce the same fee." • 30%? Robber barons would be proud!
* * *
Today's Fear & Greed Index: 32 Fear (previous close: 25 Extreme Fear) [CNN]. One week ago: 23 (Extreme Fear). (0 is Extreme Fear; 100 is Extreme Greed). Last updated Jul 23 at 2:29pm.
MMT
"Are We Living in an MMT World? Not Yet" [Bloomberg]. "Scott Fullwiler, an MMT economist and professor at the University of Missouri at Kansas City, says the Covid-19 crisis has shot down one common argument against deficit spending (used by Democrats to oppose former President Donald Trump's tax cuts): that it risks leaving the government short of funds, so that 'in the next crisis you might not be able to respond…' Nevertheless, he expects mainstream economics will characterize the aggressive use of fiscal policy in the pandemic as a 'special case'—indispensable in emergencies but inappropriate in normal times. 'It's sort of two steps forward, one step back,' Fullwiler says. There was some evidence for that in Federal Reserve Chair Jerome Powell's July 15 testimony to Congress. Although Powell endorsed deficit spending during the Covid crisis, he told lawmakers it's not sustainable in the long run because 'the laws of gravity have not been repealed.'" • The laws of gravity…. I don't have time to dig out the quote, but I think Shevel had something to say about that in LeGuin's The Dispossessed. Commentary:
This guy is 'doing MMT'. So, if you want to hear a politician who speaks that language, listen to @RepJohnYarmuth https://t.co/hUOVrprv0P

— Edward Harrison (@edwardnh) July 23, 2021
The Biosphere
"Rocky Mountain Flowers: The Daring Life and Art of Pioneering Plant Ecologist Edith Clements" [Brain Pickings]. "Two centuries after the young self-taught botanist and artist Elizabeth Blackwell painted her astonishing encyclopedia of medicinal plants and as a century after the young Emily Dickinson composed her delicate herbarium of native New England wildflowers, the young Edith Clements began collecting, classifying, photographing, and painting 533 plant specimens from the mountains of Colorado for a meticulously annotated herbarium, completed in 1903 and followed by a second volume in 1904." • For example: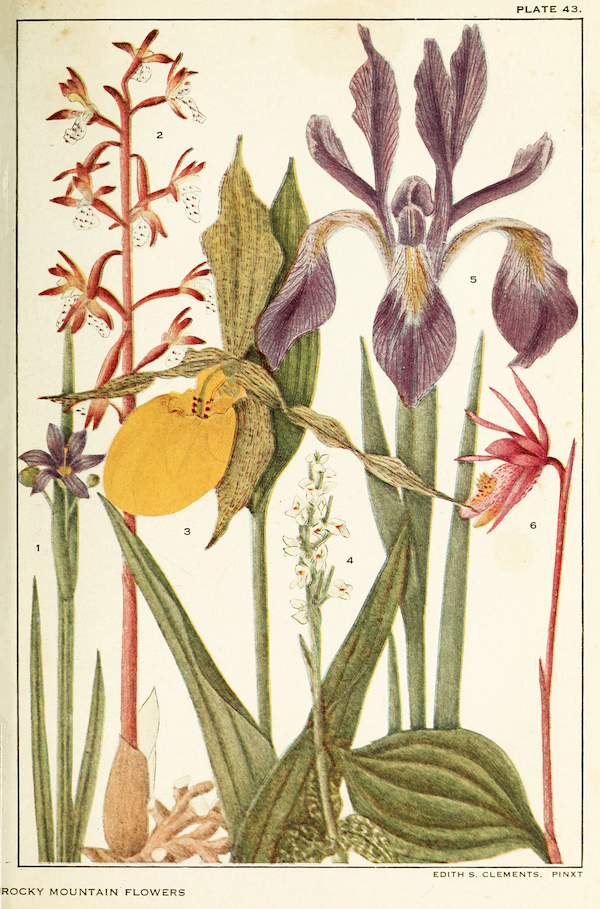 Health Care
"Experts Criticize Philly Schools for $4.5M Air Purifiers" [GovTech]. "Philadelphia school officials are planning to consult with more air quality scientists after meeting Monday with an expert critical of the district's $4.5 million purchase of NASA-originated air purifier technology. The expert, a Drexel professor, said the purifiers were ineffective at reducing the spread of coronavirus and had the potential to create harmful chemicals. Preparing to welcome students in-person for the first time since the onset of the pandemic, district officials last week touted the multimillion dollar investment in air purifiers advertised to rid both air and surfaces of SARS-CoV-2, the novel coronavirus that causes COVID-19. The devices have already been purchased and will be installed in every classroom by the end of July, a district spokesperson said. But following the school district's announcement, several experts questioned the purifiers' effectiveness and safety. They included Michael Waring — professor of indoor air quality and department head of civil, architectural, and environmental engineering at Drexel University — who met with School District Chief Operating Officer Reggie McNeil on Monday. According to a spokesperson, the district used federal funding to purchase more than 9,500 devices for its 200-plus buildings. They use ActivePure Technology, which, according to its website, protects against the coronavirus by pulling free oxygen and water molecules through a 'patented honeycomb matrix' that oxidizes molecules that are then released back into a room to neutralize viruses." • Oh. A honeycomb matrix. Oh. Why do I think the contract was filtered through a steak dinner?
The Agony Column
"Those Who Share a Roof Share Emotions" [The Atlantic]. "Emotional contagion isn't all negative. In 2008, researchers used decades of data from a Massachusetts community to find that happiness is highly contagious. Specifically, living within a mile of a friend who becomes happy makes you 25 percent likelier to become happy too. Emotions of all kinds have long been found to jump between people through a number of mechanisms. The most obvious is conversation, in which we transmit and take on the emotions of others through facial expressions, vocal tone, and posture. You probably have found that when you interact with certain people, you laugh more than normal; with others, you complain a lot. We can also 'catch' others' emotions physiologically, at least in part. In one experiment, people who inhaled a disgusting smell and those who merely observed a video clip of a person with a disgusted expression had activation in the same parts of the brain. Similar results have been found in the experience of pain—your brain can sense it simply by seeing someone else who is hurting." • Not sure what digital distancing is doing to this, but I don't think it can be good. I learned a new phrase the kidz use: "Touch grass."
Groves of Academe
"The Trillion-Dollar Lie" [Matt Taibbi, TK News (GF)]. Excerpt, but still good. "What did [the Bankruptcy Abuse Prevention and Consumer Protection Act of 2005] say, exactly? For years, it was believed that it absolutely closed the door on bankruptcy for whole classes of borrowers, and one in particular: students. Nearly fifteen years after the bill's passage, journalists were still using language like, 'The bill made it completely impossible to discharge student loan debt.' Even I did this, writing multiple features about student loans stressing their absolute non-dischargeability. In 2017, I interviewed a 68 year-old named Veronica Martish who filed for personal bankruptcy — as I put it, 'not to get free of student loans, of course, since bankruptcy protection isn't available for students' — and described her being chased by collectors to her deathbed. 'By the time I die, I will probably pay over $200,000 toward an $8000 loan,' she said. 'They chase you until you're old, like me. They never stop. Ever.' I got it wrong. Beginning in the 2010s, judges all over the U.S. began handing down decisions in cases… that revealed lenders had essentially tricked the public into not asking basic questions, like: What is a 'student loan'? Is it anything a lender calls a student loan? Is a school anything a lender calls a school? Is a student anyone who takes a class? Can lenders loan as much as they want, or can they only lend as much as school actually costs? And so on." • Very reminiscent of the foreclosure crisis. And kudos to Taibbi for saying "I got it wrong." We don't hear a lot of that, and we ought to.
Zeitgeist Watch
Keep safety in check while riding to the Sturgis Motorcycle Rally!#KeepSDsafe pic.twitter.com/AJDMB7Y8Up

— SDPublicSafety (@SDPublicSafety) July 19, 2021
Class Warfare
"New Topeka Frito-Lay Contract Offer Ends "Suicide Shifts"—But Keeps Forced Overtime" [The Flashpoint]. "A Frito-Lay company amendment to its contract with union workers at a Topeka plant would end so-called 'suicide shifts' while still leaving the door open to forcing overtime six days a week. One staffer, who is on strike, told me that the new language means the company can still force employees into mandatory overtime six days a week at 12 hours a day. 'This one is only six days a week but they can still force you 12s the six days,' the staffer told me…. Workers have been on strike for weeks and will vote tomorrow on a new contract. The company's amendment to end the suicide shifts is welcomed but the fine print leaves a lot to be desired."
"Washing for Dignity and Safety on the Job: Workers in the NJ Retail Laundromat Industry" [ILR Worker Institute]. "Despite being deemed essential during the COVID-19 crisis, laundry workers in New Jersey remain largely invisible, unprotected from violations of their basic human and labor rights, and excluded from pandemic economic relief. During the fall 2020, the Laundry Workers Center started surveying workers at the retail laundromat industry across New Jersey. Laundry workers face customer aggression, discrimination, unsafe working conditions, and much more…. Workers that were interviewed state that "there are days where I can't find 15 minutes to rest. I don't get a break and they only pay me 9 dollars per hour for over 45 hours without any overtime pay." Others are 'scared to get sick because of all the risks I am exposed to. Different people enter every day, and my employers only provide one facemask each week. I have to buy them in order to be ok.'" • Worth reading in full. New Jersey is, of course, solidly Blue.
"D.C. renters' lawsuit is a blueprint for tenant organizing" [Reuters]. "The lawsuit alleges that landlords waged a years-long obstruction campaign against tenants who formed a union to protest deteriorating housing conditions and that the city police department aided property owners in illegally suppressing tenants' rights. 'They wouldn't rely on police to actually maintain safety, but they would call the police on tenants who were organizing or approached them about issues in the building,' Tara Maxwell, president of the Park 7 Tenant Union and a resident of Park 7 Apartments, told me. The group claims problems at the complex include water leaks, mold, pest infestation and insufficient security. The complex previously reached a settlement with the city attorney general to refund nearly half a million dollars to tenants who were improperly charged for water use that was falsely marketed as included in rent, according to an August 2020 report by the Washington City Paper. Representatives of Donatelli Management didn't respond to questions and requests for comment." • In a more perfect world, san culottes would exist in the District of Columbia. That world would be very different from this world….
"The week in US unions, July 15-22, 2021" [Who Gets the Bird?]. • An enormous (and telegraphic) roundup. Lots of activity, most of it in the 10s and 100s. Surely a lot of learning and building going on.
News of the Wired
"Can a $110 Million Helmet Unlock the Secrets of the Mind?" [Bloomberg]. No. ""To make progress on all the fronts that we need to as a society, we have to bring the brain online," says Bryan Johnson, who's spent more than five years and raised about $110 million—half of it his own money—to develop the helmets….. Johnson is the chief executive officer of Kernel, a startup that's trying to build and sell thousands, or even millions, of lightweight, relatively inexpensive helmets that have the oomph and precision needed for what neuroscientists, computer scientists, and electrical engineers have been trying to do for years: peer through the human skull outside of university or government labs. In what must be some kind of record for rejection, 228 investors passed on Johnson's sales pitch, and the CEO, who made a fortune from his previous company in the payments industry, almost zeroed out his bank account last year to keep Kernel running." • Oh good. Another squillionaire with a bright idea.
Quite the histogram:
A Man in a Room, 1630 #rembrandt #baroque pic.twitter.com/gRIO6aQWCn

— Rembrandt (@artistrembrandt) July 22, 2021
* * *
Readers, feel free to contact me at lambert [UNDERSCORE] strether [DOT] corrente [AT] yahoo [DOT] com, with (a) links, and even better (b) sources I should curate regularly, (c) how to send me a check if you are allergic to PayPal, and (d) to find out how to send me images of plants. Vegetables are fine! Fungi and coral are deemed to be honorary plants! If you want your handle to appear as a credit, please place it at the start of your mail in parentheses: (thus). Otherwise, I will anonymize by using your initials. See the previous Water Cooler (with plant) here. Today's plant (AM):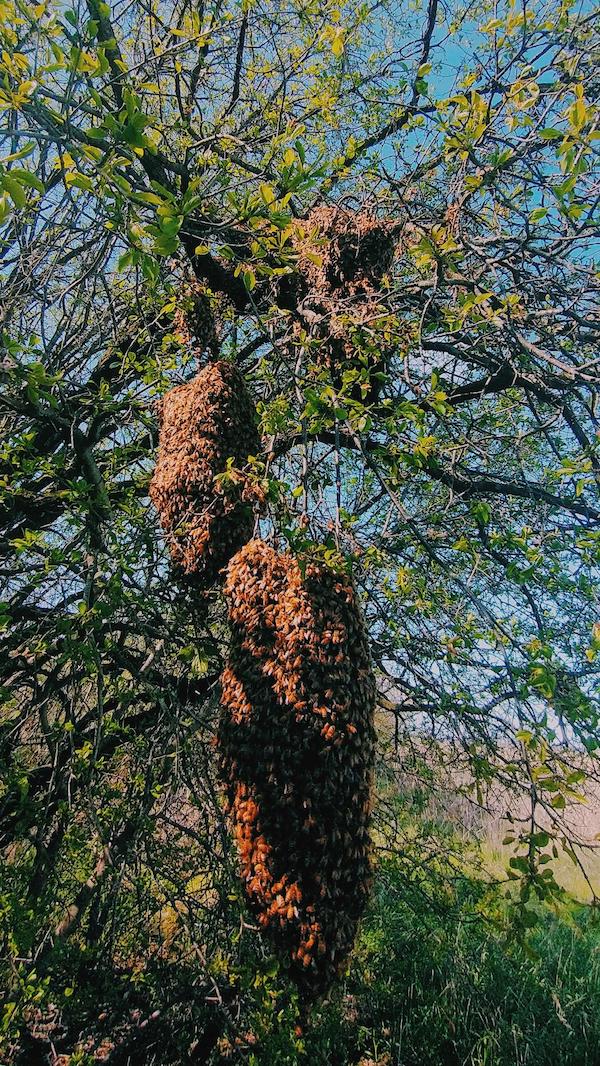 AM writes: "I am a beekeeper in the great black Swamp/Maumee river valley region of NW Ohio and we have been catching a lot of swarms lately. Thanks for everything y'all do, since finding Naked Capitalism i use it almost exclusively for my daily news."
And after catching the swarm: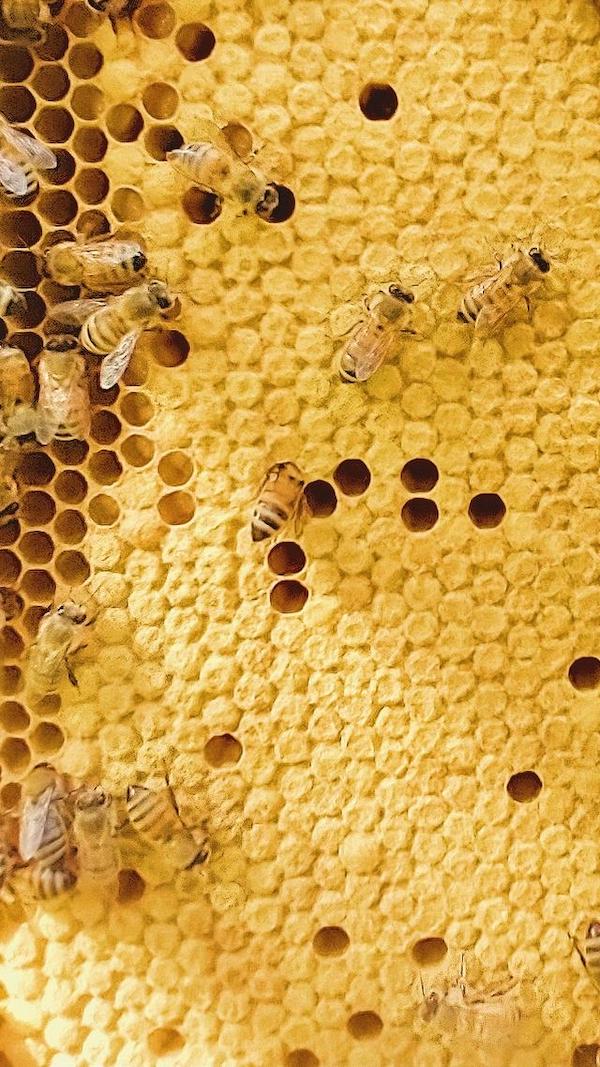 We are busy bees!
* * *
Readers: Water Cooler is a standalone entity not covered by the recently concluded and — thank you! — successful annual NC fundraiser. So if you see a link you especially like, or an item you wouldn't see anywhere else, please do not hesitate to express your appreciation in tangible form. Remember, a tip jar is for tipping! Regular positive feedback both makes me feel good and lets me know I'm on the right track with coverage. When I get no donations for five or ten days I get worried. More tangibly, a constant trickle of donations helps me with expenses, and I factor in that trickle when setting fundraising goals:
Here is the screen that will appear, which I have helpfully annotated.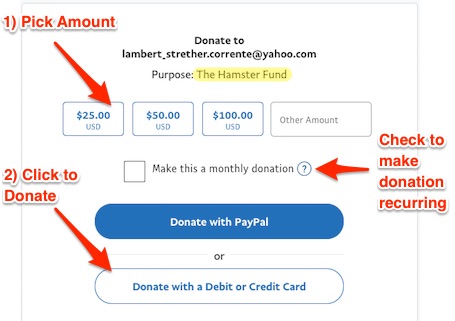 If you hate PayPal, you can email me at lambert [UNDERSCORE] strether [DOT] corrente [AT] yahoo [DOT] com, and I will give you directions on how to send a check. Thank you!2:00PM Water Cooler 6/8/2021