By Lambert Strether of Corrente.
Bird Song of the Day
Yucatan Vireo, San Miguel; Isla Cozumel, Quintana Roo, Mexico.
* * *
Politics
"But what is government itself, but the greatest of all reflections on human nature?" –James Madison, Federalist 51
"Here's food for thought, had Ahab time to think; but Ahab never thinks; he only feels, feels, feels" –Herman Melville, Moby Dick
"So many of the social reactions that strike us as psychological are in fact a rational management of symbolic capital." –Pierre Bourdieu, Classification Struggles
Biden Administration
"Biden administration makes at-home Covid tests available for free again this winter" [CNBC]. • The molasses-brained Biden administration is a seriously lagging indicator. So it's too late.

Scranton Joe:

When I think about climate change, I think about jobs.

It's time wind turbine blades, solar panels, and electric vehicle batteries were built by American union workers in American towns instead of overseas.

— President Biden (@POTUS) December 12, 2022

When I think about jobs, I think about how Biden screwed the railroad workers.
Democrats en Déshabillé
Patient readers, it seems that people are actually reading the back-dated post! But I have not updated it, and there are many updates. So I will have to do that. –lambert

I have moved my standing remarks on the Democrat Party ("the Democrat Party is a rotting corpse that can't bury itself") to a separate, back-dated post, to which I will periodically add material, summarizing the addition here in a "live" Water Cooler. (Hopefully, some Bourdieu.) It turns out that defining the Democrat Party is, in fact, a hard problem. I do think the paragraph that follows is on point all the way back to 2016, if not before:

The Democrat Party is the political expression of the class power of PMC, their base (lucidly explained by Thomas Frank in Listen, Liberal!). ; if the Democrat Party did not exist, the PMC would have to invent it. . ("PMC" modulo "class expatriates," of course.) Second, all the working parts of the Party reinforce each other. Leave aside characterizing the relationships between elements of the Party (ka-ching, but not entirely) those elements comprise a network — a Flex Net? An iron octagon? — of funders, vendors, apparatchiks, electeds, NGOs, and miscellaneous mercenaries, with assets in the press and the intelligence community.

Note, of course, that the class power of the PMC both expresses and is limited by other classes; oligarchs and American gentry (see 'industrial model' of Ferguson, Jorgensen, and Jie) and the working class spring to mind. Suck up, kick down.

* * *

"Ocasio-Cortez under investigation by House Ethics Committee" [The Hill]. "Rep. Alexandria Ocasio-Cortez (D-N.Y.) is under investigation by the House Ethics Committee, the panel's acting chair and ranking member said in a statement on Wednesday. The committee did not specify what exactly it was probing regarding the congresswoman and noted that its statement "does not itself indicate that any violation has occurred… the congresswoman's case was also likely postponed due to last month's midterm elections, as the ethics panel can also delay action if it is set to occur within a 60-day period before an election." • What? She didn't support Israel hard enough?

"Pennsylvania's Governor-Elect Ran on Saving Democracy. Then He Appointed a Trump White House Lawyer" [The Intercept]. "Since his win in Pennsylvania's gubernatorial race last month, Gov.-elect Shapiro has packed his transition team with Republicans, lobbyists, wealthy donors, and corporate executives from companies like Comcast, Aramark, and Independence Blue Cross. But one member of Shapiro's transition personnel committee stood out: Though Shapiro's entire election strategy was that he was the anti-MAGA candidate, his team included James Schultz, a former associate White House counsel under President Donald Trump. Shapiro's team, which declined to comment for this article, framed Schultz's appointment as an effort by the incoming governor to encourage bipartisanship, building a broad tent and bringing people together in an extension of his campaign messaging. During the GOP primary, Shapiro spent ad money publicizing Republican candidate Doug Mastriano's pro-Trump positions; Mastriano said he owed Shapiro a debt of gratitude. Then Shapiro undertook a strategy of waving his centrist banner and beat Mastriano by almost 15 percentage points in the general election. Winning over Republicans that opposed Trump's full-throated embrace of election denialism was a key part of the strategy, according to a memo released by the Shapiro campaign on Thursday."

"Meet New York's New Republican Voters" [New York Magazine]. "In significant swaths of Brooklyn and Queens, Republican voting is growing organically, driven less by reactionary white people looking longingly to the suburbs — a coalition that helped elect Rudy Giuliani twice in the 1990s — and more by communities of recent immigrants and Orthodox Jews. Some of these voters are conservatives who no longer wish to support Democrats at any level of government after spending years ticket-splitting. [Republican Lee Zeldin] ran up large margins in Chinese-speaking Brooklyn neighborhoods and, like other recent Republicans, dominated in Russian-speaking and Orthodox Jewish parts of Brooklyn and Queens…. Party affiliation is beginning to matter more than racial or ethnic identity in city voting: A white Republican with scant resources nearly defeated an Asian American Democrat for an Asian-plurality Brooklyn legislative seat last month. And it may have been liberal white voters, not Asian Americans, who saved her." • Hmm.

"'Little kids were starting to cry': Inside the Kevin de León fight at Christmas gift giveaway" [Los Angeles Times]. "A video posted on Twitter on Saturday by RootsAction shows activists walking alongside De León inside the event calling on him to resign. Jason Reedy, an organizer with the People's City Council, stands in front of De León, holding his phone in the councilman's face. When De León reaches a door, someone pushes Reedy out of the way. The video shows De León going through the door into a back room and trying to close it. Reedy follows him, and the councilman appears to push him back. Reedy, holding his arms up, stands nose-to-nose with De León as others mob the pair. There's a brief struggle, then De León grabs Reedy, throws him into a table and attempts to push him out of the room. Alan Ochoa, 36, was DJing the event when he said about five people walked in and started shouting 'you're a racist' at De León. Ochoa, who grew up in Lincoln Heights, said he doesn't watch the news and hadn't been aware of the controversy with the leaked audio. De León was on the stage to give out toys to children when everything started."

"Illinois' Oligarchy Offers Lesson for National Democracy" [RealClearPolicy]. "Big money has determined the past three gubernatorial election outcomes in Illinois. Gone are the days of the Illinois political machine and blue-dog Democrats who built patronage armies and rank-and-file majorities. Illinois politics is now, more than ever, a dollars and cents game run by an oligarchy of rich insiders. That means Illinois is on its way to being a state where special interests can outweigh the voices of the everyday people – unless the people do something about it. Illinois Gov. J.B. Pritzker makes up the first half of that elite group. The wealthiest sitting politician in the country, Pritzker has broken records by spending a total of $323 million on his past two gubernatorial campaigns – approximately $70 per vote in 2022. Then, he spent millions more to ensure which opponent would win the Republican primary: Darren Bailey, a downstate, conservative farmer perceived as easier to beat than moderate Richard Irvin…. Then, there's the second half of the Illinois oligarchy: special-interest government unions. Big labor spent over $16 million to win on Amendment 1, a constitutional change that elevates government collective bargaining agreements over state law, effectively outsourcing the legislative branch to a group of unelected political insiders who stand to benefit financially from this kind of power. The presence of this rich and powerful establishment is concerning for its potential implications. Activist government unions across the country now have a model to follow in Amendment 1: create similar laws and usurp the people's legislative power in other states. Tim Drea of the AFL-CIO has said there's already been 'a lot of interest on this amendment from other states.'" • Categorizing unions as "special interests" is an old right-wing trope. Still, I'd feel a lot happier about the AFL-CIO if the railroad workers hadn't just been thrown under the bus while union "leadership" stood idly by.
Realignment and Legitimacy
"Over 400 Texas Congregations Exit United Methodist Church Over LGBTQ Issues" [The Roys Report]. That's a lot. "That's nearly half of all UMC churches in Texas. Many of these congregations are expected to become affiliated with The Global Methodist Church, a denomination started by conservative Methodist leaders in the wake of the UMC's drift towards a liberalized stance on LGBTQ issues." • Global? As in globalization? Not implausible: Back when I was an Episcopalian, I remember many African dioceses — Africa was a big growth area for Episcopalians, back in the day, and may well still be — vehemently opposed the ordination of women priests (some of whom went on to become Bishops). Global doesn't necessarily mean cosmopolitan.

"How conspiratorial thinking is undermining democracy, and what we can do about it" [Bulletin of the Atomic Scientists]. "Polls show that despite all evidence to the contrary, more than two-thirds of Republicans and one-third of all Americans still suspect election fraud or believe that Trump was the real winner in 2020." • Well, heck, it's not like the Biden campaign, Democrats in Silicon Valley, and the intelligence community didn't all combine to surppress a Republican October surprise. Oh, wait….

Bouley has been in the NGO world for a long time, so this is an interesting straw in the wind:

Bouley's reasons are likely not my reasons, but I still agree with her. (I changed the order of the catchphrase to "Diversity, Inclusion, Equity" for a reason.)
#COVID19
Lambert here: Eric Topol has called a winter surge (or "wave") of Covid. I am but a humble tapewatcher, but I'm reluctant to do so. (Partly because I know my temperament, and I have strong priors. So "I won't because all of me wants to," as Sam Spade says.) Topol's view is the establishment view: Hospital-centric. Mine is infection-centric. I do not see the acceleration or doubling in cases that I would expect to see based on past surges. So we'll see.
UPDATE Lambert here once more: I'm not calling a peak, because the last peak was Biden's Omicron debacle, and that's hard to beat. There is also the TripleDemic aspect, which I don't know enough about. So I am calling "Something Awful." Wastewater has taken off in New York, Chicago, San Francisco, and Los Angeles, right on time, two weeks after Thanksgiving. Those are not only in themselves large cities, they are all the sites of international airports (reminiscent of the initial surge in spring 2020, which emanated, via air travel, from New York). Wastewater is a leading indicator for cases, which in turn lead hospitalization (and death). In addition, positivity has begun to increase again (Walgreens), and BQ.1* has taken over. Stay safe out there. If you are planning to travel on Xmas, do consider your plans carefully.
• Symptoms:
So basically it could be any one of these unless you confirm via a test

— Jackie Lu (@Jackieluhoo) December 14, 2022
* * *
• A CO2 monitor is the perfect stocking stuffer:
And many people don't realize that 7.8% rebreathed air at 3376 ppm actually means breathing in 32.5 litres per hour of other people's breath, so pounding back 15 two litre bottles of pop but with everyone else's breath.🤮 A calculator is available here: https://t.co/AIBZqfvSGR

— Dr. Jeff Gilchrist (@jeffgilchrist) December 15, 2022
* * *
• Maskstravaganza: "The $949 price for Dyson's air-purifying headphones is more absurd than the device itself" [The Verge]. "Regarding air filtration, Dyson claims that a combination of electrostatic filters within the Dyson Zone can capture up to 99 percent of the particle pollution (as small as 0.1 microns), and carbon filters target gasses associated with city pollution, such as nitrogen dioxide and sulfur dioxide. These filters last for 12 months and are not reusable. Dyson doesn't make any claims that the Dyson Zone can be used to prevent covid." • Make it $99 and you might have something. Give that a couple of years. It's not unstylish, either.
* * *
• A good thread on risk:
Risk from dirty water carrying cholera?
Fresh chlorinated water.

— tern (@1goodtern) December 13, 2022
This "personal risk assessment" thing the psychos in what passes for public health today are pushing is new and bad. It's also going to roll back a lot of gains if allowed to persist.
• The same for "living with":

* * *
• "Long COVID: a 'massive disabling event'" [Seattle Times]. "[W]hy, if an estimated 24 million people are still coping with long COVID, are we declaring the pandemic a thing of the past?" • Eugenics?
* * *
Case Counts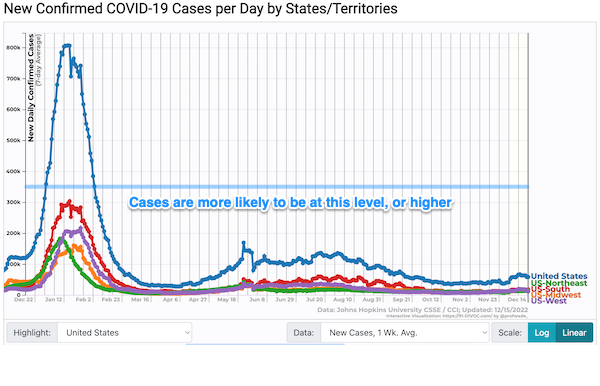 From the last year, to get a better sense of Biden's ginormous Omicron peak and today. As I once did, I've added a blue "Biden Line" to approximate the real case count, since "confirmed cases" are seriously undercounted because of home testing.
• What the national and regional averages will hide is a rise in cities:
This is horrific. *Another* largest-ever covid surge looks inevitable. @SF_DPH should be the center of an investigation about why required public transit masking (at least) hasn't been reinstated. The covid negligence by leadership in a city once devastated by HIV is ghoulish. pic.twitter.com/M9geKLsO0q

— Violet Blue® (@violetblue) December 15, 2022
But Christmas should spread a lot of virus everywhere!
Transmission
Here is CDC's interactive map by county set to community transmission (the "red map"). (This is the map CDC wants only hospitals to look at, not you.)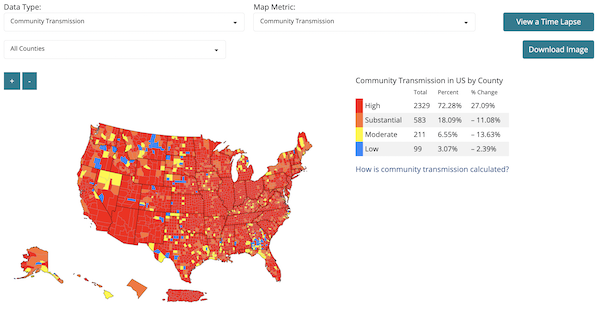 Previous version: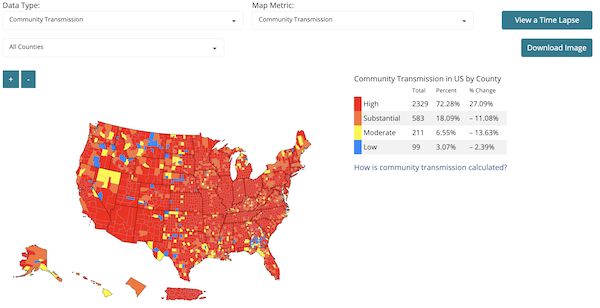 NOTE: CDC doesn't say how often this updates.
Lambert here: Some readers seemed not to be aware of the difference between the "green map" (community levels) and the "red map" (transmission) so I am reintroducing the boilerplate I once used:
NOTE: I shall most certainly not be using the CDC's new "Community Level" metric. Because CDC has combined a leading indicator (cases) with a lagging one (hospitalization) their new metric is a poor warning sign of a surge, and a poor way to assess personal risk. In addition, Covid is a disease you don't want to get. Even if you are not hospitalized, you can suffer from Long Covid, vascular issues, and neurological issues. That the "green map" (which Topol calls a "capitulation" and a "deception") is still up and being taken seriously verges on the criminal.
Positivity
From the Walgreen's test positivity tracker, published December 13: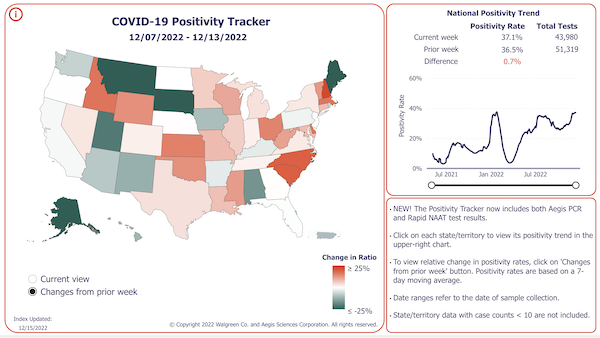 0.7%. Increasing again.
Wastewater
Wastewater data (CDC), December 11: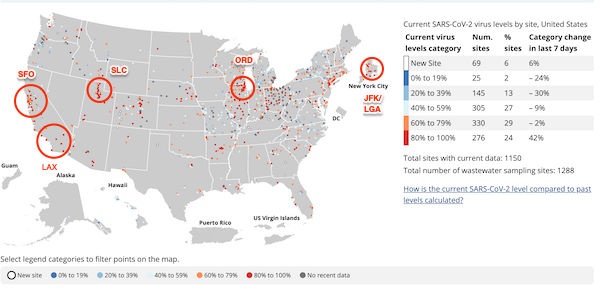 Yikes. After five days I come back, and this is what I see. I've circled the hot spots, and put airports next to them. JFK/LGA (New York), ORD (Chicago), SLC (Salt Lake City), SFO (San Francisco), and LAX (Los Angeles) are all red. (I assume SLC is from ski resorts, which spread a good deal of infection in the very first wave). Plenty of virus emerging, just about two weeks after Thanksgiving travel ended. The Covid train always leaves on time! And you know what? There's always another train coming! (Good job on the Blue Cities, Democrats. Good thing they're so heavily propagandized! Showed some foresight there, I must say.)
December 6: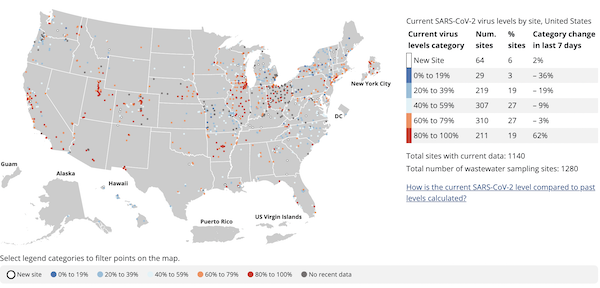 And MWRA data, December 12: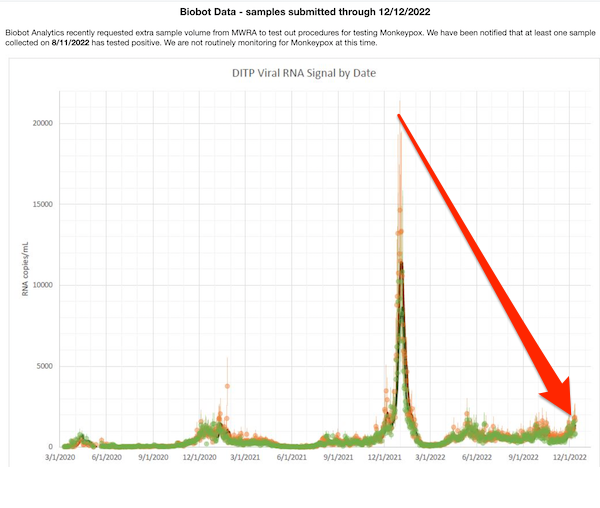 Lambert here: Boston resumes its upward climb. Both North and South are up. Two weeks after the kids came home from Thanksgiving.
• And speaking of wastewater:
When you flush a toilet, it releases plumes of tiny water aerosols into the air around you which can spread pathogens from human waste and expose people in public washrooms to contagious disease ( https://t.co/EKKor2v88b ). 9/ pic.twitter.com/ECyexovL7v

— Dr. Jeff Gilchrist (@jeffgilchrist) December 10, 2022
Variants
Lambert here: It's beyond frustrating how slow the variant data is. Does nobody in the public health establishment get a promotion for tracking variants? Are there no grants? Is there a single lab that does this work, and everybody gets the results from them? [grinds teeth, bangs head on desk]. UPDATE Yes. See NC here on Pango. Every Friday, a stately, academic pace utterly incompatible with protecting yourself against a variant exhibiting doubling behavior.
Variant data, national (Walgreens), December 2: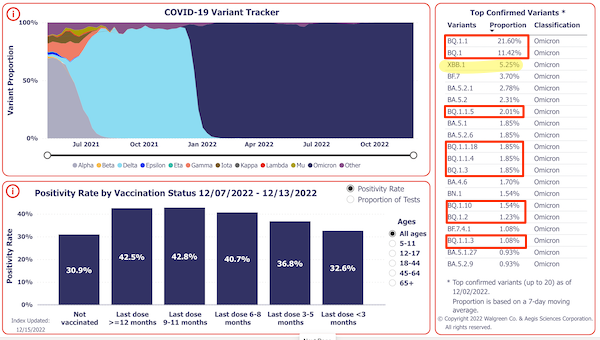 Lambert here: BQ.1* dominates, XBB coming up on the outside. Not sure why this data is coming out before CDC's, since in the past they both got it from Pango on Fridays.
NOT UPDATED Variant data, national (CDC), November 19 (Nowcast off):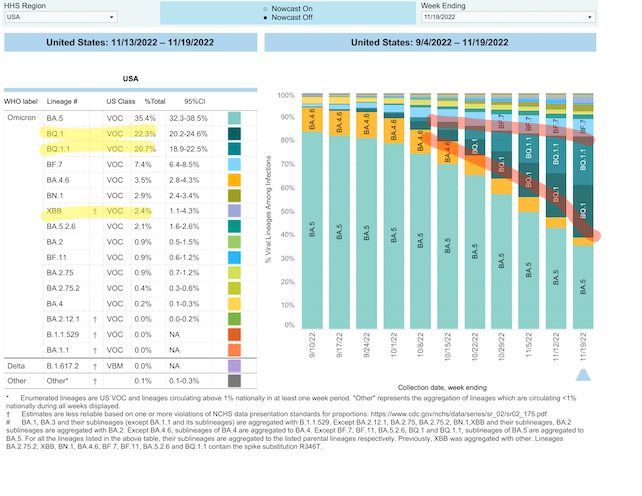 BQ.1* takes first place. Note the appearance of XBB.
• As a check, since New York is a BQ.1* hotbed, New York hospitalization, updated December 14: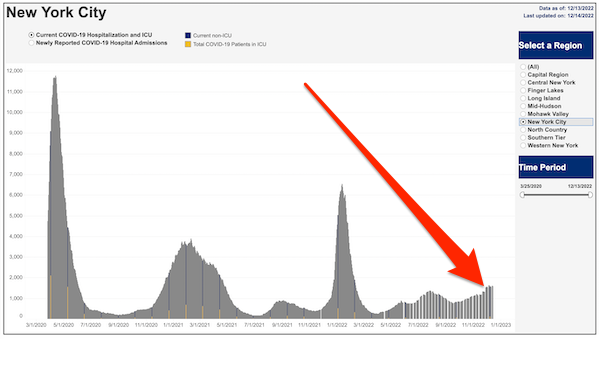 Lambert here: Looks like a plateau, for now. But hospitalization lags cases, so we shall see.
• Hospitalization data for Queens, updated December 10: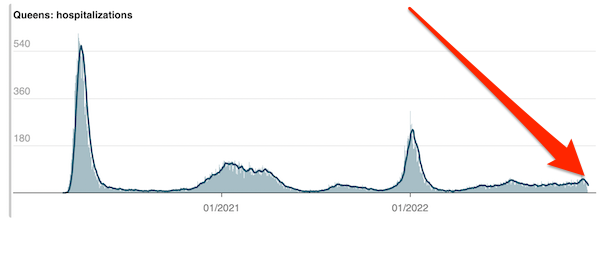 Ditto.
Deaths
Death rate (Our World in Data):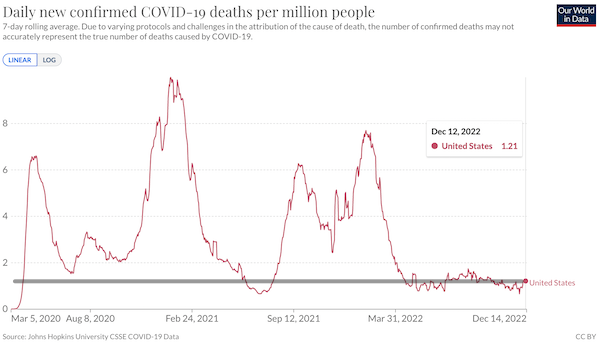 Total: 1,111,664 – 1,109,983 = 1681 (1681 * 365 = 613,565 deaths per year, today's YouGenicist™ number for "living with" Covid (quite a bit higher than the minimizers would like, though they can talk themselves into anything. If the YouGenicist™ metric keeps chugging along like this, I may just have to decide this is what the powers-that-be consider "mission accomplished" for this particular tranche of death and disease).
It's nice that for deaths I have a simple, daily chart that just keeps chugging along, unlike everything else CDC and the White House are screwing up or letting go dark, good job.
• "Death certificate records of long Covid are a 'floor of an estimate,' experts say" [STAT]. "Long Covid has begun appearing on death certificates for a small percentage of people who have died during the pandemic, but that tiny fraction of records only hints at the whole story, two experts told STAT, while another has doubts about drawing any conclusions from it at all. Death certificates listing long Covid as a cause of death numbered 3,544, representing 0.3% of the 1,021,487 Covid deaths in the United States from January 2020 through June 2022, according to an analysis issued Wednesday by the National Center for Health Statistics, part of the Centers for Disease Control and Prevention. To compile the report, researchers pulled a variety of descriptions of long Covid — including post-acute sequelae of Covid-19, long haul Covid, post-Covid conditions — from text entered on death certificates. Until recently, there was no specific diagnostic code for or agreed-upon definition of the symptoms that linger after someone's acute Covid infection has faded. Eric Topol, director and founder of the Scripps Research Translational Institute, dismisses death certificates as unreliable across the board, not just in Covid. 'It's especially clouded because long Covid isn't known to kill people directly,' he said. 'It's a chronic condition that's got a lot of ambiguity as to the multiple systems. It's a mosaic of meaning, so quantifying the deaths is really difficult.'"
Stats Watch
Employment Situation: "United States Initial Jobless Claims" [Trading Economics]. "The number of Americans filing new claims for unemployment benefits fell by 20,000 to 211,000 in the week ending December 10th, the lowest since the end of September and well below market expectations of 230,000."
Manufacturing: "United States NY Empire State Manufacturing Index" [Trading Economics]. "The NY Empire State Manufacturing Index dropped 16 points from a month earlier to -11.2 in December 2022, well below market expectations of -1.0 and pointing to the steepest deterioration in the New York State's business activity since August."
Manufacturing: "United States Philadelphia Fed Manufacturing Index" [Trading Economics]. "The Philadelphia Fed Manufacturing Index in the US remained negative but rose 6 points to -13.8 in December of 2022, compared to market expectations of -10. This is its fourth consecutive negative reading and sixth negative reading in the past seven months. 31% of the firms reported declines in activity, while 17 percent reported increases. The majority (51%) reported no change."
Manufacturing: "United States Manufacturing Production MoM" [Trading Economics]. "Manufacturing production in the United States fell 0.6% from a month earlier in November of 2022, after a 0.3% increase in October and worse than market expectations of a 0.1% decrease. The indexes for durable and nondurable manufacturing both declined 0.6 percent, and the index for other manufacturing (publishing and logging) slipped 0.4 percent. Within durables, increases were recorded by wood products, by computer and electronic products, and by aerospace and miscellaneous transportation equipment; these gains were outweighed by losses for other industries, particularly for motor vehicles and parts."
Industrial Production: "United States Industrial Production MoM" [Trading Economics]. "Industrial production in the US decreased by 0.2% mom in November of 2022, following a 0.1% decrease in October and missing market expectations of a 0.1% gain as higher interest rates and prices weighed on demand."
Capacity: "United States Capacity Utilization" [Trading Economics]. "Capacity Utilization in the United States decreased to 79.66 percent in November from 79.92 percent in October of 2022. It is the lowest reading since February, with capacity utilization falling for manufacturing (-0.6 percentage to 78.9 percent) and mining (-0.7 percentage point to 88.2 percent), while the operating rate for utilities increased 2.4 percentage points to 74.4 percent."
* * *
Tech: Twitter has an edit button: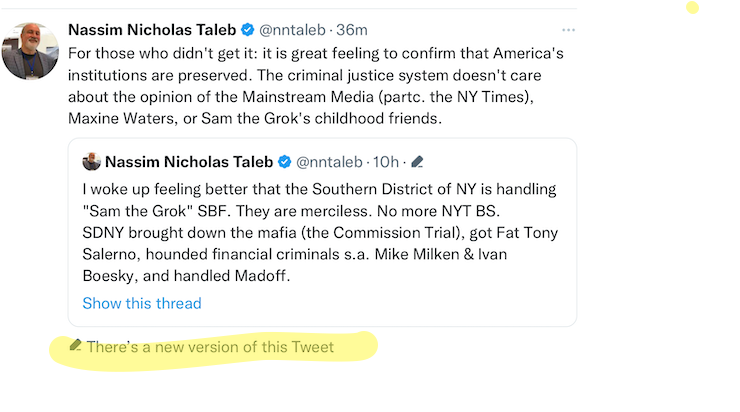 When I click the highlighted link, I get to see the earlier version, which is how this should work. I forget which Twitter regime the edit button was implemented under, but I do know that the first example I've seen was under Musk. Users had been screaming for an edit button for years, possibly decades. Why the development team couldn't deliver on it was always beyond my understanding.
Tech: The first AI model:
Do you know who Shudu is? I just found out—she's the first AI model. She's been "hired" across the industry which means her creators, white men, NOT a Black woman, are the ones paid. And companies get to say they ran Black content without having to work with or hire Black people. pic.twitter.com/YuAduz02md

— El Norte Recuerda (@Vanessid) December 7, 2022
Tech: "a native internet protocol for social media" [Jack Dorsey]. "The problem today is that we have companies who own both the protocol and discovery of content. Which ultimately puts one person in charge of what's available and seen, or not. This is by definition a single point of failure, no matter how great the person, and over time will fracture the public conversation, and may lead to more control by governments and corporations around the world. I believe many companies can build a phenomenal business off an open protocol. For proof, look at both the web and email. The biggest problem with these models however is that the discovery mechanisms are far too proprietary and fixed instead of open or extendable. Companies can build many profitable services that complement rather than lock down how we access this massive collection of conversation. There is no need to own or host it themselves." • Dorsey is correct.
* * *
Today's Fear & Greed Index: 50 Neutral (previous close: 60 Greed) [CNN]. One week ago: 55 (Neutral). (0 is Extreme Fear; 100 is Extreme Greed). Last updated Dec 13 at 12:29 PM EST.
Our Famously Free Press
"The Twitter Files and Writing for the Maw" [Freddie DeBoer]. "While I'm not really interested at all in the Twitter files as such, I am always interested in the meta-discursive details of how the media talks to itself. The large majority of our media that is not explicitly conservative seems to have fallen into almost total unanimity that the Twitter files are not worth paying attention to, that Musk's leadership is bad, and that the people reporting on the Twitter files are bad as well. And I'm interested in how these orthodoxies develop within media. I'm interested, in other words, in the Maw. The Maw is, broadly speaking, the expression of the culture war as operationalized by the consensus opinions of media. The Maw is the aggregate of opinions of paid-up journalists and writers and pundits and, specifically, the opinions they will allow. When a big story breaks, there's an initial feeling-out period where the media talks to itself and decides what the consensus opinion will be. As time has gone on, this process has gotten faster and faster, so that now the media consensus and the expectation that all decent people will glom onto it develop in a matter of minutes. What's interesting about the Twitter files is that both an inciting incident (the Hunter Biden laptop story and its censorship by Twitter) and an eventual consequence of it (the release of the Twitter files) fell into the Maw with incredible speed. Immediately, in 2020, the enforced consensus within media was that there was no story to speak of regarding the Hunter Biden laptop story; it was not only not worthy of influencing the election, it should not have been reported on at all, and Twitter's decision to artificially limit its spread was justified. So too with the Twitter files: as soon as Matt Taibi started tweeting about them, it seems, most in newsmedia were convinced they were unimportant. This is the Maw at work – it's the expression of culture war in what the media sees as a respectable position to hold. In the Maw, nothing independent survives." • The Maw. Not too bad!
Groves of Academe
I'm non-plussed:
Interviewer: Excellent! Before we close up, do you have any questions for us?

Me: Thank you! Yes. When I'm a little sleepy head who needs his nap-time, do I use the break room or?

I: …

M: you know, when I need to log some honk shoo mimimis? when I'm God's sleepiest soldier?

— Liam Bright (@lastpositivist) December 15, 2022
From the invaluable Know Your Meme: "Honk Shoo / Mimimi are onomatopoeias of snoring popularized by television cartoons, particularly in the early and mid-20th century. In the 2020s, the terms became popularized in memes, with many jokes pitting the two against each other and referencing the sound effects from old cartoon shows."
Guillotine Watch
"Nobody Who Went To Yale Could Be Bad" [Eschaton]. "I am rather hung up on the degree to which elites do not think other elites can be bad, or at least believe that, well, sure, elites are bad, but imagine what garbage people everyone who doesn't have a Harvard degree must be!"
Class Warfare
"Rail workers air their frustrations with rallies, vote" [Associated Press]. "Railroad workers who are fed up with demanding work schedules and disappointed in the contract they received aired their frustrations this week at rallies across the country and in a leadership vote at one of their biggest unions. Workers gathered in Washington D.C. and nearly a dozen other locations across the country Tuesday to emphasize their quality of life concerns and fight for paid sick leave after Congress intervened in the stalled contract talks earlier this month and imposed a deal on four unions that had rejected it. And thousands of engineers voted to oust their long-time union president although that result won't be final until next week." And this: "[M]ore than half of the Brotherhood of Locomotive Engineers and Trainmen union members who voted this week backed challenger Eddie Hall over Dennis Pierce, who had led the union since 2010. BLET officials say those results won't be certified until Monday after any challenges to the vote are resolved. Pierce, who was one of the leaders of the large bargaining coalition that represented the unions in the contract talks with all the major freight railroads over the past three years, declined to comment on the election results. Hall said he thinks the vote clearly shows that engineers just aren't 'satisfied with our leadership,'* The win is remarkable given that Hall was little known among the union nationally before he was nominated by workers in his division in Arizona. ',' Hall said. "I'm a vice local chairman out of Division 28 in Tucson. This is unprecedented. It's never happened before and it'll probably never happen again.' Let's be more hopeful. And: "Hall said there is definitely still a lot of work to do to help improve workers' quality of life, but he doesn't have a long plan of what he will do if he does take office. He said the first thing on his agenda will be getting out and meeting with engineers all across the country to listen to their concerns." • What a concept. Talk to the workers. NOTE * That comma is in the original, so I wonder what was in the part of Hall's quote that got deleted.
"I'm a Rail Worker, and Biden Screwed Us" [The Nation]. "A few days have passed since Congress and President Joe Biden foreclosed the possibility of a legal strike by railroad workers. The blood has had a chance to cool from a boil to a simmer. The facts of the situation can be viewed with some measure of detachment, and, despite what you may have read in news sources or seen on TV, this was never just a conflict over the number of paid sick days. About 115,000 workers represented by 13 separate craft unions, who keep 40 percent of the nation's freight moving, got screwed. The coalition of interests that did the screwing includes: the executive boards of the seven class-1 carriers, most of Congress, and the president. Democratic action is not limited to voting in municipal, state, and federal elections every few years. Democracy also occurs in workplaces, as when a majority of workers come together and vote to engage in a strike after three years of working without a ratified contract with no raises, 10 years of cuts to the workforce through firings or layoffs or furloughs or attrition, and a brutal scheduling regime that forces some workers to choose between health, familial obligations, and unemployment. When the rail carriers, Congress, and the president swiftly came together to force railroad workers to eat another shitty contract, they subverted democracy to do so. All the excuse-making and promises to make good at some undetermined point in the future can't change that fact. And it won't change the fact that the carriers will continue to roll in profits, like hogs in mud; that the politicians will continue to speak out of both sides of their mouths from the safety of their offices; or that workers, who keep the freight moving, will go on doing their jobs while having their lives outside of work ground into dust. Wake up with a high fever and puking your guts out? Take the day off, and you can be fired. Your wife goes into early labor? Take the day off, and you can be fired. An elderly parent slips on some ice and needs help around the house? Take the day off, and you can be fired. When the operating directive is to maintain a functioning system with the fewest workers possible, then ." • Because it is.
* * *
"The New School Faculty Reaches Landmark Agreement—Is It A Sign Of More Reform To Come?" [Forbes]. "The surprise announcement of the agreement between The New School and the striking adjunct faculty members on Saturday was heralded by labor activists and those in higher education as an important step towards fair compensation for all members of the university community. The strikes at both The New School and the UC system promise to bring new waves of labor activism on college campuses—earlier this year, the American Association of University Professors and the American Federation of Teachers, two of the largest unions in higher education, banded together to strengthen their advocacy for university workers, and Yale University graduate students are currently in the process of holding an election to form a union. Historic wins for unionized faculty and grad students on both coasts will almost undoubtedly embolden faculty and other academic workers and further stoke the flames of advocacy and activism in the months to come." • Hopefully. Note that the contract has not been ratified; there's really no "agreeement" until it has been, so the headline is deceptive.
"New School Adjunct Strike Ends with Tentative Contract Agreement" [ArtForum]. "The agreement arrived just as the schools' fall semester draws to a close, more than three weeks after the adjunct faculty—who make up 87 percent of the university's professorial ranks—rejected the administration's "last, best, final offer" of 1.5 percent annual raises for the next five years. Gothamist reports that the new pay structure awards part-time professors sets wage increases in dollar amounts, rather than percentages, in order to assist the lowest-paid professors. According to the New York Times, those would be the teachersat Mannes Prep, the New School's conservatory, who will receive a 31 percent raise in the contract's first, the amount reflecting their current basement-level wages. The new contract awards the best-paid adjuncts a 13 percent pay raise in the first year, from the current $5,753 for a three-credit course—roughly $42 per hour, exclusive of unpaid labor such as counseling students and grading—to $6,520, the new salary ceiling. By the fifth year, the same adjuncts will be paid $7,820, marking a 36 percent raise over the present salary…. Artist Matt Spiegelman, a New School adjunct in the visual arts department told the Times that while the tentative agreement was not ideal, it did meet strikers' demands on at least a rudimentary level. 'Most importantly,' he noted, 'we opened the door for many more improvements in the future and for other universities to step up and treat their faculty with respect and dignity.'"
"After 25 days, strike ends at New York's New School and Parsons School of Design" [The Art Newspaper]. "'Like with any deal, you have to make compromises along the way,' says Lee-Sean Huang, a union bargaining committee member and part-time faculty member at the Parsons School of Design. 'But it is the most progress we've made in New School part-time faculty union history in terms of the gains we've made in this single contract, which is overdue since our last one was kind of frozen in time in 2018 since we had been extending it and then extended it through Covid….. The new five-year contract will be put to a vote this week to be ratified by the New School's part-time faculty union, which is part of the ACT-UAW (United Auto Workers) Local 7902. The union represents over 4,000 adjunct teachers, student educators and healthcare workers at the New School and nearby New York University."
News of the Wired
"New Human Metabolism Research Upends Conventional Wisdom about How We Burn Calories" [Scientific American]. But it's not the metabolism that's the interesting part of the article: "Around 2.5 million years ago things took an unlikely turn. Early populations of the genus Homo stumbled onto a new way of making a living, something unprecedented in the history of life. Instead of pursuing a career as a plant eater, carnivore or generalist, they tried a strange, dual strategy: some would hunt, others would gather, and they'd share whatever they acquired. This cooperative approach placed a premium on intelligence, and over millennia brain size began to increase. Our Paleolithic ancestors learned to knap delicate blades from round stone cobbles, hunt large game and cook their food. They built hearths and homes and began changing the landscape, developing an ecological mastery that led eventually to farming. These evolutionary shifts reverberate today. The cooperative foraging that pushed our hunting, gathering and farming ancestors to flout long-established ecological rules didn't just change the foods we eat. It altered fundamental aspects of our biology, including our metabolism."
* * *
Contact information for plants: Readers, feel free to contact me at lambert [UNDERSCORE] strether [DOT] corrente [AT] yahoo [DOT] com, to (a) find out how to send me a check if you are allergic to PayPal and (b) to find out how to send me images of plants. Vegetables are fine! Fungi and coral are deemed to be honorary plants! If you want your handle to appear as a credit, please place it at the start of your mail in parentheses: (thus). Otherwise, I will anonymize by using your initials. See the previous Water Cooler (with plant) here. From BB: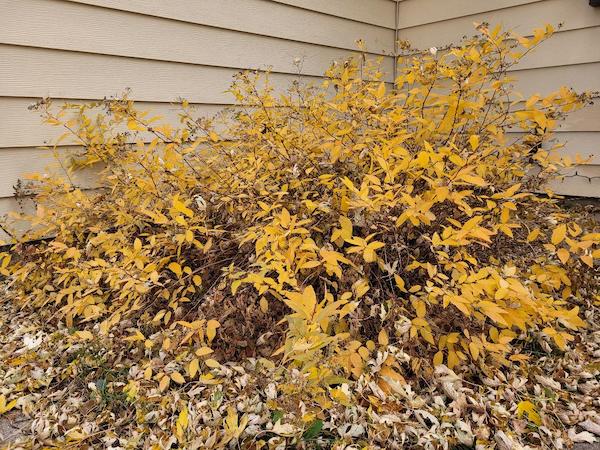 BB writes: "Great fall color — fiery yellow with a touch of orange." Something about the shape of the corner, and the siding, make me think this is distinctively North American (the US or Canada).
* * *
Readers: Water Cooler is a standalone entity not covered by the annual NC fundraiser. So if you see a link you especially like, or an item you wouldn't see anywhere else, please do not hesitate to express your appreciation in tangible form. Remember, a tip jar is for tipping! Regular positive feedback both makes me feel good and lets me know I'm on the right track with coverage. When I get no donations for five or ten days I get worried. More tangibly, a constant trickle of donations helps me with expenses, and I factor in that trickle when setting fundraising goals:
Here is the screen that will appear, which I have helpfully annotated: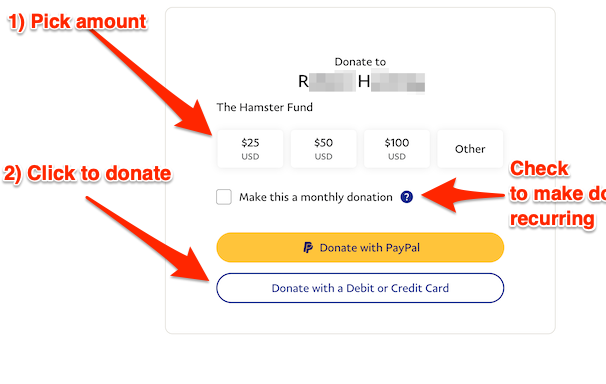 If you hate PayPal, you can email me at lambert [UNDERSCORE] strether [DOT] corrente [AT] yahoo [DOT] com, and I will give you directions on how to send a check. Thank you!