By Lambert Strether of Corrente
Thank you, dear readers, for your overwhelming response to my call for help on finding a copy of Conspiracy Theory in America. I now have a PDF (one more damn book to read). I want to read the book now, and so I didn't to wait for Book Depository order or inter-library loan. –lambert
Bird Song of the Day
Meadow Bunting, Ilistay River, Primorsky Krai, Russia. "A bird continuously calling."
* * *
Politics
"But what is government itself, but the greatest of all reflections on human nature?" –James Madison, Federalist 51
"Here's food for thought, had Ahab time to think; but Ahab never thinks; he only feels, feels, feels" –Herman Melville, Moby Dick
"So many of the social reactions that strike us as psychological are in fact a rational management of symbolic capital." –Pierre Bourdieu, Classification Struggles
Capitol Seizure
"Fight over officer testimony roils Proud Boys sedition case" [Associated Press]. "A legal fight has erupted over a Washington D.C. police officer who was communicating with Proud Boys leader Enrique Tarrio in the run-up to the Jan. 6, 2021 Capitol attack that could shape the outcome of the upcoming trial of Tarrio and other far-right extremists. Metropolitan Police Lt. Shane Lamond's testimony is crucial for the former Proud Boys national chairman's defense against seditious conspiracy and other serious charges stemming from the attack, Tarrio's attorneys say. But Lamond plans to invoke his Fifth Amendment privilege against self incrimination if called to the witness stand after prosecutors warned the officer he could be charged with obstructing the investigation into Tarrio, the Proud Boy's attorneys say. They have accused the Justice Department of trying to bully Lamond into keeping quiet because his testimony would hurt their case. Prosecutors have vehemently denied that charge." • The Proud Boys were full of informants and now we learn infested by cops. And yet…. the entire January 6 carnival came out of the blue, a complete surprise to the organs of state security? Heck, if Pelosi's daughter hadn't been there to film it, we might not know anything!
Biden Administration
"Doug Emhoff emerges as the face of Biden's fight against antisemitism" [Politico]. "Emhoff is not terribly religious — and admits as much. He grew up in Old Bridge, N.J., a community with a fair number of Jews. He attended a temple there and was bar mitzvahed. But he was largely secular, exhibiting the type of faith common among his generation: spiritually connected but observant mainly on the High Holidays. That changed when his wife, Kamala Harris, assumed the vice presidency." • I'll bet it did.

"The Dominoes of Debt Limit Default" [Third Way]. "The United States will hit the debt limit in 2023. But incredible uncertainty exists around the willingness of Republicans in the 118th Congress to step up and help avoid the certain economic Armageddon that will happen if we do not raise it. Statements indicate they will play a game of chicken—one which will ensure that if the United States defaults, there will be economic turmoil.23 And even a brief default could throw so much sand in the gears of our economy that another much worse scenario might play out—including a financial crisis or recession." • So abolish the debt limit in the lame duck. It was "a bad idea whose time has come" when passed in 1986.
2022
GA: "Democratic Sen. Warnock wins Georgia runoff against Walker" [Associated Press]. "Democratic Sen. Raphael Warnock defeated Republican challenger Herschel Walker in a Georgia runoff election Tuesday, ensuring Democrats an outright majority in the Senate for the rest of President Joe Biden's current term and capping an underwhelming midterm cycle for the GOP in the last major vote of the year. With Warnock's second runoff victory in as many years, Democrats will have a 51-49 Senate majority, gaining a seat from the current 50-50 split with John Fetterman's victory in Pennsylvania. There will be divided government, however, with Republicans having narrowly flipped House control…. 'I often say that a vote is a kind of prayer for the world we desire for ourselves and for our children,' declared Warnock, a Baptist pastor and his state's first Black senator. 'Georgia, you have been praying with your lips and your legs, your hands and your feet, your heads and your hearts. You have put in the hard work, and here we are standing together.'" • A vote is of prayer [puts head in hands]. What kind of prayer was this, champ?

To be fair, Warnock should do very well on South Carolina 2024 and 2028. For obvious reasons.

GA: "What the Georgia Runoff Revealed" [Ronald Brownstein, The Atlantic]. "With Warnock's victory over Republican Herschel Walker, Democrats have defeated every GOP Senate and gubernatorial candidate endorsed by Donald Trump this year in the five states that flipped from supporting him in 2016 to backing Joe Biden in 2020—Michigan, Pennsylvania, Wisconsin, Georgia, and Arizona. Coming even amid widespread discontent over the economy, this year's Democratic sweep against the Trump-backed candidates underscores the continuing resistance to the former president's influence. In particular, Warnock's decisive margins in Atlanta and its suburbs yesterday extended the Democratic dominance of white-collar (and usually racially diverse) metropolitan areas, as varied as the suburbs of Detroit and Philadelphia and the booming hot spots of Phoenix and Madison. 'The huge question after the election of 2020 was whether the suburbs would snap back to the GOP column after Trump was no longer on the ballot,' Ben Wikler, the Democratic Party chair in Wisconsin, told me. 'What we saw in 2022 was suburbs continuing to trend toward Democrats.'" • Where the votes were:

Warnock improved the margin in his favor in roughly two-thirds of Georgia's 159 counties. #gapol #gasen https://t.co/DMdZLNMHV4 pic.twitter.com/H9qmxUuTf8

— Greg Bluestein (@bluestein) December 7, 2022
2024
"Trump special counsel subpoenas officials in three states for communications" [The Hill]. "The Justice Department has issued a series of subpoenas to officials in three states, nodding to an expansion of its inquiry into the false elector scheme pursued by the 2020 Trump campaign…. The subpoenas were among the first signed by newly appointed special counsel Jack Smith and are a signal the Justice Department is pushing ahead in two probes centered on former President Trump: the Jan. 6 investigation and the case tied to the mishandling of White House records at Mar-a-Lago. The subpoenas ask the county clerks — those for Dane County, Wis., Maricopa County, Ariz., and Wayne County, Mich. — to detail any communications with 'Donald J. Trump, or any employee or agent of, or attorney for, the Trump Campaign.' The documents then list 19 key allies of the campaign, a group that includes Trump campaign manager Bill Stepien and attorneys Rudy Giuliani, Sidney Powell, Jenna Ellis and John Eastman as well as official campaign attorneys and advisers such as Boris Epshteyn." • I've always thought this was the avenue to pursue (though I only focused on Trump's call to Georgia).

"Inside the turmoil roiling No Labels' unity ticket presidential campaign" [Politico]. • What a shame.
Democrats en Déshabillé
Patient readers, it seems that people are actually reading the back-dated post! But I have not updated it, and there are many updates. So I will have to do that. –lambert

I have moved my standing remarks on the Democrat Party ("the Democrat Party is a rotting corpse that can't bury itself") to a separate, back-dated post, to which I will periodically add material, summarizing the addition here in a "live" Water Cooler. (Hopefully, some Bourdieu.) It turns out that defining the Democrat Party is, in fact, a hard problem. I do think the paragraph that follows is on point all the way back to 2016, if not before:

The Democrat Party is the political expression of the class power of PMC, their base (lucidly explained by Thomas Frank in Listen, Liberal!). ; if the Democrat Party did not exist, the PMC would have to invent it. . ("PMC" modulo "class expatriates," of course.) Second, all the working parts of the Party reinforce each other. Leave aside characterizing the relationships between elements of the Party (ka-ching, but not entirely) those elements comprise a network — a Flex Net? An iron octagon? — of funders, vendors, apparatchiks, electeds, NGOs, and miscellaneous mercenaries, with assets in the press and the intelligence community.

Note, of course, that the class power of the PMC both expresses and is limited by other classes; oligarchs and American gentry (see 'industrial model' of Ferguson, Jorgensen, and Jie) and the working class spring to mind. Suck up, kick down.

* * *

IA: "How Iowa Democrats could have saved the caucuses" [Bleeding Heartland]. "Iowa Democratic leaders might have avoided this outcome if they had addressed problems with the caucus system a long time ago…. Iowa Democratic leaders might have avoided this outcome if they had addressed problems with the caucus system a long time ago…. For many years, when top Iowa Democrats could have been working with the DNC to make the caucuses more inclusive, their priority was to maintain a united front with New Hampshire against all who might upend the calendar. That alliance preserved our first-in-the-nation status in 1984 and beyond, but is way past its sell-by date now."

IA: "Don't lose sight of what's important, Iowa Democrats" [Bleeding Heartland]. "f you poured truth serum down the throats of Iowa Democratic leaders, they would admit the caucuses are a quirky process that is more time consuming for participants than simply voting in a primary election. That flaw with the caucus structure undermines the near mythological status accorded to Iowa. Those who work on caucus night are left out and could not be counted. So were people who could not set aside two or three hours to stand shoulder to shoulder in a school lunchroom or a church meeting room. Those who were out of town could not participate, either, because there was no absentee ballot option. And then there were the problems for interested Democrats who could not drive at night, or who were fearful of venturing out in nasty winter weather, or who were in poor health. Brennan and other Iowa Democratic leaders should agree on some painful facts, chief among them that the party's most important task should be recruiting, training, equipping and supporting strong candidates to run for local and state offices. The outcome of recent Iowa elections underscores that uncomfortable reality for Democrats. A Democrat last occupied the governor's office in 2010. That also was the last time the party held majorities in both the Iowa House and Iowa Senate. And Democrats last had a majority in one legislative chamber (the Senate) in 2016. Iowa Democratic leaders should not allow their attention to be diverted by a no-win fight over which state gets to go first in 2024 in helping to choose the Democratic nominee for president."

IA: "Iowa Democrats Ask: Without the First-in-the-Nation Caucuses, Who Are We, Really?" [New York Times]. If they don't already know… "[Rob Sand, the Iowa state auditor] was the sole Democrat to survive in statewide and federal elections in last month's midterms. Democrats lost their last member of Congress from Iowa, Representative Cindy Axne. Tom Miller, a Democrat who has served nearly 40 years as the state attorney general and seemed invincible, was also defeated… As recently as 2014, Iowa was represented by Senator Tom Harkin, a progressive stalwart who introduced the Americans With Disabilities Act. The state twice voted for Mr. Obama. Yet it lurched more forcefully to the right than any other U.S. state. Thirty-one counties that voted for Mr. Obama in 2012 pivoted to Donald J. Trump in 2016. Mr. Biden failed to win back any of them in 2020. Explanations for the partisan reversal run the gamut from the economic distress of lost industrial jobs, to latent biases Mr. Trump enabled, to a broad malaise in rural areas that have been hollowed out by young people's leaving. 'The Democratic national message really isn't resonating in those counties,' said Mr. Nilles, the party chairman of Linn County, which includes Cedar Rapids, the state's second-largest city." • It may be that for the Iowa Democrat Party, ditching the caucuses is a good thing.

SC: "'Emotional' moment: Inside Biden's rollout of Democratic primary lineup that moves up South Carolina" [USA Today]. "Rep. Jim Clyburn was preparing to attend a state dinner at the White House for the visiting French president when he got a call from Joe Biden. The president wanted to tell the South Carolina Democrat personally that he was recommending his home state move to the front of the presidential primary calendar, making it the party's premier contest. 'That's the first I heard of it,' Clyburn said." Oh, come on. I bet Clyburn uses that line a lot. More: "Clyburn said he spoke to Biden earlier in the year about keeping South Carolina, which has a large Black population but is not a battleground state, in the early window. He emphasized the state's track record of picking presidents." • Indeed. Obama (bad). Clinton (worse). Biden (even worse, if your metric is the body count). Big hat tip to the South Carolina political establishment and the Black Misleadership Class. Harris 2024!
Realignment and Legitimacy
The fish rots from the head:

Is there corruption in government with trading stocks? Probably.

Did we build a way for you to partake in this corruption? Definitely.

Download Autopilot to copy trade Politicians 🫡https://t.co/45aUCd7d7C

— Nancy Pelosi Stock Tracker ♟ (@PelosiTracker_) December 7, 2022

"What Makes Fascism Fascist?" [John Ganz, Unpopular Front]. "While authoritarian conservatives can countenance a break with constitutional legality, they would prefer this to originate within the existing elite of the state, in aristocratic statesmen of long-standing or in the high ranks of the military, for example. Fascists strive for a putsch 'from below,' originating from their own cadre. In general, mass mobilization is a desideratum of fascists, while conservatives generally would prefer to not stir up the public and disturb the social order. Stanley Payne writes: 'Most fascist movements did not achieve true mass mobilization, but it was nonetheless characteristic that such was their goal, for they always sought to transcend the elitist parliamentary cliquishness of poorly mobilized liberal groups or the sectarian exclusiveness and reliance on elite manipulation often found in the authoritarian right.' Michael Mann: 'What essentially distinguishes fascists from the many military and monarchical dictatorships of the world is this 'bottom-up' and violent quality of its paramilitarism.' While the paramilitaries do employ real violence, their political role is far more complex than mere thuggery. The paramilitaries themselves function as a kind of propaganda: they cannot hope to actually fight and defeat the state's existing security forces. Mann, again: 'Paramilitarism thus offered them a distinctive approach to electoral democracy and existing elites, both of which they actually despised. Paramilitarism must always be viewed as entwined with the other two main fascist power resources: in electoral struggle and in the undermining of elites. It was paramilitarism – caging the fascists, coercing their opponents, winning the support or respect of bystanders – that enabled fascists to do far more than their mere numbers could. Thus paramilitarism was violence, but it was always a great deal more than violence. It certainly did not confer enough effective violence for fascists to stage coups if that meant taking on the state's army. Paramilitary was not the equivalent of military power.'" • The whole piece is worth a careful read.

"What Democrats and Republicans Expect From U.S. Foreign Policy" [Morning Consult]. Handy chart:

If there were a third chart, that considered the views of those who were neither Democrat nor Republican, I wonder what it would show?

"A Liberal Patriot Vision for Freedom in the 21st Century" [The Liberal Patriot]. Ruy Teixeira, still in business, after his "coaliton of the ascendant" disintegrated. "For all the talk of their demise in recent years, basic liberal values — such President Franklin D. Roosevelt's Four Freedoms — remain widely popular around the world. But talk of values in America's political debates and foreign policy discussions has tended to drift away from these core freedoms and toward more diffuse ideals that transform just about every issue under the sun into a question of human rights. However meritorious these issues may well be, the end result is a loss of focus when it comes to incorporating American values into foreign policy. Instead, America should shift its focus back to the values of Four Freedoms: freedom of speech and worship, freedom from want and fear." • Maybe, as they say in AA, clean our own side of the street first?
#COVID19
Lambert here: Eric Topol has called a winter surge (or "wave") of Covid. I am but a humble tapewatcher, but I'm reluctant to do so. (Partly because I know my temperament, and I have strong priors. So "I won't because all of me wants to," as Sam Spade says.) Topol's view is the establishment view: Hospital-centric. Mine is infection-centric. I do not see the acceleration or doubling in cases that I would expect to see based on past surges. Granted, Boston (wastewater) is accelerating New York (hospitalization) is increasing, they are good data, and they could be leading indicators (which is why I chose them). They could also be flashes in the pan. (Perhaps I need to take a rigorous look at wastewater, as for example in San Francisco (charts take forever to load).) So we'll see. Let's wait and see what the remainder of the holiday season brings. Reader discussion on this important point is welcome. Nevertheless–
Stay safe out there: High transmission (CDC), the elevation of positivity (Walgreens), the steady takeover of BQ.1* (CDC; Walgreens), along with increased hospitalization in BQ.1* hotbed New York, plus a wastewater surge in Boston are all more than a little unsettling (as is the apparent proliferation of variants). As one might expect at the beginning of a holiday surge, wastewater in Queens County, NY (JFK/LGA), Cook County, IL (ORD), and Los Angeles County (LAX) continues to be elevated. If you are planning to travel on Xmas, do consider your plans carefully.
* * *
• I haven't been following the tripledemic (RSV, flu, Covid) closely. Here's a long thread from a pediatric perspective:
Children dying from Strep throat and other immune consequences

This virus season has been like no other with high hospitalization rates from RSV, Influenza and now more children are dying from Strep A bacterial infections. This long thread looks at what might be going on.🧵1/ pic.twitter.com/r8mcrtBA7d

— Dr. Jeff Gilchrist (@jeffgilchrist) December 5, 2022
(Here is an unrolled version of the thread.) Readers, what are you seeing?
* * *
• Great mask discipline at the Royal Australian College of Surgeons:
Thanks to you, the Foundation for Surgery has been able to support and assist with several projects through the RACS Global Health program.

Donate now at https://t.co/OswmQdXIeX or when you renew your annual subscription. pic.twitter.com/jI2W002Lg2

— RACSurgeons (@RACSurgeons) December 4, 2022
Oh, wait…
* * *
Transmission
Here is CDC's interactive map by county set to community transmission (the "red map"). (This is the map CDC wants only hospitals to look at, not you.)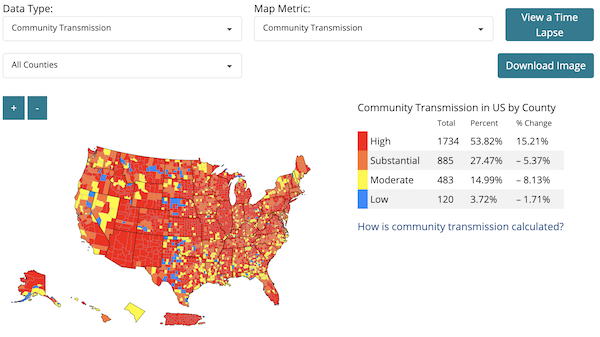 Lambert here: The powers-that-be don't even see transmission as a problem, obviously. But you might!
Positivity
From the Walgreen's test positivity tracker, published December :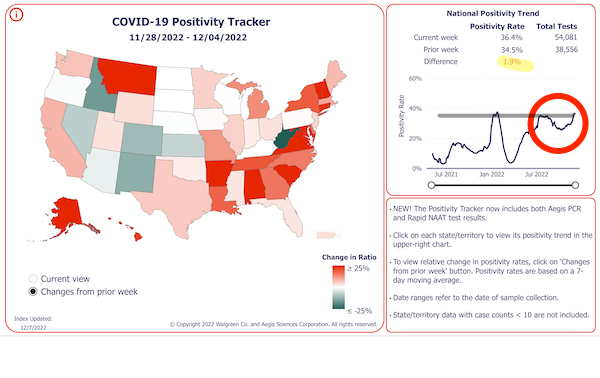 1.9%. Yesterday was 2.3% (4.1%). Distinct slackening (remember, this data is smoothed). Then again, as the grey Fauci Line shows, we are at the same level today as we were in the last peak (except of course this time the pandemic is "over").
Wastewater
Wastewater data (CDC), December 3: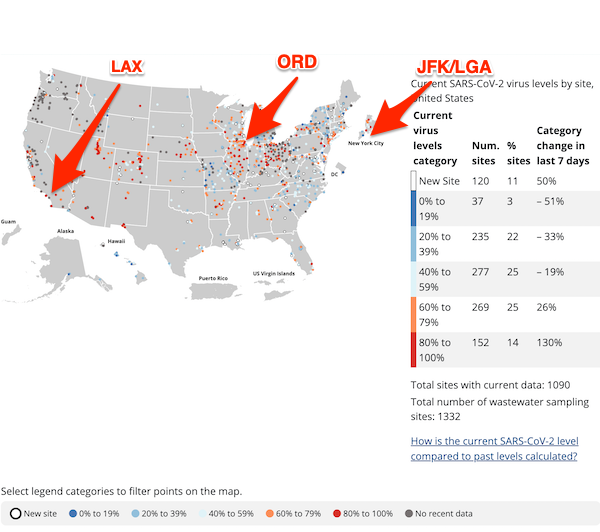 JFK/LGA, Queens County is still red; ORD, Cook County is orange; LAX, Los Angeles County now red. I would bet that speckling of red in Utah is sky country. Stay safe when travelling.
I am not happy with the airports at all, this holiday season. JFK/LGA: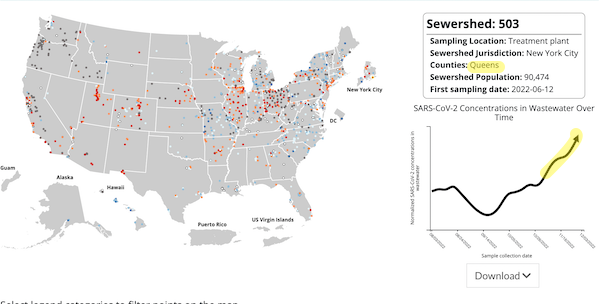 ORD: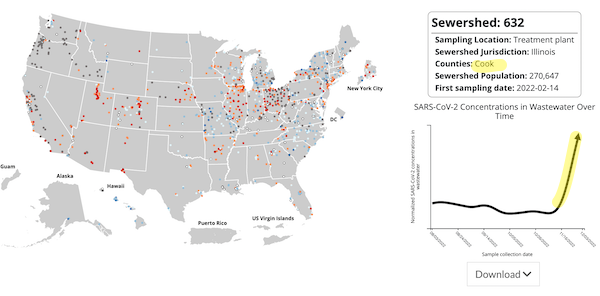 LAX: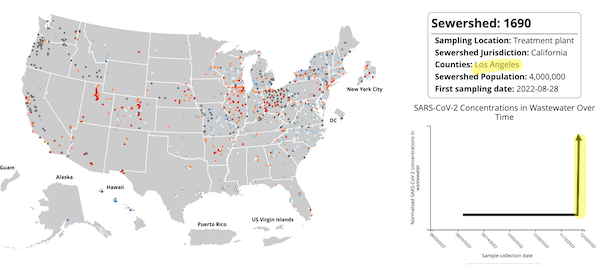 Looks like Los Angeles County got its testing fired up for the first time. Nevertheless.
December 1: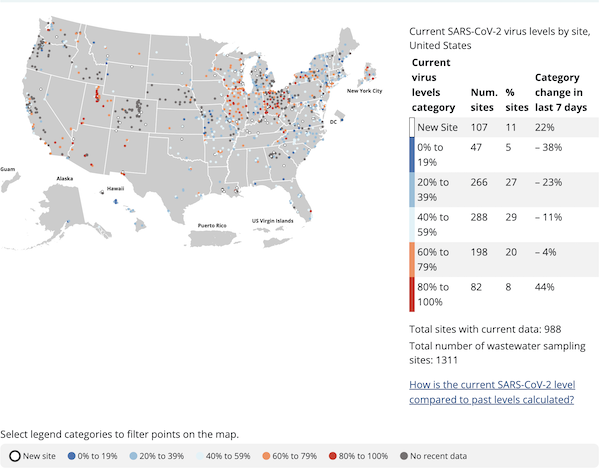 NOT UPDATED And MWRA data, December 1: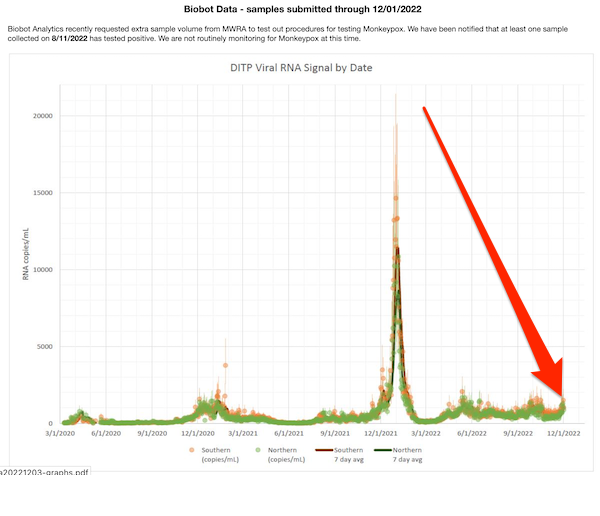 Lambert here: I hesitate to say "going vertical." Looks vertical to me.
• "Santa Clara County COVID Levels Rising in Wastewater Samples" [NBC Bay Area]. "Santa Clara County health leaders in a Tuesday briefing said there is a clear sign that COVID rates are rising, adding the county may see even more people contract coronavirus than what was reported during the omicron peak in January. The amount of virus detected in wastewater shows Santa Clara County will likely soon see even more cases and hospitalizations, officials said. 'Our wastewater numbers are absolutely skyrocketing,' Santa Clara County Public Health Officer Dr. Sara Cody said. 'There's a ton of virus circulating. If you want to be healthy for the holidays, you need to take action and the first on the list is to get boosted.' The county reports 25% of eligible residents who are eligible for a bivalent booster have received one." • Sara Cody is good; she made the correct early call in 2020 on how serious Covid was. And even she won't mention non-pharmaceutical interventions.
Variants
Lambert here: It's beyond frustrating how slow the variant data is. Does nobody in the public health establishment get a promotion for tracking variants? Are there no grants? Is there a single lab that does this work, and everybody gets the results from them? [grinds teeth, bangs head on desk]. UPDATE Yes. See NC here on Pango. Every Friday, a stately, academic pace utterly incompatible with protecting yourself against a variant exhibiting doubling behavior.
NOT UPDATED Variant data, national (Walgreens), November 19: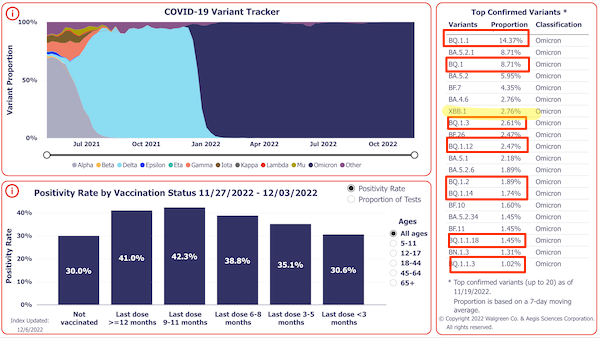 Lambert here: BQ.1* dominating. XBB coming up on the outside.
NOT UPDATED Variant data, national (CDC), November 12 (Nowcast off):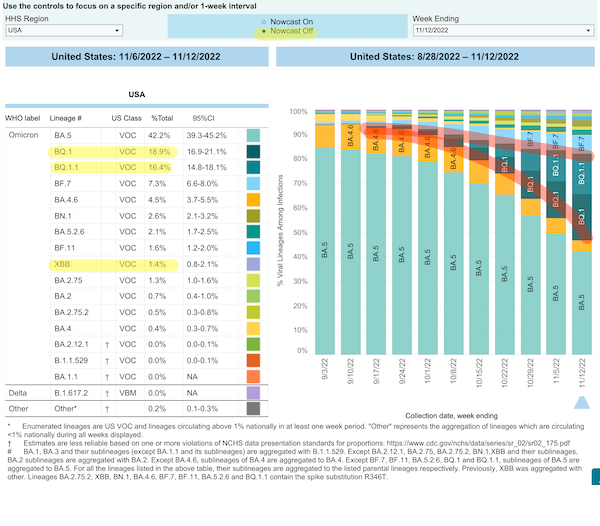 BQ.1* moving along quite briskly. Note the appearance of XBB, and see the highlighted note: Like BQ.1*, XBB appears suddenly when CDC decides to disaggregate the data. Exactly as with CDC's infamous "green map," a lag is introduced, this time by CDC's decision-making process; Walgreens had XBB last week, but CDC has it only this week. I don't see what purpose the aggregation serves. If the issue is a jillion low-circulation variants would make the table impossibly long and confusing for users, that's a UI/UX issue; handle it with software. Have a slider/filter that aggregates variants under 1%, say. Allow scrolling the results. Whatever. But stop concealing data!
New York/New Jersey (Region 2) numbers are higher. BQ.1.* is dominating: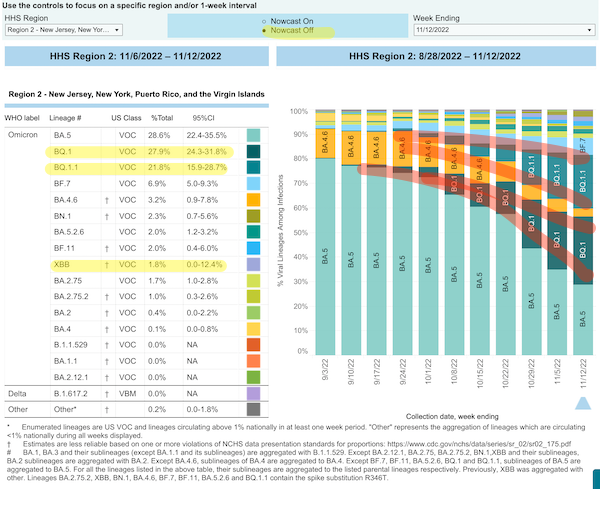 • As a check, since New York is a BQ.1* hotbed, New York hospitalization, updated December 6: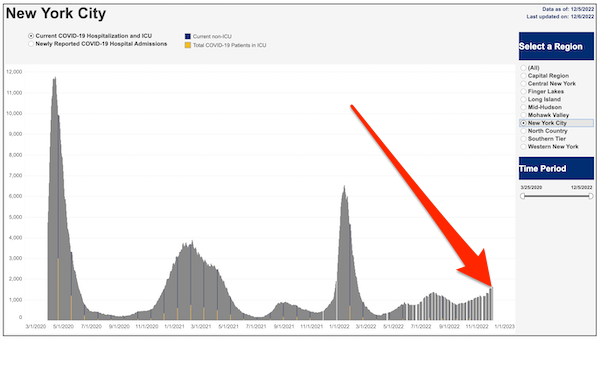 Lambert here: I see increase, but not acceleration.
Deaths
Death rate (Our World in Data):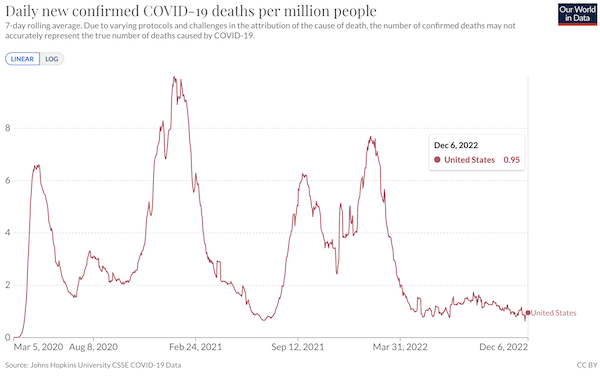 Total: 1,107,794 – 1,106,990 = 804 (804 * 365 = 293,460 deaths per year, today's YouGenicist™ number for "living with" Covid (quite a bit higher than the minimizers would like, though they can talk themselves into anything. If the YouGenicist™ metric keeps chugging along like this, I may just have to decide this is what the powers-that-be consider "mission accomplished" for this particular tranche of death and disease).
It's nice that for deaths I have a simple, daily chart that just keeps chugging along, unlike everything else CDC and the White House are screwing up or letting go dark, good job.
Stats Watch
There are no official statistics of interest today.
* * *
The Bezzle: "Bankman-Fried, Ellison tap attorneys as FTX probes ramp up" [Reuters]. "Bankman-Fried has retained Mark S. Cohen, of Cohen & Gresser, Bankman-Fried's spokesperson Mark Botnick said in an emailed statement. Cohen could not be reached for comment… David Mills, a professor at Stanford Law School, is consulting on the matter for Bankman-Fried, Botnick said. Mills did not respond to requests for comment…. Cohen, a former assistant United States attorney for the Eastern District of New York, recently defended Ghislaine Maxwell in her sex trafficking trial. Bankman-Fried had previously hired Martin Flumenbaum of law firm Paul, Weiss, Rifkind, Wharton & Garrison, but the law firm said last month it was no longer representing him due to conflicts." • Looks like SBF found some change under the couch cushions.
* * *
Today's Fear & Greed Index: 60 Greed (previous close: 59 Greed) [CNN]. One week ago: 69 (Greed). (0 is Extreme Fear; 100 is Extreme Greed). Last updated Dec 7 at 1:37 PM EST.
Xmas Pregame Festivities
"Secrets of the Christmas Tree Trade" [New York Magazine]. "Christmas trees are big business in New York. A lot of people see the quaint plywood shacks that appear on sidewalks just before Thanksgiving, each with its own tiny forest of evergreens, and they imagine that every one is independently owned, maybe by jolly families of lumberjacks looking to make a few holiday bucks. That's what I thought, anyway. In reality, a few eccentric, obsessed, sometimes ruthless tycoons control the sale of almost every single tree in the city. They call themselves "tree men," and they spend 11 months a year preparing for Christmastime — which, to them, is a blistering 30-day sprint to grab as much cash as they can."
Sports Desk
"Major League Baseball used at least two types of balls again this year, and evidence points to a third" [Insider]. "Over the next few months, [Meredith Wills, a Society for American Baseball Research award-winning astrophysicist] and Insider — with whom Wills exclusively shared her research — worked together to collect game balls for her to painstakingly deconstruct, weigh, and analyze. What she found was striking: In addition to that small number of older juiced balls and the newer dead balls, Wills found evidence that a third ball was being used at stadiums across the majors…. According to Wills' data, MLB deployed this third baseball alongside the dead ball in 2022, with production starting as early as January – six months before [Rob Manfred, the commissioner of MLB] promised a one-ball season…. [P]erhaps even more interesting than the apparent existence of the third ball itself is where we tended to find it. Though the overwhelming majority of baseballs we obtained were dead, 36 of them fit the bill for what Wills dubbed the "Goldilocks ball:" not too heavy, not too light — but just right. Of those, we found most in one of three situations: Postseason games, including the World Series; The All-Star Game and Home Run Derby; Regular-season games that used balls with special commemorative stamps — such as a Texas Rangers 50th anniversary ball — on the outer leather. The only Goldilocks balls we obtained from the regular season that did not have commemorative stamps were from Yankees games." • Hmm.
The Gallery
Fish (1864):
Édouard Manet, Fish (Still Life), 1864 #artinstituteofchicago #museumarchive https://t.co/vbJlmVnFBW pic.twitter.com/f6koIAWlc6

— Edouard Manet (@artistmanet) October 12, 2022
Fish (1921):
Fish in a Dish, 1921 #bonnard #pierrebonnard https://t.co/mLhqIsr6TD pic.twitter.com/qoNKAQQpSK

— Pierre Bonnard (@pierre_bonnard) December 3, 2022
Our Famously Free Press
"Kanye, Elon, Trump: Why the News Cycle Is Trapped in a Narcissist Vortex" [Molly Jong-Fast, Vanity Fair]. "[M]aybe we, in the media, grew too comfortable giving oxygen to nefarious people saying terrible things—easy fodder for blaring chyrons and inst-scandals." Ya thinik? More: "Whatever the cause of this horrible churn, we should collectively try to get out. We [who's we?] deserve better than near constant stories of rich men who seem to be careening toward disaster and taking us along with them. I'll pass on dinner with Trump and Ye at Mar-a-Lago, or a rocket ride with Musk to Mars." • Every part of this article is seamlessly great, including the author and the name of the magazine.
Zeitgeist Watch
Stoller is right, I think this perception is important, and I haven't seen it articulated in this way:
I hear from right-wing small business owners that employees are just not showing up, and I also hear from left-wing professors that students are just not showing up. This dynamic got much worse during Covid. Something is very off.

— Matt Stoller (@matthewstoller) December 6, 2022
"Very off." I would say the Jackpot is casting a shadow from the future into our present (although of course Covid must have a lot to do with it).
But did they give back the house?
i'm genuinely curious how SBF's parents are going to go back to Stanford after all of this to try and teach a bunch of 2L's about corporate tax compliance, the social psychology of compliance and fraud, and the limits of moral responsibility for corporate leaders

— DCinvestor.eth ⌐◨-◨ (@iamDCinvestor) December 6, 2022
"Balenciaga says it will drop lawsuit against production company in new statement" [Independent]. "'Our current process for content validation has failed, and we recognise the need to do better,' the company said [in a statement]. 'On the internal side, we nominate with immediate effect an image board responsible for evaluating the nature of our content from concept to final assets, including legal, sustainability and diversity expertise.'" • Except every image is already meticulously reviewed; this is fashion photography in the fashion industry, after all. So what's the real value-add, here? Anyhow, the story is dying, so everything is good. (Meanwhile, are the products still on the market?)
Class Warfare
"TV News Covered British Royal Visit 5,668% More Than Largest Academic Strike in U.S. History" [Adam Johnson, The Column]. "ABC News, CBS News, NBC News, and CNN all have a dedicated 'royal expert,' 'royal correspondent,' or 'royal commentator.' … ABC, CBS, and CNN do not have a "labor expert" or a dedicated labor reporter of any kind. NBC News does, Eli M. Rosenberg, but he has not covered the University of California academic strike. … None of the Sunday morning talk shows, NBC News's Meet the Press, CBS News's Face The Nation, ABC News's This Week, or CNN's State of the Union—which set the agenda for what people in Washington are supposed to care about that week—have covered the California labor strike since it began in November 14. CNN, which has over 500 hours of news to fill in the three weeks since the strike began, hasn't done a single segment on it. The largest academic strike in U.S. history is simply a non-story to TV news outlets."
"Washington DC sues Amazon over withheld delivery driver tips" [Channel News Asia]. "The District of Columbia attorney general's office on Wednesday sued Amazon.com Inc and its Amazon Logistics subsidiary alleging the biggest online retailer had withheld tips from delivery drivers. Washington Attorney General Karl Racine said the company 'tricked consumers into thinking they were increasing drivers' compensation when Amazon was actually diverting tips to reduce its own labor costs and increase profits' through its Amazon Flex service. Amazon Flex drivers use their own vehicles to deliver goods and groceries ordered through programs like Prime Now and Amazon Fresh. The FTC alleged the company kept drivers' tips over a 2-1/2 year period and stopped the practice after learning of the FTC investigation in 2019, the FTC said in 2021. The lawsuit, filed in the Superior Court for the District of Columbia, seeks civil penalties for every violation and a court order to bar Amazon from re-engaging in the practice. Last year under a settlement with the U.S. Federal Trade Commission, Amazon paid $61.7 million to more than 140,000 drivers."
News of the Wired
The Internet is a wisdom destruction machine:
Digital Humanities/digital preservation people: tell me about your favourite lost (online) digital resource. It can be anything – a database, digital archive, reference website. Something that used to be a go-to resource that you found really useful and is now gone.

— lorna hughes (@lornamhughes) December 5, 2022
I'm pleased Dylan and the Band's Basement Tapes is finally (legitimately) on YouTube:
* * *
Contact information for plants: Readers, feel free to contact me at lambert [UNDERSCORE] strether [DOT] corrente [AT] yahoo [DOT] com, to (a) find out how to send me a check if you are allergic to PayPal and (b) to find out how to send me images of plants. Vegetables are fine! Fungi and coral are deemed to be honorary plants! If you want your handle to appear as a credit, please place it at the start of your mail in parentheses: (thus). Otherwise, I will anonymize by using your initials. See the previous Water Cooler (with plant) here. From HH: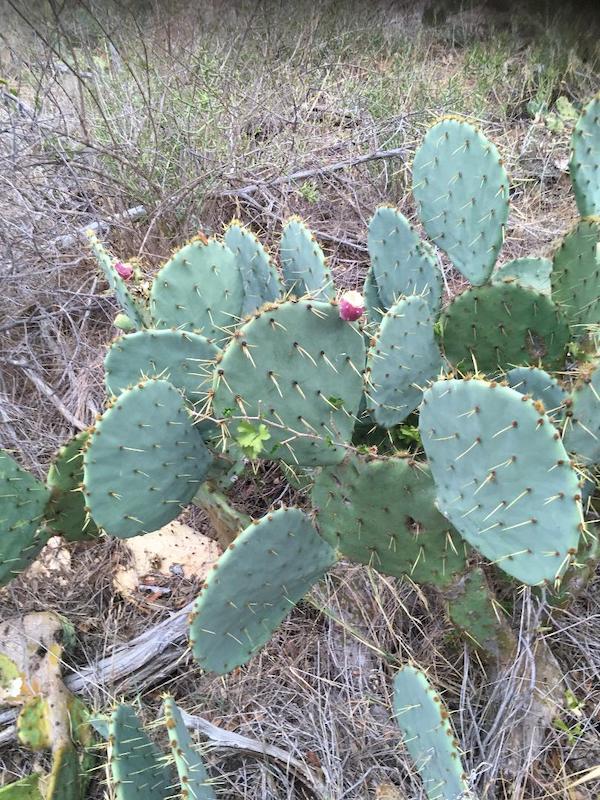 HH writes: "From Canyon of the Eagles, in the Texas Hill Country about 60 miles northwest of Austin, the iconic cactus called prickly pear or nopal (Opuntia)."
* * *
Readers: Water Cooler is a standalone entity not covered by the annual NC fundraiser. So if you see a link you especially like, or an item you wouldn't see anywhere else, please do not hesitate to express your appreciation in tangible form. Remember, a tip jar is for tipping! Regular positive feedback both makes me feel good and lets me know I'm on the right track with coverage. When I get no donations for five or ten days I get worried. More tangibly, a constant trickle of donations helps me with expenses, and I factor in that trickle when setting fundraising goals:
Here is the screen that will appear, which I have helpfully annotated: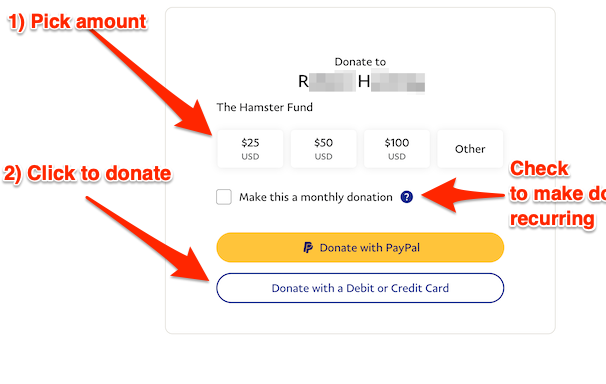 If you hate PayPal, you can email me at lambert [UNDERSCORE] strether [DOT] corrente [AT] yahoo [DOT] com, and I will give you directions on how to send a check. Thank you!