By Lambert Strether of Corrente.
Bird Song of the Day
American Goldfinch, Hyland Lake Park Reserve, Hennepin, Minnesota, United States. A lovely chorus, with a bonus train whistle far off in the distance.
* * *
Politics
"So many of the social reactions that strike us as psychological are in fact a rational management of symbolic capital." –Pierre Bourdieu, Classification Struggles
Biden Administration
2024
I guess it's time for the Countdown Clock!

* * *

"Biden digging for dollars in wealthy Democratic enclaves" [The Hill]. Is there another kind of Democrat enclave? "The president has fundraised in high-income ZIP codes in Chicago, Maryland, San Francisco, Connecticut and New York City just in the last month — all friendly places for Democrats. The sprint to connect with donors and bring in cash comes as the Biden campaign hopes for a strong showing in its first fundraising report, for the quarter that ends Friday. He announced his reelection bid in April. 'First things first, [indeed!] and get the funding he needs. It makes sense to go do this in friendly territory,' said Ivan Zapien, a former Democratic National Committee (DNC) official." • I don't think anybody is a "former" DNC official, just as nobody's a former spook.

"Wall Street execs host Biden fundraisers as president closes out an end-of-quarter campaign blitz" [Associated Press]. " President Joe Biden closed out an end-of-quarter campaign blitz Thursday with a pair of Manhattan fundraisers hosted by Wall Street power brokers, a funding push designed to put Biden on strong financial footing for a 2024 White House contest expected to set spending records…. 'The reason I'm standing here is in large part because of you all, [indeed!]' Biden said to a small crowd gathered in a high rise overlooking Central Park. 'I'm not the essential man, but I represent the essential country.'… 'I've been doing this for a really long time for a number of presidents and presidential candidates,' said Jeffrey Katzenberg, the Hollywood mogul, major Democratic donor and co-chair of Biden's campaign. 'I've never seen from top to bottom, the Democratic enterprise kick into gear this way, from President Obama, governors, senators, congressmen, just across the board — he's gotten outstanding support.' Aides say they are trying to motivate donors, especially small-dollar contributors, to dig deeper early on." • I'm sure Katzenberg is correct. That doesn't mean, however, that the Democrat electoral base — the PMC — consolidated though it is, is broad enough to bring home the win. That's their perennial problem, and making the choir sing louder doesn't bring new parishioners into the church.

"Republicans expand their Hunter Biden investigation by seeking an interview with the lead prosecutor" [Associated Press]. "Leaders of the Republican-controlled House Judiciary, Oversight and Accountability, and Ways and Means committees asked in a letter to Attorney General Merrick Garland for nine officials from the Justice Department and two from the FBI to appear for the interviews to address recent allegations made by two IRS employees who worked on the federal investigation into Hunter Biden's taxes and foreign business dealings…. The individuals named in the letter include David Weiss, the U.S. attorney in Delaware in charge of the investigation, as well Assistant U.S. Attorney Lesley Wolf of Delaware and the top federal prosecutor for the District of Columbia Matthew Graves…. The testimony from Greg Shapley and an unidentified agent detailed what they called a pattern of "slow-walking investigative steps" and delaying enforcement actions in the months before the 2020 election won by Joe Biden. It is unclear whether the conflict they describe amounts to internal disagreement about how to pursue the investigation or a pattern of interference and preferential treatment. Department policy has long warned prosecutors to take care in charging cases with potential political overtones around the time of an election, to avoid influencing the outcome." • IIRCm that policy applies 60 to 90 days before the elections, and Shapley alleges the slow-walking took place considerably before that.

* * *

"Exclusive: Trump says aborted mutiny 'somewhat weakened' Putin" [Reuters]. "Former U.S. President Donald Trump, a longtime admirer of Russian President Vladimir Putin, said on Thursday Putin has been 'somewhat weakened' by an aborted mutiny and that now is the time for the United States to try to broker a negotiated peace settlement between Russia and Ukraine. 'I want people to stop dying over this ridiculous war,' Trump told Reuters in a telephone interview. On Ukraine, Trump did not rule out that the Kyiv government might have to concede some territory to Russia in order to stop the war, which began with Russian forces invading Ukraine 16 months ago. He said everything would be 'subject to negotiation', if he were president, but that Ukrainians who have waged a vigorous fight to defend their land have 'earned a lot of credit.' 'I think and I think that Russia likewise would agree to that. You need the right mediator, or negotiator, and we don't have that right now,' he said." • Trump on territory is the story, not the Trump's "somewhat"-ish comment on Prigo. It is true that we don't have the right "mediator, or negotiator" but (a) the United States is not agreement-capable, as the Blob simply not implementing Trump's directives on Syria shows, and (b) there's no overlap in the Ukrainian and Russian positions, so there's nothing to negotiate, no matter how skilled the negotiator. (Of course, our client might take a different view with a different master, but see point (a)).

"Trump team lobbying for primary rule changes to boost his 2024 chances" [Reuters]. "Former President Donald Trump is leveraging his connections to loyalists in key primary states to lobby for voting rules and dates that could cement his front-runner status in the race for the 2024 Republican presidential nomination, his team and sources in several states told Reuters…. Several states adopted Trump-friendly rules in 2020 to ward off competition for the then-president, and a recent change in Michigan appears to have bolstered his advantage in the race to secure delegates who determine the party's nominee. Now the Trump campaign is advocating for modifications in half a dozen additional states, his co-campaign manager told Reuters."

"Restore Sanity":

This Trump ad against Desantis is devastating. This is EXACTLY why I said he would fail. I saw his plan when he went up to do the rally for Mastriano in 2022. All telling people in PA how great FL is. Bad idea. Idiotic. Make America Florida! What a dope. pic.twitter.com/xFyUIhjtEb

— Ron Filipkowski (@RonFilipkowski) June 28, 2023

This Trump ad is funny and on point ("Florida man"). As in the link above, it looks like Trump has somehow managed to improve his staffing. Now if only he could find a good lawyer!

"Special counsel Jack Smith could hit Trump with up to 45 more charges in classified documents case, report says" [New York Daily News]. "pecial counsel Jack Smith is reportedly ready to drop a hammer blow of up to 45 additional criminal charges on former President Donald Trump in the classified documents case, especially if Trump-friendly Judge Aileen Cannon looks set to thwart the case. The ex-Brooklyn prosecutor is prepared to bring additional charges in various federal jurisdictions against Trump based in part on multiple additional incriminating tapes of Trump, The Independent reported Thursday, quoting 'people familiar with the matter.' Prosecutors are readying what is known as a superseding indictment in part as a back-up plan in case Cannon seeks to stall or derail the case against Trump that was filed in the southern district of Florida, in which Trump's Mar-a-Lago resort home is located, the paper said. The new charges could come 'in the coming weeks.' One likely venue for additional charges against Trump would be New Jersey because Trump allegedly kept and even showed off some of the highly classified documents to aides at his Bedminster golf resort. Smith's team is poised to 'stack (an) additional 30 to 45 charges' on Trump as well as top aides based on what the paper described as fresh evidence that is not yet publicly known, including more tapes of Trump.

The report suggests Smith's team is deeply concerned about the possibility that Cannon could act in unforeseen ways to protect Trump." • So bringing the case in Florida was a mistake?

"Trump 'Standing Order' to Declassify Not Found by DOJ, Intelligence Agency" [Bloomberg]. " A "standing order" that former President Donald Trump has claimed authorized him to instantly declassify documents removed from the Oval Office could not be found by either the Justice Department or Office of Director of National Intelligence…. While US presidents can declassify any document at will, former intelligence officials have said that such a 'standing order' would have to be memorialized in writing and shared with the intelligence community, specifically the Office of Director of National Intelligence, as well as the agency that classified the document in the first place. On Aug. 12, a few days after the FBI's Aug. 8 search of Mar-a-Lago, Trump posted on his social media platform Truth Social, that the records taken by the FBI were 'all declassified.' The 'standing order' defense was promoted that evening on Fox News by John Solomon, a journalist who Trump designated to speak for him on the case." • It's always amusing to watch the intelligence community insist on the legitimacy of its actions, or rather its rule.

"The irresistible comedic value of Trump" [Financial Times]. "With Trump, the laughter is genuine. In a 2016 paper, three anthropologists from the University of Colorado Boulder and University of Texas at Austin argued it was the fact that Trump was so entertaining, above all else, that won him the Republican nomination that year. Whether Americans found his jokes amusing or offensive, the spectacle was compelling enough to keep them watching, and — crucially — to keep him in the news. Donna Goldstein, one of the paper's co-authors, tells me that Trump is a product of the New York comedy scene he grew up around, where crude, gestural humour reigns. 'There's something about that 'bodiness' and crudeness that politics was missing before Trump,' she says. 'And the ability to say something real was more limited. Trump broke out of that mould.' As Goldstein points out, Trump often gestures the end of his gags rather than saying them out loud, a trick that not only allows him to have plausible deniability — because of course he didn't mean what you're saying he did — but that also allows his crowd to feel like they're clever for knowing what he intends; they're in on the joke. Comedy is a great equaliser, which helps explain why Trump's constant ridiculing of others is so effective in galvanising supporters: when he cracks crude or outrageous jokes, Trump is not only entertaining his fans, but also showing them that he does not consider himself morally superior, giving them a sense they are part of his special club." • Lambert [blushing modestly] 2019*: "One tip to make reading Trump more tolerable is to hear him as a borscht belt comedian like Rodney Dangerfield or Henny Youngman." And if any readers have spotted Trump gesturing at the end of a gag, please share! NOTE * My conclusion: "A rhetorical analysis of Trump's letter [to Pelosi regarding impeachment] shows that he will be a formidable opponent in 2020" [lambert blushes modestly again, good call].

* * *

"Largely ignored by Congress, DeSantis woos state lawmakers to help lift his campaign" [Miami Herald]. "Ron DeSantis' presidential campaign has the formal backing of five U.S. representatives, one governor, and exactly zero U.S. senators — a grand total of six endorsements from the nation's top elected officials. He's also won the support of at least 259 state lawmakers. The discrepancy is no accident. As he tries to build support for his GOP primary campaign, DeSantis and his political team have undertaken a calculated and sustained effort to court the endorsement of state lawmakers, hopeful that politicians with little national profile but close ties to grassroots voters can best bolster the Florida governor's candidacy. The strategy — one that top campaign officials say is suited to DeSantis' background and strengths as a politician — has yielded tangible results, particularly in key early states, and especially in comparison with his lack of support from better-known federal officials who have flocked to Donald Trump's campaign. To DeSantis officials, these state lawmakers serve as a rebuttal to the perception they're losing the endorsement battle to Trump."

"Exclusive: 19 North Carolina leaders endorse DeSantis for president" [North State Journal]. "Some of the top elected Republicans in North Carolina have officially thrown their endorsement behind Florida Gov. Ron DeSantis in his bid for the presidency. 'Governor DeSantis is a principled leader, a protector of individual liberties, and the Left's biggest nightmare,' North Carolina House Majority Leader John Bell (R-Wayne) said in a statement obtained by North State Journal. 'He will beat Joe Biden and usher in a Great American Comeback in which parents are empowered, our streets are safe, and our economy is booming once again.'… The endorsements follow the slate of endorsements DeSantis received last week from South Carolina state legislators and the governor's successful visit to the Tarheel State earlier this month.'"

"How a Border Photo Stunt Could End Up Costing Ron DeSantis" [Daily Beast]. "When Ron DeSantis took a trip to the Texas-Mexico border on Monday, his campaign had the good sense to take and promote a photo of the Florida governor in front of a helicopter for an image ready-made for a political ad… [But] the helicopter DeSantis posed in front of is property of the Texas Department of Public Safety, according to Federal Aviation Administration records. And experts say his use of Texas government resources for his own political purposes appears to constitute a campaign finance violation. His trip to the border is now raising legal questions about who paid for the junket and why the campaign was granted access to Texas government property to promote a political event in the first place. The questions notably apply on the Texas side as well, where state law bans the use of public resources in support of candidates for political office." • If true, I'm not sure how much "good sense" the staff actually had. You don't have to worry about this sort of thing at the state level. At the national level, you do.

"Chris Christie rips Ron DeSantis' 'ridiculous' Jan. 6 take" [Florida Politics]. "During a CNN interview, former New Jersey Gov. Chris Christie pilloried a response DeSantis delivered during a New Hampshire town hall earlier in the week. A high school student at the town hall asked DeSantis whether Trump 'violated the peaceful transfer of power' with his actions. 'So I wasn't anywhere near Washington that day. I have nothing to do with what happened that day,' DeSantis responded, refusing to directly engage the question. 'Obviously, I didn't enjoy seeing, you know, what would happen, but we've got to go forward on this stuff.' For Christie, that answer was insufficient. 'He wasn't anywhere near Washington. Did he have a TV? Was he alive that day? Did he see what was going on? I mean, that's one of the most ridiculous answers I've heard in this race so far. You don't have an opinion about Jan. 6 except to say I didn't particularly enjoy what happened?' Christie told Kaitlan Collins.'" • Wierdly, "we've got to go forward" isn't idiomatic English; DeSantis means "move forward." Or is it just me?

Astute media critique from random account:

okay, chris christie breaking the fourth wall is funny pic.twitter.com/Y5JWFZzLVr

— kaitlin (@thefactualprep) June 29, 2023

Christie is good on TV. Certainly better than DeSantis! (Not better than Trump, but Trump is on a different level entirely.)

* * *

Pence goes all in on Ukraine:

I know the difference between a genius and a war criminal, and I know who needs to win this war in Ukraine, and it's the people fighting for their freedom and fighting to restore their national sovereignty. There is no room in our party for apologists for Putin. There is only… pic.twitter.com/VKyeM0exgU

— Mike Pence (@Mike_Pence) June 29, 2023

Democrats are gonna vote for a real Democrat, not some imitation.

* * *

"RFK Jr.'s Inside Job" [Rebecca Traister, New York Magazine]. And the deck: "How a conspiracy-spewing literal Kennedy posing as a populist outsider jolted the Democratic Party." I assume editors write the decks as well as the headlines; "spewing" is a clear signal this article is only for loyalists. That said, let's see if arch-Clintonite Traister managed to collect any nuggets: "Kennedy — who has in other instances acknowledged that HIV causes AIDS — insisted to me over lunch, 'There are much better candidates than HIV for what causes AIDS.'" • Well, er. New York Magazine's editor, David Haskell, on Traister's article: "'There is an unmistakably Trumpian phenomenon playing out in this emerging campaign, where a candidate's celebrity and self-styled truth-telling is seducing otherwise 'serious' people,' says Editor-in-Chief David Haskell. 'Though he does not, at the moment, pose a credible threat to Biden's primary campaign, it would be a mistake to condescend to Kennedy's supporters, who include some of the country's richest and most powerful leaders in business and media. Rebecca's subject in this article is not just Kennedy himself but the Establishment that is dangerously titillated by his rise.'" • Commentary;

Absolutely great piece, the first I've seen that really connects RFK Jr's surge to our country's legitimacy crisis, and our political class's shared culpability for it. https://t.co/UH5PMCh4pM

— Matt Duss (@mattduss) June 30, 2023

"Democrats Block High Schoolers From Meeting With Marianne Williamson" [Newsweek]. "In a post on Twitter earlier this week, Williamson claimed her campaign had been rebuffed in their requests to meet with several chapters of the High School Democrats of America, claiming their members were told they 'could not engage with any candidates other than President Biden.' … A board member with the High School Democrats of America confirmed the decision in an email to Newsweek, saying they were mirroring policies set forward by the Democratic National Committee, of which they are affiliated. Earlier this year, the DNC indicated they would not sanction a debate between Biden and the other candidates and, at this point, is moving forward with the incumbent president as their party's de facto nominee for president. The youth branch of their organization, board members claimed, is no different."

* * *
Democrats en Déshabillé
Patient readers, it seems that people are actually reading the back-dated post! But I have not updated it, and there are many updates. So I will have to do that. –lambert

I have moved my standing remarks on the Democrat Party ("the Democrat Party is a rotting corpse that can't bury itself") to a separate, back-dated post, to which I will periodically add material, summarizing the addition here in a "live" Water Cooler. (Hopefully, some Bourdieu.) It turns out that defining the Democrat Party is, in fact, a hard problem. I do think the paragraph that follows is on point all the way back to 2016, if not before:

The Democrat Party is the political expression of the class power of PMC, their base (lucidly explained by Thomas Frank in Listen, Liberal!). ; if the Democrat Party did not exist, the PMC would have to invent it. . ("PMC" modulo "class expatriates," of course.) Second, all the working parts of the Party reinforce each other. Leave aside characterizing the relationships between elements of the Party (ka-ching, but not entirely) those elements comprise a network — a Flex Net? An iron octagon? — of funders, vendors, apparatchiks, electeds, NGOs, and miscellaneous mercenaries, with assets in the press and the intelligence community.

Note, of course, that the class power of the PMC both expresses and is limited by other classes; oligarchs and American gentry (see 'industrial model' of Ferguson, Jorgensen, and Jie) and the working class spring to mind. Suck up, kick down.

* * *
Realignment and Legitimacy
#COVID19
"I am in earnest — I will not equivocate — I will not excuse — I will not retreat a single inch — AND I WILL BE HEARD." –William Lloyd Garrison
Resources, United States (National): Transmission (CDC); Wastewater (CDC, Biobot; includes many counties; Wastewater Scan, includes drilldown by zip); Variants (CDC; Walgreens); "Iowa COVID-19 Tracker" (in IA, but national data). "Infection Control, Emergency Management, Safety, and General Thoughts" (especially on hospitalization by city).
Lambert here: Readers, thanks for the collective effort. To update any entry, do feel free to contact me at the address given with the plants. Please put "COVID" in the subject line. Thank you!
Resources, United States (Local): AK (dashboard); AL (dashboard); AR (dashboard); AZ (dashboard); CA (dashboard; Marin, dashboard; Stanford, wastewater; Oakland, wastewater); CO (dashboard; wastewater); CT (dashboard); DE (dashboard); FL (wastewater); GA (wastewater); HI (dashboard); IA (wastewater reports); ID (dashboard, Boise; dashboard, wastewater, Central Idaho; wastewater, Coeur d'Alene; dashboard, Spokane County); IL (wastewater); IN (dashboard); KS (dashboard; wastewater, Lawrence); KY (dashboard, Louisville); LA (dashboard); MA (wastewater); MD (dashboard); ME (dashboard); MI (wastewater; wastewater); MN (dashboard); MO (wastewater); MS (dashboard); MT (dashboard); NC (dashboard); ND (dashboard; wastewater); NE (dashboard); NH (wastewater); NJ (dashboard); NM (dashboard); NV (dashboard; wastewater, Southern NV); NY (dashboard); OH (dashboard); OK (dashboard); OR (dashboard); PA (dashboard); RI (dashboard); SC (dashboard); SD (dashboard); TN (dashboard); TX (dashboard); UT (wastewater); VA (dashboard); VT (dashboard); WA (dashboard; dashboard); WI (wastewater); WV (wastewater); WY (wastewater).
Resources, Canada (National): Wastewater (Government of Canada).
Resources, Canada (Provincial): ON (wastewater); QC (les eaux usées); BC, Vancouver (wastewater).
Hat tips to helpful readers: anon (2), Art_DogCT, B24S, CanCyn, ChiGal, Chuck L, Festoonic, FM, FreeMarketApologist (4), Gumbo, hop2it, JB, JEHR, JF, JL Joe, John, JM (9), JustAnotherVolunteer, JW, KatieBird, LL, Michael King, KF, LaRuse, mrsyk, MT, MT_Wild, otisyves, Petal (6), RK (2), RL, RM, Rod, square coats (11), tennesseewaltzer, Utah, Bob White (3).
Stay safe out there!
* * *
Look for the Helpers
Guerilla signage:

Long Covid: fuck around & find out @BerlinBuyers Frankfurt Airport 🖤 pic.twitter.com/5WLEw0yqNx

— Laura Baranik (@laurabaranik) June 29, 2023
Maskstravaganza
"Opinion: The unconscionable move many hospitals are making" [CNN]. "There's no question that masks are annoying and add to hospitals' costs, but that in no way justifies adopting policies that could endanger the very populations health care centers are supposed to serve. Those at highest risk for severe disease and death from Covid also happen to be the ones who generally need to access health care the most. And while Covid hospitalizations and deaths may be lower, hospitals could still be risky for many since they are places where sick people congregate – and those who come there often have no option of skipping care to protect themselves, lest their health deteriorate from something else. Indeed, hospitals that are removing masking measures are applying the wrong lesson from combating Covid: Our success doesn't mean we can get rid of all the measures that kept the vulnerable safe, but that we have identified new tools to use in maintaining health. Masks are one of them, and they don't just help against Covid, but against other respiratory illnesses, such as the flu, for which immunocompromised groups are at high risk as well." • I'm surprised a mainstream publication like CNN published this. After all, Hospital Infection Control whacking patients is hardly news:

"Staff did what they could," she said. "You can't stop it getting through. It's just really tragic."

The real tragedy is that it can be stopped and more can be done.

Complete failure of infection prevention and control IPAC. https://t.co/fmJTRe1QIt pic.twitter.com/xlJzZZaVl0

— John Johnston (@JOHNJOHNSTONED) June 25, 2023

"As air quality worsens due to climate change, is now the time to buy a respirator? [Toronto Star]. "As conversations about masking return, a few people [ha ha] have pointed to elastomeric respirators as an alternative to regular pandemic-style masks [I assume N95s, not "Baggy Blues"]. Jeff Brook, an associate professor at the University of Toronto's Dalla Lana School of Public Health and Department of Chemical Engineering and Applied Chemistry, weighed in on the merits and drawbacks of using them…. While official advice has been to stay indoors when the air quality is poor, Brook emphasized that outside, 'some sort of mask or respirator is your only line of defence.' (He also added that there are several steps people should take to clean the air inside, such as building their own air purifier or using a 'state-of-the-art' portable air cleaner or HVAC system.)…. Drawing from his experience advising the government of Malaysia several years ago when the country was grappling with forest fire smoke from Indonesia, Brook noted that 'you can take some confidence' in knowing there is still some protection in less expensive gear as long as it fits well and is being worn when needed."

"Masking At BKABF" [Brooklyn Art Book Fair]. "Since we experienced a high compliance rate with our mask policy, some individuals and organizations reached out with questions on how we made it happen. We thought we'd compile a bit about our goals, policies, and strategies to make a Covid-safer event! We hope this doc might help other organizations who'd like to implement similar requirements." Very interesting. One key point: "All staff, organizers, and volunteers wore visible STAFF badges, which helped make masking requests feel very official lol."
Covid is Airborne
A long comment from alert reader Chris, who attended the ASHRAE conference where they unveiled Standard 241. Some bullet points:

-The committee specifically addressed the CDC guidance, and told the audience that the CDCs focus on air changes per hour (ACH) was not as useful as alleged. The recommendations from ASHRAE standard 241 are almost orthogonal to what the CDC is trying to do.

-The committee believes the design concept of Equivalent Clean Air (ECA) is both more useful and more applicable to designing engineered solutions for future health crises and current facility needs. The committee also believes that cubic feet of air per minute per person is a useful metric with respect to source loading and sufficient air. The combination of ECA and CFM per person is the intended method to balance risk indoors because it addresses both the building systems and individual rooms.

-The standard permits flexibility by reducing occupancy and/or giving designer options to meet the standard. There are some spaces and applications where the ASHRAE results will match up with what the CDC recommends, but in plenty of cases it won't.

-The General Services Administration of the US Government was at the conference and was asking questions about how to apply 241. Given their adoption of other ASHRAE guidance and standards this year, it seems likely they will adopt 241 over the CDC guidance.

-The goal of this first edition of the standard is to get this information and design guidance to as many people as possible as quickly as possible. They want this applied by small public facilities, Bodega owners, and building maintenance staff in the swankiest condos in the world.

If indeed GSA adopts ASHRAE over the recommendations of the nimrods at CDC, that's a very big deal. Hat tip to reporting from Chris; the entire essay is worth reading in full, though I would comment here, rather than the older post. (I apologize for not linking to this earlier; snippets from NC itself just aren't in my workflow.) More on ASHRAE:

Thanks doctors!

Oh wait it was engineers, right! https://t.co/n2vkQv4JE1

— Jonathan Mesiano-Crookston 🌬️🔅#COV1DisAirborne (@jmcrookston) June 25, 2023

Not all doctors, but:

All this speaking generally of course.

You can tell the bright ones because they have pivoted and understand airborne transmission.

— Jonathan Mesiano-Crookston 🌬️🔅#COV1DisAirborne (@jmcrookston) June 25, 2023

At some point I should write a piece on the damage that PMC siloing has done… Why on earth are doctors and engineers not working on this problem together?
Celebrity Watch
"Tabernacle Choir calls off live radio performance as COVID, other illnesses take toll after Mexico tour" [The Salt Lake Tribune]. "The Tabernacle Choir at Temple Square will miss its long-standing live broadcast of "Music and the Spoken Word" this Sunday after COVID-19 and other illnesses sidelined many of its members. Kelly Smoot, a spokesperson for The Church of Jesus Christ of Latter-day Saints, said in an email Thursday that a couple of choir members tested positive for the virus after arriving in Mexico City for the group's first international trip since pre-pandemic 2019. Those performers were isolated and treated, but since returning to Utah, Smoot said, more members experienced symptoms and several have tested positive for the virus. Other members, meanwhile, are grappling with travel-related sicknesses such as gastrointestinal ailments." • Once again, we've learned nothing from Skagit Valley; see below for a second example, also from a chorus.
Censorship and Propaganda
The denial is so strong:

"It started to happen around COVID" https://t.co/Szd1gaugwE

— lone skum, luddite superūser, PhD (@abjectworld) June 26, 2023

It's not fair to single out MAGA; I'm 100% certain similar conversations happen in the PMC. And among the vaccinated.
"Something Awful"
Lambert here: I'm getting the feeling that the "Something Awful" might be a sawtooth pattern — variant after variant — that averages out to a permanently high plateau. Lots of exceptionally nasty sequelae, most likely deriving from immune dysregulation (says this layperson). To which we might add brain damage, including personality changes therefrom.

* * *
Elite Maleficence
As a society, we have learned nothing since Skagit Valley:

"Community" is entirely the wrong word, since it erases power structures. The hegemons within any given institution would rather preserve it, and their positions within it, than protect those they are putatively responsible for. Hardly a "community," though naturally it's more com fortable to think so. See above.
* * *
Case Data
From BioBot wastewater data from June 29: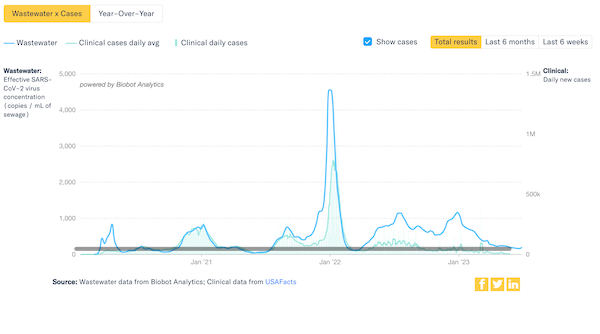 Lambert here: Slight uptrend, confirmed by airport wastewater (and local wastewater samples in California). Absent a new variant to race though the dry tinder, I don't see an oncoming debacle even with July 4 travel. But plenty of people will still get sick (again).=
Variants
NOT UPDATED From CDC, June 24: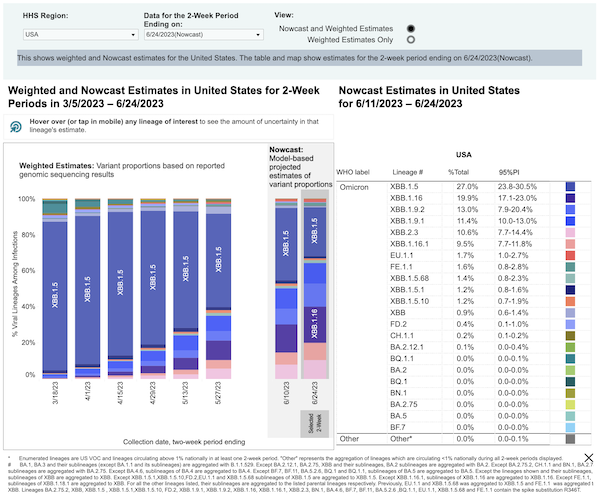 Lambert here: Not sure what to make of this. I'm used to seeing a new variant take down the previously dominant variant. Here it looks like we have a "tag team," all working together to cut XBB.1.5 down to size. I sure hope the volunteers doing Pangolin, on which this chart depends, don't all move on the green fields and pastures new (or have their access to facilities cut by administrators of ill intent).
CDC: "As of May 11, genomic surveillance data will be reported biweekly, based on the availability of positive test specimens." "Biweeekly: 1. occurring every two weeks. 2. occurring twice a week; semiweekly." Looks like CDC has chosen sense #1. In essence, they're telling us variants are nothing to worry about. Time will tell.
Covid Emergency Room Visits
NOT UPDATED From CDC NCIRD Surveillance, from June 24: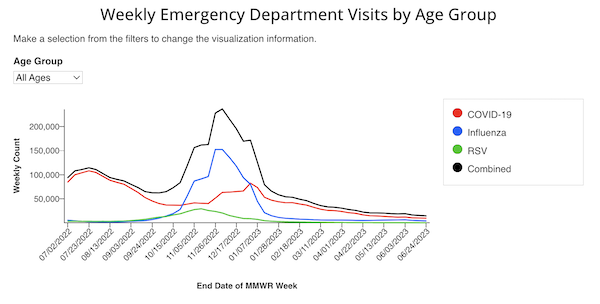 NOTE "Charts and data provided by CDC, updates Wednesday by 8am. For the past year, using a rolling 52-week period." So not the entire pandemic, FFS (the implicit message here being that Covid is "just like the flu," which is why the seasonal "rolling 52-week period" is appropriate for bothMR SUBLIMINAL I hate these people so much. Notice also that this chart shows, at least for its time period, that Covid is not seasonal, even though CDC is trying to get us to believe that it is, presumably so they can piggyback on the existing institutional apparatus for injections.
Positivity
NOT UPDATED From Walgreens, June 26: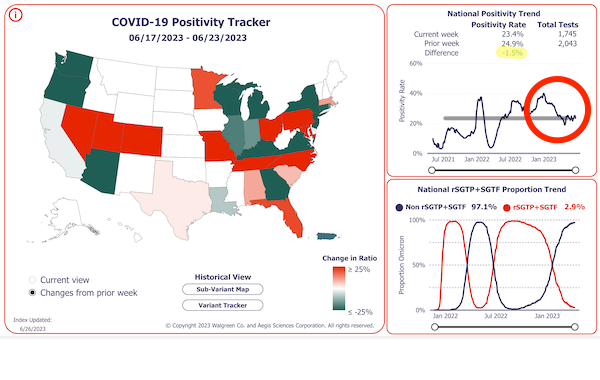 -1.5%. Still chugging along, though the absolute numbers are still very small relative to June 2022, say.
From CDC June 12: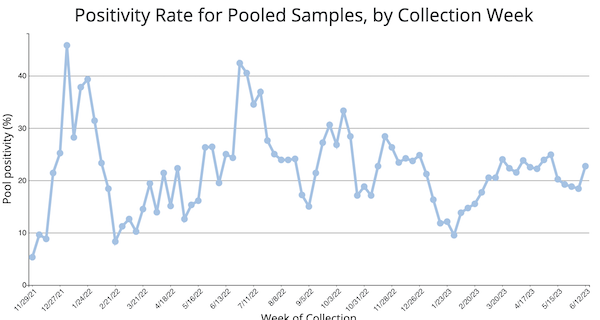 Lambert here: This is the CDC's "Traveler-Based Genomic Surveillance" data. They say "maps," but I don't see one….
Deaths
NOT UIPDATED Iowa COVID-19 Tracker, June 28: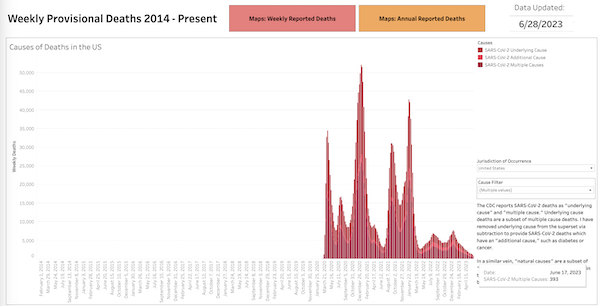 Lambert here: The WHO data is worthless, so I replaced it with the Iowa Covid Data Tracker. Their method: "These data have been sourced, via the API from the CDC: https://data.cdc.gov/NCHS/Conditions-Contributing-to-COVID-19-Deaths-by-Stat/hk9y-quqm. This visualization updates on Wednesday evenings. Data are provisional and are adjusted weekly by the CDC." I can't seem to get a pop-up that shows a total of the three causes (top right). Readers?
Total: 1,168,113 – 1,168,100 = 13 (13 * 365 = 4,745 deaths per year, today's YouGenicist™ number for "living with" Covid (quite a bit higher than the minimizers would like, though they can talk themselves into anything. If the YouGenicist™ metric keeps chugging along like this, I may just have to decide this is what the powers-that-be consider "mission accomplished" for this particular tranche of death and disease).
Excess Deaths
Excess deaths (The Economist), published June 30: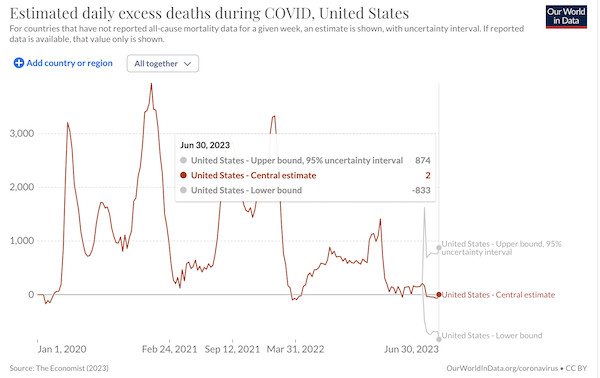 Lambert here: Still some encouragement! Not sure why this was updated so rapidly; it used to take weeks. The little blip upward? Based on a machine-learning model. (The CDC has an excess estimate too, but since it ran forever with a massive typo in the Legend, I figured nobody was really looking at it, so I got rid it. )
Stats Watch
Manufacturing: "United States Chicago PMI" [Trading Economics]. "The Chicago Business Barometer, also known as the Chicago PMI, increased to 41.5 in June of 2023 from 40.4 points in May 2023, but well below market forecasts of 44. The reading marked the tenth consecutive month of contraction in business activity in the Chicago region."
Personal Income: "United States Personal Income" [Trading Economics]. "Personal income in the United States rose by 0.4% over a month in May of 2023, compared to a downwardly revised 0.3% rise in April, while analysts had expected it to rise 0.3%. The growth was driven by a 0.5% increase in compensation." • Good!
* * *
Tech: "Who killed Google Reader?" [The Verge]. "Google's bad reputation for killing and abandoning products started with Reader and has only gotten worse over time. But the real tragedy of Reader was that it had all the signs of being something big, and Google just couldn't see it. Desperate to play catch-up to Facebook and Twitter, the company shut down one of its most prescient projects; you can see in Reader shades of everything from Twitter to the newsletter boom to the rising social web. To executives, Google Reader may have seemed like a humble feed aggregator built on boring technology. But for users, it was a way of organizing the internet, for making sense of the web, for collecting all the things you care about no matter its location or type, and helping you make the most of it. A decade later, the people who worked on Reader still look back fondly on the project. It was a small group that built the app not because it was a flashy product or a savvy career move — it was decidedly neither — but because they loved trying to find better ways to curate and share the web. They fought through corporate politics and endless red tape just to make the thing they wanted to use. They found a way to make the web better, and all they wanted to do was keep it alive."
* * *
Today's Fear & Greed Index: 80 Extreme Greed (previous close: 79 Greed) [CNN]. One week ago: 72 (Extreme Greed). (0 is Extreme Fear; 100 is Extreme Greed). Last updated Jun 29 at 1:45 PM ET.
The Gallery
I need to work on my composition:
Edouard Manet – The Grand Canal of Venice (Blue Venice) pic.twitter.com/TKLywRVtFM

— Impressionists (@impression_ists) June 18, 2023
The Jackpot
Probably too late to plant your nut trees now, but you can plan for next year:
Here's a visual of what bread looks like as you swap out wheat flour for walnut flour at higher and higher percentages, with A being the control (0% walnut) and AB4 being 100% walnut flour.

If you are a 'prepper', I think mastering indigenous nut-based bread recipes is a must. pic.twitter.com/KUyYNwQGbz

— 𝙰𝚍𝚒𝚛𝚘𝚗𝚍𝚊𝚌𝚔𝚎𝚛 (@shagbark_hick) June 28, 2023
News of the Wired
"The Radical Theology of Mr. Rogers" [Life is a Sacred Text]. "Fred Rogers was a Presbyterian minister whose life's work was, I believe, built almost entirely (if not entirely) around Leviticus 19:18: 'Love your neighbor as yourself: I am God. Hence… the neighborhood…. Rogers had a difficult childhood—he was shy, introverted, frequently stuck at home because of asthma, and bullied for his weight. He'd play with puppets to entertain himself. (Another, well, thread, that appears in his work later—his mother knitted sweaters for American soldiers fighting in Europe during the World Wars, and many of the ones he wore on camera were her work.1) He blossomed during high school, and after college wanted to go straight to seminary, but was drawn, somehow, to a new medium he found repugnant. For, he said: 'I went into television because I hated it so, and I thought there's some way of using this fabulous instrument to nurture those who would watch and listen.' (There are about sixteen different lessons here about leadership, innovation, and spiritual and moral wisdom in this sentence. Reread)." • Hmm. Sixteen?
"Design Notes on the Alphabet" [XKCD]: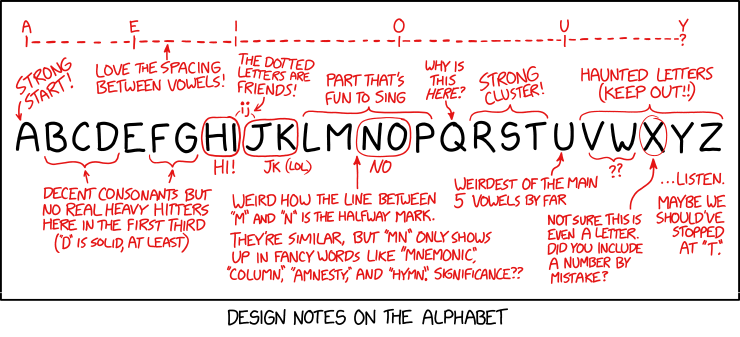 Dad.
The Final Boss of dad jokes. pic.twitter.com/mGo8oqT4J4

— Michael Marshall Smith (@ememess) June 29, 2023
* * *
Contact information for plants: Readers, feel free to contact me at lambert [UNDERSCORE] strether [DOT] corrente [AT] yahoo [DOT] com, to (a) find out how to send me a check if you are allergic to PayPal and (b) to find out how to send me images of plants. Vegetables are fine! Fungi and coral are deemed to be honorary plants! If you want your handle to appear as a credit, please place it at the start of your mail in parentheses: (thus). Otherwise, I will anonymize by using your initials. See the previous Water Cooler (with plant) here. From RR: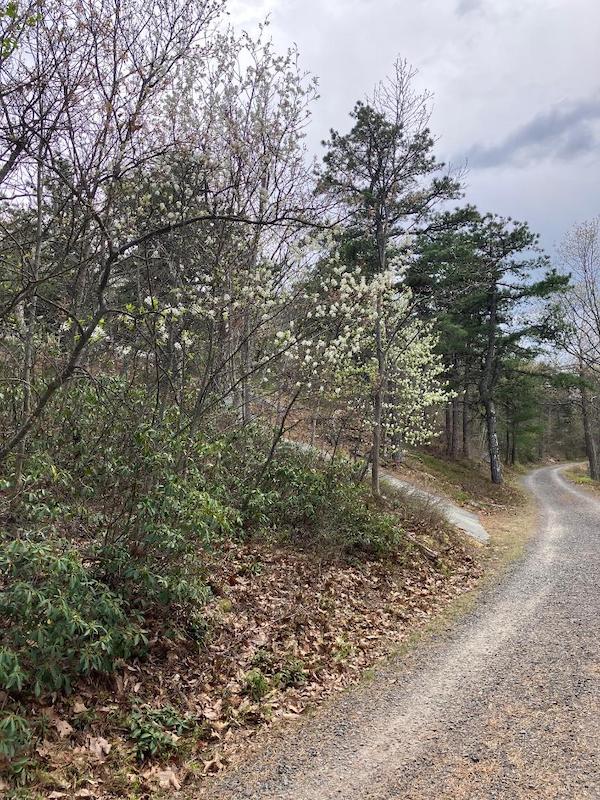 RR writes: "From a bike ride at Mohonk Preserve a couple weeks ago." Nice S-curve! Here is one "Hudson Valley ephemeral" from the ride.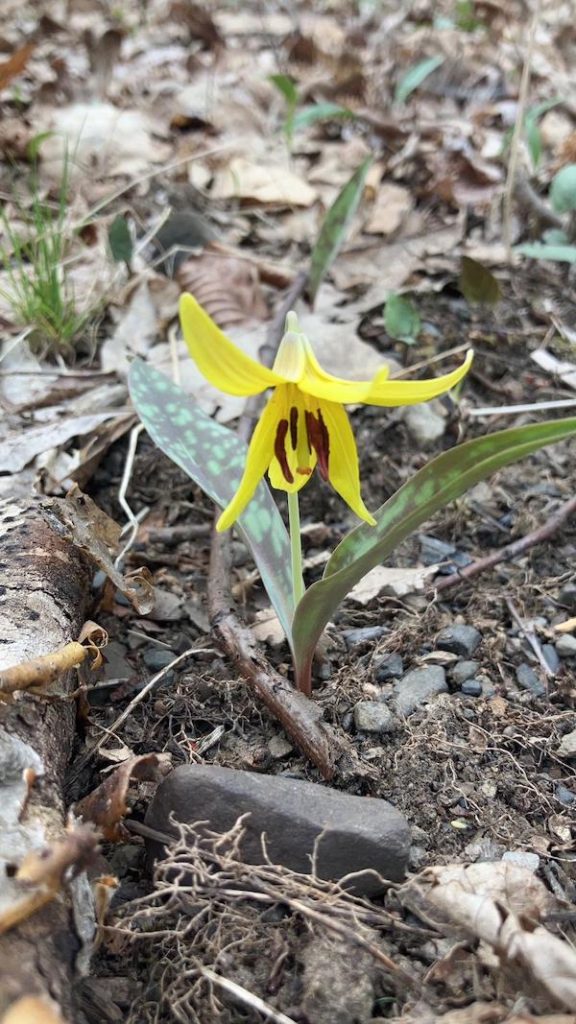 * * *
Readers: Water Cooler is a standalone entity not covered by the annual NC fundraiser. So if you see a link you especially like, or an item you wouldn't see anywhere else, please do not hesitate to express your appreciation in tangible form. Remember, a tip jar is for tipping! Regular positive feedback both makes me feel good and lets me know I'm on the right track with coverage. When I get no donations for five or ten days I get worried. More tangibly, a constant trickle of donations helps me with expenses, and I factor in that trickle when setting fundraising goals:
Here is the screen that will appear, which I have helpfully annotated: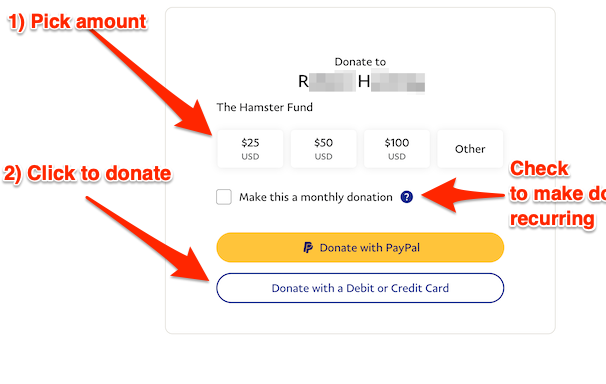 If you hate PayPal, you can email me at lambert [UNDERSCORE] strether [DOT] corrente [AT] yahoo [DOT] com, and I will give you directions on how to send a check. Thank you!