By Lambert Strether of Corrente.
Bird Song of the Day
Nubian Nightjar, Al Sadd Lake, Jizan, Saudi Arabia.
* * *
Politics
"So many of the social reactions that strike us as psychological are in fact a rational management of symbolic capital." –Pierre Bourdieu, Classification Struggles
Capitol Seizure
2024
Time for the Countdown Clock!

* * *

"Donald Trump Received $5.75 Million In Royalties For A Book That Largely Features Photos In The Public Domain" [Forbes] • That makes him smart…

* * *

"DeSantis cuts a third of his presidential campaign staff as he mounts urgent reset" [Associated Press]. " Republican presidential contender Ron DeSantis is cutting far more campaign staff than previously thought as he works to reset his stumbling campaign amid unexpected financial trouble. DeSantis, long considered former President Donald Trump's chief rival in the GOP's 2024 primary contest, has cut a third of his campaign staff — or 38 people, according to campaign aides who spoke on the condition of anonymity to discuss internal campaign strategy." • Stumbling.

"Ron DeSantis uninjured in car wreck on way to Chattanooga campaign event" [The Tennessean]. "Florida Gov. Ron DeSantis's four-vehicle motorcade was in a wreck as he traveled to one of three presidential campaign events scheduled for the day but wasn't injured…. 'The motorcade came up on slow traffic and the lead vehicle had to brake quickly, which caused a rear-end collision involving the other vehicles,' the statement said. 'All the vehicles involved were government vehicles accompanying Governor DeSantis and his team to his scheduled event.'" • Whoopsie.

* * *

"Hunter Biden plea: 'Sweetheart' deal collapses in court as judge throws 'curveball'" [Washington Examiner]. "U.S. District Judge Maryellen Noreika acknowledged during the hearing that the concerns she raised over the terms of the deal were a 'curveball' after she had been expected to accept the arrangement. 'I am concerned you are taking provisions out of the plea agreement,' Noreika said. When she questioned if the investigation into Hunter Biden was still ongoing, the prosecution said 'yes,' clarifying recent questions about whether the plea deal would mark the conclusion of the yearslong inquiry into the younger Biden's business dealings. 'Then why are we doing this piecemeal?' Noreika asked. The attorneys for the Justice Department then remarked they weren't at liberty to divulge additional details about the investigation. At the prospect of Hunter Biden seeing future prosecution, his attorney, Chris Clark, concluded, 'As far as I'm concerned, the plea agreement is null and void.'" • Seems to me the judge's question is a good one.

"Hunter Biden's counsel faces possible sanctions after accusations of lying in criminal tax case" [FOX]. "The judge presiding over the Hunter Biden criminal case threatened Biden's legal team with sanctions over allegations about lying to the clerk's office. Hunter Biden's counsel is accused of avoiding proper court procedure to allegedly get information about IRS whistleblowers removed from the docket. Delaware Judge Maryellen Noreika gave Biden's legal team until 9 p.m. on Tuesday to explain their side. Specifically, a lawyer from Hunter's legal team is accused of misrepresenting who she was when asking to remove amicus materials from the docket. She allegedly called to ask the clerk to seal the information instead of making a formal request to the court."

"Grassley faces criticism over release of FBI document" [The Hill]. "According to the [FD-1023] form released by Grassley and House Oversight Committee Chairman James Comer (R-Ky.), the FBI's informant — known as a CHS, or confidential human source — met in 2016 with Mykola Zlochevsky, the CEO of Ukrainian energy company Burisma, who claimed that he made a pair of $5 million payments to the Bidens. He did not specify who was on the receiving end of those alleged bribes. The form relays information on the conversation to an FBI agent but does not assess the veracity of the tip. The informant also claimed that Zlochevsky has 17 audiotapes, including two with then-Vice President Biden and the remaining 15 with Hunter Biden, though a number of Republicans have questioned whether they even exist. There has not been any evidence linking President Biden to the payments or Hunter Biden's foreign work, and the White House has strongly denied any improper action." • No worse than the Steele Report, surely? (Probably better, since the FD-1023 form wasn't used to decieve the FISA "court."

* * *

"Inside McCarthy's sudden warming to a Biden impeachment inquiry" [CNN]. "Speaker Kevin McCarthy in recent weeks has heard similar advice from both a senior House Republican and an influential conservative lawyer: prioritize the impeachment of President Joe Biden over a member of his Cabinet. Part of the thinking, according to multiple sources familiar with the internal discussions, is that if House Republicans are going to expend precious resources on the politically tricky task of an impeachment, they might as well go after their highest target as opposed to the attorney general or secretary of homeland security… Speaking to CNN on Tuesday, McCarthy signaled that Republicans have yet to verify the most salacious allegations against Biden, namely that as vice president he engaged in a bribery scheme with a foreign national in order to benefit his son Hunter Biden's career, an allegation the White House furiously denies. But he said that launching an impeachment inquiry would unleash the full power of the House to turn over critical information, mirroring an argument advanced by House Democrats when they impeached then-President Donald Trump in 2019. 'How do you get to the bottom of the truth? The only way Congress can do that is go to an impeachment inquiry,' McCarthy said Tuesday, stopping short of formally moving to open such a probe…. As another senior GOP source put it: "When you're going deer hunting, you don't shoot geese in the sky.'"

"Note cards and shorter stairs: How Biden's campaign is addressing his age" [NBC]. "Biden's answer to voters who question whether he's up to the rigors of a second term is simple: 'Watch me.' The trouble is, voters are watching, and what they're seeing is hardening impressions that it's time for him to step aside, polling shows. Apart from being the most taxing job on the world stage, the presidency is also the most public, and signs of advancing age are tough to miss…. 'Physically, he's quite frail and he falls off his bicycle, or whatever,' said a former Western diplomat, speaking on condition of anonymity to talk more freely. 'He doesn't have the stamina levels of an Obama or a younger president. People worry about his physical frailty and running from age 82 to 86' — the age Biden would be at the end of a second term. 'That is really old by European standards. Really, really old. We don't have anyone that age." • Lots of interesting detail, like Biden using a shorter staircase to enter Air Force One.

"Biden's Biting Campaign Ad Proves He's Still Got It" [CNN]. Headline from RealClearPolitics. "During a speech at the Turning Point Action Conference, [Marjorie Taylor Greene] tried to attack Biden by likening him to Presidents Franklin D. Roosevelt and Lyndon B. Johnson. Seeking to depict Biden as a big-government liberal, she said, 'Joe Biden had the largest public investment in social infrastructure and environmental programs, that is actually finishing what FDR started, that LBJ expanded on, and Joe Biden is attempting to complete.' Biden's team pounced on the speech, releasing a campaign ad that used her words to his advantage. The ad features images of Biden at work, with a voiceover of Greene's comments as well as a snippet from another speech in which she explained the administration's investments by saying, 'Programs to address education, medical care, urban problems, rural poverty, transportation, Medicare, Medicaid labor unions, and he still is working on it,' Greene said. Biden was happy to own those accomplishments, sharing the ad on Twitter in a post where he quipped, 'I approve this message.' By comparing Biden to two popular presidents with monumental legacies, highlighting how much he is doing to help the country and pointing to specific programs such as Medicare and Medicaid that command enormous public support, Greene's speech helped Biden frame his actions within a longer tradition – something even he himself has struggled to do at times."

"Biden's dog, Commander, has been biting Secret Service agents" [National Public Radio]. "President Biden's dog Commander has found himself in the doghouse after a series of incidents where he bit Secret Service officers on duty at the White House. The German shepherd bit several Secret Service agents a total of 10 times during the four-month period between October 2022 and January 2023, records show. One incident resulted in an agent getting sent to the hospital for treatment…. 'If the dog's got a muzzle on him and he's on a leash, he's safer,' [Bob Brandau, a canine behavior expert based in Florida] said. 'This dog could lash out at any time… it's not a question of will this dog bite again, it's who's he going to bite next? And how seriously are those injuries going to become?'" • Rather like Biden himself, no? As a cat person, I wouldn't know: Do dogs reflect the personalities of their owners?

* * *

"Gov. Newsom's School Board Showdown" [RealClearPolitics]. "A school board in southwest Riverside County, a sprawling suburb of tract homes, horse ranches, and touristy vineyards, rejected a new state-produced elementary social studies textbook. The Temecula Valley Unified School District school board's conservative majority argued that parents did not have enough involvement in approving the textbook, pointing specifically to the supplemental curriculum that included a biography of gay rights leader Harvey Milk, the former San Francisco supervisor and gay rights trailblazer who was assassinated in 1978. The conservatives, led by the board president, Joseph Komrosky, took issue with Milk's well-documented relationship with a 16-year-old boy when he was in his 30s, with some school board members labeling Milk a 'pedophile.' Newsom and state education officials dismissed the concern as 'offensive' and 'ignorant' without addressing the substance of the conservatives' complaint. 'This isn't Texas or Florida,' Newsom tweeted in early June. 'In the Golden State, our kids have the freedom to learn. Congrats Mr. Komrosky you have our attention. Stay tuned.' The governor and other top state education officials argue that rejecting the new curriculum would force the district to use textbooks published in 2006 that don't comply with a 2011 state law requiring schools to teach students about the historical contributions of gay, bisexual, and transgender Americans and other minority groups."

* * *

NH: A local reader throws this over the transom:

Americans for Prosperity…
Democrats en Déshabillé
Patient readers, it seems that people are actually reading the back-dated post! But I have not updated it, and there are many updates. So I will have to do that. –lambert

I have moved my standing remarks on the Democrat Party ("the Democrat Party is a rotting corpse that can't bury itself") to a separate, back-dated post, to which I will periodically add material, summarizing the addition here in a "live" Water Cooler. (Hopefully, some Bourdieu.) It turns out that defining the Democrat Party is, in fact, a hard problem. I do think the paragraph that follows is on point all the way back to 2016, if not before:

The Democrat Party is the political expression of the class power of PMC, their base (lucidly explained by Thomas Frank in Listen, Liberal!). ; if the Democrat Party did not exist, the PMC would have to invent it. . ("PMC" modulo "class expatriates," of course.) Second, all the working parts of the Party reinforce each other. Leave aside characterizing the relationships between elements of the Party (ka-ching, but not entirely) those elements comprise a network — a Flex Net? An iron octagon? — of funders, vendors, apparatchiks, electeds, NGOs, and miscellaneous mercenaries, with assets in the press and the intelligence community.

Note, of course, that the class power of the PMC both expresses and is limited by other classes; oligarchs and American gentry (see 'industrial model' of Ferguson, Jorgensen, and Jie) and the working class spring to mind. Suck up, kick down.

* * *
Realignment and Legitimacy
­"Most Americans favor restrictions on false information, violent content online" [Pew Research]. But the party split:

This from the party of RussiaGate (false), Ukraine war propaganda (false, granted by definition), and all the Covid disinformation behind Biden's policy of mass infection without mitigation, and there was a lot. One can argue that "the Republicans are just as bad," but I don't think so, measured by the absolute scale and effects of the falsehoods. This is what Democrats did when they seized the "commanding heights" of the political economy.
#COVID19
"I am in earnest — I will not equivocate — I will not excuse — I will not retreat a single inch — AND I WILL BE HEARD." –William Lloyd Garrison
Resources, United States (National): Transmission (CDC); Wastewater (CDC, Biobot; includes many counties; Wastewater Scan, includes drilldown by zip); Variants (CDC; Walgreens); "Iowa COVID-19 Tracker" (in IA, but national data). "Infection Control, Emergency Management, Safety, and General Thoughts" (especially on hospitalization by city).
Lambert here: Readers, thanks for the collective effort. To update any entry, do feel free to contact me at the address given with the plants. Please put "COVID" in the subject line. Thank you!
Resources, United States (Local): AK (dashboard); AL (dashboard); AR (dashboard); AZ (dashboard); CA (dashboard; Marin, dashboard; Stanford, wastewater; Oakland, wastewater); CO (dashboard; wastewater); CT (dashboard); DE (dashboard); FL (wastewater); GA (wastewater); HI (dashboard); IA (wastewater reports); ID (dashboard, Boise; dashboard, wastewater, Central Idaho; wastewater, Coeur d'Alene; dashboard, Spokane County); IL (wastewater); IN (dashboard); KS (dashboard; wastewater, Lawrence); KY (dashboard, Louisville); LA (dashboard); MA (wastewater); MD (dashboard); ME (dashboard); MI (wastewater; wastewater); MN (dashboard); MO (wastewater); MS (dashboard); MT (dashboard); NC (dashboard); ND (dashboard; wastewater); NE (dashboard); NH (wastewater); NJ (dashboard); NM (dashboard); NV (dashboard; wastewater, Southern NV); NY (dashboard); OH (dashboard); OK (dashboard); OR (dashboard); PA (dashboard); RI (dashboard); SC (dashboard); SD (dashboard); TN (dashboard); TX (dashboard); UT (wastewater); VA (dashboard); VT (dashboard); WA (dashboard; dashboard); WI (wastewater); WV (wastewater); WY (wastewater).
Resources, Canada (National): Wastewater (Government of Canada).
Resources, Canada (Provincial): ON (wastewater); QC (les eaux usées); BC, Vancouver (wastewater).
Hat tips to helpful readers: anon (2), Art_DogCT, B24S, CanCyn, ChiGal, Chuck L, Festoonic, FM, FreeMarketApologist (4), Gumbo, hop2it, JB, JEHR, JF, JL Joe, John, JM (10), JustAnotherVolunteer, JW, KatieBird, LL, Michael King, KF, LaRuse, mrsyk, MT, MT_Wild, otisyves, Petal (6), RK (2), RL, RM, Rod, square coats (11), tennesseewaltzer, Utah, Bob White (3).
Stay safe out there!
* * *
Maskstravaganza
"Descriptive norms caused increases in mask wearing during the COVID-19 pandemic" [Nature]. "Human sociality is governed by two types of social norms: injunctive norms, which prescribe what people ought to do, and descriptive norms, which reflect what people actually do. The process by which these norms emerge and their causal influences on cooperative behavior over time are not well understood. Here, we study these questions through social norms influencing mask wearing during the COVID-19 pandemic. Leveraging 2 years of data from the United States (18 time points; n = 915), we tracked mask wearing and perceived injunctive and descriptive mask wearing norms as the pandemic unfolded. Longitudinal trends suggested that norms and behavior were tightly coupled, changing quickly in response to public health recommendations. In addition, longitudinal modeling revealed that descriptive norms caused future increases in mask wearing across multiple waves of data collection. These cross-lagged causal effects of descriptive norms were large, even after controlling for non-social beliefs and demographic variables. Injunctive norms, by contrast, had less frequent and generally weaker causal effects on future mask wearing. During uncertain times, , rather than what others think ought to be done." • Which is why the feckless behavior of our governing class, the PMC was so lethal. And still is.
"Something Awful"
Lambert here: I'm getting the feeling that the "Something Awful" might be a sawtooth pattern — variant after variant — that averages out to a permanently high plateau. Lots of exceptionally nasty sequelae, most likely deriving from immune dysregulation (says this layperson). To which we might add brain damage, including personality changes therefrom.

* * *
Elite Maleficence
Droplet goon and WHO advisor John Conly denies aerosol transmission:

Conly speaking on
"What do we know about
SARS-CoV-2 modes of transmission?" in the #ICPIC2023 " Lessons learned from COVID" workshop
– the big question will be what has he learnt?? 🤷🏻‍♂️

Hopefully over 3yrs into a global AIRBORNE infectious disease pandemic the Conly and the… https://t.co/GdRi5x2ynZ pic.twitter.com/Wtdt3klisL

— John Johnston (@JOHNJOHNSTONED) July 25, 2023

Stunning commitment to the bit.
* * *
Case Data
NOT UPDATED From BioBot wastewater data, July 24: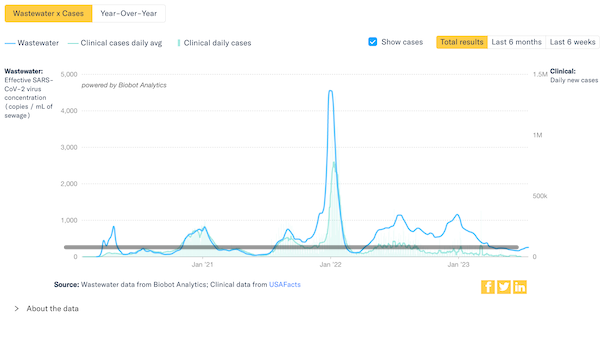 Lambert here: As before, a distinct upward trend. Not seeing the upward slope of doubling behavior, but we are now — just scan the chart backward — at a level above every previous valley.
Regional data: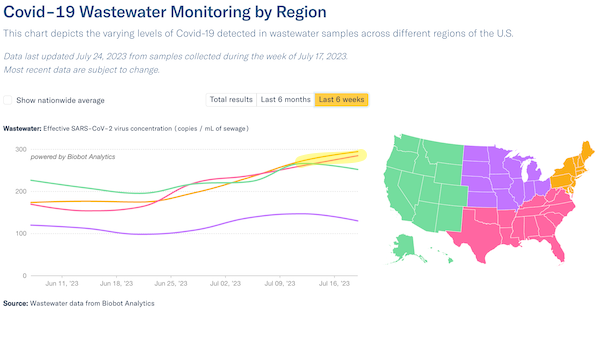 Interestingly, the upswing begins before July 4, which neither accelerates nor retards it.
Regional variant data: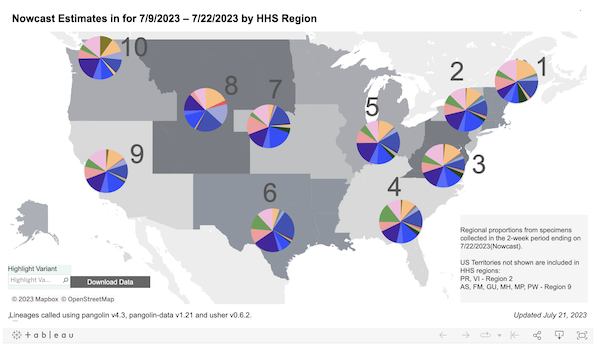 Whatever the cause of the uptick in the Northeast, it's not EG.5 (the orange pie slice), which seems evenly distributed.
• CDC:

A little late. NC readers [lambert preens] have known this for some weeks now.
• Florida:
Hey Florida— are you aware we have almost

10,000 new cases of Covid with a

17.4% positivity ?

And 26 deaths? pic.twitter.com/TXcnUkETr8

— CathyNotToday2 (@Cathy2NotToday) July 25, 2023
• Ohio:
COVID-19 positivity rate & +PCRs have been steadily ⏫️ over the past month in our NE Ohio clinical labs. Last week we hit 10% for the 1st time since April with >400 + tests. Our positivity rate has been an accurate predictor the entire pandemic so we're definitely in a surge. pic.twitter.com/Sgs7cvLEJP

— David Christopher 🏥🥼🧪🔬🦠 (@MLS_Dave) July 26, 2023
• "U.S. sees biggest rise in COVID-19 hospitalizations since December" [CBS]. "Weekly COVID-19 hospitalizations have risen by more than 10% across the country, according to new data published by the Centers for Disease Control and Prevention, marking the largest percent increase in this key indicator of the virus since December." • Hospital admissions are a lagging indicator, so you know the surge is rolling; speed unknown, absent case tracking, which of course we don't do, because that might save lives.
Variants
NOT UPDATED From CDC, July 22: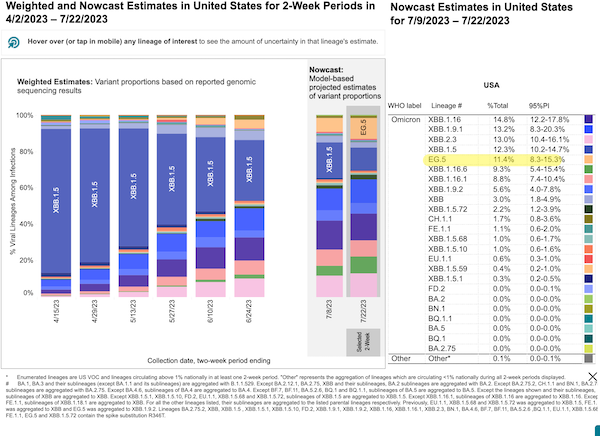 Lambert here: EG.5 still on the leaderboard, but getting crowded out (?) by all those XBB's.
From CDC, July 8: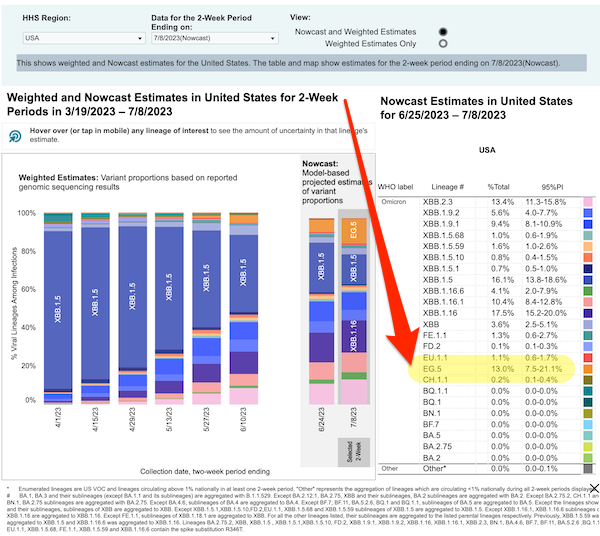 Lambert here: Not sure what to make of this. I'm used to seeing a new variant take down the previously dominant variant. Here it looks like we have a "tag team," all working together to cut XBB.1.5 down to size. I sure hope the volunteers doing Pangolin, on which this chart depends, don't all move on the green fields and pastures new (or have their access to facilities cut by administrators of ill intent).
CDC: "As of May 11, genomic surveillance data will be reported biweekly, based on the availability of positive test specimens." "Biweeekly: 1. occurring every two weeks. 2. occurring twice a week; semiweekly." Looks like CDC has chosen sense #1. In essence, they're telling us variants are nothing to worry about. Time will tell.
Covid Emergency Room Visits
From CDC NCIRD Surveillance, July 22: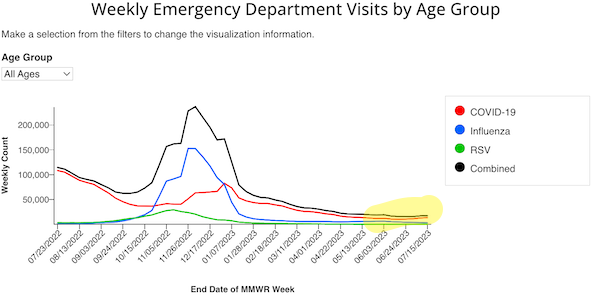 Lambert here: Increase is now quite distinct.
NOTE "Charts and data provided by CDC, updates Wednesday by 8am. For the past year, using a rolling 52-week period." So not the entire pandemic, FFS (the implicit message here being that Covid is "just like the flu," which is why the seasonal "rolling 52-week period" is appropriate for bothMR SUBLIMINAL I hate these people so much. Notice also that this chart shows, at least for its time period, that Covid is not seasonal, even though CDC is trying to get us to believe that it is, presumably so they can piggyback on the existing institutional apparatus for injections.
Positivity
NOT UPDATED From Walgreens, July 24: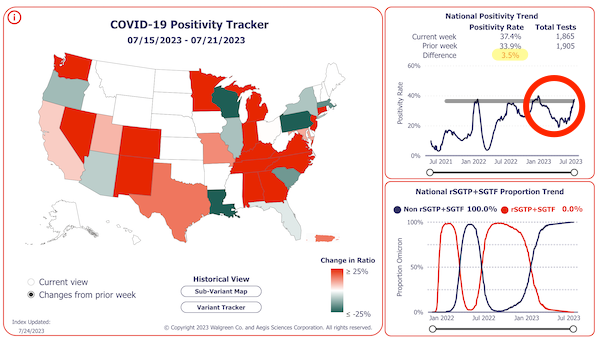 3.5%. Vertical, though the absolute numbers are still very small relative to June 2022, say. Interestingly, these do not correlate with the regional figures for wastewater. (It would be interesting to survey this population generally; these are people who, despite a tsunami of official propaganda and enormous peer pressure, went and got tested anyhow.)
NOT UPDATED From CDC, June 26: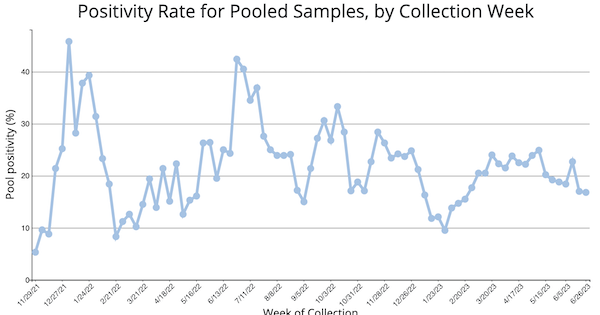 Lambert here: This is the CDC's "Traveler-Based Genomic Surveillance" data. They say "maps," but I don't see one….
Deaths
NOT UPDATED Iowa COVID-19 Tracker, July 19: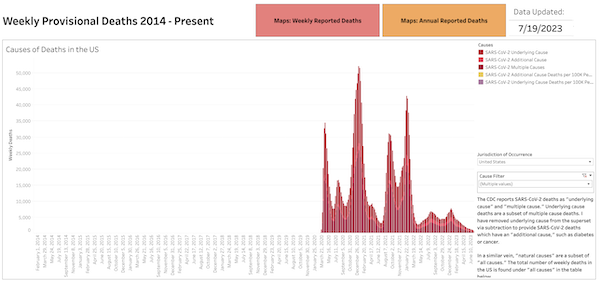 Lambert here: The WHO data is worthless, so I replaced it with the Iowa Covid Data Tracker. Their method: "These data have been sourced, via the API from the CDC: https://data.cdc.gov/NCHS/Conditions-Contributing-to-COVID-19-Deaths-by-Stat/hk9y-quqm. This visualization updates on Wednesday evenings. Data are provisional and are adjusted weekly by the CDC." I can't seem to get a pop-up that shows a total of the three causes (top right). Readers?,,
Total: 1,169,682 – 1,169,629 = 53 (53 * 365 = 19,345 deaths per year, today's YouGenicist™ number for "living with" Covid (quite a bit higher than the minimizers would like, though they can talk themselves into anything. If the YouGenicist™ metric keeps chugging along like this, I may just have to decide this is what the powers-that-be consider "mission accomplished" for this particular tranche of death and disease).
Excess Deaths
The Economist, July 26:
=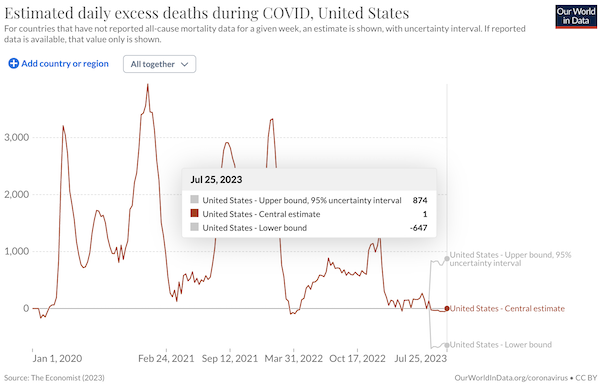 Lambert here: This is now being updated daily. Odd. Based on a machine-learning model. (The CDC has an excess estimate too, but since it ran forever with a massive typo in the Legend, I figured nobody was really looking at it, so I got rid it. )
Stats Watch
There are no official statistics of interest today.
* * *
Manufacturing: "Boeing has now lost $1.1 billion on Starliner, with no crew flight in sight" [Ars Technica]. "A difficult summer for the Starliner program continued this week, with Boeing reporting additional losses on the vehicle's development and NASA saying it's too early to discuss potential launch dates for the crewed spacecraft. Throughout this spring, NASA and Boeing had been working toward a July launch date of the spacecraft, which will carry two astronauts for the first time. However, just weeks before this launch was due to occur, Boeing announced on June 1 that there were two serious issues with Starliner. One of these involved the "soft links" in the lines that connect the Starliner capsule to its parachutes, and ." • Whoops. "Found"? How? Somebody held a cigarette lighter near it?
* * *
Today's Fear & Greed Index: 80 Extreme Greed (previous close: 81 Extreme Greed) [CNN]. One week ago: 81 (Extreme Greed). (0 is Extreme Fear; 100 is Extreme Greed). Last updated Jul 26 at 1:58 PM ET.
Our Famously Free Press
"Inside the Battle for CNN: Jeff Zucker, David Zaslav, Chris Licht and 18 Months of Crazy Backstabbing" [CNN]. • I read the whole thing and there's nothing to quote. This is how we perform the important social function of capital allocation in this country.
News of the Wired
"How too much daydreaming affected me" [Sungho Yahng]. "My daydreams are ever-present companions. They interrupt my train of thought, often causing me to pause and backtrack to recollect my previous thoughts (jotting them down helps). And while maintaining a daydream journal is a popular strategy to manage this, it hasn't dwindled my daydreaming frequency. In fact, it seems to fuel it by rendering the imagined more tangible (although jotting down thoughts does help me move past recurring ideas and save intriguing ones for later). Even simple tasks, which involve a few steps (like taking medicine or changing clothes), can turn into a time-consuming endeavor due to the interruptions caused by daydreaming. For instance, after taking medicine once with water, I often get ensnared by my daydreams, and in that trance-like state, I might consume more medicine, only to get lost again in another daydream. The whole process of taking the medicine thus keeps extending as I am repeatedly trapped in my imagined narratives. Similarly, changing clothes can take more than an hour. Sometimes, I don't manage to complete the task at all. "
* * *
Contact information for plants: Readers, feel free to contact me at lambert [UNDERSCORE] strether [DOT] corrente [AT] yahoo [DOT] com, to (a) find out how to send me a check if you are allergic to PayPal and (b) to find out how to send me images of plants. Vegetables are fine! Fungi and coral are deemed to be honorary plants! If you want your handle to appear as a credit, please place it at the start of your mail in parentheses: (thus). Otherwise, I will anonymize by using your initials. See the previous Water Cooler (with plant) here. From Tom: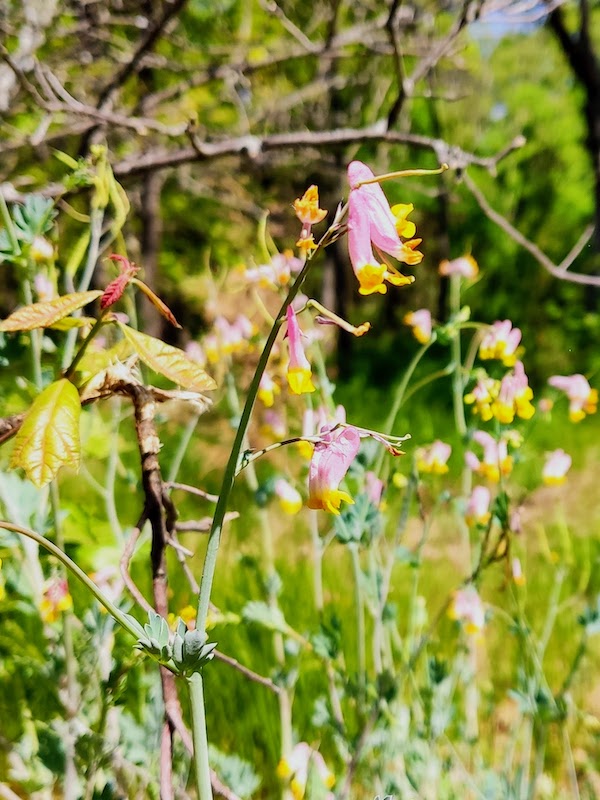 Tom writes: "Today, at the top of Cat Rock in Weston MA, just west of the water tank, we found thousands of these lovely flowers. Google Lens helped us identify Capnoides sempervirens. The North Carolina Extension Gardener Plant Toolbox web site (which I already love just for that name) mentions common names Pale Corydalis, Pink Corydalis, Rock Harlequin, and Tall Corydalis."
* * *
Readers: Water Cooler is a standalone entity not covered by the annual NC fundraiser. So if you see a link you especially like, or an item you wouldn't see anywhere else, please do not hesitate to express your appreciation in tangible form. Remember, a tip jar is for tipping! Regular positive feedback both makes me feel good and lets me know I'm on the right track with coverage. When I get no donations for five or ten days I get worried. More tangibly, a constant trickle of donations helps me with expenses, and I factor in that trickle when setting fundraising goals:
Here is the screen that will appear, which I have helpfully annotated: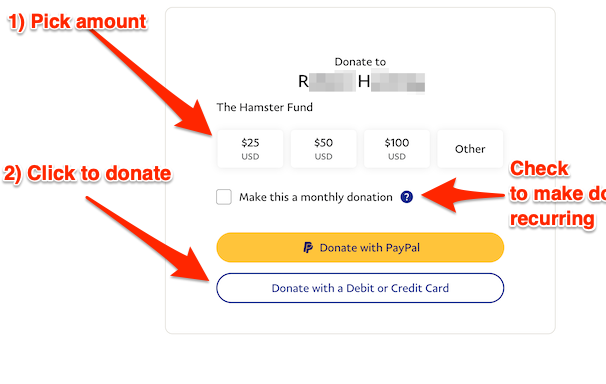 If you hate PayPal, you can email me at lambert [UNDERSCORE] strether [DOT] corrente [AT] yahoo [DOT] com, and I will give you directions on how to send a check. Thank you!