After the Reserve Bank of New Zealand's little flail at companies using "restricted words", there are not so many New Zealand companies with Bancorp in their name any more, but one does detect in the Company Register a lingering fondness for other bank-like appelations, such as "Savings and Loan", or "Savings & Loan".
Names like that, on a New Zealand company, have no official meaning, but they might appeal to any Americans out there whose due diligence on an overseas bank stops at checking whether the bank has a vaguely familiar-looking name. That level of nonchalance identifies ideal scam victims. The company name functions as a filter: only dopes sign up.
Should the Reserve Bank be warning judiciously about these foreign-accented phrases, and others, too, no doubt; whether or not the words are in their Reserve Bank of New Zealand Act 1989?
Let's see whether I can form any strong but purely personal opinions about that, which I will express in capital letters, bold.
For a start, issuing warnings about offshore companies with "Savings and Loan" in their names might have done something to help with First Capital Savings And Loan, another spectacular from Auckland Compliance:
A United States judge has ordered two New Zealand incorporated companies to pay US$40 million ($53.3 million) to 200 American investors.

The New Zealand Companies Office website lists First Capital Savings & Loan's registered office as a company ultimately owned by a Tauranga woman.

The company, its sole director Jeff Lowrance, and another New Zealand incorporated company, Swiss Providence – now struck off – are defendants in a case brought by more than 200 small investors in Sioux Falls, South Dakota.

The Associated Press reported this year that the investors had filed a federal law suit alleging losses of US$40 million over investments with Lowrance and his company.

The investors' lawyer, Wanda Howey-Fox, told AP the scheme was "a small version" of a Bernard Madoff-style Ponzi scheme.
SCAM!
Thus motivated, let's see what else the Reserve Bank has been missing, shall we? We will come across the name Auckland Compliance, subject of this post, a few times.
Alliance Savings and Loan, proxy director Ruby Hamilton, address Suite 605, Albert Plaza, 87-89 Albert Street; serviced offices.
DODGY.
Chartered Savings and Loan, director Mohanan Sundareswanan, connected with the fraudulent pseudobank Investment Suisse Limited, that I started to write about here and here.
DODGY.
Auckland Savings and Loan, proxy director: taxi driver, bank CEO and Auckland Compliance dogsbody Darryl Jensen, nuff said.
DODGY.
Island Capital Savings & Loans, Limited, has as director Robert Shumake of Michigan, currently profiling himself as an anti-mortgage fraud campaigner. His Blogger profile says this:
As founder of First Equity Holdings (1996) he managed and sold 85% of the Department of Housing and Urban Development (HUD) inventory in the state of Michigan with sales of approximately 80 million dollars. In addition, Mr. Shumake has developed, sold, or financed well over 100 million dollars in real estate. Based on the success of First Equity Holdings, Mr. Shumake received a White House appointment to the Board of Directors for the Federal Home Loan Bank Board, the second largest bank in America with 700 billion in assets. As a director, Mr. Shumake presided over the Affordable Housing Committees in Michigan and Indiana.
In fact the Federal Home Loan Bank Board was abolished in 1989, seven years before Mr Shumake's sterling work was rewarded by a seat on its board. One finds more résumé burnishing, and perhaps worse, in this:
In a 2006 presentation to Detroit's two public pension boards, Shumake touted his real estate broker's license as part of his pitch to secure millions in pension money.

Turns out, his license had been suspended since 2002, when Michigan regulators said he failed to account for customers' money and his company's trust account had a deficit of more than $14,000.

It was another example of Shumake's résumé not matching his credentials when he made the sales pitch.

The résumé listed membership on the state Board of Real Estate Brokers & Salespersons, though he had not been on the board since 2002. He left after it voted to put his broker's license on probation for trust account violations and failing to give buyers and sellers complete closing statements.

The résumé claimed he was educated at the Larry Pino Institute of Finance. A spokesman for Pino, a Florida entrepreneur, said, "There is not now nor has there ever been a Larry Pino Institute of Finance."

Shumake also said he was a licensed mortgage banker. But that license, issued in Florida, lapsed in 2001.

Still, Shumake persuaded the pension funds to invest more than $70 million in two real estate deals with his companies, even as he was being sued by Fifth Third Bank for his alleged role in what the bank called a $10-million mortgage fraud scheme. The scheme is now the subject of a federal criminal probe. So far, two men have pleaded guilty and agreed to cooperate.

Shumake has not been charged and, through his lawyer, James Thomas of Detroit, denied any wrongdoing.
DODGY.
Fitco Savings and Loan Limited has director Chris Varjabedian, of 6343 Geyser Ave, Tarzana, Ca, 91335, US. There's no Chris Varjabedian at that address, but there is a Vic Varjabedian there. And given that little act of misdirection, and since the number of Vic Varbajedians in the US is not huge, one concludes that this FTC Judgment about sales of fake driving permits might not be unconnected with our New Zealand S&L:
The FTC filed complaints in federal district court against the following defendants:

1)      Yad Abraham (Abraham), also known as (a.k.a.) Tim Thorn and Timothy Thorn, individually and doing business as (d.b.a.) Sharpthorn Internet Solutions and Internex, LLC; 2) Jaguar Business Concepts, LP d.b.a. Libertymall.com, Cheyenne Investment Alliance, LLC (Cheyenne), and Jacqueline Demer, individually and as member/manager of Cheyenne; 3) Jordan Maxwell, a.k.a. Russell Pine, individually and doing business as BBCOA, a.k.a. BBC of America, a.k.a. Better Book and Cassette of America, and Vic Varjabedian, a.k.a. Victor Varjabedian, a.k.a. Varouj Varjabedian, individually…
DODGY.
Credit Aliance Savings and Loan Trust, with director Craig Kinsman, appears to be part of his embryonic international payments outfit, Credit Alliance. One hopes that Credit Alliance depositors fare better than investors in another company Kinsman used to direct, Fame Investment Holdings:
Investors who bought shares in a company called Fame Investment Holdings, which has links to convicted fraudster Niko Shefer, are out of pocket. However, in April this year, they received some financial compensation from an unlikely source: JSE-listed Metorex (JSE:MTX).

As part of the settlement they agreed not to make any public statement in relation to the agreement without the written consent of Metorex.

Moneyweb is aware of an investor who bought shares in Fame from Lucas Ferreira, who is a broker at FSB-registered Silver Falcon Financial Services.

A company search for Fame reveals Ferreira is a director. Ferreira tells Moneyweb that he only became a director of Fame after the company had lost money. He did this as part of a rescue plan, and to prevent its liquidation, he says.

Disgraced empowerment heavyweight Danisa Baloyi is also listed as a former director of Fame. Her spokesman, Dominic Ntsele tells Moneyweb that she was involved in the company for less than a year, and was introduced as a non-executive director by Ferreira, back in 2001.

Ferreira confirms this, saying that Baloyi was introduced to the company as part of a plan to list it on the JSE, which never materialised.

Other Fame directors included Hermanus Engelbrecht and Wessel Schumyn, Adam du Plooy, Craig Kinsman and Hercules Schoombie.
DODGY.
Canterbury Savings & Loan Limited is quite upmarket: a tax vehicle directed by formerly St Kitts-national, now US-National, and Swiss-resident John Ivsan, of "asset protection" firm Southpac. Should one hope that his new caper works out better for his clients than this old one?
TAX WHEEZE.
United Saving and Loan is either another tax vehicle, established by a German-speaking company formation agent in Florida, Michael Rau, or a Ponzi established by the scammer who is conducting a vendetta against him. I can't be bothered to find out which, quite honestly, so he gets the benefit of the doubt.
TAX WHEEZE.
Oppco Savings and Loans appears to be a creation of Panamanian company registerer Zealand Financial (successor of Auckland Compliance), which I wrote about here. As I said then, "there must be more bombs waiting to go off" and this is a case in point. Though its business address is in Auckland, its only director, preposterously, is Steven Medley of Glendale, CA, who is possibly this guy.
Although it's kitted out with a spanking new NZ FSP number, Oppco looks like a Ponzi, as this piece of drivel from its web site makes abundantly clear (spelling and grammar as original):
CERTIFICATES OF DEPOSIT – OPPCO provides certificates of deposit ("CDs") with higher interest yield than most banks, and deposit takers. (From 5% to 10+%). In addition, and more importantly, your money is safer with OPPCO because OPPCO does not issue CDs on a "fractional reserves" basis as do most banks in the US, UK, CA, AU, NZ and the world, so your CDs are not "fractionally" collateralized but fully collateralize by government bonds, and other financial instruments. Purchase amounts are from €1,000,000 Euro to €100,000000+ .
Actually, make that a Ponzi with a pyramid on top:
Oppco Offices Worldwide
Open your own branch of OPPCO SAVINGS & LOANS or become a licensed representative  – for a limited time OPPCO is taking applications from qualified parties to open their own branch, or territory of OPPCO branches, or to become a licensed representative of OPPCO offshore services (services available to non New Zealand residents only).**

Branches may be opened in any country except New Zealand as long as all local laws, registrations, and applicable rules are adhered to in the jurisdiction of residence and/or operation.
DODGY.
Trillion Private Wealth Limited, formerly the ineptly spelled Capitalone Savings & Loan Limited, was the subject of a Parliamentary Question in New Zealand, which went like this (as many do):
6107 (2011). Dr Russel Norman to the Minister of Commerce (04 Aug 2011): What action, if any, has the Ministry of Economic Development taken to ensure that Trillion Private Wealth Limited is a legitimate company?

Hon Simon Power (Minister of Commerce) replied: The Ministry of Economic Development maintains and administers the Register of Companies in New Zealand. I am advised that Trillion Private Wealth Limited is a legally incorporated company under the Companies Act 1993.
If you fancy working very hard for a very tiny and very geeky laugh, trace the convulsions in the ownership and governance of the company, starting (pure coincidence), on the 5th August 2011. In particular, watch the travails of Andrevis Ernesto Berroa Maradiaga, who keeps losing and gaining bits of his name along the way.
As these proxy director antics suggest, Trillion Private Wealth Limited is yet another creation of Auckland Compliance. As of this writing its web site is still in full swing, pushing its astonishingly vague business proposition, yet its first annual return is overdue, and it is threatened with striking off.
DODGY.
GBH Private Savings and Loans Limited, by way of novelty, actually appears to be engaged in banking business. It therefore sticks out like a sore thumb in this company.
WEIRD CZECH BANK.
St. James Capital Treasury And Trust Limited, like Chartered Savings and Loan, is a piece of the Investment Suisse empire.
DODGY.
New Zealand International Savings & Loan Limited. I beat this one to death in an old blog post, and the locals piled in more effectively than I could, too.
DODGY.
FDH Saving & Loan Limited, American Saving & Loan Limited, and First Saving and Loan Limited have the same director as GBH Private Saving and Loans, but a corporate shareholder, xaama.com, in Anguilla. Why is a director of a Czech bank creating offshore subs that are held by a small internet food merchant? It begins to look as if all four companies might be worth a further dig.
WEIRD CZECH BANK * 3.
Merchants Savings & Loan Limited More from Auckland Compliance: zingy web site with fractured English and a vague offering; contact details give an Auckland serviced office address. Yeah right.
DODGY.
BRP Savings and Loans Limited is dormant. Worthy of lower case, that one. Hardly an opinion at all.
Dormant.
Euroamerican Savings & Loan Limited is another from the Auckland Compliance stable. Its director, Moyses Samuel Levy, of Coral Springs, Florida has a US company Strasbourg Sovereign Consultant Bankers LLC has a website whichlooks just like a front for an advance fee scam. Run of the mill, but the sheer deadpan crazed grandiosity of the claims about Strasbourg Sovereign Consultant Bankers LLC is entertaining. The company incorporated on Feb 17, 2004; this press release is from June 28, 2004:
STRASBOURG SOVEREIGN CONSULTANT BANKERS LLC, specializes in structuring and arranging project financing. SSCB works in the following industries:
1. TRANSPORT: Highways, Railways, Airlines, Shipping, Bridges, Waterways, Ports, Wharf.

2. ENERGY: Oil and Natural Gas, Refining, Pipelines Electric Power Generation Projects, including Hydro, Thermal, Geothermal New Technologies, as well as Transmission and Distribution Projects.

3. TELECOMMUNICATIONS: Modernization and Expansion of Basic Telephone Networks Cellular and Satellite Communications Systems Production of Delivery Communications Equipment.

4. WATER: Water Supply, Waste Water Management, Sanitation.

5. MINING: Metals, Ore, Fuel, Minerals (such as Coal).

6. MANUFACTURING: Automotive Industries, Industrial Equipment, Construction Materials (such as Cement Plant), Fertilizer, Pulp & Paper, Textile, Timber (Wood Products), Chemical, Petrochemical.

7. AGRI- BUSINESS: Sugar Mills, Banana Plantation, Fish Farming.

8. FOOD PROCESSING: Frozen Food, Canned Food (such as Tuna, Sardine, Shrimp, Mushroom, Baby Corn, etc.).

9. TOURISM: Hotel (catered to promote tourism).

10. MEDICAL: Hospital, Pharmaceutical.

11. OTHERS: Which relate to General Manufacturing, Industrial, Infrastructure, Agri-Business.
Not a bad buildout of the business portfolio in just four months. Con men release this sort of nonsense when they are trying to impress a victim. I wonder who it was.
DODGY.
Savings and Loan Equity is a New Zealand MLM scheme, or pyramid, with a trashy web site.
DODGY.
Global Financial Capital Limited, formerly Global Financial Savings And Loans Limited, had a website whose domain name, globalpb.com, expired yesterday, as I draft this. Perhaps they heard I was on my way. Some Engrish from the Wayback machine will have to do.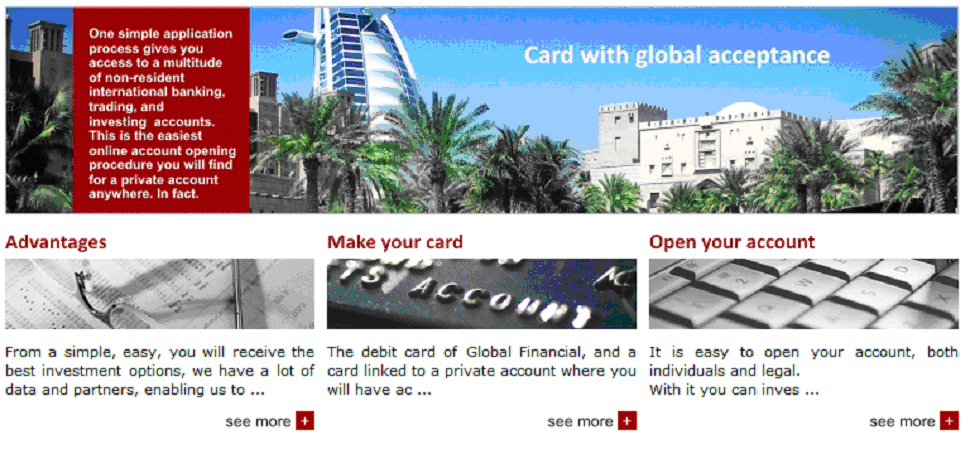 I hope no-one was dumb enough to "make a card" with them.
DODGY.
Finansa Capital Trust is being hawked around as a shell by EuroFinanzza.com, a Spanish offshore specialist active in NZ, that has an almost indistinguishable sister web site.
TAX WHEEZE.
Hatfield Oak Savings & Loan Limited is Auckland Compliance at it again. The website reads like another advance fee scam:
Hatfield Oak International Savings and Loan can provide our clients with Special Project Funding Program for Qualified International Project owners who are having difficulties in obtaining conventional construction and development funding from traditional local Banks and Financial Institutions.
…and the due diligence has already been done here and here. Folk lost money.
DODGY.
Offshore Savings and Loans is owned by a small local accounting firm, Gannaway Mercer; presumably a tax efficient vehicle of some kind.
TAX WHEEZE.
Advantage Savings & Loans Limited is Auckland Compliance again, this time teamed up with an Australian non-bank lender that as far as I can see has never been accused of anything by anybody; except of poor taste in partners, by me.
DODGY.
Technologies Savings & Loans Limited has a spectacular and deeply unconvincing run of former directors from across the globe, and by way of a break from Auckland Compliance, introduces a new not-good company agent, NZ Securities Limited. In other respects, it might as well be an Auckland Compliance job: there is a crap ungrammatical glossy web site offering international payment services, including this misleading depiction of the legal background (the "licence number" they proffer is just their company registration number):
TSL Financial Services is a brand name under Technologies Savings and Loans Limited which provides offshore financial services with License No 2084399 under New Zealand Law (Companies Act 1993).
DODGY.
Pacific Alliance Savings & Loan Limited is an Auckland Compliance outfit that never did anything traceable and is now being struck off.
DODGY.
New Ring Financial Holdings Limited may have marketed prepaid charge cards to Japan at one point but that's all I've turned up about them.
DODGY.
Guardian Fiduciary Trust Limited, formerly known as Capital Conservator Savings & Loan Limited, is yet another Auckland Compliance outfit. Its web site still has the old name but redirects to a new site. As of September 2nd, 2009, Macedonia wasn't too pleased with Capital Conservator Savings & Loan Limited:
Macedonian police have detained a 29-year-old businessman from Montenegro who is suspect of laundering USD 30 B through his company in the country.

The man with initials B.M. was arrested at the Blace border crossing point on the Macedonia-Kosovo border, BGNES reported.

He is charged with money laundering through his company Capital Conservator, which is registered in the Macedonian capital Skopje.

The alleged laundering was perpetrated after 2007. B.M.'s companies Capital Conservator Treasury Services, Swift Private Transfers Limited, Rusape LLC Fiduciary Holding Company LLC, Capital Conservator Savings and Loan Ltd have received about USD 30 B in bank transfers from abroad to their accounts.

The transfers originated mostly in Panama, Uruguay, and Switzerland. The arrested man's firms then transferred the funds they received to bank accounts in third states without the required accounting documentation.

The Macedonian police authorities do not rule out the possibility that the detained man is a part of an international money laundering network.
It's just a wild stab in the dark, but BM could be the Macedonian former director of Capital Conservator Savings & Loan Limited, Borko Markovic, who stepped down (ahem) on 2nd  Sep 2009. According to this thread Markovic did three months in jail (in which case the $30Bn moneylaundering charge probably didn't stick).
DODGY.
Providence Savings & Loan Limited started out with Auckland Compliance, but its registered address is now that of another venerable agent, Trustees Executors Limited. Providence's web site offers unregulated payment services:
Providence Savings & Loan Ltd offers banking services as a Finance Company not as a bank registered with the Reserve Bank of New Zealand. The Company may carry on the business of banking and provide financial services to the public outside New Zealand including deposit taking and lending, debit and credit card services, issuing of financial guarantees and instruments, cash management services, investment management, payment services, and cheque issuing. The Company may not use the words "bank", "banker" or "banking" in its name or title and may only use them in its advertising if it also includes a statement that the company is not a registered bank.
but makes the curious remark
In practice the company aims to provide services only to clients that are known to the owners, directors and their immediate employees or their professional advisors and business partners and only strictly in accordance with the laws of New Zealand.
Which rather invites the question – why have a website, then?
DODGY.
First Pacific Savings & Loan Limited is our final contribution from Auckland Compliance. It is another ropey banking site:
First Pacific Savings & Loan Ltd. is a registered offshore Finance Company, based in New Zealand and specializing in Management services. As an offshore finance company we are able to offer almost any services a licenced bank can offer.
Over to the Reserve Bank of New Zealand:
The Reserve Bank advises that caution should be exercised by anyone considering doing any form of business with entities that promote themselves as "New Zealand offshore finance companies", or use similar descriptions, and that offer financial services either on-line or from locations outside of New Zealand.
DODGY.
A couple of pretty normal looking New Zealand companies, Savings and Loans Limited, and Savings and Investment Limited, and two subsidiaries of theirs, round out the picture. Time for some more lower case.
Normal * 4
That's thirty-six companies; my opinion breaks down as follows
| | |
| --- | --- |
| Normal | 4 |
| Dormant | 1 |
| TAX WHEEZE | 4 |
| WEIRD CZECH BANK | 4 |
| SCAM | 1 |
| DODGY | 22 |
I'm glad the companies in the whole Register don't sustain the level of dubiousness that, in my personal opinion, pervades this little nook.
Anyway yes, some more warnings from the Reserve Bank might be a good idea. Another thing: names tell you a lot, until the crooks find better camouflage.
Background reading: Many of the doubtful pitches made by these companies include slightly cryptic offers of tax avoidance schemes. For why that can just be one more scam sign, see this long but interesting post from Nick Shaxson, on how offshore tax avoidance schemes that purport to deceive the tax man can end up deceiving the tax avoiders.