Boston's paper of record is effectively covering up for Massachusetts gubernatorial candidate Charlie Baker by failing to cover a growing pay to play scandal in New Jersey, with Baker as one of its central figures. David Sirota has been doing impressive sleuthing, and his latest report, which we'll cover shortly, reveals that Chris Christie is persistine in his effort to hide information that presumably implicates Baker.
Some background from a post a month ago:
Sirota showed how that Baker made a $10,000 donation to the New Jersey Republican Party shortly before Christie officials gave Baker's firm a pension management contract. That donation ran afoul of the Garden State's pay-to-play rules that bar contributions from executives and partners of entities that manage state pension funds.

New Jersey launched an investigation into Sirota's charges and announced that as a result, it was exiting the contract with Baker's firm.

In a sign that Sirota is drawing blood, Christie himself, as well as members of his administration, have launched personal attacks on Sirota rather than making honest rebuttals to his charges (another strategy has been to misrepresent the stringent requirements of the state pay-to-play law). The paper of record in Massachusetts, the Boston Globe, has yet to deign to report on this scandal. [Update/correction: The Boston Globe has in fact reported on the story. Its only account was on Baker's denial two months ago, which has been trumped by the investigation finding and the cancellation of the contract with Baker's company].
Here are the latest developments in this sorry saga from Sirota late on Monday:
As chairman of the Republican Governors Association, New Jersey Gov. Chris Christie has helped Charlie Baker with millions of dollars worth of ads supporting his Massachusetts gubernatorial campaign. But that's not the only way he may be boosting the GOP candidate in the final weeks of a close election: Christie officials are blocking the release of the findings of New Jersey's pay-to-play investigation into Baker…

When the campaign donations and subsequent pension contract came to light in May, Democrats criticized Baker, who was then launching his 2014 campaign for governor of Massachusetts. In response, New Jersey launched a formal investigation into Baker's contributions. The Newark Star-Ledger reported at the time that Christie officials "said the review would take several weeks."

Five months later, with Baker now neck-and-neck in the polls with Democratic Attorney General Martha Coakley and backed by more than $5 million from the Christie-led RGA, Christie officials have denied an open records request for the findings of the investigation.

In a reply to International Business Times' request for the findings of the audit under New Jersey's Open Public Records Act, Christie's Treasury Department said the request is being denied on the grounds that the documents in question are "consultative and deliberative material." Despite officials' assurances in May that the probe would take only weeks, the New Jersey Treasury said in September that the investigation is still "ongoing" — a designation the department says lets it stop the records from being released.

IBTimes is appealing the open-records denial to the state's Government Records Council. Neither Baker nor Christie responded to requests for comment on the issue.

General Catalyst and Baker have denied that Baker had anything to do with persuading Christie officials to invest in the firm. To try to verify that assertion, IBTimes filed a separate request for any General Catalyst documents sent to the New Jersey Department of Treasury prior to its investment. Those documents would show whether General Catalyst specifically promoted Baker's involvement in the firm when pitching its investment to New Jersey.

Christie officials are pushing back the due date to release those documents to Nov. 6 — two days after the election.
The failure of the Globe to take notice of this scandal, particularly given Christie's heroic efforts to keep it under wraps, is a disgrace.
Particularly if you are in Massachusetts, please call or e-mail the Globe's managing editor for news, Christine Chinlund and tell her the Globe is showing favoritism rather than acting as a news outlet by ignoring a growing scandal focused on a candidate for the state's most powerful office.
Chinlund's e-mail is: chinlund@globe.com and her phone is 617 929-3134.
It is also revealing that the Globe does not have an ombudsman. So much for its commitment to journalistic ethics.
The other approach is to show up the Globe by getting the word out through social media. Tweet the story, either our summary or Sirota's latest account, and post them on FaceBook. If the press refuses to do its job, it's time for the Web-savvy to do it for them.
Update: Late this afternoon, the Globe weighed in, but the headline spins the scandal as a Democratic tempest in a teapot: Democrats decry late release of investigation of Baker donation. And the opening section fails to mention that Baker's donation looks to have been an example of "pay to play" and runs afoul of New Jersey's stringent conflict laws. These are the first two paragraphs:
The New Jersey state treasurer's office will not publicly release its review into the legality of GOP gubernatorial candidate Charlie Baker's controversial donation to Governor Chris Christie's state party until after the Massachusetts gubernatorial election, the Globe has learned.

Democrats, including aides to Baker's Democratic rival Martha Coakley, are crying foul, noting that Christie — as chairman of the Republican Governors Association, which has spent about $8.4 million in television ads to back Baker — has a vested interest in keeping the review under tight wraps until the campaign is over.
In the online version, "pay to play" does not appear until the third paragraph, and there's a very large ad inserted in the article between the second and third para. I had to scroll down in my browser to get to the third para. How many readers will skip past the article, based on the headline, or not read it in full? And as before, the account is larded with defenses of Baker: "Democrats have tried to tie it to a $15 million New Jersey pension fund investment with a Cambridge-based firm where Baker worked." Um, the person who has ferreted out the relationships is David Sirota, a reporter who is going after pay to play scandals in both parties.
Here's how it formats on my machine. Note that the text doesn't even appear above the fold; the large photo of Baker more than fills the height of the screen: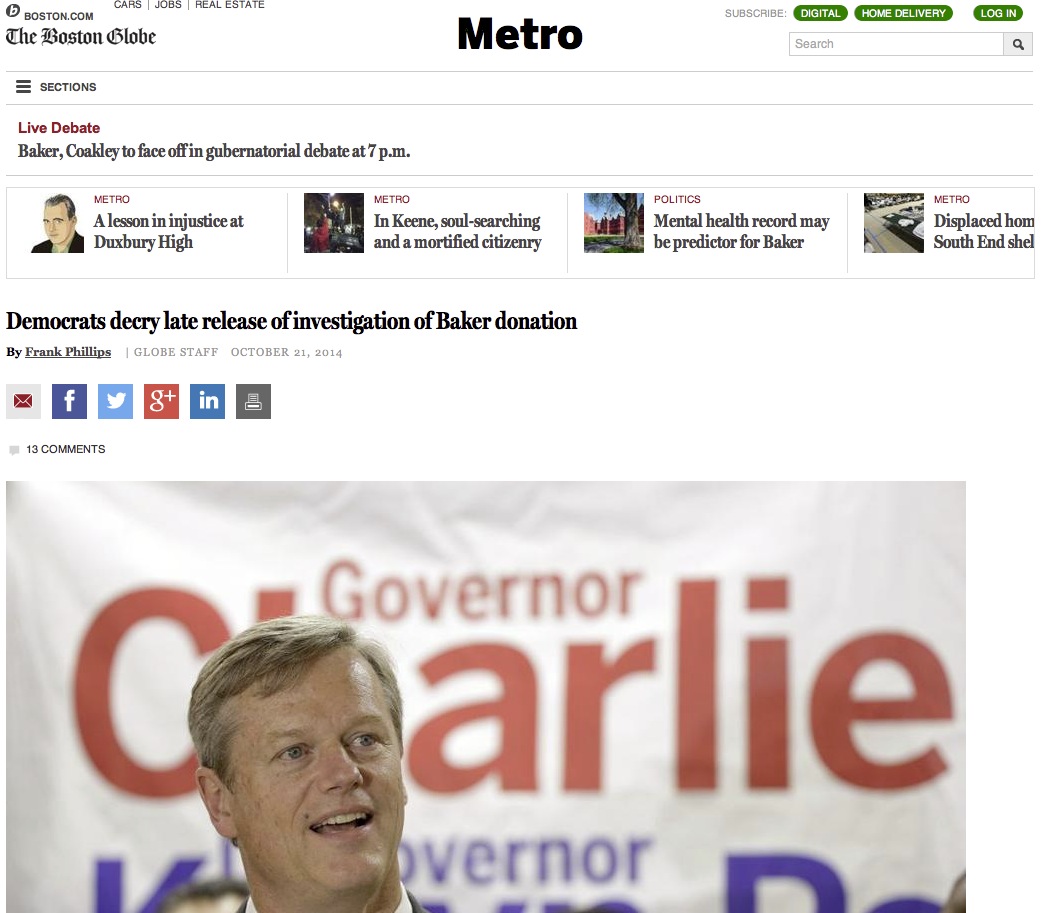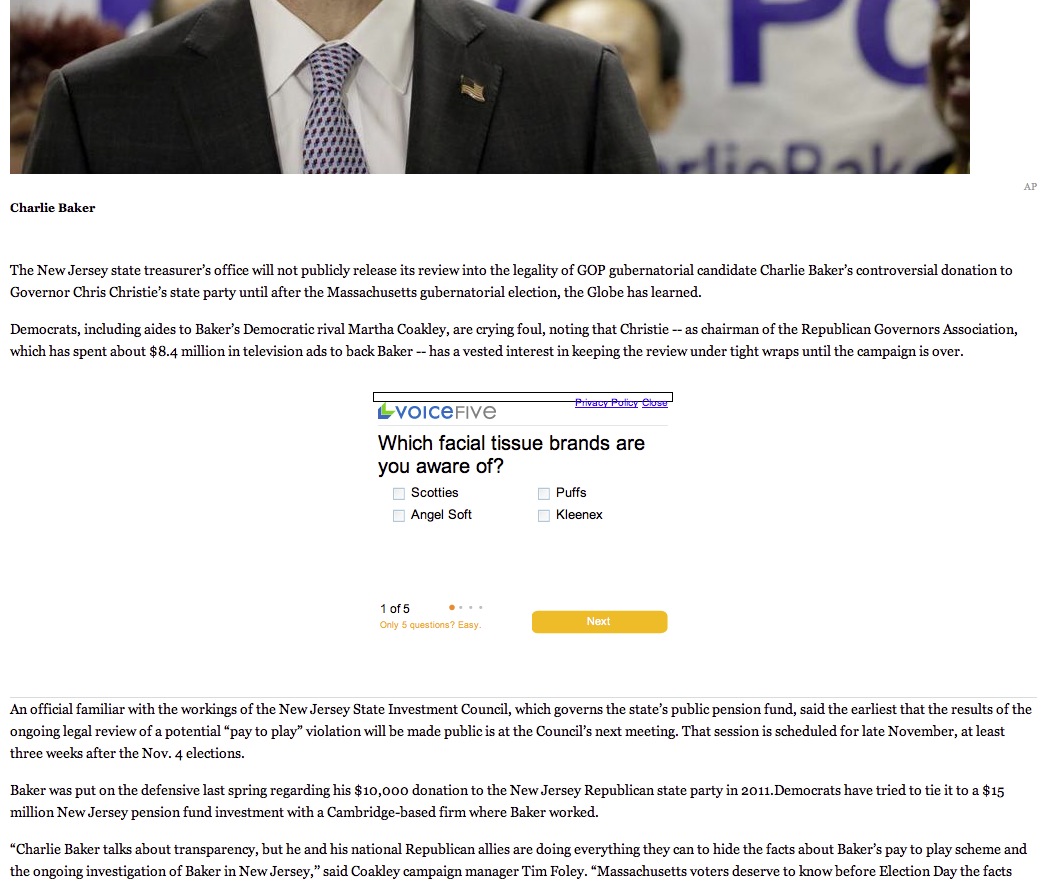 If the formatting is simply a mistake, it nevertheless turns out to be awfully convenient for Baker.