By Lambert Strether of Corrente.
TPP/TTiP/TISA
List of traitors in House and Senate, with phone numbers. Hat tip, reader Vatch. Be sure to visit them when they return to the district. If a traitor is mentioned in Water Cooler, their name is in bold.
Trade ministers from the U.S. and 11 other nations from both sides of the Pacific will meet in Hawaii next Tuesday to attempt to finalize what would be the world's largest regional trade and investment agreement: the Trans-Pacific Partnership. But while the pact has general public support in most of the countries involved, there are also deep partisan divisions in some of them over the issue" [Pew Research].
"One major element, though, of TPP remains far too up in the air: the heart of an FTA itself—net market access gains. U.S. dairy exporters are still waiting to see commercially meaningful access for all products to the highly protected markets of Canada and Japan" " [AgWeb].
Sanders
Talking Points Memo reader survey: Readers support Sanders (44.8% to 36.6%) but think Clinton will win (78% to 16.5%) [Talking Points Memo]. Not a representative sample, but influencers.

"Sanders' supporters, who number among the most intense partisans in the primary, have not helped close the gap" [WaPo].
The S.S. Clinton
Clinton suggests the minimum wage is a local issue [Truth Digest]. Eesh. "Leave it up to the states"?

Quinnipiac poll: "Former Secretary of State Hillary Clinton is behind or on the wrong side of a too-close-to-call result in matchups with" Rubio, Bush, and Walker [Quinnipiac]. The election is 474 days away; I don't think these top-line numbers mean much, especially in state polls. It's Clinton's persistently poor trust numbers that might be more concerning to her campaign. But despite them, people seem willing to vote for her anyhow. Lowered expectations?

"A day after proposing higher capital gains taxes on short-term investors, Clinton raised at least $450,000 last night at the Chicago home of Raj Fernando, a longtime donor. His firm, Chopper Trading, specializes in high-frequency transactions and was recently purchased by Chicago-based competitor DRW" [Crains Chicago Business]. "Clinton's summertime fundraising circuit highlights a central tension of her campaign: how to encourage financial executives to open their wallets for her presidential effort even as she comes out with plans aimed at reining in multimillion-dollar paychecks."

Transcript of recent Iowa survey of Democrats [Bleeding Heartland].
Republican Clown Car
 Donald Trump to Tour U.S.-Mexico Border to Draw Attention to Illegal Immigration" [Wall Street Journal]. That should be fun.
Stats Watch
MBA Mortgage Applications, week of July 22, 2015:  After swinging wildly the prior two weeks, the purchase index came in little changed in the latest week" [Bloomberg].
FHFA House Price Index, May 2015: "Year-on-year, FHFA's reading is a solid plus 5.7 percent which is the best rate since April last year" [Bloomberg]. "The index, at a level of 222.81, is about where it was way back in the bubble days of April 2006 and is 1.8 percent below its record peak in March 2007."
Existing Home Sales, June 2015: "Existing home sales were very strong in June, up 3.2 percent to a higher-than-expected annual rate of 5.49 million which is the best since the bubble days of February 2007" [Bloomberg].
"The percentage of job seekers relocating for new positions declined in the first half of 2015, suggesting that as the recovery spreads, individuals are able to find better employment opportunities in their local market" [Econinterest]. I don't know what the word is for a "new normal" that just bumps along rocky ground, never collapsing, never soaring, but it isn't "recover." "Decovery"? As in I used to be covered, but now I'm not? Or I used to have cover, but now I don't?
Trucking index soft (but subject to backward revision and not necessarily representative [Econintersect].
"Over the last three months, Apple grew its revenues by 33%, saw its profits increase by 38% to $10.7 billion, put away more than $202 billion in cash for a rainy day — and yet lost more than $60 billion in market value in just three minutes on Tuesday" [Fortune]. "The reason for this initially mind-boggling disparity? Expectations." I don't know about you, but I've been getting an awful lot of promotional giveaway popups for the Apple Watch recently….
"[O]ne way or another there will be an enormous amount of volatility within the Chinese economy, not just because it is a relatively poor developing country, which have always been more volatile economically than advanced countries, but also because it is so highly dependent on investment to generate growth. Hyman Minsky argued that economies driven by investment are extremely volatile and overly susceptible to changes in sentiment, and he is almost certainly right" [Michael Pettis].
"John McCormick, a senior managing director at Blackstone Group LP, has been … a tireless evangelist for what are called liquid alternative investments, or "liquid alts." Like hedge funds, they invest in everything from simple stocks and bonds to all sorts of complex derivatives and other 'alternative' assets. The main difference is that liquid alts are packaged as mutual funds and marketed to retail investors who can't invest in traditional hedge funds" [Reuters]. "Though critics complain about high fees, opaque strategies and other factors that they say make liquid alts inappropriate for small investors, these products have become one of the fastest-growing types of mutual fund."
"[M]any on Wall Street worry that junk bonds, bank loans and esoteric investments held by some of those funds will be extremely hard to sell if the market turns, leaving prices pummeled in a rush for the exits" [Wall Street Journal, "Hedge Funds Gear Up for Another Big Short"]. Not sure how "Son of Big Short" happens without CDOs.
"It is an inherent underpinning of "free markets" that they must remain open for trading during regular market hours unless there is a catastrophic event. [Yet] Greece's stock market has been closed for more than three weeks. China is officially reporting that it is experiencing 7 percent economic growth but 20 percent of its stocks on its stock exchanges remain halted from trading. … And while the U.S. stock markets are indeed trading, far too much of these markets is trading in the dark" [Wall Street on Parade].
"Factom is using the blockchain to build a permanent and secure land title record in Honduras, one of the poorest countries in Latin America, where land-grabbing and corruption are rife" [Reuters].
Black Injustice Tipping Point
Sandra Bland: "The dashboard video camera of a traffic stop in Texas of a black woman later found hanging dead in her jail cell was not edited but efforts are being made to repost it, Texas officials said on Wednesday, citing technical issues" [Reuters].
Sandra Bland: "A man leaves the truck in the center of the frame at 25:05. For the next 15 seconds, he walks toward the right of the frame and leaves. At 25:19, he suddenly appears again, promptly disappears, then returns at 25:22. The same footage of him walking is subsequently repeated." [Medium].
"What happened to Sandra Bland in cell 95? Debate continues with video release" [Los Angeles Times]. Good round-up.
"Sousaphonist serenades Confederate flag supporters in Columbia" [Charleston City Paper]. Seems to have gone viral:
"ExplainedELI5: Why is it so controversial when someone says 'All Lives Matter' instead of 'Black Lives Matter'? [Reddit].
Corruption
"Federal judges vacated five of imprisoned former Illinois Gov. Rod Blagojevich's (D) convictions in a unanimous ruling that will prompt a retrial… [T]he decision from the 7th Circuit Court of Appeals questioned whether his proposal to trade a cabinet appointment in exchange for appointing top Obama aide Valerie Jarrett to the Senate seat is actually a crime" [The Hill]. Why don't we just stop all the hole-in-corner stuff and put cabinet appointments on the open market?
"Three Navy admirals forced into retirement after being linked to a bribery scandal had enjoyed fancy dinners and cigars, sightseeing trips, shopping binges and high-value hotel accommodations from the key figure in the case: colorful Singaporean businessman Leonard Glenn Francis" [Los Angeles Times]. Singapore?!
"The long-awaited Financial Conduct Authority's (FCA) report into Royal Bank of Scotland Group Plc's (LON:RBS) treatment of distressed business customers has been delayed again, The Times has reported" [Invezz]. ("Lawrence Tomlinson, who acted as an adviser to former Business Secretary Vince Cable, had accused RBS of systematically sucking cash out of viable small businesses" [Reuters].)
"Singapore police said Wednesday they have frozen two bank accounts as part of an investigation into 1Malaysia Development Bhd., the troubled state-investment fund with links to Malaysian Prime Minister Najib Razak" [Wall Street Journal, "Singapore Freezes Two Bank Accounts in Connection With 1MDB Probe"]. Support of [Najib] "appears strong among the United Malays National Organization, the bedrock of a coalition that has ruled Malaysia since 1957." Thing is, the UMNO is a certainly a beneficiary of policies that an ISDS court would consider trade barriers. So it will be interesting to watch Najib try to square the circle of signing TPP and maintaining their support.
"China feared that casinos in Macau owned by the billionaire gambling magnate and Republican party funder Sheldon Adelson were used by US intelligence agents to entrap and blackmail Chinese officials" [Guardian].
 "Italian police said on Wednesday they had seized assets worth 2 billion euros ($2.2 billion) and issued 41 arrest warrants in raids on gambling companies in Italy and abroad run by the 'Ndrangheta mafia organization" [Reuters]. "Police believe the firms, including six that were operating out of Malta, were used to launder vast sums of illicit cash."
"[New York State "ghost committees"] have more than $14.7 million in their campaign accounts, more than 15 percent of the total reported by every state and local politician. Many belong to former elected officials who are lobbyists, deceased or incarcerated [Capital New York]. The categories "lobbyists, deceased or incarcerated" being not necessarily mutually exclusive.
Police State
"NYPD Commissioner Bill Bratton today called for the state to change resisting arrest to a felony charge" [Observer]. See, if resisting arrest had been a felony, the NYPD would never have choked Eric Garner to death. Bratton "acknowledged that many cases may not be legitimate—advocates complain that resisting arrest is often the only charge against someone who was not resisting arrest for something else and that it's often tossed out. Mr. Bratton said the department would expand its CompStat tracking program to monitor how many such charges are vacated." So that's alright then. Eventheliberal Deblasio's first appointment, one might remember.
Gaia
"The Great Recession, not natural gas, the main factor in CO2 emissions drop" [Raw Story].
Class Warfare
"The financial crash and its fallout will ultimately cost the hardworking American people more  than $20 trillion in lost gross domestic product (GDP). Those losses include historically high unemployment, underemployment, long-term unemployment, foreclosures, homelessness, underwater mortgages, bankrupt businesses large and small, lost savings, deferred or denied retirements, educations cut short, and so much more (PDF) [Better Markets, "The Cost of the Crisis"].
News of the Wired
"Mystery of dead man and his 1,200 guns deepens" [Los Angeles Times]. Like L.A. Confidential, but creepily real.
"Brisk business for drug baron T-shirts after escape" [Digital Journal].
"Health officials kill proposal to curb mercury dental fillings" [McClatchy].
"Nigel Richards, a New Zealander, won Scrabble francophone world championship even though he cannot speak any French" [France24].
"Residents on Deming Street are asking town officials to reconsider a proposal to convert an empty field in their neighborhood into a community garden" [Hartford Courant].
"4 Hours Scrolling Through Facebook Before Bed Referred To As 'Winding Down'" [The Onion]. Yeah, it was too much for me. So I switched to Twitter.
* * *
Readers, feel free to contact me with (a) links, and even better (b) sources I should curate regularly, and (c) to find out how to send me images of plants. Vegetables are fine! Fungi are deemed to be honorary plants! See the previous Water Cooler (with plant) here. And here's today's plant (Dimitri):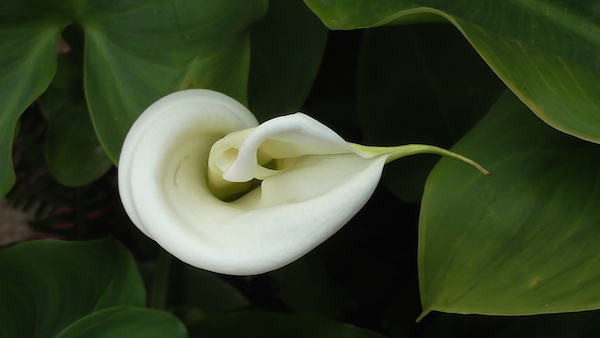 A life spiral….
NOTE: Please free to test the donation dropdown, where the amount you select should finally appear on the PayPal form! Thanks to kind reader DK, who fixed my code. (And if you have problems, please let me know using the contact link, so as not to clutter the thread.)
If you enjoy Water Cooler, please consider tipping and click the hat. I need to keep my server up! And take a trip….