Researchers developing autonomous snake-like robots to support search-and-rescue teams Phys.org
The sham of ECB independence Bill Mitchell
Firms that burn up $1bn a year are sexy but statistically doomed The Economist
Amazon Counts Its Suitors: 238 Want to Be Home for 2nd Headquarters NYT
Cash prizes for bad corporate citizenship, Amazon edition City Observatory
Harvey Weinstein: how lawyers kept a lid on sexual harassment claims FT. Through NDAs, ubiquitous in Silicon Valley.
Climate change already costing U.S. billions in losses, congressional auditor says in report Japan Times
Democrats Are Letting the Climate Crisis Go To Waste The Intercept
Puerto Rico
Shifting The Map Post-Maria: Estimates of Puerto Rican Arrivals Stateside by Age & State 80grados

'Days were lost': Why Puerto Rico is still suffering a month after Hurricane Maria Miami Herald

Hurricane Maria: US postmen emerge as heroes of Puerto Rico's recovery effort Independent
Brexit
Catalonia
Referendum, in Lombardia non c'è ancora il dato sull'affluenza: il voto elettronico fa flop La Stampo (Google translation). You read that last word as "flop" correctly. DG comments;
La Stampa above reports that the turnout in Lombardy was below 40 percent, which is very low for Italy. Even during municipal elections, Italians get turnouts over 60 percent. Lombardy is lefty (not as left as, say Piedmont or Umbria). So they boycotted the referendum.

Just to make smoke pour out of Lambert's ears, you'll note that the autonomists, who are neoliberals in the main, decided to use electronic voting machines, which are called "voting machines" in Italian. Un flop. Italians normally vote with paper ballots.

Veneto is a different case. It has gotten more and more conservative and provincial. A shame, given the 1100 years of the Venetian Republic and its profound influence on the Mediterranean.
China?
Anti-corruption chief Wang Qishan steps down from top Chinese leadership as Xi Jinping's name is enshrined in Communist Party charter South China Morning Posts

How Effective Is CCP Propaganda? The Diplomat

Big data meets Big Brother as China moves to rate its citizens Wired
Japan's Abe to push pacifist constitution reform after strong election win Reuters
Trump to Golf With Abe, World No. 3 Matsuyama During Japan Visit Bloomberg
BFFs:
JA notes Trump called Abe after victory & congratulated him for 40 mins: "They address each other Shinzo & Donald."https://t.co/hV1TnkWPqs

— Noon in Korea (@NoonInKorea) October 24, 2017
North Korea
North Korea Is No Longer the Hermit Kingdom — but How Long Will China Be Its Lifeline? NYT (Re Silc).
Syraqistan
Breakingviews – Cox: Aramco clouds Saudi's coming-out party Reuters

Steve Bannon's already murky Middle East ties deepen McClatchy
Senators Stunned to Discover We Have 1,000 Troops in Niger Daily Beast (Re Silc).
The Pentagon Can't Say What Happened In Niger. Local Officials Say Troops Were Set Up Buzzfeed
Top U.S. military officer seeks to address criticism of fatal Niger operation Reuters
Eugene Robinson: Congress needs to reclaim its war-making powers Salt Lake Tribune
New Cold War
Trump Transition
"The Crowning Insult": Federal Segregation and the Gold Star Mother and Widow Pilgrimages of the Early 1930s Journal of American History
Democrats in Disarray
The DNC picked a bunch of sleazy lobbyists as superdelegates, can't figure out why no one is donating Boing Boing

Even the Anti-Trump Resistance Can't Unite the D.N.C. Vanity Fair. "Even"? "Several factors are at play in the D.N.C.'s anemic performance, including the state-level atrophying of the party structure in the years after when Barack Obama's election was party leader." Fixed it for ya.
Our Famously Free Press
Publishers might have to start paying Facebook if they want anyone to see their stories Recode. Ha ha ha. Never trust a platform.

YouTube censors low-church theology:

These videos were deemed too controversial so YouTube suspended them. pic.twitter.com/2G3MPp1IGi

— Ryan Reeves (@RyanMReeves) October 19, 2017

A reader comments: "I subscribe to his channel, not to your taste, but a basic systematic theology and religious history from a low church protestant perspective, NOT red hot stuff."
Imperial Collapse Watch
Class Warfare
Dutch courage—Alcohol improves foreign language skills Medical Xpress (CL).
Antidote du jour (Furzy Mouse):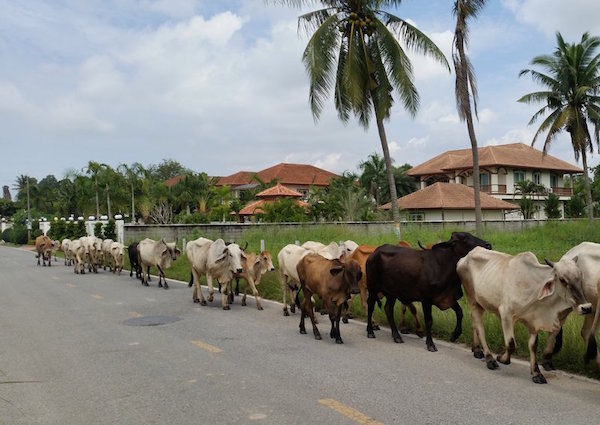 Furzy Mouse writes: "High noon parade in Baan Amphur, Thailand."
See yesterday's Links and Antidote du Jour here.
.