By Lambert Strether of Corrente.
Readers, there's very little news flow, and frankly, I slacked off! And who doesn't want slack? –lambert
Politics
2018
"In the Heart of Trump Country, His Base's Faith Is Unshaken" [AP]. A reporter's equivalent of "What Are the Drums Saying, Booker?" I suppose. "The Whitts, like many people here, cobble together a living with a couple jobs each — sometimes working 12 or 15 hours a day — because there aren't many options better than minimum wage. There's the school system, and a prison, and that's pretty much it." When a political class orchestrates a situation like this, what do they expect?
New Cold War
"New York's Attorney General in Battle With Trump" [NYT]. "Nonetheless, Mr. Schneiderman is seen by some as a possible backstop should the president exercise his pardon power to help those who might become ensnared in the investigation of possible Russian involvement in the 2016 presidential election being led by Robert S. Mueller III, the special counsel. Federal pardons do not apply to violations of state law."
Realignment and Legitimacy
"How to crush Trump" [Ryan Cooper, The Week]. "The only reliable way to stop Trump and the Republican Party that has stood firmly behind him for his entire presidency is through strategic political defeat. In 2018, the GOP must be crushed at the ballot box, their congressional majorities taken, and Congress' investigative powers put back to good use — and not just on Russia, but also on the unprecedented money corruption that suffuses the Trump White House." And on policy:

Meanwhile, Democrats must strengthen their own political base by strengthening democratic freedoms. They should make D.C. and Puerto Rico states, establish an inalienable right to vote, make Election Day a holiday, and strengthen and update labor law to spark a new wave of union organizing. Then they must overhaul the economy to cut the middle and working class in on the fruits of the last 40 years of economic growth, actually provide health care for all, and perhaps strengthen the welfare state for parents and children. Only by establishing a new political economy that functions for the great majority of the citizenry — as FDR and the New Deal Democrats did in the 1930s — can Republicans be firmly exiled from political power. For a political party as diseased as the GOP, a generation in the political wilderness is just what the doctor ordered.

There are some problems with that. First, the Democrat "base" right now is credentialed professionals (the 10%). Neither they nor the Democrat Establishment have any interest in "strengthening democratic freedoms" at all, or else they would already have started doing it, in the eight years they held power. They also have no interest in establishing a "new political economy," since the political economy as it is right now works fine for them, and they believe in it. Hence, the pivot to an appeal to educated suburban Republicans, especially women, since those voters have very little interest in expanding the franchise or reforming the political economy either. I don't see how the death grip of the Establishment can to be loosened, except through continued losses, whether in primaries or the general.
Stats Watch
Consumer Confidence, December 2017: "[T]he consumer confidence index cooled slightly in the December report" [Econoday]. "[V]ery importantly the cooling doesn't include the assessment of the current jobs market where only 15.2 percent say jobs are hard to get vs 16.8 and 17.1 percent in the prior two months." And: "Consumer confidence fell in December, a month after hitting a 17-year high, but the level of optimism among Americans this year was the highest since 2000" [MarketWatch].
Pending Home Sales Index, November 2017: "The pending home sales index has been flat and has not been in line with the strength of final sales of existing homes" [Econoday]. "Housing data in general have been accelerating strongly going into year end but the pending home sales index, though it did rise a sharp 3.5 percent in last month's report for October, has been mostly an exception." And: "This was above expectations of a 0.8% decrease for this index. Note: Contract signings usually lead sales by about 45 to 60 days, so this would usually be for closed sales in December and January" [Calculated Risk]. And: "The rolling averages continue in negative territory. The data is very noisy and must be averaged to make sense of the situation. There is no signs of a surge in home sales, although the trends are now upward. I personally do not believe the new tax laws will affect home sales next year as most people do not consider income tax savings when buying a home" [Economist]. I bet they do if their home is their second or third one!
Mr. Market: "Stock-market volatility could return in a big way in January: Goldman Sachs" [MarketWatch]. "The U.S. stock market hasn't just been unusually quiet in 2017, it has been historically quiet, with basically no volatility or pullbacks, and major indexes shrugging off all manner of headwinds as they rose to a record number of records. However, the calm of this market may soon be coming to an end. That view comes courtesy of Goldman Sachs, which noted that January is by far the most common month of the year for companies to preannounce their quarterly results or provide insight into what their full year could look like."
The Bezzle: "Airlines lose a lot more baggage than they have to admit" [MarketWatch]. "[A]irlines must disclose the number of mishandled baggage reports that travelers file at airline baggage offices — the paperwork where you describe your suitcase and give the airline an address for delivery once it turns up. That turns out to be a key distinction. American Airlines rolled out messaging that notifies customers when a bag didn't make a flight and asks for delivery instructions. United and Delta say they are about to do the same…. But no paperwork means no report, airline executives say." I haven't seen the usual stories about crowded airports, with photos of people waiting, and so on. Did I miss them, or were there no such stories? On your holiday flight (if any), did the number of travellers seem much as normal, or was it light?
The Bezzle: "The government tried to encourage IPOs, but it helped create The Age of the Unicorn" [MarketWatch]. "When legislation dubbed the JOBS Act was signed into law by President Barack Obama in 2012, it was heralded as a faster on-ramp to an initial public offering." (Not by everybody!) "With less stringent reporting requirements, the bill's intent was to reduce much of the regulatory burden and some of the cost of going public…. Instead, the act has added to the cascade of factors helping tech companies stay private longer…. The avoidance of IPOs has been blatant among the 'unicorn' tech startups, companies like Uber Technologies, Airbnb Inc., Palantir Technologies and Pinterest, all of which have stayed private as long as possible. For these companies, money has been easily accessible, thanks in part to the elimination of the 500-shareholder rule in the JOBS Act, combined with an explosion in private funding sources." Goodness, I can't imagine why Uber hasn't gone public. Can you?
The Bezzle: "Another lawsuit filed against Apple for slowing down old iPhones" [MarketWatch]. "Following three suits filed in federal courts in Illinois, Los Angeles and Northern California last week, five lead plaintiffs in Brooklyn, New Jersey and Florida claim in the new suit that AAPL fraudulently hid from consumers the fact that certain iPhones exhibited lower performance over time… '[Apple] was intentionally slowing down performance of older devices to compensate for battery degradation in order to push people to upgrade their iPhones faster,' the complaint states." Not a good look.
Year in Review: "Currently it looks like 2017 unfolded mostly as expected. GDP was at expectations, employment gains were slightly better, but down from 2016 (as expected), housing starts and new home sales were also at expectations…. The key surprises were wage growth disappointed and housing inventory declined further" [Calculated Risk]. McBride's predictions, and how they panned out.
Five Horseman: "Apple, facing class action lawsuits over its alleged crippling of older iPhones, has fallen to last place within the Fab Five" [Hat tip, Jim Haygood].
Today's Fear & Greed Index: 63 Greed (previous close: 64, Greed) [CNN]. One week ago: 72 (Greed). (0 is Extreme Fear; 100 is Extreme Greed. Last updated Dec 27 at 12:39pm.
Black Injustice Tipping Point
Erica Garner:
As of now there are no updates on Erica's condition. She is still in a medically induced coma. Doctors will continue to monitor her over the next few days. We appreciate your individual and collective prayers. You can hold off on monetary donations at the moment.

— officialERICA GARNER (@es_snipes) December 27, 2017
Not the worst news, of course. No word on what the heck the NYPD was doing in her room. "What Is a Medically Induced Coma and Why Is It Used?" [Scientific American]. "Speaking generally, the main effects that these drugs have outside the brain is they reduce blood pressure. So people trying to do this are giving a lot of other medicines to keep blood pressure up and keep the heart pumping in a nice way. You're protecting the brain on one hand and, on the other hand, all areas of the brain are not getting the blood they need necessarily." Can knowledgeable readers comment on induced comas? What and why?
Class Warfare
"World's richest 500 see their wealth increase by $1tn this year" [Guardian]. "The globe's 500 richest people, as measured by the Bloomberg billionaires index, have seen the value of the wealth increase by 23% so far this year, taking their combined fortunes to $5.3tn…. At the other end of the spectrum, the world's 3.5 billion poorest adults each have assets of less than $10,000 (£7,600). Collectively these people, who account for 70% of the world's working age population, account for just 2.7% of global wealth."
"A recent research study by Alison Weingarden at the Federal Reserve's Board of Governors found that wages for relatively low-skilled workers in nonmetropolitan areas of the country have been growing more rapidly than those in metropolitan areas. In a talk yesterday in Montgomery, Alabama, Atlanta Fed President Raphael Bostic provided some evidence that differences in labor supply resulting from disability and illness may be behind this shrinking urban wage premium" [Federal Reserve Bank of Atlanta]. "A recent macroblog post by my colleague Ellyn Terry and the Atlanta Fed's updated Labor Force Dynamics web page have shown that the decline in prime-age [Labor Force Participation (LFP)] is partly a story of nonparticipation resulting from a rise in health and disability problems that limit the ability to work." Lowered supply; increased price. It's an ill opioid epidemic that blows nobody good?
"But so long as daycare is a requirement (and I am not wealthy enough to have either nannies or the ability to make one salary easily work) then it's really going to drive car ownership. If you want to improve car reliance, then this seems like a very pertinent problem and a key place to start putting in some creative thinking" [Observational Epidemiology]. Because, unless you live in Manhattan, it's quicker to get the kids to daycare in your car.
News of the Wired
"This was the year I realized my brain belongs to my phone" [Quartz]. "The best way to eat less junk food is not to limit yourself with raw willpower, but to eat none at all. Eating just one M&M is a lot harder than eating zero. This year, I learned that this is exactly the relationship my brain has with my phone." Get a dumb phone and reclaim your brain! And as a special bonus, you won't be carrying around a sophisticated surveillance device that sends data on your every move to ginormous corporations and the government!
* * *
Readers, feel free to contact me at lambert [UNDERSCORE] strether [DOT] corrente [AT] yahoo [DOT] com, with (a) links, and even better (b) sources I should curate regularly, (c) how to send me a check if you are allergic to PayPal, and (d) to find out how to send me images of plants. Vegetables are fine! Fungi are deemed to be honorary plants! If you want your handle to appear as a credit, pleas s e place it at the start of your mail in parentheses: (thus). Otherwise, I will anonymize by using your initials. See the previous Water Cooler (with plant) here. Today's plant (Nippersmom):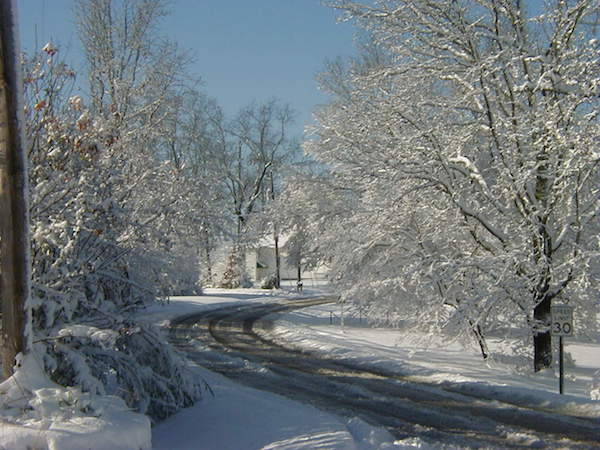 Nippersmom writes: "Taken after our recent snowfall in west Georgia."
A sunny day!
* * *
Readers: Water Cooler is a standalone entity not covered by the NC fundraiser. So do feel free to use the dropdown and click the hat to make a contribution today or any day. Here is why: Regular positive feedback both makes me feel good and lets me know I'm on the right track with coverage. When I get no donations for five or ten days I get worried. More tangibly, a constant trickle of small donations helps me with expenses, and I factor that trickle in when setting fundraising goals. So if you see something you especially appreciate, do feel free to click the hat!