By Lambert Strether of Corrente.
Patient readers, Yves asks me to say that concerns about Richard Vague's recent post will be addressed in due course, hopefully quite soon. –lambert
#COVID-19
At reader request, I've added this daily chart: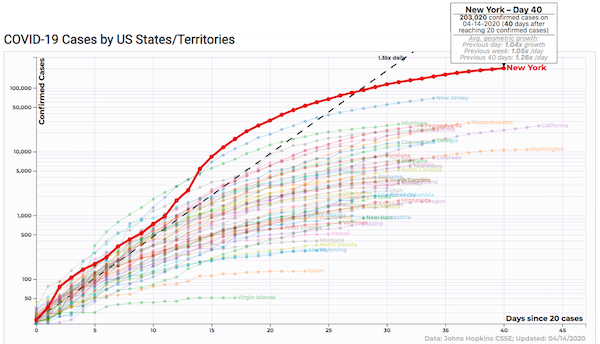 New York slightly, though perceptibly, flattening, still
The data is the John Hopkins CSSE data. Here is the site. I have changed to a logarithmic scale for US States and territories, adjusted for population. See Vice, "How to Read the Coronavirus Graphs":
Quantities that grow exponentially, when depicted on a linear scale, look like curves that bend sharply upward, with the curve getting constantly steeper. On a log scale, exponentially growing values can be depicted with straight diagonal lines.

That's the beauty of plotting things on log scales. Plots are meant to make things easy to understand, and we humans are much more adept at understanding linear, straight-line behavior. Log plots enable us to grasp exponential behavior by transferring the complexity of constantly steepening curves into the simplicity of an exponentially increasing scale.

On a log scale, we want to constantly be making the line more and more horizontal. The general concept of "flattening" is still a good one, but it's never going to curve down. And so what we should be looking, and hoping for is a trend toward horizontal.
I removed population adjustment, based on this exchange from alert reader dk:
A quick chart for those who keep asking for per-capita adjustment:

Here's population vs total death toll one week after 10th death.

No relationship.

As I've been saying, population does not affect pace of spread. All per-capita figures do is make smaller countries look worse. pic.twitter.com/yWsa4YNNxI

— John Burn-Murdoch (@jburnmurdoch) March 29, 2020
I hope this change is helpful. One also notices at once that the New York and New Jersey metroplexes stand out.
Politics
"But what is government itself, but the greatest of all reflections on human nature?" –James Madison, Federalist 51
"They had one weapon left and both knew it: treachery." –Frank Herbert, Dune
"They had learned nothing, and forgotten nothing." –Charles Maurice de Talleyrand-Périgord
* * *
2020
* * *

Biden (D)(1): "Barack Obama's endorsement of Joe Biden, annotated" [WaPo]. "He was the one asking what every policy would do for the middle class and everyone striving to get into the middle class" …. "For the second time in 12 years we will have the incredible task of rebuilding our economy, and to meet the moment, the Democratic Party will have to be bold."… "We have to protect the gains we made with the Affordable Care Act, but it's also time to go further. We should make plans affordable for everyone, provide everyone with a public option, expand Medicare and finish the job so that health care isn't just a right but a reality for everybody." … "a politics that too often has been characterized by corruption, carelessness, self-dealing, disinformation, ignorance and just plain meanness, and to change that, we need Americans of all political stripes to get involved in our politics and our public life like never before." • Worth a read, especially if you're not drinking coffee. It's a good speech, and I might even find it credible and heartening if I didnt know the guy. Noteworthy: In all the platitudinous orotundity, there is exactly one concrete policy statement that mentions a statute: #MedicareForAll is off the table (as indeed Biden already signaled, with his insulting proposal to lower Medicare eligibility to 60. WaPo's annotation: "Since Sanders's exit, Biden has moved further left on health care." Well, they would say that, wouldn't they?) So the deliverable from the domestic policy "task force" will be a shit sandwich. Of course, a miracle could always occur.

Biden (D)(2): "Alexandria Ocasio-Cortez Has Never Spoken to Joe Biden. Here's What She Would Say." (interview) [New York Times].

[AOC:] There's this talk about unity as this kind of vague, kumbaya, kind of term. Unity and unifying isn't a feeling, it's a process. And what I hope does not happen in this process is that everyone just tries to shoo it along and brush real policies — that mean the difference of life and death or affording your insulin and not affording your insulin — just brush that under the rug as an aesthetic difference of style.

There's also this idea that if we all just support the nominee that voters will come along as well. I've flagged, very early, two patterns that I saw [among Biden's campaign], which is underperformance among Latinos and young people, both of which are very important demographics in November. And so, I don't think this conversation about changes that need to be made is one about throwing the progressive wing of the party a couple of bones — I think this is about how we can win.

For example:

They floated this olive branch to the progressive left of lowering the Medicare age to 60. And it's almost insulting. I think Hillary was looking at policies that lowered it to 50. So we're talking about a "progressive concession" that is 10 years worse than what the nominee had in 2016.

No "almost" about it. Biden's people aren't dumb. The Democrat Party model has been appealing to suburban Republicans for some time. I think, to them, Sanders voters are nice-to-have, not have-to-have. That doesn't mean they're right; these are, after all, the same factions of the political class that elevated Trump, and then spent $1.4 billion losing to him and, while Obama was in charge de jure, lost 1000 seats to the Republicans. Meritocrats cannot accept that they are not smart or good, any more than a feudal knight would consider not being a Christian. But it ain't necessarily so.

UPDATE Regarding "if we all just support the nominee that voters will come along as well," I am sure most Sanders supporters remember this statement very well:

"We are not a movement where I can snap my fingers and say to you or to anybody else what you should do, because you won't listen to me. You shouldn't. You'll make these decisions yourself." pic.twitter.com/4pkGmQIr5L

— Mattie Washburn (@MattieWashburn) April 13, 2020

Of course, it's hard to snap your fingers when your knuckles have been smashed by some goon's hard men, so even gestures are not so easy.

Biden (D)(3): You can bet she cleared through Neera:

Stacey Abrams on VP: "I would be an excellent running mate. I have the capacity to attract voters by motivating typically ignored communities. I have a strong history of executive and management experience in the private, public, and nonprofit sectors." https://t.co/WyaJ1xCXNi

— Alex Thompson (@AlxThomp) April 15, 2020

UPDATE Biden (D)(4): "The Media Floodgates Finally Open on Biden Sexual Assault Allegation" [Vanity Fair]. • Oddly late, no? A media wrap-up. (I think the major effect will not be on Biden, but on Sanders voters, some measurable proportion of whom will not vote for a (candidate for whom there is a prima facie case that he is a) rapist on principle.

UPDATE Biden (D)(5): "Old Folks Like Biden, and That Could Really Matter in November" [New York Magazine]. • I'm an old codger, so I get to play this musical interlude:

"With the right medication…"

Sanders (D)(1): "Bernie Offered Us the Future. Why Did He Fail—and What Did We Forfeit?" [Moshik Temkin, Newsweek]. This is the most measured assessment I've seen:

In the end, though, Sanders was defeated by circumstances beyond his control. As in 2016, he faced unrelenting hostility and derision from much of the media, especially cable news networks such as CNN and MSNBC, the channels beloved by the boomers who voted overwhelmingly for Biden. On those networks it is practically impossible to hear anyone remotely friendly to Sanders. He was smeared as sexist and racist and breezily compared to Trump, or the Nazis, or the coronavirus. Financial elites despised him, warning incessantly that a Sanders presidency would "destroy the economy", when what they really meant was that he would try to make the economy more equitable by forcing billionaires and corporations to pay taxes.

Over it all hung the stench of anti-Semitic tropes: Sanders "yelled too much", was "angry all the time", wasn't "a team player", "waved his arms" or "pointed his finger", was "hiding his taxes", harbored secret wealth. One wealthy MSNBC pundit, without offering an explanation, stated that Sanders is "sort of not pro-woman" and "makes my skin crawl" (while another pundit vigorously nodded). The ugly media narrative about so-called Bernie Bros served to erase the fact that his supporters are disproportionately poor, working class, and women, from communities of color, working at Amazon, Wal-Mart, public schools, and the postal service, unable to buy a home or get out of debt, donating what little they could to the Sanders campaign.

Despite all this, Sanders rose steadily in the polls during the race and was the front-runner after the first three state primaries; no other candidate had ever won the first three states and gone on to lose the nomination. It took an extraordinary political consolidation, organized by a panicked Democratic leadership to stop him (reportedly, Barack Obama himself was involved, far ahead of his endorsement of the presumptive nominee earlier today.)

Worth reading in full.

UPDATE Sanders (D)(2): Scahill zeroes in on two key questions:

Just as it is a waste of energy to attack Sanders, it is beneath Sanders to lecture his supporters for having serious questions about Biden's candidacy. Or to disavow former staffers like @briebriejoy. People have every right to be angry at the choices they now face in November.

— jeremy scahill (@jeremyscahill) April 15, 2020

As I have repeatedly said, Sanders should immediately start using his list to raise money for strikers: "There is a tide in the affairs of men, Which taken at the flood, leads on to fortune" (of course, Shakespeare's irony here is savage, since it is Brutus who speaks this line… But it's still true, isn't it? A movement needs to move! And if you want a revolution, there it is. And the beauty part is that this pivot in no way contradicts his undertaking to Biden!

Trump (R)(1): For good or ill, tech profits from social distancing, inserting itself into all human relations mediated digitally in order to extract rents:

President Trump just tapped top tech and telecom execs for his Great American Economic Revival Industry Groups

Includes Apple's @tim_cook, Google's @sundarpichai, Facebook's Mark Zuckerberg

+ Verizon CEO @hansvestberg, T-Mobile's @MikeSievert, Comcast's Brian Roberts pic.twitter.com/RjXDRnr2Rw

— John Hendel (@JohnHendel) April 14, 2020

One might also wonder how many of these executives have side gigs at the bailout trough, and whether that will affect their campaign donations.

Warren (D)(1): Oh, Liz:

I figured Democrats would come together quickly but I don't think I would have imagined Elizabeth Warren releasing a pro-Biden video that includes a shot of him working alongside Tim Geithner pic.twitter.com/S2mpbPiP30

— Ryan Lizza (@RyanLizza) April 15, 2020

I guess this once-famous video of Warren grilling Geithner was just kayfabe? Warren's endorsement of Biden with this video is a gesture of ritual fealty far more grotesque and damaging than the Sanders' endorsement, because it forecloses discussion of Obama's miserable performance in the last crash, by one who might be presume to be an expert in that subject. Gaaaaaaah.

Warren (D)(2): "A call to Elizabeth Warren to resume her candidacy for the 2020 election" [The Hill]. "Stop for a minute and think about this. This means both the presumptive Democratic nominee for president, Joe Biden, as well as the presumptive Republican nominee for president, Donald Trump, have been accused of sexual assault. These are incredibly serious allegations. It is possible that some allegations are not true, but that is not very likely given the number of accusers and the fact that false reporting of sexual assault is rare. How can it be that in the United States, a country of more than 330 million people, and in a field that started with more than 30 candidates, these are the two choices we are left with? It is preposterous and unacceptable." • It is, that.

* * *

"'Voter Suppression At Its Finest': Wisconsin Citizens Say Missing Ballots, Lines and Coronavirus Kept Them from Being Counted in Election" [PBS]. "Over the past several days, reporters interviewed 32 would-be voters who said they were forced to choose between going to the polls during a pandemic and not having their votes counted. More than 500 people, responding to the Milwaukee Journal Sentinel in an online form, said they requested their ballots in advance but did not receive them in time. A picture emerged of voters disappointed, angry and confused about how the election played out in a state that has long prided itself on taking voting seriously." • Well, Bernie did say to postpone it…

Realignment and Legitimacy
UPDATE "Nothing fundamental will change":

"I immediately sought out advice from Bob Rubin."

That's how House Democratic Ways and Means leader Richard Neal describes how he and Pelosi put together the bailout. Don't worry, he also asked Hank Paulson.

Gotta get both co-CEOs of Goldman. https://t.co/AzTB7VTOmH

— Matt Stoller (@matthewstoller) April 13, 2020

"Congress' negotiations on emergency relief funds stall as lawmakers hear from constituents" [CNN]. "Lawmakers are pressing for these programs to work probably more than anyone else in the system right now. They drafted them, they voted for them, they own them. But more importantly, their days are spent inundated with calls from constituents asking for answers or raising concerns, according to more than a dozen CNN has spoken to over the last few weeks." • And they all held hands and leaped over the clip together, both in the House and the Senate, didn't they? High stakes. Oh, and the (current) date for Congress to reopen is May 4, barring an emergency. "Leaders don't want their members back in Washington in April. If they're being candid, they don't want their members back until the country starts to open up. Members don't want to be back either. Whether the economic situation allows that to hold remains to be seen." • I guess our legislators aren't (ugh) "essential workers", then?
Stats Watch
At reader request, I added some business stats back in. Please give Econintersect click-throughs; they're a good, old-school blog that covers more than stats. If anybody knows of other aggregators, please contact me at the email address below.
Retail Sales: "Retail Sales Hit By The Coronvirus in March 2020" [Econintersect]. "Retail sales SIGNIFICANTLY declined according to US Census headline data – and now is in contraction. The three-month rolling average also significantly declined. This is the first major report which was affected by the coronavirus shutdown…. And this was not a complete month so hold on and wait for next month which should be much worse." • "Brutal":
The details of the retail sales report are absolutely brutal. pic.twitter.com/is0WK3p5YP

— Bespoke (@bespokeinvest) April 15, 2020
Industrial Production: "March 2020 Headline Industrial Production In Coronavirus Contraction" [Econintersect]. "The best way to view this is the 3-month rolling averages which declined. The decline was due to the impact of the coronavirus which caused many firms to suspend operations…. Note that manufacturing is in contraction year-over-year – and capacity utilization remained in expansion year-over-year. Consider this report significantly worse than last month."
Manufacturing: "April 2020 Empire State Manufacturing Index Now At Lowest Level In History" [Econintersect]. "The Empire State Manufacturing Survey index again significantly declined to levels not ever seen before…. Key elements significantly declined – it seems we are in a recession. Note that survey responses were collected between April 2 and April 10." • This is survey, however. I would guess that survey and data will, unusually, correspond.
Inventories: "February 2020 Business Inventories Level Remain Elevated But Improved Again" [Econintersect]. "Headlines say final business sales data (retail plus wholesale plus manufacturing) declined month-over-month. The rolling averages improved. Inventories remain elevated. This data set is for the month before any coronavirus impact was observed."
* * *
Commodities: "Wheat Giants Are Starting to Hoard Supply" [Bloomberg]. "The wheat market is starting to get shaken up by the coronavirus pandemic. Panic buying of food might have largely eased at grocery stores, but governments are beginning to get more serious about securing supplies of key staples like grains. From export restrictions to plans to hoard more, there are signs that typical trade routes are being affected as this season nears an end. Shipment limits across the key Black Sea region are already having knock-on effects, with cargoes being held up and offers dwindling in the latest tender by Egypt, the biggest buyer." • "Bread," IIRC, figures largely in slogans devised by insurgents. "Peace, Land, Bread" from the Bolsheviks, for example.
Concentration: "Amazon slashes commission rates for program that gives publishers a cut of sales" [CNBC]. "[Amazon] notified members of the program, known as Amazon Associates, that it will slash commission rates beginning April 21, according to an email obtained by CNBC… Rates are being cut for a number of affiliate product categories. For example, the affiliate cut from purchases of furniture and home improvement products has fallen from 8% to 3%, while the commission rate for grocery products has slid from 5% to 1%, according to a document obtained by CNBC. An Amazon spokesperson confirmed to CNBC that the company notified U.S. associates Tuesday of the fee change. The spokesperson declined to comment on whether the decision was a result of the coronavirus pandemic." • Hmm. Everywhere I hear that online retail is going through the roof, so this would seem an especially opportune time for Amazon to screw its affiliates. Good job, Jeff.
Tech: "Grinning Tim Cook Announces New iPhone Will No Longer Be Compatible With AirPods" [The Onion]. • You know he wants to.
Manufacturing: "Boeing Lost Orders for 150 Max Jets in March" [Bloomberg]. "Boeing's order book for the Max is shrinking as the planemaker works with global regulators to clear its best-selling jetliner to resume commercial flight by midyear. The company couldn't face worse timing for the comeback effort, with airlines that until recently had clamored for the single-aisle aircraft now fighting for their financial lives. The planemaker suspended output of the Max in January and plans to slowly restart manufacturing soon to stress-test its supply chain and avoid flooding the market with unneeded planes. The long grounding may have an unexpected benefit for some cash-strapped customers. If they exercise a clause that allows them to walk away from an order after a 12-month delay, Boeing is typically obligated to refund any advance payments."
Manufacturing: "White House Lauds GM for Quickly Starting Ventilator Output" [Bloomberg]. "GM's one-month sprint to turn one of its car-parts plants into a ventilator production facility prompted Peter Navarro, the White House trade adviser tapped to coordinate Defense Production Act matters, to praise the company for moving "swiftly" and "in Trump time" to manufacture the devices for delivery to hospitals in Chicago and elsewhere."
Honey for the Bears: "Goldman Sees Advanced Economies Shrinking 35% Amid Pandemic" [Bloomberg]. "Advanced economies will shrink about 35% this quarter from the prior three months, four times as much as the previous record set in 2008 during the financial crisis, according to annualized figures from Goldman Sachs Group Inc. How fast economies will rebound is an open question because nobody knows how quickly people can get back to work, New York-based economist Jan Hatzius wrote in a note to clients dated April 13. The number of new virus cases appears to be peaking globally, but the bad news is that 'the improvement is probably a direct consequence of social distancing and the plunge in economic activity, and could reverse quickly if people just went back to work,' Hatzius wrote."
Today's Fear & Greed Index: 40 Fear (previous close: 45 Neutral) [CNN]. One week ago: 31 (Fear). (0 is Extreme Fear; 100 is Extreme Greed). Last updated Apr 15 at 12:17pm. Can't believe the Index made all the way back to neutral yesterday. Wowsers.
The Biosphere
"Evolutionary trees can't reveal speciation and extinction rates" [Nature]. "Evolutionary-tree diagrams, which show the branching relationships between species, are widely used to estimate the rates at which new species arise and existing ones become extinct. New work casts doubt on this approach." • Important: "The novelty and mathematical sophistication of their work lie in showing that we cannot estimate these 'time-varying' speciation and extinction rates…. Louca and Pennell's key result is then to show that there is an infinite number of alternative sets of time-varying speciation–extinction rates that yield the same number of lineages at any given time as does the deterministic lineage-through-time curve. They further show that the most probable estimates of the two rates (calculated by maximum-likelihood methods) do not necessarily identify the correct underlying model — as demonstrated by an analysis of hypothetical cases for which the true time-varying speciation–extinction rates are known." • If I may summarize, it's silly to assume that species evolve at fixed rates.
Health Care
"April 14 Update: US COVID-19 Test Results" [Calculated Risk]. "Test-and-trace is a key criterion in starting to reopen the country. My current guess is test-and-trace will require around 300,000 tests per day at first since the US is far behind the curve. Some scientists believe we need around 800,000 tests per day….. There were 146,614 test results reported over the last 24 hours….
"Ending coronavirus lockdowns will be a dangerous process of trial and error" [Science]. "But what is the exit strategy? 'We've managed to get to the life raft,' says epidemiologist Marc Lipsitch of the Harvard T.H. Chan School of Public Health (HSPH). 'But I'm really unclear how we will get to the shore.' As they seek a path forward, governments around the world must triangulate the health of their citizens, the freedoms of their population, and economic constraints. Could schools be reopened? Restaurants? Bars? Can people go back to their offices? 'How to relax the lockdown is not something around which there is a scientific consensus,' says Caroline Buckee, an epidemiologist at HSPH. Most researchers agree that reopening society will be a long haul, marked by trial and error…. The number to watch in the next phase may no longer be the actual number of cases per day, but what epidemiologists call the effective reproduction number, or R, which denotes how many people the average infected person infects in turn…. To regulate R, 'Governments will have to realize that there are basically three control knobs on the dashboard,' says Gabriel Leung, a modeler at the University of Hong Kong: isolating patients and tracing their contacts, border restrictions, and social distancing."
"Drug Evaluation during the Covid-19 Pandemic" [New England Journal of Medicine]. "After Trump's initial assertions, the FDA — still facing criticism that its delays in approving testing kits for the virus hindered prevention efforts — issued an Emergency Use Authorization (EUA) on March 28 that allowed for use of [chloroquine and hydroxychloroquine] to treat patients with Covid-19. … These developments represent fundamental threats to the U.S. drug-evaluation process. Advocating that the FDA should quickly approve drugs without randomized trial data runs counter to the idea of evidence-based medicine and risks further undermining the public's understanding of and faith in the drug-review process, which requires "substantial evidence" of safety and efficacy based on adequate and well-controlled trials before a drug can be marketed. Though this unprecedented emergency provides a compelling reason for the FDA to act as efficiently as possible, the agency and the medical community can still maintain the highest scientific standards while acting expeditiously. The new EUA represents only the second time the FDA has ever used emergency authority to permit use of a medication for an unapproved indication…. Hydroxychloroquine is already marketed for other conditions, so physicians were allowed to prescribe it off-label to patients with Covid-19 even before the EUA or CDC dose recommendations were issued. In addition, for investigational drugs that are not yet marketed, providers can request "expanded access" for severely ill patients who lack alternative treatment options and are not eligible for clinical trials — permission the FDA nearly always grants. This option has already been used for remdesivir, an investigational antiviral drug whose manufacturer has provided it to more than a thousand patients with Covid-19 outside clinical trials. Even before the pandemic, many conservative and libertarian politicians and advocacy groups supported expanding patients' 'right to try' unapproved experimental drugs. This position has intensified a commonly held but spurious belief that slow processes and overly onerous requirements by the FDA prevent patients from accessing many clinically useful drugs. In fact, the FDA presides over one of the fastest drug approval processes in the world, with a majority of drugs gaining approval in the United States before they are approved in Europe or Canada."
* * *
"Chronicle exclusive: Alameda County 911 ambulance provider weighs furlough during coronavirus crisis" [San Francisco Chronicle]. "In the midst of the coronavirus pandemic, the company contracted to provide 911 ambulance services for Alameda County may soon dial back its operations and furlough many of its 600 employees, The Chronicle has learned. Falck, a Denmark-based health care giant, said transport volume has fallen dramatically since the virus took hold and Bay Area governments implemented stay-at-home orders that have kept people off the streets, temporarily reducing revenue." • Oh.
Our Famously Free Press
"L.A. Times to Furlough Workers as Ad Revenue 'Nearly Eliminated'" [Variety]. "The Los Angeles Times announced on Tuesday that it will furlough some business-side employees and that senior managers will take pay cuts, as advertising revenue has been 'nearly eliminated' due to the coronavirus pandemic. The company will also suspend its 401(k) match for non-union workers, according to a company memo sent by Chris Argentieri, president of the California Times." • This is a shame, because IMNSHO the Los Angeles Times has greatly improved under its new management.
RussiaGate
Class Warfare
"'A Tragedy Is Unfolding': Inside New York's Virus Epicenter" [New York Times]. "In a city ravaged by the coronavirus, few places have suffered as much as central Queens, where a seven-square-mile patch of densely packed immigrant enclaves recorded more than 7,000 cases in the first weeks of the outbreak…. In the month since the virus exploded in New York, it has claimed rich and poor, the notable and the anonymous. But as the death toll has mounted, the contagion has exposed the city's stubborn inequities, tearing through working-class immigrant neighborhoods far more quickly than others." • Just to remove the obvious erasure, the epicenter of #COVID19 is JFK and Newark (and possibly LaGuardia). The aftershocks are being felt in Queens.
"US downturn very harmful to low wage workers and their communities" [Bill Mitchell]. "In terms of total numbers of jobs lost: (a) 12 per cent (341 thousand) have been in above-median pay occupations. (b) 88 per cent (2,507 thousand) in below-median pay occupations. (c) 32.8 per cent of the total (933 thousand) have been in low-pay occupations (in the GFC downturn only 1.3 per cent of the jobs lost were low-paid)." • With handy map of the geographical distribution of job losses so far: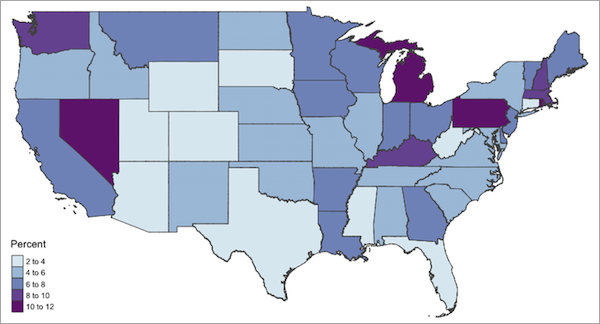 Note that two states Trump must win — MI, PA — are heavily impacted. Mitchell can, at times, be prolix. This post is much more focused and well worth a read.
News of the Wired
UPDATE "Bishop who said "God is larger than" Covid-19 has died from the disease" [CNN]. "Despite warnings from the Centers for Disease Control and Prevention to avoid mass gatherings and maintain social distancing, Glenn said in a sermon on March 22, 'I firmly believe that God is larger than this dreaded virus,' and announced he was not afraid to die." • That's fine, Glenn, you do you, but how many members of your congregation did you infect? Were they afraid to die?
"How citizen scientists can help fight COVID-19" [Los Angeles Times]. "As the new coronavirus continues its assault on humanity, scientists are fighting back by gathering data from an unlikely source: ordinary people. With a smartphone app and a little free time, anyone 18 or older can contribute valuable information that might help bring the COVID-19 pandemic under control, researchers say." • That, in my view, is not "citizen science." It's simply data collection.
* * *
Readers, feel free to contact me at lambert [UNDERSCORE] strether [DOT] corrente [AT] yahoo [DOT] com, with (a) links, and even better (b) sources I should curate regularly, (c) how to send me a check if you are allergic to PayPal, and (d) to find out how to send me images of plants. Vegetables are fine! Fungi and coral are deemed to be honorary plants! If you want your handle to appear as a credit, please place it at the start of your mail in parentheses: (thus). Otherwise, I will anonymize by using your initials. See the previous Water Cooler (with plant)
here
. Today's plant (PM):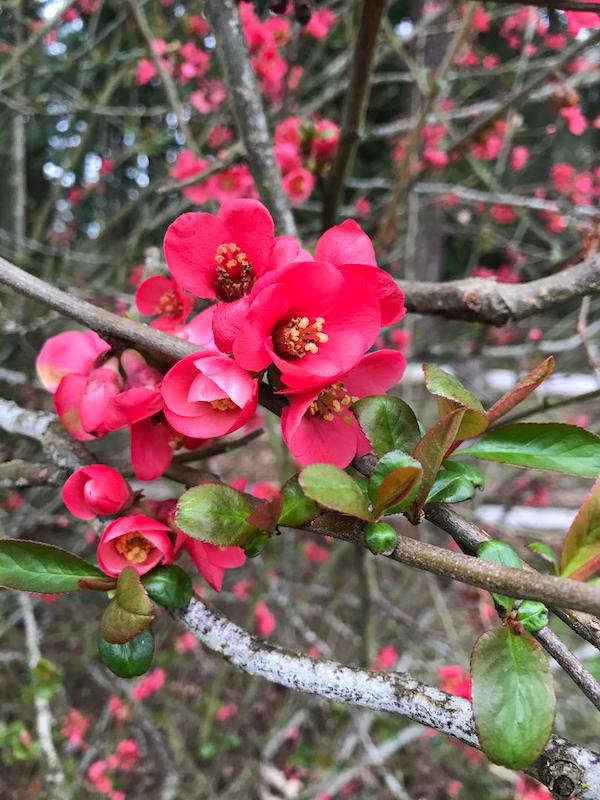 PM writes: "Flowering Quince, Idylwood Park, WA." This photo is a neat illustration of the idea that your subject doesn't always have to be in the center of the photo…
* * *
Readers
: Water Cooler is a standalone entity
not
covered by the annual NC fundraiser. So if you see a link you especially like, or an item you wouldn't see anywhere else, please do not hesitate to express your appreciation in tangible form. Remember, a tip jar is for tipping!
Regular positive feedback both makes me feel good and lets me know I'm on the right track with coverage
. When I get no donations for five or ten days I get worried. More tangibly, a constant trickle of donations helps me with expenses, and I factor in that trickle when setting fundraising goals:
Here is the screen that will appear, which I have helpfully annotated.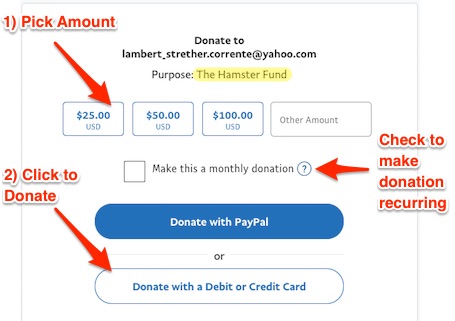 If you hate PayPal, you can email me at lambert [UNDERSCORE] strether [DOT] corrente [AT] yahoo [DOT] com, and I will give you directions on how to send a check. Thank you!