By Lambert Strether of Corrente.
#COVID19
At reader request, I've added this daily chart from 91-DIVOC. The data is the Johns Hopkins CSSE data. Here is the site.
Here are the United States regions (with positivity):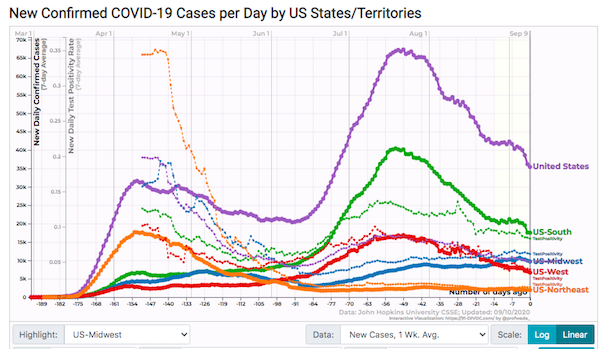 I must say, if the curves continue like this for another couple weeks, I'll conclude we dodged a bullet on school re-openings, horrid anecdotes aside. And the Midwest looks a lot better in the aggregate.
* * *
Politics
"But what is government itself, but the greatest of all reflections on human nature?" –James Madison, Federalist 51
"They had one weapon left and both knew it: treachery." –Frank Herbert, Dune
"They had learned nothing, and forgotten nothing." –Charles Maurice de Talleyrand-Périgord
The electoral map. July 17: Georgia, Ohio, ME-2 move from Leans Republican to Toss-up. Continued yikes. On July 7, the tossup were 86. Only July 17, they were 56. Now they are 91. This puts Biden at 278, i.e. over 270. August 18: Still no changes. August 31: Indiana moves from Likely to Safe Republican. September 9: No changes. Despite the sturm and drang, and the polls, the consensus on the electoral college remains the same: Biden ahead, Trump within striking distance.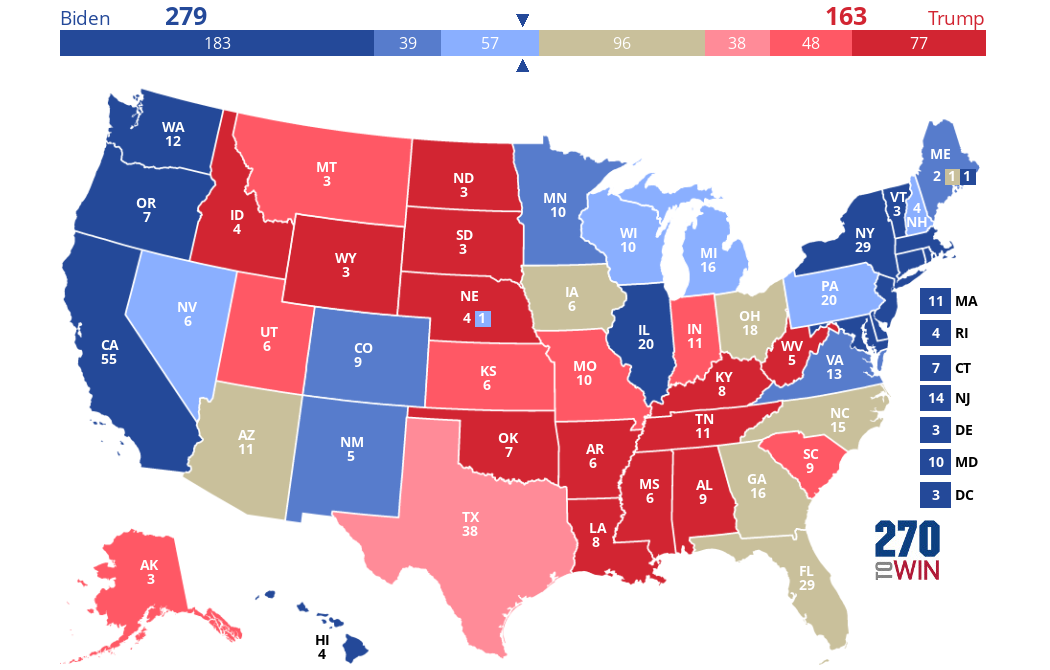 Click the map to create your own at
270toWin.com
So, taking the consensus as a given, 270 (total) – 204 (Trump's) = 66. Trump must win 66 from the states in play: AZ (11), FL (29), MI (16), NC (15), PA (20), and WI (10) plus 1 to win not tie = 102. 102 – 66 = 36. So if Trump wins FL, MI, NC, and PA (29 + 16 + 15 + 20 = 80), he wins. That's a heavy lift. I think I've got the math right this time!
Time to restore the election countdown:
Here, however, is an early voting calendar.
* * *
"Voters are already getting presidential ballots. Here's what to know as mail-in voting begins." [CNN]. "The 2020 presidential election has officially started. North Carolina kicked off the process Friday, sending hundreds of thousands of mail-in ballots to voters. Other states are set to follow throughout the month as election officials brace for historic levels of voting by mail as the coronavirus pandemic continues to grip the country." • So the October surprise tactic is going to need some adjustment…
2020
Biden (D)(1): "Biden, DNC outraised Trump by over $150 million in August" [Politico]. "Biden's own eye-popping cash haul coincided with his selection of Kamala Harris as his running mate, which has helped Biden dip into pockets of money that were previously less open to his campaign. In the two days following her announcement as the vice presidential nominee, the Biden campaign raised $48 million. But Trump's August fundraising total — still a one-month fundraising record for the president and his affiliated political committees — will likely not be enough to hold on to his slim, $6 million cash on hand lead he held in July." • So picking Harris was the right move. They loved her in the Hamptons!

Sanders (D)(1): "First as Tragedy, Then as Farce: The Collapse of the Sanders Campaign and the "Fusionist" Left" [Angela Nagle and Michael Tracey, American Affairs]. Nagle and Tracey are bête noires for the woke, and one can see why. For those who have not read it, this is a clear-eyed assessment of the Sanders campaign, well worth reading in full. Here is the key point: "For years, polling data has been telling us very clearly that the vast majority of the public is to the left of the status quo on matters of economics and to its right on matters of culture. The Left is incapable of absorbing this truth, because to do so would mean genuinely putting the will of the actually existing American working class first—instead of trying to ride them to power in the interest of waging a vindictive culture war*." • It was the economy. Stupid. NOTE * Surely this oversimplifies the class interests of the PMC? It looks to me like wokeness is an effort to run an entire society like a corporate HR department runs a firm. Plenty of good jobs in HR!

Trump (R)(1): "Mr. Trump Knew It Was Deadly and Airborne" [New York Times]. • I don't love Trump. That said, this is madness. Trump said to Woodward that the virus was "airborne" on February 7 . From the Times, July 4: "239 Experts With One Big Claim: The Coronavirus Is Airborne"; the scientists had written a letter to WHO asking WHO to change its guidance on airborne tranmission ("It is understood that there is not as yet universal acceptance of airborne transmission of SARS-CoV2; but in our collective assessment there is more than enough supporting evidence so that the precautionary principle should apply"). I posted on airborne transmission only on May 25, and I was following the matter closely to adjust my personal practice. I started watching the topic because of March 9 observations on a Chinese bus that could only be explained by airborne transmission. The index publication for airborne tranmission seems to have been published on May 13, and was done in a laboratory setting. There was no way that Trump could have known the virus was airborne in February because nobody did. Trump might have meant droplet tranmission, but that's not what the Times wrote. (And of course there's no gotcha if Trump meant droplet transmission, because that's what conventional wisdom believed.) And if Trump had said, in February, "the virus is airborne," do you know what would have happened? That's right: There would have been a ginormous yammering dogpile saying Trump didn't "listen to the science," in this case the scientists at WHO, who were wrong (as they, along with Fauci, were deliberately wrong on masks). The damage would have been enormously greater than the hydrochloroquinine dogpile, so thank whatever Gods there be that Trump didn't say it. None of this is to defend Trump's manifest deficiencies in many other areas, particularly in procurement, but Holy Lord! Meanwhile, I seem to remember plenty of other optimistic prognostications in the same time-frame from prominent Democrats, including New Yorkers Cuomo and Diblasio. Can't anybody here play this game*? NOTE * From Casey Stengel. This, too, is a propos: "Don't cut my throat, I may want to do that later myself."

* * *

"Opinion: The COVID recession has decimated some states, but barely touched others" [MarketWatch]. "This is not a typical recession with a broad downturn. It's a series of micro-recessions and micro-recoveries. When I first discussed this phenomenon, it was within the context of industries and categories. Some industries flourished while others foundered. Variance increases further when you delve into categories within those industries. However, the notion of micro-recessions and micro-recoveries is not limited to industry. States across the United States are experiencing a wide range of consequences from pandemic-related pressures. This is dependent on a number of factors, including the number of Covid-19 cases, response to the pandemic, and regional industries vulnerable to the novel coronavirus…. It's important to note, though, that the divergence between well-performing and underperforming states is far greater during this recession than at any other time since the data became available in the 1980s—a 40-year sample of data. We have never seen such wide economic differences by geography in modern U.S. history…." • Handy map:

Interestingly, the worst-off (dark blue) states — with the exception of Pennsylvania — all went for Clinton in 2016 (California, New York, and Massachusetts all being Democrat feifdoms, at least at the Presidential level).

"Hundreds of Thousands of Nursing Home Residents May Not Be Able to Vote in November Because of the Pandemic" [ProPublica]. "Most, though not all, of the roughly 2.2 million Americans living in nursing homes or assisted living communities are elderly — and thus at higher risk of dying from the coronavirus. They're also part of the most politically engaged demographic in the country. In 2018, 66% of Americans over 65 voted, compared with just 35% of those 18 to 29. In 2016, Donald Trump had an advantage over Hillary Clinton among voters 65 and older by 53% to 44%, according to the Pew Research Center….. Family and friends who helped them vote in prior elections can't visit them — and may have taken ill or died from COVID-19 themselves. Swing states such as Florida and Wisconsin have suspended efforts to send teams to nursing homes to assist with voting. Despite a federal law that residents must be "supported by the facility in the exercise of" their rights, two states — North Carolina and Louisiana — prohibit staff from actively doing so. While many other states allow voters to appoint a helper of their choice, voting assistance may be a low priority for understaffed institutions struggling with COVID-19 outbreaks. And polling places are being moved from nursing homes and assisted living facilities to sites less affected by the virus. For example, Somerville, Massachusetts, relocated voting from a nursing home to a school a little less than a mile away…. Under federal law, nursing homes have a duty to facilitate residents' rights, including voting, said Nina Kohn, a distinguished scholar in elder law at Yale University. But even before the pandemic, compliance was spotty. From 2018 through 2019, Medicare documented complaints from at least 55 U.S. nursing homes in which residents said they weren't given the opportunity to vote or were unable to get help casting a ballot. But nursing home inspectors categorized the vast majority of these complaints as low severity, meaning they were seen as inflicting little or no actual harm. As a result, fines for violating residents' voting rights are rare. Nursing home inspectors, Kohn said, do not take such violations seriously."
Obama Legacy
Thanks, Obama!

"You wouldn't always know it, but it went up every year I was president. That whole, suddenly America's like the biggest oil producer and the biggest gas that was me, people."
Barack Obama https://t.co/5QxS3LluDx

— Margaret Kimberley (@freedomrideblog) September 10, 2020
Realignment and Legitimacy
"Even Fauci needs to remember how important a back of envelope calculation is" [Gary Cornell]. "Fauci said this week there is "no reason" Americans can't vote in person for the 2020 presidential election, so long as voters follow proper social distancing guidelines amid the coronavirus pandemic….. Huh? Every 880 people standing on line1 requires a one mile line. And, since we are voting in November, quite commonly in the cold and rain. Calculating how many people will be trying to vote at any given time is hard, one can imagine doing the voting over many days. Still, it does seem that, given the reduced number of polling stations, isn't it likely it will be in the many hundreds pretty much continuously in many places? Anyway, one thing I do know is that you take your estimate of the number of people and divide it by 880 to convert it into miles of people standing on line!"

"Safest Voting Method Is Using Paper, Leading Cyber Expert Says" [Bloomberg]. "Election voting is the cybersecurity industry's most difficult challenge, and casting ballots on paper is the safest option against any digital disruptions, says CrowdStrike Holdings co-founder and former Chief Technology Officer Dmitri Alperovitch. 'Voting is the hardest thing to secure when it comes to cybersecurity,' Alperovitch said on CBS's 'Face the Nation' on Sunday. 'The only way we know how to do it well and safely is by using paper.' The best ways to ensure that a digital hack won't happen, he said, are in-person voting and ballots that are either mailed in or dropped off at collection sites." • CrowdStrike. CrowdStrike?!
Stats Watch
At reader request, I added some business stats back in. Please give Econintersect click-throughs; they're a good, old-school blog that covers more than stats. If anybody knows of other aggregators, please contact me at the email address below.
Employment Situation: "05 September 2020 Initial Unemployment Claims Rolling Average Declined Again" [Econintersect]. "Market expectations for weekly initial unemployment claims (from Econoday) were 810 K to 915 K (consensus 958 K), and the Department of Labor reported 884,000 new claims. The more important (because of the volatility in the weekly reported claims and seasonality errors in adjusting the data) 4 week moving average moved from 992,500 (reported last week as 991,750) to 970,750… Job's loss since the start of the pandemic is now 60,462,000. Many in this number are now employed or have dropped out of the workforce as all programs continuing claims number is 29,605,064]." • So now we are watching for hysteresis again, exactly as in 2009 and onward. In a year, or so, I imagine we'll find out those who re-entered the workforce found crapper jobs than before, again as in 2009. They should have learned to code!
Producer Prices: "August 2020 Producer Price Final Demand Year-over-Year Growth Remains Slightly In Contraction" [Econintersect]. "The Producer Price Index (PPI) year-over-year inflation contraction moderated from -0.4 % to -0.2 %. The Producer Price Index (PPI) year-over-year inflation contraction moderated from -0.4 % to -0.2 %."
Productivity: "U.S. Productivity Is Soaring. Hold the Applause." [Bloomberg]. "Government statistics released last week show that hourly compensation — defined as wages, salaries and benefits — increased by 20% in the second quarter of 2020, a post-World War II record. Other measures of compensation show similar increases. This spring, the average wage of nonsupervisory workers in the services sector and production workers in the manufacturing sector increased by 7.7% in April, 6.6% in May, and 5.4% in June relative to the same month in 2019. Over the previous five years, average wage growth by this metric was a much slower 2.7%. Statistics like these are heavily influenced by the type of workers who have jobs in any given month. Normally, that doesn't change abruptly. But in the sudden and deep pandemic contraction, aggregate statistics can be misleading. Average wages aren't growing because individual workers are getting raises. Instead, they are growing because so many low-wage workers have been laid off."
* * *
The Bezzle: "The Fraud and Drug Binges That Helped Create a Billion-Dollar Shoe Company" [Bloomberg]. "While many of Madden's introspective takeaways are unenlightened at best—the lesson from his 2 ½ years in prison is: "I screwed up, I paid my price, and I guess I had to go down that road to get to where I am now"—the book is a valuable, often riveting play-by-play of one man's rise to riches. If Horatio Alger were transported to the 1990s and gave his characters an opioid addiction, this could be his story, too."
Concentration:
Makes sense. I sat in a meeting once with Amazon's business owner over the review program. He said the marketplace is so big that they are essentially dealing with organized crime and nation states playing nefariously on listings to capitalize on scale of revenue.

— Mark Thomas (@MarkHthomas) September 9, 2020
Hmm. About those Chinese seeds….
* * *
Today's Fear & Greed Index: 63 Greed (previous close: 65 Greed) [CNN]. One week ago: 60 (Greed). (0 is Extreme Fear; 100 is Extreme Greed). Last updated Sep 10 at 11:47am. Where is the Greed of yesterweek?
The Biosphere
"Climate change poses 'major risk' to U.S. financial system, federal regulator warns" [NBC] (original). "The report said U.S. financial regulators 'must recognize that climate change poses emerging risks to the U.S. financial system,' and it called on them to 'move urgently and decisively to measure, understand, and address these risks.' The authors said that fighting climate change will require moving to a net-zero-emissions economy and that markets need to adapt in tandem. The report also recommended establishing a price on carbon emissions, adding that such a policy 'must be fair, economy-wide, and effective in reducing emissions consistent with the Paris Agreement." Carbon pricing, which could take the form of a cap-and-trade program or a carbon tax, would ultimately require legislation passed by Congress.'" • Oy. On carbon taxes and pricing, see NC here, here, and here.
Health Care
Working from home (or not at all):
The Amtrak waiting area at Penn Station, 740am on a weekday. Pre-pandemic it would be pandemonium here, the heart of the western hemisphere's busiest train station. pic.twitter.com/Jh1wm2F0x1

— Mike Forsythe 傅才德 (@PekingMike) September 10, 2020
Screening Room
Not to spoil the trailer for you:
Dude

— A. Marmot ?Underground? (@_Anunnery) September 9, 2020
Black Injustice Tipping Point
"I was the woman surrounded by BLM protesters at a D.C. restaurant. Here's why I didn't raise my fist." [WaPo]. "Last week, I went out to dinner in D.C. with a friend. As we sat outside at a neighborhood restaurant, a group of protesters surrounded our table and demanded that I raise my fist in support of the Black Lives Matter movement. I had marched repeatedly in the past several months in support of their cause, but I refused their demands. That interaction wound up in a viral video that within 48 hours had been viewed more than 12 million times…. As the marchers closed in on our table, I could not see any protest signs. I asked who they were and why they were marching. No one would answer me. Why march and hold back your message? This was not your usual Black Lives Matter protest, or really, any other protest I have attended. Marchers are usually delighted to tell you about their mission…. When they crowded around my table and started demanding that I raise my fist, it was their insistence that I participate in something that I did not understand that led me to withhold my hand. In retrospect, I would have done the same thing even if it was crystal clear to me who they were and what they stood for. If you want my support, ask it of me freely. That's what we do in a democracy."
Sports Desk
"NBA Strike Will be Meaningless if Players Don't Start Voting" [Deadspin]. "It was something we'd never seen before, as the NBA's restart was hanging in the balance. Conversations were had. Promises were made. And players warned of another work stoppage if they didn't see progress. Three weeks later, sports are back in full swing, as the NFL and certain sections of college football will kick off this weekend. Three weeks later, we've also discovered what 'next' actually looks like. Voting. According to recent reports, only about 20 percent of eligible NBA players voted in the last election." • Good job, Obama!
Protests and Riots
"MapLab: The Spread of Far-Right Vigilantism" [Bloomberg]. "The map gives a sense of the variety of names, flavors, and stated motivations of actors. Some are armed militia groups self-styled as anti-government "patriots," such as the Three Percenters, Oath Keepers and the Texas Freedom Force. Others associate with labels such as the Boogaloo Bois, an alt-right internet meme calling for a second Civil War that spilled into real life in Hawaiian shirts and bullet-proof vests. Some display overt signs of white supremacy, such as skull masks, Confederate flags, Nazi salutes and nooses." • Here is the map, which is interactive: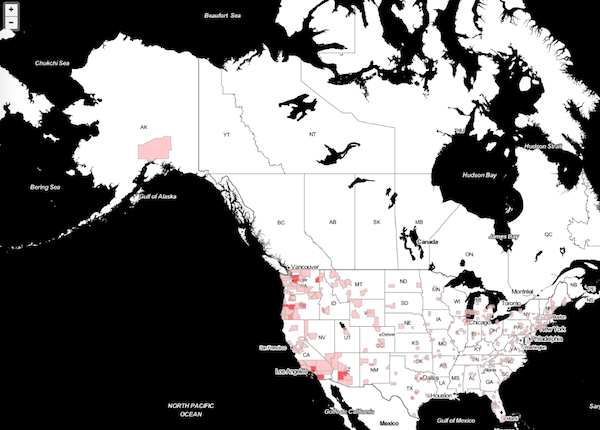 Note that pink is for single incidents, red is for multiple incidents, so the map shows extent, but is a little deceptive on intensity. Here are the fields: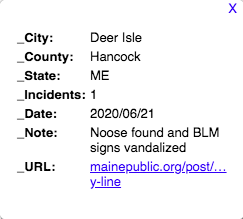 Note that the incidents are not typed, unlike the map for political violence I presented yesterday. The distinctions between a noose in Hancock County, ME and people being threatened with assault rifles in Portland, OR are expressed in prose in the Notes field. That will make sorting and retrieval difficult if matters scale up. I've been there!
" Intelligence Gathering at Protests, by J.D." [Seemorerocks]. This, albeit from the right, is very interesting. For example: "The narrative being presented was that these protests were not centrally organized and that they were grass-roots protests just springing up in response to social issues. My time inside the protests verified that this just isn't true; they are very organized and are being planned by someone…. The biggest observation from the first protest was that despite the claims that they aren't organized, they are highly organized by a central organization. Ethan and his security/medical team have been at every protest I've attended in Michigan, including one at the Capitol an hour away. They use the ubiquitous BaoFeng Handi-talkie radios to communicate." • Well, I guess this isn't Occupy anymore, is it? While I'm not sure I agree with J.D. that organization has to be central, this isn't about drum circles and the library that Bloomberg bulldozed, is it? I find the report reasonably credible simply because Portland organized food trucks, medics, and security as well. And if you were going to be serious about security, wouldn't you do all the things that J.D. said are being done? The post concludes: "Do I believe there will be a time when confrontation is needed? Absolutely." • Hoo boy.
What's wrong with this picture:
Images of Molotov cocktails recovered outside SPOG office. pic.twitter.com/uxlYG5OXg2

— Seattle Police Dept. (@SeattlePD) September 8, 2020
Clean, new fabric; not soaked in accelerant.
Not a dinner party:
Happy Labor Day!

New Art: The Only Protest They'd Accept pic.twitter.com/HHo8HP0KpA

— Eli Valley (@elivalley) September 7, 2020
Guillotine Watch
"Theranos' Holmes May Pursue 'Mental Disease' in Her Defense" [Bloomberg]. "Holmes intends to use testimony from Mindy Mechanic, a clinical psychologist at California State University at Fullerton, according to the filing. Mechanic is an expert on the psychosocial consequences of trauma, with a focus on violence against women, and often provides expert testimony in cases involving 'interpersonal violence,' according to her faculty profile on the school's website."
Class Warfare
"A reminder as schools reopen — federal law now gives some parents paid time off to help their kids with remote learning" [MarketWatch]. • Of course, if you don't have a decent internet connection, or don't have one at all, that's not very much help is it? Although parents can always take their kids to the public library, or park outside a MacDonalds and catch a signal that way!
News of the Wired
"3 Helpful Calming Techniques That Xanax Still Blows Out of the Water" [Reductress]. "The human brain and body's ability to treat itself is truly remarkable but nowhere near as remarkable as a powerful drug designed for that very purpose. To medication!" • News you can use.
* * *
Readers, feel free to contact me at lambert [UNDERSCORE] strether [DOT] corrente [AT] yahoo [DOT] com, with (a) links, and even better (b) sources I should curate regularly, (c) how to send me a check if you are allergic to PayPal, and (d) to find out how to send me images of plants. Vegetables are fine! Fungi and coral are deemed to be honorary plants! If you want your handle to appear as a credit, please place it at the start of your mail in parentheses: (thus). Otherwise, I will anonymize by using your initials. See the previous Water Cooler (with plant) here. Today's plant (TH):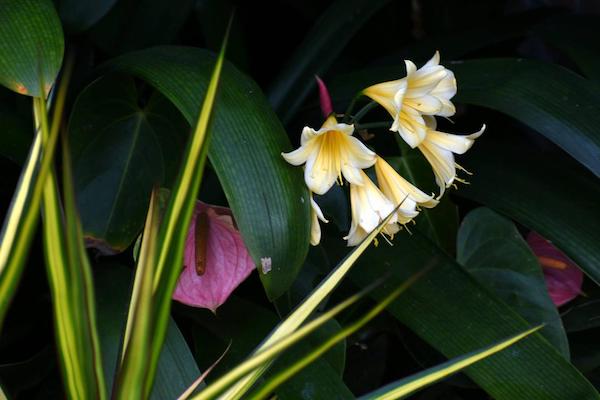 TH writes: "If I ever knew the names of these plants, I've forgotten them. I spotted this in a narrow garden tucked up against a wall on our brief walk around the Alamitos Bay neighborhood. I like the way the colorful flowers are hiding inside the deep green leaves, like a secret."
* * *
Readers: Water Cooler is a standalone entity not covered by the annual NC fundraiser. So if you see a link you especially like, or an item you wouldn't see anywhere else, please do not hesitate to express your appreciation in tangible form. Remember, a tip jar is for tipping! Regular positive feedback both makes me feel good and lets me know I'm on the right track with coverage. When I get no donations for five or ten days I get worried. More tangibly, a constant trickle of donations helps me with expenses, and I factor in that trickle when setting fundraising goals:
Here is the screen that will appear, which I have helpfully annotated.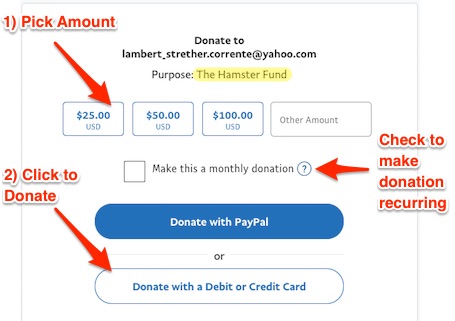 If you hate PayPal, you can email me at lambert [UNDERSCORE] strether [DOT] corrente [AT] yahoo [DOT] com, and I will give you directions on how to send a check. Thank you!