Lambert and I, and many readers, agree that Ukraine has prompted the worst informational environment ever. We hope readers will collaborate in mitigating the fog of war — both real fog and stage fog — in comments. None of us need more cheerleading and link-free repetition of memes; there are platforms for that. Low-value, link-free pom pom-wavers will be summarily whacked.
And for those who are new here, this is not a mere polite request. We have written site Policies and those who comment have accepted those terms. To prevent having to resort to the nuclear option of shutting comments down entirely until more sanity prevails, as we did during the 2015 Greek bailout negotiations and shortly after the 2020 election, we are going to be ruthless about moderating and blacklisting offenders.
–Yves
P.S. Also, before further stressing our already stressed moderators, read our site policies:
Please do not write us to ask why a comment has not appeared. We do not have the bandwidth to investigate and reply. Using the comments section to complain about moderation decisions/tripwires earns that commenter troll points. Please don't do it. Those comments will also be removed if we encounter them.
* * *
How a Trash-Talking Crypto Founder Caused a $40 Billion Crash NYT. The deck: "Do Kwon, a South Korean entrepreneur, hyped the Luna and TerraUSD cryptocurrencies. Their failures have devastated some traders, though not the investment firms that cashed out early." I was worried for the insiders. I'm glad they made it out OK.
So what's the answer?
Meanwhile, the jurisdictional distribution of banks operating in crypto has a remarkably Anglo/American + the French flavour to it. If only I could put my finger on what it is they all have in common? pic.twitter.com/2Pwul2xc9c

— Izabella Kaminska (@izakaminska) May 19, 2022
A bear market reading list Abnormal Returns
Politics and the Price Level Phenomenal World
Climate
Brightness falls from the ayre Times Literary Supplement
#COVID19
"Case Numbers Don't Matter"—and Other Fatal Covid Fallacies Gregg Gonsalvez, The Nation

'This isn't just gonna go away': Long COVID is crashing the retirement hopes of many Americans MarketWatch (AM).

* * *

A live attenuated vaccine confers superior mucosal and systemic immunity to SARS-CoV-2 variants (preprint) bioRxiv. Hamster study. From the Abstract: "Here, we compare immune responses to and preclinical efficacy of the mRNA vaccine BNT162b2 [Pfizer], an adenovirus-vectored spike vaccine, and the live-attenuated-virus vaccine candidate sCPD9 after single and double vaccination in Syrian hamsters…. Our results demonstrate that use of live-attenuated vaccines may offer advantages over available COVID-19 vaccines, specifically when applied as booster, and may provide a solution for containment of the COVID-19 pandemic."

CDC recommends Pfizer COVID boosters for kids ages 5 to 11 Center for Infectious Disease Research and Policy

* * *

Blocking effect of desktop air curtain on aerosols in exhaled breath featured AIP Advances (NL).

Fit-tested N95 masks combined with portable HEPA filtration can protect against high aerosolized viral loads over prolonged periods at close range (accepted manuscript) Journal of Infectious Diseases. Hospital setting.
So, Have You Heard About Monkeypox? Ed Yong, The Atlantic. The deck: "A new viral outbreak is testing whether the world has learned anything from COVID." Oh, my sweet summer child. We learned that you can kill a million Americans without causing riots. A peaceful land, a quiet people!
U.S. government places $119 million order for 13 million freeze-dried Monkeypox vaccines Fortune
Mozambique confirms first wild poliovirus case in 30 years Guardian (Re Silc).
China?
China Covid Cases Trending Down But Lockdown Threat Remains Bloomberg. Report from Beijiing:

Update on the Beijing situation: starting today in Chaoyang we are no longer required to do daily tests. Mass testing had been going on from May 1st, with just one day's break in the middle. We still have to show a negative test from the last 48 hrs to get into public places 1/

— Gabriel Corsetti (@GabrielCorsetti) May 19, 2022

China Insists Party Elites Shed Overseas Assets, Eyeing Western Sanctions on Russia WSJ
The Koreas
North Korea sends cargo planes to China as country fights pandemic CNN
Sri Lanka defaults on debt for first time in its history BBC
Is Bangladesh heading toward a Sri Lanka-like crisis? Deutsche Welle (Re Silc).
India
Buddha and the neighbourhood: How Modi's Lumbini visit aims to curb Dragon's growing shadow over Nepal FirstPost
Australians face their starkest choice at the ballot box in 50 years. Here's why The Conversation. Scotty from Marketing:
New Not-So-Cold War
The Azov Steel Plant surrendered to the Russian army and caught the "big fish". The good show has just been staged What China Reads. I read "Ascent Battalion" as an auto-translation glitch for "Azov Battalion."

Nazis en regalia:

EXCLUSIVE: 'Wolverines' of Ukraine step out of shadows Global News. More LARPing. As is customary, the fascist shoulder patches make their appearance deep in the article: paragraph nineteen.

* * *

Can Ukraine Win? Five Scenarios for the War's Next Phase WSJ

US announces $215 million in new food aid to Ukraine The Hill and US to send Ukraine more howitzers with new $100 million military aid package Stars and Stripes. Why didn't we just round up the $40 billion to fifty?
Biden Administration
Shortages
Baby Formula Industry Was Primed for Disaster Long Before Key Factory Closed Down Manufacturing.net
Supply Chain
Health Care
One in Four Medicare Patients Harmed in Hospitals, Nearly Half Preventable MedPage Today
Big Brother Is Watching You
We Need to Take Back Our Privacy Zeynep Tufecki, NYT
Our Famously Free Press
"The Typhoid Mary of Disinformation": Nicolle Wallace. Nobody Spreads it More Relentlessly. Glenn Greenwald
Zeitgeist Watch
How we quietly ditched the idea of progress FT

Sweet, Sweet Fantasy Babies The Tyee
Class Warfare
Eugene Starbucks workers go on strike Northwest Labor Press

Amazon Threatened Workers Over Union Vote, Labor Officials Find Bloomberg

Is Anyone Surprised Grubhub's 'Free' Lunch Program Was a Disaster for Restaurant Workers? GrubHub
Rob Reiner on 'This is Spinal Tap' Sequel's 'Last Waltz' Inspiration Variety
Sun's mysterious pole and a 'solar hedgehog' revealed in closest-ever images of the sun Space.com. Looks like a Whistler painting:
The Solar Orbiter spacecraft released its closest images of the sun today, revealing a range of never before seen phenomena including this odd geyser of hot and cold gas dubbed the solar hedgehog. https://t.co/DYfg2nAcuD pic.twitter.com/wHoMApyURg

— Space Porn (@redditSpacePorn) May 20, 2022
Antidote du jour (via):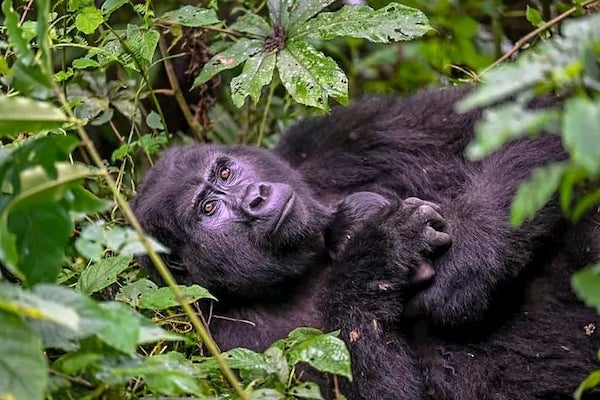 Bonus antidote:
Hoolock Gibbons possess an incredibly loud call, rivaling that of any other Gibbons besides Siamangs.

This Hoolock Couple in Delhi is performing a very noisy duet in this clip pic.twitter.com/0gbi7m9fuk

— Gibbons Daily (@GibbonsDaily) October 19, 2021
Something to practice in the back yard over the weekend, for Monday in the office.
See yesterday's Links and Antidote du Jour here.