By Lambert Strether of Corrente
Bird Song of the Day
Really sounds like sunny, open field, with insects in the background…
#COVID19
At reader request, I've added this daily chart from 91-DIVOC. The data is the Johns Hopkins CSSE data. Here is the site.
Here are the United States regions: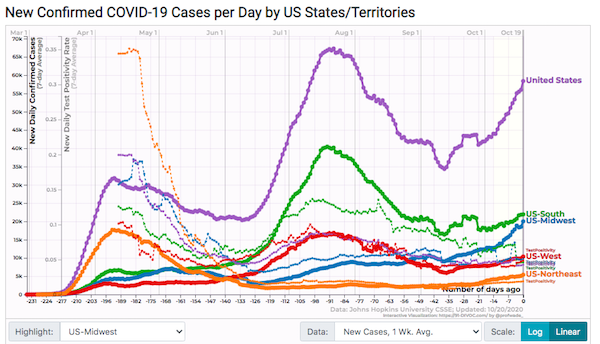 Still rising, if anthing faster. Gonna be interesting to see what happens if the virus is really cranking in November or December, and the FDA says a vaccine is ready…
Here are the Swing States as I conceive them (see below):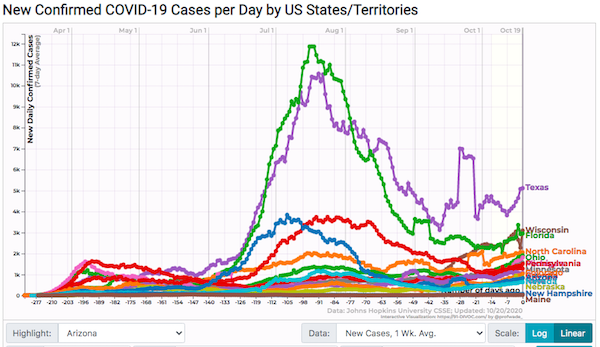 Unmistakable rise everywhere. Including Texas, which alas seems to have straightened out its data problem, in the past few days.
Here is the case fatality rate for the regions, the Northeast (yellow), Midwest (blue), West (red), and South (green):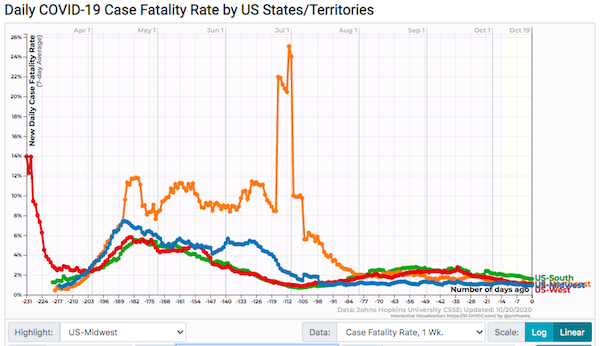 I track confirmed cases, because I think they drive the economy via consumer behavior and shutdowns and reopenings. Nevertheless the chart does show the fatality situation improving, no doubt due to improved medical practice and the virus hitting a younger population. A bad way to go, though. It's interesting to see that the Northeast's curve is so diffrerent from the other regions: that spike in the middle is known among epidemiologists as Mount Cuomo. Kidding!
–>
Politics
"But what is government itself, but the greatest of all reflections on human nature?" –James Madison, Federalist 51
"They had one weapon left and both knew it: treachery." –Frank Herbert, Dune
"They had learned nothing, and forgotten nothing." –Charles Maurice de Talleyrand-Périgord
The electoral map. July 17: Georgia, Ohio, ME-2 move from Leans Republican to Toss-up. Continued yikes. On July 7, the tossup were 86. Only July 17, they were 56. Now they are 91. This puts Biden at 278, i.e. over 270. August 18: Still no changes. August 31: Indiana moves from Likely to Safe Republican. September 9: No changes. September 14: No changes. September 21: No changes. September 22: Ohio moves from Toss-up to Leans Republican. September 25: Ohio moves from Leans Republican to Toss-up. September 30: Iowa moves from Leans Republican to Toss-up. October 3: Indiana moves from Safe to Likely Republican; Iowa moves from Toss-up to Leans Republican. October 6: Arizona moves from Toss-up to Leans Democratic; Iowa from Leans Republican to Toss-up; Indiana from Likely to Safe Republican; New Mexico from Likely to Safe Democratic. October 8: NE-2 moves from Toss-up to Leans Democratic. October 13: Indiana moves from Likely to Safe Republican. October 16: Indiana moves from Safe to Likely Republican. .G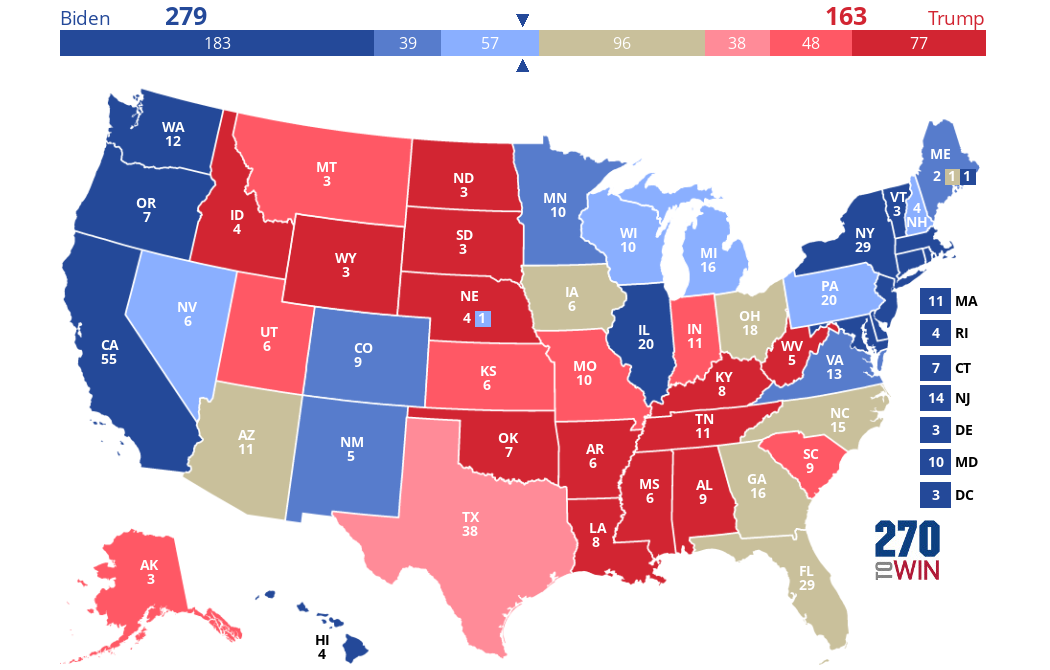 Click the map to create your own at
270toWin.com
The election countdown:
Here is an early voting calendar. Maybe we'll have a whole series of October surprises, since election day is gradually being devalued as an event.
And here are mail-in voting ruies, which naturally differ state by state.
"2020 General Election Early Vote Statistics" [U.S. Elections Project (SlayTheSmaugs)].
"How to Vote in 2020: Everything You Need to Know" [Bloomberg]. "Casting a ballot in the U.S. isn't always easy, with a complex web of varying state rules governing how and when you can vote. The Covid-19 pandemic has introduced even more complexity in 2020, as many states have made significant changes to allow for more early voting or voting by mail. More changes could come as lawsuits in several states wind their way through the courts. That's why Bloomberg News is answering these critical questions so you'll know what you need to do to make sure your vote is counted in the 2020 election."
Here are is an enormous spreadsheet on voting equipment, so you can check your own jurisdiction (hat tip, UserFriendly. I should really aggregate these onto a map…).
"2020 General Election Early Vote Statistics" [U.S. Election Project].
"California Ballots Mailed and Returned Tracker" [Political Data]. • California only, sadly.
"Where's My Ballot?" [Alex Padilla]. "Tracking your vote-by-mail ballot—when it is mailed, received, and counted—has never been easier. The California Secretary of State is now offering Where's My Ballot?—a new way for voters to track and receive notifications on the status of their vote-by-mail ballot. Powered by BallotTrax, Where's My Ballot? lets voters know where their ballot is, and its status, every step of the way." • Ballottrax. Shoulda gone long….
"State Fact Sheets" [Georgetown Universitty]. "[F]act sheets for all 50 states explaining the laws barring unauthorized private militia groups and what to do if groups of armed individuals are near a polling place or voter registration drive."
All the deadlines, rules, and voting hours to know when casting your ballot in the 2020 presidential election" [Business Insider]. "Here are 12 interactive graphics, charts, and maps Insider created to answer your most common questions about voting in 2020."
2020
Swing States

Here is my list of Swing States, with votes in the Electoral College and selected ballot initiatives in parentheticals):

Arizona (11) (marijuana; taxes(=)
Colorado (9) (taxes, lottery, abortion, paid medical leave)
Florida (29) (minimum wage)
Georgia (16) (declaratory relief)
Iowa (6) (Constitional convention)
Maine-02 (1) (vax)
Michigan (16) (oil and gas royalties; privacy)
Minnesota (10)
Nebraska-02 (1) (payday lending; gambling)
Nevada (6) (marriage)
New Hampshire (4)
North Carolina (15)
Ohio (18)
Pennsylvania (20)
Texas (38)
Wisconsin (10)

Inspired by the thread starting with Arizona Slim's comment here, I went to Ballotpedia and added selected, hopefully hot button, ballot initiatives, because sometimes they affect turnout. If you live in a swing state, please comment if I got the hot buttons wrong!

* * *

Biden (D)(1): "Biden eyes GOP candidates for Cabinet slots" [Politico]. "Joe Biden's transition team is vetting a handful of Republicans for potential Cabinet positions — despite doubts it will win him new support from the right and the risk it will enrage the left. Reaching across the aisle to pick senior members of his administration could shore up Biden's credentials as a unity candidate, a message he's made a cornerstone of his campaign. Among the names being floated for possible Biden Cabinet posts are Meg Whitman, the CEO of Quibi and former CEO of eBay, and former Ohio Gov. John Kasich, both of whom spoke at August's Democratic National Convention. Massachusetts GOP Gov. Charlie Baker and former Sen. Jeff Flake (R-Ariz.) have also been mentioned, as has former Rep. Charlie Dent (R-Penn.), who resigned from Congress in 2018 and became a lobbyist." • Sanders supporters, all.

Trump (R)(1):

Trump just debuted a new attack line against Biden: "He wants to listen to Dr. Fauci."

— Daniel Dale (@ddale8) October 19, 2020

See "Don't "Trust the Science," Trust Science While You Hone Your Critical Thinking Skills." Oddly, or not, I don't see either major party advocating for critical thinking.

Trump (R)(1): "Trump ordered malts during a classified intelligence briefing: report" [The Hill]. • As opposed to what? Cattleprods and some batteries? A Junior Explorer Surveillance Kit, complete with X-Ray glasses? The Collected Works of James Jesus Angleton?

Trump (R)(2): "Trump Fundraisers Spun Wheels, Spending 77 Cents to Bring in $1" [Bloomberg]. "President Donald Trump's campaign found it harder to raise money from small-dollar donors in the final months before the election, spending 77 cents of each dollar it received in the third quarter on future fundraising efforts, according to federal disclosures that highlighted the funding gap with Democratic nominee Joe Biden. Spending by the campaign's grassroots fundraising arm, Trump Make America Great Again, to pursue small donors was far higher than throughout his re-election campaign, when it spent 47 cents per dollar raised." • Hoo boy.

* * *

KY: Lol–

I'm hearing the Ditch Mitch PAC, which raised at least $19 million to back Amy McGrath, has canceled its ad buys in Louisville, Lexington and Cincinnati for the remainder of the election

— Ryan Grim (@ryangrim) October 20, 2020

The DNC never wanted to run a winner (that would have been Charles Booker), but they did want to raise an enormous amount of cash, which they did. I thought McGrath was a mortal lock for an MSNBC slot (woman, more-or-less fighter pilot, resistor of evil), but apparently her demeanor is completely wooden. Oh well. She'll have to be content with a book deal. Bright spot!

"Republican voters take a radical conspiracy theory mainstream" [New York Times (via)]. "The followers of this online phenomenon [QAnon] believe that , and that Trump was delivered to save America from both." • I've underlined the part where the cray cray pins the Crayometer™.
Realignment and Legitimacy
"The controversy over left-wing populism" [Chantal Mouffe, Le Monde Diplomatique (nvl)]. "[T]here is no such thing as populism as a single entity that one can theorise about or conceptualise. There are only populisms, which explains why the notion produces so many interpretations and contradictory definitions… Movements that adopt populism always arise in the context of a crisis of the hegemonic model. In this light, populism appears to be neither an ideology, nor a regime, nor a specific platform. Everything depends on the way the us/ them opposition is drawn, as well as the historic contexts and socio-economic structures in which this opposition is deployed. Understanding different populisms involves going back to the specific conditions of their emergence rather than reducing them to manifestations of the same ideology…."
Stats Watch
At reader request, I added some business stats back in. Please give Econintersect click-throughs; they're a good, old-school blog that covers more than stats. If anybody knows of other aggregators, please contact me at the email address below.
Housing: "August 2020 CoreLogic Single-Family Rent Index Rent Price Growth Is Above 2% For The First Time Since April 2020" [Econintersect]. "The Single-Family Rent Index (SFRI), which analyzes single-family rent price changes nationally and among 20 metropolitan areas shows a national rent increase of 2.1% year over year, down from a 2.9% year-over-year increase in August 2019…. The Single-Family Rent Index (SFRI), which analyzes single-family rent price changes nationally and among 20 metropolitan areas shows a national rent increase of 2.1% year over year, down from a 2.9% year-over-year increase in August 2019."
Construction: "September 2020 Residential Building Growth Significantly Improves" [Econintersect]. "Headline residential building permits and construction completions significantly improved – with the rolling averages improving…. The backward revisions this month were small. It is always difficult to understand the trends as the backward revisions sometimes reverse trends month-to-month. The nature of this industry normally has large variations from month-to-month (mostly due to weather) so the rolling averages are the best way to view this series. The rolling averages say this sector is expanding."
Consumer spending: "Consumer Spending During the Pandemic" [New York Times]. Handy chart: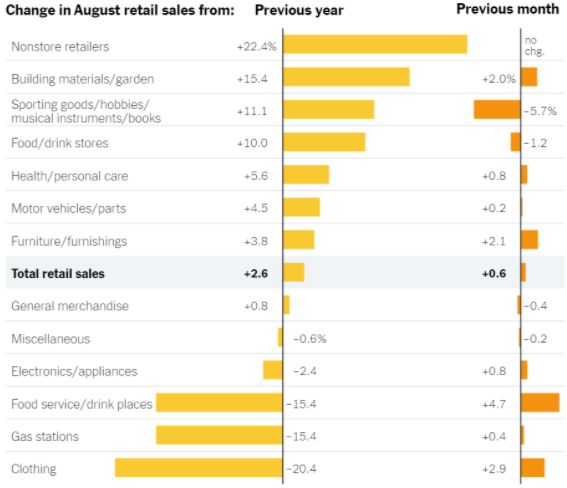 From the standpoint of saving the planet, it's probably good that gas stations, electronics/appliances, and clothing are all down (though I wish "nonstore retailers" was broken down. You can't drive up to the pump at Amazon, though.
* * *
Commodities: "Copper Climbs to Over 2-Year High" [Trading Economics]. "Copper futures continued the upward momentum in October, trading above $3.11 per pound, the highest since June of 2018 supported mostly by stronger demand from China and worries about supply disruptions in Chile. After months of underperforming, the Chinese economy is gathering momentum with industrial production increasing by 6.9 percent year-on-year in September 2020, the most since December 2019. Meanwhile, workers at Chile's state-run Codelco, the world's largest copper producer, reject layoffs announced by the company during the pandemic." • This is an interesting aggregator.
Shipping: "Container slots sell out, risking holiday 'shipageddon'" [Freight Waves]. "'The ships are 100% full. The containers are 100% full. You can't get a container built. You can't pick up a ship from the spot market. The whole container-shipping cycle is at absolutely full pulse,' exclaimed Jeremy Nixon, CEO of Ocean Network Express (ONE), the world's sixth-largest container line…. 'Our job now is to keep the network going from an operational standpoint,' Nixon continued. 'The ports are getting jammed up now. We're starting to see bottlenecks in the supply chain. That's another challenge going into this winter.' Some market watchers thought volumes and rates would relent in the wake of the China Golden Week holiday in early October. It hasn't happened yet. The trans-Pacific market is still at its peak." • This whole piece merits careful study.
Shipping: "YRC Worldwide is preparing for a new tranche of government aid as Congress is raising questions about the use of coronavirus-relief funds to effectively bail out the business" [Wall Street Journal]. "Treasury Department officials say they designated the less-than-truckload operator as critical to national security on guidance from the Pentagon, the WSJ Logistics Report's Jennifer Smith writes, and that the contractor for domestic military transport was facing 'a liquidity crisis.'"
Manufacturing: "The market for the world's smallest electronic components is going through big disruption. Intel is nearing a deal to sell a memory-chip unit to South Korea's SK Hynix for roughly $10 billion. …, in a deal that would push the semiconductor giant away from an area of historical importance" [Wall Street Journal]. "Although Intel is best known for making the central processing units at the heart of personal computers, the company has deep roots in the memory business. But that market has been shaken by U.S. efforts to curb the rise of China's tech industry and restrict exports to Chinese firms such as Huawei Technologies. That comes as consolidation has swept through a sector critical to technology and electronics supply chains. Chip makers are seeking scale and to expand their product portfolios to support the increasing number of everyday items that are connected to the internet." • I can't thing of any better reason to offshore another manufacturing capability than the Internet of Things:
This ferrari got bricked because someone tried to upgrade it underground….where there's no cell reception. DRM in cars rules. https://t.co/vPkjsDb4DA pic.twitter.com/Lwsj8pZwYM

— Internet of Shit (@internetofshit) October 12, 2020
So awesome. Couldn't happen to a nicer vehicle.
* * *
.
Today's Fear & Greed Index: 62 Greed (previous close: 61 Greed) [CNN]. One week ago: 59 (Greed). (0 is Extreme Fear; 100 is Extreme Greed). Last updated Oct 20 at 12:05pm.
The Biosphere
"Satellites could soon map every tree on Earth" [Nature]. "Terrestrial ecosystems are defined in large part by their woody plants. Grasslands, shrublands, savannahs, woodlands and forests represent a series of gradations in tree and shrub density, from ecosystems with low-density, low-stature woody plants to those with taller trees and overlapping canopies. Accurate information on the woody-vegetation structure of ecosystems is, therefore, fundamental to our understanding of global-scale ecology, biogeography and the biogeochemical cycles of carbon, water and other nutrients. Writing in Nature, Brandt et al.1 report their analysis of a massive database of high-resolution satellite images covering more than 1.3 million square kilometres of the western Sahara and Sahel regions of West Africa. The authors mapped the location and size of more than 1.8 billion individual tree canopies; never before have trees been mapped at this level of detail across such a large area.
Feral Hog Watch
"Romans Want to Get Rid of Wild Boars, but Killing Them? That's Another Matter" [New York Times]. "From the city's central streets to the outlying arteries that border parks and woods, boars have become a major driving hazard. The threat is not limited to Rome — earlier this month, two former professional soccer players died when their car hit some wild boars crossing a highway in northern Italy. Boars are a point of contention throughout the country. Hunters have argued that the perpetually hungry animals are nuisances that have bred out of control and need to be culled to save the country's agriculture….Rome's boar troubles mirror the dilemmas faced by developed areas around the world, as they try to keep in check populations of deer, geese, bears, coyotes, sea gulls or other creatures without running afoul of animal lovers. In many places, humans have eliminated the animals' natural predators or competitors, while inadvertently providing a food surplus for those that remain."
Our Famously Free Press
"New Yorker Suspends Jeffrey Toobin for Masturbating on Zoom Call" [Vice]. "The New Yorker has suspended reporter Jeffrey Toobin for masturbating on a Zoom video chat between members of the New Yorker and WNYC radio last week. Toobin says he did not realize his video was on…. Two people who were on the call told VICE separately that the call was an election simulation featuring many of the New Yorker's biggest stars: Jane Mayer was playing establishment Republicans; Evan Osnos was Joe Biden, Jelani Cobb was establishment Democrats, Masha Gessen played Donald Trump, Andrew Marantz was the far right, Sue Halpern was left wing democrats, Dexter Filkins was the military, and Jeffrey Toobin playing the courts. There were also a handful of other producers on the call from the New Yorker and WNYC." • In other words, when the New Yorker was decided to redo the Transition Integrity Project's election wargaming but without subject matter experts, Toobin's going meta as he did was thoroughly appropriate? Granted, the manner was a little crass, and a lot of people are dunking on him. For example:
counterpoint: i'm gonna have a good time w this https://t.co/kHPtwJActA pic.twitter.com/OCx7FxFNCL

— vanessa a. boo ?✌?☠️ (@Vanessa_ABee) October 20, 2020
This works too. Thread:
the new game is to replace every new yorker cartoon caption with "Jeffrey Toobin took his dick out on a Zoom call." pic.twitter.com/NkuxsTJtxs

— Ryan 'Follow @SecretBase' Simmons (@rysimmons) October 19, 2020
Owned:
#2020 https://t.co/merwrXOtnA

— Matt Taibbi (@mtaibbi) October 20, 2020
To me, this is just another example of the disaster that David Remnick's tenure as editor has been. I'm so old I remember when The New Yorker was good. Or perhaps I wasn't downwardly, or outwardly, mobile.
Sports Desk
"Were Troy Aikman and Joe Buck mocking military flyovers before NFL game? Take a listen." [Fort Worth Star-Telegram]. • Hopefully.
Protests and Riots
"AP finds most arrested in protests aren't leftist radicals" [Associated Press]. "Very few of those charged appear to be affiliated with highly organized extremist groups, and many are young suburban adults from the very neighborhoods Trump vows to protect from the violence in his reelection push to win support from the suburbs…. In thousands of pages of court documents, the only apparent mention of antifa is in a Boston case in which authorities said a FBI Gang Task Force member was investigating "suspected ANTIFA activity associated with the protests" when a man fired at him and other officers. Authorities have not claimed that the man accused of firing the shots is a member of antifa…. Several of the defendants are not from the Democratic-led cities that Trump has likened to "war zones" but from the suburbs the Republican president has claimed to have "saved." Of the 93 people arrested on federal criminal charges in Portland, 18 defendants are from out of state, the Justice Department said."
Class Warfare
"US billionaires saw their net worth rise by almost $1 trillion between March and October – Jeff Bezos remains the richest, a study says" [Business Insider]. "US billionaires have seen their net worth rise by almost a trillion dollars since the onset of the pandemic in mid-March, with Tesla chief executive Elon Musk and Quicken Loans' Dan Gilbert logging the biggest increases, according to a survey on Tuesday. The 644 billionaires in question saw their net worth rise to $3.88 trillion by October 13, up $930.7 billion from $2.95 trillion from March 18, based on a study by the Institute for Policy Studies and Americans for Tax Fairness that used Forbes data. Their total wealth is nearly double the $2.1 trillion in total wealth held by the bottom half of the population, or 165 million Americans, the survey showed." • It's hard to believe that "the economy" became more productive during a pandemic, so this trilliion would represent pure extraction. "re is a great deal of ruin in a nation," as Adam Smith said.
"The Mad, Mad World of Niche Sports Among Ivy League–Obsessed Parents" [The Atlantic]. • Horrifying. Good insight into what drives "predatory precarity" in the PMC. It would be so, so much easier if credentials were inherited — not as legacy admissions, but overtly — as under feudalism.
How prices work:
Libertarians: "I believe in the power of a free market economy to set prices."

The economy: all prices are ultimately determined by the "spread" parameter inside an Excel workbook maintained by a single back-office associate at BlackRock.

— Senior Data Magician (@ryxcommar) October 19, 2020
The replies are pretty good, too.
News of the Wired
I wasn't feeling wired today, and so I thought I'd search YouTube on "wire." I found this:
* * *
Readers, feel free to contact me at lambert [UNDERSCORE] strether [DOT] corrente [AT] yahoo [DOT] com, with (a) links, and even better (b) sources I should curate regularly, (c) how to send me a check if you are allergic to PayPal, and (d) to find out how to send me images of plants. Vegetables are fine! Fungi and coral are deemed to be honorary plants! If you want your handle to appear as a credit, please place it at the start of your mail in parentheses: (thus). Otherwise, I will anonymize by using your initials. See the previous Water Cooler (with plant)
here
. Today's plant (AM):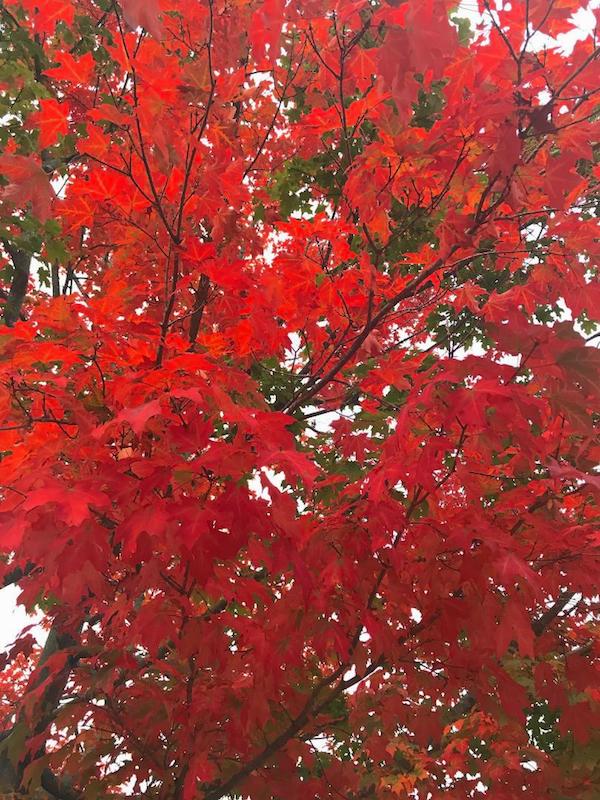 AM writes: "From my walk in Roger Williams Park — a very showy maple tree. The splendor of Fall." Gorgeous! Readers, if you have any fall foliage pictures, do feel free to send them in.
* * *
Readers: Water Cooler is a standalone entity not covered by the recently concluded and — thank you! — successful annual NC fundraiser. So if you see a link you especially like, or an item you wouldn't see anywhere else, please do not hesitate to express your appreciation in tangible form. Remember, a tip jar is for tipping! Regular positive feedback both makes me feel good and lets me know I'm on the right track with coverage. When I get no donations for five or ten days I get worried. More tangibly, a constant trickle of donations helps me with expenses, and I factor in that trickle when setting fundraising goals:
Here is the screen that will appear, which I have helpfully annotated.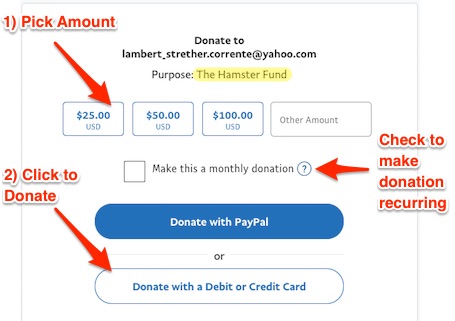 If you hate PayPal, you can email me at lambert [UNDERSCORE] strether [DOT] corrente [AT] yahoo [DOT] com, and I will give you directions on how to send a check. Thank you!