Plastic-eating caterpillars could save the planet The Economist
Oyster farts help (humans) warm the world Deutsche Welle
How big is the risk of another Black Monday equities crash? FT
When is the Time to Wind Down? Handelsblatt
Central bankers have one job and they don't know how to do it FT Alphaville
Wall Street found a parasite growing in the US economy that could spur the next recession Business Insider. Shorts looking at health care. On "parasites," see NC. In 2013….
How Valuable Is a Unicorn? Maybe Not as Much as It Claims to Be Andrew Ross Sorkin, NYT (see NC here). When you've lost Andrew Ross Sorkin….
GM to test self-driving cars in N.Y. in early 2018: Gov. Cuomo Reuters (EM). The lead says "Fully autonomous mode," which is Level 5. Further down, we read that the cars will be Level 4. At the best, sloppy reporting from Reuters. See NC here for an explanation of the levels.
Bitter differences over Nafta break into the open FT
Syraqistan
Iraqi forces seize Kirkuk governor's office in push against Kurds AFP

Iraq – Thus Ends The Kurdish Independence Project Moon of Alabama

The War on ISIS Held the Middle East Together Defense One
North Korea
China?
White House announces plans for Donald Trump's visit to China with North Korean nuclear programme set to top the agenda South China Morning Post (and People's Daily). And just when I thought things were dull. There's nothing about this on the front pages of either the Times or WaPo, as of this writing (3:11AM today). I mean, pro-Trump or anti-Trump or anything else, isn't this newsworthy?

A Wide-Ranging Agenda: What Trump's First Asia-Pacific Tour Means The Diplomat

China's Xi lays out vision for 'new era' led by 'still stronger' Communist Party Reuters
Expats send $20 billion to Philippines in 8 months Gulf News
Brexit
Brexit Talks Are Failing. Somebody Needs to Care. Bloomberg

Jeremy Corbyn: damned right we're a threat to the economic order Boing Boing
New Cold War
Trump Transition
Trump on Gold Star families: 'Did they ever think of calling me first?' Duffel Blog

Lawrence Summers: Trump's top economist's tax analysis isn't just wrong, it's dishonest Lawrence Summers, WaPo

Internal White House documents allege manufacturing decline increases abortions, infertility, and spousal abuse WaPo. The headline is amusing since oddly, or not, both it and the lead omit mention of other key effects, especially a "rising mortality rate." From further down: "The documents list what Navarro alleges are the problems that have resulted from a 'weakened manufacturing base.' Some of the consequences are economic, including 'lost jobs,' 'depressed wages,' and 'closed factories.'" I'd speculate that somebody in the White House has discovered the Case-Deaton studies (see NC here), and is trying to figure out how to frame them for 2018 and 2020. This should concern liberal Democrats, but here what we get is: "[The documents] were presented without any data or information to back up the assertions." Yes, the two-page document is PowerPoint-level talking points in bubbles, for pity's sake; there's plenty of data out there if Democrats want to look; thousands of excess "deaths of despair" a year in the deindustrialized flyover states.

War, relationships and placing blame: Trump topics at news conference McClatchy
2016 Post Mortem
How Hillary Clinton Still Can, and Should, Become President After the Trump-Russia Investigation Lawrence Lessig, Newsweek. Lessig's thesis: Trump is removed because he was helped by "Mother Russia" (!), Pence "should" resign since he got the same help, Ryan steps in. "If Ryan becomes president, he do the right thing and choose Clinton for vice president. Then he resign." This is where we are. Poor Larry. Such a shame.

The Danger of President Pence The New Yorker (GF).
Democrats in Disarray
Why Democrats Need Wall Street NYT (HM). From a Clinton pollster (1994-2000).

Maxine Waters' campaign committee wrote-off $10,000 spent on Hamilton tickets as a fundraiser expense Washington Times

Cy Vance represents everything wrong with the justice system The Outline
Health Care
Police State Watch
No Forfeiture-Database Backup With Millions on the Line, NYPD Admits Courthouse News (DK). DK: "Hello, I'd like to report a robbery…"
2016 Post Mortem
Comey Drafted Statement Ending Clinton Email Investigation Months Before Interviewing Her, FBI Confirms Newsweek. Wowsers.
Imperial Collapse Watch
Football fashion: Behind Air Force's top-secret fighter jet uniforms EPSN
Class Warfare
How "Big Data" Went Bust Slate (Re Silc). "[T]he bigger problem is that the [Big Data] data you have are usually only a proxy for what you really want to know. Big data doesn't solve that problem—it magnifies it." And integrating multiple proxies is hard; witness the F-35 helmet debacle, which faced exactly that technical problem.
What is sleep, even? Quartz. I wish I knew!
South Africa: Train Surfers Risk Their Lives Without Fear of Metrorail's Security All Africa
Antidote du jour: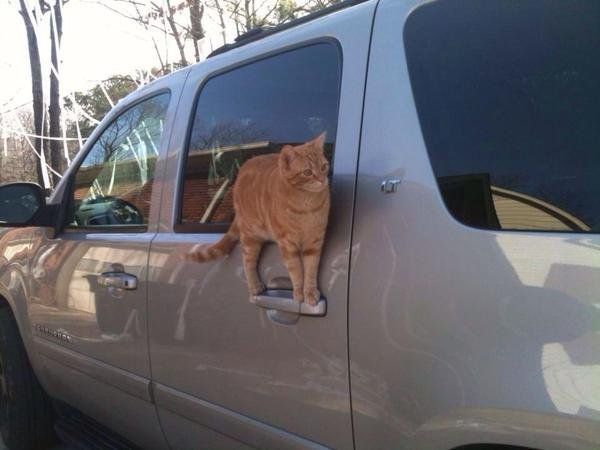 Still working to level up my cat game….
See yesterday's Links and Antidote du Jour here.
.