By Lambert Strether of Corrente.
Bird Song of the Day
Owl Week at the Naked Capitalism Water Cooler continues. "Flammulated" is a good candidate for Word of the Day!
#COVID19
At reader request, I've added this daily chart from 91-DIVOC. The data is the Johns Hopkins CSSE data. Here is the site.
I feel I'm engaging in a macabre form of tape-watching, because I don't think the peak is coming in the next days, or even weeks. Is the virus gathering itself for another leap?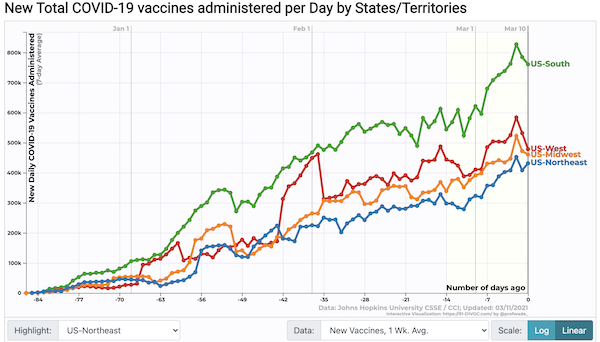 Early in February, I said a simple way to compare Biden's performance to Trump's on vaccination would be to compare the slopes of the curves. If Biden accelerated vaccine administration, post-Inaugural slopes would get steeper. They have not. The fragmented, Federalized, and profit-driven lumbering monstrosity that we laughingly call our "health care" "system" has not responded to "energy in the executive," but has continued on its inertial path.
Case count by United States regions: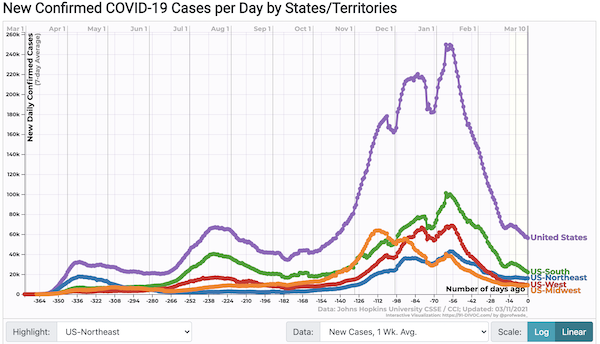 South heads downward again, Northeast flat.
Big states (New York, Florida, Texas, California):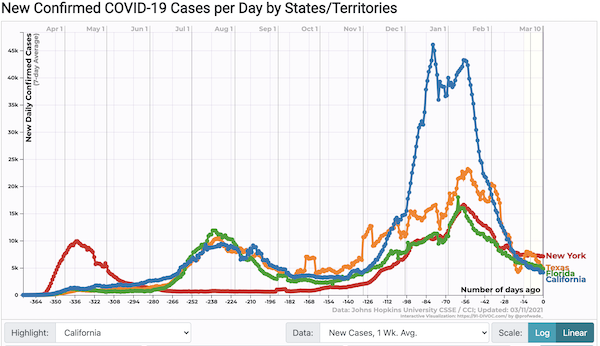 Texas has dropped below New York.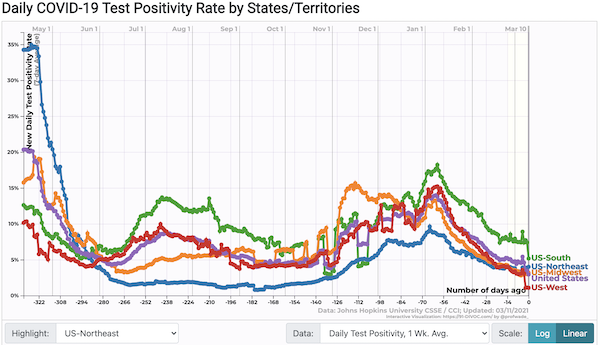 Jumps in the South. Humongous drop in the West, but is this a data artifact?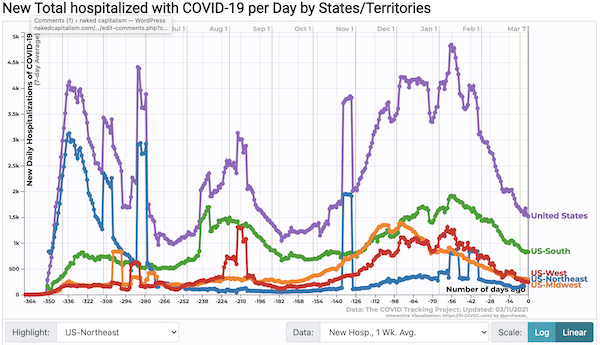 Hospitalization is discretionary; they may also be reducing their admissions rate — relative to cases we cannot see in this data! — to preserve future capacity; or because hospitals have figured out how to send people home.
Case fatality rate (plus deaths):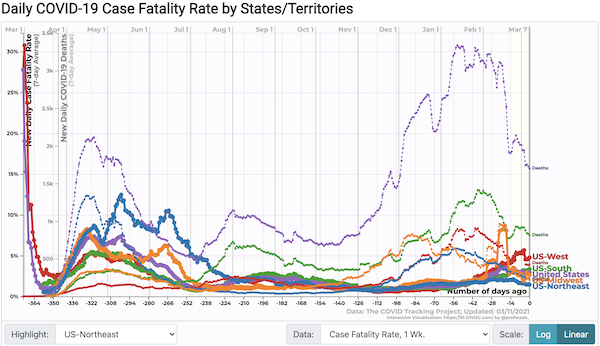 That fatality rate in the West (red) is now jumping around, but it's still high, which worries me. It's not going vertical, which is what I feared. Is the reason nobody else is worrying about this is that it's not really a problem? Is this some sort of statistical artifact as well?
* * *
Politics
"But what is government itself, but the greatest of all reflections on human nature?" –James Madison, Federalist 51
"They had one weapon left and both knew it: treachery." –Frank Herbert, Dune
"They had learned nothing, and forgotten nothing." –Charles Maurice de Talleyrand-Périgord
More to come. –lambert
Biden Administration
"Biden's Stimulus Is the Dawn of a New Economic Era" [Adam Tooze, Foreign Policy]. "[D]emocratic leadership requires not just the rule of law and the observance of constitutional propriety. It requires more than just reasonable behavior on the part of all the major parties. It also needs to be demonstrated, simply put, by enacting popular policies when they are needed. Democracy is measured by how rapidly and forcefully it responds to crisis, particularly when that crisis hits those with the least security and the least influence. The urgency of those who are most hard up must be visibly felt within the political system. There are moments when democracy consists precisely in ensuring that obfuscation and procedure do not stand in the way." • Looking at you, Obama! More: "On this all-important metric, the Biden administration is delivering. The $1.9 trillion stimulus package to address the United States' ongoing social crisis, forced through by means of reconciliation in the teeth of Republican opposition, is a true example of democratic leadership in action, one that Europe would be well advised to follow. Furthermore, in the economic realm, national policies spill over. Far more than in the 2009 recession, the U.S. economy's rapid recovery that the Biden administration seems determined to unleash will boost global demand. Therefore, it will not just set an example. It will materially assist the recovery of the rest of the world in 2021." • Well, it's Adam Tooze, so worth a read! My thoughts on the stimulus are two-fold: First, I would very much like to see the CARES Act and the Biden stimulus treated to a side-by-side comparison. The CARES Act materially decreased poverty, let us remember. Second, the Democrat Party does seem determined not to make 2022 another 2010.

UPDATE "Biden's COVID-Relief Bill Is a Big F**king Deal" [Eric Levitz, New York Magazine]. "Biden just slapped most of his own health-care agenda on top of a $1.9 trillion relief bill and then rammed it through Congress before his administration's two-month anniversary. This is how progressives have been begging their party to govern for more than a decade: Ignore the Beltway's fetish for bipartisanship and deliver big, clear gains to the American people. The Democratic leadership has now affirmed that counsel in both word and deed. " • Fair enough! More: "the Democratic Party has decided to prioritize the maximization of employment over the minimization of inflation risk. For most of the past four decades, American policy-makers have set the opposite priority." • Fair enough: "The Democratic Party's appetite for increasing labor's leverage over capital remains grossly inadequate to the demands of economic justice…. That the Biden presidency has already exceeded many progressives' (low) expectations is not cause for contentment; it is grounds for progressives to raise their expectations. Some things can fundamentally change." • The whole piece is worth a read, including the comparison between the 2009 crisis and today's (on both unemployment and household wealth, 2009 was worse).

UPDATE "The Coronavirus Killed the Gospel of Small Government" [New York Times]. • I'm not so sure. A government that has to "partner" with Dollar General for its vaccination program lacks operational capacity. Same deal with Operation Warp Speed, an enormous public-private partnership (and not at all a Manhattan Project).

UPDATE "'The mess we inherited': Biden leans heavily on Trump's 'Warp Speed' but won't give credit" [ABC]. "Despite calls for national unity and bipartisanship, President Joe Biden and his top aides have declined to give the Trump administration credit on the nation's COVID-19 vaccine rollout while relying heavily on a system established by their predecessors…. While Biden has purchased additional vaccine supply, it was always expected that Pfizer and Moderna would ramp up their supply throughout the year. Also, Biden's playbook for vaccine distribution has relied heavily on a system created by the Trump administration, including federal partnerships with state officials and agreements with local pharmacies. In fact, the federal pharmacy program created by Trump aides is what Biden relied on last week to expand eligibility to teachers. And when Biden called for "100 million shots in 100 days" — a pace of about 1 million shots per day — former health officials noted that the U.S. had already hit that pace the week of Biden's inauguration in mid January." • This is the argument I have been making for some weeks under the vaccination chart. Show me the numbers that show the Biden administration made any difference!

"Democratic centrists balk at more red ink after Covid spending spree" [Politico]. "Even as President Joe Biden and his allies in Congress begin laying the groundwork for an infrastructure package whose price tag could top the $1.9 trillion bill he'll sign this week, multiple Democratic centrists on both sides of the Capitol are ready to pump the brakes. They want at least some of the next big bill to be paid for, arguing there has to be some limit to Congress's deficit spending as the nation claws its way out of Covid's grip." • Every time we think we've killed the "pay for" zombie, it staggers back into motion, grunting, and biting and turning others into versions of itself. Sheesh.

UPDATE "Opinion: Kamala Harris may be our best bet to prevent a return of Trumpism?" [Max Boot, WaPo]. And not Max's brother, Das. "[T]he most likely woman, by far, to win the presidency is Vice President Harris. That's not only because 15 previous vice presidents have become president, but also because Joe Biden, already the oldest U.S. president in history, will be 82 in 2024. He has previously spoken of himself as a 'transition candidate' and signaled that he would serve only one term." • The way that Harris was simply annointed President-in-Waiting, when she was a terrible candidate who dropped out before her own state voted, boggles the mind. I hope Jill is tasting Biden's food.
Democrats en Deshabille
Senator Hinchey is a New York State Senator, and a Democrat:

— Senator Michelle Hinchey (@SenatorHinchey) March 11, 2021

Proof by omission that whacking old people in nursing homes is not a "crisis of morality." Wonderfully clarifying!
Stats Watch
Employment Situation: "06 March 2021 Initial Unemployment Claims Rolling Average Improves Again" [Econintersect]. "Market expectations for weekly initial unemployment claims (from Econoday) were 715 K to 750 K (consensus 725 K), and the Department of Labor reported 712,000 new claims. The more important (because of the volatility in the weekly reported claims and seasonality errors in adjusting the data) 4 week moving average moved from 793,000 (reported last week as 790,750) to 759,000."
Employment Situation: "Continuing jobless claims in the US, which measure unemployed people who have been receiving unemployment benefits for a while, fell to 4.144 million in the week ended February 27th, from a revised 4.337 million a week before and below market expectations of 4.220 million" [Trading Economics].
Employment Situation: "The number of job openings in the US rose by 165 thousand from the previous month to 6.917 million in January 2021, beating market expectations of 6.6 million and moving closer to its pre-pandemic level of 7 million. Job openings increased mostly in state and local government education (56,000); educational services (21,000); and mining and logging (10,000). The number of job openings was little changed in all four regions" [Trading Economics].
Housing: "4Q2020 CoreLogic Homeowner Equity Report: Homeowners Gained Over $1.5 Trillion in Equity In 2020" [Econintersect]. "The Home Equity Report for the fourth quarter of 2020 shows U.S. homeowners with mortgages (which account for roughly 62% of all properties) have seen their equity increase by 16.2% year over year, representing a collective equity gain of over $1.5 trillion, and an average gain of $26,300 per homeowner, since the fourth quarter of 2019. As competition for the dwindling supply of for-sale homes drove prices up, average annual homeowner equity gains in the fourth quarter of 2020 reached the highest level since 2013. ' • I'm guessing that, politically, this is wind beneath Biden's wings.
* * *
Retail: "Amazon Quietly Began Building a Grocery Chain During Pandemic" [Bloomberg]. "Grocery analysts say Amazon Fresh stores are likely cheap to launch and even cheaper to run—the perfect weapon to stake a long-term claim in a famously low-margin industry." • The article has an image with a big banner in back of the produce section: "WELCOME TO FRESH WOODLAND." Focus-grouped within an inch of its life.
The Bezzle: The digital artists I follow hate NFT:
Part of the ideology here is this sort of tech-optimism capitalist brain. You accept the terms that are most beneficial to capital straight away and place your faith in tech to solve any problems, and then talk about how not finding the positive spin on that is a personal issue.

— The Jakarta Crystal Method (@bombsfall) March 10, 2021
The Bezzle: Another artist on NFT:
. @Marble_cards has traded 432.282 ETH (or $641,000 USD), of other people's work on @opensea, who is complicit and negligent by design.

See for yourself – the entire Marble Cards collection #lookbook https://t.co/MTqX0NwBsa

— connor (@connrbell) February 27, 2021
The Bezzle: And Stålenhag on NFT:
Cryptoart and NFT – I started out a little bit skeptical but still open to the idea that there was some good in it. After listening to what its proponents say I can confidently say it's a big scam and I will never retweet a nft-art post. If you're in it – get the hell out! https://t.co/uBDvFrHwp3

— Simon Stålenhag (@simonstalenhag) March 11, 2021
I'd like KHive and crypto bros to trade places for a day. Would the world be better off? I'm guessing it would be a wash. For example–
The Bezzle: One more artist on NFT:
every person responding here has crypto tags in their bios, in case youre curious.

— Daniel Danger (@tinymediaempire) March 10, 2021
Tech: "How Facebook got addicted to spreading misinformation" [MIT Technology Review]. "Everything the company does and chooses not to do flows from a single motivation: Zuckerberg's relentless desire for growth. [Joaquin Quiñonero Candela, a director of AI at Facebook] AI expertise supercharged that growth. His team got pigeonholed into targeting AI bias, as I learned in my reporting, because preventing such bias helps the company avoid proposed regulation that might, if passed, hamper that growth. Facebook leadership has also repeatedly weakened or halted many initiatives meant to clean up misinformation on the platform because doing so would undermine that growth. In other words, the Responsible AI team's work—whatever its merits on the specific problem of tackling AI bias—is essentially irrelevant to fixing the bigger problems of misinformation, extremism, and political polarization. And it's all of us who pay the price." • I am extremely reluctant to grant the class represented by the political faction that brought us RussiaGate the standing to fix anything regarding "misinformation, extremism, and political polarization." Break up the platforms, maybe outlaw the algos entirely, and let 100 flowers blossom. As it is, we're going to end up using the platform's monopoly status to create an information monoculture (which is what eliminating "misinformation, extremism, and political polarization" means to a liberal Democrat).
Manufacturing: "Exclusive: Boeing nears 737 MAX order from Southwest worth billions – sources" [Reuters]. "If confirmed, the deal would head off a partial defection to Airbus SE by one of Boeing's largest customers and provide Boeing much-needed support after the nearly two-year grounding of the 737 MAX family, following fatal crashes in 2018 and 2019. The order would include dozens of firm orders and potentially significant options, the sources said. U.S. carrier Southwest said it does not comment on fleet decisions and has nothing to announce. Boeing declined comment."
Manufacturing: "China's $4,230 Electric Cars Tap Huge Market Tesla Can't Reach" [Bloomberg]. • Sure, Made In China™ ≠ The Mark Of Quality™, but $4,230? Holy moley!
* * *
Today's Fear & Greed Index: 58 Greed (previous close: 51 Neutral) [CNN]. One week ago: 48 (Neutral). (0 is Extreme Fear; 100 is Extreme Greed). Last updated Mar 11 at 12:34pm.
Health Care
"The Week Broke" [New York Times]. The Deck: "The empty shelves; the people in masks on the bus; the email saying the office would be closed. A year ago, realized that everything was about to change. For a brief moment, it felt like were all in this together. What happened?" • A collection of stories — no doubt the Times' opening shot in a bout of enforced perfomative mourning — and the headlines — you guessed it — all begin with "We." Who is that "we," again?
Lambert here: Not, again, to preen unduly, but NC readers were well aware of Covid months, plural, before March 11, the date the Times believes "our" reality broke. Let me re-up these links from yesterday: We ran multiple Covid stories in Links on 1/20/2020, 1/21/2020, 1/22/2020, 1/23/2020 (our first masking link), and 1/24/2020. Yves ran "China Coronavirus Watch: Updated – Another Chinese City Locked Down to Prevent Spread" on 1/23/2020. We ran Eric Fiegl-Ding's "HOLY MOTHER OF GOD" tweet in Links, 1/25/2020. I created my first Links "bucket" (then "#2019-nCoV," now "#COVID19") on 1/28/2020. In short, dear readers, if you followed Naked Capitalism carefully, you had the goods on Covid well before the Times believes its own readers did. "We," forsooth.
And speaking of enforced perfomative mourning:
COVID Update One Year Later:

All day tomorrow, I will be collecting and tweeting photographs below that people have sent me that Mark the experience of the last year.

These are pictures we can't let escape our memories. pic.twitter.com/D6qbtXhOT8

— Andy Slavitt @ 🏡🇺🇸 (@ASlavitt) March 11, 2021
That Slavitt can get all weepy about mementoes the trusting and naive send him — while at the same time having acting as a lobbyist against #MedicareForAll, the lack of which silently kills 80,000 people a year, for profit — makes me want to hurl. Life's little ironies…
"States lift Covid restrictions, drop mask mandates and reopen businesses despite warnings from Biden officials" [CNBC] • Proving, if proof were needed, that Biden faces the same issues with our Federal system that Trump did; all the Administration can do is warn, and that not effectively. Opening are: Arizona, Connecticut, Maryland, Mississippi, Texas, West Virginia, and Wyoming. For partisans, that includes two Blue states. Blue New York, New Jersey, and California are also opening up, but more slowly. So all we can do is hope to dodge two bullets: The variants, and school reopening (without a thought given to ventilation except by the locals, per CDC's Walensky).
The Biosphere
"BOEM Completes Review for First Offshore Wind Farm in Federal Waters" [Maritime Executive]. "The U.S. Bureau of Ocean Energy Management (BOEM) has issued its long-awaited final environmental impact study (FEIS) for the Vineyard Wind project off Massachusetts, which will be the first commercial-scale offshore wind farm in federal waters…. The study paves the way for a formal record of decision on Vineyard Wind's EIS review, and it will almost certainly result in a permit approval matching BOEM's preferred alternative option. As such, it represents a landmark victory for the developer and for the U.S. offshore wind industry, which has been closely watching the permitting process for this pace-setting development. 'By any measure, this is a breakthrough for offshore wind energy in the United States. Not even two months into a new administration, years of delay have finally culminated in a thorough analysis that should soon put this infrastructure investment on its way,' said Heather Zichal, CEO of the American Clean Power Association (ACP). 'We enthusiastically applaud the Biden Administration for completing a thorough analysis and moving ahead rapidly with the final steps to approve the Vineyard Wind project.'" • Let me be petty: I hope this spoils Obama's view and knocks a few million off the value of his pleasure dome.
"Ultra-weak gravitational field detected" [Nature]. The bottom line: "perhaps quantum gravitational effects will finally be observed." • This is both a neat experiment, and a nice little potted history of gravity in science (readable by a layperson like me).
Games
Long thread on a game titled "Hollow Knight," from which I pulled this exchange:
It's a masterpiece for sure.The only gripe I have is with the pacing you get the power ups, first time it took too long to find the double jump.

— Carlosmarcos (@kawaaimunism) March 10, 2021
OK, I give. What the heck are "power ups" and "the double jump"? And are there, like, 40 million gamers that know what this means, but not me?
The Agony Column
"'A collective trauma': New report details the effects of stress in America in 2020" [NBC] (original). "A new report from the American Psychological Association shows just how stressful life in America was in 2020. The APA's 'Stress in America' report, published Thursday, provides a stunning example of how mental health directly impacts physical health. "We've gone through a collective trauma," said Arthur C. Evans, chief executive officer and executive vice president of the APA. The resulting stress, the report found, is showing up in drastic weight changes and increased alcohol use." • I can testify to the weight gain (though fortunately I resisted alcohol; or more precisely, did not even need to resist it, for which I am thankful). The article is mostly about familioes, conforming with the drive to open schools. Here is a chart that shows the class aspect of stress: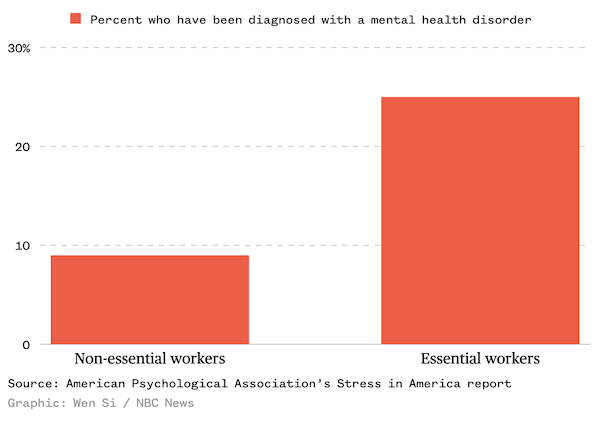 I'm so old I remember when essential workers were really important and we were praising them and practicing our performative empathy. So it goes.
* * *
Readers, feel free to contact me at lambert [UNDERSCORE] strether [DOT] corrente [AT] yahoo [DOT] com, with (a) links, and even better (b) sources I should curate regularly, (c) how to send me a check if you are allergic to PayPal, and (d) to find out how to send me images of plants. Vegetables are fine! Fungi and coral are deemed to be honorary plants! If you want your handle to appear as a credit, please place it at the start of your mail in parentheses: (thus). Otherwise, I will anonymize by using your initials. See the previous Water Cooler (with plant) here. Today's plant (GW):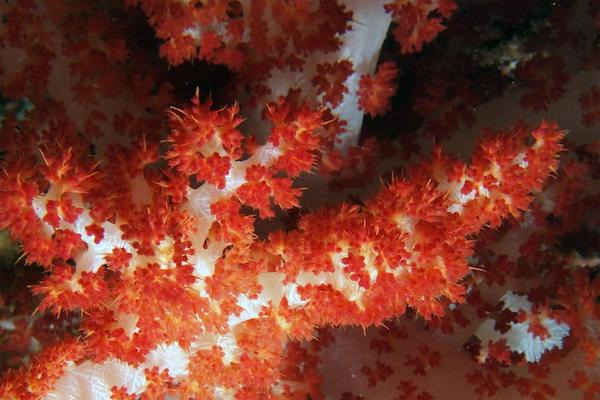 GW writes: "Here is a soft coral, amazing how those little polyps (with the help of algae) build such structures."
GW also writes: "I love the pics that people send to you." So do I! And I hope so do you all.
* * *
Readers: Water Cooler is a standalone entity not covered by the recently concluded and — thank you! — successful annual NC fundraiser. So if you see a link you especially like, or an item you wouldn't see anywhere else, please do not hesitate to express your appreciation in tangible form. Remember, a tip jar is for tipping! Regular positive feedback both makes me feel good and lets me know I'm on the right track with coverage. When I get no donations for five or ten days I get worried. More tangibly, a constant trickle of donations helps me with expenses, and I factor in that trickle when setting fundraising goals:
Here is the screen that will appear, which I have helpfully annotated.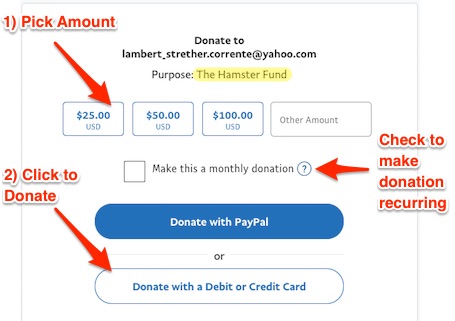 If you hate PayPal, you can email me at lambert [UNDERSCORE] strether [DOT] corrente [AT] yahoo [DOT] com, and I will give you directions on how to send a check. Thank you!